Afghan interpreters who worked with British military land in UK today after fleeing Taliban | World News
The first group of former Afghan interpreters whose lives are in danger because they worked for the British military are due to arrive in the UK from Afghanistan in the coming hours under a new government scheme, Sky News understands.
An aircraft reportedly carrying more than a dozen Afghans who were employed by UK forces, as well as family members, is expected to land at an airport in the Midlands later on Tuesday.
The Ministry of Defence (MoD) declined to comment on the flight – first reported by the Daily Mail – because of security concerns for the men, women and children who have asked to flee Afghanistan after receiving threats from the Taliban.
Afghan nationals given chance to live in UK

Taliban militants are growing in strength across the country, regaining more territory from the UK and US-backed Afghan government. It comes as British, US and other NATO forces prepare to withdraw over the next three months following almost 20 years of conflict.
The Taliban views anyone associated with the US and NATO-led mission in Afghanistan as a traitor who deserves to die.
The increased influence of the militant group means a corresponding risk for such personnel.
Concerns over the safety of former staff, most of them interpreters, prompted the MoD and the Home Office in May to expand the eligibility criteria of a relocation scheme for Afghans seeking to flee.
Previously, the government had resisted pressure to allow large numbers of men and women to relocate, saying such a move would deprive Afghanistan of a talented pool of young individuals, vital for the future prosperity of the country.
More than 3,000 Afghans are expected to take advantage of the offer, on top of some 1,300 who have already made the journey under a previous, more restrictive policy. They are expected to be flown to the UK in groups.
'It's the right thing to do' – Defence secretary

It is understood that the first flight left Kabul earlier on Tuesday. Everyone had to undergo stringent security as well as COVID-related health checks.
Afghanistan is on the red list of countries, which means the group will be put into quarantine upon their arrival in the UK.
The Daily Mail spoke to a 37-year-old former interpreter called Hash, who served in Helmand with the Army between 2007 and 2012 and is reported to be part of the first party along with his wife and two sons.
"We are so happy and so thankful," he was quoted as saying. "The British government has taken its time but it has done the right thing and we are truly grateful."
Tencent shares slump after online games branded 'spiritual opium' and 'electronic drugs' by Chinese state media | Science & Tech News
Shares in China's biggest online gaming companies slumped after state media branded their products "spiritual opium" and compared them to "electronic drugs".
The criticism – as reported by Reuters news agency – has stoked concerns that the online gaming sector will be the next to receive unwanted attention from Beijing's regulators, following a crackdown on tech giants in the country.
Tencent's stock tumbled by more than 10% in morning trade on Tuesday, wiping almost $60bn from its market capitalisation.
Smaller rival NetEase dropped by more than 15%, while fellow companies XD Inc and GMGE Technology Group Ltd also fell.
It followed an article published by the state-run Economic Information Daily that warned teenagers were addicted to online video games and called for the industry to be curbed.
The newspaper particularly criticised Tencent's flagship game Honour Of Kings, which it reported was sometimes played by students for up to eight hours a day.
"No industry, no sport, can be allowed to develop in a way that will destroy a generation," the newspaper wrote, comparing online video games to "electronic drugs".
The newspaper called for "mandatory means" to force online gaming companies to prevent addiction among young players.
Tencent – which was behind the development of the latest Pokemon game released last month – said it would introduce new measures to limit access to its games and the time spent on them by children.
However, the article was deleted from the Economic Information Daily's account on WeChat, settling the market and encouraging Tencent's share price to recover.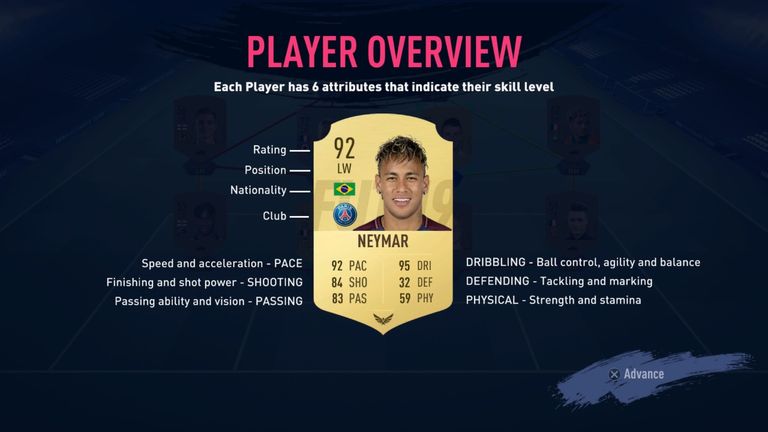 Some gaming mechanics have been criticised in the UK, especially so-called "loot boxes" – mystery packs of gaming items which gamers can buy with real money to try and improve their online team.
They feature on games like FIFA Ultimate Team, often promoted by influential celebrities or YouTube stars. Each transaction can cost anywhere between 79p to £79.99 and the FIFA points can then be used to buy what is, in effect, a lucky dip of players.
Gambling support groups and charities are warning that lockdown may have caused more children to become addicted to these loot packs.
Missing Belarusian activist found dead in a park in Kiev, Ukrainian police say | World News

A Belarusian activist who was reported missing has been found dead in a park in Kiev, Ukrainian police have said.
Vitaly Shishov led a Kiev-based non-profit organisation that helps Belarusians fleeing persecution.
He was reported missing by his partner after not returning home from a run.
Police have launched a criminal case for suspected murder but said in a statement they will be investigating all possibilities, including murder disguised as suicide.
Tokyo Olympics: Norway's Karsten Warholm shatters 400m hurdles world record to win gold | World News
Norway's Karsten Warholm has smashed his own world record to become Olympic champion of the men's 400 metres hurdles in Tokyo.
The athlete only broke the 29-year-old record last month but managed to clock 45.94 seconds in the Japanese capital.
He knocked almost one second off his previous world best of 46.70secs which he set in Oslo at the start of July.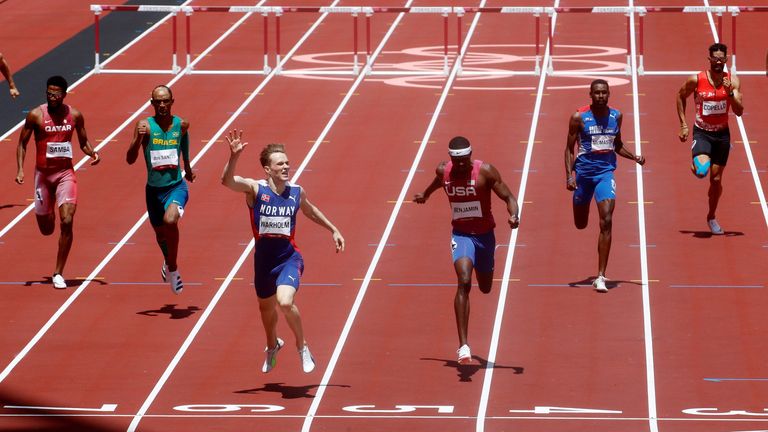 He finished ahead of the USA's Rai Benjamin (46.17s) who was also inside the old record, and Brazil's Alison Dos Santos (46.72s).
With Benjamin posting 46.83 in the US trials, the record was widely expected to be broken in Tokyo, but nobody could have predicted the massive bites both men took.
Warholm told the BBC: "You know the cliche that it hasn't sunk in yet? I don't think it has but I feel ecstatic.
"I cant believe the time, it's so fast. A lot of the time I am asked about the perfect race. I said it didn't exist but this is the closest I've ever come.
"I told myself going in to the race, remember all the work you have put in. It was the only thing missing from my (medal) collection. I can't describe how important this is for me. This is what I do morning until night, it's huge."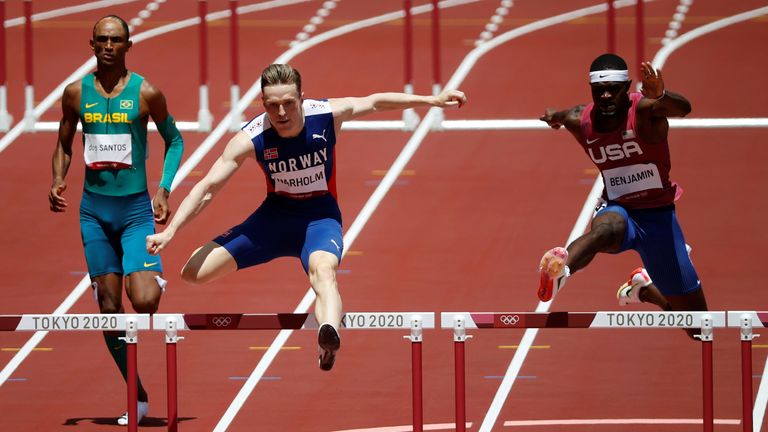 Warholm led from the start but Benjamin looked like he was about to reel him in with 90 metres to go.
Yet Warholm found an extra gear to pull away in the final 60 metres and add the Olympic title to his two World Championship crowns and European gold.
When he saw the astonishing time, Warholm looked to be in shock. He ripped his vest apart and beat his chest in celebration before sinking to his knees.
"Both of them smashed the old world record. No wonder he rips his shirt apart – he is Superman in this event," said BBC commentator and former world 1,500m champion Steve Cram.
"I cannot believe what we've just seen. Two men running times you could only dream of. Dos Santos was nearly within the old world record and he was miles back."