White House announces global destinations of 55 million donated Covid vaccines
WASHINGTON — The White House on Monday announced which countries will receive 55 million doses of the U.S.'s supply of Covid-19 vaccines as part of President Joe Biden's pledge to share 80 million shots globally by the end of June.
Roughly 41 million doses will be shared through COVAX — a humanitarian program run in part by the World Health Organization that aims to distribute vaccines fairly — which will allocate approximately 14 million to countries in Latin America and the Caribbean, 16 million to Asia and 10 million to Africa.
COVAX's goal is to make 2 billion doses available to countries in need by the end of the year. So far, about 88 million vaccine doses have been shipped to over 131 participants.
Fourteen million of the 55 million doses will also be shared with "regional priorities and other recipients," the White House said. Those countries and regions include: Colombia, Argentina, Haiti, other Caribbean countries, Dominican Republic, Costa Rica, Panama, Afghanistan, Bangladesh, Pakistan, Philippines, Vietnam, Indonesia, South Africa, Nigeria, Kenya, Ghana, Cabo Verde, Egypt, Jordan, Iraq, Yemen, Tunisia, Oman, Ukraine, Kosovo, Georgia, Moldova, Bosnia and West Bank and Gaza.
The White House said they would announce the specific vaccines and amounts later as the administration works out the logistics.
All 80 million doses Biden committed to share globally by the end of June are now accounted for, following Monday's announcement. The White House announced earlier this month its first wave of commitments, sharing 25 million vaccines with COVAX and governments in need.
Around 75 percent of the 80 million doses went to COVAX while 25 percent went directly to selected countries, the White House said.
The announcement comes as the vaccination supply is outpacing demand in the U.S. — with roughly 65 percent of adult Americans now having received at least one shot — and as Biden has increasingly shifted his vaccine strategy to focus on worldwide vaccination rates.
The U.S. and other wealthy countries were criticized earlier this year for racing ahead in their vaccine rollouts as poorer countries struggled to obtain vaccines. Experts have warned that global vaccination inequality could prolong the pandemic for everyone if the coronavirus continues to mutate, which could make it more infectious and resistant to vaccines.
While attending the Group of Seven summit in Cornwall, England, earlier this month Biden announced that the U.S. would also purchase and donate half a billion doses of Pfizer's Covid-19 vaccine to countries struggling with supply. Those vaccines will be delivered through COVAX starting in August.
"Sharing millions of U.S. vaccines with other countries signals a major commitment by the U.S. Government," the White House said in a statement, adding that "the United States will not use its vaccines to secure favors from other countries."
'Farce'!' Ann Widdecombe savages Brussels bureaucrats as she reflects on EU experience
ANN Widdecombe branded the European parliament "not remotely democratic" and said she is glad her experience there was "only for seven months" as she tore into the European Union.

Source link
Priti Patel fury as Labour tries to block removal of failed asylum seekers
PRITI Patel has hit out at Labour for trying to block her from evicting failed asylum seekers living in state-funded housing – which costs the taxpayer £1billion a year.

Source link
Republicans are desperate for Gov. Chris Sununu to run for Senate. What's stopping him?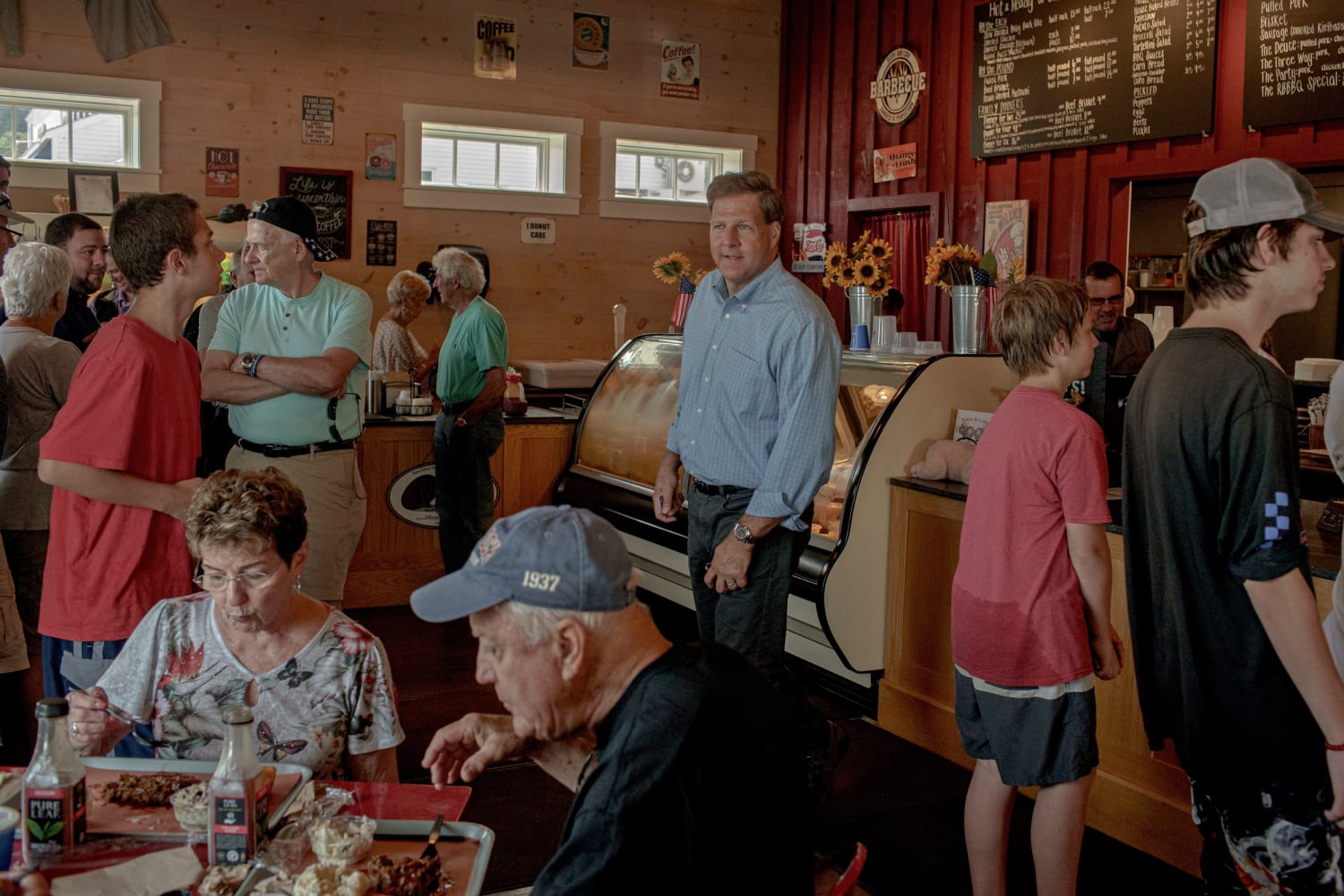 Trump, the wild card
Sununu's ambivalence about the Senate race shines particularly on the topic of Trump.
He has said he voted for Trump twice. He also has rebuked him on occasion, including last fall, after Trump declined to condemn white supremacists at a presidential debate. Sununu quickly acknowledged President Joe Biden's victory last year and criticized Trump's efforts to pressure officials in other states to subvert the election results in his favor.
Trump, who lost New Hampshire by 7 points in 2020, rarely came up as Sununu worked his way around the Lakes Region. But in the national conversation surrounding GOP politics and 2022 Senate races, Trump remains the irresistible force.
"I think you can go to governors all across the country — they've all chosen a path that they feel is right for them in their state," said John E. Sununu, the governor's older brother, who represented New Hampshire as a senator and congressman. "If you're running for the House or the Senate, you're dealing with national issues that are shaped by rhetoric and policies that emanate from Washington. And that's different. It's a little harder to control."
Don Bolduc, a retired Army general who lost a Republican Senate primary last year, is already running for Hassan's seat. He partially attributes Sununu's landslide and Trump's loss in the state to unsubstantiated claims of voting machine errors. He's running as an unwavering Trump supporter.
"My advice to them," Bolduc said of national Republicans clamoring for Sununu, "is to stay out of New Hampshire."
For the moment, Trump is one of the few following that advice. Unlike in other states where he has vowed to exact revenge on Republicans who refuse to perpetuate his baseless claims of a stolen election, he has shown no interest in scaring away Sununu. One prominent Trump ally, Fox News commentator Sean Hannity, has publicly encouraged Sununu to challenge Hassan. Sununu said he hasn't heard from Trump directly but does not expect the former president to cause him problems.
"We always had, I think, a very good understanding," Sununu said. "I never surprised him with anything."
As he dug into a plate of pulled pork and potato salad at Rubbin' Butts BBQ in Center Harbor, Sununu lamented how Trump has inspired candidates and conspiracy theorists who care more about yelling on Fox News than advancing conservative ideas that once defined the party. He has thought about how he might elevate the discourse.
"If there's a pathway to make that louder and more national, well, maybe there's some value there," he said.