StoryCast '21: 'I watched my parents die' – Rohingya girl's perilous journey from Myanmar to Bangladesh refugee camp | UK News
In 2017, Myanmar's military unleashed a deadly campaign of ethnic cleansing against the Rohingya people living on the western coast of the country. Soldiers carried out murder and rape on a massive scale as more than 700,000 people from the mainly-Muslim minority group fled to neighbouring countries. One of those Rohingya is Zoora, who was just 12 years old when she arrived at the Kutupalong refugee camp in Bangladesh. When Sky News journalist Ashish Joshi found out sex traffickers were prowling the camp he realised this was more than just a news story – he had to do something.
Zoora and Ashish have shared their incredible story in War Child – the sixth episode of StoryCast '21, a Sky News podcast series telling 21 extraordinary personal stories from some of the biggest news events of the century.
Subscribe to Storycast 21 now on Apple Podcasts, Spotify, Google Podcasts, Spreaker
Ashish picks up the story: "She's a girl I've never forgotten, who I first met in 2017 in the Kutupalong refugee camp in Bangladesh.
"Rohingya children like Zoora have seen things no child should see. She survived the massacre at Tula Toli where hundreds were slaughtered."
The 12-year-old watched as her parents were murdered at the hands of Myanmar soldiers.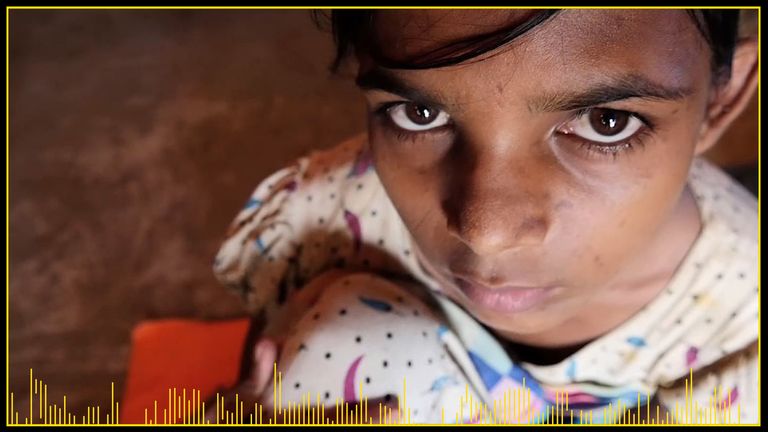 Sharing her story in full for the first time in War Child, Zoora says: "I remember it was a Wednesday when the military came, they started shooting… people started jumping into the river and I also jumped.
"I got a bullet injury near my hip on the rear side. I was floating on the water. Then I was found lying down, near the river bank unconscious."
Of her parents and five siblings, Zoora and her younger brother were the only ones to survive the massacre.
"After I got the bullet injury I thought I would die," she says. "I couldn't tolerate the pain and burning in my injured area. People carried me and gave me food but I could not eat."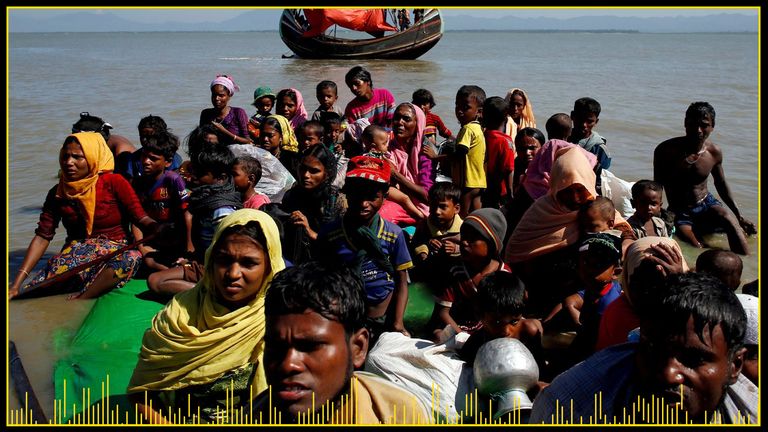 Zoora was on her way to a sprawling refugee camp in Bangladesh that would become home to tens of thousands of Rohingya.
"My understanding of Zoora's journey is, it would have been similar to the one made by thousands of refugees," Ashish explains.
"It would have been up mountains, through jungles, across forests, and wading across a maze of rivers.
"We know that the borderland in some places was heavily mined by the Myanmar army."
Zoora arrived in Bangladesh after a three-day journey and was taken to hospital before she arrived at the Kutupalong camp.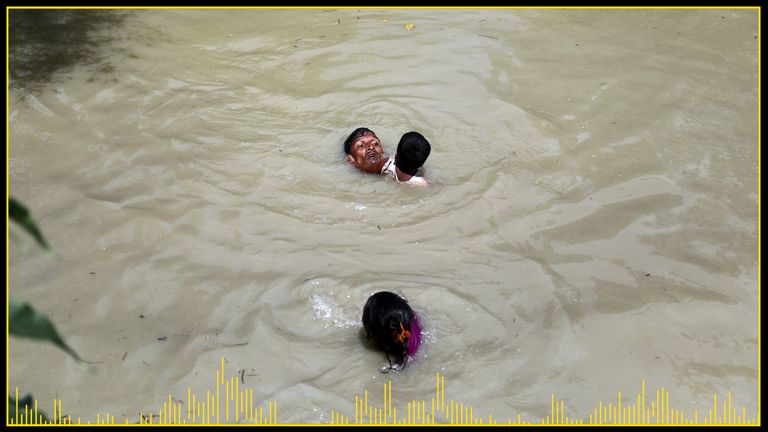 Ashish had been despatched to cover the story for Sky News, and encountered Zoora crouched on one knee, shuffling from side to side.
The traumatised girl didn't make eye contact very easily, but in a soft, faltering voice, she began to tell Ashish what had happened to her family.
Ashish had been a journalist for more than 25 years and had witnessed horrors first hand all over the world. But as a father to young children himself, nothing had ever impacted him quite the way Zoora's story did.
Just hours after meeting the girl, Ashish encountered a sex trafficker named "Kasim".
"I remember him saying 'I've never had it so good, these are easy pickings, this is the easiest we've ever had it… we can pick up these children, bundle them into vans and they won't be missed."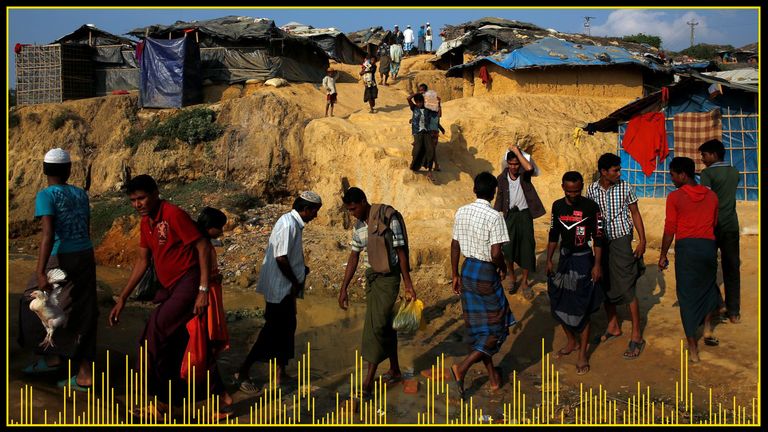 It was at that moment Ashish thought to himself: "Oh my god, he's talking about children like Zoora."
The journalist decided that this was more just another story – he had to do something to help.
Find out what happened next by listening to War Child, the latest episode of StoryCast '21.
You can hear Zoora and Ashish's incredible story here.
COVID-19: South Africa's healthcare workers struggle under pressure of third wave | World News
Dr Angelique Coetzee is a GP in the South African capital Pretoria, where she has run a family clinic for the past 33 years.
But she has never known anything like COVID-19.
She said: "If you have never been in such a situation, you can't imagine what it is like. We've been dealing with 30 or 40 positive cases every day. The pressure is extreme.
"If you look at a country like Australia where they have a few cases, well I would see their national caseload in a couple of days. Can you imagine?"
When we first spoke in June, Dr Coetzee seemed on the verge of tears.
She said: "If I speak to you now, that means someone with COVID will not been seen – and there is no point trying to message. I don't have time to answer."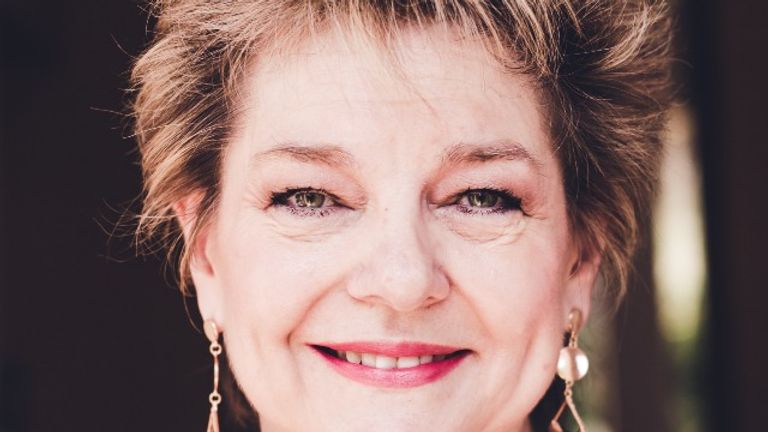 South Africa has found itself in the grips of a Delta variant-driven "third wave" of infection.
The caseload has been brutal, outstripping the first two waves by a factor of three.
The country's acting health minister says this surge has now peaked in the province of Gauteng, where the cities of Pretoria and Johannesburg are situated but Dr Coetzee says her personal and professional burden has barely changed.
She said: "We have been seeing fewer patients on a daily basis this week but the weather is colder and COVID-19 patients are turning up with pneumonia so we are seeing sicker patients than we have been during the last three or four weeks."
South Africa's beleaguered public-run health system has struggled to cope with wave after wave of the virus.
Lacking sufficient beds and qualified staff, city hospitals used casualty departments as holding centres where patients wait for space to free up – sometimes for days.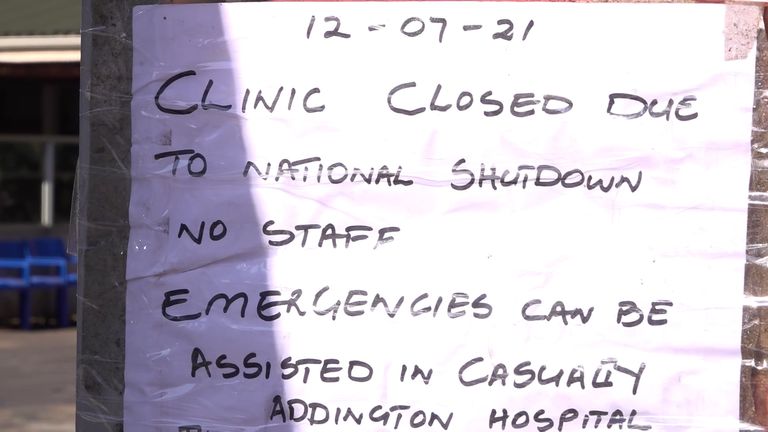 "This is the third wave we have experienced, comes less than six months (after the second) and the infrastructure can't cope," said Dr Coetzee.
"Most patients need oxygen and I try to admit them to hospital but because of (capacity) problems I have had to treat them at home. We have been waiting for 24 to 48 hours before we could get them cylinders, dealing with the stress of trying to manage patients without oxygen with the knowledge that if we don't make a plan they are going to die. All this while the surgery is full, full, full. It is so very stressful."
The extreme working patterns and the mental pressures that come with it have been felt in unexpected ways.
"I have had colleagues who have had motor vehicle accidents. One was so tired after work that he drove his car into a tree," she said.
"The second one was hit at a crossroads – and a lady doctor reversed into a garage door because she had forgotten to open it. The most bizarre things that happen in a short space of time but it shows you the pressure they are under."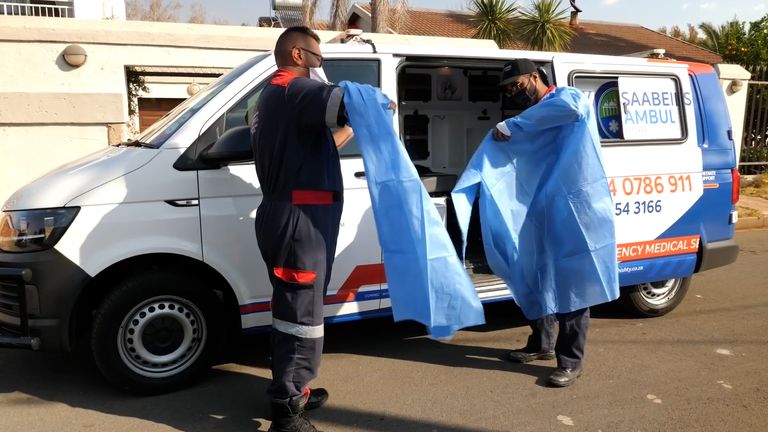 Dr Coetzee has been operating on the very edge within a healthcare system that was been put under severe strain.
There are no support workers or home visits or specialist consultations for most people in South Africa.
Instead, GP's like Dr Coetzee try to do it all.
"You become distant after a while but you try to carry on and on. I think that is the only way to survive it," she said.
Yanga Booi is a 32-year-old nurse working at the intensive care unit at Thelle Mogoerane Regional Hospital in Vosloorus, on the outskirts of Johannesburg.
He says the hospital is poorly equipped and the staff have been insufficiently prepared during the pandemic.
He said: "The health system in South Africa did a complete spin when the pandemic hit our shores. We were put in the spotlight and given this false sense of heroism, but it wasn't the right sort of attention because when we went to work, the hospital was in a worse state that than it was before.
"We were ill-prepared from the beginning, and we are still not prepared."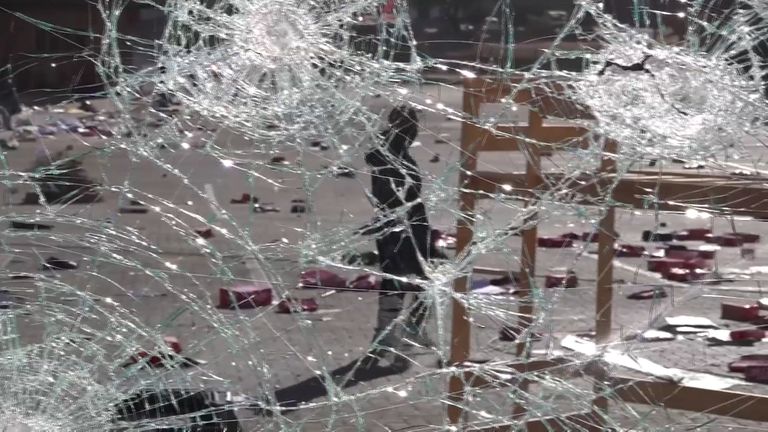 The hospital in Vosloorus provides beds and treatment but Booi says COVID testing at the facility is not reliable and patients are not properly isolated.
"We cannot be sure who has COVID because we get so many false negatives. It's like we wait for people to get sick or drop dead, then look into the COVID thing," he said.
"I remember admitting a patient who was negative on admission and so we didn't isolate him. A few days later he died and we found out that he was positive.
"It's a sad situation because the hospital does not have an isolated ICU ward for COVID patients. It's a general ICU with isolation rooms and we admit COVID patients to it – some people have it and others don't. We cannot be sure."
Mr Booi says dozens of his colleagues have paid a terrible price over the course of three separate waves of infection in South Africa.
He said: "It is unfortunate that we have had to watch our colleagues dying from this… countless members of staff have gone, it's not just nurses, it's the doctors, it's the clerks, it's the porters."
The 32-year old, who took up the profession when he was offered a government bursary, says he was "deeply afraid" when the pandemic arrived.
Yet 17 months later he has noticed a change in himself and others.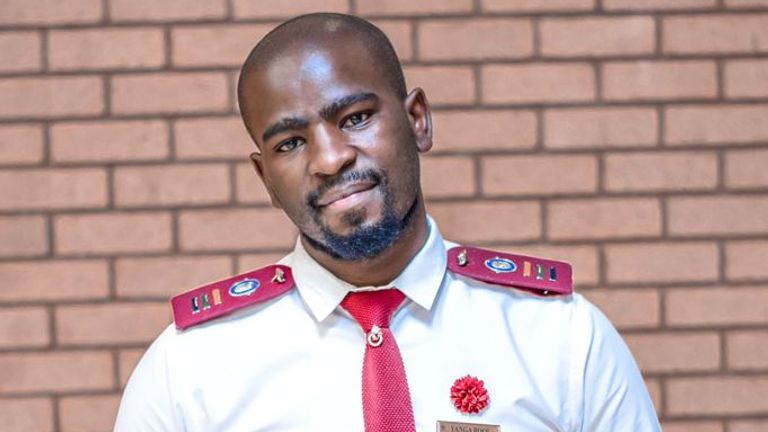 He said: "The loss of life has caused us to grow a thick skin, just like when we came into the profession. Our first experiences with death were terrifying but then we got accustomed to people dying and that is what has happened with COVID.
"We are used to the virus we know it is here to stay and we must find ways to keep going."
Dr Shabir Mahdi is dean of the faculty of health sciences at Witwatersrand University in Johannesburg and is a source of expertise and fearless criticism in a country that has struggled in all aspects of its pandemic response.
Dr Mahdi says the ferocity of South Africa's third wave of infection came as a "huge surprise".
He said: "The current resurgence far exceeds what we have experienced either in the first or second wave in the number of documented cases. In fact, the numbers of new cases diagnosed on a daily basis is three times what it was at the time of the peak of the first and second wave."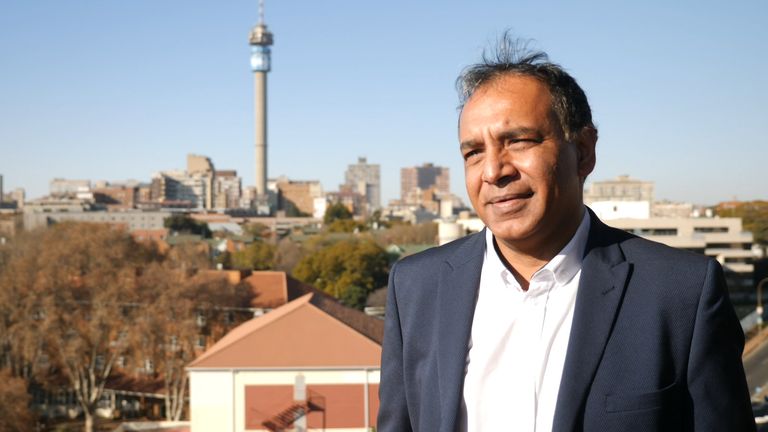 However, this eminent viriologist is unsparing in his criticism of the government's response.
While the magnitude of the Delta-fuelled third instalment could not have been predicted, he says health officials knew another wave was coming at the beginning of South Africa's winter season.
He said: "In a province like Gauteng where 25% of the population live, our hospitals are completely overwhelmed but at the same time, we have beds that are literally vacant in the same hospitals and we can't actually use those beds because some official in some government department forgot that you actually need to have health care workers available to actually staff those beds."
Newport Wafer Fab: Former cyber security chief raises alarm over sale of Welsh microchip manufacturer to Chinese-backed Nexperia | Politics News

The UK's former cyber security chief has raised the alarm over the sale of a Welsh microchip manufacturer to a Chinese-backed company.
Ciaran Martin, the former chief executive of the National Cyber Security Centre (NCSC), said the purchase of Newport Wafer Fab by Nexperia, a Dutch subsidiary of the Chinese company Wingtech, poses a greater threat to British interests than Huawei's involvement in the 5G network.
Boris Johnson has asked national security adviser Sir Stephen Lovegrove to look at the deal, worth a reported £63m, while MPs have called on ministers to intervene.
But, Charles Smit, a board member and general counsel at Nexperia, told the BBC earlier this week: "We're not owned by the Chinese state, the Chinese state is not involved in Wingtech."
Sky News has contacted Nexperia for comment.
Mr Martin, who was chief executive of the NCSC until last August, described the future of microchip supply as a "first order strategic issue" for the government to get a handle on.
He was part of the NCSC when it altered its security assessment of equipment manufactured by Huawei, with the firm eventually excluded from the UK's rollout of 5G on security grounds.
"Huawei in the periphery of 5G only really mattered because the Trump administration became obsessed with it for reasons they never convincingly set out," Mr Martin told The Daily Telegraph.
"By contrast the future of semiconductor supply is a first order strategic issue. It goes to the heart of how we should be dealing with China."
His comments come after the Commons Foreign Affairs Committee called for tougher action to stop strategically important companies being sold overseas.
The cross-party group of MPs said the UK's "sovereignty should not be for sale" and called for the takeover of Newport Wafer Fab to be formally called in for review.
"Appropriate mitigation measures" should be introduced by ministers, they also said.
"Our fiercest competitors, notably China, have a track record of using foreign investments to gain access to important technologies and information," committee chairman and Conservative MP Tom Tugendhat said when the report was released.
"We've witnessed too many of our country's brilliant tech firms disappear abroad with potentially significant economic and foreign policy implications."
Tokyo 2020: Team GB's Bradly Sinden takes silver after losing in the men's 68kg taekwondo final | World News

Bradly Sinden has taken silver in Tokyo after losing to Uzebekistan's Ulugbek Rashitov in the men's 68kg taekwondo final.
Rashitov beat Sinden 34-29 at the Makuhari Messe Hall on Sunday, narrowly missing out on Team GB's first gold of the Games.
Sinden, the reigning world champion, from Doncaster, was guaranteed a silver medal after beating China's Zhao Shuai in the semi-finals earlier in the day.
But despite his 19-year-old opponent being seeded 17th in the world, he was overtaken in the final few seconds of the match.
Appearing tearful afterwards, the 22-year-old spoke of his "disappointment".
"It was my gold medal to give away," he said. "I made a few mistakes, but that's taekwondo."
The silver win follows huge disappointment for British taekwondo earlier in the day when double Olympic champion Jade Jones lost in the first round.
Jones, 28, was vying to become the first ever British woman to secure three golds at three consecutive games.
But she was denied even a bronze in the repechage when the Refugee Team's Kimia Alizadeh – who beat her – lost out in the semi-finals.
Team GB came second only to the USA in the medals table at Rio 2016 and is hoping for a repeat performance this year.