Biden admin steps up efforts to raise Covid vaccination rates among teens
WASHINGTON — A mixture of misinformation, low Covid-19 vaccination rates among U.S. teens and the spread of a variant causing concern is fueling urgency among policymakers and spurring a new push by the Biden administration to change those trends.
In an interview with NBC News following a public discussion at a Washington, D.C., school, Health and Human Services Secretary Xavier Becerra called the arrival in the United States of the more contagious delta variant in addition to misinformation about the vaccine and apathy among unvaccinated teenagers "concerning."
"It is very clear that this (misinformation) is real," Becerra said.
"The next phase of this is getting out into the community, really getting to sit with families, sit with teens, be there, where there's an opportunity," said Dr. Drew Maurano, who leads a team of medical staff at one of D.C.'s largest vaccination clinics.
The exchange illustrates a deepening concern by some lawmakers and the Biden administration as the new coronavirus variant takes hold in the U.S. after ripping through primary schools in Britain.
And the administration is stepping up its efforts to reach adolescents. This includes the creation last week of a "Covid-19 Student Corps," or teenagers who agree to serve as community ambassadors to their peers. The administration is also teaming up with social media influencers including Hollywood actors, "mommy bloggers," the first lady, the American Academy of Pediatrics, and camp associations, Health and Human Services officials said.
The nation's capital city is a prime example of the challenges. In Washington, 30 percent of white residents between 18 and 24 are at least partially vaccinated, but that's true for just 14 percent of Black residents in the same age group, according to district health data. Just 4 percent of Black children ages 12 to 15 are fully vaccinated.
"Something is wrong in getting the word out to our young people," a visibly irritated Del. Eleanor Holmes Norton, D-D.C., said as she read out the Covid-19 vaccination rates among her city's teenagers during the recent panel discussion at Anacostia High School.
The delta variant, first identified in India and now dominant in Britain, is spreading more in educational settings than any other the government has reviewed, according to British Health data, and it's hitting those ages 12 to 20 especially hard. Dr. Anthony Fauci, the top U.S. doctor, warned in a recent press briefing: "We cannot let that happen in the United States."
According to U.K. government data, 217 outbreaks of the delta variant had been identified in educational settings, the largest number in any of the settings examined. Israel has also seen several school clusters. The U.K. Health Department has also warned the risk of hospital admission is higher in people with the delta variant.
"In England, we saw this variant spread first among school age children, and then to other age groups," said Deepti Gurdasani, a British epidemiologist at Queen Mary University of London. "It is clear that schools are a major area of spread, when robust mitigations aren't present," she said.
"This variant, being more transmissible, more severe and more able to escape vaccines has the potential to change the shape of the pandemic," she said. Prior restrictions to contain the alpha variant "are completely insufficient to contain this," she said.
Meanwhile, some Anacostia High students said the vaccine is unimportant to many of their peers while others believe, falsely, it could hurt them.
London Dews, a 17-year-old unvaccinated student told Holmes Norton that social media myths about vaccines implanting tracking chips activated by 5G technology or that the vaccine will turn kids into "zombies" aren't just fringe.
"One conspiracy is that the vaccine is implanting a chip into us and the government is tracking us. And another one is that this will, the vaccinations will be a start to a zombie apocalypse in the future," Dews said.
"It's circulating through YouTube, TikTok, Instagram, um, Twitter, you know, the big social medias that we use every day. I think (there are) a lot of people who believe this."
3 GOP House members lose appeals over $500 fines for not wearing masks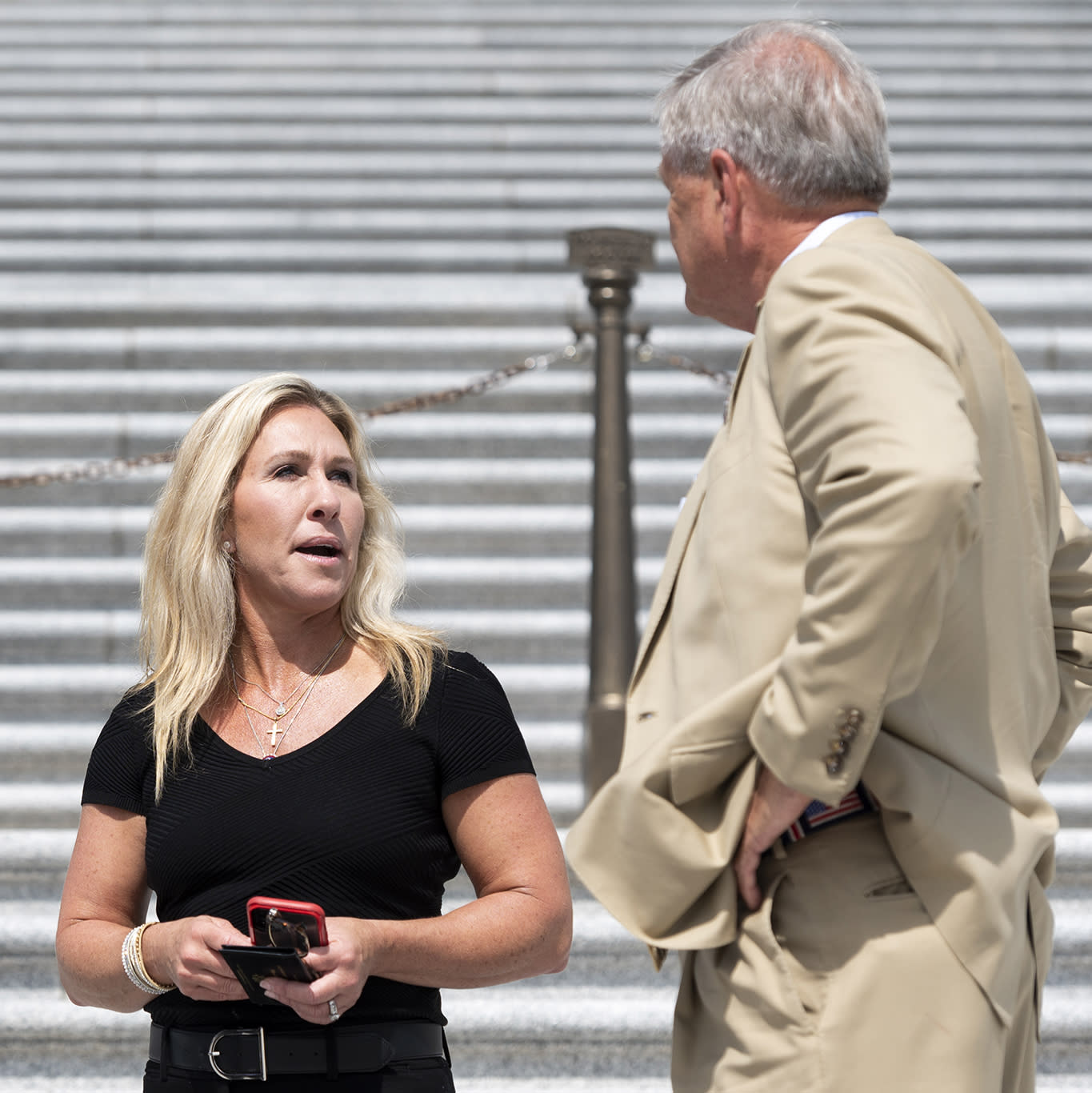 COLUMBIA, S.C. — Three Republican U.S. House members have lost appeals challenging fines for not wearing face coverings on the House floor earlier this year.
On Tuesday, the U.S. House Ethics Committee released statements noting that U.S. Reps. Marjorie Taylor Greene of Georgia, Thomas Massie of Kentucky and Ralph Norman of South Carolina had failed in their appeals of $500 fines issued in May.
The Republicans challenged the fines in June, arguing that the mandate was out of sync with recent federal guidance on face coverings during the COVID-19 pandemic. The incident happened a week after the U.S. Centers for Disease Control and Prevention issued guidance noting that "fully vaccinated people can resume activities without wearing a mask or physically distancing."
At the time, face coverings were still required on the floor, a mandate put in place by House Speaker Nancy Pelosi in June 2020. Even after the updated CDC guidance in May, Dr. Brian Monahan, Congress' attending physician, wrote that "mask requirement and other guidelines remain unchanged until all Members and floor staff are fully vaccinated."
"I voted on the House floor without wearing my mask," Norman wrote. "I did so because I was following the direction of our nation's top scientists that fully vaccinated individuals do not need to wear a mask."
In her appeal, Greene called the fine "arbitrary and capricious, an abuse of discretion, and otherwise not consistent with law or with principles of fairness."
A handful of Republican lawmakers were fined. Greene, Massie and Norman, along with Rep. Mary E. Miller of Illinois, took a maskless selfie on the House floor.
On June 11, the requirement was lifted, with Monahan writing that fully vaccinated members, staff and visitors to the chamber could shed their masks. Norman said in his appeal that he has been fully vaccinated since February. Both Greene and Massie have said they have not taken the vaccine.
Texas House Republican introduces bill calling for forensic audit of 2020 election
A Republican member of the Texas House of Representatives introduced a bill Monday seeking a forensic election audit of the state's largest counties.
The Texas Voter Confidence Act, filed by GOP Rep. Steve Toth, authorizes the governor, lieutenant governor, and speaker of the House — all of whom are currently Republicans — to select an independent third party to conduct the election audit. The review would focus on the votes cast in Texas' 13 counties with a population over 415,000.
Former President Donald Trump carried Texas in the 2020 election, however, President Joe Biden won in areas including Houston, Austin and San Antonio — the biggest metropolitan areas in the state.
"We need a forensic audit to uncover all the voter fraud," Toth said Monday in a post on Woodlandsonline, a community web site. "Texans want to know more about the claims of voter fraud and deserve to have confidence in their elections…Voters want to know that their legal vote counts and matters."
The move comes as the Texas House Democratic delegation fled the state en masse to Washington, D.C., to deny Republicans a quorum to enact voting restrictions. It also comes as GOP-led states have introduced or passed dozens of election-related bills following Trump's repeated baseless claims that the election was stolen. In states such as Arizona, where Biden won the presidential race, Republicans are also conducting a costly and controversial audit of ballots in the state's largest county.
The act introduced by Toth would take effect immediately if it received a vote of two-thirds of all the members elected to each chamber of the Texas Legislature. If it passed but did not achieve that margin, it would take effect on the 91st day after the last day of the legislative session.
Rep. Chris Turner, who chairs the Texas House Democratic Caucus, told The Dallas Morning News on Tuesday that the legislation appears to be based on "the lie that there's widespread voter fraud and Donald Trump really won the election." Turner said that the bill's parameters also appear to include both Democratic and Republican strongholds in the states.
"I don't know if these folks are aware of it, Trump actually did carry Texas," Turner said. "So I'm not sure what they're trying to find in their audit."
Looking back at President Biden's first six months
IE 11 is not supported. For an optimal experience visit our site on another browser.
With today marking six months since the beginning of the Biden presidency, NBC News' Kelly O'Donnell takes a look back at whether his early pledges have been met in key areas concerning Covid, immigration, and the economy.July 20, 2021