G7 summit: Sir David Attenborough to tell world leaders their decisions are 'most important in human history' | Politics News
Sir David Attenborough will warn G7 leaders the decisions they make this decade are "the most important in human history" as he urges them to take action on climate change.
The 95-year-old environmentalist will address the heads of the world's leading democracies at their summit in Carbis Bay on Sunday.
During their final day of discussions, Sir David will call on them to take steps to secure the future of the planet.
It comes after various climate groups staged protests across Cornwall to lobby G7 leaders on environmental issues this weekend.
Red arrows fly over Cornwall for G7 summit

In their conclusions from this weekend's summit, G7 leaders are expected to include a pledge to almost halve their emissions by 2030 relative to 2010.
This will also include promises to end almost all direct government support for fossil fuels and the phasing out of petrol and diesel cars.
And the G7 is also expected to commit to increasing their contributions to international climate finance to $100bn (£70bn) a year to help developing countries deal with the impact of climate change and support sustainable growth.
Ahead of his address to world leaders, Sir David said: "The natural world today is greatly diminished. That is undeniable.
"Our climate is warming fast. That is beyond doubt. Our societies and nations are unequal and that is sadly is plain to see.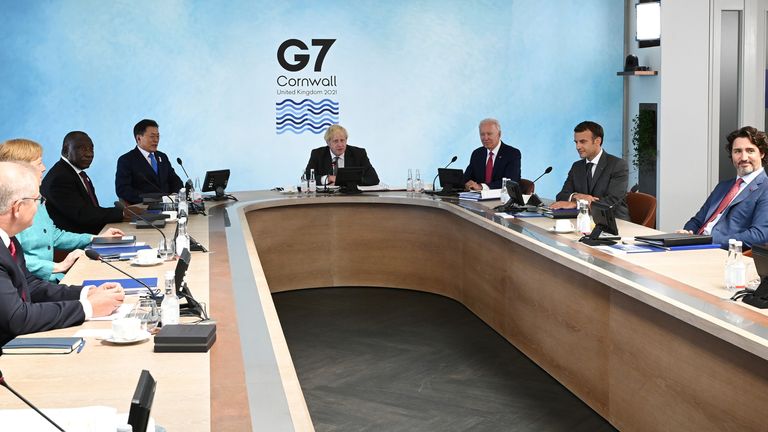 "But the question science forces us to address specifically in 2021 is whether as a result of these intertwined facts we are on the verge of destabilising the entire planet?
"If that is so, then the decisions we make this decade – in particular the decisions made by the most economically advanced nations – are the most important in human history."
The G7 is also set to endorse an agreement on halting and reversing biodiversity loss by 2030, including a target to conserve or protect at least 30% of land and 30% of ocean globally by the end of the decade.
Meanwhile, Prime Minister Boris Johnson has used the summit to launch a £500m fund to support countries, including Ghana, Indonesia and Pacific island states, to tackle unsustainable fishing, protect and restore coastal ecosystems like mangroves and coral reefs, and reduce marine pollution.
"Protecting our planet is the most important thing we as leaders can do for our people," he said.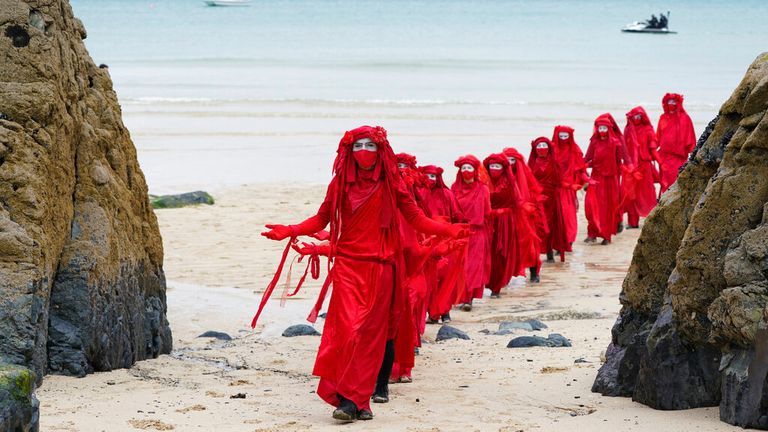 "There is a direct relationship between reducing emissions, restoring nature, creating jobs and ensuring long-term economic growth.
"As democratic nations we have a responsibility to help developing countries reap the benefits of clean growth through a fair and transparent system.
"The G7 has an unprecedented opportunity to drive a global Green Industrial Revolution, with the potential to transform the way we live."
For their final day of discussions on Sunday, G7 leaders will once again be joined by guest nations Australia, South Korea, South Africa and India.
On Saturday night, the leaders enjoyed a beach BBQ in Carbis Bay and witnessed a flypast by the Red Arrows.
Critics questioned the display by nine aerobatic jet aircraft amid the summit's focus on climate change.
Gender gap: Ageing societies give more advantages to men than women, researchers say | World News
Men have more advantages than women in ageing populations, an international study has found.
Researchers say the gender differences in societal ageing suggest men have better resources to cope with the challenges of getting older.
Different gender roles within society not only shape women's and men's life opportunities but also their experience of ageing, the research suggests.
Worldwide, the number of people aged 65 years and older is expected to more than double in the next 30 years, rising from 703 million in 2019 to 1.5 billion in 2050.
Age UK on difficulties facing elderly after lockdown

The study, by researchers from the National University of Singapore and Columbia University in America, found men are especially advantaged when it comes to income and wealth.
They are more likely to be financially secure, have paid work and spend fewer years in ill-health than women in later life.
The first of its kind, the research investigated gender differences in the experience of people growing older in 18 countries in the Organisation for Economic Cooperation and Development (OECD), which includes the likes of the UK and the US.
Women across the countries analysed were shown to have a three year longer average life expectancy than men, but spend more years in poor health.
They are also more likely to live alone at the end of their lives and earn less than men.
A disproportionately greater risk of disability and ill-health in women increased their likelihood of needing long-term care, the study found, as well.
Researchers used the latest data from the OECD and World Bank between 2015 and 2019 for 18 of the 35 OECD countries with sufficient data to develop a gender-specific ageing index.
The new index accounts for five categories that capture social and economic factors affecting the quality of ageing: wellbeing, productivity and engagement, equity, cohesion and security.
Using the system, researchers calculated the overall index and individual category scores that range from 0 to 100 for men and women.
A higher score suggests a successfully ageing society.
Key differences between men and women in ageing societies according to the study:
Men have better resources to cope with the challenges of ageing
Women have a three year longer average life expectancy than men
Men are especially advantaged when it comes to income and wealth
Women spend more years in poor health
Men are more likely to be financially secure
Women have a greater risk of disability and ill-health, which increases their likelihood of needing long-term care
Men are more likely to be engaged in paid work
Women are more likely to live alone at the end of their lives
Women earn less than men
Denmark, Sweden, Finland, Norway, the Netherlands and Japan did well for both genders with an overall index score of 66 or above for men and 55 or above for women.
Countries in much of eastern and southern Europe were at the bottom of the rankings.
The UK achieved an overall index score of 57 for men and 47 for women. It also had the largest difference in wellbeing scores between the two genders, with a score of 74 assigned for men and 61 for women.
America's overall performance score was 55 for men and 47 for women.
Both the US and the UK performed poorly in the study, indicating growing inequality in the distribution of income and wealth.
Lead author Dr Cynthia Chen, from the National University of Singapore, said: "Ageing societies reinforce the prevailing gender norms in which men continue to be allocated the majority of opportunities, resources, and social support.
"With the world's population ageing at an unprecedented rate, and the ratio of older women to older men expected to increase, there is an urgent need to challenge the structural and policy biases that favour men."
The authors have suggested four measures to help address gender bias and inequality in societal ageing including assessing minimum income requirements for healthy living in older people and minimum pensions.
The mystery of the whisky bottle, the US secretary of state and the department searching for answers | US News
The US State Department is investigating the apparent disappearance of a bottle of whisky worth nearly $6,000 (£4,320).
The Japanese government gave the bottle to Mr Pompeo in June 2019 when the then-secretary of state visited the country.
The department reported the investigation in its annual accounting of gifts given to senior US officials by foreign governments and leaders.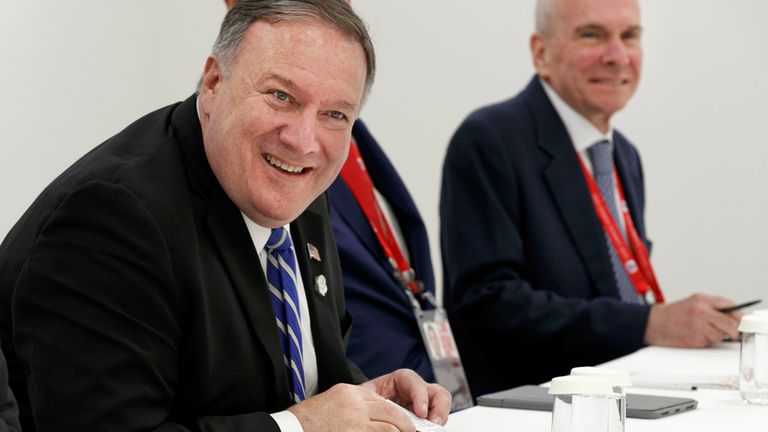 It noted that it could find no trace of the bottle's whereabouts and that there was an "ongoing inquiry" seeking an explanation.
A spokesman for Mr Pompeo said he was unaware of the gift and the inquiry into its whereabouts.
It is thought the bottle of whisky was given to Mr Pompeo while he was attending a G20 summit in Japan, along with then-president Donald Trump.
But the state department's Office of Protocol, which records gifts given to US officials, said that, while every other gift had been recorded, there was no record of the whisky.
If a gift is over a certain value, the recipient can give it to the National Archives or another government entity, or they can keep the gift and reimburse the Treasury Department.
Among the items given to Mr Pompeo during his time as secretary of state were two carpets worth a total of $19,400 (£14,000) from the president of Kazakhstan and the foreign minister of the United Arab Emirates.
Mr Trump and his wife Melania received more than $120,000 (£86,400) worth of presents from foreign leaders in 2019, including an Ottoman Empire rifle worth $8,500 (£6,120) from the Bulgarian prime minister, a bronze sculpture of an Arabian horse from the crown prince of Bahrain worth $7,200 (£5,100), and a statue of an Arabian oryx worth $6,300 (£4,500) from the emir of Qatar.
The Office of Protocol said all of these were given to the National Archives.
Greece wildfires: Families reflect on devastation as homes are destroyed – 'if my mother saw this she would cry' | World News
I spot George Kyriakopolous sitting in his car, the door open to blackened surroundings and smouldering earth.
To his left is his house. To the right, the one owned by his 95-year-old mother and 98-year-old father. His parents' property is burned beyond repair. His own house is badly damaged.
George is a man in shock. He cannot believe what he is seeing. Twenty four hours earlier he was watching a wildfire at what seemed like a distance. In 10 minutes, he says, the fire was upon them in the village of Varympompi, north of Athens.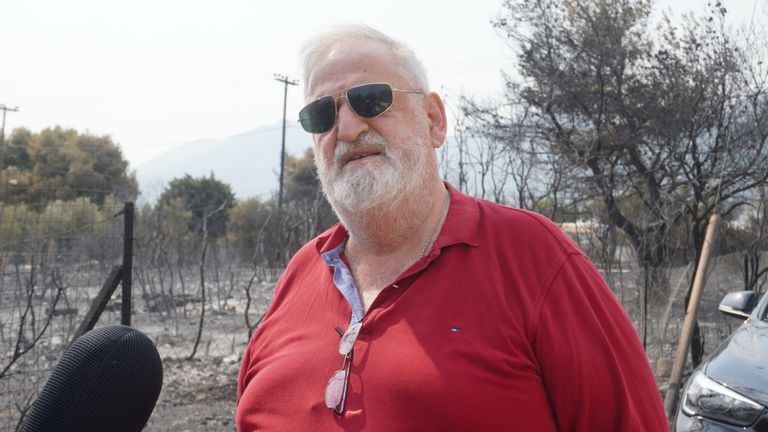 He tells me they had to drive through the flames to get out. He is one of the few residents here who have made it back to check on their properties.
George tells me: "If my mother saw this she would cry. She would cry."
And I think any of us would. Homes that have been lived in and cherished for years were destroyed in minutes. Land cultivated through hard work, now scorched.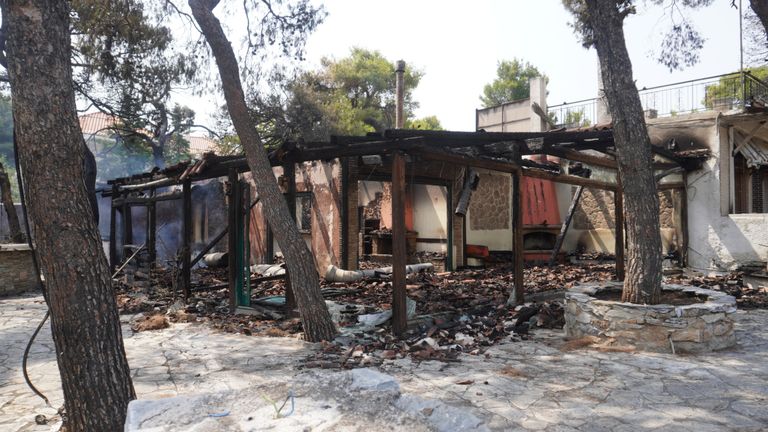 And this scene is repeated in street after street in this village where hundreds were forced to leave as one of the biggest wildfires in Greece this week penetrated Varympompi. Most who live here have not been allowed to return.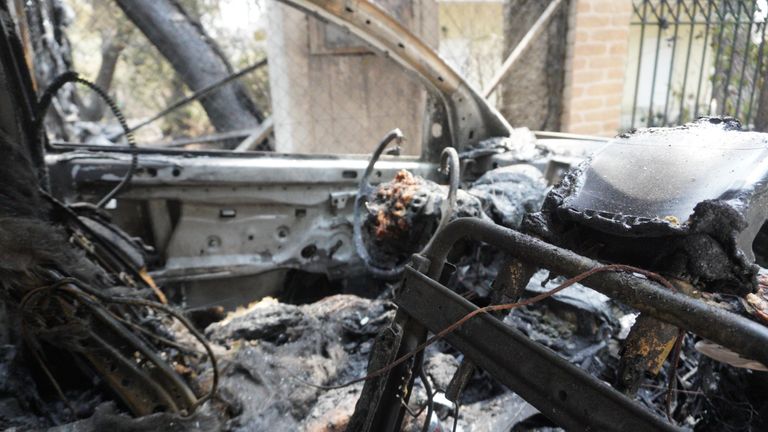 The area is still regarded as extremely dangerous and most residents can only watch the skies from where planes and helicopters dump vast containers of water on the area and hope things will be okay.
Sadly for many of them that will not be the case. Coming back here will be traumatising. It certainly has been for Rula Mantis who shows us around the charred remains of the fruit vegetable store she runs with her boyfriend. So much of it is destroyed and she wonders how they will ever recover.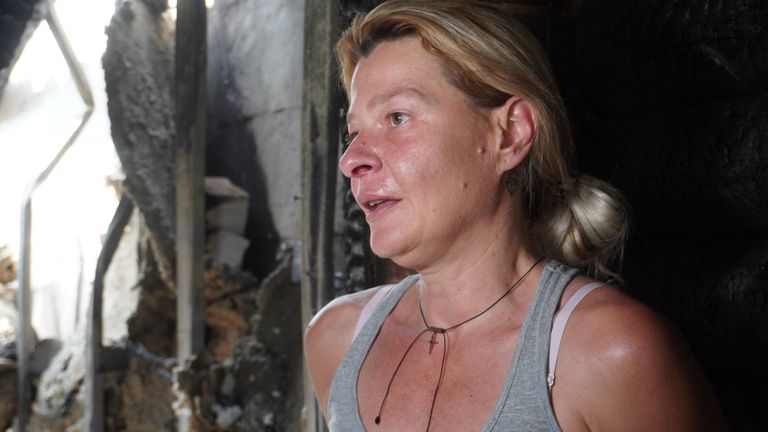 She's angry the property was allowed to burn but understands fire crews faced impossible pressure.
She tells me: "It's very hard. It's a lot of money you have to spend to make this from the beginning. You can't save anything. As you can see, there's nothing left."
The massive flames which lit up the night sky here when the fire reached its peak may have quelled now but the danger for this village isn't over. Everywhere we drive or walk in Varympompi the ground is smouldering.
High temperatures have caused the wildfires in Greece – with people being forced to evacuate their homes

Smoke threatens to ignite into fresh flames which on scorched earth could spread again. It is why residents are taking their fire extinguishers and buckets to douse where they can.
But they know they are up against challenging elements. Temperatures are predicted to remain high in Greece in the days to come when all villagers hope for is rain.
They also know they face the pain of seeing neighbours and friends return to a village where there will be so much pain to confront.