Christian Eriksen may not play football professionally again, says sports cardiologist | World News

Danish footballer Christian Eriksen is unlikely to play professionally again after suffering what was reported to be a cardiac arrest, a leading sports cardiologist has said.
The midfielder collapsed on the pitch during his country's Euro 2020 game against Finland and had to be resuscitated before being taken to hospital.
Eriksen, 29, was in a stable condition on Saturday night but it has not yet been publicly confirmed what was behind his illness.
Professor Sanjay Sharma is professor of sports cardiology at St George's University in London and worked with Eriksen during his time at Tottenham Hotspur.
He said: "Clearly something went terribly wrong.
"But they managed to get him back, the question is what happened? And why did it happen?
"This guy had normal tests all the way up to 2019 so how do you explain this cardiac arrest?"
UK football bodies were likely to be "very strict" about allowing Eriksen to play again, he added.
"His cardiac arrest has rocked the entire nation today and that's what happens. It's not just them that it affects, it's the psyche of so many people.
"The good news is he will live, the bad news is he was coming to the end of his career, so would he play another professional football game? That I can't say.
"In the UK he wouldn't play. We'd be very strict about it."
Prof Sharma chairs the FA's expert cardiac consensus group and is a consultant for charity Cardiac Risk In The Young.
He said the causes of Eriksen's cardiac arrest could include an unidentified health condition or a high temperature, but reports that the footballer was awake in hospital were "a very good sign".
"The fact he's stable and awake, his outlook is going to be very good," he told the PA news agency.
"I don't know whether he'll ever play football again.
"Without putting it too bluntly, he died today, albeit for a few minutes, but he did die and would the medical professional allow him to die again?
"The answer is no."
Bolton Wanderers footballer Fabrice Muamba experienced a similar collapse after suffering a cardiac arrest during a match against Tottenham Hotspur in March 2012.
He had hoped to resume his career but retired from professional football five months later on medical advice.
One of his doctors, Sam Mohiddin, told the BBC: "The cardiac arrest is a moment of extreme peril.
"If you don't get someone out of cardiac arrest things are over. You will not survive.
"The ongoing risk to an individual to an extent depends on the precise cause of that cardiac arrest."
StoryCast '21: 'It wasn't supposed to be like this' – Beirut family still fighting for justice a year after deadly blast | World News

On 4 August 2020, Elie and Tatiana Hasrouty were relaxing in their homes when one of biggest non-nuclear explosions in history ripped through the Lebanese capital Beirut.
The shockwave of the blast expanded outwards at supersonic speed and hurtled through the city in all directions – ripping roofs off warehouses, blowing holes in concrete buildings, and smashing windows for hundreds of metres around.
"I was working remotely 40km away from the port of Beirut when I heard the first explosion, and then a second bigger one," says Elie. "The first thought that came into my mind is that there has been an Israeli strike in the Beirut mountains."
The 36-year-old's younger sister Tatiana, 20, who lives in the suburbs of Beirut, continues: "Our house was severely damaged by the blast, we had glass all over the place, on our bed, on our sofas, at first we thought it was an earthquake."
As the people of Beirut frantically checked on their loved ones to make sure they were safe, Elie and Tatiana learned the explosion had come from the port where their father Ghassan had been working that evening. They would endure an agonising wait before learning he was one of the more than 200 victims of the blast.
Now, as the one-year anniversary of the explosion approaches, the brother and sister have relived their experience in a new Sky News podcast, revealing how they are one of the hundreds of families still fighting for justice.
"It was not supposed to be like this," says Elie, adding that the blast happened because officials simply "didn't care".
Listen to Elie and Tatiana's incredible account in "The Beirut blast: Ghassan's story" – the twelfth episode of StoryCast '21, a Sky News podcast series telling 21 personal stories from some of the biggest news events of the century.
Subscribe to Storycast 21 now on Apple Podcasts, Spotify, Google Podcasts, Spreaker
StoryCast '21 is telling 21 personal stories from some of the biggest news events of the century.
Click the link below to explore the series and listen to all of the episodes released so far.
Tokyo Olympics: Belarusian sprinter being protected at airport hotel after refusing to fly back to Minsk | World News
A Belarusian sprinter who refused to get on a flight from Tokyo after she said she was taken to an airport against her will is "safe and secure" and being looked after, the International Olympic Committee has said.
Krystsina Tsimanouskaya, 24, spent the night in an airport hotel after seeking protection from Japanese police at Haneda airport late on Sunday.
The Olympian said she was seized by officials from her own country on Sunday after she publicly complained about the national coaches.
Mark Adams, spokesman for the International Olympic Committee, said Tsimanouskaya was talking with Games officials about what to do next.
He said: "She assured us and has assured us that she feels safe and secure. She spent the night at an airport hotel in a safe and secure environment.
"The IOC and Tokyo 2020 will continue their conversations with her and the Japanese authorities to determine the next step in the upcoming days."
Tsimanouskaya had been due to compete in the women's 200 metres and the 4×400 metres relay at the Tokyo Olympics this week.
But she criticised team officials on her Instagram account, saying she was put in the relay despite never having raced in the event before.
She had also claimed some members of her team were judged ineligible to compete because they had not undergone enough doping tests.
Coaching staff went to Tsimanouskaya's room and told her to pack as a response to what she had said, she claimed.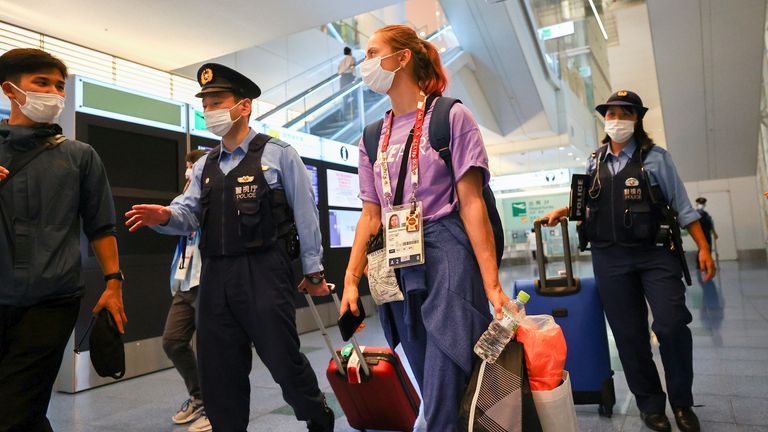 When she arrived at the airport, she summoned Japanese police and refused to board the flight to Minsk via Istanbul.
An activist group supporting her said she feared for her life in Belarus and planned to seek asylum with the Austrian Embassy.
Poland has also offered her a humanitarian visa, with Deputy Foreign Minister Marcin Przydacz saying she is "free to pursue her sporting career in Poland if she so chooses".
In a message on social media, Tsimanouskaya said: "I was put under pressure and (Belarus team officials) are trying to forcibly take me out of the country without my consent."
In a statement on its Facebook page, the Belarus Olympic Committee said Tsimanouskaya was removed from the Games because of her "emotional and psychological state".
It said: "According to doctors, due to the emotional and psychological state of the Belarusian athlete Krystsina Tsimanouskaya, the coaching staff of the national athletics team decided to stop the performance of the athlete at the XXXII Olympics.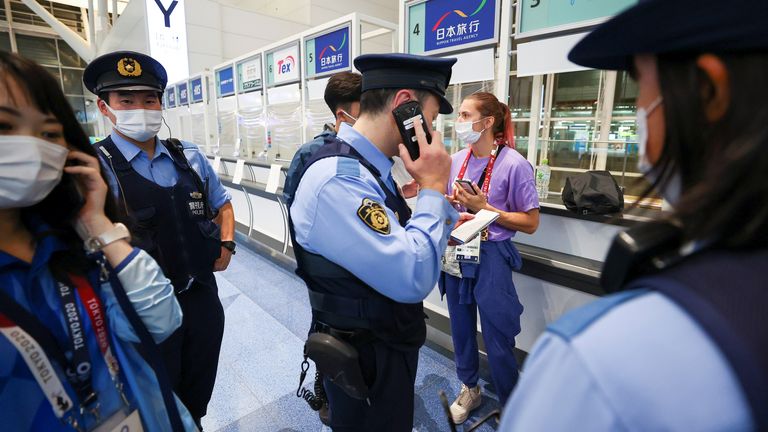 "Consequently, the athlete's application for participation in qualifying races at 200m and in the 4x400m relay was recalled."
The IOC has been in dispute with the Belarus National Olympic Committee, which is headed by the country's authoritarian president Alexander Lukashenko and his son Viktor.
Both of them were banned from the Tokyo Games after the IOC received complaints from athletes about intimidation and reprisals following the protests that began last August after the country's disputed presidential election.
During the protests, the international community and the people of the country themselves were, as Sky correspondent Diana Magnay wrote, "taken aback by the brutality of police and prison guards meted out on so many of the 7,000 detained in the days after the contested election results".
In May, Belarusian journalist Roman Protaevich was arrested after his Ryanair flight was forced to land in Minsk, prompting international condemnation and sanctions.
COVID-19: Fully vaccinated travellers from US and EU can come to UK without having to isolate | UK News

Fully vaccinated travellers from the US and EU can now arrive in the UK without having to isolate.
The new rules came into effect at 4am on Monday but they have not yet been met by a reciprocal easing of restrictions for travellers from the UK.
The new rule applies to England, Scotland, Wales and Northern Ireland.
Transport Secretary Grant Shapps said: "We're helping reunite people living in the US and European countries with their family and friends in the UK."
Previously, only travellers who received both coronavirus vaccine doses in the UK were able to enter from an amber country – the US and most of the EU – without isolating for the required 10 days.
But the isolation exemption will now cover those people vaccinated in the US and the EU.
Arrivals from France are the exception, with isolation still required regardless of vaccination status.
US citizens must have a vaccine card, while EU citizens need the bloc's "green pass" showing their vaccination status.
Paul Charles, chief executive of travel consultancy The PC Agency, told the PA news agency: "The significance of this decision can't be overestimated.
"It will pump vital cash into the travel economy, and help salvage the rest of the summer.
"Inbound visitors deliver billions of pounds to the economy and they can be welcomed safely.
"It's especially good news for our airlines who need to fill their seats across the Atlantic."
Also on Monday, international cruises from England are allowed to resume, after a 16-month enforced break.
Most firms will not take passengers straight away due to logistical reasons, however.
Follow the Daily podcast on Apple Podcasts, Google Podcasts, Spotify, Spreaker
Meanwhile, there are fears that the government is considering creating an amber watchlist, which would include countries at risk of moving to the red list at short notice.
Arrivals from red list countries must spend 10 days in hotel quarantine at a cost of £1,750.
There is already a green watchlist, which includes countries on the green list that are at risk of being moved down to amber.
According to The Daily Telegraph, Mr Shapps is against the idea and is instead pushing for travel to be opened up further.
Ministers will meet on Thursday to decide on the travel rules that will be in place for most of August.
The Department for Transport said it would not comment on "speculation" when asked about a possible amber watchlist.