Anonymous bidder pays £19.8m to fly into space with Amazon founder Jeff Bezos on his Blue Origin rocket | Science & Tech News
A trip into space with Amazon founder Jeff Bezos has sold for $28million (£19.8m) at auction.
The anonymous bidder will get to fly with Mr Bezos and his younger brother Mark on his rocket company Blue Origin's maiden voyage next month.
Their identity will be revealed in the coming weeks ahead of lift-off in West Texas on 20 July – the 52nd anniversary of the moon landings.
It will be the first time Mr Bezos's New Shepard capsule will have people onboard and will mark the launch of his space tourism business.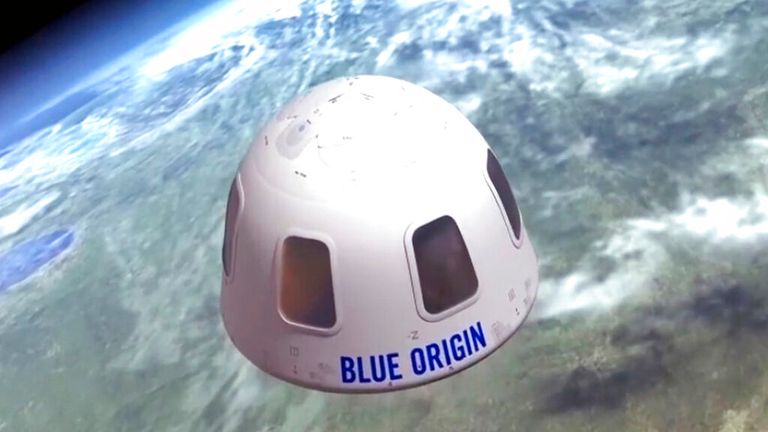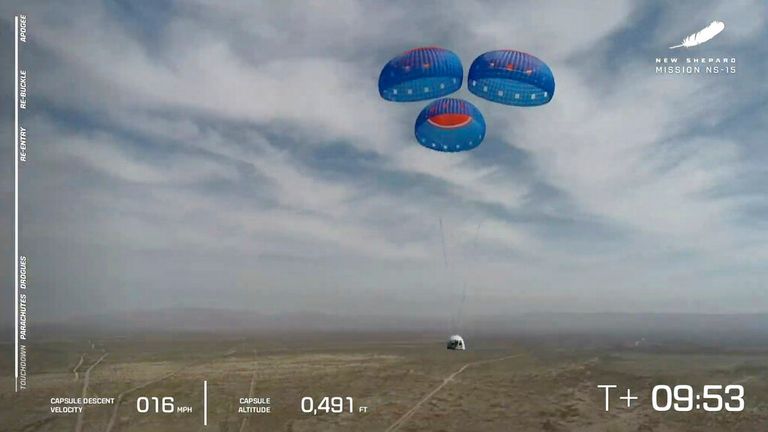 All 15 test flights since the project began in 2015 have been successful.
More than 7,500 people from 159 countries registered to bid in the online auction, with 20 going through to the final round on Saturday.
Offers quickly shot up after Mr Bezos announced on Monday that he and his brother would be on board the 11-minute maiden passenger flight.
The money from the bid will be donated to Blue Origin's Club for the Future, which promotes science and technology among young people, a company spokesperson said.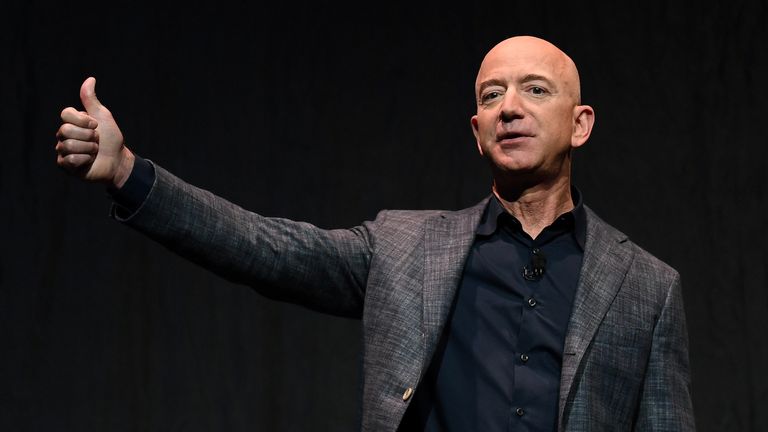 It is not clear when Blue Origin will be open for commercial business, but ticket sales and price lists are due to be available soon.
Mr Bezos is set to beat his rival Richard Branson and his space enterprise Virgin Galactic in being the first person to make space travel available to the public.
Newport Wafer Fab: Former cyber security chief raises alarm over sale of Welsh microchip manufacturer to Chinese-backed Nexperia | Politics News

The UK's former cyber security chief has raised the alarm over the sale of a Welsh microchip manufacturer to a Chinese-backed company.
Ciaran Martin, the former chief executive of the National Cyber Security Centre (NCSC), said the purchase of Newport Wafer Fab by Nexperia, a Dutch subsidiary of the Chinese company Wingtech, poses a greater threat to British interests than Huawei's involvement in the 5G network.
Boris Johnson has asked national security adviser Sir Stephen Lovegrove to look at the deal, worth a reported £63m, while MPs have called on ministers to intervene.
But, Charles Smit, a board member and general counsel at Nexperia, told the BBC earlier this week: "We're not owned by the Chinese state, the Chinese state is not involved in Wingtech."
Sky News has contacted Nexperia for comment.
Mr Martin, who was chief executive of the NCSC until last August, described the future of microchip supply as a "first order strategic issue" for the government to get a handle on.
He was part of the NCSC when it altered its security assessment of equipment manufactured by Huawei, with the firm eventually excluded from the UK's rollout of 5G on security grounds.
"Huawei in the periphery of 5G only really mattered because the Trump administration became obsessed with it for reasons they never convincingly set out," Mr Martin told The Daily Telegraph.
"By contrast the future of semiconductor supply is a first order strategic issue. It goes to the heart of how we should be dealing with China."
His comments come after the Commons Foreign Affairs Committee called for tougher action to stop strategically important companies being sold overseas.
The cross-party group of MPs said the UK's "sovereignty should not be for sale" and called for the takeover of Newport Wafer Fab to be formally called in for review.
"Appropriate mitigation measures" should be introduced by ministers, they also said.
"Our fiercest competitors, notably China, have a track record of using foreign investments to gain access to important technologies and information," committee chairman and Conservative MP Tom Tugendhat said when the report was released.
"We've witnessed too many of our country's brilliant tech firms disappear abroad with potentially significant economic and foreign policy implications."
Tokyo 2020: Team GB's Bradly Sinden takes silver after losing in the men's 68kg taekwondo final | World News

Bradly Sinden has taken silver in Tokyo after losing to Uzebekistan's Ulugbek Rashitov in the men's 68kg taekwondo final.
Rashitov beat Sinden 34-29 at the Makuhari Messe Hall on Sunday, narrowly missing out on Team GB's first gold of the Games.
Sinden, the reigning world champion, from Doncaster, was guaranteed a silver medal after beating China's Zhao Shuai in the semi-finals earlier in the day.
But despite his 19-year-old opponent being seeded 17th in the world, he was overtaken in the final few seconds of the match.
Appearing tearful afterwards, the 22-year-old spoke of his "disappointment".
"It was my gold medal to give away," he said. "I made a few mistakes, but that's taekwondo."
The silver win follows huge disappointment for British taekwondo earlier in the day when double Olympic champion Jade Jones lost in the first round.
Jones, 28, was vying to become the first ever British woman to secure three golds at three consecutive games.
But she was denied even a bronze in the repechage when the Refugee Team's Kimia Alizadeh – who beat her – lost out in the semi-finals.
Team GB came second only to the USA in the medals table at Rio 2016 and is hoping for a repeat performance this year.
Tokyo Olympics medal table, results and schedule | UK News

Team GB won 67 medals at the Rio Olympics in 2016 – including 27 golds. Follow progress at Tokyo with the table below.
See results for all sports by tapping on the table below and selecting the competition you are interested in:
Check out what is happening day by day, by tapping on the dates in the calendar below: