Euro 2020: Fans optimistic ahead of first match despite threat of COVID-19 | World News
Everywhere you look, there is a Euro 2020 banner.
In Rome, there isn't the buzz of an ordinary major tournament – stadiums here is at 25% capacity and there are no large crowds partying.
But the pre-match excitement is building and at the Fori Imperiali fan zone by the Colosseum, "football is back," as Patrick Miccoli tells me, waving his Italian flag ahead of the opening match of Euro 2020.
"It's a beautiful game, it's a beautiful day and we've waited a long time and the Euros are here," he says.
Last year's Champions League match between Atalanta and Valencia in Milan is seen by many as a moment that sparked the first wave of COVID-19 in northern Italy, but Turkey fan Ali Mekik says "we are after coronavirus" and it's time for "a happy day after a difficult year".
Mr Mekik has come here from Germany, so hasn't faced the strict quarantine rules for fans coming from Turkey.
"We have waited more than a year for this moment," he says.
"It does feel different from other tournaments, but hopefully Turkey are going to win."
Turkey take on Italy at the Stadio Olimpico in their Group A opener, at 8pm UK time on Friday.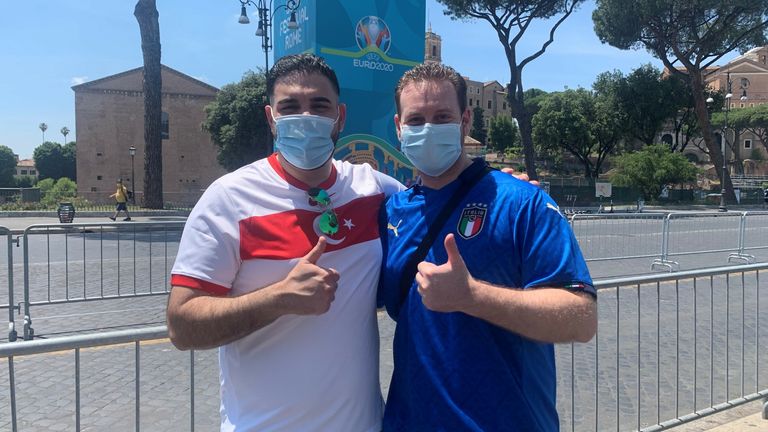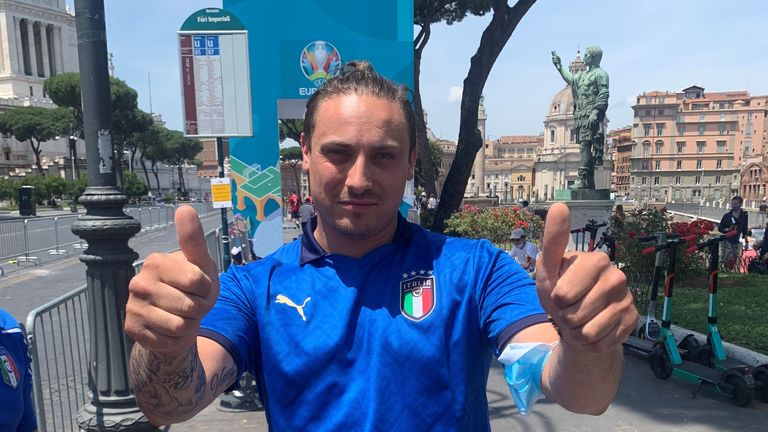 The mayor of this city, Virginia Raggi, says "Rome is ready" and has been waiting for the Euros since 2018.
Mrs Raggi says "of course" COVID regulations will make the competition different, but says the "personal attitude of every one of us is most important".
"I am optimistic, I'm confident that people really respect that there are COVID measures that everyone has to follow and let me tell you people are ready to start again, to live again," she says.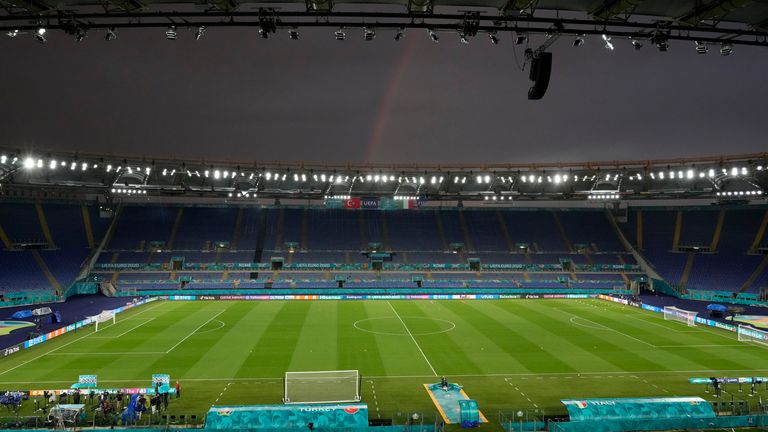 Rome is one of the host cities for the delayed European Championships, the first time matches are being held in 11 different countries, creating logistical challenges for fans travelling across Europe.
Seb, Sol, Dan and Shawn have come from the UK to see the opening match, but it means they can't watch England at Wembley on Sunday.
"We didn't know if it was going to happen," says Seb. "It's difficult with the tests and quarantine and everything, but it's great to be here in Rome, we're just glad we all made it."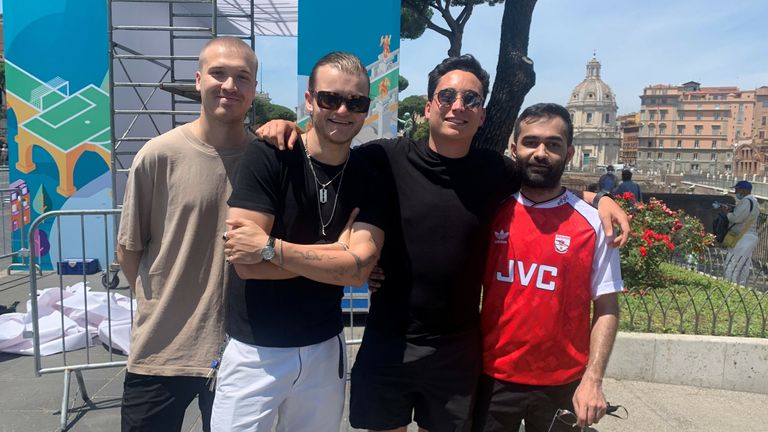 The fans have waited a long time for the Euros, and rightly or wrongly there is optimism here that they have done enough to make sure it is safe.
Tokyo Olympics will be 'safe and secure' as organisers reveal ban of alcohol and celebrating in venues | World News
High fives, talking loudly and drinking alcohol are just some of the things that have been banned by organisers of the Tokyo Olympics and Paralympics.
The Games are due to begin in just 30 days but controversy over holding them during the pandemic continues.
Tokyo Olympics President Seiko Hashimoto revealed the decisions during a news conference where she said the event could not be "full of celebration".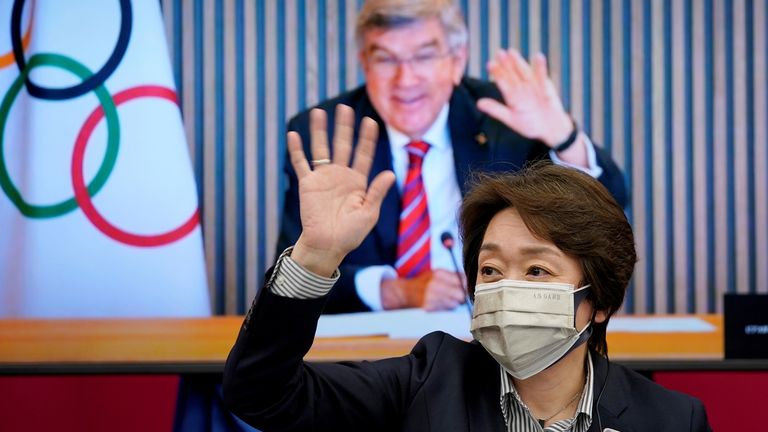 "Following experts' advice, the organising committee decided against selling and drinking alcohol drinks at the venues so as to prevent spread of infections," she said.
Athletes who might want a drink to celebrate have been told by organisers to "drink alone" in their rooms. Alcohol is otherwise banned in the athletes' village.
Earlier, Ms Hashimoto defended the organisers' decision to allow spectators into Olympic venues.
Japanese medical experts have said banning spectators was the least risky option but also included recommendations on how best to host the Games if spectators were admitted.
Up to 10,000 domestic spectators will be allowed into venues but foreign visitors are banned and there will be no public viewing areas in Tokyo.
But the recommendations for the few fans who can attend venues include temperature checks, masks, social distancing, refraining from cheering, not giving each other high-fives and going straight home afterwards.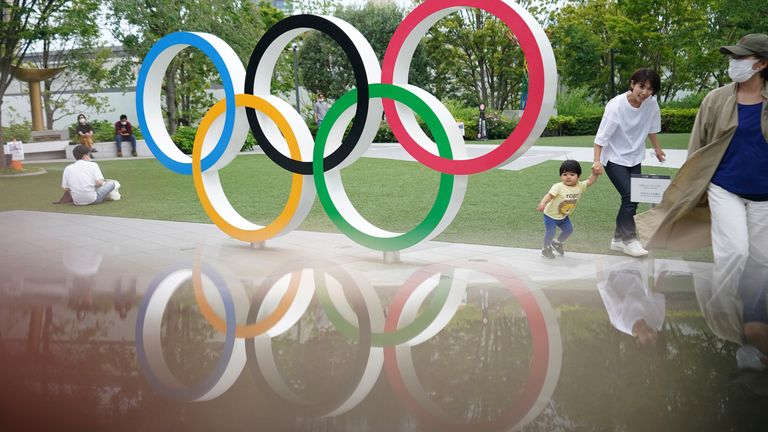 The guidelines say spectators may remove face masks in hot or humid weather outdoors to avoid heat stroke.
Spectators may be denied admission or asked to leave the sites if they do not observe the rules.
"The major challenge at the Tokyo Games is to curb a flow of people and limit a sense of celebration," Ms Hashimoto said.
"We are striving to make the Tokyo Games safe and secure, so it won't be full of celebration."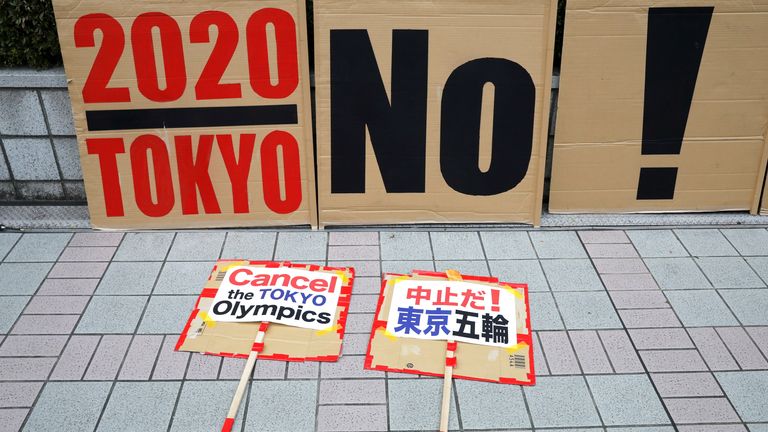 Prime Minister Yoshihide Suga has still not ruled out holding the Games without spectators if Tokyo is put back under a state of emergency, from which it only emerged on 21 June.
While the number of new cases has been receding in Tokyo, only about 7% of Japanese people are fully vaccinated – and even though the government is now supercharging its vaccine drive after a slow start, the vast majority of the population still won't be immunised when the games start.
The arduous preparations for the Olympics also appears to have taken its toll on organisers.
Tokyo governor Yuriko Koike was hospitalised on Tuesday after the metropolitan government said she would take the rest of the week off due to fatigue
The Games' opening ceremony is on 23 July.
COVID-19: Why India is concerned about 'Delta plus' variant and a third wave – as 41 cases detected in UK | World News
The "Delta plus" COVID variant is now a big concern for India's government and scientific community.  
At least 22 samples of the variant have been discovered in Ratnagiri and Jalgaon in the state of Maharashtra, Palakkad and Pathanamthitta in Kerala, and in Bhopal and Shivpuri in Madhya Pradesh.
And it has now emerged 41 cases of the Delta plus variant have been found in the UK.
Public Health England's latest report on variants confirms 41 of the 75,953 Delta cases sequenced in the UK were the B.1.617.2 Delta plus mutation.
Live COVID updates from the UK and around the world
The Indian federal government has directed affected states to take up containment measures, contact tracing and testing in the clusters where the new variant has been found.
Scientists have warned that Delta plus has three worrying characteristics; increased transmissibility, stronger binding in receptors of lung cells and potential reduction in monoclonal antibody response.
Speaking to Sky News, Dr Lance Pinto, consultant respirologist at the Hinduja National Hospital, said: "We are quite concerned about the Delta plus variant, given that it has a mutation that was attributed to the Beta variant – escaping the immunity offered by the Astra vaccine (the vaccine received by a majority in India).
"The concerns also revolve around the possibility of reinfections as there are reports that the variant escapes neutralization with the antibody cocktail."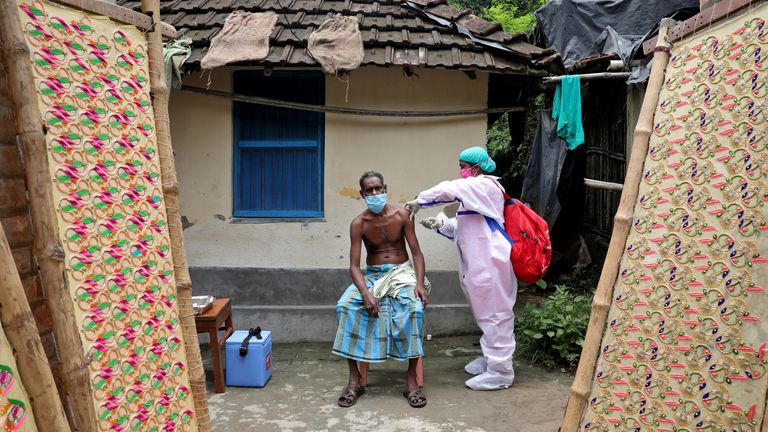 Experts have repeatedly said that the virus will mutate constantly over time, with some variants posing a risk, as they could escape the immune system.
PHE has said two doses of both the Oxford-AstraZeneca and Pfizer-BioNTech vaccines are effective against the Delta variant – but more data would be needed on a further mutation.
Prime Minister Narendra Modi, his government and the scientific community have warned of a third wave which could be upon the country in a few weeks.
The devastating effects of the second wave ravaged the country in April and May. Almost 10 million cases and more than 150,000 deaths are reported to have taken place during this period.
The second wave saw the virus penetrate all parts of the country, including rural India, where most people live.
Public healthcare in smaller towns and villages is largely inadequate and, in many places, non-existent. For decades successive governments have spent just over 1.2 % of the GDP on public health care and a severe pandemic has crashed the system.
Now COVID-19 cases are on the decline and lockdown restrictions in most parts of the country have been lifted.
Oxygen shortages and mass cremations in India's second wave

But Dr Pinto warned: "The medical fraternity is constantly worried about every reprieve being followed by complacency and subsequently, a surge; and as someone who has witnessed the devastating effects of the surges thus far, I do hope we do our best to minimize the impact of the next surge."
With more than 30 million cases, India is second only to the United States as the worst affected country. Though the fatality rate is low – about 390,000 people have died so far.
India's vaccination programme, which began on 16 January, has been poor and mired in controversy over the process and procurement.
Even as 280 million vaccines have been administered so far, less than 4% of the adult population have had their second dose, while 17% have had one shot.
COVID-19: India reports new 'Delta plus' coronavirus variant of concern | World News

India has reported a new "Delta plus" coronavirus variant of concern, officials have said.
Sixteen cases of the variant, a mutation of B.1.617.2, were found in the state of Maharashtra on Tuesday, federal health secretary Rajesh Bhushan told a news conference.
Delta plus is thought to be more transmissible than the original Delta variant, according to state officials who are increasing testing and local vaccination drives.
Public Health England has said the Delta variant is up to 60% more contagious than the Alpha (Kent) one that emerged in December last year.
Currently in the UK, Delta makes up more than 99% of reported COVID-19 cases.
A Nepalese mutation of the Delta variant was reported to be behind Portugal being moved from the green to amber travel lists last month.
Experts have repeatedly said that the virus will mutate constantly over time, with some variants posing a risk, as they could escape the immune system.
PHE has said two doses of both the Oxford-AstraZeneca and Pfizer-BioNTech vaccines are effective against the Delta variant – but more data would be needed on a further mutation.
On Monday, India vaccinated 8.6 million of its 950 million adults as it began offering free doses to all over-18s.
Listen and follow the Daily podcast on Apple Podcasts, Google Podcasts, Spotify, Spreaker
Since May, India has vaccinated fewer than three million people a day – far below the 10 million officials say are needed to prevent future surges.
Only 5.5% of the adult population is vaccinated so far, despite India being the world's biggest vaccine producer.
Case numbers are the lowest they have been in more than three months – but experts say vaccinations need to be stepped up to mitigate against new variants.
A huge spike in infections of the Delta variant crippled India in April and May, with hospitals running out of oxygen and mass graves unable to contain the numbers of dead.