Venus: European Space Agency mission aims to unlock mysteries of 'Earth's twin' | Science & Tech News
Scientists aim to explore the mysteries of Venus, including whether it was once habitable, with a new space mission.
British boffins will play a leading role in the EnVision project, studying the atmosphere and geology of the planet known as "Earth's twin".
Commissioned as part of the European Space Agency's (ESA) Cosmic Vision programme, the mission into space will cost about of €610m (£524.7m).
It will look at past and present volcanic activity and track gases that are key in sustaining Venus's clouds and environment, as well as find out why Earth is the only planet able to sustain life.
The EnVision orbiter is expected to launch in 2031 and will take 15 months to reach the planet.
Once it arrives, it will spend a further 16 months slowing down, in a process called aerobraking, until it reaches a low circular orbit.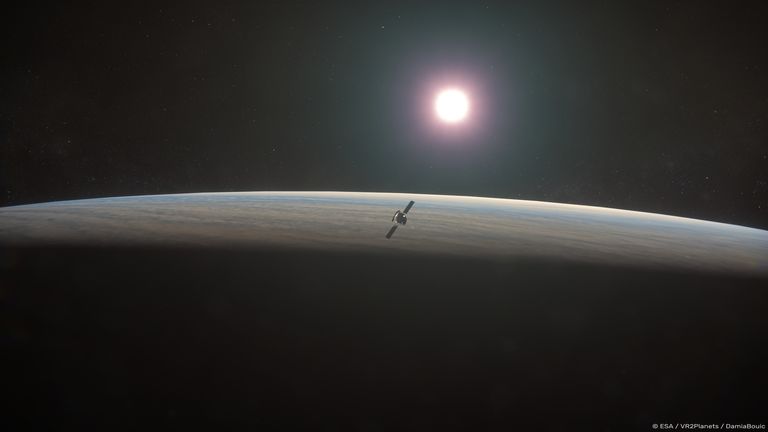 It will start its four-year study using instruments including a sounder to reveal underground layering, and spectrometers to study the atmosphere and the surface.
A NASA-provided radar will also image and map the surface.
Researchers from Royal Holloway, University of London, Oxford University and Imperial College London will work alongside European and American scientists on the project.
Venus is the most Earth-like planet in terms of size, composition and distance to the sun.
Many academics believe the two planets were probably once quite similar, with oceans of molten rock and thick atmospheres of carbon dioxide and steam.
But while Earth evolved to become habitable, Venus may or may not have gone through a habitable stage before developing a greenhouse effect that now cooks its surface to 450C (842F).
UK scientists recently took part in another programme which saw hundreds of worms being sent into space for research on human muscle loss.
Science minister Amanda Solloway said: "I'm proud that once again British scientists have been chosen to play a leading role in a mission that will expand humankind's understanding of the universe."
G7 summit: St Ives hotel housing security staff and media forced to close after COVID outbreak | Politics News
A hotel housing security staff and media for the G7 summit in Cornwall is to shut completely following an outbreak of COVID-19.
The Pedn Olva hotel in St Ives – the host town for the summit of world leaders and just one mile from Carbis Bay – said it would "fully close" after discussing the outbreak with Public Health England.
It's understood 13 staff are infected out of around 17 workers.
There were just 45 cases of COVID-19 in Cornwall in the week between 30 May and 5 June.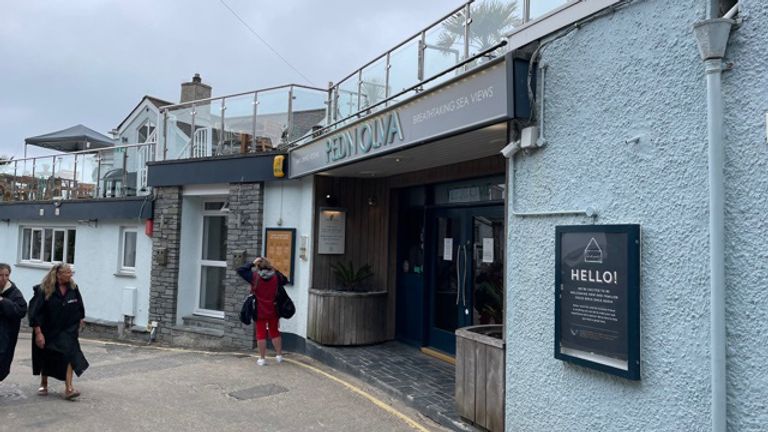 One staff member, who was leaving the hotel to self-isolate carrying two packs of COVID tests, told Sky News the hotel was "closing and boarding up".
Sky News spoke to a number of security staff protecting the German G7 delegation who are staying at the hotel.
They said they had "been told nothing" but that they might end up buying a tent and sleeping on the beach.
Most hotels in the county are fully booked because of the summit.
A number of media crews – including CBS – are understood to have been staying at the hotel and operating a live presenting position from its roof.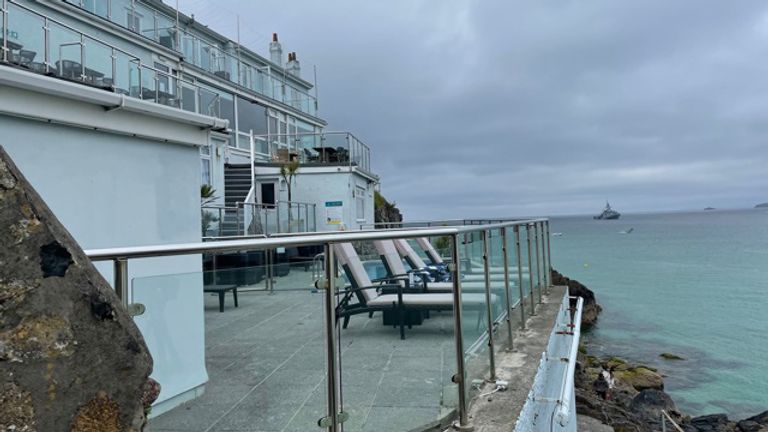 In a statement, the hotel owners – St Austell Brewery – said: "We can confirm that a number of our team at the Pedn Olva, St Ives, have tested positive for COVID-19.
"We immediately notified Public Health England of these cases and have been working closely with them to ensure we follow all appropriate safety guidelines.
"Following extensive discussions over the last few days with PHE and Cornwall Council, we have taken the decision to fully close the hotel.
"We fully appreciate the inconvenience given the limited accommodation options available in the area at the moment but the safety and security of our team and guests is our upmost priority. The hotel will reopen once a full COVID-19 deep clean has taken place and we have the available staff to run it."
The outbreak comes on the eve of the start of the G7 summit, with thousands of police, delegates and media in the county.
Emmanuel Macron slap: Man jailed for hitting French president in the face | Breaking News News
A 28-year-old man has received a four-month prison sentence after slapping French President Emmanuel Macron in the face.
Damien Tarel was also given an additional 14-month suspended sentence for the offence, which took place on Tuesday as the leader was greeting a crowd in southeastern France.
Tarel was banned from ever holding public office and from owning weapons for five years.
He was quickly arrested after the slap that hit Macron's left cheek and charged with violence against a person invested with public authority.
In court, the defendant described himself as a right-wing or extreme "patriot" and a member of the yellow vest economic protest movement.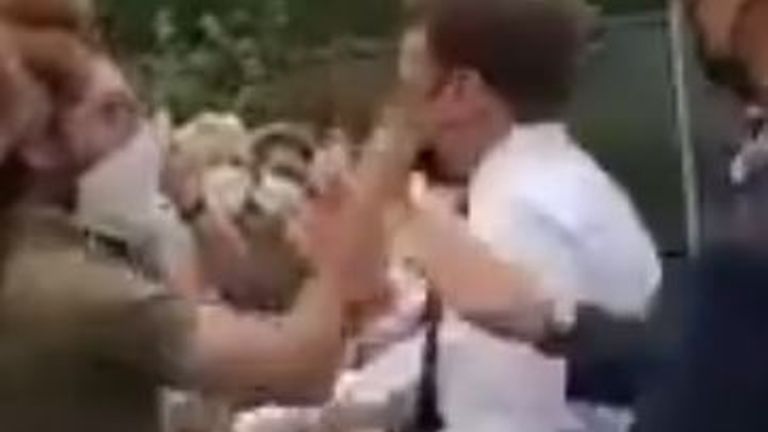 He told the court in the southeastern city of Valence that the attack was unplanned and impulsive and prompted by anger at France's "decline".
He was heard shouting a centuries-old royalist war cry as he struck the president.
In a video of the incident, Macron's security entourage quickly intervened and moved the leader away from his attacker.
China: Elephants become online stars after napping during epic trek around south of country | World News
A group of 15 elephants have become social media sensations after hundreds of millions of people watched a video of them napping.
The herd have been travelling around southern China for more than a year, covering some 310 miles (500km) from their home on a wildlife reserve in Xishuangbanna, Yunnan, all the way to Kunming, the provincial capital and home to seven million people.
They have been wreaking gentle havoc along the way, breaking into farms for food and water, and trespassing into a retirement home, startling one elderly resident who had to hide under a bed.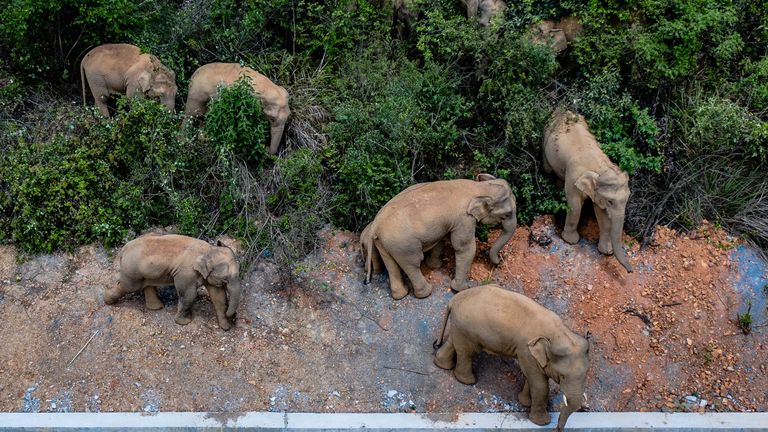 Authorities in China have been trying to keep people out of harm's way and have been monitoring the group non-stop using drones.
The footage has been viewed by hundreds of millions of people, with some tracking their every move.
But there's little agreement on exactly why the elephants are on the move.
"In the past few years, the number of elephants has increased because poaching has stopped," Wenjing Pan, forest and ocean project manager at Greenpeace East Asia, told Sky News.
"Meanwhile, the population in the area has also increased, and more land that could be their potential habitat for elephants has been occupied by human activities.
"The preferred option is to try and guide the elephants and try to get them to change their direction. Meanwhile, the local authorities will pay for any of the losses farmers suffer due to damage caused by the elephants."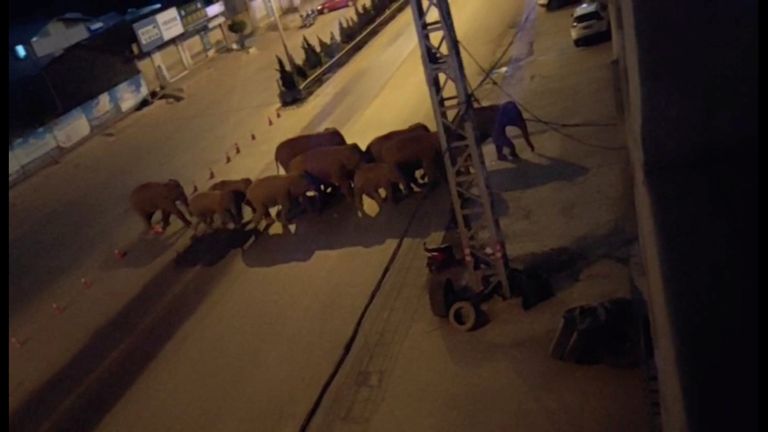 Even thousands of kilometres away in Beijing, the huge animals were a topic of discussion.
One commuter told Sky News she thought the COVID-19 pandemic was to blame, saying: "Before, animal lovers and local people took care of them, like the elephants in Africa. But now, affected by the pandemic, maybe, people don't have the time or the effort to care for them."
However, she thought China – which has largely controlled COVID – was the best place for the herd.
"China is very safe," she said. "I think the elephants know China's situation and they want to stay in China. They want to explore a new habitat in China."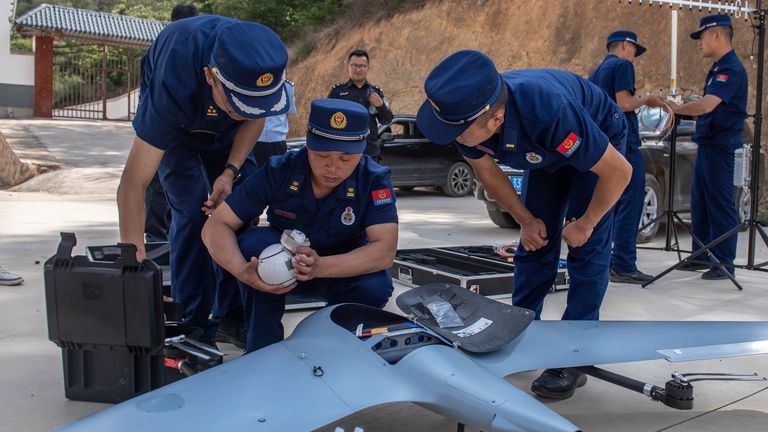 Her primary school-age son was more equivocal on the appeal of the elephants. He said: "I think every animal is special. Some look ugly, some cute. I have no favourite one. I think they are all animals – we should protect them all."
Another Beijing resident said the elephants' journey "must be because of mankind". They pondered: "Why have they walked so far to find a new habitat? It's because people destroyed their habitat."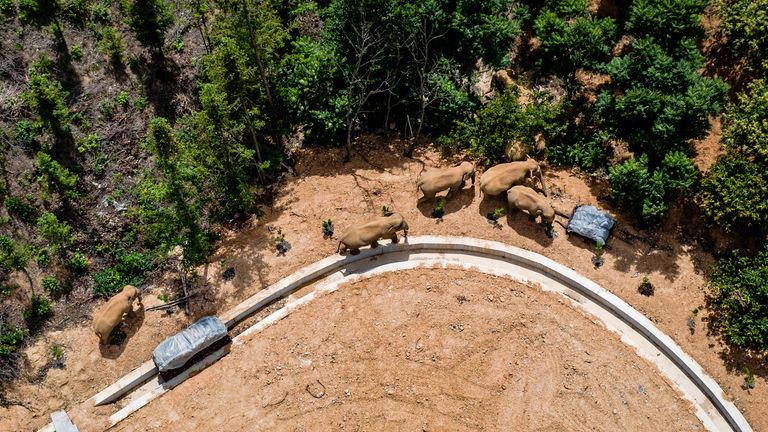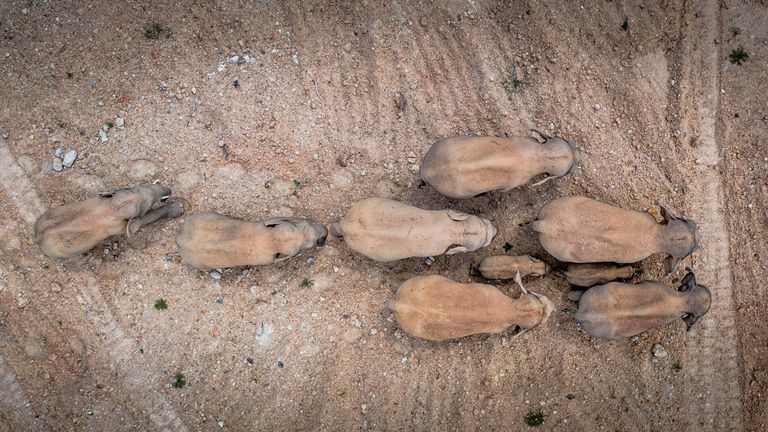 The most recent information from state media places the herd at Yuxi city, around 46 miles (75km) from Kunming.
One elephant was left behind in Kunming, apparently late to wake from a nap. Their destination remains unknown.