China: Detainees in Xinjiang camps tortured, beaten and given electric shocks, says Amnesty report | World News
China has created a "dystopian hellscape" in Xinjiang, according to the head of Amnesty International, with people who are detained in camps there routinely tortured.
A comprehensive new report from the organisation, based on interviews with more than 50 former detainees of the camps, details alleged crimes against humanity – including mass imprisonment, torture and persecution – carried out by Chinese authorities against Uyghur Muslims and other ethnic minorities.
"China must immediately dismantle the internment camps, release the people arbitrarily detained in them and in prisons, and end the systematic attacks against Muslims in Xinjiang," said Agnes Callamard, the secretary general of Amnesty International.
The report says that from early 2017, hundreds of thousands – and possibly more than one million people – have been sent to camps in Xinjiang.
China for a long time denied the existence of any camps. It eventually changed tack and now says the camps are voluntary "vocational training centres", necessary to combat terrorism.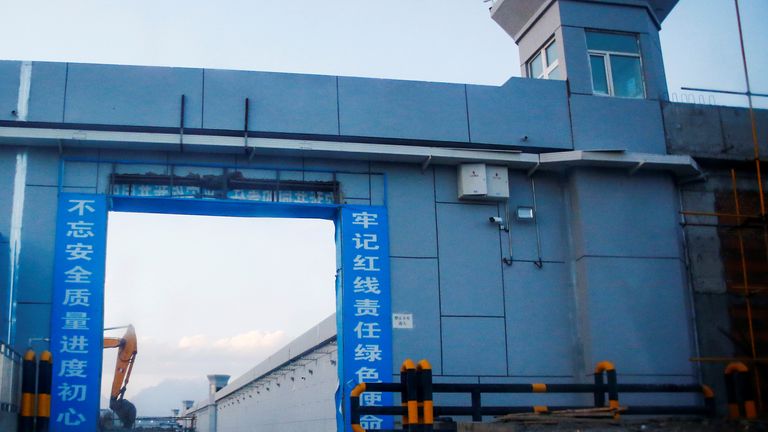 President Xi Jinping has said his government's policies in the region are "totally correct".
Each detainee interviewed by Amnesty suffered torture or other ill-treatment, according to the report.
Some were beaten or given electric shocks, or forced to sit in a "tiger chair" – a steel chair with painful restraints.
Detainees told Amnesty they had been tortured multiple times and others said they were forced to watch their cellmates being tortured.
All the detainees interviewed were held for what appears to be "entirely lawful conduct", including possessing religious-themed pictures or communicating with people abroad.
One interviewee, a government official, said that police took people from their homes without warning and detained them without due process.
Outside the camps, the report described Xinjiang as a "surveillance state".
Those released from the camps are subject to "near-constant electronic and in-person surveillance". The population at large is also heavily monitored.
The report calls for the UN to establish "an independent international mechanism" to investigate abuses in Xinjiang.
The Chinese government has previously said that it was discussing a visit by the UN Human Rights commissioner, and that the "door to Xinjiang is always open" but "the aim of the visit is to provide exchanges and cooperation rather than … so-called investigation based on 'guilty before proven'".
An independent "people's tribunal" was held in the UK last week, although it has no legal power. It heard that minorities are treated "worse than dogs" and "tortured day and night".
Xinjiang is expected to be a topic of discussion at this week's meeting of G7 leaders. The US administration has said China's actions amount to genocide.
No other government has followed suit but the parliaments of the UK, Canada and the Netherlands have all voted to declare the human rights abuses as genocide.
Sky News has contacted the Chinese embassy in London for comment.
Venus: European Space Agency mission aims to unlock mysteries of 'Earth's twin' | Science & Tech News
Scientists aim to explore the mysteries of Venus, including whether it was once habitable, with a new space mission.
British boffins will play a leading role in the EnVision project, studying the atmosphere and geology of the planet known as "Earth's twin".
Commissioned as part of the European Space Agency's (ESA) Cosmic Vision programme, the mission into space will cost about of €610m (£524.7m).
It will look at past and present volcanic activity and track gases that are key in sustaining Venus's clouds and environment, as well as find out why Earth is the only planet able to sustain life.
The EnVision orbiter is expected to launch in 2031 and will take 15 months to reach the planet.
Once it arrives, it will spend a further 16 months slowing down, in a process called aerobraking, until it reaches a low circular orbit.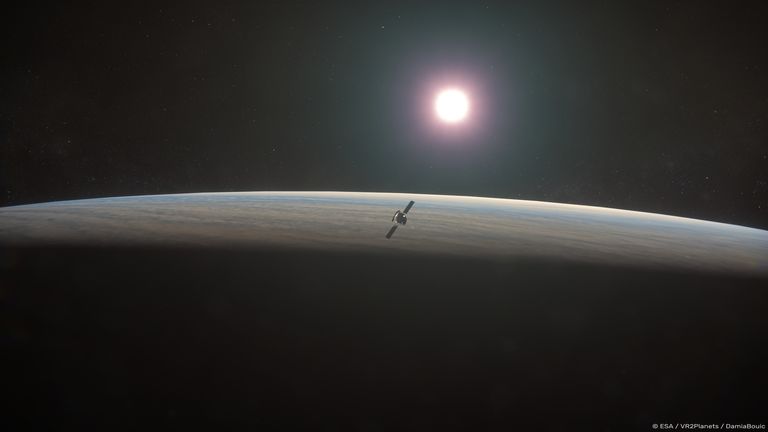 It will start its four-year study using instruments including a sounder to reveal underground layering, and spectrometers to study the atmosphere and the surface.
A NASA-provided radar will also image and map the surface.
Researchers from Royal Holloway, University of London, Oxford University and Imperial College London will work alongside European and American scientists on the project.
Venus is the most Earth-like planet in terms of size, composition and distance to the sun.
Many academics believe the two planets were probably once quite similar, with oceans of molten rock and thick atmospheres of carbon dioxide and steam.
But while Earth evolved to become habitable, Venus may or may not have gone through a habitable stage before developing a greenhouse effect that now cooks its surface to 450C (842F).
UK scientists recently took part in another programme which saw hundreds of worms being sent into space for research on human muscle loss.
Science minister Amanda Solloway said: "I'm proud that once again British scientists have been chosen to play a leading role in a mission that will expand humankind's understanding of the universe."
G7 summit: St Ives hotel housing security staff and media forced to close after COVID outbreak | Politics News
A hotel housing security staff and media for the G7 summit in Cornwall is to shut completely following an outbreak of COVID-19.
The Pedn Olva hotel in St Ives – the host town for the summit of world leaders and just one mile from Carbis Bay – said it would "fully close" after discussing the outbreak with Public Health England.
It's understood 13 staff are infected out of around 17 workers.
There were just 45 cases of COVID-19 in Cornwall in the week between 30 May and 5 June.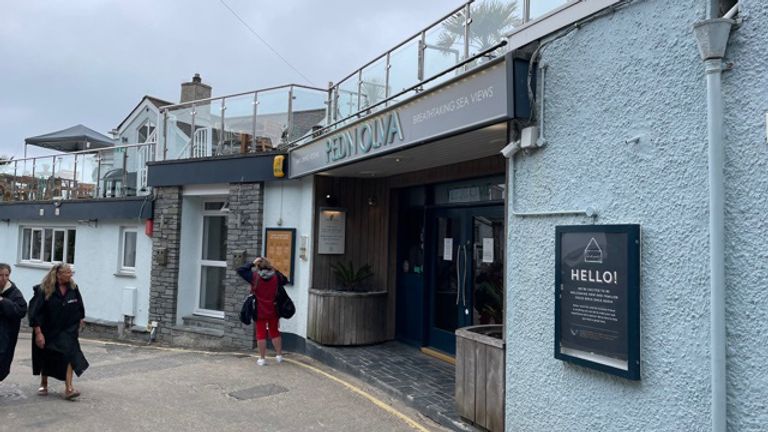 One staff member, who was leaving the hotel to self-isolate carrying two packs of COVID tests, told Sky News the hotel was "closing and boarding up".
Sky News spoke to a number of security staff protecting the German G7 delegation who are staying at the hotel.
They said they had "been told nothing" but that they might end up buying a tent and sleeping on the beach.
Most hotels in the county are fully booked because of the summit.
A number of media crews – including CBS – are understood to have been staying at the hotel and operating a live presenting position from its roof.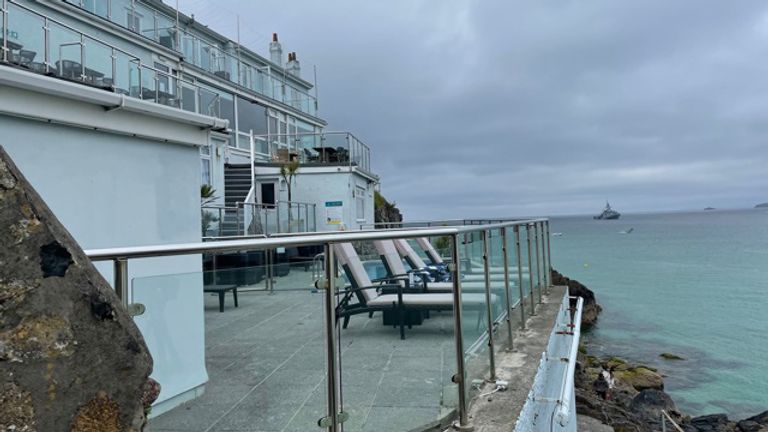 In a statement, the hotel owners – St Austell Brewery – said: "We can confirm that a number of our team at the Pedn Olva, St Ives, have tested positive for COVID-19.
"We immediately notified Public Health England of these cases and have been working closely with them to ensure we follow all appropriate safety guidelines.
"Following extensive discussions over the last few days with PHE and Cornwall Council, we have taken the decision to fully close the hotel.
"We fully appreciate the inconvenience given the limited accommodation options available in the area at the moment but the safety and security of our team and guests is our upmost priority. The hotel will reopen once a full COVID-19 deep clean has taken place and we have the available staff to run it."
The outbreak comes on the eve of the start of the G7 summit, with thousands of police, delegates and media in the county.
Emmanuel Macron slap: Man jailed for hitting French president in the face | Breaking News News
A 28-year-old man has received a four-month prison sentence after slapping French President Emmanuel Macron in the face.
Damien Tarel was also given an additional 14-month suspended sentence for the offence, which took place on Tuesday as the leader was greeting a crowd in southeastern France.
Tarel was banned from ever holding public office and from owning weapons for five years.
He was quickly arrested after the slap that hit Macron's left cheek and charged with violence against a person invested with public authority.
In court, the defendant described himself as a right-wing or extreme "patriot" and a member of the yellow vest economic protest movement.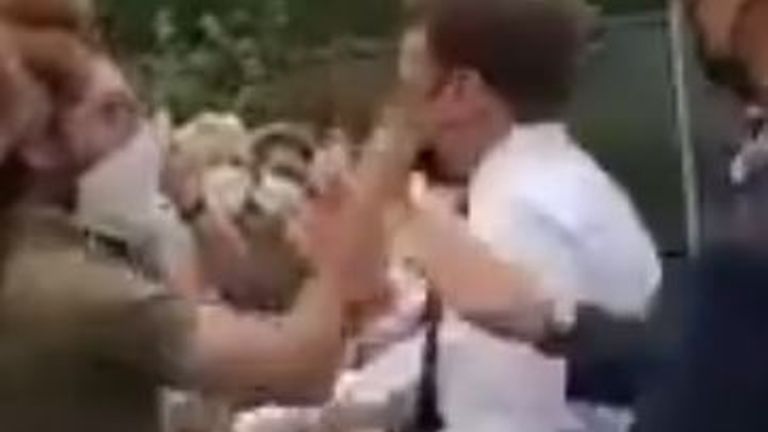 He told the court in the southeastern city of Valence that the attack was unplanned and impulsive and prompted by anger at France's "decline".
He was heard shouting a centuries-old royalist war cry as he struck the president.
In a video of the incident, Macron's security entourage quickly intervened and moved the leader away from his attacker.