British woman out of coma after twin sister saved her from crocodile attack in Mexico | World News
A British woman who was attacked by a crocodile in Mexico is out of a coma and is breathing by herself, , Sky News has confirmed.
Melissa Laurie, 28, had been swimming with her twin sister Georgia at a lagoon in Mexico when she was attacked.
Georgia saved her by punching the crocodile in the face but both sisters had to be taken to hospital.
Georgia was released after treatment for injuries to her hands but Melissa was in an induced coma and developed sepsis as a result of her injuries.
Speaking on Thursday, Georgia said her sister was "doing good" and was "breathing on her own very well".
She told BBC Radio 1: "She can't talk because of the soreness in her throat from the tube.
"She recognised me and knew who I was. She seemed happy to see me."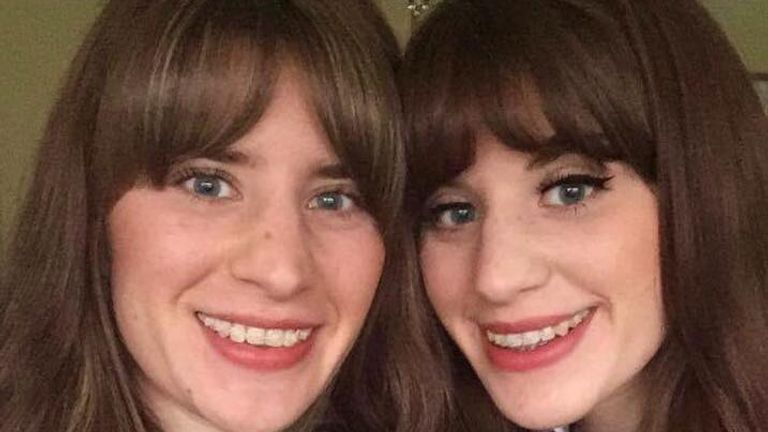 The sisters had been swimming in Manialtepec Lagoon, near Puerto Escondido, about 450 miles (724km) southeast of Mexico City.
Their older sister Hana, 33, has previously said that the twins booked a tour through their hostel, but later found out their guide was not registered and had taken them to what turned out to be an unsafe swimming spot.
Hana said Melissa had a lot of water and grass in her lungs after the attack because crocodiles try to drown people.
"She's got some bite wounds across her tummy and her legs, some of those have become infected as well.
"It managed to tear her bowel, so [it's] quite stressful."
Their father Sean Laurie is expected to travel to Mexico and a Go Fund Me page has raised more than £43,000 towards the cost of the twins' treatment.
Drugs kingpin El Chapo's wife faces long sentence after admitting to helping run his empire | World News
The wife of jailed drug lord Joaquin "El Chapo" Guzman has pleaded guilty to a range of charges after being accused of helping to run his vast empire.
Emma Coronel Aispuro faced accusations she aided El Chapo in managing the Sinaloa cartel, assisting his 2015 prison escape and conspiring to distribute illegal drugs.
The 31-year-old could face life in prison after admitting a drug distribution charge at a federal court in Washington DC.
She also pleaded guilty to other charges of money laundering and engaging in financial dealings for the drug cartel, which could carry a combined 30 years in prison – though she is more likely to spend around a decade in jail.
As part of her plea agreement, she also admitted conspiring to helping her husband escape in 2015 from Altiplano,
a Mexican maximum security prison.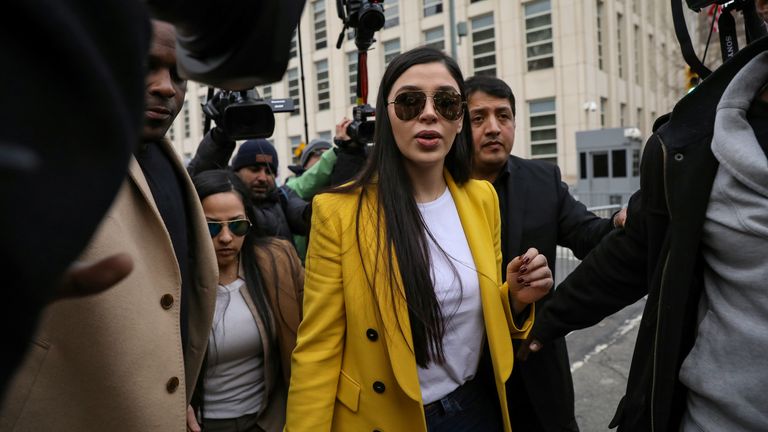 Coronel, who was born in California and holds both US and Mexican citizenship, could also be fined up to $10 million (£7.1 million).
Wearing a green jumpsuit and white face mask to enter her plea before District Judge Rudolph Contreras, she said she understood the charges and repercussions of her guilty pleas.
The judge has set a tentative sentencing date of 15 September.
The former beauty queen was arrested in February on allegations she relayed messages to help her husband traffic drugs between 2012 and 2014 and she continued delivering messages to Guzman during prison visits after his arrest in February 2014.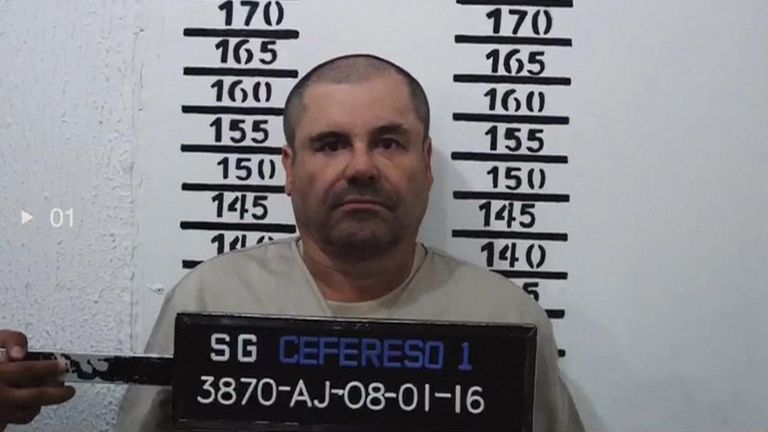 In July 2015, Guzman escaped from a federal prison in Mexico, through a tunnel leading to the Santa Juanita neighbourhood in Puebla.
He was previously arrested in 2001 but had escaped from a Mexican prison with the help of a maintenance worker.
In February 2019, Guzman, 64, was convicted for masterminding the drug empire in a high-profile trial in New York.
He was sentenced to life plus further 30 years, and is being held in a supermax prison in Colorado.
China: Detainees in Xinjiang camps tortured, beaten and given electric shocks, says Amnesty report | World News
China has created a "dystopian hellscape" in Xinjiang, according to the head of Amnesty International, with people who are detained in camps there routinely tortured.
A comprehensive new report from the organisation, based on interviews with more than 50 former detainees of the camps, details alleged crimes against humanity – including mass imprisonment, torture and persecution – carried out by Chinese authorities against Uyghur Muslims and other ethnic minorities.
"China must immediately dismantle the internment camps, release the people arbitrarily detained in them and in prisons, and end the systematic attacks against Muslims in Xinjiang," said Agnes Callamard, the secretary general of Amnesty International.
The report says that from early 2017, hundreds of thousands – and possibly more than one million people – have been sent to camps in Xinjiang.
China for a long time denied the existence of any camps. It eventually changed tack and now says the camps are voluntary "vocational training centres", necessary to combat terrorism.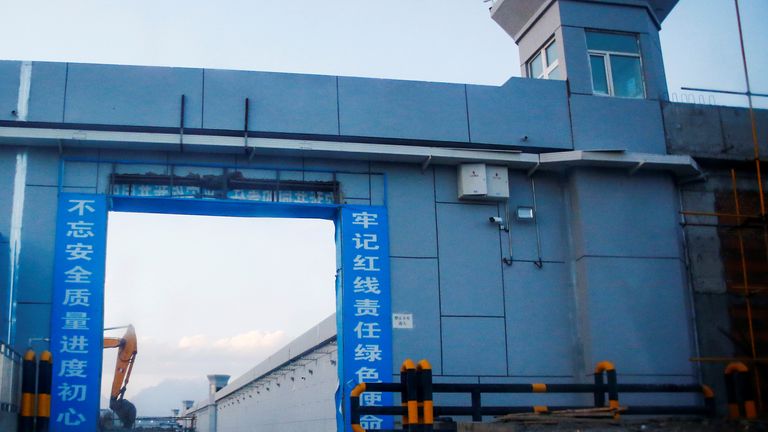 President Xi Jinping has said his government's policies in the region are "totally correct".
Each detainee interviewed by Amnesty suffered torture or other ill-treatment, according to the report.
Some were beaten or given electric shocks, or forced to sit in a "tiger chair" – a steel chair with painful restraints.
Detainees told Amnesty they had been tortured multiple times and others said they were forced to watch their cellmates being tortured.
All the detainees interviewed were held for what appears to be "entirely lawful conduct", including possessing religious-themed pictures or communicating with people abroad.
One interviewee, a government official, said that police took people from their homes without warning and detained them without due process.
Outside the camps, the report described Xinjiang as a "surveillance state".
Those released from the camps are subject to "near-constant electronic and in-person surveillance". The population at large is also heavily monitored.
The report calls for the UN to establish "an independent international mechanism" to investigate abuses in Xinjiang.
The Chinese government has previously said that it was discussing a visit by the UN Human Rights commissioner, and that the "door to Xinjiang is always open" but "the aim of the visit is to provide exchanges and cooperation rather than … so-called investigation based on 'guilty before proven'".
An independent "people's tribunal" was held in the UK last week, although it has no legal power. It heard that minorities are treated "worse than dogs" and "tortured day and night".
Xinjiang is expected to be a topic of discussion at this week's meeting of G7 leaders. The US administration has said China's actions amount to genocide.
No other government has followed suit but the parliaments of the UK, Canada and the Netherlands have all voted to declare the human rights abuses as genocide.
Sky News has contacted the Chinese embassy in London for comment.
Venus: European Space Agency mission aims to unlock mysteries of 'Earth's twin' | Science & Tech News
Scientists aim to explore the mysteries of Venus, including whether it was once habitable, with a new space mission.
British boffins will play a leading role in the EnVision project, studying the atmosphere and geology of the planet known as "Earth's twin".
Commissioned as part of the European Space Agency's (ESA) Cosmic Vision programme, the mission into space will cost about of €610m (£524.7m).
It will look at past and present volcanic activity and track gases that are key in sustaining Venus's clouds and environment, as well as find out why Earth is the only planet able to sustain life.
The EnVision orbiter is expected to launch in 2031 and will take 15 months to reach the planet.
Once it arrives, it will spend a further 16 months slowing down, in a process called aerobraking, until it reaches a low circular orbit.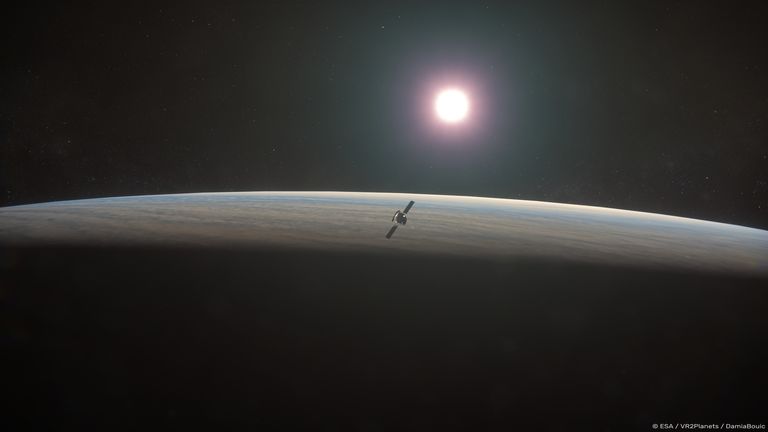 It will start its four-year study using instruments including a sounder to reveal underground layering, and spectrometers to study the atmosphere and the surface.
A NASA-provided radar will also image and map the surface.
Researchers from Royal Holloway, University of London, Oxford University and Imperial College London will work alongside European and American scientists on the project.
Venus is the most Earth-like planet in terms of size, composition and distance to the sun.
Many academics believe the two planets were probably once quite similar, with oceans of molten rock and thick atmospheres of carbon dioxide and steam.
But while Earth evolved to become habitable, Venus may or may not have gone through a habitable stage before developing a greenhouse effect that now cooks its surface to 450C (842F).
UK scientists recently took part in another programme which saw hundreds of worms being sent into space for research on human muscle loss.
Science minister Amanda Solloway said: "I'm proud that once again British scientists have been chosen to play a leading role in a mission that will expand humankind's understanding of the universe."