World Ocean Day: What is it, why does it matter and how to get involved? | Climate News
World Ocean Day is celebrated every 8 June as a reminder of how integral our seas are to life on Earth.
A United Nations initiative, Oceans Day was first declared in 1992 following the UN Conference on Environment and Development in Rio de Janeiro, also known as the Earth Summit, which led to important climate change goals.
In 2008, 8 June was officially designated as World Ocean Day, with a different theme each year.
What is World Ocean Day?
The day is an opportunity to raise global awareness of the benefits humans get from the ocean and our individual and collective duty to use its resources sustainably.
It is also a chance to celebrate and appreciate what the ocean provides, from the oxygen we breathe to the inspiration it provides artists.
Why does World Ocean Day matter?
Oceans cover more than 70% of the planet, produce at least 50% of the world's oxygen, are home to most of the Earth's biodiversity and are the main source of protein for more than a billion people.
They also absorb about 30% of carbon dioxide produced by humans – a buffer for the detrimental impacts of global warming.
The UN hopes World Ocean Day will help inform the public of human actions on the ocean and develop a worldwide movement to protect it and unite the world in sustainably managing the oceans.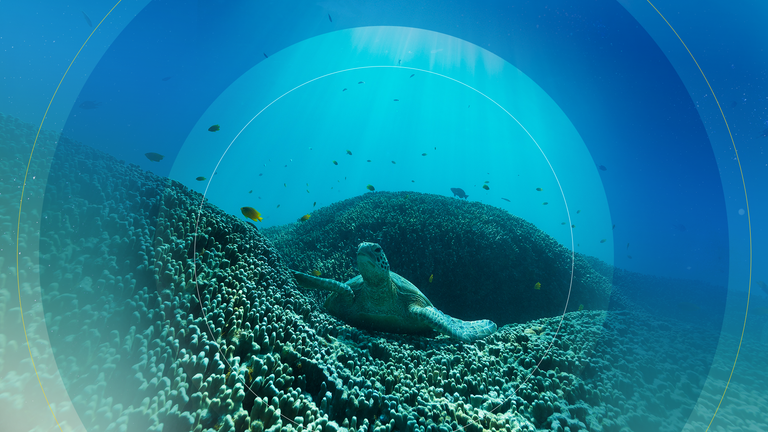 What is this year's theme and what are they hoping to achieve?
The Ocean: Life and Livelihoods is 2021's World Ocean Day theme.
By 2030, an estimated 40 million people will be employed by ocean-based industries.
But the UN says we are taking more from the ocean than can be replenished, with 90% of big fish populations currently depleted and 50% of coral reefs destroyed.
It says a new balance must be created, "rooted in true understanding of the ocean and how humanity relates to it".
The aim of the day is to build a connection to the ocean that is "inclusive, innovative and informed by lessons from the past".
Why is this year particularly important?
It is vital to help protect the ocean every day, but this World Ocean Day comes in the year that the UN Decade of Ocean Science for Sustainable Development begins.
From 2021 to 2030, efforts are being made to use our current knowledge of the oceans better to help politicians and decision-makers choose the best options to save oceans and measure the possible consequences of policies.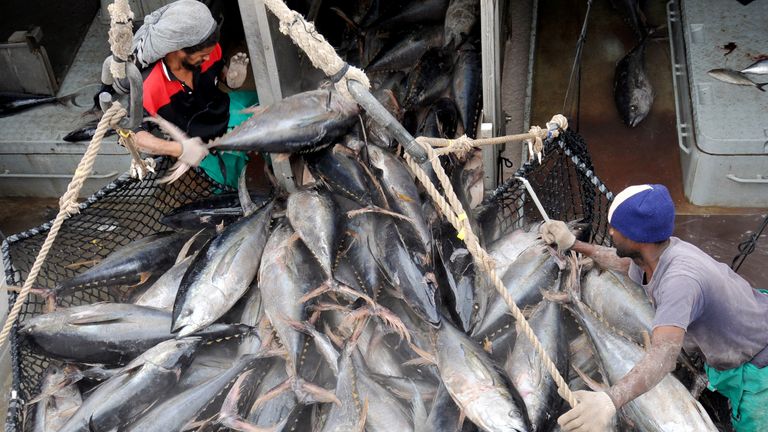 The decade is also aimed at supporting a sustainable Blue Economy, sharing the responsibility of protecting oceans and at bolstering scientific research and technologies.
It is all part of the 2030 Agenda for Sustainable Development adopted by all UN members to end poverty and other deprivations, reduce inequality, spur economic growth, tackle climate change and preserve our oceans and resources.
Who can get involved?
Everyone!
Science centres, research institutes, governments, NGOs, businesses and communities all around the world are planning local and global events involving millions of people.
But you do not have to be part of a group to get involved.
World Ocean Day is happening virtually for the second year in a row, thanks to the pandemic, meaning anyone can sign up to hear talks.
Last year, 350,000 people watched the programme, while 60 million people were talking about it on social media.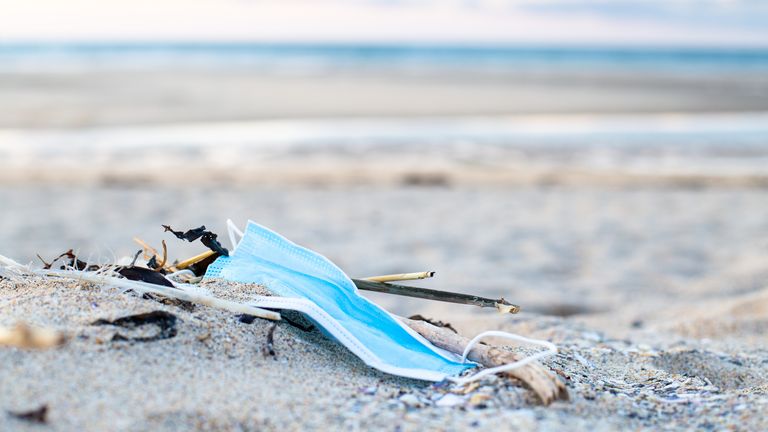 There will be a wide range of more than 40 people talking, including UN Secretary-General Antonio Guterres, actor and environmentalist Gael Garcia Bernal, PhD marine biology student Nicole Yamase, ocean explorer Jean-Michel Cousteau, actor and oceans activist Sam Waterstone and Marisa Drew, chief sustainability officer at Credit Suisse.
Events start at 10am EST (3pm UK time) and will end with a virtual Concert for the Ocean from 4.10pm EST (9pm UK time).
You can sign up for the events here.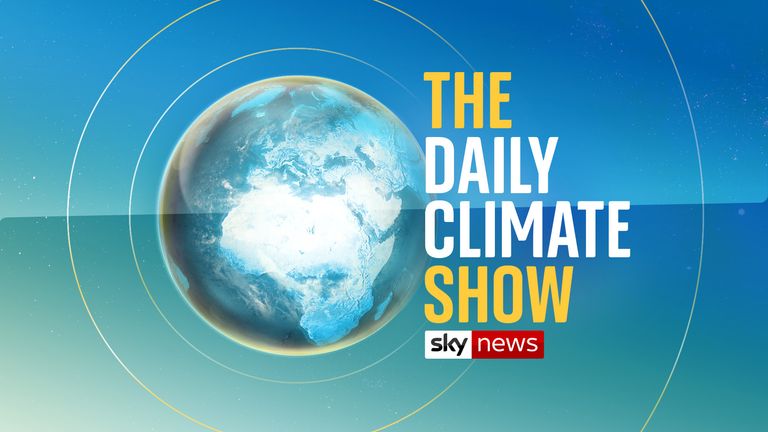 Sky News has launched the first daily prime time news show dedicated to climate change.
The Daily Climate Show is broadcast at 6.30pm and 9.30pm Monday to Friday on Sky News, the Sky News website and app, on YouTube and Twitter.
Hosted by Anna Jones, it follows Sky News correspondents as they investigate how global warming is changing our landscape and how we all live our lives.
Tokyo Olympics: Japan prepares for Opening Ceremony as PM vows to 'fulfil our obligation to the world' | World News
There will be no fans, just a handful of VIPs, small parties of socially-distanced athletes and protests outside the stadium – the Opening Ceremony of Tokyo 2020 will feel very different.
From the archer in Barcelona in 1992 who fired a burning arrow up into the cauldron of the Olympic flame to the stadium street carnival in Rio de Janeiro in 2016 – it is one of the great global rituals and one that every host nation has put their own distinct stamp on.
Japan's spectacular without spectators will take place at noon UK time with Tokyo 2020 insisting the Games will be held safely, despite the growing list of COVID positive competitors and concerns about the event leading to a spike of infections in the local population.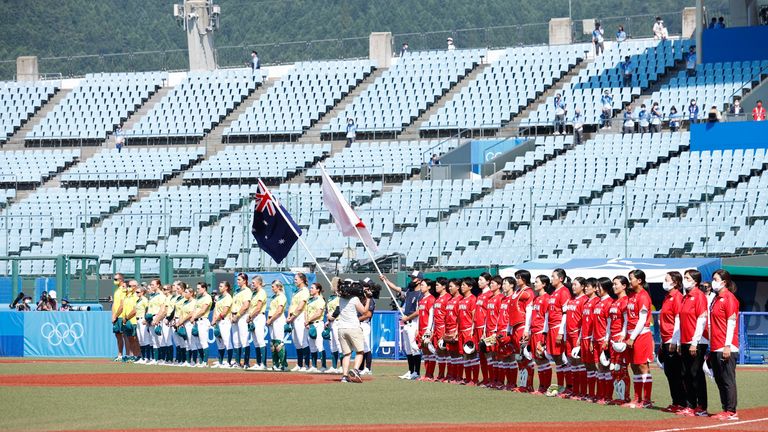 The Japanese capital city is still in a state of emergency due to the pandemic.
There is enthusiasm for the Games but equally many Japanese people hold grave doubts that hosting the Games is the right thing to be doing.
"As the nation hosting the games, I believe we must fulfil our obligation to the rest of the world," Japanese Prime Minister Yoshihide Suga told NBC.
"What worried me the most was that the public opinion was divided. I also wanted the Japanese people to understand that the Games will be held safely and securely.
"Over four billion people across the world will be watching these Olympic Games.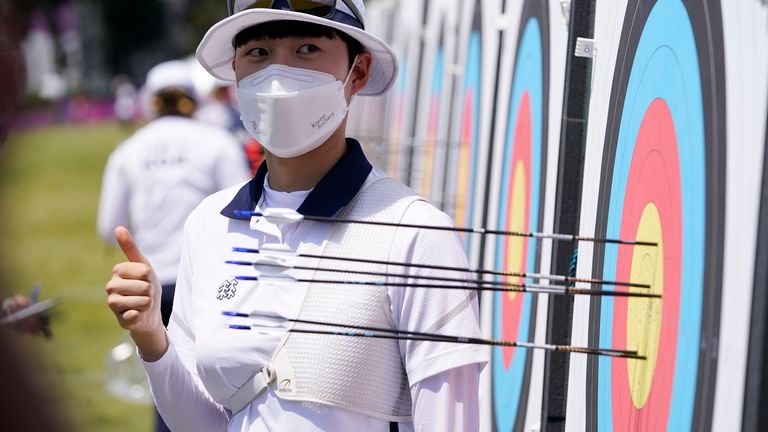 "In that context, overcoming the hardship of the coronavirus and to be able to hold the Games. I think there is real value in that."
But the number of COVID-19 cases among those at the Games continues to grow: 19 new cases were announced on Friday, including three athletes.
Four British women who may make history in Tokyo

It was the worst day so far, bringing the total to 106.
The Opening Ceremony at London 2012 was the moment that the UK realised the home Olympics was actually going to be pretty incredible – a funny, thoughtful and imaginative celebration of our country's story.
'I pretended to be a boy to box'

The NHS nurses dancing on beds, the industrial revolution brought back to life, Mr Bean on piano, the Queen (or at least a parachutist pretending to be the monarch) parachuting into the stadium with James Bond, and David Beckham cruising down the Thames on a speedboat. Director Danny Boyle's masterpiece had everything.
Japan will try and do something equally as spectacular at their almost empty Olympic stadium.
They fired the creative director of the show only yesterday over a joke he made in 1998 about the Holocaust. In these, the most unpredictable Games we have ever known, it is unlikely to be the last surprising thing to happen.
Cuba: US President Biden imposes new sanctions after protests crackdown as he warns 'this is just the beginning' | World News
The US has imposed new sanctions against a Cuban security minister and an interior ministry special forces unit over alleged human rights abuses during protests on the island.
President Biden said it was "just the beginning" in a statement that also condemned "mass detentions and sham trials".
"The United States will continue to sanction individuals responsible for oppression of the Cuban people," he said.
It comes after thousands of people took to the streets of Havana and other cities for anti-government demonstrations earlier this month to protest about food shortages and high prices, as well as the handling of the COVID pandemic.
Mr Biden has been facing calls from the Cuban expats and politicians to show more support for the most significant protests on the communist island in years.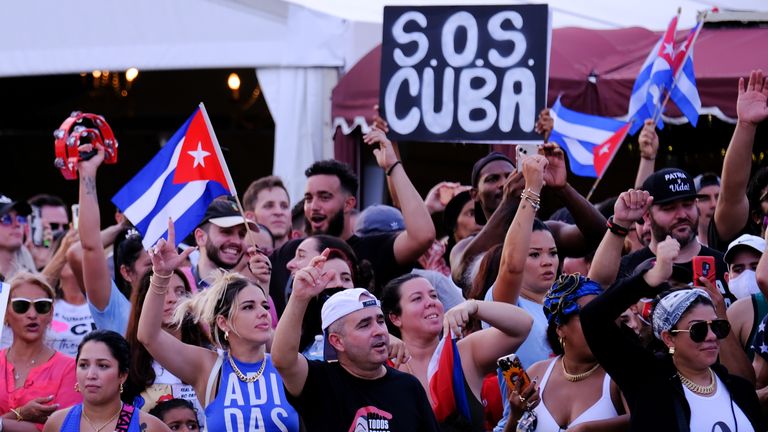 Alvaro Lopez Miera, a military and political leader, and the Interior Ministry Special Brigade are the subject of the latest sanctions.
The US Treasury said Mr Lopez Miera had played an "integral role in the repression of ongoing protests" and that he led a unit "whose members have engaged in serious human rights abuse".
It said Cuban security services had attacked demonstrators and arrested or disappeared over 100 people in an effort to quash the demonstrations.
Cuba's foreign minister, Bruno Rodriguez, tweeted that the claims were "baseless and slanderous" and suggested Mr Biden apply also sanctions for the "everyday repression and police brutality" in the US.
I refute the unfounded & slanderous US gov. sanctions against Army Corp Gral Alvaro López Miera and the National Special Brigade.

It should rather apply unto itself the Magnitsky Global Act for systematic repression & police brutality that took the lives of 1021 persons in 2020.

— Bruno Rodríguez P (@BrunoRguezP) July 22, 2021
The president has also asked officials to review remittance policy for Cuban families in America to try to ensure the money makes it straight into the hands of relatives without the regime skimming off the top.
Money sent to the island each year has previously been put at several billion dollars.
Mr Biden also said he was looking at ways to ensure Cubans still have internet access after the Havana government restricted services such as WhatsApp and Facebook.
"We are working with civil society organisations and the private sector to provide internet access to the Cuban people that circumvents the regime's censorship efforts," said his statement.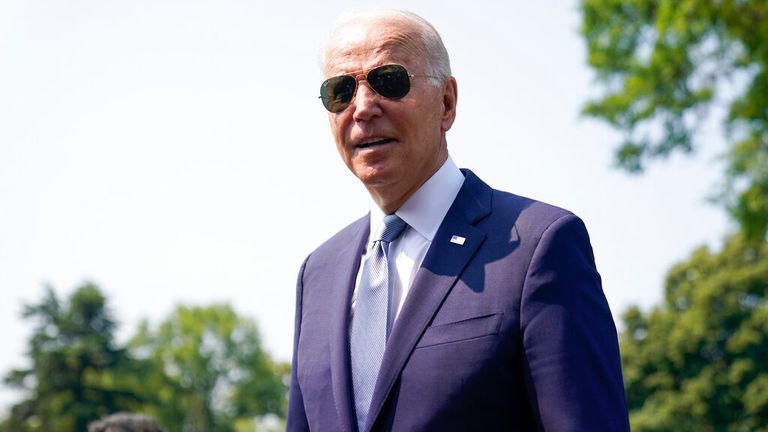 The new sanctions suggest a thawing of relations with Cuba's rulers is unlikely for now as the region unexpectedly rises up the president's "to-do" list.
Former president Donald Trump had taken a hard-line with the regime, a stark contrast to Barack Obama's approach which in 2016 saw him become the first US president to visit the country for nearly a century.
Akamai Technologies apologises after several high-profile websites including HSBC, Airbnb and British Airways hit by outages | Science & Tech News
Akamai Technologies, a content delivery company, has apologised after a software update in its services caused several websites to go down.
Sites including Barclays, HSBC, British Airways and Airbnb were affected, but service was restored shortly afterwards.
In its apology, Akamai said: "At 15:46 UTC today, a software configuration update triggered a bug in the DNS system, the system that directs browsers to websites. This caused a disruption impacting availability of some customer websites.
We apologize for the inconvenience that resulted. We are reviewing our software update process to prevent future disruptions. (3/3)

— Akamai Technologies (@Akamai) July 22, 2021
"The disruption lasted up to an hour. Upon rolling back the software configuration update, the services resumed normal operations. Akamai can confirm this was not a cyberattack against Akamai's platform.
"We apologise for the inconvenience that resulted. We are reviewing our software update process to prevent future disruptions."
During the outage, a message on the BA website read: "Service Unavailable – DNS failure. The server is temporarily unable to service your request. Please try again later."
And a message on Airbnb's site said: "This site can't be reached."
HSBC's website had a similar message.
There were reports other airlines and major companies are also affected, as well as the 911 service on the east coast of the US.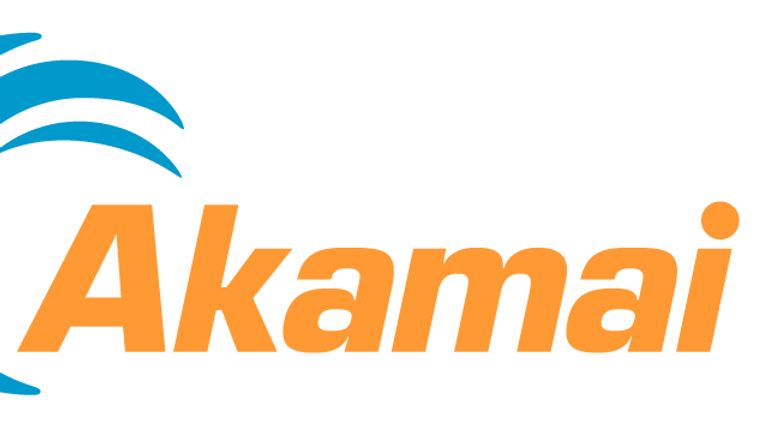 Edge DNS is a content delivery network (CDN), providing a similar service to Cloudflare, Amazon CloudFront or Fastly.
CDNs speed up the internet by keeping copies of websites' data in various locations around the world, so computers do not have to wait for long periods of time to talk to sites on the other side of the world.
Last month, large parts of the internet went down when CDN Fastly began experiencing issues.
US-based Fastly said the issues on 8 June were down to an "undiscovered software bug" in its system which was triggered by a single unnamed customer who updated their settings.