Google vows global ad policy shift after France fine for abusing dominance | Business News
Google has vowed to make changes to its global advertising business following a settlement with the French competition watchdog, which found it had abused its market dominance.
The tech company, which makes most of its revenues through adverts on its search engine and YouTube video platform, was fined €220m (£189m) under the deal.
But it included, for the first time in Google's history, a legal commitment to reform the way it conducts its advertising business.
Experts said the move could help rebalance power over advertising in favour of publishers for the first time in the internet era.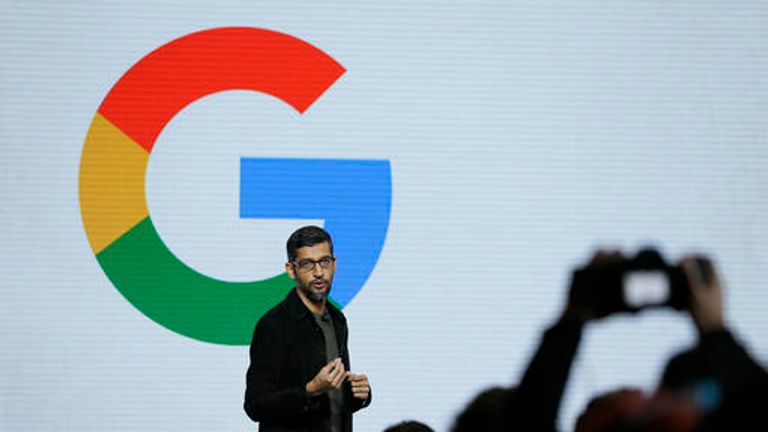 The watchdog found that Google's ad management platform for large publishers, Google Ad Manager, favoured the company's own online ad marketplace, Google AdX, where publishers sell space to advertisers in real-time.
It added that Ad Manager provided AdX with strategic data such as the winning bidding prices, while AdX also exchanged data more smoothly with Ad Manager than it did with other advertising management platforms.
The French regulator launched its investigation in 2019 following a complaint from several major publishing groups including News Corp, Le Figaro and Rossel.
Its head, Isabelle de Silva, said: "The decision to sanction Google is of particular significance because it's the first decision in the world focusing on the complex algorithmic auction processes on which the online ad business relies."
The watchdog added that the first of Google's changes would be implemented from early in 2022 but it did not specify the timeline for progress.
Google said it would include making it easier for publishers to use its data and tools.
"We will be testing and developing these changes over the coming months before rolling them out more broadly, including some globally." the company added.
Tokyo Olympics: Team GB claim six medals on day four following historic swimming and gymnastics success | World News
Team GB added six medals to their Olympic tally on day four of the Tokyo Games, after historic success in the pool and the gymnasium.
It is enjoying its best start to an Olympic Games in modern history, securing 13 medals on a Tuesday full of notable achievements.
Britain added to Monday's gold rush, kicked off by Adam Peaty, when a fourth gold medal went to 21-year-old swimmer Tom Dean in the men's 200m freestyle.
He won alongside fellow Briton Duncan Scott, who secured silver, making it the first time two British male swimmers have shared an Olympic podium in more than 110 years.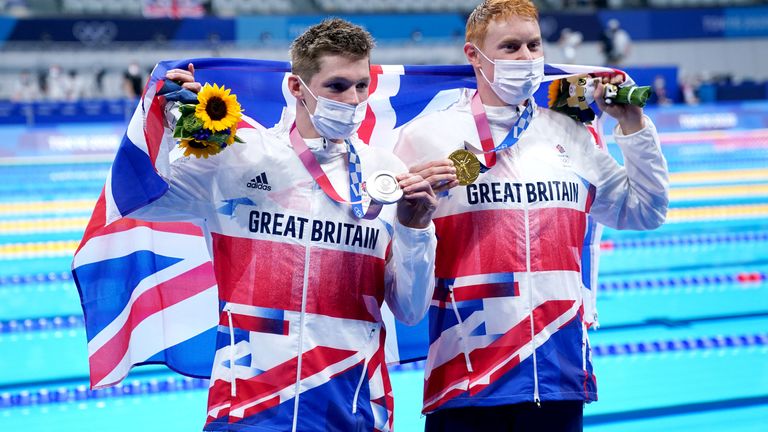 Dean and Scott take 200m gold and silver

"I knew it was going to be a dogfight, I didn't know how people were going to swim it, just race the race and that's how it is," Dean said.
It comes after Dean caught COVID twice in the run-up to the Games, meaning he couldn't train for weeks.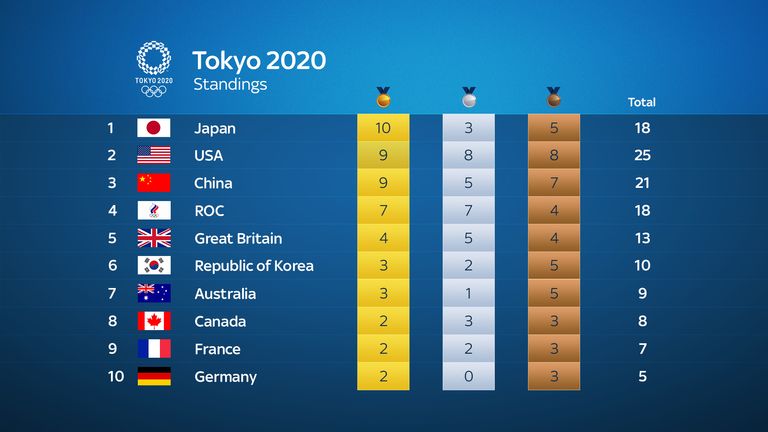 Meanwhile, Britain won a bronze medal in the women's team gymnastics for the first time since 1928.
It came amid a dramatic competition which saw the Russian Olympic Committee take gold over the United States after Simon Biles pulled out due to a "medical issue".
Shortly after, Charlotte Dujardin, Carl Hester and Charlotte Fry took bronze in the dressage team final.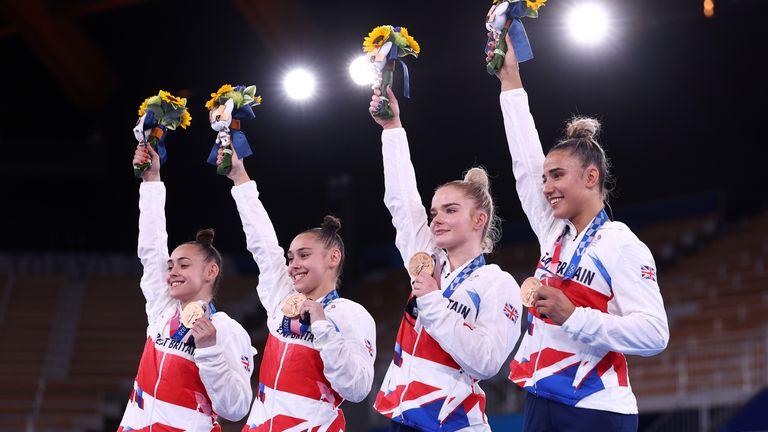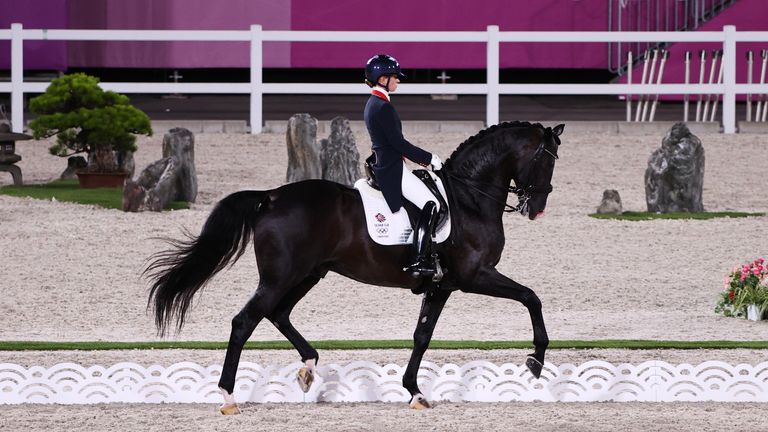 Dujardin has now won five Olympic medals putting her on par with rower Catherine Grainger for the most medals won by a British female athlete.
Elsewhere, team GB's Bianca Walkden battled back from a disappointing semi-final loss to win bronze in the over-67kg taekwondo category at the Olympics.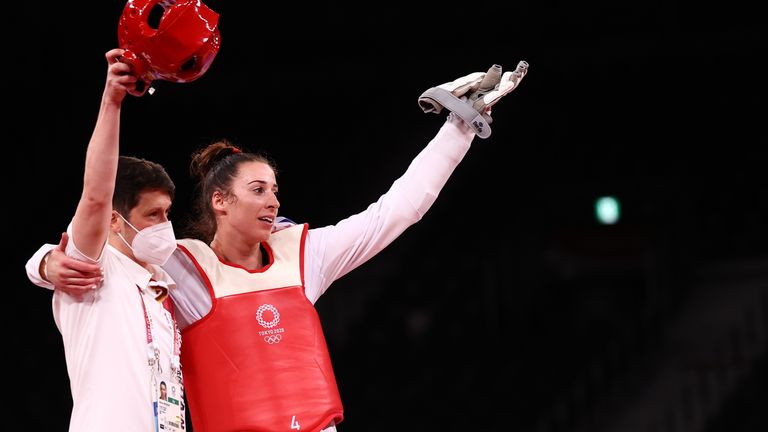 The 29-year-old from Liverpool secured the second Olympic bronze of her career with the win over Polish opponent Aleksandra Kowalczuk.
Georgia Taylor-Brown won silver for Team GB in the women's triathlon early on Tuesday, despite a flat tyre during the cycling section.
Taylor-Brown, who may have challenged for gold but for the puncture, secured silver behind Bermuda's Flora Duffy who took gold to become Bermuda's first-ever Olympic champion.
The 27-year-old told Sky News: "As a kid I always wanted one of these medals. I just wanted to be an Olympian.
Silver medallist rode on flat tyre

"But then you think 'that's a dream I had as a 10-year-old. I'm 27, is it ever going to become a reality?' And yeah this morning it did."
There was heartbreak for Britain's Kimberley Woods in the women's kayak single event.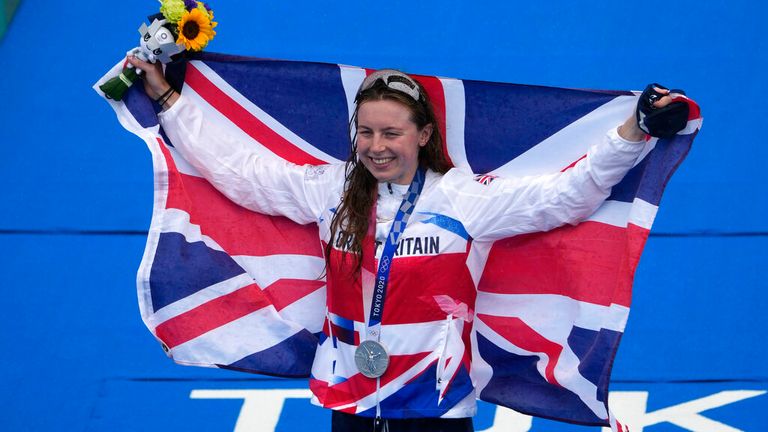 She made it to the final after qualifying second in her heat but didn't manage to win a medal after making an error early on in one of her runs.
Elsewhere, there was an upset in the tennis.
Follow the Daily podcast on Apple Podcasts, Google Podcasts, Spotify, Spreaker
Japan's Naomi Osaka – also one of the stars of the Games – was beaten by Marketa Vondrousova of the Czech Republic 6-1, 6-4 in the third round.
Osaka, who lit the Olympic cauldron in Friday's opening ceremony, had won her opening two matches in straight sets.
Tokyo Olympics: Simone Biles says mental health issues behind withdrawal as she admits: 'I just didn't want to go on' | World News
Simone Biles has said mental health concerns were behind her shock withdrawal from the team gymnastics final at the Tokyo Olympics as she admitted: "I just didn't want to go on".
Biles, the superstar US gymnast who was bidding for six gold medals coming into the competition, pulled out after a disappointing start.
Without her, the American team finished second behind the Russian Olympic Committee.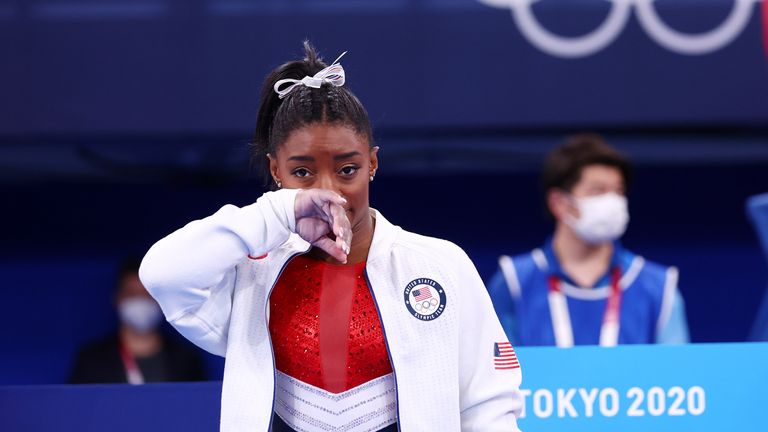 Initially the reason given by US team bosses for her withdrawal was a "medical issue".
But, speaking to reporters, Biles, who won four golds and a bronze in Rio, said: "After the performance I did, I just didn't want to go on."
She wasn't injured, she said, but had suffered "just a little injury to my pride".
"I have to focus on my mental health. I just think mental health is more prevalent in sports right now … we have to protect our minds and our bodies and not just go out and do what the world wants us to do.
"I don't trust myself as much anymore … maybe it's getting older. There were a couple of days when everybody tweets you and you feel the weight of the world.
"We're not just athletes, we're people at the end of the day and sometimes you just have to step back."
Her Olympics is far from over, with her next outing the women's all-around final in two days' time.
"We're going to see about Thursday," she said, echoing the team's statement that she "will be assessed daily to determine medical clearance for future competitions".
Biles added: "We're going to take it a day at a time and see what happens. I'm just trying to gear up for the next test. I tried to go out there for the team and they stepped up to the plate."
North Korea restores communications hotline with South after a year | World News
North and South Korea have restored a communications hotline that Pyongyang severed a year ago when relations between the two countries deteriorated.
North Korean dictator Kim Jong Un reached the agreement with South Korean President Moon Jae-in following an exchange of letters between the leaders since April, the South's presidential office said.
The pair agreed to "restore mutual confidence and develop their relationships again as soon as possible," Blue House spokesman Park Soo-hyun said.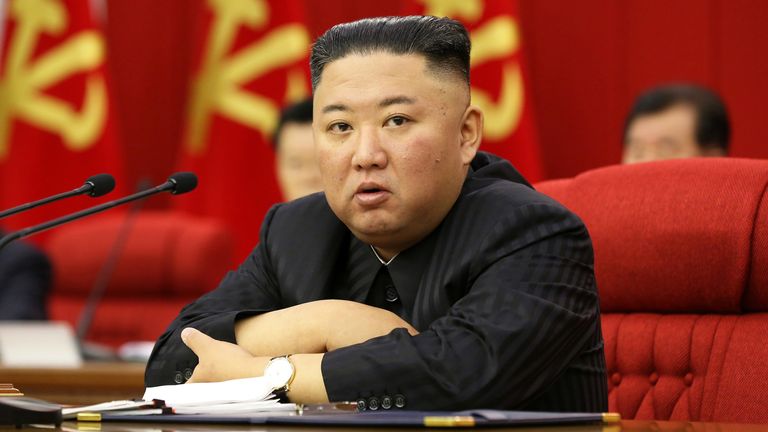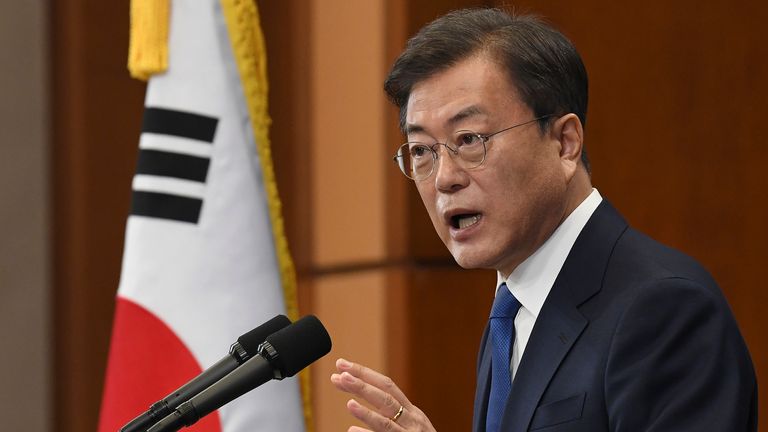 The two Koreas subsequently reopened communication channels on Tuesday morning, he added.
North Korea's state media quickly confirmed the South Korean announcement, with the official Korean Central News Agency saying: "Now, the whole Korean nation desires to see the North-South relations recovered from setback and stagnation as early as possible.
"In this regard, the top leaders of the North and the South agreed to make a big stride in recovering the mutual trust and promoting reconciliation by restoring the cutoff inter-Korean communication liaison lines through the recent several exchanges of personal letters."
North Korea cut off all communication channels with the South last year in protest at what it denounced as South Korea's failure to stop activists from floating anti-Pyongyang leaflets across their border.
It came as cross-border ties deteriorated following a failed second summit in February 2019 between Mr Kim and the former US president Donald Trump, which Mr Moon had offered to mediate.
The North later blew up an empty South Korean-built liaison office just north of the countries' border.
June 2020: N Korea blows up building in row with South

Some experts suggested North Korea's actions signalled it had grown frustrated that Seoul has failed to revive lucrative inter-Korean economic projects and persuade the US to ease sanctions.
According to Mr Moon's office, the letters between the two leaders did not discuss holding a summit or phone talks between them.
Nuclear talks between Pyongyang and Washington have made little progress since 2019, when the second of three summits between Mr Kim and Mr Trump collapsed.
The North Korean leader has since threatened to bolster his nuclear arsenal and build more sophisticated weapons unless the Americans lift policies the North considers hostile.
Some experts said North Korea may be compelled to reach out to the US or South Korea if its economic difficulties worsen.
Seoul's defence ministry confirmed twice-daily communication had been resumed via a military hotline on Tuesday and the Unification Ministry, which handles inter-Korean affairs, also said telephone lines installed at the border truce village of Panmunjom were restored.