Auschwitz: David Dushman – Last surviving Soviet soldier who helped liberate Nazi death camp dies aged 98 | World News
The last surviving Soviet soldier involved in liberating the Auschwitz concentration camp has died aged 98 in a Munich hospital.
David Dushman was a young Red Army serviceman when he flattened the site's electric fence with his tank on 27 January 1945.
More than a million people, mostly Jews sent there from all over Europe, had been murdered by the Nazis at the camp in Poland during the Second World War.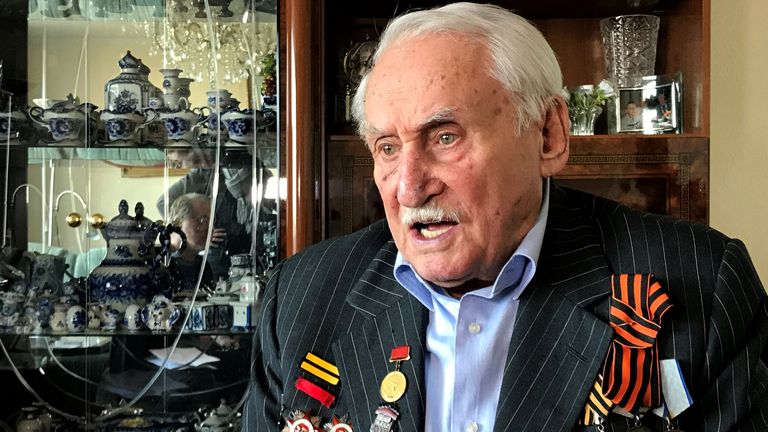 In an interview many years later, he admitted he and his comrades did not immediately realise the full horror of what had happened in the camp.
"Skeletons everywhere," he recalled in 2015.
"They stumbled out of the barracks, they sat and lay among the dead. Terrible."
"We threw them all of our canned food and immediately drove on, to hunt fascists," he told Munich newspaper Sueddeutsche Zeitung.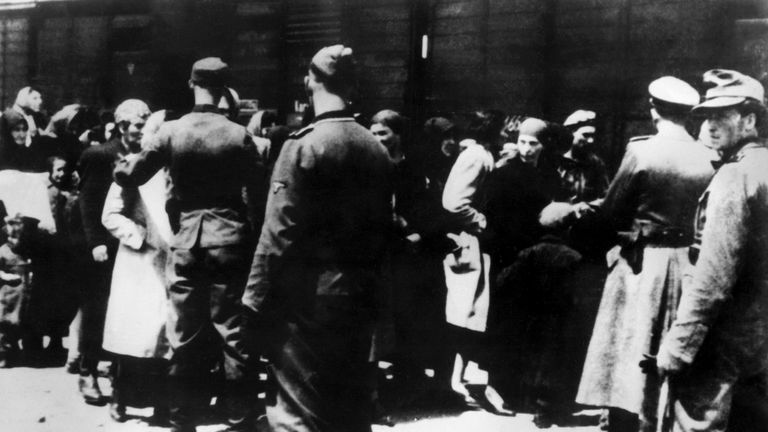 Mr Dushman had earlier taken part in some of the deadliest battles of the war, including in the cities of Stalingrad and Kursk.
He was seriously wounded three times but survived – one of just 69 soldiers in his 12,000-strong division.
After the war ended, he helped train the Soviet Union's women's national fencing team and survived the attack on the Munich Olympics.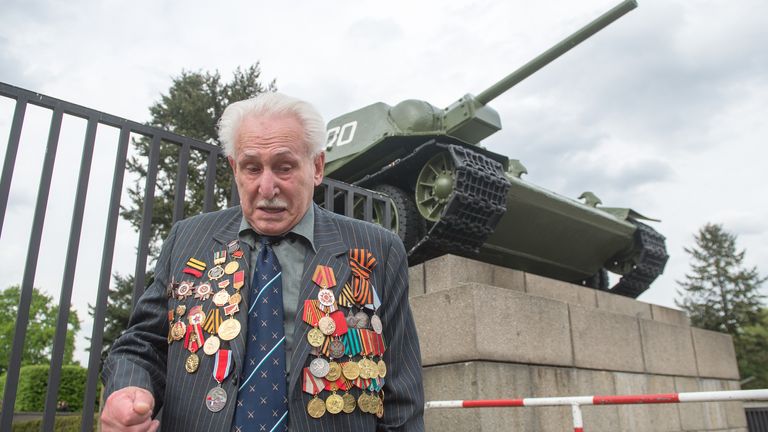 Later in life, Mr Dushman visited schools to educate pupils about the war and the Holocaust.
"Every witness to history who passes on is a loss, but saying farewell to David Dushman is particularly painful," said Charlotte Knobloch, a former head of Germany's central council of Jews.
"Dushman was right on the front lines when the National Socialists' machinery of murder was destroyed."
Along with other heroes of Auschwitz, Mr Dushman saved many lives, she said.
International Olympic Committee president Thomas Bach also paid tribute to him, praising his fencing skills.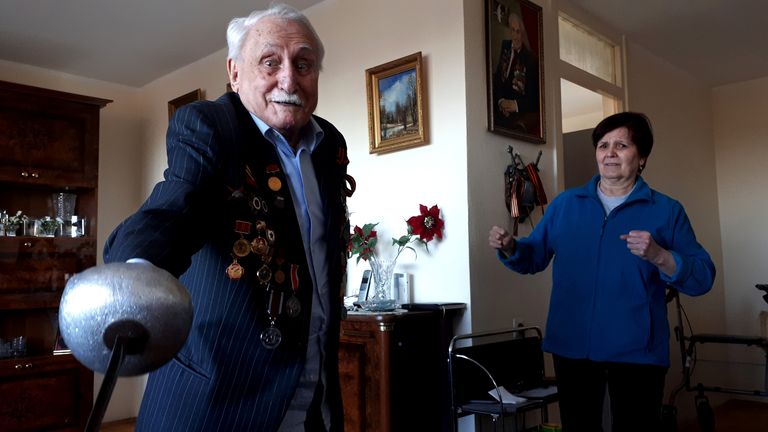 Mr Bach recounted how as a young fencer for West Germany he was offered "friendship and counsel" by the veteran coach in 1970 "despite Mr Dushman's personal experience with World War Two and Auschwitz, and he being a man of Jewish origin".
"This was such a deep human gesture that I will never ever forget it," Mr Bach added.
He died on Saturday and details on funeral arrangements were not immediately known.
Mr Dushman's wife, Zoja, died several years ago.
Cuba protests: More than 500 people still missing two weeks after anti-government protests, activists say | US News
Two weeks after the largest anti-government demonstrations in decades in Cuba, activist groups say more than 500 protestors are still missing.
Thousands of people across the island marched through the streets in several towns and cities on 11 July, calling for democracy and sweeping economic reform in the country amid major food and medicine shortages.
Scores of people were arrested by plain clothes police officers and many families say they still haven't heard from their loved ones or been informed of their whereabouts.
Sky News is unable to independently verify the figures of the missing but the lawyers' group Cubalex says hundreds of people, many of them teenagers, have been detained.
Katiuska Mustelier Sosa is a Cuban exile living in Miami and says her brother, Enrique, has not been seen by friends or family on the island since he attended a protest in Guantanamo.
Katiuska shared a video with Sky News, filmed by another protestor, showing Enrique, 38, marching through the streets chanting "libertard!" meaning freedom.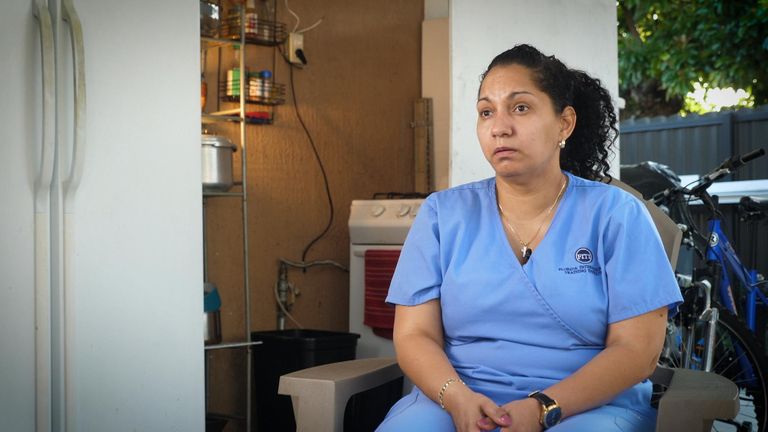 She believes he was arrested shortly afterwards and is now being held at a state security prison although she does not know exactly where.
"My family hasn't been able to see him. We're very worried, because we don't know what state he's in," she said "we worry he has been beaten."
The family fears history might be repeating itself because 14 years ago Katiuska's father, a political prisoner, disappeared from jail with just two months left on his sentence. She moved to Miami four years ago but two of her three children, Sarai, 11, and Daniel, 15, remain in Cuba.
"It is better for me to be here so I can send money back and they can eat," she said, "I'm very worried for my brother – but I'm also worried for my family and my kids too. They're very scared, they say 'mum we're worried you're going to say too much over there, and then we won't be able to see you again'. They're really scared, because the regime is capable of doing whatever they want against us, that's for sure.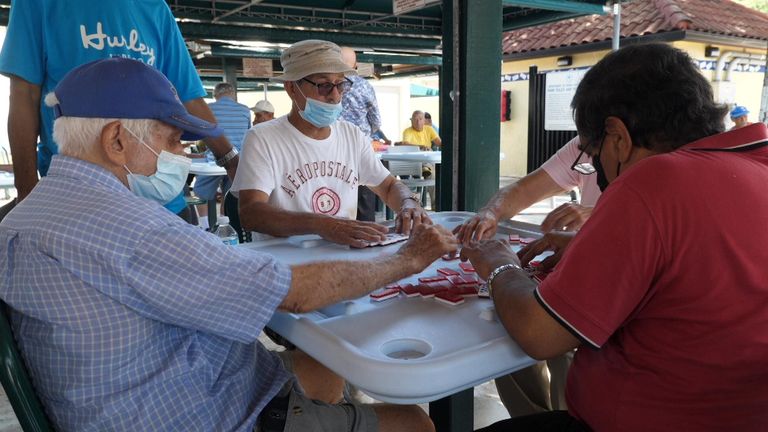 "I think this is the beginning of an uprising, but I know it won't be easy. Because this government – this dictatorship – will not abandon power," she added, "For this reason we need international help and support."
Janniset Rivero, a spokesperson for the Center for a Free Cuba based in Washington DC, believes more than 500 protestors are missing and says many have been convicted in summary trials with no defence present. "It is much more than that because they are continuing arresting people now," she says, "in Cuba there is no rule of law. Those trials are illegal and the families haven't even been able to see the accused.
"The regime is afraid of the people because people have gone to the streets to shout freedom so they are now trying to exert control over the population."
The Cuban government claims there is a disinformation campaign surrounding the protests.
Carlos Fernandez de Cossio, General Director for the US Division of Cuban Ministry of Foreign Affairs, said summary trials that protestors in Cuba are receiving are not unfair and that they are receiving counsel.
"It is part of the Cuban criminal system as it is part of the criminal system of many countries," he said, "and there's nothing unfair or extraordinary about it. It is part of the many lies that are being disseminated in Cuba."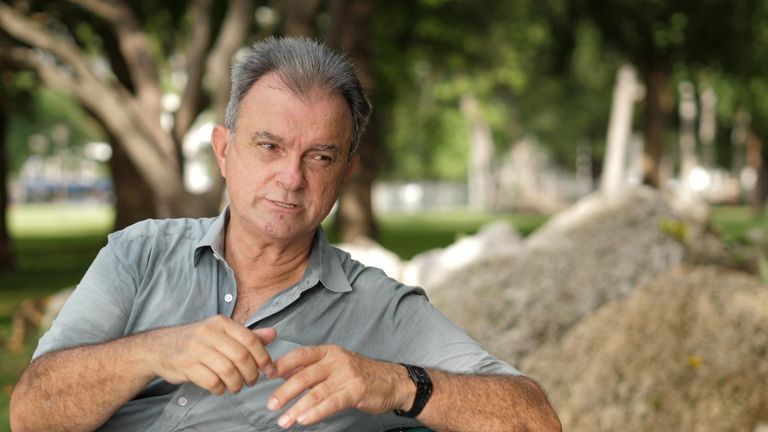 In Little Havana, the heart of Miami's Cuban community they have witnessed ill-fated attempts to overthrow the communist government but many believe this time is different. Ramon Saul Sanchez left Cuba at 12 years old and has devoted his life to fighting the government from Miami. He thinks the use of social media with protestors filming and broadcasting themselves online is a fundamental difference to previous uprisings.
"This is why the regime immediately turns off internet when there has been a revolt," he said, "What they're doing right now is slowing it down so pictures and videos can't be sent so easily. If we had social media 20 years ago what we've seen now probably would have happened then."
There haven't been any widespread protests in Cuba since 11 July and Sanchez believes that although people may not take to the streets again today or tomorrow, they will eventually. "I now believe I will be able to return to Cuba again in my lifetime," he says.
Nine people killed by landslide in northern India state, Himachal Pradeshin, as country battles days of heavy rain | World News
Nine people have been killed in a landslide in the northern Indian state of Himachal Pradesh after boulders fell and hit a vehicle they were travelling in.
News agency ANI reported that the vehicle was carrying 11 people and the two survivors were injured in the incident.
Citing the Indo-Tibetan Border Police (ITBP), the agency said officers went to the site near Badseri Village, in Kinnaur, to conduct a rescue operation.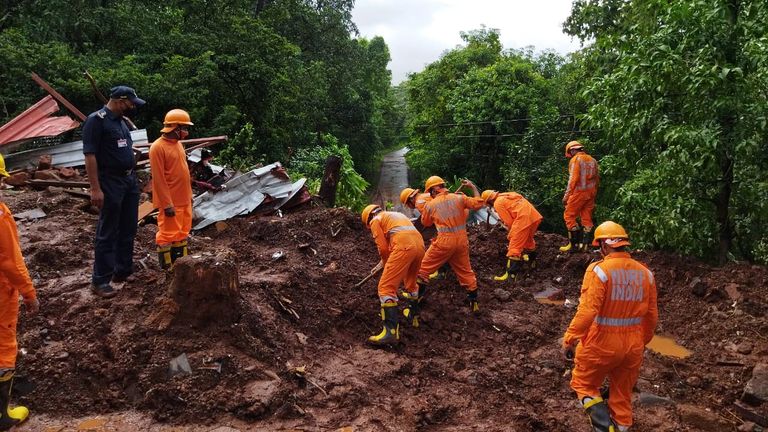 Some local media said the people in the vehicle who were killed were visiting from the Indian capital Delhi and elsewhere in India, while one of the injured was a local person.
Video footage showed boulders falling, hitting vehicles and even causing a bridge to collapse.
Prime Minister Narendra Modi said on Twitter: "The accident caused by a landslide in Kinnaur, Himachal Pradesh is very sad.
"My heartfelt condolences to the families of those who lost their lives in this. All arrangements are being made for the treatment of those injured in the accident."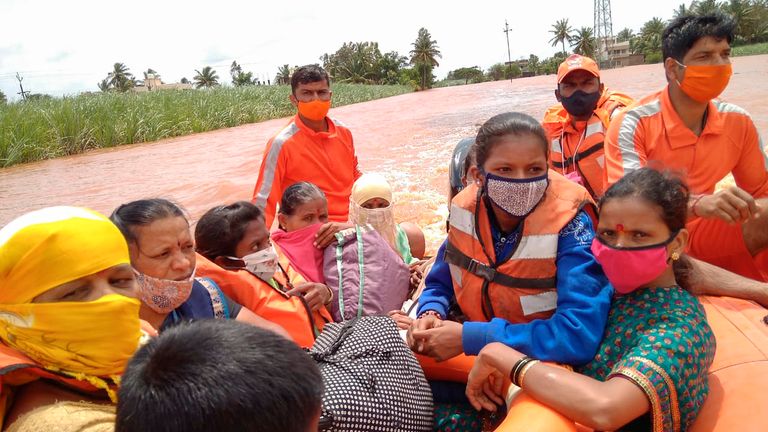 The incident comes as India battles days of landslides and flooding triggered by heavy monsoon rains, which have killed at least 113 people and injured 50 others in the western part of the country.
A government spokesman said more than 130,000 people were rescued from nearly 900 affected villages across Maharashtra state, including in Ratnagiri district and Kolhapur.
The navy also deployed helicopters to evacuate stranded people and sent rescue teams with boats to the region.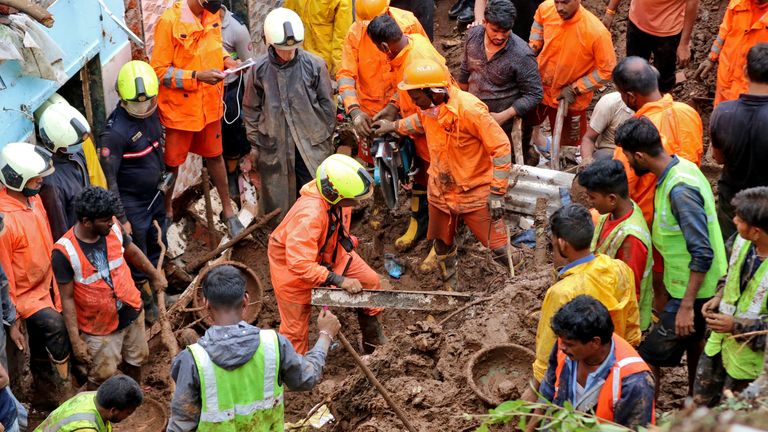 Officials said one of the worst-hit villages was Talai, 168 miles (270km) south of Mumbai, where 59 households were buried by a massive landslide on Thursday.
Rescuers recovered two more bodies on Sunday, taking the number of villagers killed to 42, with around the same number still missing.
Subscribe to ClimateCast on Spotify, Apple Podcasts, or Spreaker
State official Sagar Pathak said inclement weather, difficult terrain and large debris were hampering rescue efforts.
Disasters caused by landslides and flooding are common in India during the June-September monsoon season, when heavy rain weakens the foundations of structures that are often poorly built.
Experts say heavy rainfall along India's western coast is in line with how rainfall patterns have changed in the region in past years due to climate change, as the warming Arabian Sea is driving more cyclones and more intense rainfall over short periods of time.
Last weekend, more than 30 people were killed in landslides in and around Mumbai.
COVID-19: South Africa's healthcare workers struggle under pressure of third wave | World News
Dr Angelique Coetzee is a GP in the South African capital Pretoria, where she has run a family clinic for the past 33 years.
But she has never known anything like COVID-19.
She said: "If you have never been in such a situation, you can't imagine what it is like. We've been dealing with 30 or 40 positive cases every day. The pressure is extreme.
"If you look at a country like Australia where they have a few cases, well I would see their national caseload in a couple of days. Can you imagine?"
When we first spoke in June, Dr Coetzee seemed on the verge of tears.
She said: "If I speak to you now, that means someone with COVID will not been seen – and there is no point trying to message. I don't have time to answer."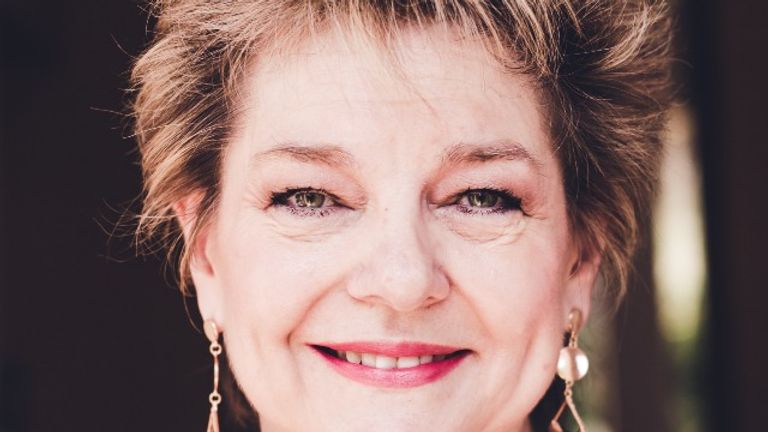 South Africa has found itself in the grips of a Delta variant-driven "third wave" of infection.
The caseload has been brutal, outstripping the first two waves by a factor of three.
The country's acting health minister says this surge has now peaked in the province of Gauteng, where the cities of Pretoria and Johannesburg are situated but Dr Coetzee says her personal and professional burden has barely changed.
She said: "We have been seeing fewer patients on a daily basis this week but the weather is colder and COVID-19 patients are turning up with pneumonia so we are seeing sicker patients than we have been during the last three or four weeks."
South Africa's beleaguered public-run health system has struggled to cope with wave after wave of the virus.
Lacking sufficient beds and qualified staff, city hospitals used casualty departments as holding centres where patients wait for space to free up – sometimes for days.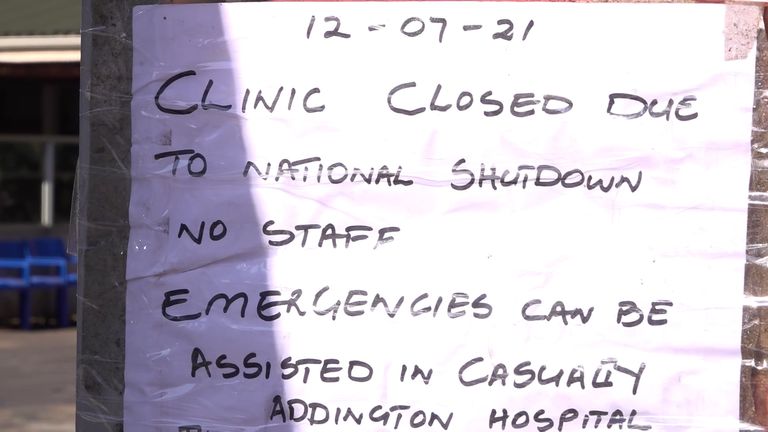 "This is the third wave we have experienced, comes less than six months (after the second) and the infrastructure can't cope," said Dr Coetzee.
"Most patients need oxygen and I try to admit them to hospital but because of (capacity) problems I have had to treat them at home. We have been waiting for 24 to 48 hours before we could get them cylinders, dealing with the stress of trying to manage patients without oxygen with the knowledge that if we don't make a plan they are going to die. All this while the surgery is full, full, full. It is so very stressful."
The extreme working patterns and the mental pressures that come with it have been felt in unexpected ways.
"I have had colleagues who have had motor vehicle accidents. One was so tired after work that he drove his car into a tree," she said.
"The second one was hit at a crossroads – and a lady doctor reversed into a garage door because she had forgotten to open it. The most bizarre things that happen in a short space of time but it shows you the pressure they are under."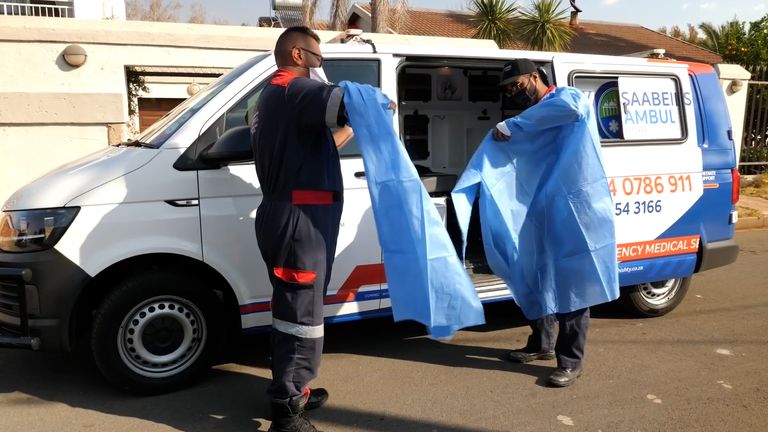 Dr Coetzee has been operating on the very edge within a healthcare system that was been put under severe strain.
There are no support workers or home visits or specialist consultations for most people in South Africa.
Instead, GP's like Dr Coetzee try to do it all.
"You become distant after a while but you try to carry on and on. I think that is the only way to survive it," she said.
Yanga Booi is a 32-year-old nurse working at the intensive care unit at Thelle Mogoerane Regional Hospital in Vosloorus, on the outskirts of Johannesburg.
He says the hospital is poorly equipped and the staff have been insufficiently prepared during the pandemic.
He said: "The health system in South Africa did a complete spin when the pandemic hit our shores. We were put in the spotlight and given this false sense of heroism, but it wasn't the right sort of attention because when we went to work, the hospital was in a worse state that than it was before.
"We were ill-prepared from the beginning, and we are still not prepared."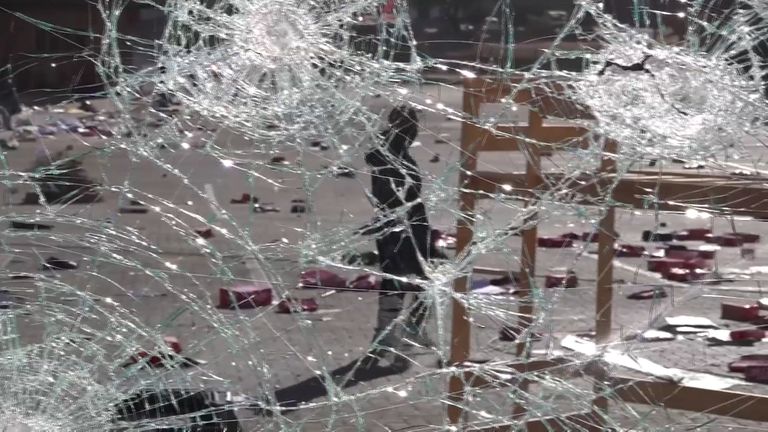 The hospital in Vosloorus provides beds and treatment but Booi says COVID testing at the facility is not reliable and patients are not properly isolated.
"We cannot be sure who has COVID because we get so many false negatives. It's like we wait for people to get sick or drop dead, then look into the COVID thing," he said.
"I remember admitting a patient who was negative on admission and so we didn't isolate him. A few days later he died and we found out that he was positive.
"It's a sad situation because the hospital does not have an isolated ICU ward for COVID patients. It's a general ICU with isolation rooms and we admit COVID patients to it – some people have it and others don't. We cannot be sure."
Mr Booi says dozens of his colleagues have paid a terrible price over the course of three separate waves of infection in South Africa.
He said: "It is unfortunate that we have had to watch our colleagues dying from this… countless members of staff have gone, it's not just nurses, it's the doctors, it's the clerks, it's the porters."
The 32-year old, who took up the profession when he was offered a government bursary, says he was "deeply afraid" when the pandemic arrived.
Yet 17 months later he has noticed a change in himself and others.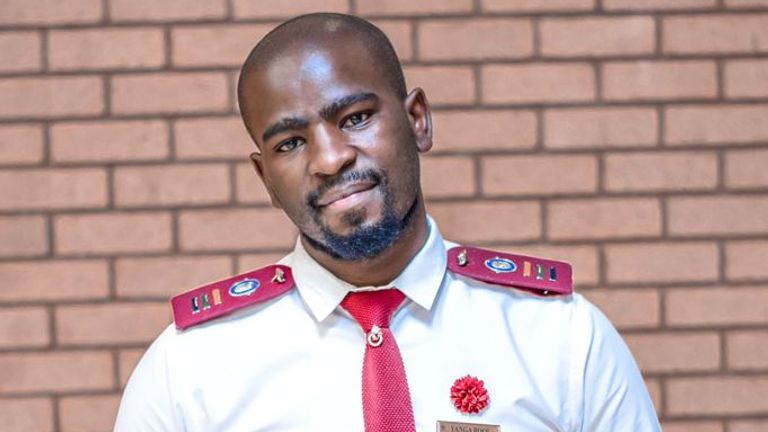 He said: "The loss of life has caused us to grow a thick skin, just like when we came into the profession. Our first experiences with death were terrifying but then we got accustomed to people dying and that is what has happened with COVID.
"We are used to the virus we know it is here to stay and we must find ways to keep going."
Dr Shabir Mahdi is dean of the faculty of health sciences at Witwatersrand University in Johannesburg and is a source of expertise and fearless criticism in a country that has struggled in all aspects of its pandemic response.
Dr Mahdi says the ferocity of South Africa's third wave of infection came as a "huge surprise".
He said: "The current resurgence far exceeds what we have experienced either in the first or second wave in the number of documented cases. In fact, the numbers of new cases diagnosed on a daily basis is three times what it was at the time of the peak of the first and second wave."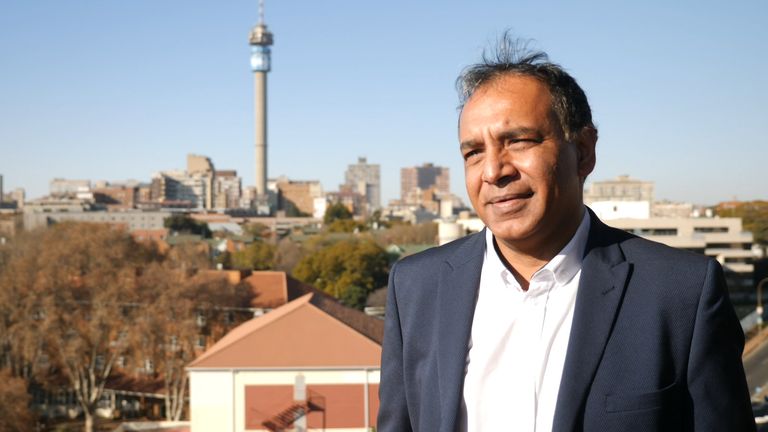 However, this eminent viriologist is unsparing in his criticism of the government's response.
While the magnitude of the Delta-fuelled third instalment could not have been predicted, he says health officials knew another wave was coming at the beginning of South Africa's winter season.
He said: "In a province like Gauteng where 25% of the population live, our hospitals are completely overwhelmed but at the same time, we have beds that are literally vacant in the same hospitals and we can't actually use those beds because some official in some government department forgot that you actually need to have health care workers available to actually staff those beds."