Sri Lanka cargo ship disaster: Salvage experts monitoring sinking chemical-laden cargo vessel for pollution | World News
A chemical-laden cargo ship which is slowly sinking off the coast of Sri Lanka is being monitored for environmental damage by salvage experts.
The MV X-Press Pearl began sinking on Wednesday, a day after authorities extinguished a fire that had torn through the vessel over 12 days, with volunteers describing the situation as the "worst marine ecological disaster" the country has ever seen.
Authorities are watching for the possible leak of oil and chemicals from the ship, which is in the water off Sri Lanka's main port, in the capital Colombo, and operators X-Press Feeders said salvage experts were remaining with the vessel to monitor its condition and any pollution.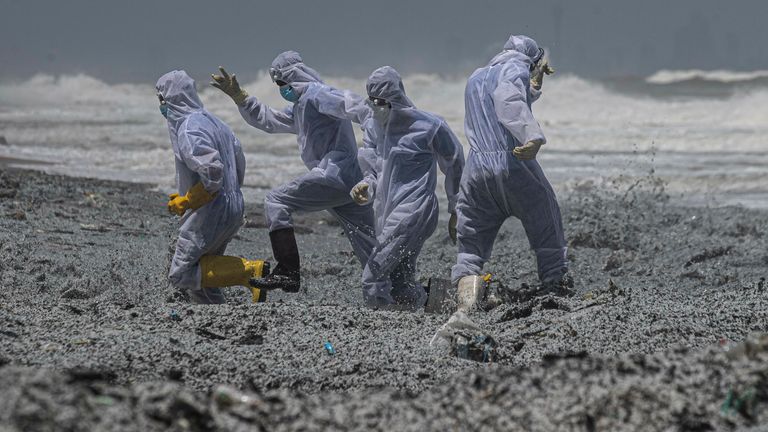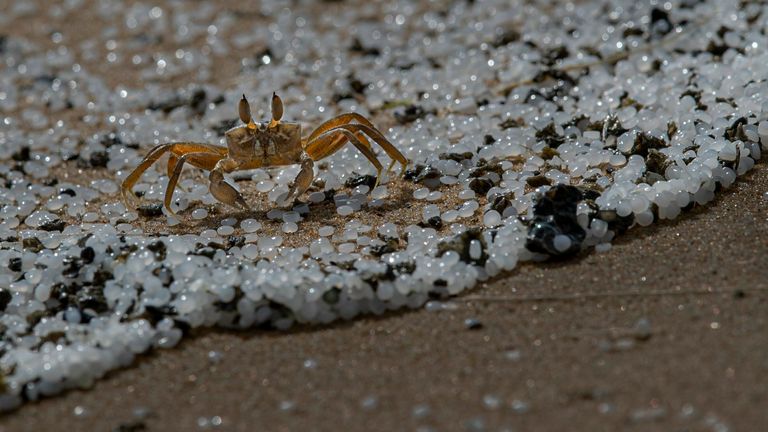 Fishing has been banned along about 80km (50 miles) of coastline, as debris from the ship – including tonnes of plastic pellets and burned fiberglass – continues to wash ashore.
Colombo port harbour master Nirmal Silva said tonnes of oil in the ship's fuel tanks may also have burned out with the fire, but authorities are prepared to deal with a spill.
Both the navy and coast guard are dealing with the disaster. They are being assisted by authorities in India, who have sent three ships to help, including one specifically equipped to deal with marine pollution.
Efforts to tow the sinking boat into deeper waters away from the port failed after its stern became submerged and rested on the seabed 21 metres (70ft) below the surface. The ship was continuing to take on water on Friday.
Drone footage of sunken cargo ship

X-Press Feeders chief executive Shumel Yoskovitz has apologised for the disaster, saying in an interview with Channel News Asia on Friday: "I'd like to express my deep regret and apology to the Sri Lankan people for the harm this incident has caused both to the livelihood and environment of Sri Lanka."
The fire destroyed most of the ship's cargo, which included 23 tonnes of nitric acid and other chemicals, X-Press Feeders has said.
Sri Lankan police are investigating what caused the fire, and the ship's captain, engineer and assistant engineer have been banned from leaving the country by a court in Colombo. The government has said it will take legal action against the owners of the ship to claim compensation.
A fishing group and other activist groups have petitioned the country's supreme court to call on authorities to assess the long-term damage to the environment and marine life, possible hazardousness of eating fish and the health impacts.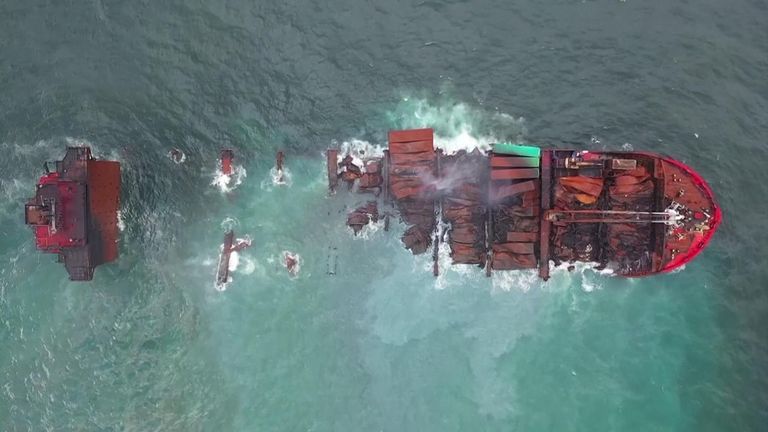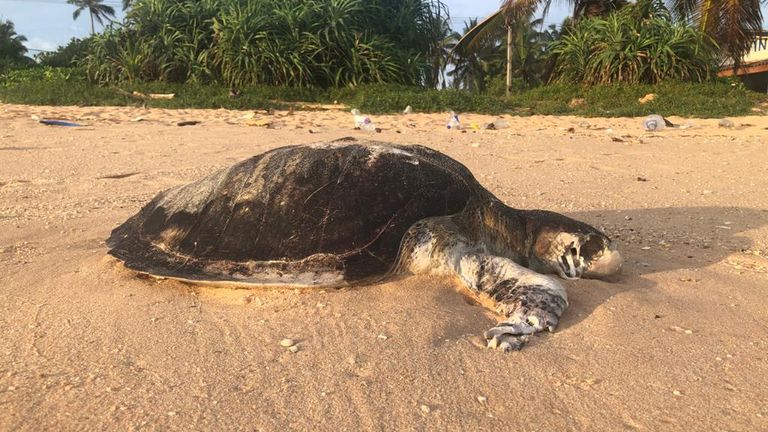 Speaking to Sky News earlier in the week, Charith Jayaratna, country manager for The Mighty Roar voluntary organisation, told Sky News the situation was dire.
"This can be defined as the worst marine ecological disaster ever to happen to Sri Lanka," he said.
"The ship was carrying 78 metric tons of plastic pellets as well as so many chemicals harmful to nature.
"The government has given permission for this ship to come into our sea area. It is a tragedy that [has killed] so much marine life in Sri Lanka."
Euro 2020: UEFA reject request to light up Allianz Arena in rainbow colours for Germany-Hungary game | Climate News
A request to illuminate the Allianz Arena in rainbow colours for Germany's final Euro 2020 group stage match against Hungary has been turned down by UEFA.
Munich mayor Dieter Reiter had said he wanted to light up the city's stadium in the colours on Wednesday in protest against a new law in Hungary.
The legislation bans gay people from appearing in school educational materials or programmes for under-18s.
And it outlaws content in schools deemed to promote homosexuality and gender change.
UEFA turned down Mr Reiter's request because it believes the gesture has a political context.
European football's governing body has instead proposed alternative dates for the stadium, home to Bayern Munich, to be lit up in rainbow colours.
It suggested either 28 June – the Christopher Street Liberation Day – or 3-9 July which is the Christopher Street Day week in Munich. The events are held in memory of protests by gay people in New York in 1969.
"Racism, homophobia, sexism, and all forms of discrimination are a stain on our societies – and represent one of the biggest problems faced by the game today," a UEFA statement said.
"Discriminatory behaviour has marred both matches themselves and, outside the stadiums, the online discourse around the sport we love.
"However, UEFA, through its statutes, is a politically and religiously neutral organisation. Given the political context of this specific request – a message aiming at a decision taken by the Hungarian national parliament – UEFA must decline this request."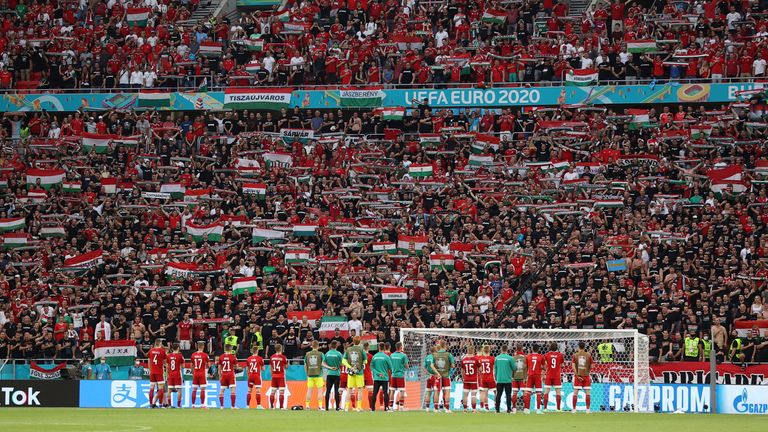 The German Football Association (DFB) had said on Monday it would also prefer any protest or gesture to be held on a date other than Wednesday.
German Europe minister Michael Roth told reporters ahead of a meeting with European Union counterparts in Luxembourg on Tuesday that Hungary's new law clearly violates EU values.
Meanwhile, UEFA is investigating potential discriminatory incidents that occurred during Hungary's first two Euro 2020 games at the Puskas Arena.
Anti-discriminatory group Fare sent a report highlighting an alleged homophobic banner in the stands during the defeat to Portugal in Budapest on 15 June.
Racist chants were also reportedly heard during Hungary's draw with France on 26 June.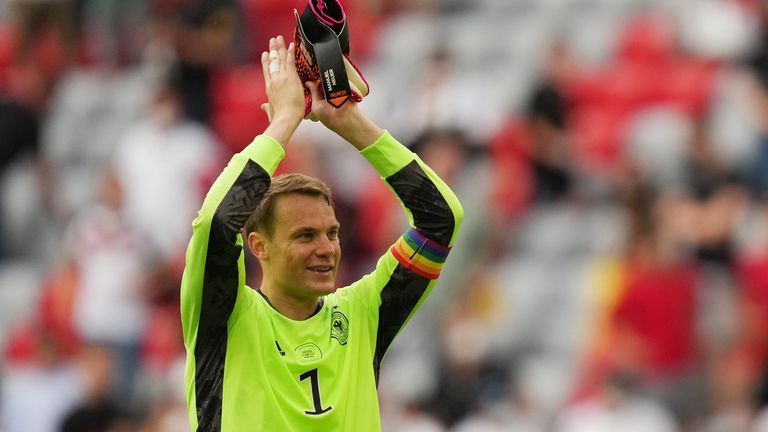 During Germany's first two Group F games, goalkeeper and captain Manuel Neuer wore a rainbow armband to show his support for the LGBTQ+ community during Pride Month.
UEFA investigated whether the move could be interpreted as political and found Neuer should not face disciplinary action as he was "promoting a good cause".
Caroline Crouch death: Pilot accused of murdering British wife arrives at Greek court with armed police escort | World News
A Greek helicopter pilot suspected of murdering his British wife after claiming she was killed during a robbery at their home has appeared in an Athens court to give evidence.
Babis Anagnostopoulos arrived at court flanked by armed police on Tuesday morning to testify on what happened on 11 May in Glyka Nera, in northeastern Athens, Greece.
The 33-year-old was arraigned for the killing of Caroline Crouch, 20 – who died of suffocation – after reportedly confessing to the crime to Greek police.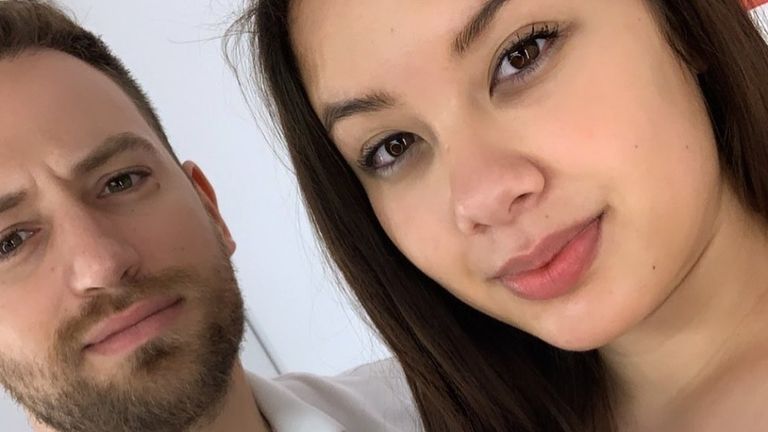 The pilot initially tried to create a convincing crime scene by placing their baby next to her dead mother, according to police.
He is also accused of choking the family dog to death with its lead in his bid to fool investigators.
Anagnostopoulos, who wore a white bulletproof vest to court today, is expected to issue an apology in the next few hours.
Two lawyers representing Ms Crouch's family have spoken out in support of the case.
They said: "We have filed a civil lawsuit representing Caroline's family. For obvious reasons her mother could not come, in the situation she is in, and the statement was made with authorisation.
"You understand the position of the mother who hugged the hands that took her daughter's breath away. There should be consultation with the perpetrator's family."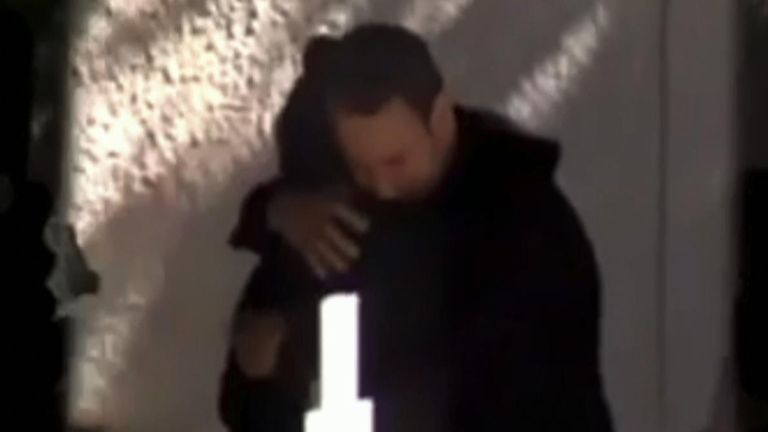 The lawyers added that Ms Crouch's family has a "good relationship" with the accused's family and are in consultation with them.
Anagnostopoulos is charged with two felonies; intentional homicide and killing of an animal, as well as two misdemeanours; repeated false testimony and false report to the authorities.
After attempting to mislead not only the police but the whole nation about the crime for 37 days, he now says through his lawyers that he regrets and apologises for his actions.
Following his confession last week, he was led in handcuffs to his first appearance in court and again wore a bulletproof vest.
Analysis of data from a smartwatch worn by Ms Crouch had helped reveal inconsistencies in the Anagnostopoulos' original story, police investigators said.
The pilot had publicly claimed he and his wife were gagged and tied up after armed robbers broke into their home as their baby daughter slept.
He also said the men stole cash before escaping.
His story shocked the nation and prompted government officials to announce a 300,000-euro (£257,000) reward for information about the crime.
Australia hits back at 'flawed' decision to put Great Barrier Reef on 'in danger' list | World News
Australia has reacted angrily to a UN committee recommendation that the Great Barrier Reef should be added to a list of world heritage sites that are in danger.
The UN Education, Scientific, and Cultural Organisation committee said the reef should be added to the list due to the effects of climate change.
Australia has been trying for years to keep the reef off the list and the country's environment minister Sussan Ley said the UN's recommendation had been made "without due process" and "on the basis of a desktop review".
Ms Ley said: "This decision was flawed. Clearly there were politics behind it."
Reuters news agency cited a government source as saying Canberra believed China was responsible, as China has influence on three committees and also holds the chair of the World Heritage Committee.
"We will appeal but China is in control, the meeting is in China, we don't have much hope," the source said.
But environmental groups are not buying Australia's argument that the recommendation is political.
Australia's leaders have insisted they are tackling climate change but the country's attachment to coal makes its one of the world's largest carbon emitters per capita.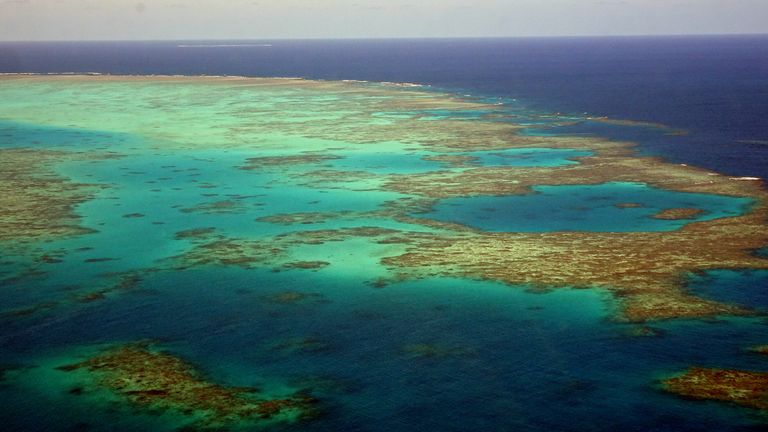 Despite this, the government continues to support fossil fuel industries, saying that it is protecting jobs.
Richard Leck, head of Oceans for the World Wide Fund for Nature – Australia, said: "The recommendation from UNESCO is clear and unequivocal that the Australian government is not doing enough to protect our greatest natural asset, especially on climate change."
The site off the Queensland coast is one of Australia's main tourist attractions, supporting tens of thousands of jobs – things that would be under threat if it was put on the "in danger" list.
The reef is composed of 3,000 individual reef systems, 760 fringe reefs, 600 tropical islands and about 300 coral cays.
They house a wide variety of marine life, plants, and animals, including sea turtles, reef fish, more than 100 species of sharks and rays, and 400 hard and soft corals.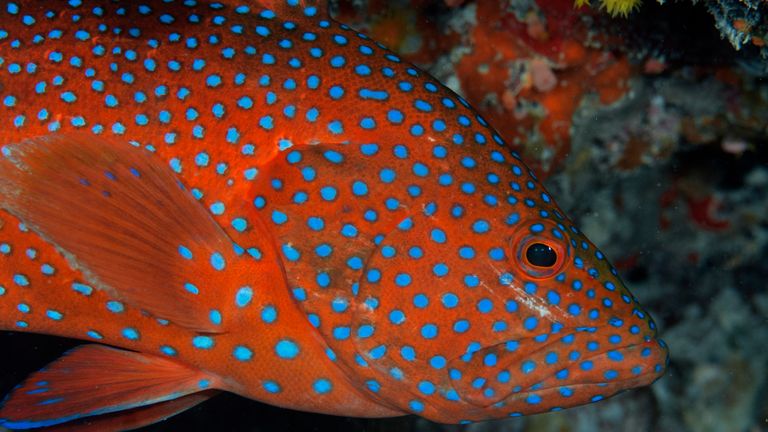 Over the past three decades, the reef has lost half of its coral cover, pollution has caused deadly starfish outbreaks, and climate change has resulted in coral bleaching, the World Wildlife Fund says.
UNESCO said in 2015 that the reef's outlook was poor and since then, it has suffered three major coral bleaching events.
The decision will come up for final consideration in the World Heritage committee late in July.