Israel: Benjamin Netanyahu's 12 years in power set to end as rivals agree to form coalition government | World News
Israel appears to be on the brink of a new political era after an awkward coalition of parties from across the political spectrum announced it had formed a government.
Taking negotiations up to the wire, opposition leader Yair Lapid informed the country's president late on Wednesday that he had struck a power-sharing deal with a broad grouping of right, centre and centre-left parties.
The formation of a 'change government' should, in theory, bring to an end 12 years in power for Mr Netanyahu and two years of political stagnation with four inconclusive elections but there are still hurdles to jump.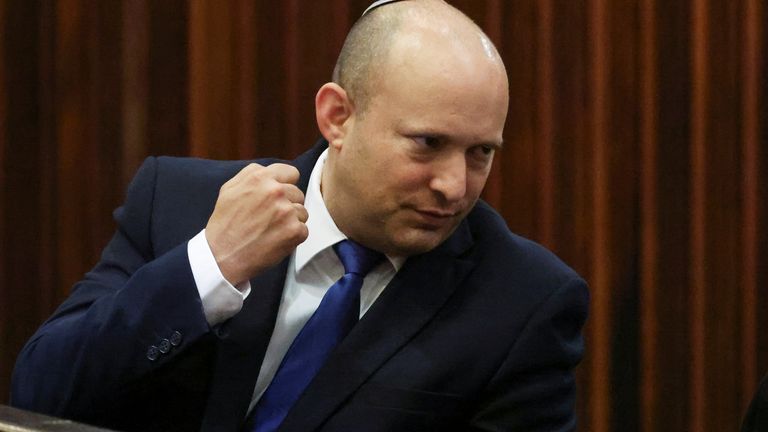 Under the deal, Mr Lapid, a former journalist turned centrist politician, has agreed that the right-wing leader of the much smaller Yamina party, Naftali Bennett, will serve as prime minister for the first two years before handing the leadership to Mr Lapid.
The coalition's only real unity comes in wanting to remove Mr Netanyahu. And it's fragility was proven in the final hours before a deal was reached.
Members of Mr Bennett's Yamina party have been under huge pressure from their supporters not to join a government with the centre-left. The party's deputy, Ayelet Shaked, had her security increased in recent days because of death threats.
Ms Shaked has been attempting to secure concessions from Mr Lapid including obtaining a seat on the committee which appoints judges.
Elsewhere in the coalition, the Arab-Israeli Ra'am party made last minute demands on cancelling a law that makes it easier to conduct demolitions in Arab towns and villages in Israel. The demands were rejected by the right-wing faction.
Mr Netanyahu has been written off many times before only to find ways of holding onto power.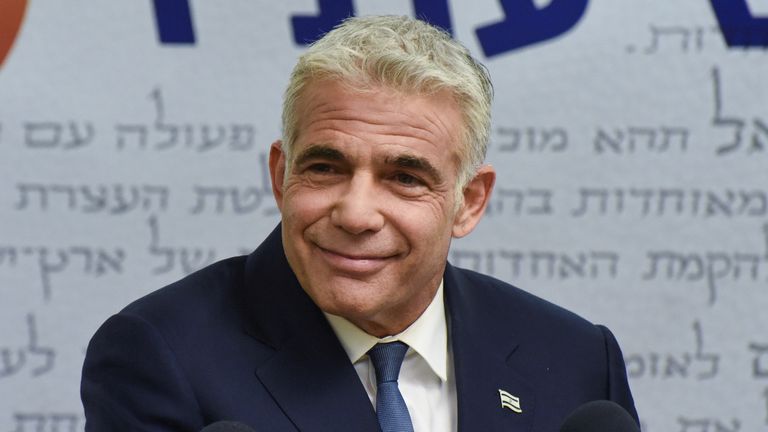 Just two weeks ago, Mr Netanyahu was casting himself, again, as the defender of the nation as another cycle of violence with Palestinians in Gaza unfolded.
But the complexities of Israeli politics were always lurking behind him.
Still, his supporters are not writing him off yet.
Danny Danon was Mr Netanyahu's Ambassador to the UN until last year.
"I will be cautious and I will not start to sum up his political career. We have seen in the past that he pulls magic out of his sleeve when people started to sum up his career. But anyone will agree with me that he is one of the greatest leaders in Israel's history."
He continued: "I think we have to be patient. We have to wait until the last minute, until the last vote will be counted in the parliament. Only then when the new government will be sworn, we can trust they can still speak about a new era in our politics."
The vote of confidence in the new government will take place next week, probably on Wednesday. That gives Mr Netanyahu and his allies a narrow window to try to lure members of the new coalition away, chipping away at the majority.
One source close to the negotiations told Sky News: "We're in for days of hell."
Follow the Daily podcast on Apple Podcasts, Google Podcasts, Spotify, Spreaker
Assuming it lasts, the coalition is unlikely to be able to push through any of its individual party's more radical policies.
But the process of running the country in its most basic form can resume and it will bring to an end a prolonged period of political deadlock.
Eclipse: How and when to see partial solar eclipse in UK – and where 'ring of fire' will be visible | UK News
Skygazers will be treated to a partial solar eclipse over the UK in the morning – as the moon passes between the earth and the sun.
Just after 10am, it will be possible too see nearly a third of the sun being blocked out by the moon in what is known as an annular eclipse.
These only occur every one or two years, when the sun and moon are exactly in line with the earth but the apparent size of the moon is smaller than that of the sun.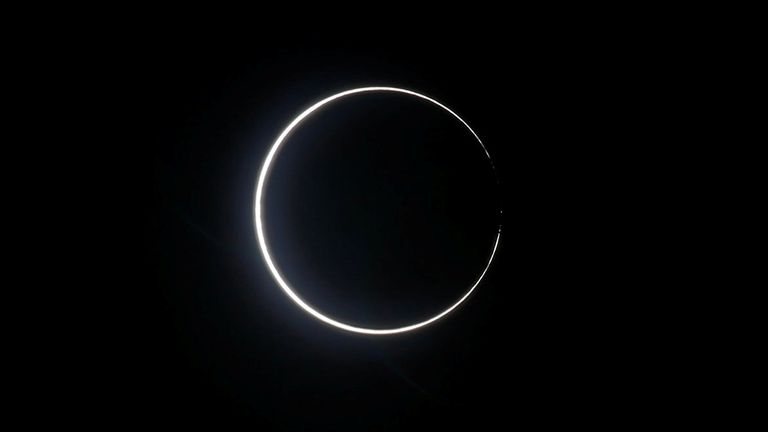 This causes the sun to appear as a very bright ring, or annulus, in a phenomenon known as the "ring of fire".
However, observers in the UK and Ireland will see a crescent sun instead of a ring, as this will be a partial eclipse.
The ring of fire will be visible from Russia, Greenland and northern Canada.
Even though for the UK, a large part of the solar disc will be covered, experts have warned that looking at the partially eclipsed sun without appropriate protection can cause serious and permanent damage to the eyes.
Dr Emily Drabek-Maunder, an astronomer at the Royal Observatory Greenwich, said: "Never look at the sun directly or use standard sunglasses, it can cause serious harm to your eyes."
Dr Drabek-Maunder suggests using a simple pinhole projector, solar eclipse viewing glasses – which can be purchased online, or special solar filters – which can fit on telescopes, to observe the eclipse.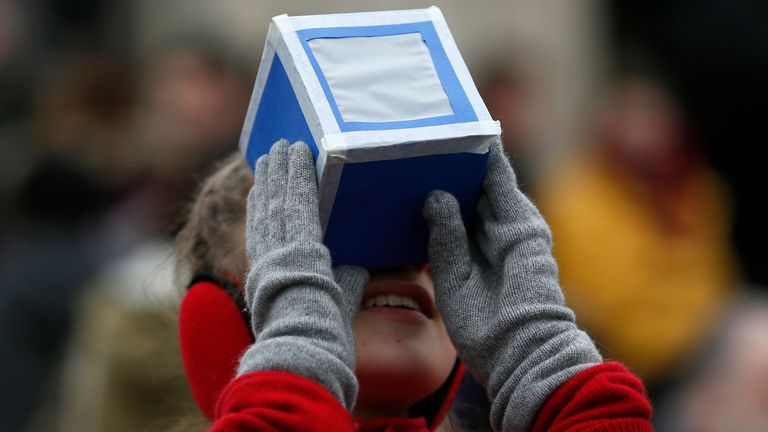 She said: "You can make a projector by poking a small hole into a piece of card.
"Hold the card up to the sun so that light shines through the hole and on to a piece of paper behind the card.
"You will be able to see the shape of the sun projected on to the piece of paper and watch its shape change as the Moon passes in front of the sun."
She said the phenomenon would begin at 10.08am on 10 June in the UK, with the maximum eclipse occurring at 11.13am, when the moon will cover close to one-third of the sun.
The partial eclipse will end at 12.22pm.
The Royal Observatory Greenwich will be live-streaming the eclipse on its website and YouTube channel.
COVID-19: The flying doctors vaccinating dozens at a time in Africa's remotest spots – where millions of doses are needed | World News
There is an old, corrugated hanger in the centre of Maseru, the diminutive capital of the kingdom of Lesotho and through the doors we could hear the words of prayer.
Inside, amongst the wings and tails of several brightly coloured aeroplanes, there were medics and mechanics getting themselves ready for the day ahead.
Lesotho's Flying Doctor Services serve 11 isolated clinics in this rugged and impoverished nation.
The government-run unit is assisted by a Christian charity called the 'Mission Aviation Fellowship' and together they provide medical services and emergency treatment to communities that are completely inaccessible by road.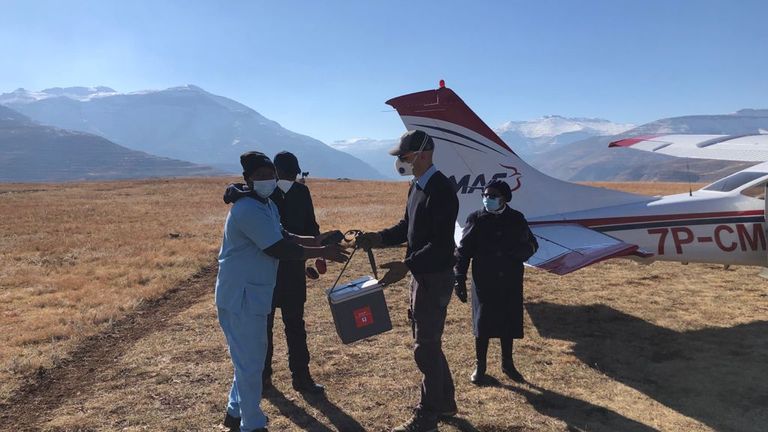 Yet the team that runs this service has been presented with a new and weighty task.
As COVID-19 spreads and mutates in southern Africa, its members have been asked to deliver and administer vaccines to much of the nation.
Lesotho acquired a batch of 36,000 AstraZeneca vaccines through the UN-backed Covax facility in March and health workers were prioritised for their first dose.
The French government donated an additional consignment to ensure they are fully protected but the vast majority of 2.2 million 'Basothos' have yet to receive a vaccine.
The 'flying doctors' are doing what they can and we followed them for the day as they delivered a small batch of vaccines to a community called Kuebunyani.
It was a complicated trip as the pilot and had to pick up a box of AstraZeneca vaccines in another community, called Thaba Tskeko. Its hospital still had a few vials left.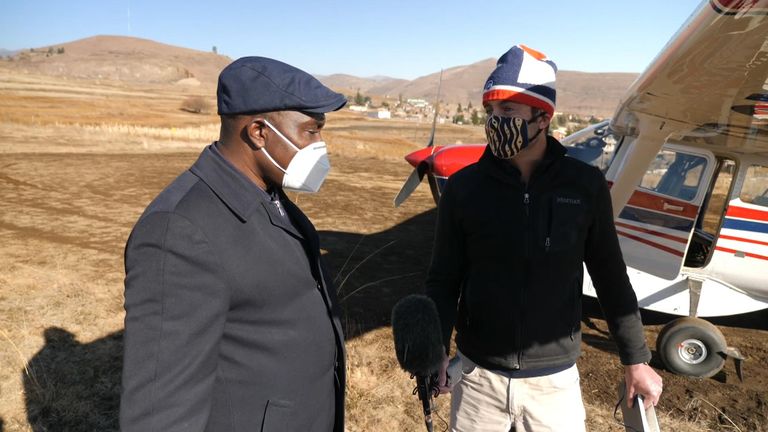 "How many vaccines have you got now," I asked the 'Flying Doctor Services' medic, Dr Justin Cishiya.
"For now we are having 30 doses."
"How many are you going to need in total?"
"In total, we will need, let me estimate, two million doses."
We strapped our precious box in the back of the plane and headed east in the direction of Kuebunyani.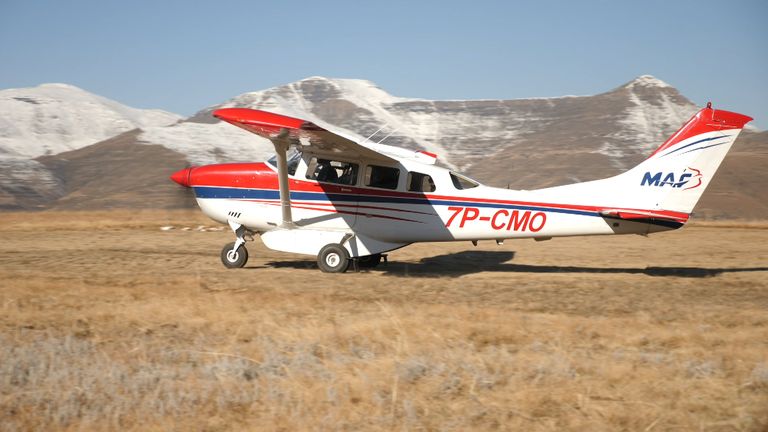 This district of some 10,000 people clings to the slopes of the Maloti range and the pilot had to negotiate its rudimentary airstrip.
Our cargo was then handed over to a nurse called Paul Enock.
"How many people have been vaccinated here so far?" I asked.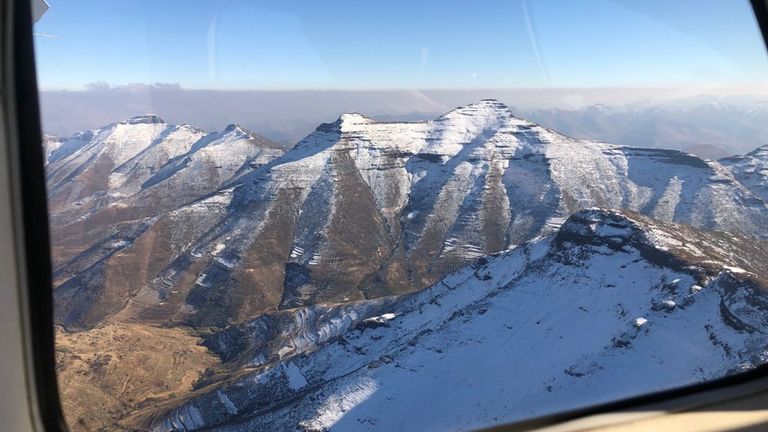 "So far 73, yes, mostly the village health workers and the health centre committee and some of our staff members."
"You are going to need a lot more," I said.
"Yes, especially for the people (who live) here, yes."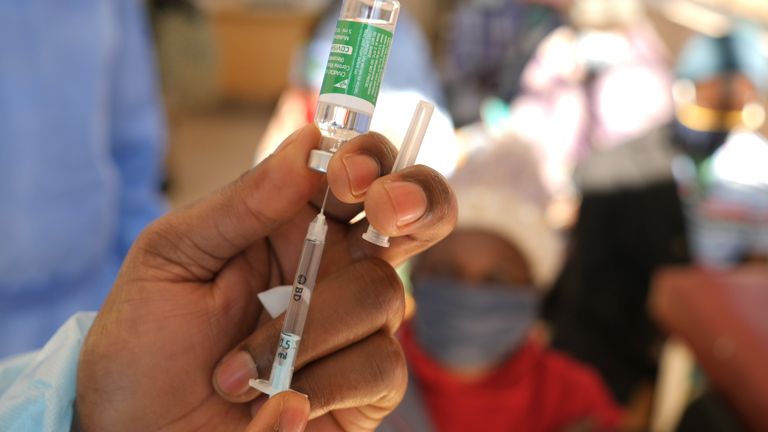 It may be an isolated spot but the message has gone out about COVID-19 as the third wave of infection begins to take hold in Africa.
Cases are on an upward trend in 14 countries and in the past week, new cases rose by more than 30% in eight countries.
In Kuebunyani, we watched as local residents begin to congregate. Some had left their homes the day before to reach the clinic.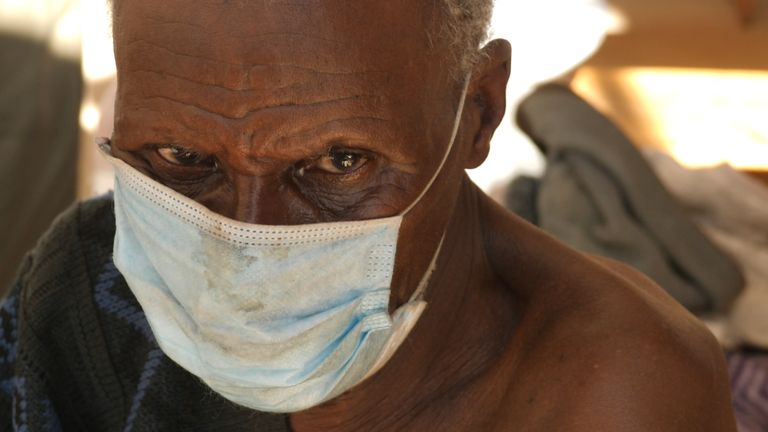 I stopped a 77-year old called Frank Molefi.
"Why do you want to get a COVID vaccine?" I asked.
"It is you (the health workers) who told me to come here," he said, bursting into laughter.
"Do you think the virus could come here to the mountains?"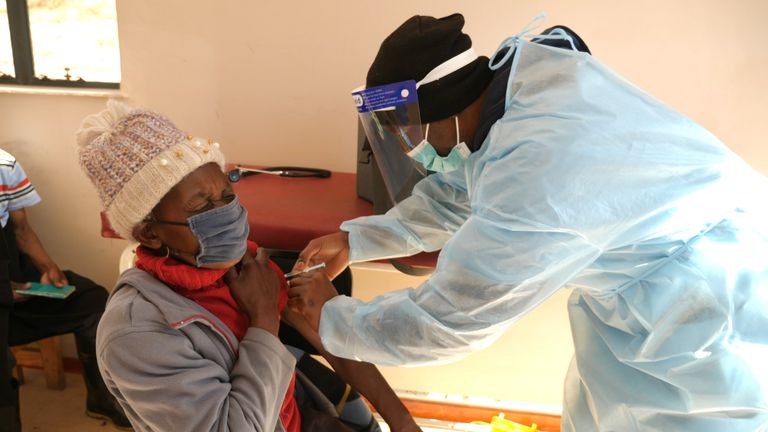 "Here? Of course, it will come here because human beings live here."
Several village health workers, a local official and a handful of senior citizens with chronic conditions were offered these precious vaccines and one man told us he felt fortunate to receive one.
The supply of vaccines to Africa has ground to a halt with the India-based makers of the AstraZeneca vaccine now concentrating production at home.
The distribution of Johnson & Johnson vaccines has been blocked after a batch was contaminated in the United States.
Sky News understands there are one million J&J vaccines "ready to be shipped within an hour" from a factory in neighbouring South Africa but the manufacturer cannot get clearance to move them.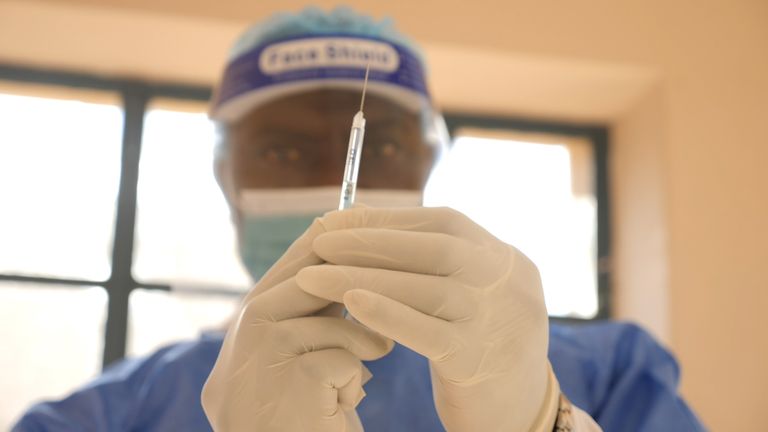 In response the World Health Organisation and others are pleading with wealthy nations to move immediately and donate their stocks.
Seven countries have said they will make contributions via COVAX but only France has actually delivered the goods.
As we left Kuebunyani we asked an administrative nurse, Mampho Leleka, what she thought of the discrepancy in vaccines between rich and poor countries.
"We are not comfortable, it is not fair at all. It has to be rolled out as (quickly) as possible because this pandemic is killing people."
This mountain kingdom – like much of Africa – has been left behind in the race to vaccinate the public.
Only 1% of the public has been inoculated in sub-Saharan Africa. But this shapeshifting virus is encircling the world and the protection of 'Basothos' should become everyone's responsibility.
Russian court bans groups linked to Putin critic Alexei Navalny | World News
A Russian court has banned groups linked to jailed Kremlin critic Alexei Navalny after declaring them "extremist".
The ruling could increase tensions ahead of President Putin's meeting with US leader Joe Biden in Geneva next week.
Mr Navlany last year survived a poisoning attempt blamed on Russian intelligence, and in February was jailed for two and a half years for parole violations.
The 45-year-old has for many years been Mr Putin's most vocal critic within Russia.
The latest case was brought by Moscow's top prosecutor, who accused Mr Navalny and his allies of trying to start a revolution by destabilising Russia's socio-political fabric.
Mr Navalny's lawyers said they would appeal and criticised the prosecution's evidence.
The ruling targets Mr Navalny's Anti-Corruption Foundation and his regional campaign HQ, which has helped organise anti-Kremlin protests.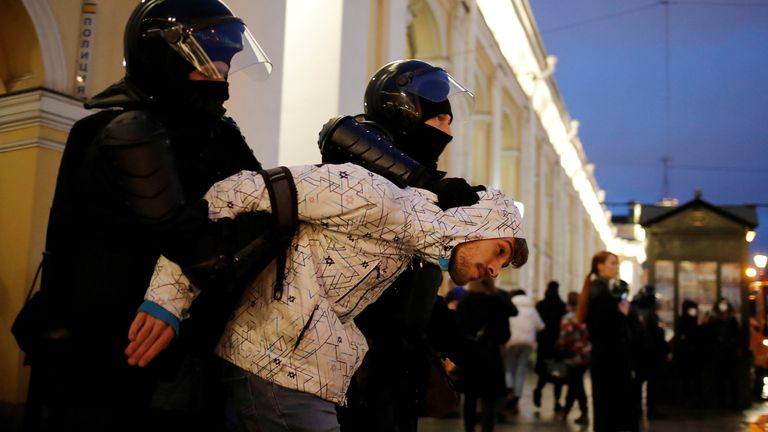 Authorities can now jail activists and freeze their bank accounts.
Ahead of the ruling, a message on Mr Navalny's Instagram account read: "We're not going anywhere.
"We'll digest this, sort things out, change, and evolve.
"We'll adapt. We won't step back from our aims and ideas. This is our country and we do not have another one."
President Putin last week approved a law banning members of "extremist" organisations from running for political office.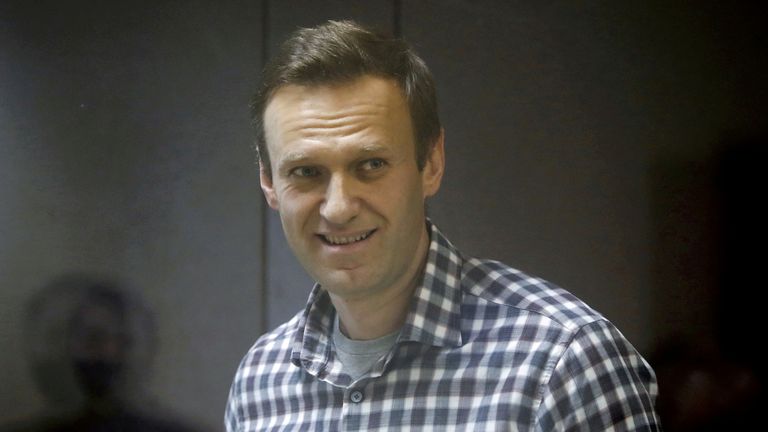 Along with the court decision, the hopes of Mr Navalny's allies of getting into parliament in September's elections are now over.
UK Foreign Secretary Dominic Raab was one of the first to criticise the ruling.
He said: "Today's ruling that the anti-corruption foundation FBK is an extremist organisation is perverse.
"It is another Kafka-esque attack on those standing up against corruption and for open societies, and is a deliberate attempt effectively outlaw genuine political opposition in Russia."