COVID-19: MPs urge Boris Johnson to give more vaccines to poorer nations with 'one in, one out policy' | UK News
Boris Johnson is being urged to give more COVID-19 vaccines to poorer countries ahead of the G7 summit.
More than 100 cross-party MPs and peers want the prime minister to show "global leadership" and commit to a one in, one out policy when it comes to jabs.
The prime minister is set to chair a gathering of the most economically powerful countries in the world in Cornwall from 11 June.
In the run-up to the summit, the signatories have asked the UK government to donate a dose to the United Nations-backed Covax scheme for every dose bought for use in Britain.
The scheme is providing vaccines to low and middle-income countries.
It comes as the World Health Organisation, the International Monetary Fund, World Bank Group and the World Trade Organisation called for richer countries to give more COVID vaccines to poorer nations in a joint plea across a number of international newspapers.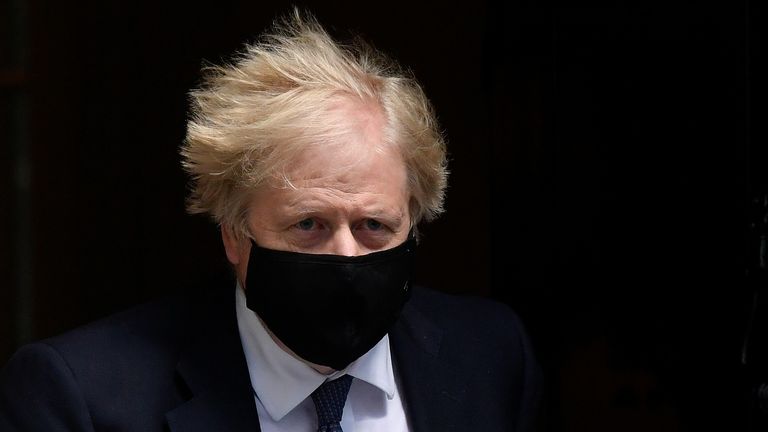 In a letter, the signatories said there is a "clear moral imperative to act to close the global vaccine divide", as well as a "rational case… to stop the threat of variants emerging abroad and taking root in the UK".
It has been backed by senior Tory MPs Peter Bottomley and Dr Dan Poulter – a former health minister who has worked on the frontline during the pandemic.
Others putting their name to the letter include former shadow chancellor John McDonnell, former archbishop of Canterbury Lord Carey, former Green Party leader Caroline Lucas, Margaret Thatcher's former health minister Baroness Hooper and ex-leader of the Liberal Democrats Lord Campbell.
"The longer we wait to act, the more likely it is that dangerous variants could emerge that can evade the protections offered by current vaccines," the letter said, which was co-ordinated by the all-party parliamentary group (APPG) on coronavirus.
It added: "The UK has an opportunity to use the G7 summit to show leadership on this critical issue and demonstrate that 'global Britain' is more than just a slogan.
"While the UK has rightly committed funding to Covax, we remain a net importer of Covid-19 vaccines.
"The APPG on coronavirus, therefore, recommends that the UK must immediately adopt a policy of vaccine matching, in which for each dose of the vaccine imported, one dose is donated to Covax.
"This will help meet the urgent demand for vaccines in low and middle-income countries around the world.
"The UK mustn't miss the opportunity provided by the G7 summit to lead the way in promoting more equitable global access to Covid-19 vaccines."
The 116 peers and MPs believe the UK should aim to become a "net vaccine exporter" once it has boosted its manufacturing capacity.
The decision to write to the prime minister came about after Professor Andrew Pollard, who helped develop the Oxford-AstraZeneca vaccine, warned the group that "many millions could die between now and September" if vaccines are not more widely distributed across the globe.
Germany, France and Italy are among European countries that have committed to donating at least 100 million doses of coronavirus vaccines to middle and low-income countries before the end of the year, the group said.
They highlighted that the UK government has so far only committed to donating surplus shots in future to Covax, they said.
Matt Hancock has previously said that the UK "has probably done more than any other nation to help vaccinate the world's poorest" through its support for the Oxford vaccine, which accounted for almost a third of the global number of coronavirus jabs administered as of 19 May.
He said the government had also donated more than £500m to Covax, which has delivered vaccines to 120 countries and territories.
In November, the UK government decided to cut spending on its annual foreign aid commitment from 0.7% to 0.5% of gross national income.
EE brings back EU roaming charges for mobile phone customers from next year | Business News
Mobile network EE is to charge customers for using their phone in Europe from next year.
The company, owned by BT, had previously said it had no plans to reintroduce the charges after Brexit.
It will affect new customers and those upgrading from 7 July.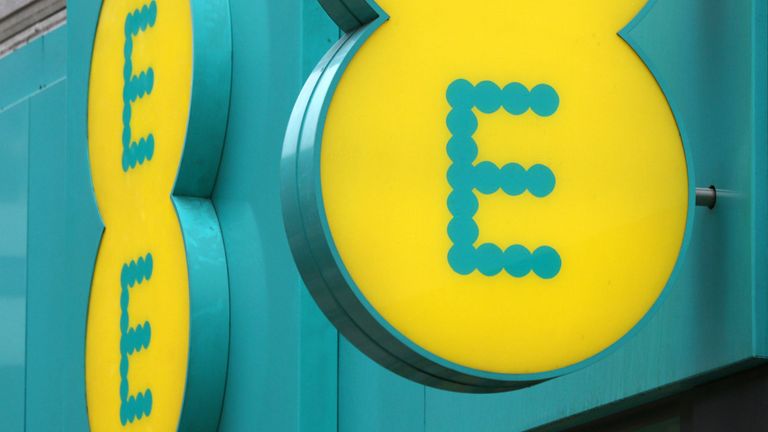 They will face a £2 daily fee from January next year to be able to use their data, call minutes and text allowances in 47 European destinations.
The change will not apply to customers travelling to the Republic of Ireland.
British travellers have not had to pay roaming charges on their mobile phone bills since June 2017, when they were abolished after changes to European regulation.
Before then they added an estimated £350m a year to users' bills.
Britain's departure from the European Union meant that from January UK customers no longer had the right to use their phone in Europe without roaming charges.
However, Britain's major mobile operators had said they had no plans to introduce them.
December 2020: What's in the Brexit trade deal?

EE said its decision was designed to "support investment into our UK-based customer service and leading UK network".
It said customers travelling abroad for longer will be able to use a 30-day Roam Abroad Pass.
Ernest Doku, a mobiles expert at Uswitch.com, said: "It's hugely disappointing for consumers to see that situation change so quickly.
"If you're an existing EE customer, these charges won't affect you yet, but make sure you check the small print if you're due an upgrade in the coming months."
Sky News contacted other networks to ask if they had any similar plans.
O2 and Three said they had not made any changes to roaming.
However, both are altering their policies on "fair usage" daily data limits while in the EU – though in each case said the limits were more than enough for the vast majority of holidaymakers' needs.
Vodafone also said it had no plans to bring back roaming charges.
HMS Defender: Boris Johnson insists warship was sailing legally as Moscow warns 'no options can be ruled out' | UK News
Boris Johnson has insisted Royal Navy warship HMS Defender was sailing legally in Ukrainian waters and that Russia did not any fire warning shots.
Russia has accused the UK of "barefaced lies" over Wednesday's incident and said it would respond robustly to any future incursions into what it says are Russian waters.
It summoned the British ambassador in Moscow for a dressing down, while a Kremlin spokesman called it a "deliberate and premeditated provocation".
Russia claims this is HMS Defender 'chased out'

"In the event of a repeat of unacceptable provocative action – if those actions go too far, no options can be ruled out in terms of legally defending Russia's borders," added Dmitry Peskov.
The UK rejects Russia's claim that a border patrol boat fired warning shots and that warplanes dropped bombs into path of the ship off the Crimean coast.
Speaking on Thursday, Boris Johnson said it was "not my information" when asked if the Russians had fired warning shots.
"My understanding is that the Carrier Strike Group proceeded in a way you would expect through international waters and in accordance with the law," said the prime minister.
He added: "We don't recognise the Russian annexation of Crimea – it was illegal. These are Ukrainian waters and it was entirely right to use them to get from A to B."
Foreign Secretary Dominic Raab has also said shots were not fired and called the Russian account "predictably inaccurate".
The Ministry of Defence said it had been made aware in advance that the Russians were conducting "gunnery exercises" in the area.
"No shots were directed at HMS Defender and we do not recognise the claim that bombs were dropped in her path," it said.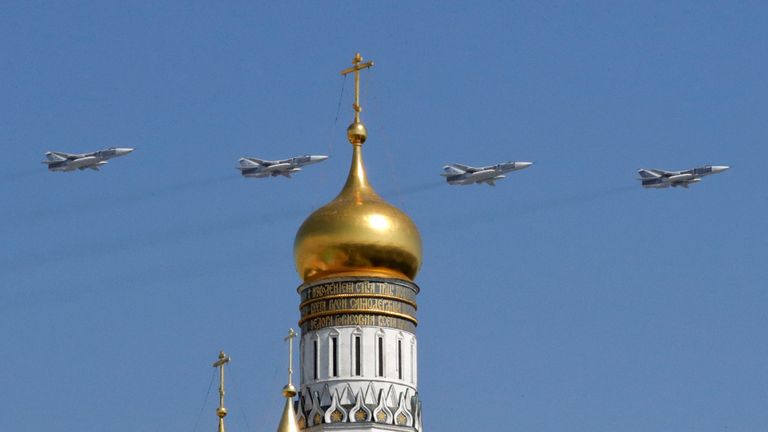 However, a BBC journalist on board the 152 metre-long ship said Russian planes had flown nearby and he also heard radio warnings that shots would be fired if HMS Defender didn't change course .
He said firing was later heard but "well out of range".
Foreign ministry spokeswoman Maria Zakharova accused Britain of "barefaced lies" over the incident.
Russia claims the British ship had gone as far as three kilometres (2 miles) into Russian waters near Cape Fiolent, near the port of Sevastopol in Crimea.
Crimea was seized from Ukraine in 2014 by the Russians, who claim ownership of waters around its coast.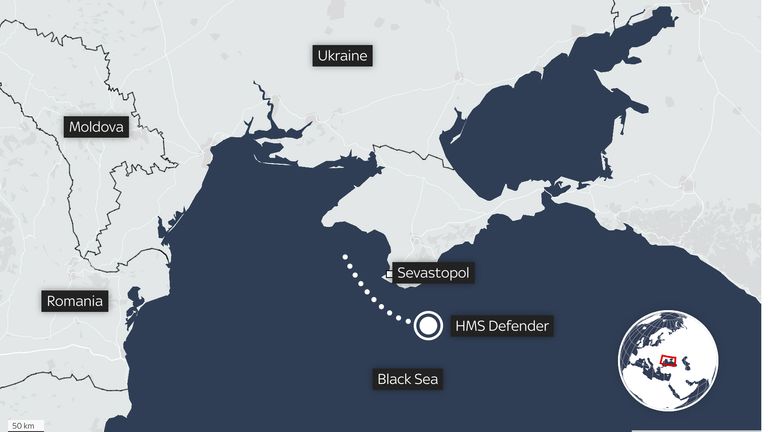 Western countries regard Crimea to have been taken illegally.
Mr Johnson also rejected the assertion that the relationship with Russia was now at a new low, following other recent incidents such as the poisoning of former spy Sergei Skripal in the UK in 2018.
"I can remember times in my own lifetime when things have been far worse," the prime minister said.
Sky's Moscow correspondent Diana Magnay said the incident was to a large extent about "testing each other's mettle" and seeing "how far Russia is prepared to go to defend what it claims are its territorial waters – and how far the UK and NATO are prepared to go to defend Ukrainian sovereignty".
'Several injured and one dead' after building partially collapses in Miami Beach | World News

A huge emergency operation is under way after a partial building collapse in Miami Beach, with reports of at least one person killed and several injured.
More than 80 fire and rescue units were at the scene of the collapse in the Florida city, with images showing a pile of rubble with debris spilling down from what was left of the balconies of the building.
MBPD and @MiamiBeachFire are assisting the Town of Surfside at a partial building collapse located at 8777 Collins Avenue in Surfside, Florida. Multiple police and fire agencies from across Miami-Dade are assisting. Please follow @MiamiDadeFire for updated information. pic.twitter.com/8tORIfZfjY

— Miami Beach Police (@MiamiBeachPD) June 24, 2021
CBS reported that at least one person had died, while ABC News said eight people were being treated for injuries in hospital.
Sergeant Marian Cruz of the Surfside Police Department said: "We're on the scene so it's still very active.
"What I can tell you is the building is 12 floors. The entire back side of the building has collapsed."
Police have cordoned off nearby roads, with scores of fire and rescue vehicles, ambulances and police cars deployed in the area.
NBC said the rescue teams included a unit that is trained in the removal of victims trapped in complex or confined spaces.
NBC Miami showed a video of a young boy being pulled alive from the rubble.