COVID-19: Coronavirus variants given new names by the WHO under new system – here's the full list | World News
Coronavirus variants have been renamed with letters of the Greek alphabet following criticism of the way they have been labelled up until now.
Under a new system revealed by the World Health Organisation (WHO), the Kent variant will now be known as Alpha, the Indian variant as Delta, and the South African variant as Beta.
Their scientific names – B.1.1.7, B.1.617.2 and B.1.351 – had been considered too complicated to remember, but there were also concerns about referring to them by the locations where they were discovered.
#COVID19 does not care who we are, where we live, or what we believe.

Yet the pandemic continues to unleash a tsunami of hate and xenophobia, scapegoating and scare-mongering.

That's why I'm appealing for an all-out effort to end hate speech globally. pic.twitter.com/ojh957xhQq

— António Guterres (@antonioguterres) May 8, 2020
Critics have warned this can stigmatise countries where variants are first found and some have warned the rise in coverage of the so-called Indian variant as it becomes more widespread could fuel racism against Indian people.
Human Rights Watch said that "political parties and groups… have latched onto the COVID-19 crisis to advance anti-immigrant, white supremacist, ultra-nationalist, antisemitic, and xenophobic conspiracy theories that demonize refugees, foreigners, prominent individuals, and political leaders".
Last year, the fact the pandemic originated from China led to an increase in hate crimes against Asian people, and former US president Donald Trump was condemned for regularly referring to coronavirus as the "China virus", among other such labels.
The UK's East and Southeast Asian communities saw a 300% increase in hate crimes during the pandemic, according to advocacy group End the Virus of Racism.
Rise in hate crime against Chinese people

As a result, the WHO has sought to rename the new variants using a different system.
These are the new names for each of the variants:
• Kent / B.1.1.7 – Alpha
• South Africa / B.1.351 – Beta
• Brazil / P.1 – Gamma
• India / B.1.617.2 – Delta
• US / B.1.427 / B.1.429 – Epsilon
• Brazil / P.2 – Zeta
• B.1.525 – Eta
• Philippines / P.3 – Theta
• US / B.1.526 – Iota
• India / B.1.617.1 – Kappa
The choice of the Greek Alphabet followed months of deliberations, with ideas such as Greek gods and pseudo-classical names floated by experts.
However, many were already the names of brands, companies or aliens.
Subscribe to the Daily podcast on Apple Podcasts, Google Podcasts, Spotify, Spreaker
Viruses have historically been named after the locations where they were first discovered.
For example, the Ebola virus was named after the Congolese river.
But this labelling can be damaging and at times inaccurate, with the "Spanish flu" pandemic retaining its name despite its origins being unknown.
"No country should be stigmatised for detecting and reporting variants," said WHO epidemiologist Maria Van Kerkhove.
Missing Italian toddler found alive by journalist sent to cover disappearance | World News
A 21-month-old toddler has been found alive at the bottom of a ravine after spending two nights alone in the woods.
Nicola Tanturli was found near his home in Tuscany, Italy, when a TV journalist heard him crying "mamma".
The child emerged with a bump on his head and some scratches but no other injuries.
Nicola had wandered away from his isolated home in the Apennine mountains sometime during the night on Monday, and was the subject of an intense round-the-clock search and Italian media coverage.
Church bells rang out in celebration in the town of Palazzuolo sul Senio, near Florence, when the boy was found a mile from his home.
A journalist for RAI state television covering the story said he was walking up a dirt road towards the family home when he heard whimpers from a ravine heavily covered in trees and brush.
Giuseppe Di Tommaso said: "I started to yell, 'Nicola', to understand if it could be the child. I heard 'mamma'."
"I started to repeat the word 'mamma', because children of that age repeat words. When I intuited that it could be Nicola, I went down into the ravine."
He said he could see the child on the other side, about 10 metres away in a hard-to-reach area thick with thorny brush.
A car drove by at that moment, and Mr Di Tommaso said he hailed two Carabinieri paramilitary officers, who initially disbelieved that the sounds could have come from the boy, "this being an area full of animals that make sounds that can sound like a child".
Carabinieri commander Danilo Ciccarelli said he climbed some 25 metres down the embankment, expecting to find a small deer.
"Instead, Nicola popped out, with his little head among the high grass. He said, 'mamma', and I went towards him. He hugged me right away," the commander said.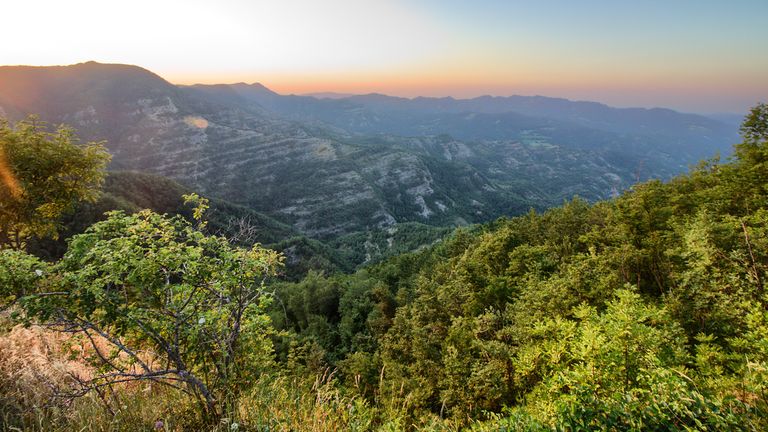 The officer said he checked the boy's condition, finding only some scratches and a small bump on his head, before carrying him up the embankment and reuniting him with his parents.
"It was a tremendous joy to bring him back to his mother's arms," Mr Ciccarelli said.
The commander said he did not believe the boy spent the night where he was found, because the brush and grass was not tamped down, and that it was likely he had arrived through the woods, not from the road.
"He is a very active child, very lively," Mayor Gian Piero Philip Moschetti told a news conference.
"He could walk for a kilometre (half-a-mile) an hour. We have no idea how much distance he could have covered. He was used to going out of the house and living outdoors."
Twin panda cubs born at Tokyo's Ueno Zoo for first time in four years | World News
A giant panda has given birth to twin cubs at Ueno Zoo in Tokyo, the first born there for four years.
They arrived an hour and a half apart at 1.03am and 2.32am local time on Wednesday, according to the zoo's website.
Their gender is still to be confirmed so they have not yet been named.
"All the staff are working together to observe and protect the giant panda mother and children," the zoo said.
Mother Shin Shin was born in 2005 and arrived at the Tokyo zoo a decade ago with male partner Ri Ri.
They also had a daughter Xiang Xiang in June 2017.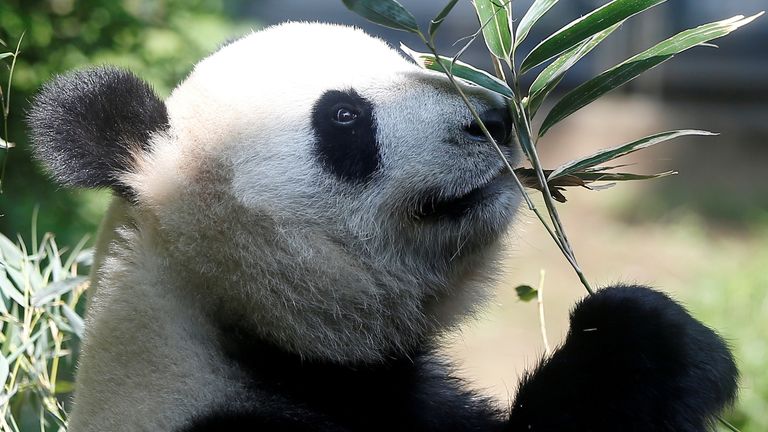 Pandas are very difficult to breed in captivity because they can be picky about partners and females go into heat just once a year.
"The pandas are now a family of five. This is such happy news," said Japan's chief cabinet secretary Katsunobu Kato.
"I believe everyone at the zoo is doing all they can day and night to keep the panda family healthy first, and I hope everyone will watch over them warmly and quietly."
The UK's only giant pandas, Yang Guang and Tian Tian, are at Edinburgh Zoo.
However, it warned in January it might have to let them go as the zoo was having financial troubles caused by the pandemic.
Ethiopia: Dozens reportedly killed and injured after airstrike on Tigray village | World News
Dozens of people have been killed in Ethiopia's Tigray region after an airstrike hit a busy market, according to witnesses.
Health workers said soldiers have blocked medical teams from travelling to the scene after the village of Togoga was struck.
The number of people killed has not been confirmed, but one doctor said "more than 80 civilian deaths" had been reported.
It comes amid some of the fiercest fighting in the Tigray region since the conflict began in November, as Ethiopian forces supported by those from neighbouring Eritrea pursue Tigray's former leaders.
Injured patients being treated at Mekele's Ayder hospital said a plane dropped a bomb on Togoga's marketplace.
A nurse said the six patients include a two-year-old child with "abdominal trauma" and a six-year-old.
She added that a baby died on the way to hospital after the ambulance carrying the infant was blocked for two hours.
One medical worker said six ambulances carrying around 20 health workers had attempted to reach the wounded but soldiers stopped them at a checkpoint before sending them back to Mekelle.
"They told us we couldn't go to Togoga. We stayed more than one hour at the checkpoint trying to negotiate, we had a letter from the health bureau – we showed them. But they said it was an order."
Several more ambulances were later sent away, but one group of medical workers managed to access the site on Tuesday evening via a different route.
One woman, who said her husband and two-year-old daughter were injured in the strike, said the bomb hit the market at around 1pm on Tuesday.
"We didn't see the plane but we heard it," she said. "When the explosion happened, everyone ran out – after a time we came back and were trying to pick up the injured."
Residents said the violence had flared in recent days north of the regional capital Mekelle.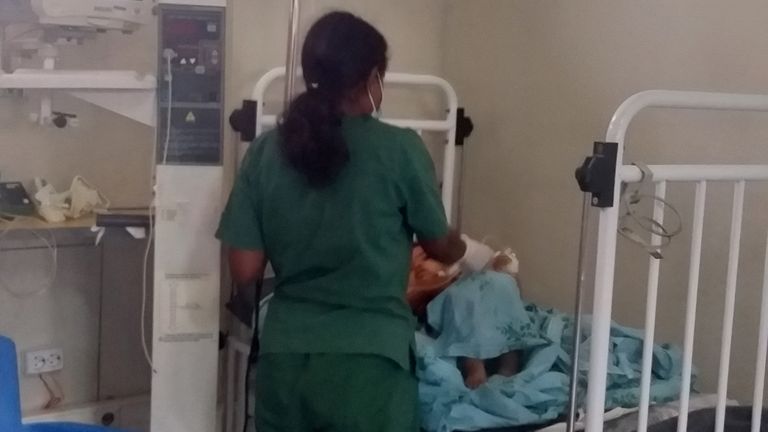 Medical workers have treated around 40 wounded people, but estimate the number of injured is likely higher as some people fled after the attack.
Five patients were said to need emergency operations but the health workers were unable to evacuate them.
A doctor in Mekele said: "We have been asking, but until now we didn't get permission to go, so we don't know how many people are dead."
One Red Cross ambulance trying to reach injured people on Tuesday was shot at twice by Ethiopian soldiers, according to another doctor.
He said the soldiers held his team for 45 minutes before ordering them back to Mekele.
"We are not allowed to go," he said. "They told us whoever goes, they are helping the troops of the TPLF."
The TPLF stands for Tigray People's Liberation Front, the political party which governed the region until it was ousted by a federal government offensive in November.
The subsequent fighting has killed thousands, forcing more than two million people from their homes.
Witnesses have repeatedly accused Ethiopian and Eritrean soldiers of looting and destroying health centres across the Tigray region and denying civilians access to care, while the United Nations has said all sides have been accused of abuses.
Commenting on the recent airstrike, European Union foreign policy chief Josep Borrell said in Berlin: "The situation there is appalling."
"Today a military airstrike has been producing a lot of casualties against the civilians," he added.