COVID-19: Vietnam detects 'more transmissible' coronavirus variant thought to be hybrid of UK and Indian strains | World News
A new COVID-19 variant made up of the strains first found in the UK and India has been discovered in Vietnam, its health ministry has announced.
It comes as the country grapples with a spike in infections after largely controlling the virus over the past year.
The announcement about the variant was made by health minister Nguyen Thanh Long, who described it as "dangerous".
Professor 'anxious' about growing COVID cases

Vietnam had previously detected seven virus variants – B.1.222, B.1.619, D614G, B.1.1.7 – known as the UK variant, B.1.351, A.23.1 and B.1.617.2 – the Indian variant.
VnExpress, an online news site in Vietnam, quoted Mr Long as saying a name would be given to the new variant soon, as well as more detailed information about it.
Mr Long was also quoted as saying that lab results showed it to be more transmissible, and that it replicated very quickly.
He reportedly blamed the new variant for the quick spike in cases in the country.
The World Health Organization (WHO) has so far identified four COVID-19 variants of concern – those which originated in the UK, India, Brazil and South Africa.
It has not responded to the claims about a new variant in Vietnam.
Tokyo Olympics: Team GB's Alex Yee takes silver in men's triathlon with Jonny Brownlee finishing fifth | World News
Great Britain's Alex Yee has won silver in the men's triathlon at the Tokyo Olympics, with Norway's Kristian Blummenfelt taking gold.
The 23-year-old from Brockley, southeast London, making his Olympic debut, led for much of the 10km (6.2 miles) run before the Norwegian produced a stunning breakaway in the Tokyo heat.
New Zealand's Hayden Wilde took silver with Brit Jonny Brownlee, who was bidding for a medal at a third successive Olympics having won bronze in London and silver in Rio, finishing fifth.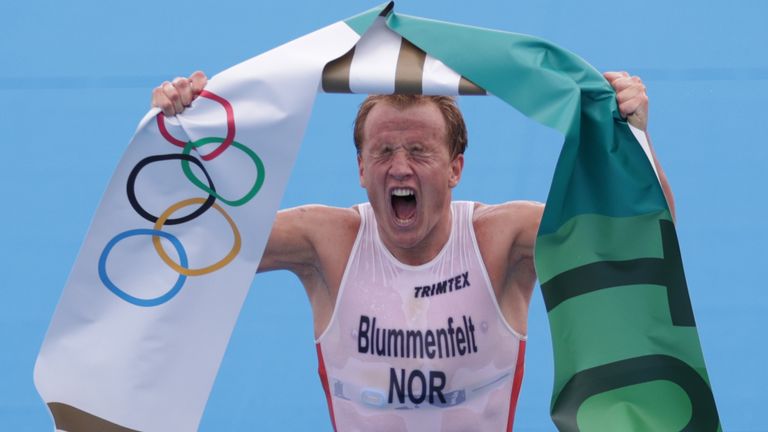 The event got off to a bizarre beginning when half of the athletes were blocked from diving into the water by a boat, leading to a false start.
Yee stayed in contention, leading the chase group across the line in the cycling before taking the lead in the run.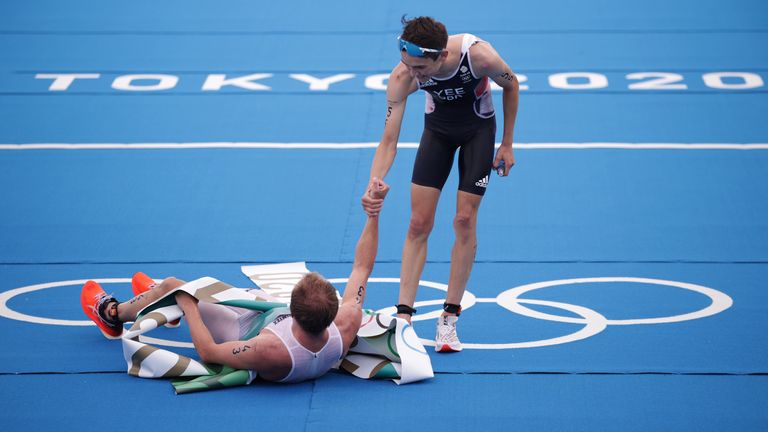 Both Yee and Brownlee were at the fore going into the final lap but Blummenfelt signalled his intent by making a break on the third lap that split the pack – with only Yee and Wilde able to hang on.
The Norwegian made his bid for gold in the final, in what many thought was a premature burst, but the chasers couldn't keep up and he ended up winning in the time of 1:45:04.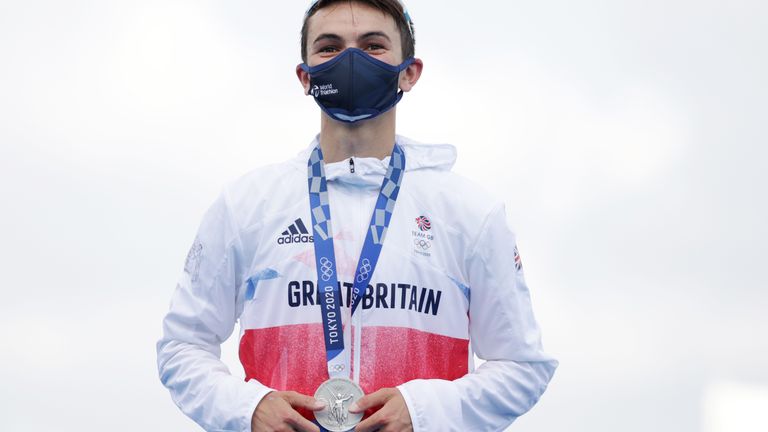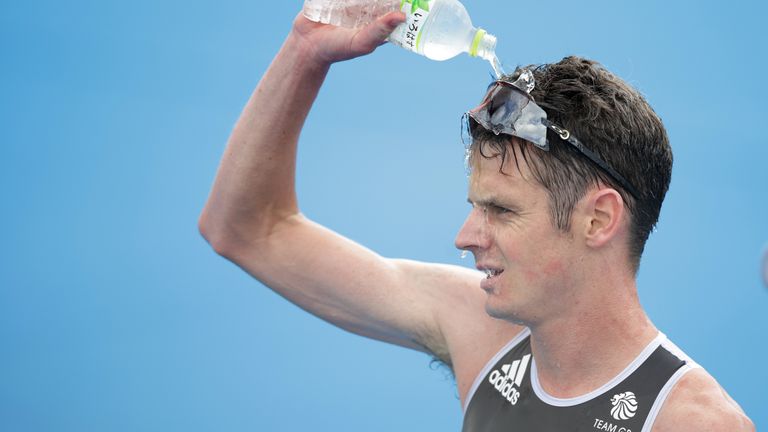 Blummenfelt was clearly emotional at the finish line, falling to the ground and requiring medical attention.
The 27-year-old won Norway's first Olympic medal and was taken away in a wheelchair after the race.
Yee got Team GB off to a good start on day three after a disappointing day two on Sunday which saw several medal hopeful's drop out of the Games.
This was Britain's third medal so far, with swimmer Adam Peaty hoping to win Team GB's first gold in the 100m breaststroke later.
Speaking after his win, Yee said: "It's a bit bizarre really. I'm just a normal guy from southeast London. Dreams really do come true.
"I am just over the moon. I was already deep in the well and dug that little bit in my soul. It wasn't enough to catch Kristian but it was enough to get silver."
Elsewhere, Team GB's rugby sevens men's team comfortably beat Canada 24-0.
They will play hosts Japan in their second game later today, with hopes of going one better from Rio 2016 and taking gold.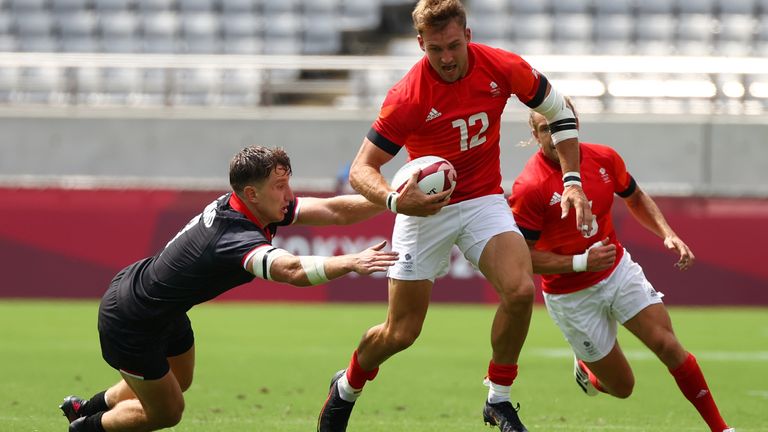 On Sunday, the International Olympic Committee relaxed its health rules and said medalists can remove their masks on the podium for photos – for 30 seconds.
This, says the IOC, acknowledges "a unique moment in their sporting career."
Health protocols agreed to ahead of the Tokyo Olympics to control COVID-19 infections had required all medalists to keep masks on for the whole ceremony.
But athletes do have to stay on their own podium step and must put masks back on for group photos on the top step.
Cuba protests: More than 500 people still missing two weeks after anti-government protests, activists say | US News
Two weeks after the largest anti-government demonstrations in decades in Cuba, activist groups say more than 500 protestors are still missing.
Thousands of people across the island marched through the streets in several towns and cities on 11 July, calling for democracy and sweeping economic reform in the country amid major food and medicine shortages.
Scores of people were arrested by plain clothes police officers and many families say they still haven't heard from their loved ones or been informed of their whereabouts.
Sky News is unable to independently verify the figures of the missing but the lawyers' group Cubalex says hundreds of people, many of them teenagers, have been detained.
Katiuska Mustelier Sosa is a Cuban exile living in Miami and says her brother, Enrique, has not been seen by friends or family on the island since he attended a protest in Guantanamo.
Katiuska shared a video with Sky News, filmed by another protestor, showing Enrique, 38, marching through the streets chanting "libertard!" meaning freedom.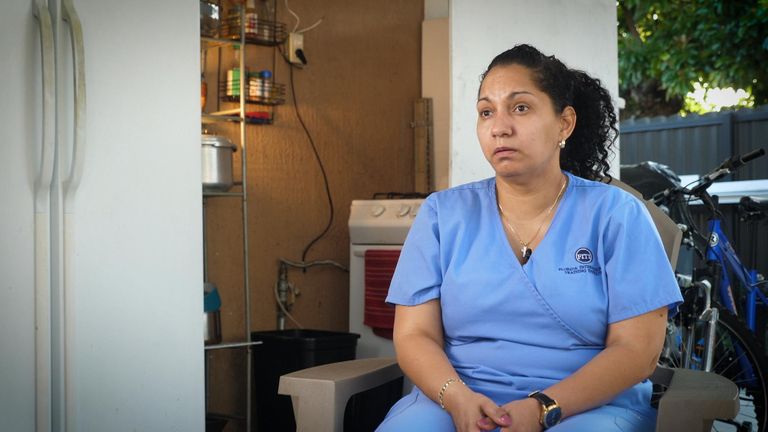 She believes he was arrested shortly afterwards and is now being held at a state security prison although she does not know exactly where.
"My family hasn't been able to see him. We're very worried, because we don't know what state he's in," she said "we worry he has been beaten."
The family fears history might be repeating itself because 14 years ago Katiuska's father, a political prisoner, disappeared from jail with just two months left on his sentence. She moved to Miami four years ago but two of her three children, Sarai, 11, and Daniel, 15, remain in Cuba.
"It is better for me to be here so I can send money back and they can eat," she said, "I'm very worried for my brother – but I'm also worried for my family and my kids too. They're very scared, they say 'mum we're worried you're going to say too much over there, and then we won't be able to see you again'. They're really scared, because the regime is capable of doing whatever they want against us, that's for sure.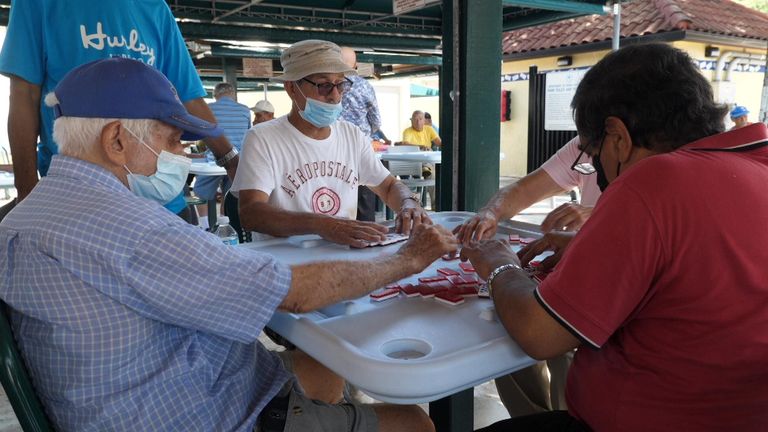 "I think this is the beginning of an uprising, but I know it won't be easy. Because this government – this dictatorship – will not abandon power," she added, "For this reason we need international help and support."
Janniset Rivero, a spokesperson for the Center for a Free Cuba based in Washington DC, believes more than 500 protestors are missing and says many have been convicted in summary trials with no defence present. "It is much more than that because they are continuing arresting people now," she says, "in Cuba there is no rule of law. Those trials are illegal and the families haven't even been able to see the accused.
"The regime is afraid of the people because people have gone to the streets to shout freedom so they are now trying to exert control over the population."
The Cuban government claims there is a disinformation campaign surrounding the protests.
Carlos Fernandez de Cossio, General Director for the US Division of Cuban Ministry of Foreign Affairs, said summary trials that protestors in Cuba are receiving are not unfair and that they are receiving counsel.
"It is part of the Cuban criminal system as it is part of the criminal system of many countries," he said, "and there's nothing unfair or extraordinary about it. It is part of the many lies that are being disseminated in Cuba."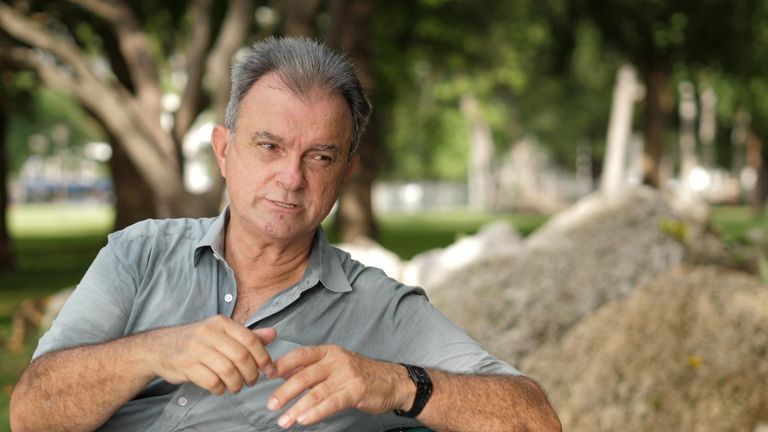 In Little Havana, the heart of Miami's Cuban community they have witnessed ill-fated attempts to overthrow the communist government but many believe this time is different. Ramon Saul Sanchez left Cuba at 12 years old and has devoted his life to fighting the government from Miami. He thinks the use of social media with protestors filming and broadcasting themselves online is a fundamental difference to previous uprisings.
"This is why the regime immediately turns off internet when there has been a revolt," he said, "What they're doing right now is slowing it down so pictures and videos can't be sent so easily. If we had social media 20 years ago what we've seen now probably would have happened then."
There haven't been any widespread protests in Cuba since 11 July and Sanchez believes that although people may not take to the streets again today or tomorrow, they will eventually. "I now believe I will be able to return to Cuba again in my lifetime," he says.
Nine people killed by landslide in northern India state, Himachal Pradeshin, as country battles days of heavy rain | World News
Nine people have been killed in a landslide in the northern Indian state of Himachal Pradesh after boulders fell and hit a vehicle they were travelling in.
News agency ANI reported that the vehicle was carrying 11 people and the two survivors were injured in the incident.
Citing the Indo-Tibetan Border Police (ITBP), the agency said officers went to the site near Badseri Village, in Kinnaur, to conduct a rescue operation.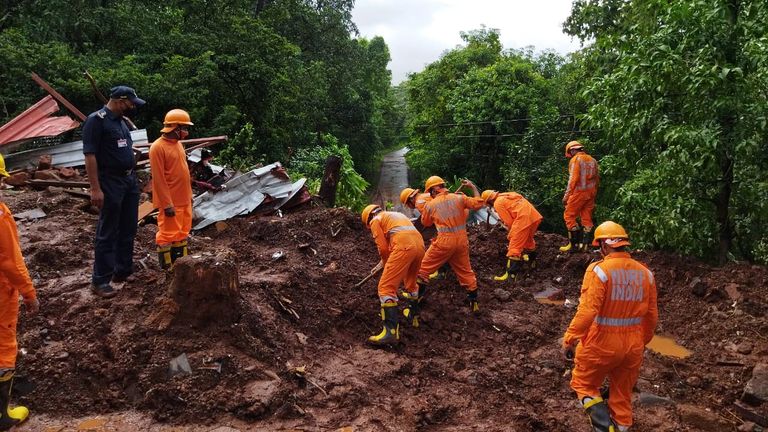 Some local media said the people in the vehicle who were killed were visiting from the Indian capital Delhi and elsewhere in India, while one of the injured was a local person.
Video footage showed boulders falling, hitting vehicles and even causing a bridge to collapse.
Prime Minister Narendra Modi said on Twitter: "The accident caused by a landslide in Kinnaur, Himachal Pradesh is very sad.
"My heartfelt condolences to the families of those who lost their lives in this. All arrangements are being made for the treatment of those injured in the accident."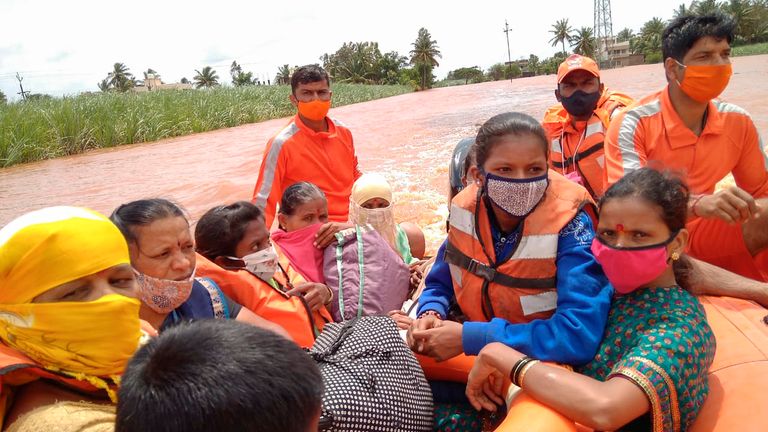 The incident comes as India battles days of landslides and flooding triggered by heavy monsoon rains, which have killed at least 113 people and injured 50 others in the western part of the country.
A government spokesman said more than 130,000 people were rescued from nearly 900 affected villages across Maharashtra state, including in Ratnagiri district and Kolhapur.
The navy also deployed helicopters to evacuate stranded people and sent rescue teams with boats to the region.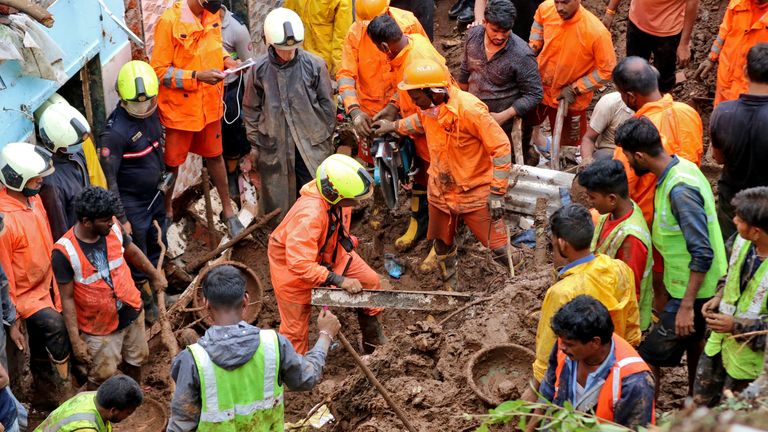 Officials said one of the worst-hit villages was Talai, 168 miles (270km) south of Mumbai, where 59 households were buried by a massive landslide on Thursday.
Rescuers recovered two more bodies on Sunday, taking the number of villagers killed to 42, with around the same number still missing.
Subscribe to ClimateCast on Spotify, Apple Podcasts, or Spreaker
State official Sagar Pathak said inclement weather, difficult terrain and large debris were hampering rescue efforts.
Disasters caused by landslides and flooding are common in India during the June-September monsoon season, when heavy rain weakens the foundations of structures that are often poorly built.
Experts say heavy rainfall along India's western coast is in line with how rainfall patterns have changed in the region in past years due to climate change, as the warming Arabian Sea is driving more cyclones and more intense rainfall over short periods of time.
Last weekend, more than 30 people were killed in landslides in and around Mumbai.