'We dread the nights': Life under Israeli bombardment as Gazans live through the 'madness' again | UK News
Laila Barhoum, a humanitarian worker and human rights advocate in Gaza, describes her feelings of "dread" and "injustice" as the region is pounded by Israeli air strikes.
In Gaza, we always joke about the fact we shouldn't ask "What worse can happen?" as it seems that we are always proven wrong.
But our worse this time came unexpectedly with innocent people losing their lives.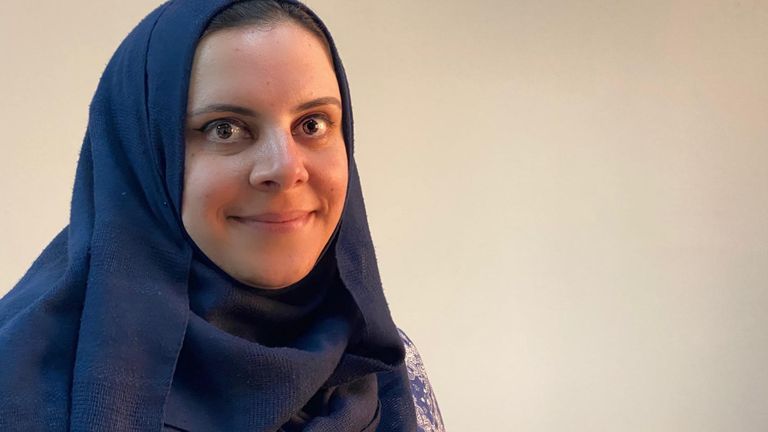 Last week, we were preparing for Eid, buying chocolate, children getting new clothes and mothers cooking Eid cookies.
This would have contributed to making happy memories. Memories that are now replaced with images of destruction, fear and death.
Building in Gaza collapses after airstrike

The fact that what is happening is happening again because we had been failed by the international community makes it even worse. Knowing that hundreds of innocent people who lost their lives this time and many times before could have been alive now, celebrating Eid with us.
Every day we dread the nights, as with them comes the worst targeting and airstrikes, when we hear the numbers of people killed rising. When we see women and children running, screaming, and houses and buildings turning into dust.
I look around me at my nieces while thinking they live an occupation that I was born under. That I am moving toward my 40s while they are marking their first years, yet we are both suffering from the same injustice.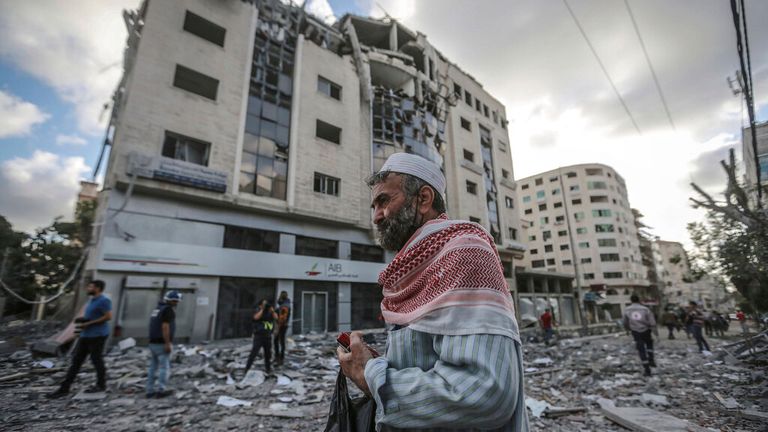 Thinking that you are trying to make the world a better place for them because it wasn't made better for you makes you feel sad and frustrated.
No one feels safe in Gaza, and no place is safe in Gaza.
There are no shelters, no places away from any air strikes. And this is a feeling you carry with you all day long, while you are trying to make sense of what you are going through.
Subscribe to the Daily podcast on Apple Podcasts, Google Podcasts, Spotify, Spreaker
We have been failed and forgotten for decades, which is why we live through this madness again.
The lives of generations of young people and children are shaped by loss, fear and injustice.
These are the lost generations, who only saw what a normal life looks like through a screen. These are the generations who wait for the sun to rise every night so they can breathe.
Israel says it only attacks targets containing Gaza militant groups – who have been launching hundreds of rockets at Israel. It says it makes strenuous efforts to avoid civilian casualties such as giving people advance warning and chance to evacuate.
Aston Martin sues Swiss car dealer over deposits on £2.5m Valkyrie model | Business News
Aston Martin is suing a Swiss car dealer which it claims failed to hand over customer deposits for its £2.5m Valkyrie supercar.
The luxury vehicle maker said civil proceedings had been filed against Nebula Project and that, backed by some of its customers, it was asking prosecutors to consider a criminal investigation.
Aston Martin said the saga was expected to dent annual profits by £15m as it tries to recoup the money.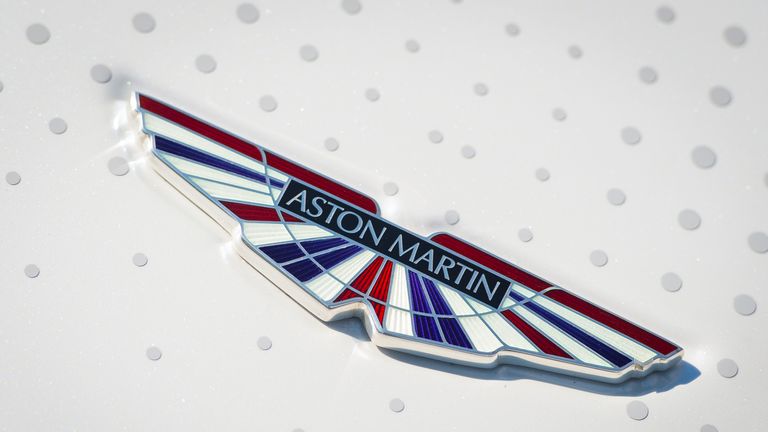 It said it was fully committed to customers receiving delivery of their supercars on schedule despite not having received the deposited funds.
The company added that it was on track to make its first deliveries of the Valkyrie – a limited edition supercar which uses Formula One technology – in the second half of this year.
It said in future it would take deposits for "special vehicles" directly and not through a third party.
Nebula had signed an agreement in 2016 to help finance the Valkyrie, which would have entitled it to potentially "significant" royalty payments as they rolled off the production line, alongside commission on sales of Valhalla and Vanquish models – but this has now been terminated, Aston Martin said.
The deal had been signed at a time when the carmaker was struggling financially.
Aston Martin also said that it was scrapping dealership arrangements with AF Cars, a company operating in Switzerland with the same board members as Nebula, "after learning that vehicles have been sold in breach of terms of the dealership agreement".
Aston Martin, famous as the maker of cars driven by fictional spy James Bond, said that aside from the "short term negative financial impact" of this issue, it was on course to meet financial guidance for 2021.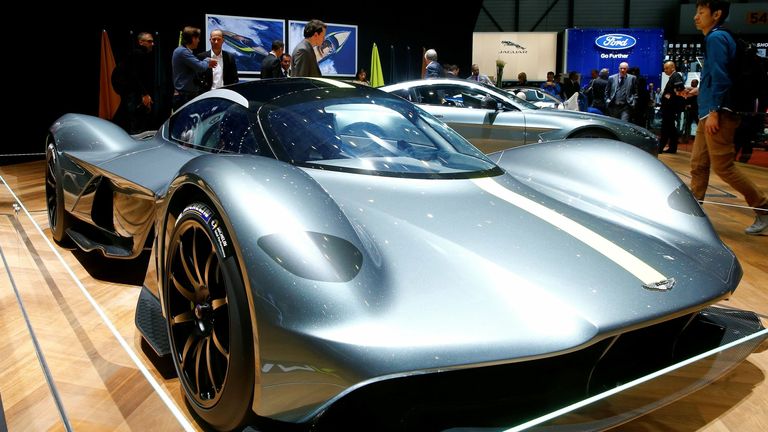 Reuters news agency reported that Nebula and one of its board members, Andreas Baenziger, did not respond immediately to emailed requests for comment.
Florian Kamelger, another board member, said in an email that Nebula would release a statement later on Tuesday, Reuters reported.
Euro 2020: UEFA reject request to light up Allianz Arena in rainbow colours for Germany-Hungary game | Climate News
A request to illuminate the Allianz Arena in rainbow colours for Germany's final Euro 2020 group stage match against Hungary has been turned down by UEFA.
Munich mayor Dieter Reiter had said he wanted to light up the city's stadium in the colours on Wednesday in protest against a new law in Hungary.
The legislation bans gay people from appearing in school educational materials or programmes for under-18s.
And it outlaws content in schools deemed to promote homosexuality and gender change.
UEFA turned down Mr Reiter's request because it believes the gesture has a political context.
European football's governing body has instead proposed alternative dates for the stadium, home to Bayern Munich, to be lit up in rainbow colours.
It suggested either 28 June – the Christopher Street Liberation Day – or 3-9 July which is the Christopher Street Day week in Munich. The events are held in memory of protests by gay people in New York in 1969.
"Racism, homophobia, sexism, and all forms of discrimination are a stain on our societies – and represent one of the biggest problems faced by the game today," a UEFA statement said.
"Discriminatory behaviour has marred both matches themselves and, outside the stadiums, the online discourse around the sport we love.
"However, UEFA, through its statutes, is a politically and religiously neutral organisation. Given the political context of this specific request – a message aiming at a decision taken by the Hungarian national parliament – UEFA must decline this request."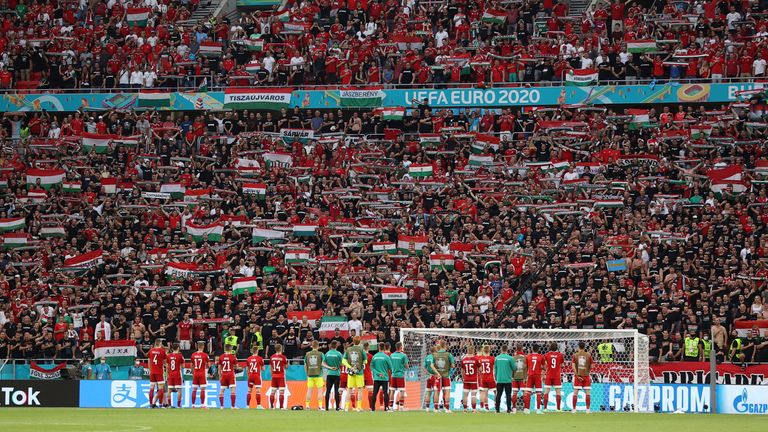 The German Football Association (DFB) had said on Monday it would also prefer any protest or gesture to be held on a date other than Wednesday.
German Europe minister Michael Roth told reporters ahead of a meeting with European Union counterparts in Luxembourg on Tuesday that Hungary's new law clearly violates EU values.
Meanwhile, UEFA is investigating potential discriminatory incidents that occurred during Hungary's first two Euro 2020 games at the Puskas Arena.
Anti-discriminatory group Fare sent a report highlighting an alleged homophobic banner in the stands during the defeat to Portugal in Budapest on 15 June.
Racist chants were also reportedly heard during Hungary's draw with France on 26 June.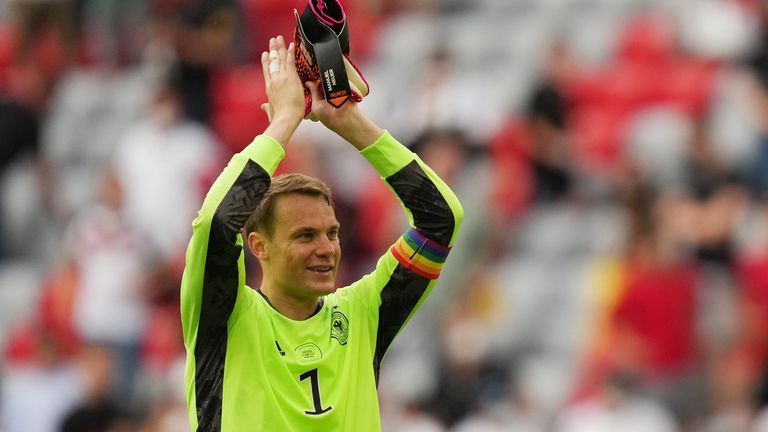 During Germany's first two Group F games, goalkeeper and captain Manuel Neuer wore a rainbow armband to show his support for the LGBTQ+ community during Pride Month.
UEFA investigated whether the move could be interpreted as political and found Neuer should not face disciplinary action as he was "promoting a good cause".
Caroline Crouch death: Pilot accused of murdering British wife arrives at Greek court with armed police escort | World News
A Greek helicopter pilot suspected of murdering his British wife after claiming she was killed during a robbery at their home has appeared in an Athens court to give evidence.
Babis Anagnostopoulos arrived at court flanked by armed police on Tuesday morning to testify on what happened on 11 May in Glyka Nera, in northeastern Athens, Greece.
The 33-year-old was arraigned for the killing of Caroline Crouch, 20 – who died of suffocation – after reportedly confessing to the crime to Greek police.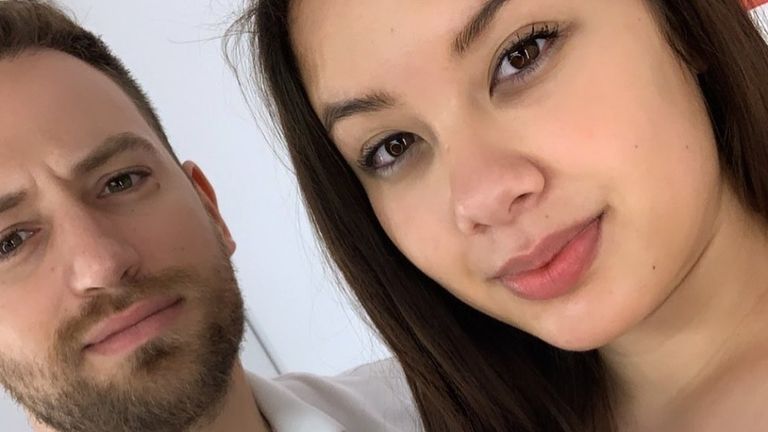 The pilot initially tried to create a convincing crime scene by placing their baby next to her dead mother, according to police.
He is also accused of choking the family dog to death with its lead in his bid to fool investigators.
Anagnostopoulos, who wore a white bulletproof vest to court today, is expected to issue an apology in the next few hours.
Two lawyers representing Ms Crouch's family have spoken out in support of the case.
They said: "We have filed a civil lawsuit representing Caroline's family. For obvious reasons her mother could not come, in the situation she is in, and the statement was made with authorisation.
"You understand the position of the mother who hugged the hands that took her daughter's breath away. There should be consultation with the perpetrator's family."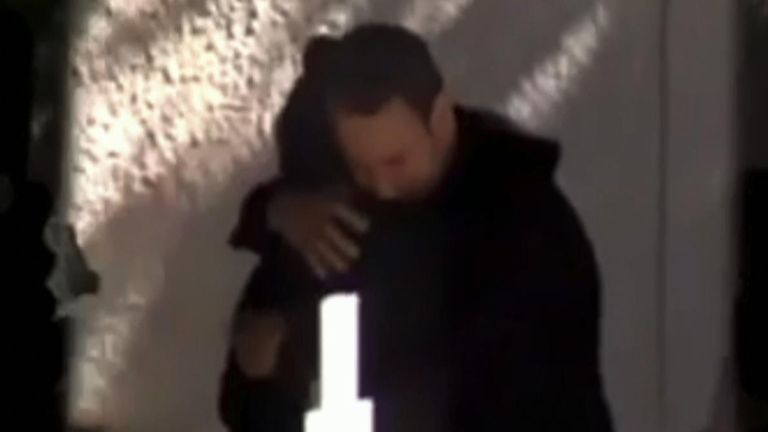 The lawyers added that Ms Crouch's family has a "good relationship" with the accused's family and are in consultation with them.
Anagnostopoulos is charged with two felonies; intentional homicide and killing of an animal, as well as two misdemeanours; repeated false testimony and false report to the authorities.
After attempting to mislead not only the police but the whole nation about the crime for 37 days, he now says through his lawyers that he regrets and apologises for his actions.
Following his confession last week, he was led in handcuffs to his first appearance in court and again wore a bulletproof vest.
Analysis of data from a smartwatch worn by Ms Crouch had helped reveal inconsistencies in the Anagnostopoulos' original story, police investigators said.
The pilot had publicly claimed he and his wife were gagged and tied up after armed robbers broke into their home as their baby daughter slept.
He also said the men stole cash before escaping.
His story shocked the nation and prompted government officials to announce a 300,000-euro (£257,000) reward for information about the crime.