Israeli ground forces launch attacks on Gaza as fighting worsens | World News
Israeli ground forces began launching attacks on Gaza in a widening of hostilities as Israel braced for more internal strife between its Arab and Jewish citizens following Friday prayers.
The Israeli military said air and ground forces were firing at the Hamas-run enclave, though it does not appear to mean the start of a ground invasion, with Sky News witnessing troops launching artillery and tank rounds from Israel's side of the border.
"I said we would extract a very heavy price from Hamas," Prime Minister Benjamin Netanyahu said in a videotaped statement. "We are doing that, and we will continue to do that with heavy force."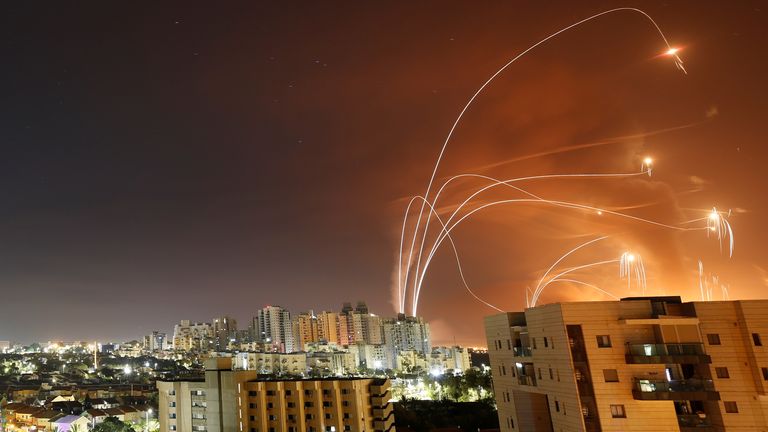 Thousands of Israeli forces along with tanks, armoured vehicles and artillery are massing along the frontier with Gaza, preparing to push inside if given the order, in what would be a hugely significant escalation.
Unperturbed, Palestinian militants continued to launch rockets from the strip towards Israel into Friday morning.
At least 109 Palestinians have died since the exchanges began on Monday, including 28 children and 15 women, according to Gaza's health ministry. Palestinian militants have said 20 of their fighters are among the dead, though Israeli officials said this figure is much higher.
Almost half of the deaths happened on Thursday – the deadliest day so far.
On the Israeli side, seven people have been killed, including two children and a soldier.
But this is a crisis on many fronts, as decades of Israeli-Palestinian trauma erupt into clashes on the streets of many towns and cities inside Israel – with Arabs and Jews, who had lived together peacefully, turning on each other, prompting warnings of a risk of civil war.
Synagogues have been attacked, cars torched and individuals beaten up by mobs in the worst internal violence in decades.
New protests could erupt following Friday prayers, with al Aqsa Mosque in Jerusalem's Old City a potential flashpoint.
It was at this walled compound – one of the most sacred sites in Islam, which is also revered by Jews and Christians – that violence between Israeli police and Palestinian protesters on Monday sparked the first volley of rockets from Gaza into Israel that ignited the wider crisis.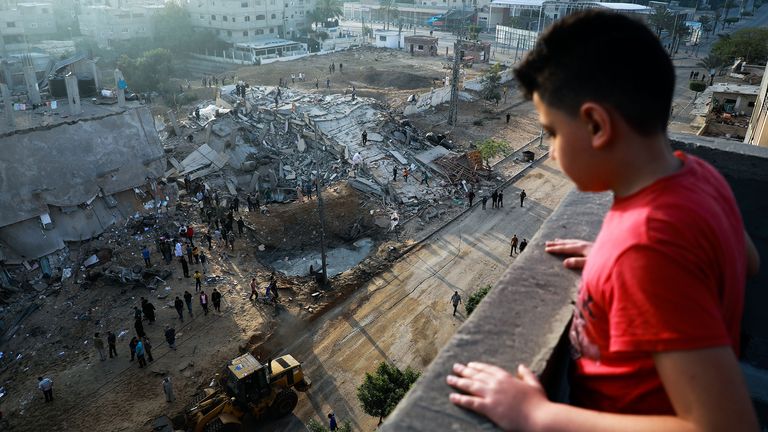 There is of course a regional dimension as well.
On Thursday night, three rockets were fired towards Israel from Lebanon. They landed harmlessly in the Mediterranean Sea in what appears to have been a show of solidarity with Gaza by Palestinian groups in Lebanon rather than the start of a separate offensive.
With so much at stake, frantic diplomatic efforts are underway to try to broker a ceasefire.
Egyptian officials have been speaking with both sides as have officials from the United Nations. The US has dispatched a senior diplomat to the region and Russian President Vladimir Putin has added his voice to those calling for both sides to de-escalate.
In Washington, President Joe Biden said he spoke with Prime Minister Netanyahu about calming the fighting but also backed the Israeli leader by saying "there has not been a significant overreaction".
He said the goal is to "get to a point where there is a significant reduction in attacks, particularly rocket attacks that are indiscriminately fired into population centres", and called the effort "a work in progress".
The UN Security Council is due to hold its first public session on the situation on Sunday after the US objected to an open session on Friday, apparently wanting to give diplomacy a little longer to have an effect.
However, with bombardments between the two sides – unprecedented in their intensity – entering their fifth day, there is no obvious sign that diplomacy is cooling heads.
The Israel Defence Forces has hit close to 1,000 targets in Gaza, including multi-storey buildings, rocket launch sites and individual Hamas military commanders. But this blockaded strip of territory is also home to some two million Palestinians who have no means to flee.
Overnight, masses of red flames illuminated the skies as deafening blasts from the outskirts of Gaza City jolted people awake.
The strikes were so strong that people inside the city, several miles away, could be heard screaming in fear, according to the AP news agency.
At the same time, Hamas and Islamic Jihad, a fellow Palestinian militant group, have fired close to 2,000 rockets towards Israel. Many were shot down by the country's air defence system but some have penetrated deep into Israeli territory, including the commercial capital of Tel Aviv, sending families racing into shelters.
Euro 2020: Why no Scotland players have to isolate after Gilmour contracts COVID – but England pair do | UK News
Confusion arose over the decision to force England footballers Mason Mount and Ben Chilwell to isolate after Scotland player Billy Gilmour tested positive for COVID-19.
The England duo must isolate until Monday after being deemed "close contacts" of their Chelsea teammate Gilmour when the Three Lions played Scotland on Friday.
Live COVID updates from the UK and around the world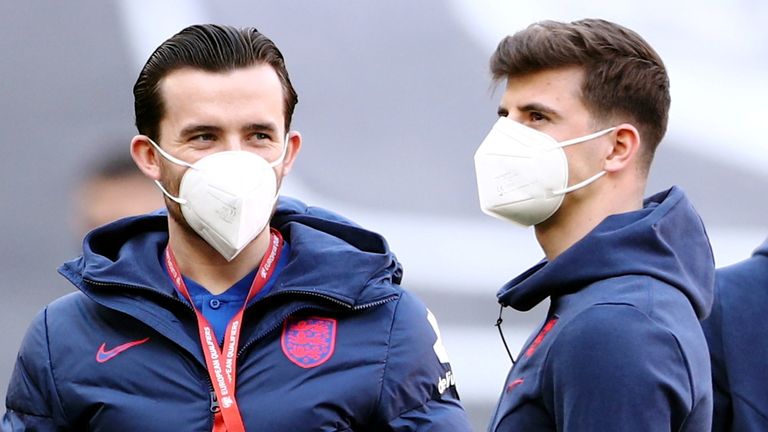 But questions were raised over why Mount and Chilwell were affected after the entire England squad tested negative for COVID-19 on Monday, while no other Scotland player has been ruled out of their final Euro 2020 group game on Tuesday as a result of Gilmour's infection.
As Euro 2020 is played in multiple countries against the backdrop of the pandemic, strict rules are in force to try to ensure the tournament is not disrupted.
So what happens when players test positive for COVID, could matches be abandoned as a result, and what steps are being taken to avoid outbreaks? Sky News explains.
• What were the concerns about Mount and Chilwell's contact with Gilmour?
Mount, Chilwell and Gilmour were seen embracing at the end of England's match with Scotland at Wembley on Friday evening.
However, it is understood the contact that caused most concern was a 25-minute conversation between the three players in the tunnel following the game.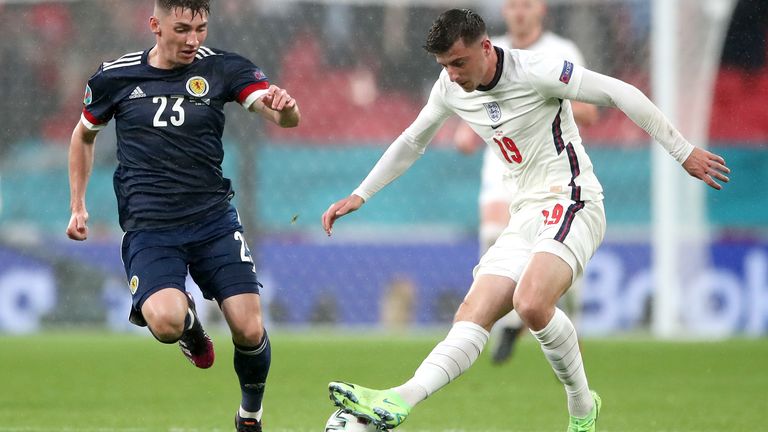 The Chelsea trio had not seen each other since returning to London after they won the Champions League final in Porto on 29 May.
Government guidance states that close contacts of COVID cases include people who had face-to-face conversations within one-metre, and anyone who was within two-metres for more than 15 minutes.
The FA said the decision for Chilwell and Mount to isolate was taken in consultation with Public Health England.
The two players are now isolating and training individually in private areas at England's training base St George's Park.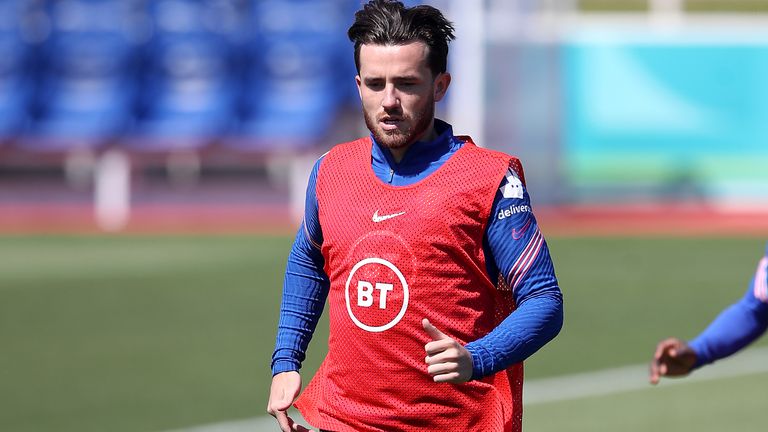 • How long do players with COVID have to isolate?
Players at Euro 2020 are tested regularly, and those who are positive must self-isolate for 10 days.
Any other players or staff deemed to have been in close contact with someone with COVID during the tournament also have to isolate for 10 days.
It means Gilmour will be unavailable for Scotland's final group match against Croatia tonight. If they progress, he will also miss their last-16 tie, Sky Sports News understands.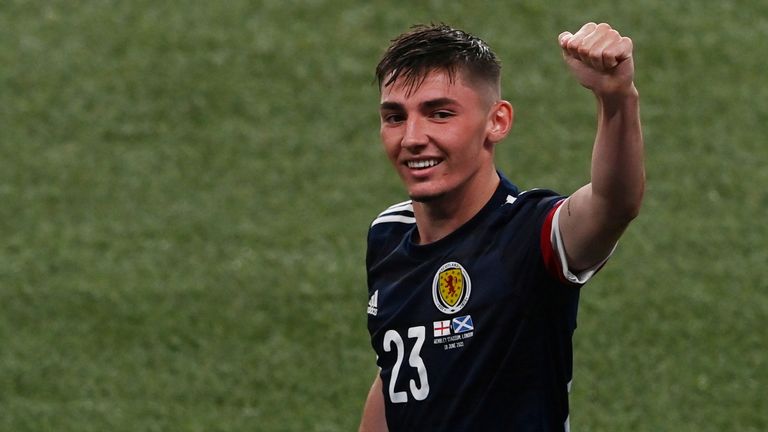 The Scottish FA and Public Health England are said to be satisfied that Gilmour had "no close contact issues" with any other member of the Scotland squad.
The isolation period for close contacts of COVID cases includes the date of their last contact and the next 10 full days, according to government guidance.
Mount and Chilwell, who came into contact with Gilmour on 18 June, must now isolate until Monday 28 June.
With England already through to the knockout stages of the tournament, it means Mount and Chilwell could miss their last-16 tie, with the round being played on 26, 27, 28 and 29 June.
• Could matches be abandoned due to a COVID outbreak in a squad?
Euro 2020 squads were expanded from 23 players to 26 to account for the chance that some teams could be hit by COVID outbreaks.
If multiple players have to isolate, matches will still go ahead providing the team can name 13 players in their squad – a minimum of 12 outfield players plus one goalkeeper.
If a team cannot named 13 players in their squad, the game can be postponed by up to 48 hours.
If the affected team still cannot meet the minimum requirements for a matchday squad, they will forfeit the game and suffer an automatic 3-0 defeat.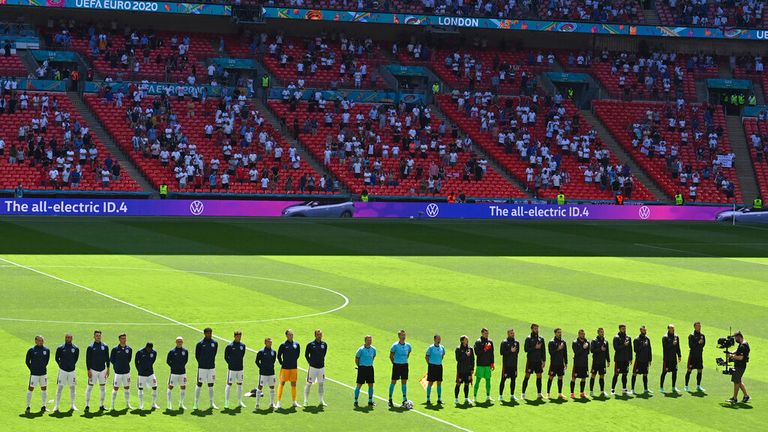 • Can players who contract COVID be replaced?
Outfield players cannot be changed but UEFA states that "goalkeepers can be replaced during the tournament in the event of physical incapacity, even if one or two goalkeepers in the squad are still available".
Players that have been replaced cannot then return to the squad.
• Can players see their families during the tournament?
UEFA has banned families visiting players at their training camps during Euro 2020.
England manager Gareth Southgate had hoped that players would be able to see family members at their St George's Park training base, but UEFA's strict COVID bubble rules forbid it.
"We're not going to be able to let people in," Southgate said before the tournament.
"There's a clear edict from UEFA on what the bubbles need to look like to be as secure as we can make them, it's never going to be 100% failsafe but we've got to comply with as much as we can."
Afghan interpreters who worked with British military land in UK today after fleeing Taliban | World News
The first group of former Afghan interpreters whose lives are in danger because they worked for the British military are due to arrive in the UK from Afghanistan in the coming hours under a new government scheme, Sky News understands.
An aircraft reportedly carrying more than a dozen Afghans who were employed by UK forces, as well as family members, is expected to land at an airport in the Midlands later on Tuesday.
The Ministry of Defence (MoD) declined to comment on the flight – first reported by the Daily Mail – because of security concerns for the men, women and children who have asked to flee Afghanistan after receiving threats from the Taliban.
Afghan nationals given chance to live in UK

Taliban militants are growing in strength across the country, regaining more territory from the UK and US-backed Afghan government. It comes as British, US and other NATO forces prepare to withdraw over the next three months following almost 20 years of conflict.
The Taliban views anyone associated with the US and NATO-led mission in Afghanistan as a traitor who deserves to die.
The increased influence of the militant group means a corresponding risk for such personnel.
Concerns over the safety of former staff, most of them interpreters, prompted the MoD and the Home Office in May to expand the eligibility criteria of a relocation scheme for Afghans seeking to flee.
Previously, the government had resisted pressure to allow large numbers of men and women to relocate, saying such a move would deprive Afghanistan of a talented pool of young individuals, vital for the future prosperity of the country.
More than 3,000 Afghans are expected to take advantage of the offer, on top of some 1,300 who have already made the journey under a previous, more restrictive policy. They are expected to be flown to the UK in groups.
'It's the right thing to do' – Defence secretary

It is understood that the first flight left Kabul earlier on Tuesday. Everyone had to undergo stringent security as well as COVID-related health checks.
Afghanistan is on the red list of countries, which means the group will be put into quarantine upon their arrival in the UK.
The Daily Mail spoke to a 37-year-old former interpreter called Hash, who served in Helmand with the Army between 2007 and 2012 and is reported to be part of the first party along with his wife and two sons.
"We are so happy and so thankful," he was quoted as saying. "The British government has taken its time but it has done the right thing and we are truly grateful."
Aston Martin sues Swiss car dealer over deposits on £2.5m Valkyrie model | Business News
Aston Martin is suing a Swiss car dealer which it claims failed to hand over customer deposits for its £2.5m Valkyrie supercar.
The luxury vehicle maker said civil proceedings had been filed against Nebula Project and that, backed by some of its customers, it was asking prosecutors to consider a criminal investigation.
Aston Martin said the saga was expected to dent annual profits by £15m as it tries to recoup the money.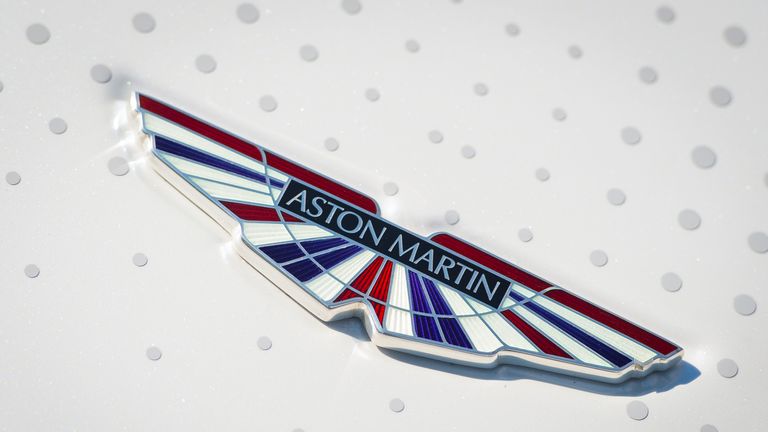 It said it was fully committed to customers receiving delivery of their supercars on schedule despite not having received the deposited funds.
The company added that it was on track to make its first deliveries of the Valkyrie – a limited edition supercar which uses Formula One technology – in the second half of this year.
It said in future it would take deposits for "special vehicles" directly and not through a third party.
Nebula had signed an agreement in 2016 to help finance the Valkyrie, which would have entitled it to potentially "significant" royalty payments as they rolled off the production line, alongside commission on sales of Valhalla and Vanquish models – but this has now been terminated, Aston Martin said.
The deal had been signed at a time when the carmaker was struggling financially.
Aston Martin also said that it was scrapping dealership arrangements with AF Cars, a company operating in Switzerland with the same board members as Nebula, "after learning that vehicles have been sold in breach of terms of the dealership agreement".
Aston Martin, famous as the maker of cars driven by fictional spy James Bond, said that aside from the "short term negative financial impact" of this issue, it was on course to meet financial guidance for 2021.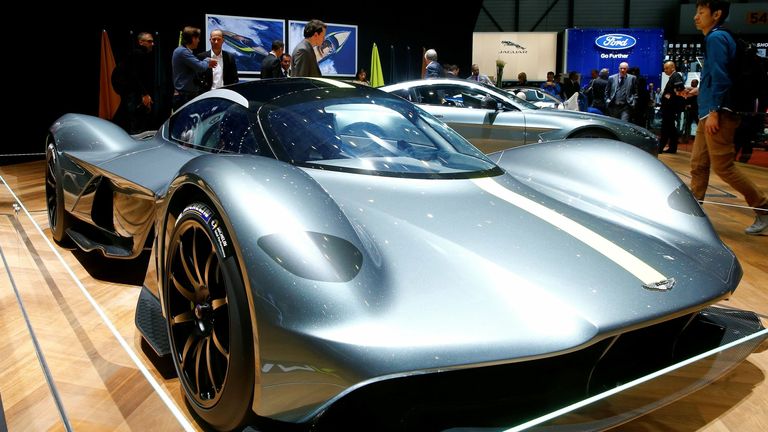 Reuters news agency reported that Nebula and one of its board members, Andreas Baenziger, did not respond immediately to emailed requests for comment.
Florian Kamelger, another board member, said in an email that Nebula would release a statement later on Tuesday, Reuters reported.