Israel-Gaza violence: Where are the attacks and clashes happening? | UK News
Attacks on Israel and Gaza have escalated, with dozens killed and many more injured on both sides.
The conflict has seen rocket attacks launched by Hamas and airstrikes by Israel since 10 May after weeks of friction between Israelis and Palestinians in Jerusalem and the nearby neighbourhood of Sheikh Jarrah.
Rockets launched from Gaza have been directed further into Israel than previous conflicts over the past decade.
The fighting has now expanded from the air to towns across Israel where Arabs and Israelis have lived alongside each other for decades.
Sky News has mapped out some of the main places being targeted.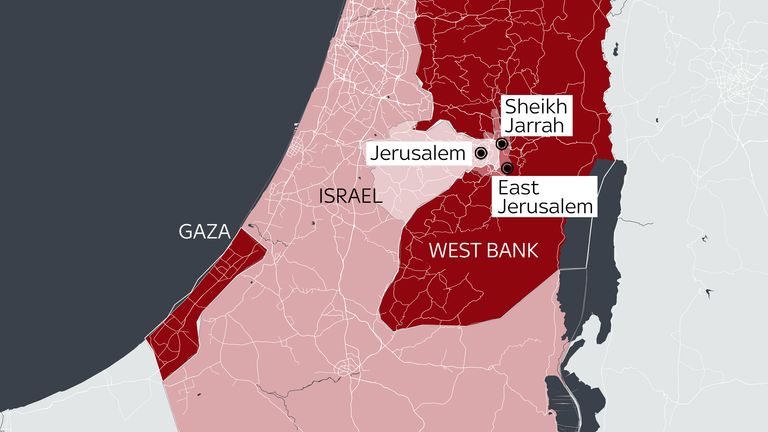 Hamas rockets from Gaza into Israel
Hamas has been firing rockets at Israel since 10 May, with the Tel Aviv area, including Lod and Ramla, and the cities of Ashdod, Ashkelon and Sderot all targeted.
In Sderot, which is just over the border from Gaza, a six-year-old boy was killed after a rocket hit an apartment building on Wednesday.
Air raid sirens and explosions have been echoing across cities as Israel's missile defence system, Iron Dome, has been at times overwhelmed by the number of rockets.
By Wednesday afternoon, Hamas claimed to have fired 1,050 rockets into Israel and millions of Israelis had spent the night in bomb shelters.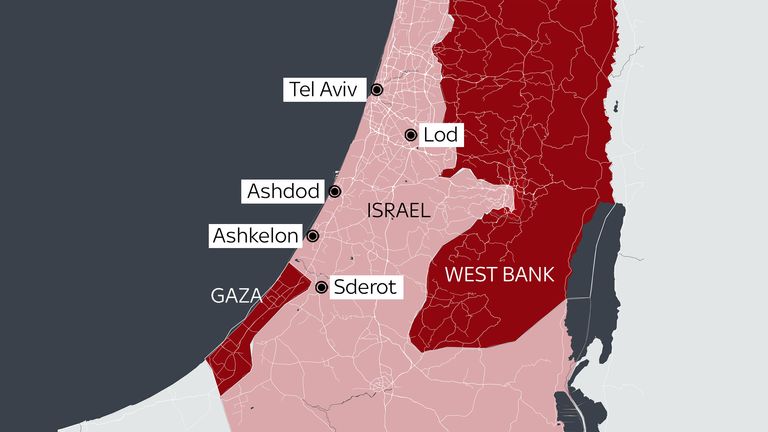 Israeli airstrikes on Gaza
Fighter jets from Israel have mainly been targeting Gaza City and areas to the north but some southern areas have been hit as well in the crowded coastal enclave of two million people.
Previously, Israeli fighter jets have targeted specific people by sending a missile through their office or home window, but this time they have destroyed entire tower blocks.
There are no air raid sirens but residents have been warned by the Israeli military firing warning shots to evacuate the buildings before fighter jets attack. However, health officials said there were still civilian deaths.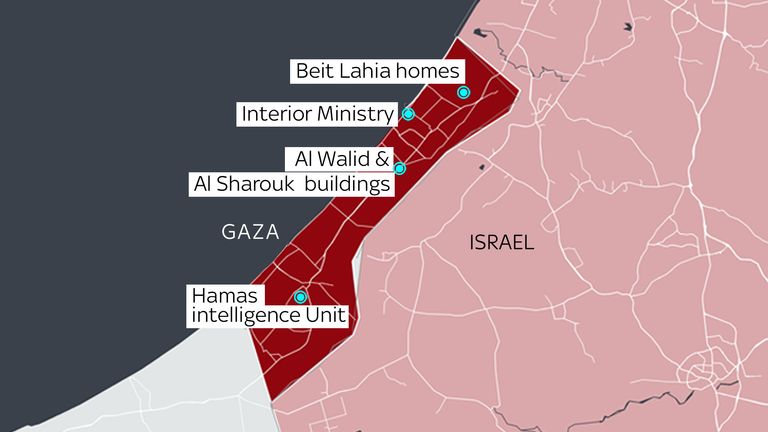 Al Walid, a five-storey building in western Gaza city with flats, shops and the office of a Turkish charity, was destroyed by Israeli missiles on Thursday.
A 13-storey tower block, Al Farouk, was also destroyed by missiles in Gaza City after it was described as housing Hamas's intelligence service.
Al Sharouk, a 14-storey building home to the offices of Hamas TV station Al Aqsa, was also levelled by Israeli missiles – prompting Hamas to fire 130 rockets at Israel, they said.
Office block hit by missiles collapses in Gaza

Hamas's interior ministry building in Gaza City was also destroyed and although it was empty at the time, hospital officials said a woman was killed by flying debris and at least 46 others were injured.
The northern Gazan town of Beit Lahia was also hit badly, with charity worker Yousef Al Hammash saying there was no warning and that he had to flee with his pregnant wife and young daughter after his building was hit.
And in Gaza's south, the Israeli military said it had hit a Hamas intelligence unit building in the town of Khan Younis. The bodies of an 11-year-old and 13-year-old were carried through Khan Younis's streets on Wednesday.
Israel said it had killed senior Hamas officials in Gaza and was also targeting missile launching sites.
Protests and clashes in Israel's 'mixed' towns
Areas where Arab Israelis, who identify as Arab or Palestinian and as Israeli citizens, have seen skirmishes between neighbours, with some dying and others badly injured.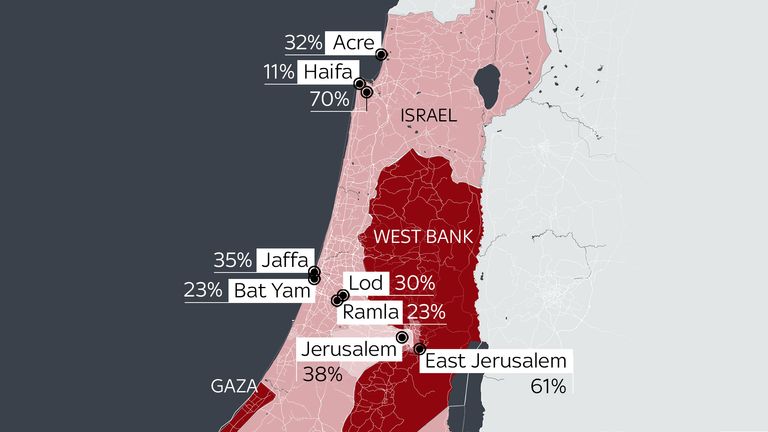 Mobs of both nationalities battled in the city of Lod, which has become the epicentre of on-the-ground fighting, prompting a curfew to be imposed.
Israeli police said two people were shot and wounded in Lod and an Israeli Jew was stabbed.
In nearby Bat Yam, Jewish nationalists dragged an Arab driver from his car and beat him until he was unconscious.
A senior Israeli police officer said Arabs are suspected of attacking and seriously wounding a Jewish man in the coastal city of Acre as clashes broke out there on Wednesday.
Euro 2020: Why no Scotland players have to isolate after Gilmour contracts COVID – but England pair do | UK News
Confusion arose over the decision to force England footballers Mason Mount and Ben Chilwell to isolate after Scotland player Billy Gilmour tested positive for COVID-19.
The England duo must isolate until Monday after being deemed "close contacts" of their Chelsea teammate Gilmour when the Three Lions played Scotland on Friday.
Live COVID updates from the UK and around the world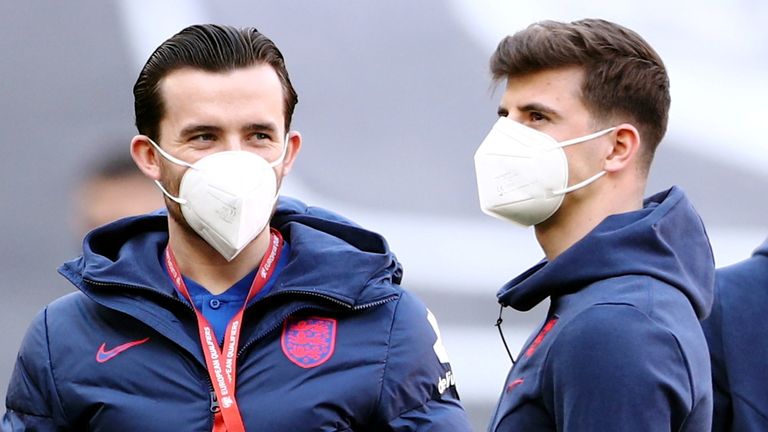 But questions were raised over why Mount and Chilwell were affected after the entire England squad tested negative for COVID-19 on Monday, while no other Scotland player has been ruled out of their final Euro 2020 group game on Tuesday as a result of Gilmour's infection.
As Euro 2020 is played in multiple countries against the backdrop of the pandemic, strict rules are in force to try to ensure the tournament is not disrupted.
So what happens when players test positive for COVID, could matches be abandoned as a result, and what steps are being taken to avoid outbreaks? Sky News explains.
• What were the concerns about Mount and Chilwell's contact with Gilmour?
Mount, Chilwell and Gilmour were seen embracing at the end of England's match with Scotland at Wembley on Friday evening.
However, it is understood the contact that caused most concern was a 25-minute conversation between the three players in the tunnel following the game.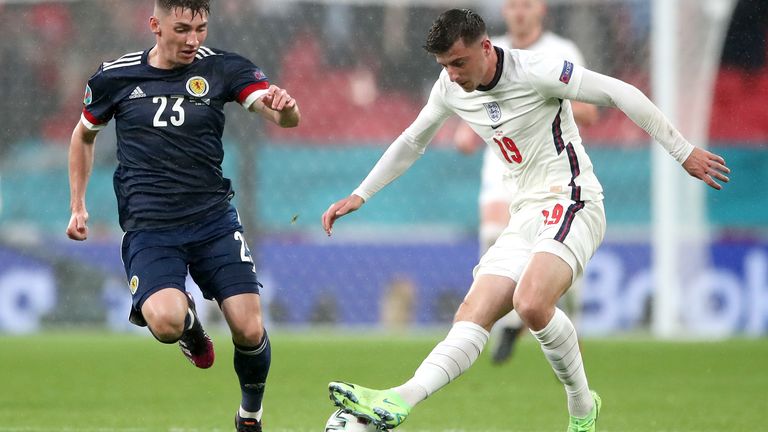 The Chelsea trio had not seen each other since returning to London after they won the Champions League final in Porto on 29 May.
Government guidance states that close contacts of COVID cases include people who had face-to-face conversations within one-metre, and anyone who was within two-metres for more than 15 minutes.
The FA said the decision for Chilwell and Mount to isolate was taken in consultation with Public Health England.
The two players are now isolating and training individually in private areas at England's training base St George's Park.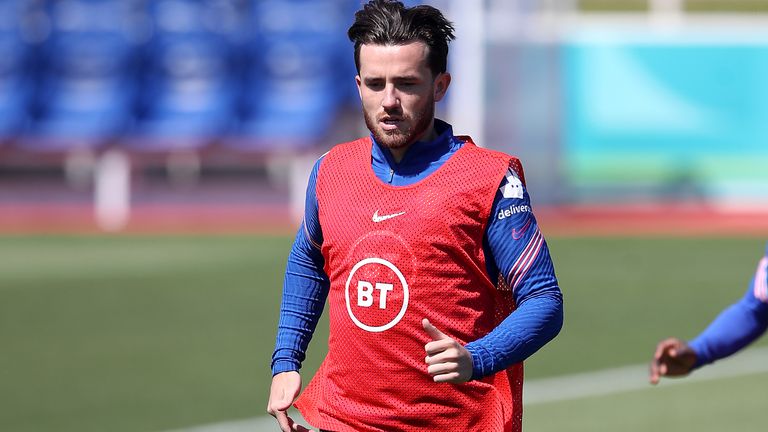 • How long do players with COVID have to isolate?
Players at Euro 2020 are tested regularly, and those who are positive must self-isolate for 10 days.
Any other players or staff deemed to have been in close contact with someone with COVID during the tournament also have to isolate for 10 days.
It means Gilmour will be unavailable for Scotland's final group match against Croatia tonight. If they progress, he will also miss their last-16 tie, Sky Sports News understands.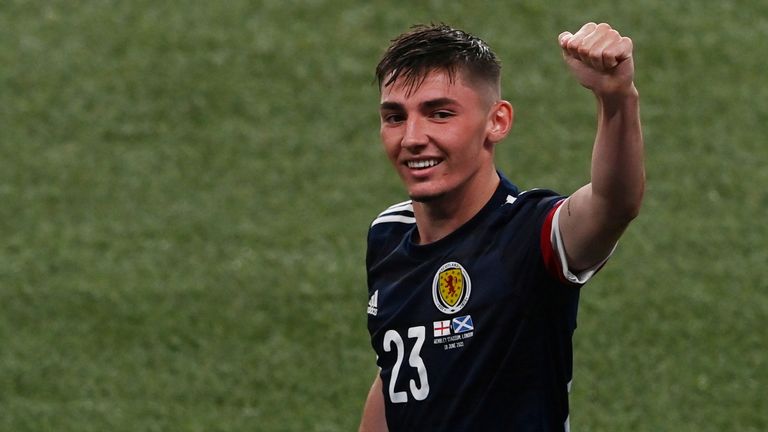 The Scottish FA and Public Health England are said to be satisfied that Gilmour had "no close contact issues" with any other member of the Scotland squad.
The isolation period for close contacts of COVID cases includes the date of their last contact and the next 10 full days, according to government guidance.
Mount and Chilwell, who came into contact with Gilmour on 18 June, must now isolate until Monday 28 June.
With England already through to the knockout stages of the tournament, it means Mount and Chilwell could miss their last-16 tie, with the round being played on 26, 27, 28 and 29 June.
• Could matches be abandoned due to a COVID outbreak in a squad?
Euro 2020 squads were expanded from 23 players to 26 to account for the chance that some teams could be hit by COVID outbreaks.
If multiple players have to isolate, matches will still go ahead providing the team can name 13 players in their squad – a minimum of 12 outfield players plus one goalkeeper.
If a team cannot named 13 players in their squad, the game can be postponed by up to 48 hours.
If the affected team still cannot meet the minimum requirements for a matchday squad, they will forfeit the game and suffer an automatic 3-0 defeat.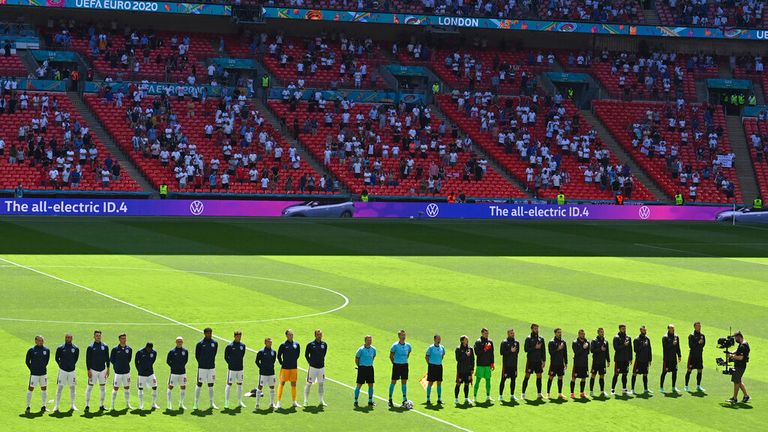 • Can players who contract COVID be replaced?
Outfield players cannot be changed but UEFA states that "goalkeepers can be replaced during the tournament in the event of physical incapacity, even if one or two goalkeepers in the squad are still available".
Players that have been replaced cannot then return to the squad.
• Can players see their families during the tournament?
UEFA has banned families visiting players at their training camps during Euro 2020.
England manager Gareth Southgate had hoped that players would be able to see family members at their St George's Park training base, but UEFA's strict COVID bubble rules forbid it.
"We're not going to be able to let people in," Southgate said before the tournament.
"There's a clear edict from UEFA on what the bubbles need to look like to be as secure as we can make them, it's never going to be 100% failsafe but we've got to comply with as much as we can."
Afghan interpreters who worked with British military land in UK today after fleeing Taliban | World News
The first group of former Afghan interpreters whose lives are in danger because they worked for the British military are due to arrive in the UK from Afghanistan in the coming hours under a new government scheme, Sky News understands.
An aircraft reportedly carrying more than a dozen Afghans who were employed by UK forces, as well as family members, is expected to land at an airport in the Midlands later on Tuesday.
The Ministry of Defence (MoD) declined to comment on the flight – first reported by the Daily Mail – because of security concerns for the men, women and children who have asked to flee Afghanistan after receiving threats from the Taliban.
Afghan nationals given chance to live in UK

Taliban militants are growing in strength across the country, regaining more territory from the UK and US-backed Afghan government. It comes as British, US and other NATO forces prepare to withdraw over the next three months following almost 20 years of conflict.
The Taliban views anyone associated with the US and NATO-led mission in Afghanistan as a traitor who deserves to die.
The increased influence of the militant group means a corresponding risk for such personnel.
Concerns over the safety of former staff, most of them interpreters, prompted the MoD and the Home Office in May to expand the eligibility criteria of a relocation scheme for Afghans seeking to flee.
Previously, the government had resisted pressure to allow large numbers of men and women to relocate, saying such a move would deprive Afghanistan of a talented pool of young individuals, vital for the future prosperity of the country.
More than 3,000 Afghans are expected to take advantage of the offer, on top of some 1,300 who have already made the journey under a previous, more restrictive policy. They are expected to be flown to the UK in groups.
'It's the right thing to do' – Defence secretary

It is understood that the first flight left Kabul earlier on Tuesday. Everyone had to undergo stringent security as well as COVID-related health checks.
Afghanistan is on the red list of countries, which means the group will be put into quarantine upon their arrival in the UK.
The Daily Mail spoke to a 37-year-old former interpreter called Hash, who served in Helmand with the Army between 2007 and 2012 and is reported to be part of the first party along with his wife and two sons.
"We are so happy and so thankful," he was quoted as saying. "The British government has taken its time but it has done the right thing and we are truly grateful."
Aston Martin sues Swiss car dealer over deposits on £2.5m Valkyrie model | Business News
Aston Martin is suing a Swiss car dealer which it claims failed to hand over customer deposits for its £2.5m Valkyrie supercar.
The luxury vehicle maker said civil proceedings had been filed against Nebula Project and that, backed by some of its customers, it was asking prosecutors to consider a criminal investigation.
Aston Martin said the saga was expected to dent annual profits by £15m as it tries to recoup the money.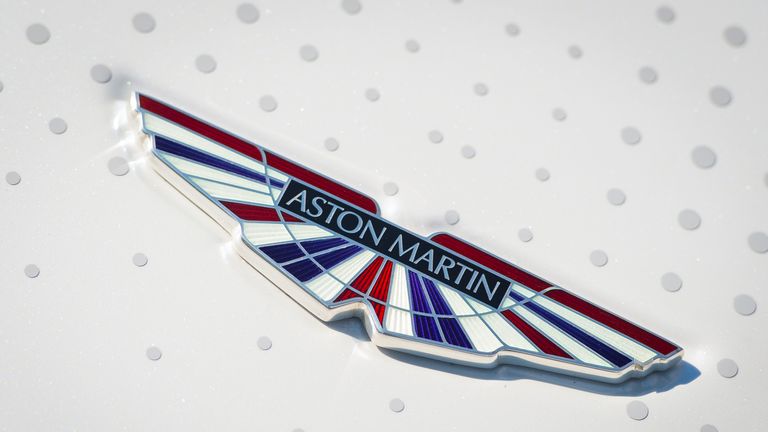 It said it was fully committed to customers receiving delivery of their supercars on schedule despite not having received the deposited funds.
The company added that it was on track to make its first deliveries of the Valkyrie – a limited edition supercar which uses Formula One technology – in the second half of this year.
It said in future it would take deposits for "special vehicles" directly and not through a third party.
Nebula had signed an agreement in 2016 to help finance the Valkyrie, which would have entitled it to potentially "significant" royalty payments as they rolled off the production line, alongside commission on sales of Valhalla and Vanquish models – but this has now been terminated, Aston Martin said.
The deal had been signed at a time when the carmaker was struggling financially.
Aston Martin also said that it was scrapping dealership arrangements with AF Cars, a company operating in Switzerland with the same board members as Nebula, "after learning that vehicles have been sold in breach of terms of the dealership agreement".
Aston Martin, famous as the maker of cars driven by fictional spy James Bond, said that aside from the "short term negative financial impact" of this issue, it was on course to meet financial guidance for 2021.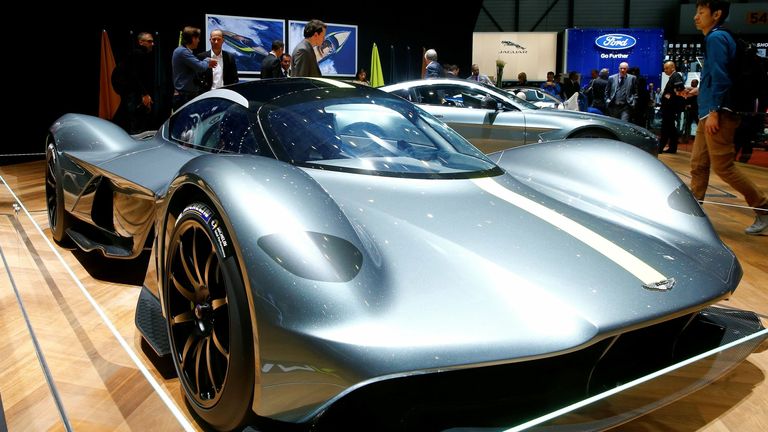 Reuters news agency reported that Nebula and one of its board members, Andreas Baenziger, did not respond immediately to emailed requests for comment.
Florian Kamelger, another board member, said in an email that Nebula would release a statement later on Tuesday, Reuters reported.