Israeli investigation after 16-year-old Palestinian boy shot dead by soldiers | World News
The Israeli authorities say they are investigating an incident in which soldiers shot dead a 16-year-old Palestinian boy.
Saeed Yusuf Muhammad Oudeh was shot in the back at about 9pm on Wednesday outside the Palestinian West Bank city of Nablus.
In a statement to Sky News, the Israeli Defence Forces (IDF) said: "Yesterday, during routine activity adjacent to the village of Beita, south of Nablus, a number of suspects hurled Molotov cocktails towards IDF troops.
"The troops responded according to open fire protocols, including firing towards the suspects. The incident is being investigated."
Breaking: Israeli forces killed Said Yousef Mohammad Odeh, 16, on May 5 around 9 p.m. in Odala, a village south of Nablus, in the occupied West Bank.

He sustained two gunshot wounds from the back and died soon after. pic.twitter.com/AraGv1X8ZS

— Defense for Children (@DCIPalestine) May 5, 2021
However, non-governmental organisations (NGOs) dispute the suggestion that Oudeh was among those in a confrontation with the Israeli soldiers.
Defence for Children International – Palestine said: "Israeli forces reportedly confronted Palestinian youth at the village entrance prior to the shooting. Saeed was not involved in the confrontations at the time he was shot, according to information collected by our team.
"Israeli forces deployed in a nearby olive grove fired live ammunition at Saeed as he approached the village entrance. He sustained at least two gunshot wounds: in the back near his right shoulder and pelvis. Both bullets exited from the front."
The Israeli authorities, who dismiss organisations like Defence for Children International as being anti-Israeli, have not yet provided further details on the incident.
The killing represents the latest spark in a fortnight of tension at a level not seen for five years.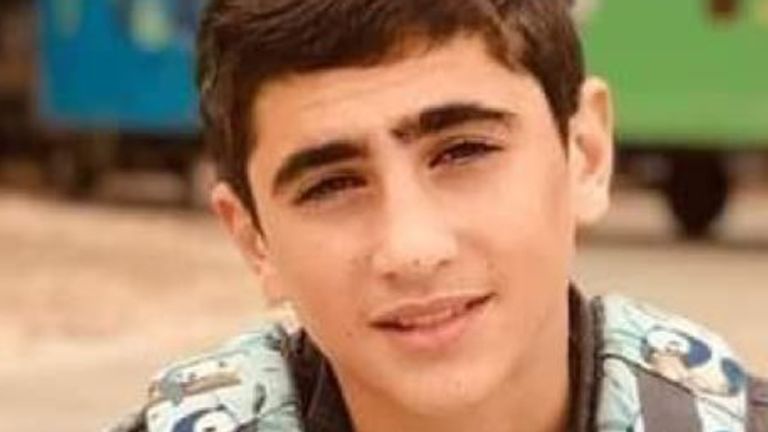 The Israeli security services launched a manhunt across the West Bank this week after three Israelis were shot in a drive-by attack last Sunday.
They included 19-year-old Yehuda Guetta who died of his injuries on Wednesday.
The shooting happened at Tapuah Junction south of Nablus, a busy intersection and bus stop used by Jewish settlers.
Montasser Shalabi, 44, was arrested by the Israeli domestic intelligence agency, the Shin Bet, on Wednesday near Ramallah.
A combination of factors has prompted the tension.
A planned eviction of Palestinian families in East Jerusalem's Sheikh Jarrah neighbourhood to make way for Israeli settlers has caused nightly confrontations.
An Israeli court said on Thursday that the eviction order has been delayed until next week.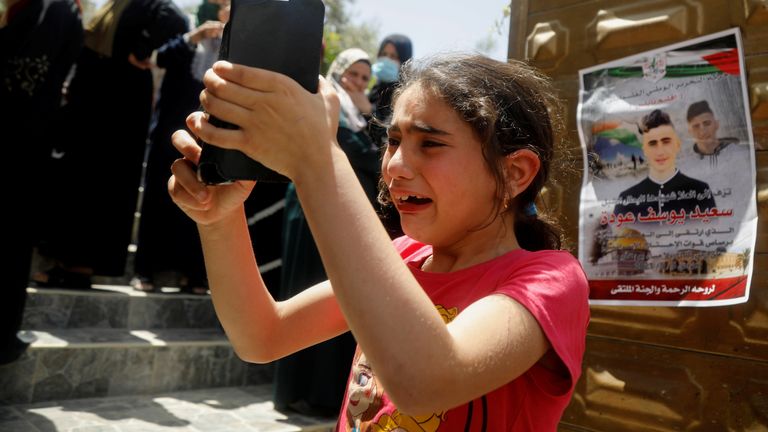 Sundown on Sunday marks the beginning of Jerusalem Day where Israelis celebrate what they see as the reunification of the city after the Six Day War in 1967.
There is an expectation that hardline Israeli nationalists and Palestinians could clash.
The tension comes a time when both Israeli and Palestinian politics is in chaos.
Israeli politicians are still struggling to form a viable coalition government, and Palestinians recently called off their elections, planned for May, because Israel will not allow voting in East Jerusalem.
Euro 2020: Denmark captain Simon Kjaer hailed a hero for 'life-saving' response to Christian Eriksen collapse | World News
Denmark football captain Simon Kjaer has been hailed as a hero for his quick response to teammate Christian Eriksen's collapse during their Euro 2020 opener against Finland.
Eriksen is stable in hospital following the incident in Copenhagen on Saturday evening, which saw the former Tottenham star suddenly fall to the ground with no other players near him.
The 29-year-old, who had no history of heart problems, was shielded from the television cameras by his distraught Denmark teammates as medical staff tried to resuscitate him on the touchline.
Skipper Kjaer was among the first to rush to Eriksen's side when he went down and has been credited with playing a potentially life-saving role in the response – as well as for how he led the Danish players in forming the ring and comforted Eriksen's distraught partner, who went on to the pitch.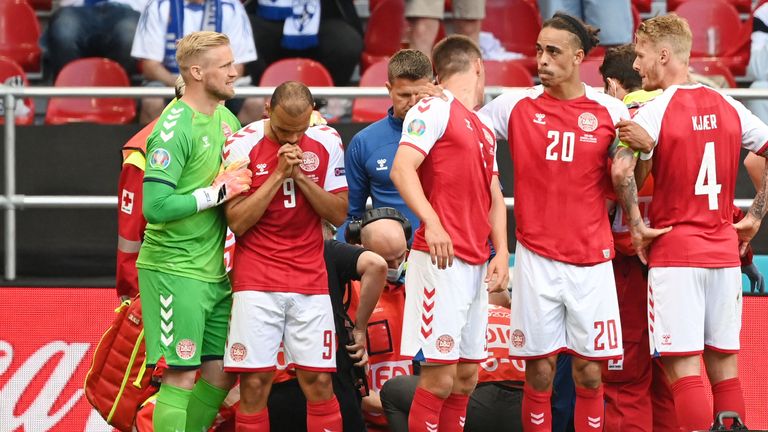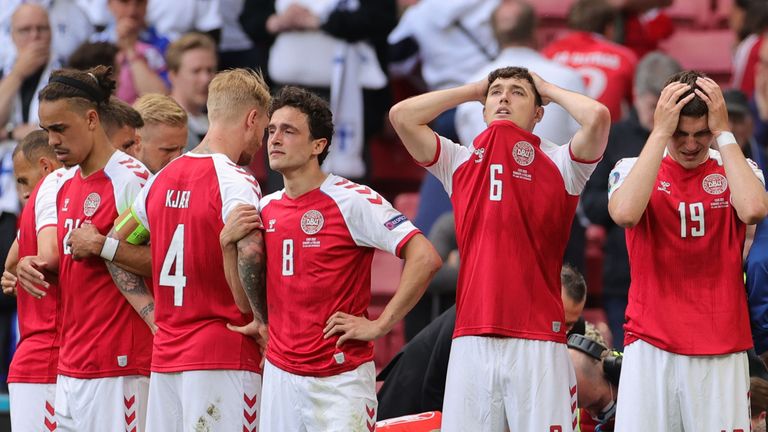 "Captain and hero: Simon Kjaer," said Sky Sports journalist Angelo Mangiante.
"Before the medics got there he secured his neck, cleared the airways and started CPR.
"Could have saved Eriksen's life. Act of heroism.
"Kjaer trying to keep also Christian's wife strong, is very emotional. What a man. So proud of you."
Dr Philip Lee said that Kjaer had "saved his friend's life", and tweeted the 32-year-old to say: "Your leadership to the Danish team, your quick thinking, and your actions, are an example to us all."
Hey @simonkjaer1989, this probably won't mean much to you but as a doctor, I can say you saved your friend's life this evening. Your leadership to the Danish team, your quick thinking, and your actions, are an example to us all.

— Dr Philip Lee (@drphiliplee1) June 12, 2021
Former footballers are also among those to have praised Kjaer, who was said to have been left too overwhelmed to complete the match when it resumed later in the evening.
Finland went on to win the Group B fixture 1-0 via a 59th minute goal from Joel Pohjanpalo, who was restrained in his celebration in light of what had happened.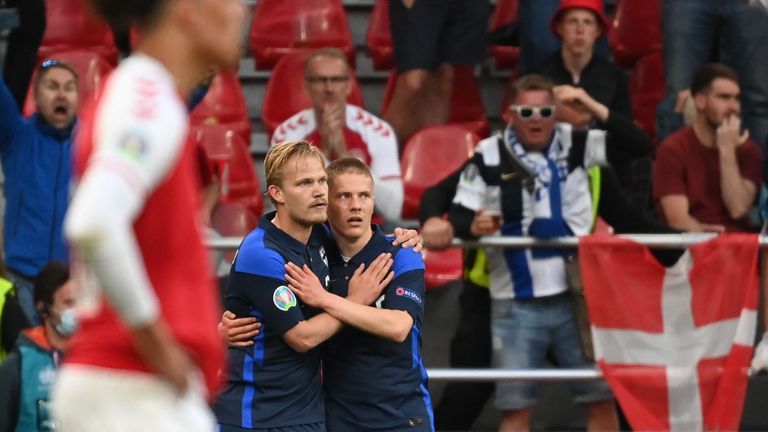 Speaking afterwards, Denmark coach Kasper Hjulmand: "Simon Kjaer was deeply, deeply touched. He was in doubt whether he could continue and gave it a shot, but ultimately he couldn't. I completely understand that."
Hjulmand – visibly drained at his post-match news conference – said UEFA didn't put the players under any pressure to finish the match.
He added: "I completely understand that you can't play a soccer match at this level after watching one of your best friends fight for his life."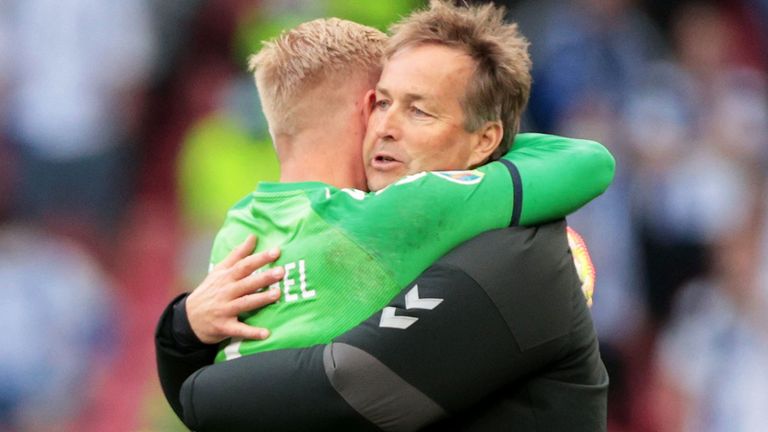 Kjaer plays his club football in the same city as Eriksen. The defender is with AC Milan, while Eriksen – who lit up the Premier League during his time with Spurs – is currently at rivals Inter.
Ex-Arsenal player Nico Yennaris said Kjaer "could possibly well have saved Eriksen's life" on Saturday, but there are doubts over whether the midfielder will be able to play again.
Simon Kjaer could possibly have well saved Erkisens life in the heat of the moment with his acts. Hats off to you 👏🏼 respect!

— Nico Yennaris (@Nico_Yennaris) June 12, 2021
Sanjay Sharma, professor of sports cardiology at St George's University in London, who worked with Eriksen at Tottenham during his seven years in north London, said: "Without putting it too bluntly, he died today, albeit for a few minutes, but he did die and would the medical professional allow him to die again? The answer is no."
Inter physician Piero Volpi told The Associated Press now was not the time to be making such assessments.
"Right now, the important thing is that he recovers," added Dr Volpi, who also confirmed that Eriksen had never contracted COVID-19.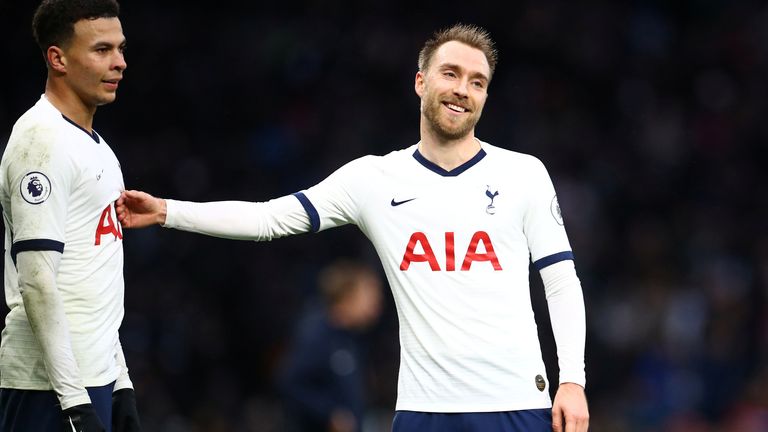 After being shielded from view during his on-field treatment, Eriksen appeared conscious as he was taken away on a stretcher with an oxygen mask on.
He was given a standing ovation from the 16,000 fans in the stadium, who had been stunned into silence when the gravity of the situation became apparent.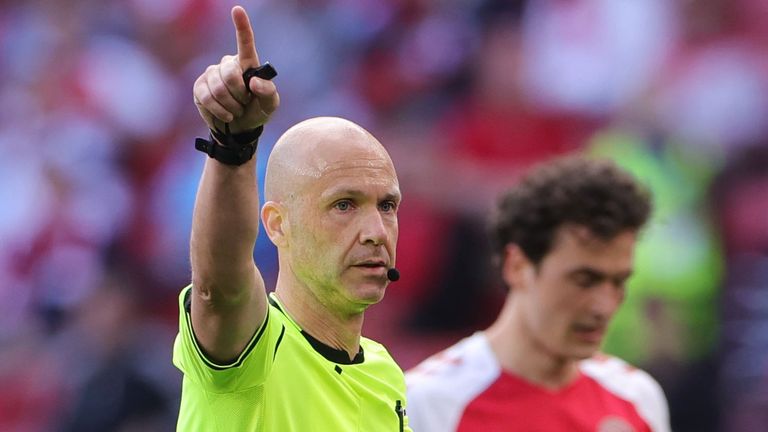 As well as Kjaer, Denmark goalkeeper Kasper Schmeichel – who plays for Leicester – and referee Anthony Taylor have also been singled out for praise.
Taylor, who referees in the Premier League, took seconds to halt play and call for medics.
Among those to highlight Taylor's response were the Duke and Duchess of Cambridge, who tweeted after it emerged that Eriksen was stable in hospital.
"Well done to the medical team and Anthony Taylor for their calm and swift action," they said.
Encouraging news about Christian Eriksen, we are all thinking about him and his family. Well done to the medical team and Anthony Taylor for their calm and swift action. W

— The Duke and Duchess of Cambridge (@KensingtonRoyal) June 12, 2021
The tweet was signed off by Prince William, who is president of the FA.
It's not known if he'll be at Wembley later when England begin their Euro 2020 campaign against Croatia. Both sides feature ex-Tottenham teammates of Eriksen, including respective captains Harry Kane and Luka Modric.
Christian Eriksen 'sends greetings to teammates' from hospital following collapse during Euro 2020 match | World News

Christian Eriksen has "sent his greetings to his teammates" from hospital, where he remains under examination following his collapse during Denmark's opening Euro 2020 match on Saturday.
In a statement on Twitter, the Danish FA said: "Latest news: This morning we have spoken to Christian Eriksen, who has sent his greetings to his teammates.
"His condition is stable and he continues to be hospitalised for further examination."
Christian Eriksen may not play football professionally again, says sports cardiologist | World News

Danish footballer Christian Eriksen is unlikely to play professionally again after suffering what was reported to be a cardiac arrest, a leading sports cardiologist has said.
The midfielder collapsed on the pitch during his country's Euro 2020 game against Finland and had to be resuscitated before being taken to hospital.
Eriksen, 29, was in a stable condition on Saturday night but it has not yet been publicly confirmed what was behind his illness.
Professor Sanjay Sharma is professor of sports cardiology at St George's University in London and worked with Eriksen during his time at Tottenham Hotspur.
He said: "Clearly something went terribly wrong.
"But they managed to get him back, the question is what happened? And why did it happen?
"This guy had normal tests all the way up to 2019 so how do you explain this cardiac arrest?"
UK football bodies were likely to be "very strict" about allowing Eriksen to play again, he added.
"His cardiac arrest has rocked the entire nation today and that's what happens. It's not just them that it affects, it's the psyche of so many people.
"The good news is he will live, the bad news is he was coming to the end of his career, so would he play another professional football game? That I can't say.
"In the UK he wouldn't play. We'd be very strict about it."
Prof Sharma chairs the FA's expert cardiac consensus group and is a consultant for charity Cardiac Risk In The Young.
He said the causes of Eriksen's cardiac arrest could include an unidentified health condition or a high temperature, but reports that the footballer was awake in hospital were "a very good sign".
"The fact he's stable and awake, his outlook is going to be very good," he told the PA news agency.
"I don't know whether he'll ever play football again.
"Without putting it too bluntly, he died today, albeit for a few minutes, but he did die and would the medical professional allow him to die again?
"The answer is no."
Bolton Wanderers footballer Fabrice Muamba experienced a similar collapse after suffering a cardiac arrest during a match against Tottenham Hotspur in March 2012.
He had hoped to resume his career but retired from professional football five months later on medical advice.
One of his doctors, Sam Mohiddin, told the BBC: "The cardiac arrest is a moment of extreme peril.
"If you don't get someone out of cardiac arrest things are over. You will not survive.
"The ongoing risk to an individual to an extent depends on the precise cause of that cardiac arrest."