Dominic Ongwen: Ugandan former child soldier turned rebel commander jailed for 25 years for war crimes | World News
A former Ugandan child soldier who became a rebel commander has been sentenced to 25 years in prison.
Judges at the International Criminal Court (ICC) in The Hague, the Netherlands, said Dominic Ongwen's own abduction as a schoolboy and tortured past prevented him from being handed a life sentence.
Ongwen, who was taken into ICC custody in 2015, was convicted in February of 61 crimes including rape, sexual enslavement, child abductions, torture and murder.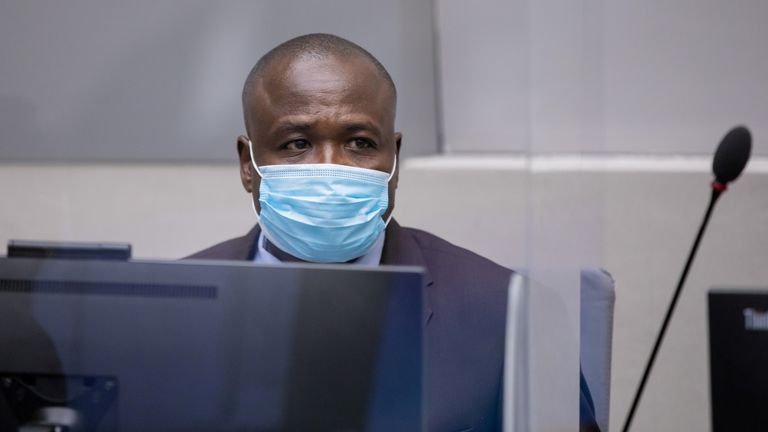 He was abducted by the Lord's Resistance Army (LRA) when he was nine and forced into a life of violence.
Led by fugitive warlord Joseph Kony, the LRA terrorised Ugandans for around 20 years as the group battled the government of President Yoweri Museveni from bases in northern Uganda and neighbouring countries.
It has now largely been wiped out.
Ongwen knowingly committed a range of heinous crimes as an adult, many of them against defenceless children and women who had been forced into slavery.
Judge Bertram Schmitt told the court on Thursday: "The chamber is confronted in the present case with a unique situation."
He said Ongwen was "a perpetrator who wilfully brought tremendous suffering upon his victims, however, also a perpetrator who himself has previously endured extreme suffering at the hands of the group of which he later became a prominent member and leader".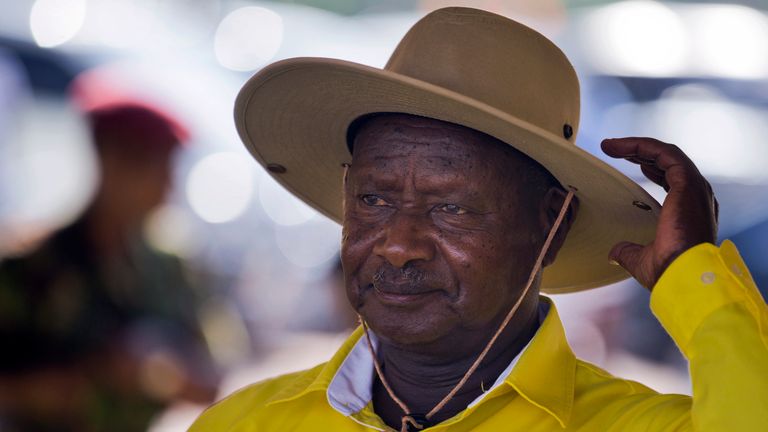 Ongwen, 46, wearing a face mask and headphones, showed no emotion as he was given a jail sentence five years longer than the 20 years prosecutors had requested.
His lawyers argued he should get no more than a 10-year sentence because of his childhood history.
They have said they will appeal the conviction.
Benjamin Netanyahu: The man they call 'the magician' has run out of tricks | World News
Benjamin Netanyahu, the ever-present figure in Israeli politics for three decades is down and out.
"Bibi", to give him his near-universal nickname, has been written off so many times, but now, the man they call "the magician" has run out of tricks and run out of road.
After four elections in just two years, 24 months of political stagnation, a new dawn has broken for Israeli politics. It heralds the beginning for a remarkable coalition and the end for an extraordinary political operator.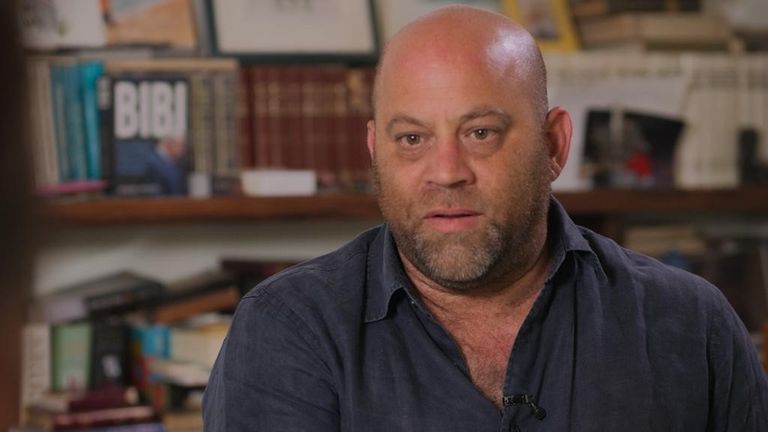 Trump before Trump
Benjamin Netanyahu has been Israel's prime minister for the last 12 years: the longest serving leader in the country's history. That wasn't the start though. He was also prime minister between 1996 and 1999. In opposition before then and between those two stints, he was in the wings, plotting and driving his form of populist nationalist politics.
Bibi, the secular Jewish populist, cast himself as the defender of the nation against Iran, the defender of the Jewish State against the Palestinians, and most recently, as the saviour of the nation against coronavirus.
He is a politician who was channelling Trump while the former American president was still building casinos.
"He was Trump before Trump," Netanyahu's unofficial biographer, Anshel Pfeffer told me.
"He is a constant campaigner, he's basically running for re-election the whole time. He doesn't take a break between elections. So many of the populist politicians we talk about today – Orban in Hungary, Boris Johnson; Netanyahu was doing a lot of what they are doing now long before they were on the scene.
"Probably the only politician who was doing this in the television era before Netanyahu is Silvio Berlusconi in Italy," Pfeffer said.
A survivor not a winner
Curiously Netanyahu was never actually a landslide politician. While often compared, as a savvy political operator, to Blair or Clinton, he only ever scraped in, but he did it consistently and that's what mattered.
Israel is a country that functions on coalitions and Bibi was always the man who managed to form them. Critics, though, say he did it through exploitation rather than consensus.
Ehud Olmert was Netanyahu's predecessor as prime minister. The two men were once in the same party, Likud. But as it tacked to the right, Olmert remained a centrist.
Mr Olmert told Sky News: "We never we were never friends. I never liked him. I never felt close to him. I never felt that he is a genuine human being [but] I thought it was a highly talented performer, the greatest that I've met in modern politics… He's a genius. I mean, there there will be no one that can compete with him in on television. Laurence Olivier?"
He continued: "He's a great performer, but when you look at the substance of things, the divisions within the Israeli society today are greater than ever before."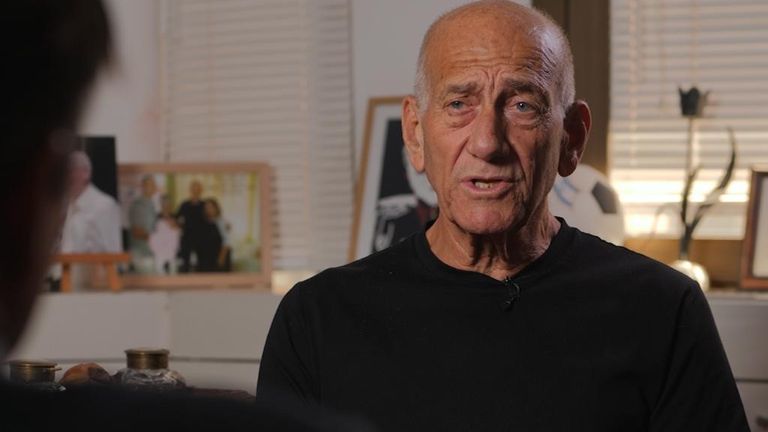 Pfeffer agreed: "Netanyahu is the most divisive prime minister in history, he has exploited every divide in Israeli society between Jews and Arabs, religious and secular, left and right.
"All these all these divides have been exploited and the communities have been played off against each other to keep him in power. That's something that Israeli society will be paying the price for for years to come."
Danny Danon has been a close confidant of Netanyahu for decades. He is a former Likud party politician and a nationalist who doesn't believe in a two-state solution with the Palestinians. Until last year he was Netanyahu's ambassador to the United Nations.
He told Sky News: "Many Israelis were born knowing only Netanyahu as the prime minister of Israel.
"He is one of the greatest leaders in Israel's history and his dedication to our security, I think that the most important thing in his legacy."
Under Netanyahu, Israel enjoyed the longest period of economic growth in its history; an achievement only damaged by the coronavirus pandemic which 'the magician' managed still to turn to his advantage. From the beginning he was the consummate communicator.
Describing his early political years, Pfeffer, author of Bibi: The Turbulent Life & Times of Benjamin Netanyahu, said: "He had literally sat at home over weekends with a rented video camera and trained himself how to do sound bites, how to do have strong, strong interviews on television.
"And when he came along in the late 1980s, he literally blew everyone away and he's kept that advantage ever since."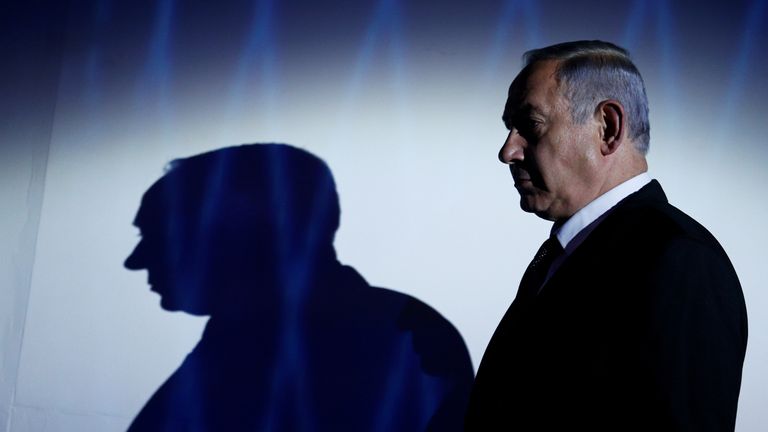 Bibi the peacemaker?
Despite his persona as a tough-man, the former captain in the Israeli special forces actually presided over a period of relative calm, in Israeli terms.
He has been risk-averse while building up the nation's defences and moulding a stalemate with the Palestinians precisely because it played to his advantage.
Pfeffer said: "He has this warmongering image which he which he builds up himself, but he never pushed the button and he never launched the big attack on Iran… He didn't launch another war with Hezbollah in Lebanon, as his predecessors did. So all these things have been talked about, but never actually happened. He's been risk averse and that is to his credit."
But it was all to the detriment of the Palestinian people. Netanyahu's politics, combined with splits and failures in the Palestinians' own leadership, have stalled the peace process.
Olmert believes the impact of this failure on the reputation of the Jewish State is huge: "The lack of political solution for the Palestinian issue is the greatest threat to the status of the State of Israel. We need to separate from the Palestinians. We need to end the occupation. We can't be seen in the international community as occupiers because this will destroy the image of Israel, the status of Israel."
The latest round of fighting in Gaza hinted at a consequence of the stalemate. The Palestinian cause seemed more united than ever before, but it was a street-level unity. The politicians on all sides remain intransigent.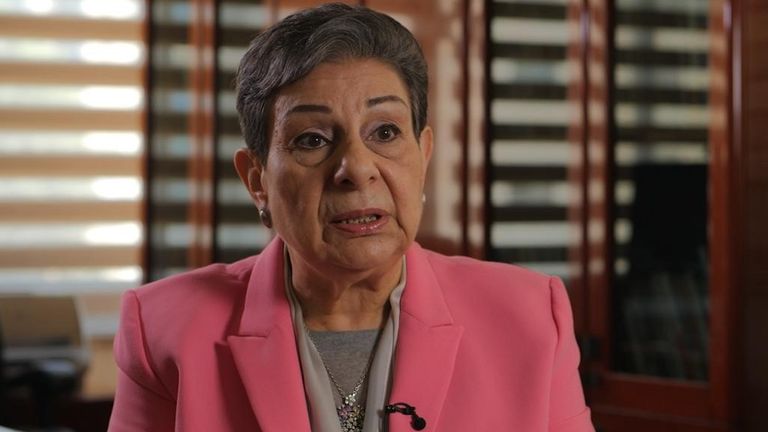 Hanan Ashrawi, a central figure over decades in the quest for Palestinian statehood has a scathing assessment of Netanyahu's legacy.
She told Sky News: "I think Netanyahu's legacy has been one of the most, if not the most destructive legacy for Israel, for the whole region, and I think in many ways, by legitimising fascism and violence and manipulation and control as well as corruption, he has created a situation where the chances of peace have become all that more difficult, if not impossible."
Confronting Iran
After 12 years in power, Netanyahu as been central in reminding western nations of what he sees as the malign behaviour of Iran. Yet in that time, Iran has come closer and closer to obtaining a nuclear weapon. Mr Danon doesn't see this as a failure.
He told me: "I think the fact that he put Iran on the spotlight in the last decade and everybody today sees the real threat coming from Tehran… maybe some people see different ways to deal with the threat, but he exposed it and he mobilised our intelligence agencies to bring information. And today the Iranians cannot work quietly, continue with their ideas. All the spotlights on them."
The last few years of his premiership have been dominated by his corruption trial – three cases of fraud, bribery and breach of trust. The trial is ongoing.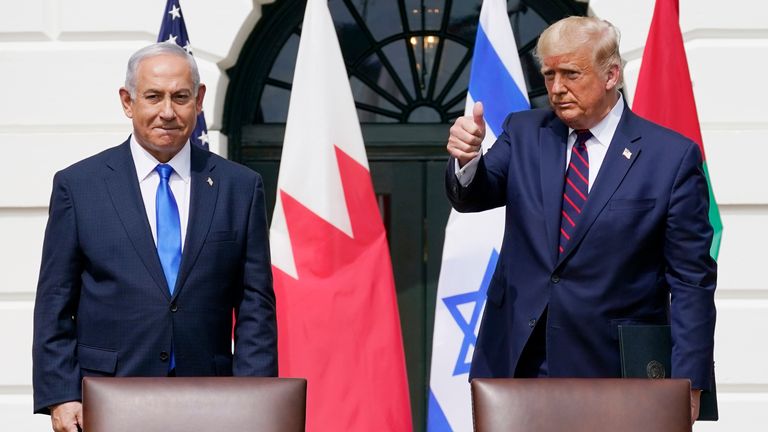 The legacy?
Netanyahu presided over a prolonged period of peace within Israel, but even that was in doubt with recent sectarian violence between Arabs and Jews which he did nothing to calm.
He signed unprecedented and laudable diplomatic normalisation deals with Gulf Arab nations, but on that core issue which defines the land he's ruled for so long, the Israel-Palestinian conflict, something which many Israelis seem oddly oblivious to, there are no solutions.
Netanyahu failed to bring about a lasting peace and chose instead the status quo which works for Israelis but does not for the Palestinians.
In his final interview before he died in 2016, former Israeli president and prime minister Shimon Peres was asked if he still thought there was a chance for peace between Israel and the Palestinians.
He said: "I don't think there [is] another alternative. Neither for the Palestinians, nor for us. The only alternative is an ongoing war. But contrary to what people think, in war there are no victories, only victims. No war is ever finished unless its being replaced by peace."
Netanyahu and his supporters will claim he achieved many victories. But he did not replace war with peace.
NATO summit: Joe Biden the focus of attention as alliance prepares to talk tough on China and Russia | World News
The US, Britain and the rest of the NATO alliance are expected to sharpen their language on the challenge posed by China, keep up pressure on Russia and for the first time make tackling the impact on security of climate change a key task.
President Joe Biden will touch down in Brussels on Sunday evening ahead of a summit on Monday of all 30 alliance leaders, including Boris Johnson, at NATO's giant, glass headquarters on the outskirts of the Belgian capital.
It comes ahead of Mr Biden's first face-to-face meeting with Russia's Vladimir Putin in Switzerland on Wednesday and follows a three-day summit of the G7 in Cornwall – all designed to display democratic unity to the Kremlin.
Russia's president told NBC News in an interview ahead of his meeting with Mr Biden that relations between Moscow and Washington were at their "lowest point".
Putin: Russia-US relations at 'lowest point'

Speaking ahead of the NATO summit, its chief, Jens Stoltenberg, said it was a "pivotal moment" for the alliance.
"We are in an age of global competition and we must respond to many threats and challenges at the same time," he said in a press conference on Friday. "We will also address the security impact of climate change, for the first time, making this an important task for NATO."
The atmosphere at the summit is set to differ from the previous two gatherings in 2017 and 2019, when then-president Donald Trump stole the show.
He upturned what is usually a carefully choreographed and planned piece of diplomatic theatre, berating allies as "delinquent" for failing to pay their fair share of the bill towards collective defence and instead overly-relying on the US military.
Mr Trump even threatened to pull the US out of NATO – a move that would have dealt a hammer blow to what is regarded by its members as the cornerstone of their security.
2019: Trump warns NATO members to pay bills

All eyes this time will be on Mr Biden.
In a return to the language normally expected from US leaders, he is expected to affirm his country's "unwavering commitment" to the alliance and to Article 5 of the NATO treaty, which requires all allies to come to the defence of any member state if attacked.
But allies remain under pressure, even without Mr Trump's threats, to meet previous commitments to move towards spending at least 2% of national income on defence by 2024 – a pledge made at a NATO summit in Wales in 2014.
Failure to do so would send the wrong signal to the Biden administration and to NATO's adversaries, a European source said.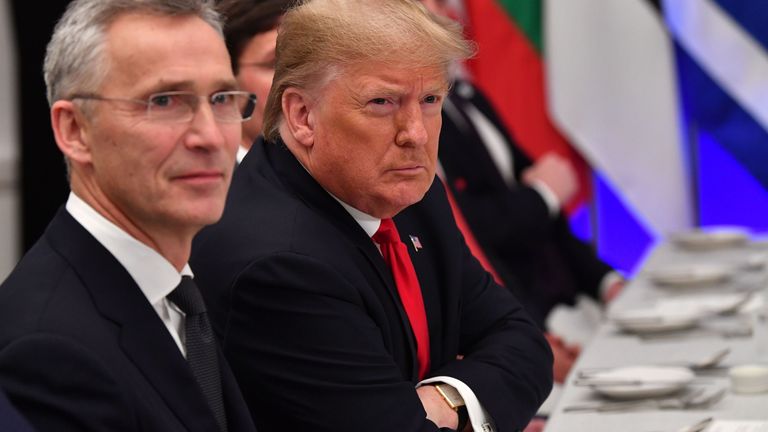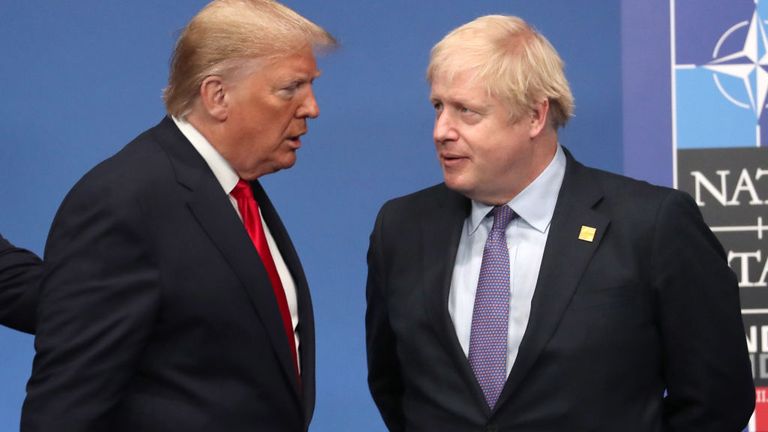 The summit on Monday will be relatively short, taking place just in the afternoon.
In terms of concrete outcomes, allies are expected to sign up to a communique which looks set to include a toughening of language about the challenge posed by China, according to three European sources.
Listen and follow the All Out Politics podcast on Apple Podcasts, Google Podcasts, Spotify, Spreaker
China was mentioned for the first time in a NATO leaders' communique after the previous summit, hosted by the UK, in 2019 – when it was described as a challenge and an opportunity.
Eighteen months later, this language will remain balanced but is expected to give more of a sense of how Beijing, with its growing military power, poses a challenge to the world's democracies.
The allies will still stress areas of co-operation, including climate change.
But there is concern particularly in the US about the threat posed by a rising China, with officials accusing the ruling Chinese Communist Party of human rights abuses and attempting to undermine international rules established since the Second World War.
The Daily Climate Show G7 special

NATO allies will also finalise what is being called the NATO 2030 initiative – a plan to transform the alliance to meet emerging and future threats. It includes plans to better exploit emerging technologies, enhance cyber defences, and combat climate change.
The initiative was devised after Mr Trump and France's President Emmanuel Macron questioned the relevance of an alliance that was established at the start of the Cold War to tackle the then-Soviet Union.
Israel set to vote in new government as Benjamin Netanyahu vows return to power from opposition | World News
Israel Prime Minister Benjamin Netanyahu has vowed to lead his Likud Party back to power on the day parliament was set to vote through the formation of a new coalition government.
In what is likely to become his outgoing speech to parliament, Mr Netanyahu, widely known as "Bibi" vowed to "topple this dangerous government and return to lead the country in our way".
He made clear he had no plans to relinquish leadership of the right-wing Likud party. He will therefore become leader of the opposition, assuming the new government is sworn in.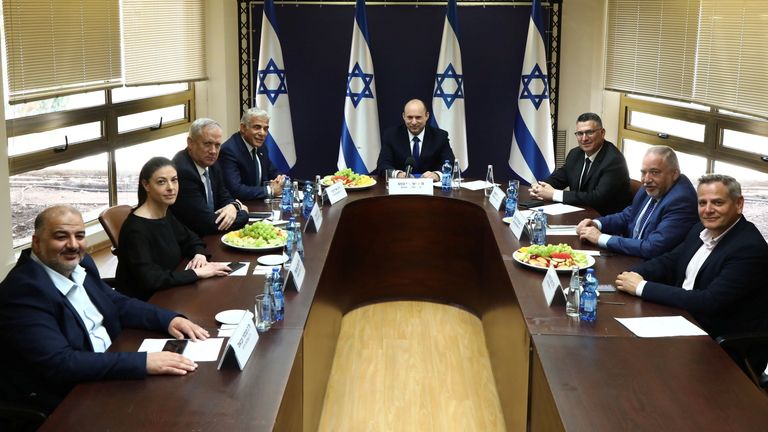 The new administration, comprising an unprecedented coalition of parties from across the spectrum, is expected to win 61 votes in the 120-seat Knesset in a vote of confidence later.
The vote would end a record term of 12 consecutive years for the Israel prime minster, as well as a turbulent two years of politics that saw four elections, an economically devastating coronavirus outbreak and an 11-day conflict in Gaza in May.
Ultra-nationalist Naftali Bennett, a hi-tech millionaire and Orthodox Jew, is to replace Netanyahu in a power-sharing deal with centrist leader Yair Lapid. Mr Lapid, a former TV host, will take over as PM in 2023 for a further two years.
The new government has pledged to heal a nation bitterly divided over the departure of Mr Netanyahu, the most dominant Israeli politician of his generation.
These divisions were evident as Mr Bennett was heckled by supporters of Mr Netanyahu in a raucous session of parliament.
Addressing the Knesset ahead of the vote, Mr Bennett vowed to fight US efforts to revive the Iran nuclear deal, a continuation of Mr Netanyahu's confrontational policy.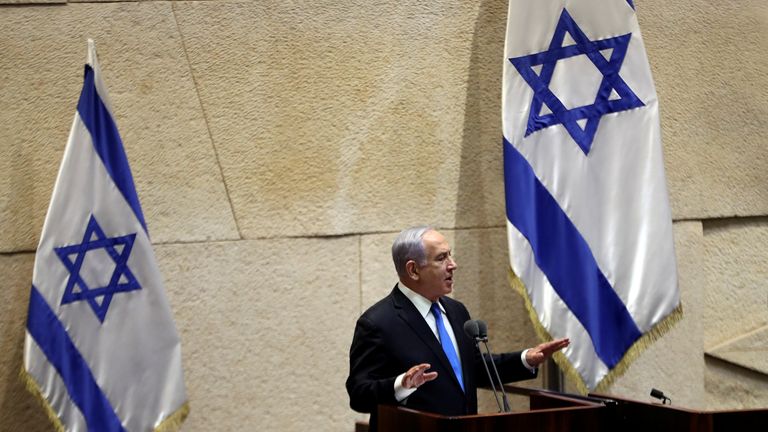 "Israel will not allow Iran to arm itself with nuclear weapons," he said. "Israel will not be a party to the agreement and will continue to preserve full freedom of action."
The ruling coalition looks unlike any before in the country's 73-year history. It contains parties with extreme ideological differences, including for the first time a party that represents Israel's 21% Arab minority, Raam.
The leaders are expected to steer clear of drastic moves on international issues such as policy on Palestine, focussing instead on domestic reforms.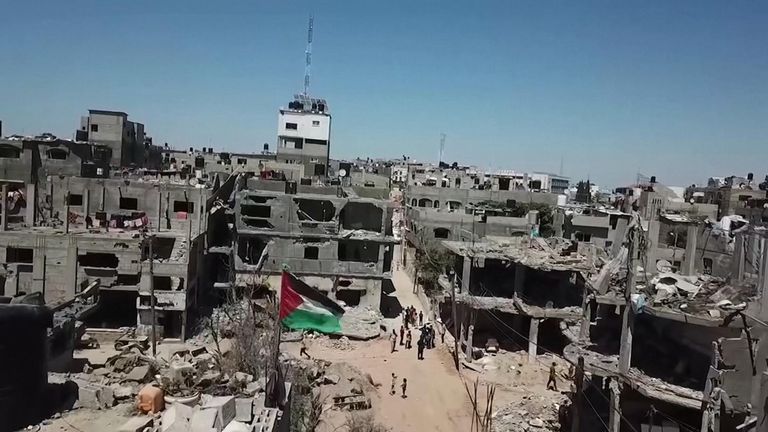 But the coalition's fragile majority means that it could collapse even if just one of the eight factions splintered. The groups are united in little more than their opposition to Mr Netanyahu.
Mr Netanyahu, 71, had failed to form a government after an election on 23 March, the fourth in two years. His fate was effectively sealed on 2 June, when eight groups with the 61 seats required for a majority signed an agreement.
His trial on charges of bribery, fraud and breach of trust – allegations which he denies – continues.