Beer boss with a thirst for mega-mergers and cost-cutting calls time on his career | Business News
He has had more influence on the global brewing industry than anyone else during the last couple of decades – although it is doubtful most beer drinkers even know who Carlos Brito is.
Today the Brazilian announced he was stepping down as chief executive of AB-InBev, the world's biggest brewer, which sells one pint in every four swigged worldwide.
The company is a colossus that last year produced 530 million hectolitres of beer – the equivalent of more than 93.2 billion pints.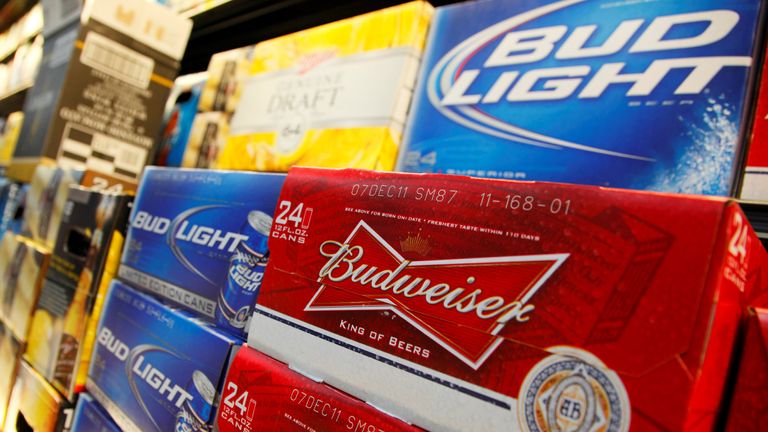 Its sprawling portfolio of brands includes six of the world's most valuable beer brands – Budweiser, Stella Artois, Bud Light, Corona, Brahma and Modelo – and countless other household names including Becks, Jupiler, Leffe, Lowenbrau, Bass and Boddingtons.
It is a business Mr Brito, who will be 61 on Saturday, effectively created through a series of mergers during 17 years at the top.
He entered the brewing industry when, in 1989, he joined the Brazilian brewer Brahma.
It merged in 1999 with Antarctica, its local rival, to create AmBev – a company dominating the vast Latin American beer market.
This was only the start of a series of deals.
Mr Brito became chief executive of AmBev at the beginning of 2004 and, within months, had unveiled an $11.5bn blockbuster tie-up with Interbrew, the Belgian brewer behind brands such as Stella Artois, Labatts and Rolling Rock.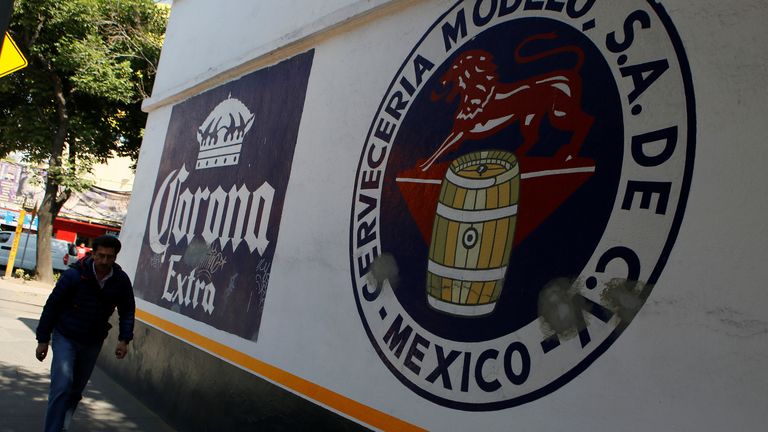 The deal was presented in Belgium, which is proud of its brewing heritage, as a takeover by Interbrew.
But InBev, the company which emerged, was nonetheless headed by Mr Brito.
Next, in 2008, InBev bought Anheuser-Busch, the maker of Budweiser, for $52bn in cash to cement its position as the world's biggest brewer.
The company was rechristened AB-InBev.
The global beer industry was rapidly consolidating into just a handful of players for, while InBev was guzzling the parent of Budweiser, Europeans Heineken and Carlsberg were teaming up to take over Britain's Scottish & Newcastle.
The only company approaching the size of AB-Inbev was London-listed SABMiller.
This was itself a company built up during a decade's worth of mergers and acquisitions masterminded by its inspirational chief executive, the late Graham Mackay.
Mr Mackay took the old South African Breweries, a company little-known outside its homeland, and made it a global giant with acquisitions of businesses such as Czech-based Pilsner Urquell, US-based Miller Brewing and, in 2011, the Australian brewer Foster's.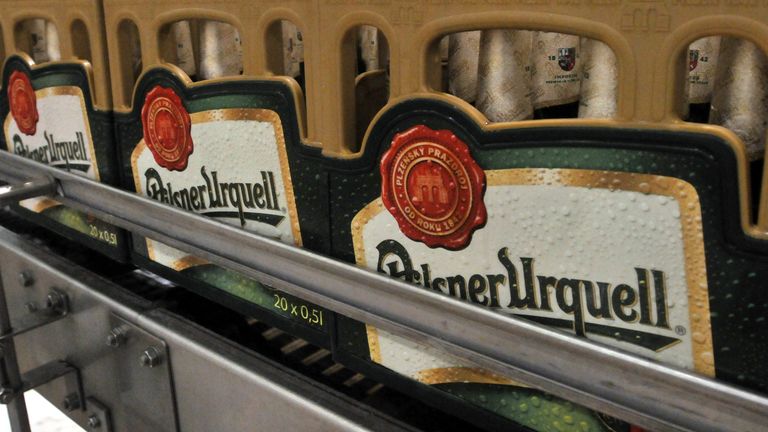 Back at AB-InBev, meanwhile, Mr Brito was pursuing another big takeover in the shape of Modelo, the Mexican brewer, which was snapped up in 2012 in a deal valuing it at $40bn.
By 2014, with some investors wondering how it was going to keep up momentum, AB-InBev was pondering its next acquisition.
With Heineken controlled by the wealthy Heineken family and Carlsberg protected by a trust, it quickly became obvious its likeliest target was SABMiller.
Many in the industry were concerned.
SABMiller was regarded – not least by its own executives – as being run by managers who were passionate about brewing and passionate about preserving a decentralised company structure and a big portfolio of local brands some of which, like Castle in South Africa, were steeped in the values of their local communities.
Culturally, it could not have been more different from AB-InBev, which was characterised as a gigantic acquisition vehicle run by a bunch of financial engineers.
Nonetheless, in 2016, AB-InBev prevailed with a $109bn takeover of SABMiller.
The deal made it more than four times the size of Heineken, its nearest competitor.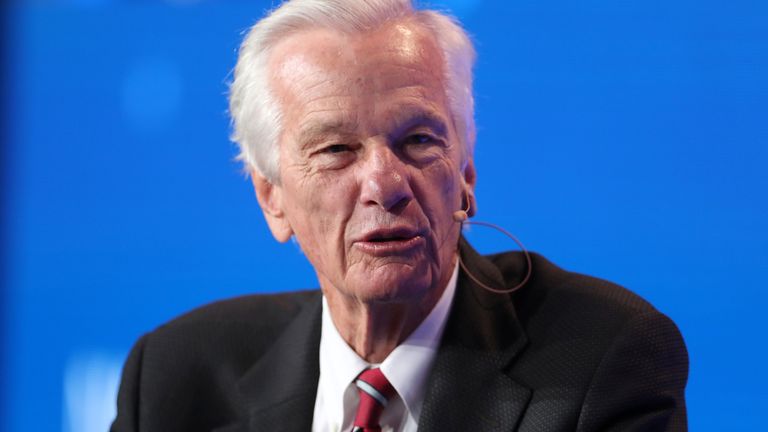 This time, though, investors wondered whether Mr Brito had bitten off more than he could chew.
The deal saddled AB-InBev with more than $100bn of debt and numerous SABMiller brands were sold to reduce borrowings, most notably Peroni Nastro Azzurro, Grolsch and Pilsner Urquell, which were bought by Asahi of Japan
At the same time, alarmingly, AB-InBev's sales growth slammed into reverse as millions of drinkers around the world switched from established brands to craft beers – a trend Mr Brito has been accused of being slow to pick up on.
In April 2020, as the world was going into lockdown, AB-InBev halved its dividend pay-out.
Mr Brito's mentor throughout has been Jorge Paulo Lemann, a Brazilian-Swiss billionaire and former Brazilian national tennis champion, who played at Wimbledon in 1962.
The private equity firm he founded, 3G Capital, backed the merger of AmBev and Interbrew and has been influential in every deal the company has done since.
It also owned Burger King for a while and was instrumental in the 2015 merger of the US food giants Kraft and Heinz.
The combined Kraft-Heinz then shocked the food industry by making a takeover approach to Unilever, a company twice its size, which was beaten off amid concerns about widespread cost-cutting.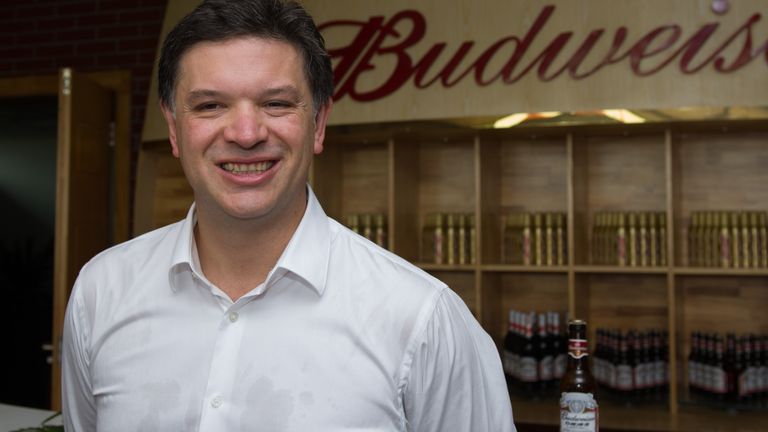 Mr Brito became Mr Lemann's protégé when he was accepted for a place on the MBA programme at the prestigious Stanford University Business School – but realised he could not afford the tuition fees.
A friend arranged a meeting with Mr Lemann who agreed to support Mr Brito's education on the basis that he provided him with regular updates on his progress and that, when he could afford to do so, he promised to provide similar support to others.
Throughout his career, Mr Brito has adhered to 3G's mantra – relentless cost-cutting, restructuring and zero-based budgeting, where executives begin each financial year – or in some cases each quarter – with a blank sheet of paper on which they are obliged to spell out and justify any spending they wish to carry out.
It has made him and 3G's backers – who have parleyed their original $250m stake in Brahma into a shareholding in AB-InBev worth $31bn at its peak – spectacularly wealthy.
But it has also left them open to criticism, as seen ahead of the SABMiller deal, that they are little more than cost-cutters.
Those concerns have intensified in recent years as AB-InBev's growth has stuttered.
Some investors have worried whether a management team obsessed with cost-cutting is equipped to focus on organic growth – which, now AB-InBev has run out of acquisition targets, is going to be of increased importance.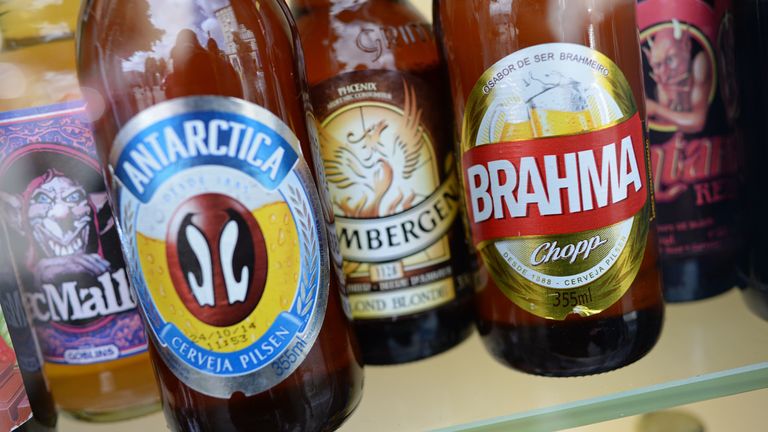 It has not helped, in an industry packed with executives who love their product, that Mr Brito has often appeared more passionate about cost-cutting than beer.
Interviewers have even struggled at times to get him to name his favourite beer – although he has since admitted it is Budweiser, something he shares with his successor, AB-InBev's North American chief Michel Doukeris.
AB-InBev, whose brands include Goose Island and Camden Pale Ale, is now one of the world's biggest players in craft beer but the category still accounts for only 1% of its sales and Mr Brito himself has admitted in the past that the company needs to be communicating its position in the field more effectively.
In Britain, meanwhile, drinkers of a certain age remain resentful of AB-InBev's refusal to invest meaningfully in Bass Ale, once the UK's biggest-selling beer, or sell the brand to a new owner that would.
Not that Mr Brito will be too worried about that.
The boy who was educated for 12 years by Jesuits and whose hair-shirt approach includes wearing a plastic watch and flying business class only on journeys that are more than six hours long has had a dazzling career and enough money in the bank not to worry where the next beer will come from.
Joe Biden-Vladimir Putin summit: Leaders agree to return ambassadors to posts in bid to lower tensions | World News
Russia's Vladimir Putin says he and US President Joe Biden have agreed to return their ambassadors to their respective posts in an attempt to lower tensions.
It comes after around four hours of talks between the leaders at a summit in Switzerland.
The two men have had face-to-face discussions at a villa on the shores of Lake Geneva.
The first round of talks involved both leaders, US Secretary of State Anthony Blinken, Russian Foreign Minister Sergei Lavrov and a pair of translators.
A second session involved other senior officials on both sides.
Putin and Biden meet in Geneva

President Biden gave a thumbs up as he left the villa and then entered his limousine, TV footage showed.
Diplomats deemed it to be too risky for them to appear together because of the potential of an embarrassing public spat in response to media questions.
Opening the talks earlier, Mr Putin said he hoped for a "productive" meeting, while Mr Biden called it a discussion between "two great powers" and insisted "it is always better to meet face to face".
As they appeared together for the first time since 2011, both men appeared to avoid looking directly at the other during a brief and chaotic photocall before jostling reporters and photographers.
Mr Biden instigated the summit, and for months the two leaders have criticised each other.
Biden: Putin is a worthy adversary

Mr Biden has repeatedly called out Mr Putin for malicious cyberattacks by Russian-based hackers on US interests, a disregard for democracy with the jailing of Kremlin critic Alexei Navalny and alleged interference in American elections.
Mr Putin, in turn, has pointed to the US Capitol riot on 6 January to argue America has no business lecturing on democratic norms.
And he insisted the Russian government has not been involved in any election interference or cyberattacks despite US intelligence showing otherwise.
Russia's View: Exclusive interview with Putin

The jailing of Mr Navalny, whose novichok poisoning was blamed on the Kremlin, was a subject on which Mr Biden was unlikely to get much traction with Mr Putin who considers the case an internal Russian affair.
But there were areas where cooperation was expected. They include arms control, climate change, containing Iran's nuclear ambitions, humanitarian assistance to Syrians and working together on the COVID-19 pandemic.
US-Russia summit: Putin hopes for 'productive' meeting and Biden says it is 'better to meet face to face' as event gets under way | World News
US President Joe Biden and Russia's Vladimir Putin have embarked on hours of face-to-face talks at a lakeside mansion in Switzerland.
Opening the talks, Mr Putin said he hoped for a "productive" meeting, as Mr Biden insisted "it is always better to meet face to face".
Their encounter at a villa on the shores of Lake Geneva is full of the potential for high drama but low on expectations for diplomatic breakthroughs.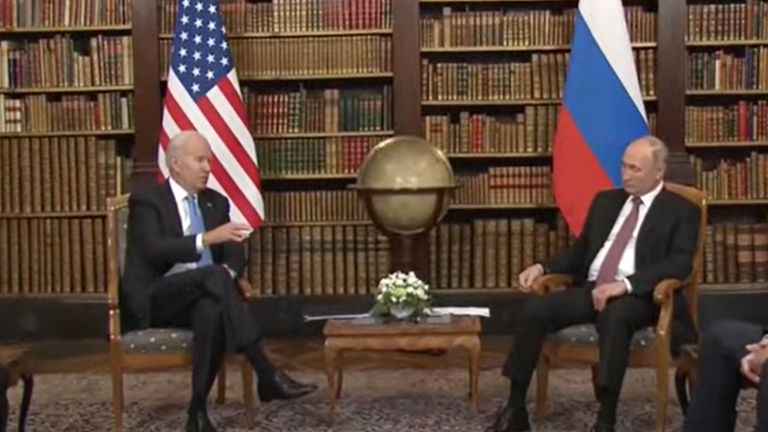 As they appeared together for the first time since 2011, both men appeared to avoid looking directly at the other during a brief and chaotic photocall before jostling reporters and photographers.
When a reporter asked if Mr Putin could be trusted, Mr Biden appeared to nod, but the White House quickly sent out a tweet insisting the president was "very clearly not responding to any one question, but nodding in acknowledgment to the press generally".
Mr Putin ignored shouted questions from reporters.
The two leaders shook hands with Mr Biden extending his hand first.
Shortly before, Mr Biden had smiled at the Russian leader when they posed with Swiss President Guy Parmelin, who welcomed them to Switzerland for the summit.
The meeting, which is expected to last four or five hours in total, comes at the end of Mr Biden's first foreign trip as US president which has taken him to Cornwall for the G7 meeting and Brussels for separate NATO and EU summits.
About two hours in, the Kremlin announced that the first round of talks had concluded, with a short break, followed by their resumption with a larger group of people in attendance – the first of two such rounds.
The first meeting involved the two leaders, US Secretary of State Anthony Blinken, Russian Foreign Minister Sergei Lavrov and a pair of translators.
At all of these meetings, messages have been moulded and red lines set by western leaders which sources say Mr Biden will spell out to Mr Putin.
Ukraine, Belarus, Iran, Syria and issues like arms proliferation are all expected to be discussed as well as behaviour by Russia which western nations consider to be contrary to the so-called international rules based system.
The fate of Russian opposition leader Alexei Navalny, poisoned then imprisoned in Russia, will be raised by the American president. It is a subject on which he is unlikely to get much traction with his Russian counterpart who considers the case an internal Russian affair.
Russia's View: Exclusive interview with Putin

But domestically for Mr Biden, who is facing criticism for agreeing to a meeting with Mr Putin so early in his presidency, it's important to be seen to be pressuring the Russians.
The US president, who famously called Mr Putin "a killer" has conceded already that there is "no guarantee" that the meeting will effect any change of behaviour by the Russian president.
As well as the Navalny case, the poisoning of former Russian spy Sergei Skripal and his daughter in Salisbury in 2018 is likely to feature in the talks.
Defence rivalry will be a key issue with an attempt at a new dialogue on arms control. Issues like the territorial control in the Arctic, space, cyber and autonomous weapons systems could all be up for discussion.
Andrey Kortunov is director general of the Russian International Affairs Council and considered to be a Kremlin insider.
He told Sky News: "They will not resolve these issues in Geneva, they might only authorise their respective bureaucrats and military and diplomats to get into a serious conversation on all of these issues. That would be already a major accomplishment."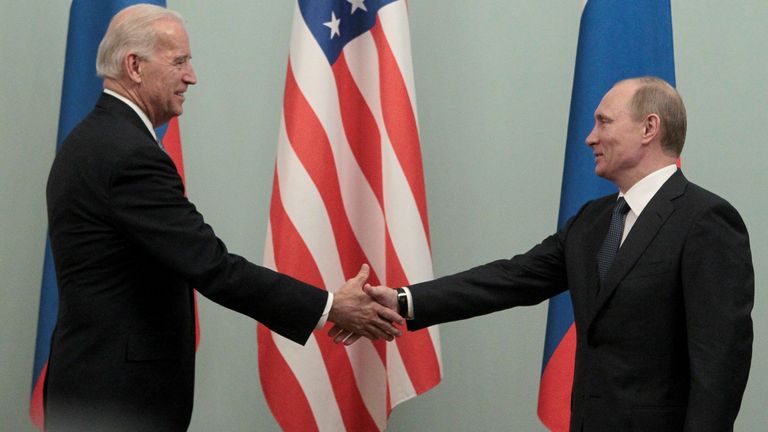 He continued: "I think that Biden and Putin will probably articulate their positions on issues like Ukraine or Belarus too. But it's hard to believe that they can achieve a breakthrough on such sensitive issues."
Expectations by diplomats on both sides are being kept intentionally low. From that base it's possible to build up even small wins as diplomatic breakthroughs.
There is a chance that the two leaders could agree to repair the basic mechanics of their bilateral relationship by reinstalling ambassadors in their respective capitals. But beyond that sort of gesture, bigger announcements are not likely.
On Monday, Mr Biden said he will make clear to Putin "what the red lines are" and "if he chooses not to cooperate and acts in a way that he has in the past relative to cybersecurity and some other activities, then we will respond in kind."
Asked for his assessment of the former KGB officer, Mr Biden said: "He's bright, he's tough, and I have found that he is a – as they say when I used to play ball – a worthy adversary."
Biden: Putin is a worthy adversary

The meeting, which was initiated by President Biden, has been arranged over just a few weeks and will involve one-plus-one talks with Mr Putin and his Foreign Minister Sergei Lavrov and Mr Biden and his Secretary of State Anthony Blinken.
A second session will then include other senior officials on both sides.
The two leaders will not hold a joint news conference. Diplomats deem it to be too risky for them to appear together because of the potential of an embarrassing public spat in response to media questions.
"Definitely the summit was prepared in a haste. It's the very beginning (of the relationship). And it's going to be a modest beginning especially for Biden. He cannot look as if he yielded too much to the Russian counterpart," Mr Kortunov told Sky News.
There are areas where cooperation is expected. They include arms control, climate change, containing Iran's nuclear ambitions, humanitarian assistance to Syrians and working together on the COVID-19 pandemic.
Nora Quoirin: Malaysia court overturns coroner's verdict that teen's death was misadventure | UK News
A High Court in Malaysia has overturned a coroner's verdict that the death of French-Irish teenager, Nora Quoirin, was likely misadventure with no one else involved.
The 15-year-old, who lived in Balham, in southwest London, was staying with her family at a hotel around an hour from the capital, Kuala Lumpur, when she disappeared in August 2019.
After a ten-day search, her body was discovered around 2.5 kilometres from where she was last seen at the Dusun eco-resort in southern Negeri Sembilan.
A coroner in Malaysia ruled in January that the death of British teenager Nora Quoirin was most likely a misadventure.

Meabh Quoirin said her daughter was born with holoprosencephaly, a disorder that affects brain development leaving Nora with learning and physical disabilities.
During a short virtual hearing, Judge Azizul Azmi Adnan laid out the reasons for revising the judgement and returning an open verdict.
In particular, he highlighted Nora's struggles with balance and coordination, the steep terrain around the resort, which was challenging for people without her physical disabilities, and her shy personality which made her "unadventurous" and "uncomfortable with the unfamiliar".
"Having reviewed the material, that was before the court, I am of the view that the verdict of misadventure ought to be vacated in the interests of justice and substituted with an open verdict, as there was no credible evidence to support any other verdict," he explained to Nora's listening parents.
"I am willing to accept that on the evidence before the court the possibility for third party involvement was lower than the possibility that Nora Anne had inadvertently got herself into a situation from which she could not extricate herself.
"That does not mean, however, that I should enter a verdict of misadventure," he added.
The ruling is a legal victory for the family who believe Nora may have been abducted and challenged the coroner's decision.
Police have always suggested there was no evidence of foul play, claiming she likely climbed out of a window and wandered off into the jungle alone.
Her family has dismissed this saying that Nora would not have been physically able to disappear into thick forest unaided and evade detection during the intensive search involving drones and sniffer dogs.
Nora's parents said they were "utterly disappointed" by a coroner's verdict in January.
They have suggested her body may have been placed in the area where it was finally found.
Legal representatives for the family previously said an open verdict would be "appropriate".