British woman Mayra Zulfiqar killed in Pakistan 'after refusing to marry a man' | World News

A British woman of Pakistani origin has been found dead in the city of Lahore.
Mayra Zulfiqar is believed to have been aged about 25, and news reports said she was killed after refusing to marry a man.
Ms Zulfiqar's friend Mohammad Nazeer had told police a man wanted to marry her and had threatened her with "dire consequences" if she refused.
Pakistan's English-language newspaper Dawn reported that Ms Zulfiqar had bullet wounds and signs of torture on her body.
Station House Officer Qasim said the cause of her death was not yet clear.
He told The Independent Urdu: "The woman had a bullet wound to the shoulder, but the exact cause of death will be known after her autopsy and forensic report, whether the death was due to a gunshot wound or whether her throat was strangled."
Police have detained two men for questioning over the death.
Ms Zulfiqar arrived in Pakistan two months ago for a wedding and was staying at a rented home with a friend.
According to the Evening Standard, she previously lived in Feltham, west London.
She was a law student at Middlesex University and had gone on to work as a paralegal.
In a statement supplied to Sky News, the Foreign and Commonwealth Development Office said: "We are supporting the family of a British women who died in Pakistan and are urgently seeking more information from the local authorities.
"Our thoughts are with the family at this difficult time."
Iran's former president Mahmoud Ahmadinejad to run in upcoming elections despite ban – reports | World News
Iran's former president Mahmoud Ahmadinejad will run for office again in upcoming elections in June, state television has reported.
Broadcast footage showed Mr Ahmadinejad marching alongside supporters to a registration centre at the interior ministry where he filled out forms.
In recent years, Mr Ahmadinejad has tried to polish his hardline image into a more centrist candidacy.
The Holocaust-denying former leader was previously banned from running for the presidency by Supreme Leader Ayatollah Ali Khamenei in 2017 – although he registered anyway.
Mr Khamenei said he will not oppose the nomination of any candidate, although the electoral council may still block Mr Ahmadinejad from running.
In either case, the populist's return to the political scene may energise discontent among hardliners who seek a tougher stance against the West – particularly Israel and the US.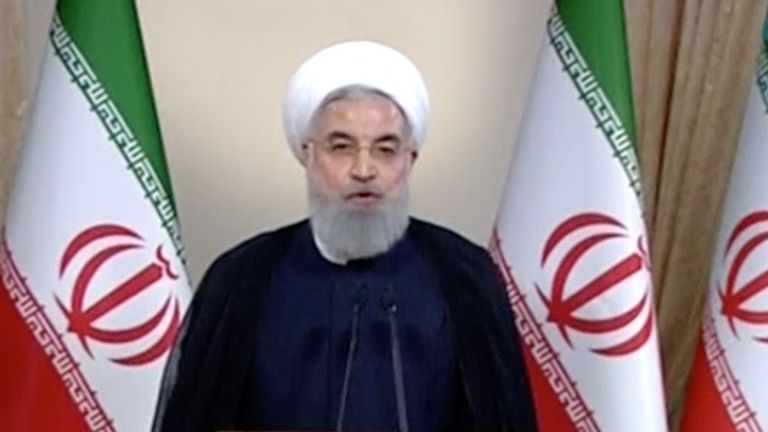 Iran opened election registration on Tuesday, kicking off the race as uncertainty looms over Tehran's tattered nuclear deal with world powers, and tensions remain high with the west.
President Hassan Rouhani cannot run again due to term limits, yet with the poll just a month away, no immediate favourite has emerged among the many rumoured candidates.
There also appears to be little interest in the vote by a public crushed by sanctions and the coronavirus pandemic.
Nevertheless, many view the country's hardliners as rising in power – even as the US under President Joe Biden tries to find a way to re-enter the atomic accord.
Whoever wins the 18 June vote will take over from Mr Rouhani, a relative moderate within the Islamic Republic whose two four-year terms began with Iran reaching the nuclear deal.
His time in office now draws to a close with the accord unravelled after the US unilaterally withdrew from it under former president Donald Trump in 2018.
Israeli PM Netanyahu: Hamas 'will pay heavy price' as violence continues | World News
Israeli Prime Minister Benjamin Netanyahu says that Hamas "will pay a heavy price for their belligerence" as the country steps up its attacks on the Gaza Strip.
On Tuesday, the Israeli military destroyed a building used by the militant group, killing at least three militants, as Palestinian rockets continued to fall on parts of Israel.
It is the heaviest fighting between the two enemies since 2014.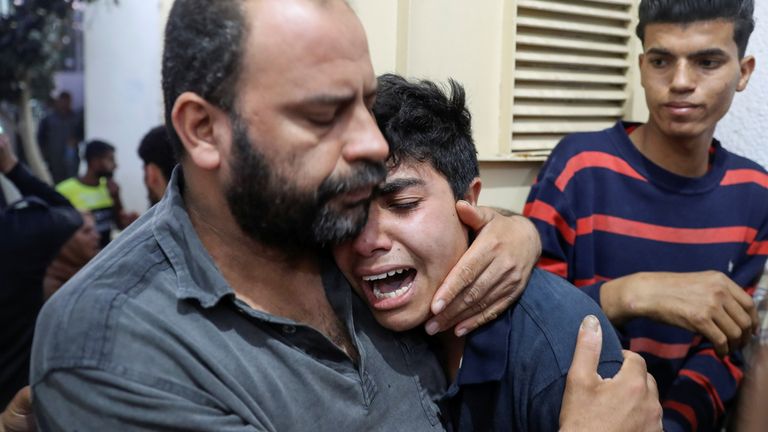 Israel's prime minister Benjamin Netanyahu said in a televised address: "We are at the height of a weighty campaign.
"Hamas and Islamic Jihad paid… and will pay a very heavy price for their belligerence."
He said Israel would "continue to attack with full force", adding: "This campaign will take time".
"With determination, unity and strength, we will restore security to the citizens of Israel."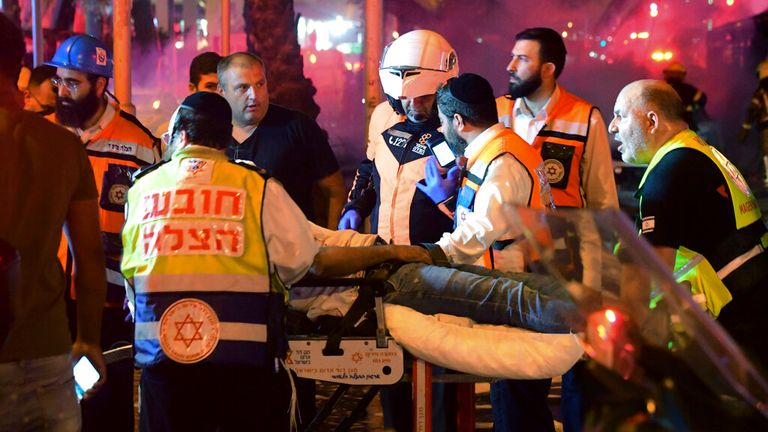 Five Israelis, including three women and a child, were killed by rocket fire on Tuesday and early on Wednesday, and dozens of people were injured.
The death toll in Gaza rose to 35 Palestinians, including 10 children, according to the health ministry, with more than 200 people wounded.
The violence began last weekend at the al-Aqsa mosque, the third-holiest site in Islam and the holiest site in Judaism.
Israeli police fired tear gas and stun grenades at Palestinians who threw stones and chairs back at them.
At times, police fired stun grenades into the carpeted mosque.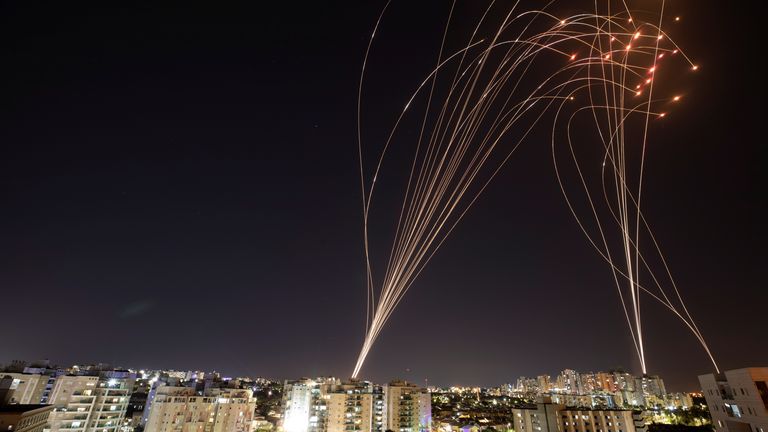 On Monday evening, Hamas began firing rockets from Gaza and the conflict escalated rapidly.
Hamas' exiled leader, Ismail Haniyeh, blamed Israel, saying: "It's the Israeli occupation that set Jerusalem on fire, and the flames reached Gaza."
Hamas said it had fired 210 rockets towards Tel Aviv and its suburbs, where residents had to run into air raid shelters as sirens blared and anti-rocket interceptors were seen overhead on Tuesday.
Homes in Gaza shook under the weight of the Israeli attacks, with at least 30 explosions in just minutes early on Wednesday.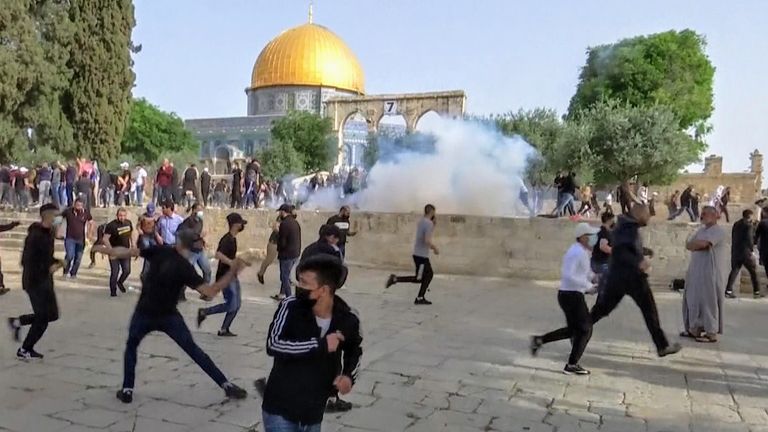 UN Middle East peace envoy Tor Wennesland tweeted: "Stop the fire immediately.
"We're escalating towards a full scale war.
"Leaders on all sides have to take the responsibility of de-escalation.
"The cost of war in Gaza is devastating & is being paid by ordinary people. The UN is working with all sides to restore calm.
"Stop the violence now."
A number of factors have stoked tensions in the decades-long conflict to their worst in years, said Sky's correspondent Mark Stone earlier this week.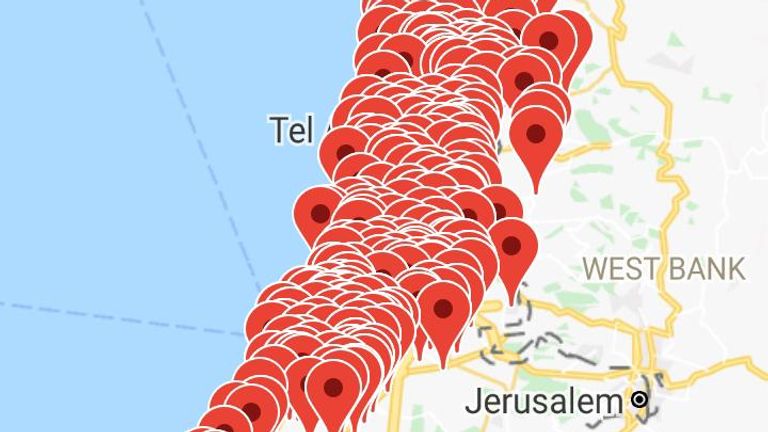 Palestinians were angry at an Israeli police decision, at the start of Ramadan, to barricade the seating area outside Jerusalem's Damascus Gate.
There is also the issue of Sheikh Jarrah, the East Jerusalem neighbourhood where Palestinian families are fighting a court battle with Jewish settlers who want to take their homes, claiming the land is historically theirs.
Israel captured East Jerusalem in 1967 and annexed it as their own, but most of the international community considers it to be occupied land.
Monday was also Jerusalem Day, marking the moment when Israel took control of the city.
A march by hundreds of nationalist Israelis was changed on Monday evening to avoid going through the Muslim Quarter of the Old City.
Duke and Duchess of Sussex announce partnership with Procter & Gamble – a company she once called sexist | US News
Decades after criticising Procter & Gamble as a child, the Duchess of Sussex and her husband have announced a partnership with the firm.
Meghan and Harry's Archewell Foundation confirmed a long-term relationship with the American multi-national consumer goods company on Tuesday.
It will focus on gender equality, inclusive online spaces, resilience and impact through sport.
As an 11-year-old, Meghan had written to Procter & Gamble to complain about the sexist language used in a TV advert.
Her letter-writing campaign objected to a dish soap commercial which included the line: "Mothers around America are fighting greasy pots and pans".
She appeared in an interview with Nick News in 1993 to talk about her campaign, saying she was "furious" about the advert.
She added: "When they heard this, the boys in my class started saying: 'Yeah that's where women belong – in the kitchen'."
Meghan successfully lobbied the firm to change the line from "mothers around America" to "people all over America".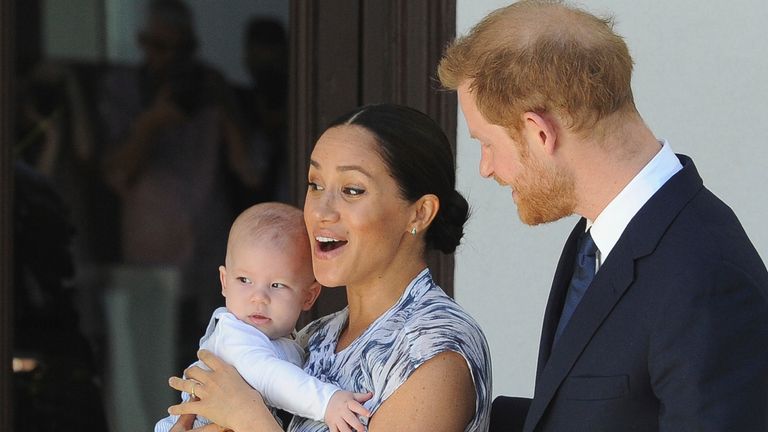 Announcing the partnership, the Archewell website said: "Archewell Foundation believes that with community, and through compassionate service to others, we can unleash systemic cultural change.
"In service of doing this, and building more compassionate communities, Archewell Foundation announced a multi-year global partnership today with Procter & Gamble."
The website said the partnership would "elevate the voices of adolescent girls" to ensure "their point of view and lived experience is heard at the tables where decisions are made".
It also vowed to work with men and boys to encourage gender equality.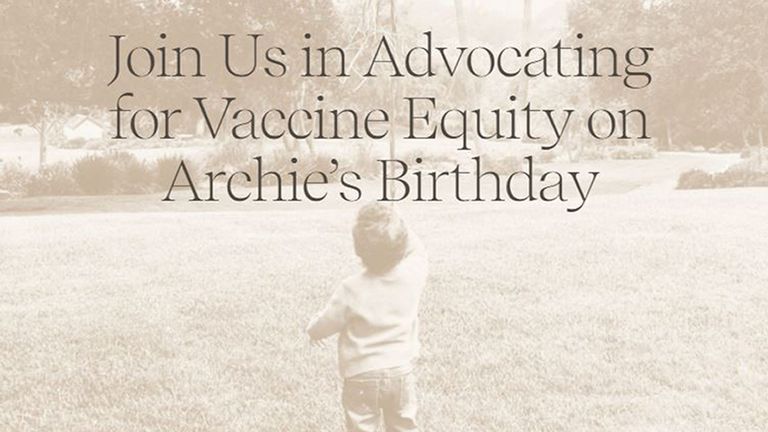 The foundation said it will build on joint aspirations with P&G, which it worked with in support of Global Citizen's Vax live concert, in aid of the international COVID-19 vaccination effort.
Procter & Gamble owns brands such as Oral B, Gillette, Pampers and Tampax, and reported net sales in 2019 of $67.7bn (£47.8bn).
On its website, it said: "We've also been inspired by the mission of the Archewell Foundation and its founders, the Duke and Duchess of Sussex, that with community, and through compassionate service to others, we can drive systemic cultural change, benefiting everyone."
Harry and Meghan quit as senior working royals in March last year.