COVID-19: India coronavirus cases soar past 20 million with health system on brink of collapse | World News
The number of new coronavirus infections in India has officially surpassed 20 million with 357, 229 new cases reported in the latest 24-hour period.
The health ministry also reported another 3,449 deaths for the same period.
India is now the second nation in the world, after the United States, to pass the grim milestone with health ministry data showing 222,408 deaths since the pandemic began.
The government says infection rates are coming down, after the country set yet another daily global record for COVID-19 cases on Saturday, with 401,993 new infections.
But experts believe the true figure for COVID-19 cases and fatalities is higher.
COVID in Delhi a 'national disaster'

A recent surge of new infections – faster than anywhere else in the world – has left the healthcare system in the world's second-largest country by population on the brink of collapse.
Dire oxygen shortages are being experienced in India as many hospitals run out, leaving families desperately trying to source some privately to help their loved ones stay alive.
Critics have accused the government of mixed messaging, saying premature declarations of victory during the ongoing pandemic have encouraged people to relax when they should have continued to social distance, wear masks and avoid large crowds.
At least 11 states and regions have ordered curbs on movement to stem infections, but prime minister Narendra Modi's government is reluctant to announce a national lockdown, concerned about the economic impact.
COVID treatments 'out of stock' in India

It has also allowed massive crowds to gather for Hindu religious festivals and political rallies before state elections.
The UK has this week announced it was sending an extra 1,000 ventilators to India.
"It's a terrifying crisis," said Dr Punyabrata Goon, of the West Bengal Doctors' Forum.
"It's a day-to-day fight," said B.H. Narayan Rao, a district official in the southern town of Chamarajanagar in Karnataka.
"Every time we have to struggle to get our quota of our oxygen cylinders."
Indians in UK rally to send help overseas

Exams have been postponed for trainee doctors and nurses, freeing them up to join in the fight, while volunteer groups in the capital New Delhi have been providing oxygen to patients in makeshift tents outside a temple.
Gurpreet Singh Rummy, who runs the service, told Reuters: "No one should die because of a lack of oxygen. It's a small thing otherwise, but nowadays, it is the one thing everyone needs."
Greece: £257,000 reward offered to catch killers who strangled British mother, 20, in her Athens home | World News

A €300,000 (£257,000) reward is being offered by the Greek government to track down burglars who strangled a British woman next to her baby in Athens.
The 20-year-old victim was sleeping with her husband and 11-month-old child when three men broke into their home in the Glyka Nera suburb before dawn after killing the family's dog, said reports.
The young mother was tied up and strangled, while her 32-year-old husband, a pilot, was bound and gagged.
He survived Tuesday's "barbaric" attack and managed to loosen his ties before calling police.
The burglars escaped with money and jewellery, while the baby was unharmed.
Greece's minister responsible for public order, Michalis Chrisochoidis, described the woman's killing as "particularly heinous".
"One rarely encounters such barbarity in Greece, in Greek society, even among criminals," he said.
The victim was born in Greece but had a British passport, according to police, who said she was married to a Greek man.
Two teams of detectives are investigating the deadly incident.
Israel: Hamas launches rocket attack on Tel-Aviv | World News

Hamas has launched a rocket attack on Tel-Aviv – with the Israeli ambulance service saying at least one person is in a critical condition after a building was targeted.
All flights have since been halted at the city's Ben Gurion Airport, according to Israel's Kan broadcaster.
Hamas said in a statement it had fired 130 rockets towards Tel-Aviv and its suburbs amid ongoing tensions between the Israelis and Palestinians.
A blast took place in the suburb of Holon on Tuesday evening, according to Israel Channel 12 TV.
COVID-19: India's doctors warn against using cow dung to ward off coronavirus – amid rise in deadly 'black fungus' | World News
Hospitals in India have reported a rise in "black fungus" found in COVID-19 patients – as doctors warned people against using cow dung in the belief it will ward off the virus.
The Indian government has told medics to look out for signs of mucormycosis in coronavirus patients following an increase in cases of the rare but potentially fatal infection.
Latest COVID updates from the UK and around the world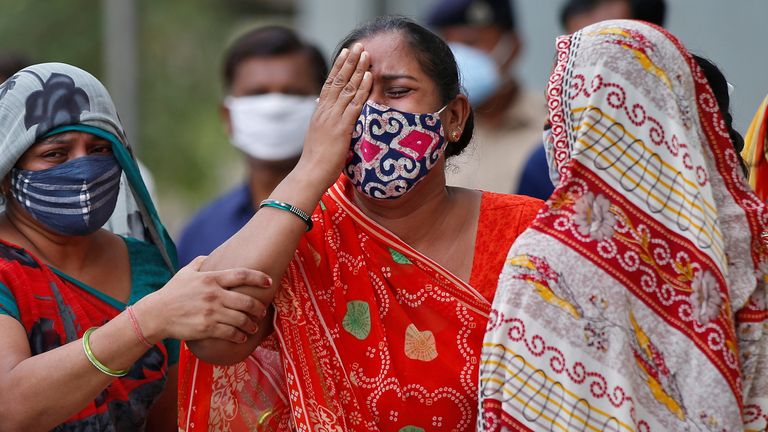 The disease can lead to blackening or discolouration over the nose, blurred or double vision, chest pain, breathing difficulties and coughing blood.
It is strongly linked to diabetes, which can in turn be exacerbated by steroids, such as dexamethasone, used to treat severe COVID-19.
Manchester University professor David Denning, an expert in fungal infections, told Reuters there have been cases reported in several other countries including the UK, US, France, Austria, Brazil and Mexico.
"The volume is much bigger in India," he added.
"And one of the reasons is lots and lots of diabetes, and lots of poorly controlled diabetes."
Doctors in India treating COVID patients and those with diabetes and compromised immune systems have been told to watch for early symptoms, including sinus pain or nasal blockage on one side of the face, one-sided headaches, swelling or numbness, toothache and loosening of teeth.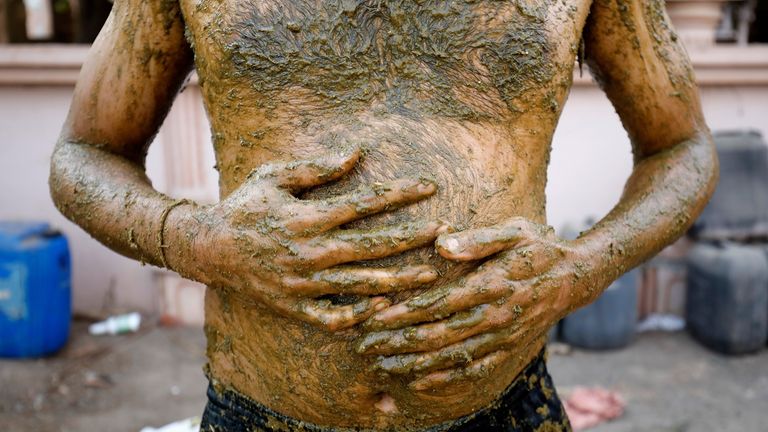 Meanwhile, Indians have been warned against the practice of using cow dung in the belief it will ward off COVID-19.
In the state of Gujarat in western India, some people have been going to cow shelters once a week to cover their bodies in cow dung and urine in the hope it will boost their immunity, or help them recover from the disease.
Dr J. A. Jayalal, national president at the Indian Medical Association, said: "There is no concrete scientific evidence that cow dung or urine work to boost immunity against COVID-19, it is based entirely on belief."
Gujarat is one of the places said to have recorded cases of mucormycosis, according to media reports, along with Maharashtra and its capital Mumbai.
Indian authorities have not published national data on mucormycosis but insist there is no major outbreak.
COVID crisis pushes India's hospitals to the brink

P Suresh, a doctor working at Fortis Hospital in Mumbai, said it had treated at least 10 such patients in the past two weeks – roughly twice as many as in the entire year before the pandemic.
He said all had been infected with COVID-19 and most were diabetic or had received immunosuppressant drugs. Some had died, and some had lost their eyesight.
Other doctors spoke of a similar surge in cases.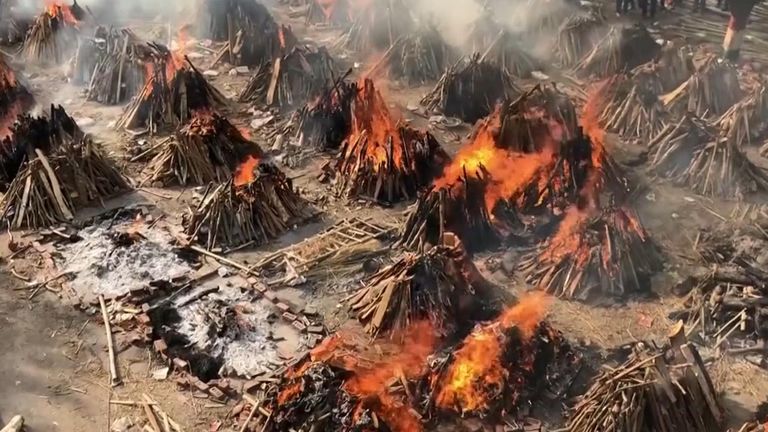 Nishant Kumar, a consultant ophthalmologist at Hinduja hospital in Mumbai, said: "Previously if I saw one patient a year, I now see about one a week."
It is an added complication for India's overwhelmed hospitals, which are desperately short of beds as well as the oxygen needed for severely ill COVID-19 patients.
India has the world's highest daily average number of new COVID deaths – accounting for one in every three fatalities reported worldwide each day.
Nearly 23 million coronavirus infections have been recorded in the country, with almost 250,000 deaths.
The World Health Organisation (WHO) said the COVID variant first identified in India last year is being classified as a variant of global concern, with some preliminary studies showing that it spreads more easily.
Maria Van Kerkhove, from the WHO, told a briefing: "There is some available information to suggest increased transmissibility."