Brexit negotiator Michel Barnier admits to EU vaccine rollout 'mistakes' | Politics News

The EU's lethargic vaccine rollout suffered from a lack of appetite for risk, a "mistrust" of public-private partnerships and an inability of countries to act alone, the bloc's Brexit negotiator has admitted.
Michel Barnier acknowledged there were "lessons to be learned" from Brussels' handling of COVID-19 vaccines, when compared to the success of the UK and US vaccination programmes.
According to EU figures, 28.1% of adults in the bloc have had at least one vaccine dose. This compares to nearly two-thirds (65.7%) of UK adults and 56.3% of US adults, according to their respective government figures.
Live COVID updates from UK and around world
Both the UK and the US have had a much faster start to their vaccine rollouts, while EU leaders have been engaged in disputes with vaccine manufacturers and faced heavy internal criticism over the bloc's jabs programme.
Speaking to French radio, ahead of the publication of his diaries from the Brexit negotiations between 2016 and 2020, Mr Barnier suggested the EU was slower to act as all 27 member states had to act as one.
He told France Inter: "It is true that there were mistakes at the start – why? Because we wanted to decide for 27 and not on our own.
"It is easier to decide on our own, rather than as 27, especially since we didn't have that expertise in Europe.
"This is one of the lessons to be learned. Perhaps there are issues in Europe where it will be necessary to hand over the decision-making to the country, or to the region."
Subscribe to the Daily podcast on Apple Podcasts, Google Podcasts, Spotify, Spreaker
Mr Barnier also spoke of "an almost ideological mistrust of public-private partnerships" within the EU, adding: "We don't know how to take risks.
"The British took risks by financing the private sector. The Americans took risks. We don't know how to do that yet."
Following his radio interview, Mr Barnier confirmed on Twitter that his diaries – to be released this week in French – would be published in England at the beginning of October.
European Commission President Ursula von der Leyen has previously admitted a country on its own – such as the UK – can act as a "speedboat" compared to the EU's "tanker" in the delivery of COVID vaccines.
This Palestinian rapper and Jewish mother live in the same Israeli city, but are far apart on the conflict | World News
A Palestinian rap artist and a Jewish mother of seven live in the same, mixed neighbourhood in the Israeli city of Lod.
But Tamer Nafar and Katy Berman have very different perspectives on several days of violence that has seen local Arabs and Jews turn on each other.
The rapper likens wider Palestinian protests against Israel to the Black Lives Matter movement, saying they just want equal rights.
One city, two neighbours, very different views

By contrast, Mrs Berman, who works as a teacher at a local school, hopes there will be a return to life in Lod as it was before the riots, believing that Arabs and Jews had previously lived happily together.
Here are their words.
"It's intensive. It is I would say dangerous," Mr Nafar said, sitting on a ground-floor balcony in his home where he lives with his wife and two children.
"Confrontations happen… any second. You can relax and any second it can just go bananas, as they say. In general, the feeling is unprotected, we as Palestinians are unprotected."
He and Arab neighbours have even started conducting their own night patrol, wary of what the rapper claimed were Jewish settlers bussed into the city to attack Arabs.
"Settlers nowadays are walking around the city with guns, screaming 'Death to the Arabs' – protected by the police and I'm unarmed and there you go again," Tamer said.
He suggested Palestinians should learn from the success of the Black Lives Matter campaign.
"Whenever I was watching the Black Lives… I was like, damn, dude this is so… may we should walk like this, act like this, the way we communicate. And the way the revolution is so cool as well. Coolness is very important," the rapper said.
CCTV captures moment of rocket strike in Israel

In a nearby house lives Katy Berman and her family. Frightened and appalled at the violence, she only dared step outside for the first time on Thursday since the unrest began three day earlier.
Sitting by a lemon tree in her back garden, she explained how she was feeling.
"It's the tension," she said.
"It is the fact that I go out of my house and I'm not sure who can I say hello to? Is it safe to walk in the streets? It was safe to walk in the streets a week ago… Now, I won't leave the house. I left the house yesterday for the first time since Monday night. Um, I went to the supermarket and my husband came with me because I was a bit worried. I wasn't sure. I wasn't sure what would happen."
Asked why she was so scared, she said: "I'm going to get a rock in my car window. I'm scared. I'm going to get a Molotov cocktail thrown at me. I'm scared I'm going to lose control of the car because of anything that could happen around me. I'm scared for my kids to walk in the street."
Israeli airstrike hits Hamas security compound

Scenes of Jews and Arabs in her city fighting "scares me more than the missiles", she said, referring to Hamas rockets that have been fired into Israel since Monday.
Like the Palestinian rapper, her husband has also been conducting night patrols, though he has been going out with fellow Jews.
"But hopefully tonight our Arab neighbours will join us because we're trying to keep the neighbourhood safe," Mrs Berman said.
She said before this week's strike, she believed Arabs and Jews had been living happily alongside each other.
She worries that this might never be the case again.
"Things will calm down, but [will we] be able to look at our neighbours and [will they be] neighbourly again… you know, like friendship. I don't know. I don't know. Even if the riots calm down, will anything go back to how it was before?"
Caroline Crouch: Hundreds attend funeral of British woman killed in Greece burglary | World News
The funeral of a British woman killed in the presence of her baby daughter in Greece has taken place in front of hundreds of mourners.
Friends and relatives of Caroline Crouch travelled to the island of Alonissos on Friday, where she was laid to rest at a hilltop cemetery.
Ms Crouch, 20, was asleep with her Greek husband Charalambos Anagnostopoulos, 32, and their baby at their home near Athens on Tuesday when burglars broke in.
The mother-of-one was tied up and strangled and the family dog also killed, while Mr Anagnostopoulos was bound and gagged in a separate room.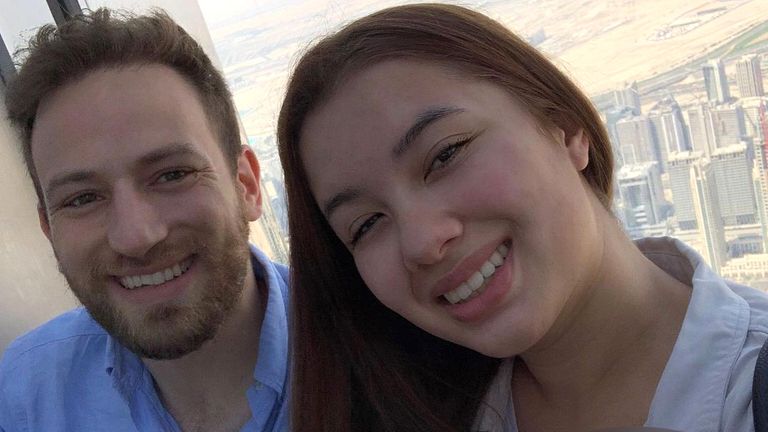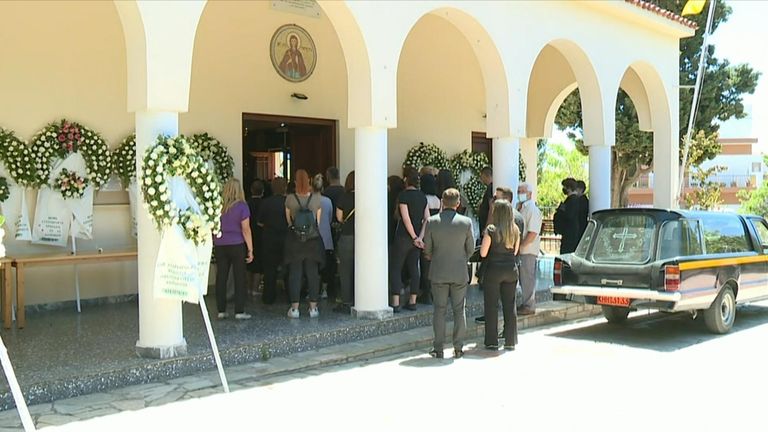 Their baby was not harmed but witnessed her mother's death.
Ms Crouch's parents David Crouch and Susan Dela Cuesta were overcome with grief ahead of the service and were supported by friends and family.
Shops closed on the island in a mark of respect, as a black hearse arrived at the Agia Paraskevi church covered in white roses.
Mr Anagnostopoulos helped his daughter lay a flower on her mother's coffin.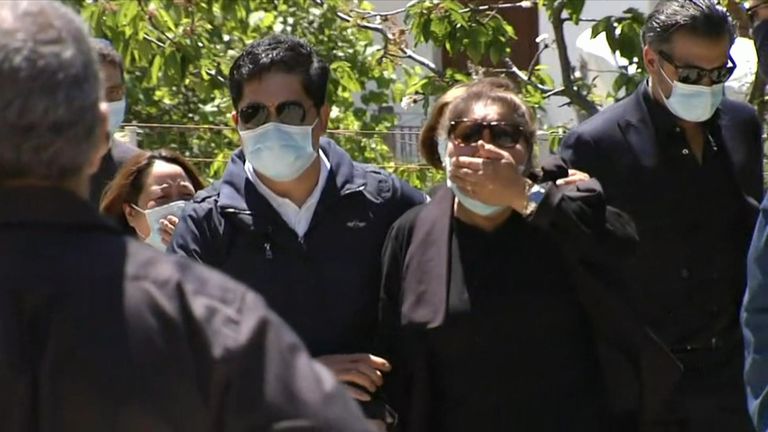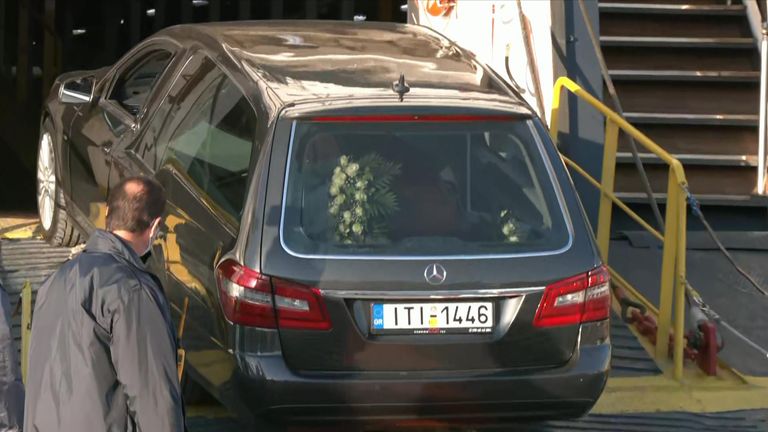 Ms Dela Cuesta, who is originally from the Philippines, had travelled with her daughter's body from the family home to the island.
The burglars, who escaped with cash and jewellery, have still not been caught and a £260,000 reward is being offered for information by the Greek government.
Ms Crouch's widower managed to free himself from his bonds and call the police, but it was too late to save his wife.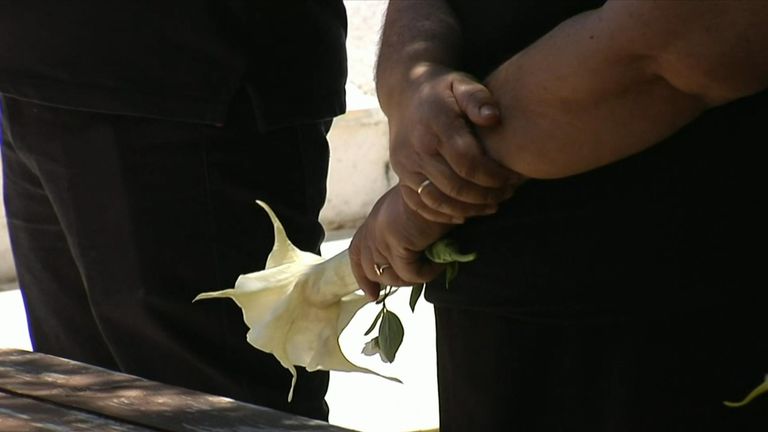 He told local media this week: "I wish no one ever goes through what we went through last night. It was a nightmare.
"We begged the thieves not to harm us. We told them where the money was and asked them to leave us alone. The police will catch them."
Mr Anagnostopoulos said at one point he heard the burglars say to his partner "tell us where the money is, we will kill the baby", according to Greek media.
Kabul: Imam among 12 worshippers killed in Afghanistan mosque bombing during Friday prayers | World News
A bomb ripped through a mosque in Kabul during Friday prayers, killing 12 worshippers including the imam, Afghan police have said.
A further 15 people were wounded – including at least one child according to eye witnesses – in the explosion which happened in Shakar Dara district, in the north of the capital.
The imam, named as Mofti Noman, may have been a target, an initial police investigation suggests, said Afghan police spokesman Ferdaws Faramarz.
The bombing happened on the second of a three-day ceasefire announced by the Taliban to mark the Muslim holiday Eid al-Fitr.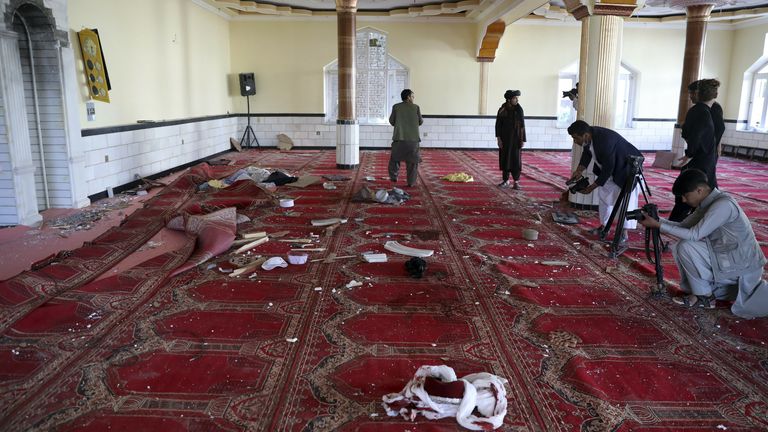 The Afghan government also agreed to abide by the truce.
No one has immediately claimed responsibility for the bombing.
But it is the latest in a surge in violence as US and NATO troops begin their final withdrawal from the war-torn country, after two decades of conflict.
Taliban spokesman Zabihullah Mujahid condemned the mosque attack and denied any insurgent connection.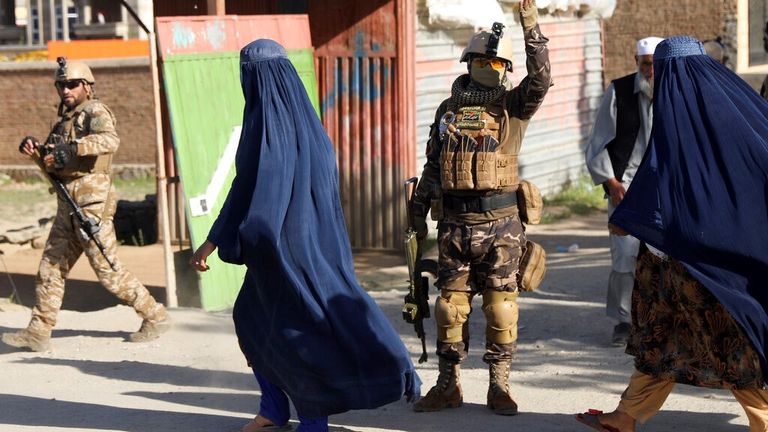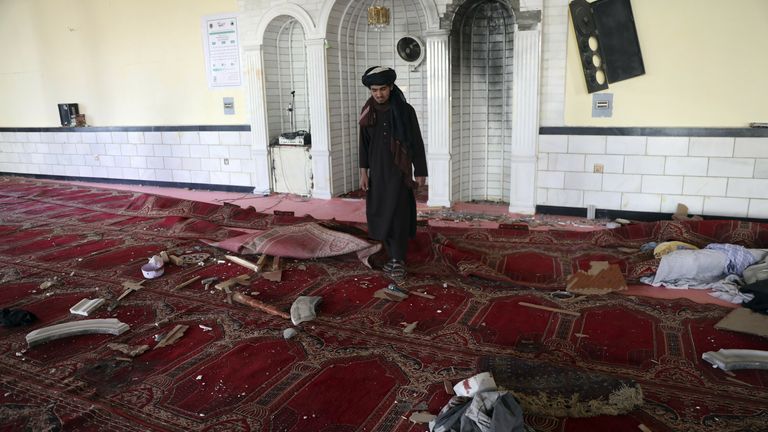 He accused Afghanistan's intelligence agency of being responsible for the blast.
One worshipper, Muhibullah Sahebzada, said he had just arrived at the building when the explosion happened.
He told of how he heard children screaming as smoke filled the mosque and described seeing several bodies on the floor.
It appeared that an explosive device was hidden inside the pulpit at the front of the mosque, Mr Sahebzada said.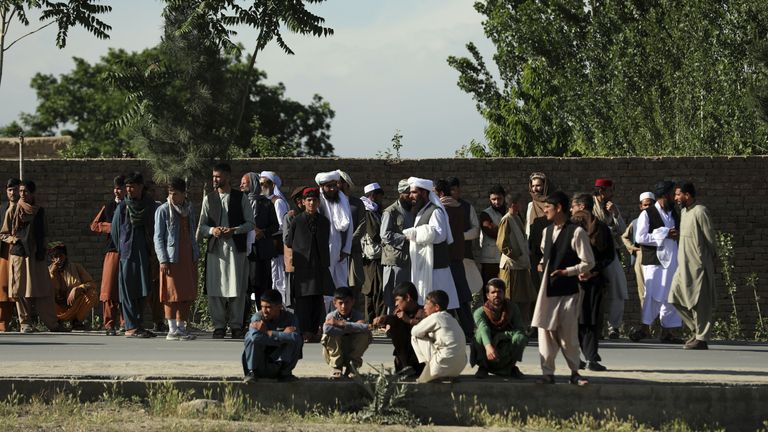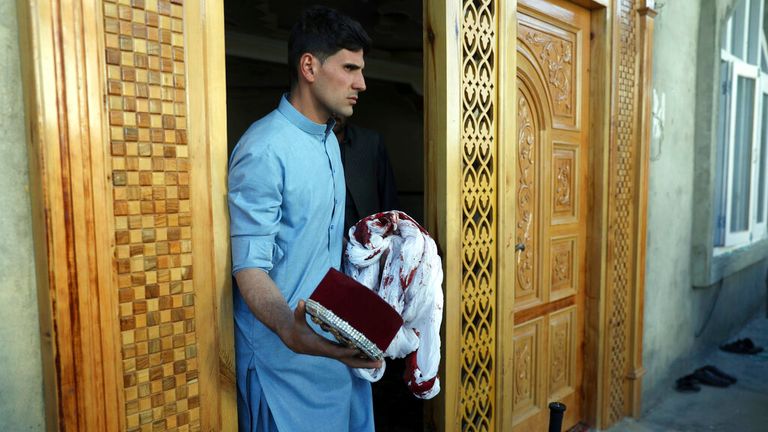 "I was afraid of a second explosion so I came immediately to my home," he added.
It comes just days after a powerful car bomb attack claimed dozens of lives including many students.
The Taliban has denied involvement and condemned the attack.
Earlier this week, US troops left their southern Kandahar air base, where some NATO forces still remain.
More than 30,000 American soldiers were stationed in the region, the Taliban heartland, during the peak of the war.