COVID-19: Oktoberfest cancelled for second year running as Germany's coronavirus cases remain high | World News
Bavaria's annual Oktoberfest celebrations have been cancelled for the second year because of the coronavirus pandemic.
Officials say they made the decision with "heavy hearts" because there are too many risks in attracting tourists and allowing crowds to gather while Germany's infection numbers remain high.
They also wanted to make the decision before any preparations began.
But governor of the region Markus Soeder insisted: "Oktoberfest will be held again, and will be big again."
The festival usually attracts around six million people from around the world to drink in beer halls and huge tents.
But Germany is currently in a lockdown that bans large gatherings, stops people going out after 10pm and closes businesses and leisure premises in places where cases rise above 100 per 100,000 residents for three consecutive days.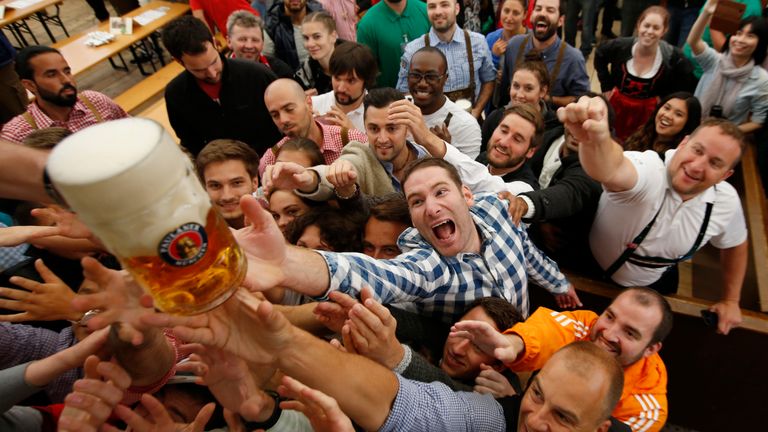 The "emergency brake" legislation, which came into effect last month, also limits personal contacts.
Germany's infection rate is currently 146.9 new weekly infections per 100,000 residents.
In Bavaria, the figure is slightly lower at 145.4 new infections per week for every 100,000 residents.
The latest daily case number in Germany is 9,160 infections and another 84 deaths, taking the totals to 3,425,982 infections and 83,276 coronavirus-related fatalities.
Mr Soeder described the decision to halt this year's Oktoberfest as "a huge shame for the millions of fans worldwide".
Last year, some small parties were allowed to go ahead under strict guidelines and it is hoped similar proposals will go ahead this autumn.
Israeli PM Netanyahu: Hamas 'will pay heavy price' as violence continues | World News
Israeli Prime Minister Benjamin Netanyahu says that Hamas "will pay a heavy price for their belligerence" as the country steps up its attacks on the Gaza Strip.
On Tuesday, the Israeli military destroyed a building used by the militant group, killing at least three militants, as Palestinian rockets continued to fall on parts of Israel.
It is the heaviest fighting between the two enemies since 2014.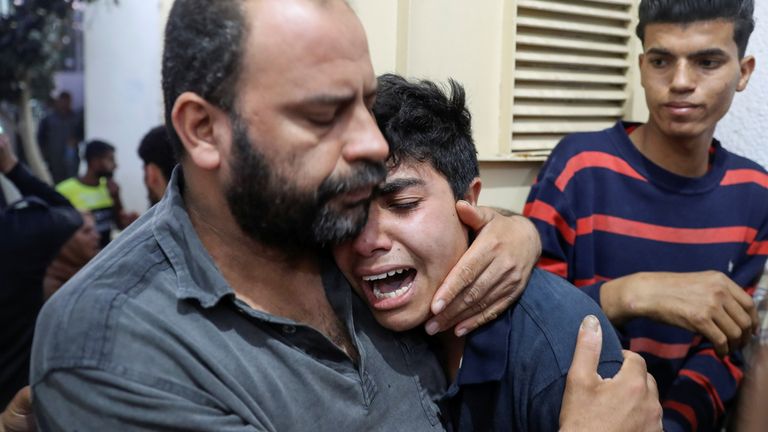 Israel's prime minister Benjamin Netanyahu said in a televised address: "We are at the height of a weighty campaign.
"Hamas and Islamic Jihad paid… and will pay a very heavy price for their belligerence."
He said Israel would "continue to attack with full force", adding: "This campaign will take time".
"With determination, unity and strength, we will restore security to the citizens of Israel."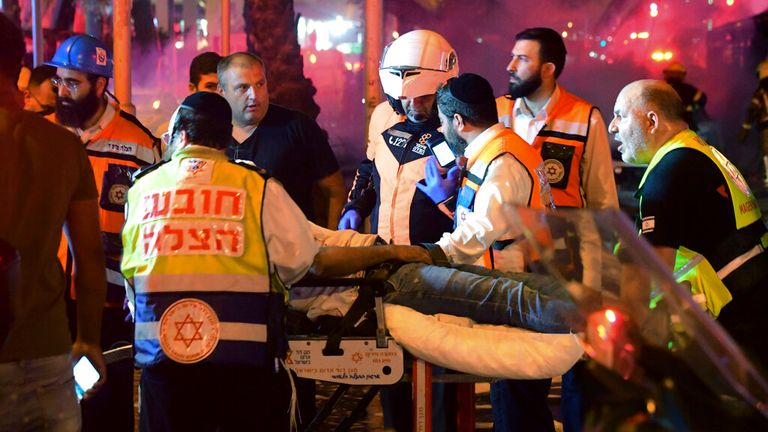 Five Israelis, including three women and a child, were killed by rocket fire on Tuesday and early on Wednesday, and dozens of people were injured.
The death toll in Gaza rose to 35 Palestinians, including 10 children, according to the health ministry, with more than 200 people wounded.
The violence began last weekend at the al-Aqsa mosque, the third-holiest site in Islam and the holiest site in Judaism.
Israeli police fired tear gas and stun grenades at Palestinians who threw stones and chairs back at them.
At times, police fired stun grenades into the carpeted mosque.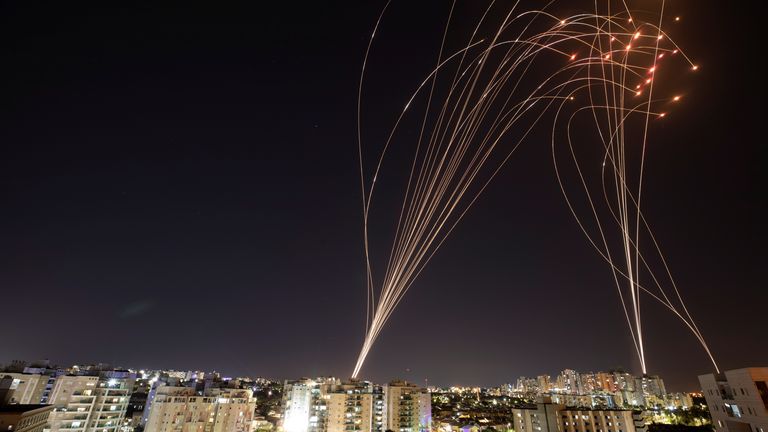 On Monday evening, Hamas began firing rockets from Gaza and the conflict escalated rapidly.
Hamas' exiled leader, Ismail Haniyeh, blamed Israel, saying: "It's the Israeli occupation that set Jerusalem on fire, and the flames reached Gaza."
Hamas said it had fired 210 rockets towards Tel Aviv and its suburbs, where residents had to run into air raid shelters as sirens blared and anti-rocket interceptors were seen overhead on Tuesday.
Homes in Gaza shook under the weight of the Israeli attacks, with at least 30 explosions in just minutes early on Wednesday.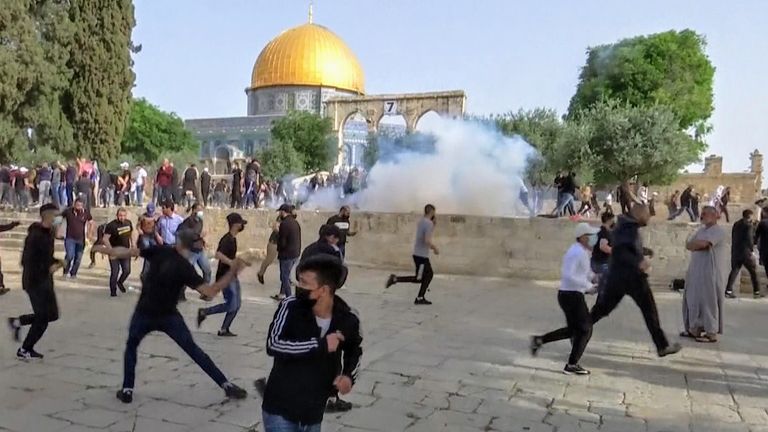 UN Middle East peace envoy Tor Wennesland tweeted: "Stop the fire immediately.
"We're escalating towards a full scale war.
"Leaders on all sides have to take the responsibility of de-escalation.
"The cost of war in Gaza is devastating & is being paid by ordinary people. The UN is working with all sides to restore calm.
"Stop the violence now."
A number of factors have stoked tensions in the decades-long conflict to their worst in years, said Sky's correspondent Mark Stone earlier this week.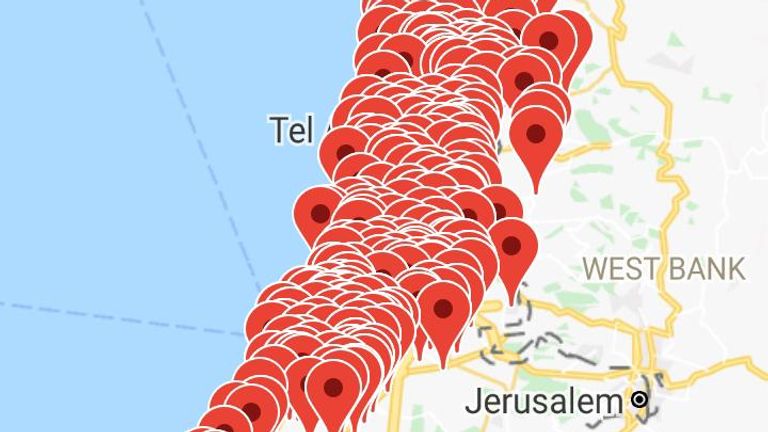 Palestinians were angry at an Israeli police decision, at the start of Ramadan, to barricade the seating area outside Jerusalem's Damascus Gate.
There is also the issue of Sheikh Jarrah, the East Jerusalem neighbourhood where Palestinian families are fighting a court battle with Jewish settlers who want to take their homes, claiming the land is historically theirs.
Israel captured East Jerusalem in 1967 and annexed it as their own, but most of the international community considers it to be occupied land.
Monday was also Jerusalem Day, marking the moment when Israel took control of the city.
A march by hundreds of nationalist Israelis was changed on Monday evening to avoid going through the Muslim Quarter of the Old City.
Duke and Duchess of Sussex announce partnership with Procter & Gamble – a company she once called sexist | US News
Decades after criticising Procter & Gamble as a child, the Duchess of Sussex and her husband have announced a partnership with the firm.
Meghan and Harry's Archewell Foundation confirmed a long-term relationship with the American multi-national consumer goods company on Tuesday.
It will focus on gender equality, inclusive online spaces, resilience and impact through sport.
As an 11-year-old, Meghan had written to Procter & Gamble to complain about the sexist language used in a TV advert.
Her letter-writing campaign objected to a dish soap commercial which included the line: "Mothers around America are fighting greasy pots and pans".
She appeared in an interview with Nick News in 1993 to talk about her campaign, saying she was "furious" about the advert.
She added: "When they heard this, the boys in my class started saying: 'Yeah that's where women belong – in the kitchen'."
Meghan successfully lobbied the firm to change the line from "mothers around America" to "people all over America".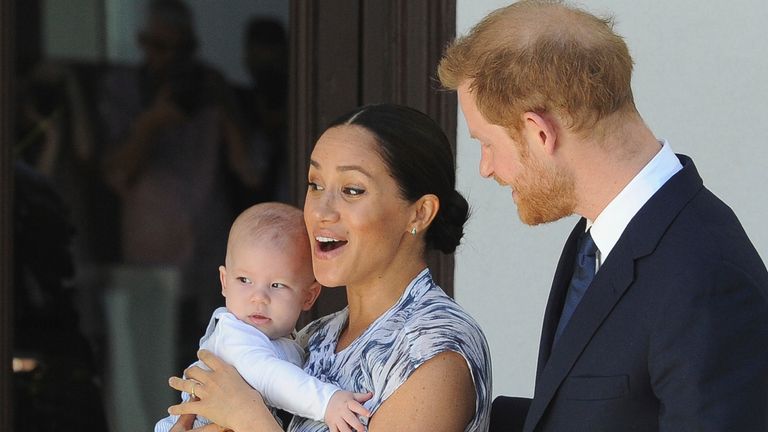 Announcing the partnership, the Archewell website said: "Archewell Foundation believes that with community, and through compassionate service to others, we can unleash systemic cultural change.
"In service of doing this, and building more compassionate communities, Archewell Foundation announced a multi-year global partnership today with Procter & Gamble."
The website said the partnership would "elevate the voices of adolescent girls" to ensure "their point of view and lived experience is heard at the tables where decisions are made".
It also vowed to work with men and boys to encourage gender equality.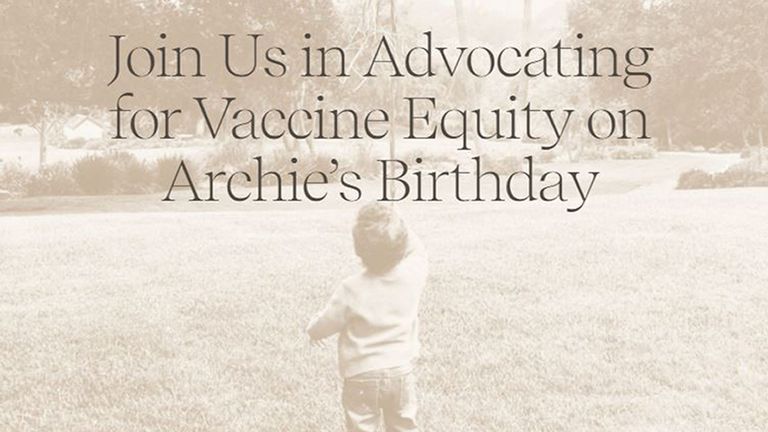 The foundation said it will build on joint aspirations with P&G, which it worked with in support of Global Citizen's Vax live concert, in aid of the international COVID-19 vaccination effort.
Procter & Gamble owns brands such as Oral B, Gillette, Pampers and Tampax, and reported net sales in 2019 of $67.7bn (£47.8bn).
On its website, it said: "We've also been inspired by the mission of the Archewell Foundation and its founders, the Duke and Duchess of Sussex, that with community, and through compassionate service to others, we can drive systemic cultural change, benefiting everyone."
Harry and Meghan quit as senior working royals in March last year.
Greece: £257,000 reward offered to catch killers who strangled British mother, 20, in her Athens home | World News

A €300,000 (£257,000) reward is being offered by the Greek government to track down burglars who strangled a British woman next to her baby in Athens.
The 20-year-old victim was sleeping with her husband and 11-month-old child when three men broke into their home in the Glyka Nera suburb before dawn after killing the family's dog, said reports.
The young mother was tied up and strangled, while her 32-year-old husband, a pilot, was bound and gagged.
He survived Tuesday's "barbaric" attack and managed to loosen his ties before calling police.
The burglars escaped with money and jewellery, while the baby was unharmed.
Greece's minister responsible for public order, Michalis Chrisochoidis, described the woman's killing as "particularly heinous".
"One rarely encounters such barbarity in Greece, in Greek society, even among criminals," he said.
The victim was born in Greece but had a British passport, according to police, who said she was married to a Greek man.
Two teams of detectives are investigating the deadly incident.