Israel festival stampede: What we know so far | World News
At least 44 people have died after a stampede at a religious festival in Israel resulted in a crush.
More than 100 have been injured at the Lag B'Omer celebrations in Mount Meron, northern Israel.
The national ambulance service told Sky News that "scores" of people have died, with the death toll continuing to rise.
What do we know so far?
The crush happened just after midnight on Friday after tens of thousands of ultra-Orthodox Jews gathered for annual Lag B'Omer celebrations in Mount Meron.
The exact cause of the stampede is not clear, but footage on social media shows men clambering through gaps in sheets of torn corrugated iron.
Local reports claim the stands collapsed, but witnesses say people fell as they tried to exit the main celebration via a narrow path.
Early on Friday morning, officials from two ambulance services said 44 people were confirmed dead.
Magen David Adom said it was treating 103 patients, 38 of which are in a critical condition.
Dozens of ambulances at stampede

What do witnesses say?
Yoni Yagodozsky, of the Israeli ambulance service, told Sky News: "In the beginning, there was concern that one of the construction sets built in the area had collapsed.
"While people were on the way down from the main ceremony, the path was narrow, and as people walked down they tripped over.
"Those behind them walked on them, and that's what created this horrible, horrible incident."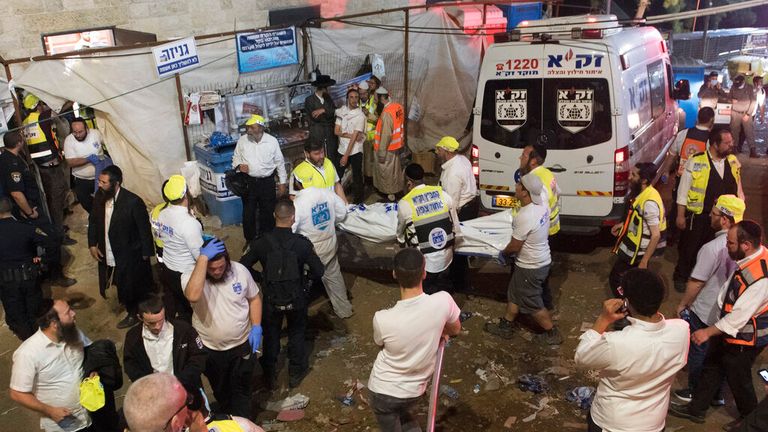 He added that mobile intensive care units and helicopters were used to transport the most seriously injured to hospital.
A 24-year-old witness who gave his first name as Dvir said "masses of people were pushed into the same corner and a vortex was created".
He told Army Radio station that he saw one row of people fall, followed by a second row, where he was standing.
"I felt like I was about to die," he said.
Zaki Heller, a Magen David Adom rescue service spokesman, said it happened very quickly.
"In one moment, we went from a happy event to an immense tragedy."
A paramedic on the scene added that he had never seen anything like it.
He described it as a "mass casualty incident", saying: "I see here tens of people laying on the floor, tens of injured, walking and bleeding, very difficult sights."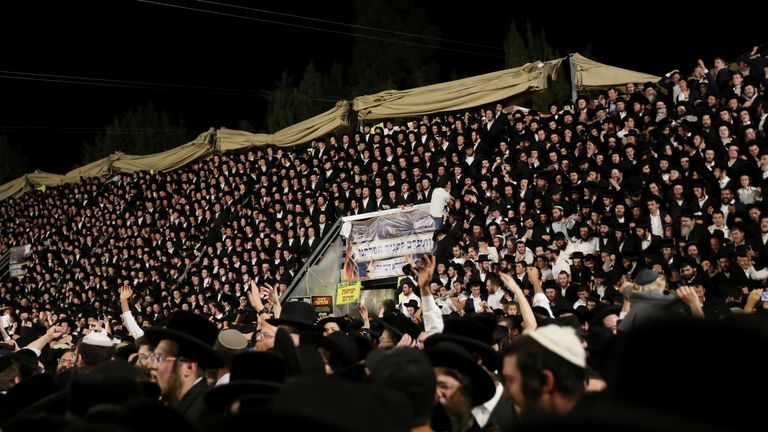 What is the Lag B'Omer festival?
Lag B'Omer is an annual Jewish festival that takes place during the Hebrew month of Iyar.
Tens of thousands of ultra-Orthodox Jewish pilgrims travel to Mount Meron each year to honour Rabbi Shimon Bar Yochai – a second century sage and mystic – believed to be buried there.
Large crowds sing, dance and light bonfires as part of the celebrations.
The event was cancelled last year due to the coronavirus pandemic.
It was allowed to take place this year following the success of Israel's vaccination programme and the lifting of most restrictions.
But officials still warned of the risk of a COVID outbreak ahead of the event and have expressed their shock at the numbers that attended.
(1/2) MDA Spokesperson: at 00:50 a report was received at the MDA 101 Emergency Call center for bleachers which nun collapsed at Har Meron. MDA EMTs and Paramedics are on scene treating tens of injured including those who are in critical condition. An update will follow as needed pic.twitter.com/OmU3KCzhha

— Magen David Adom (@Mdais) April 29, 2021
What have politicians said?
Israeli Prime Minister Benjamin Netanyahu described the tragedy as a "heavy disaster", adding: "We are all praying for the wellbeing of the casualties."
Before the event, public security minister Amir Ohana and police chief Yaakov Shabtai met with police to monitor celebrations – the first to take place legally since lockdown was lifted.
They said 5,000 extra officers had been deployed to maintain order.
Mr Ohana, a close ally of Mr Netanyahu, thanked the authorities for "protecting the wellbeing and security for the many participants".
Man who died 3,000 years ago with 790 injuries is earliest known shark attack victim | World News
Archaeologists have recreated the brutal death of the earliest known shark attack victim who was killed around 3,000 years ago.
Oxford-led researchers have been investigating evidence for violent trauma on the skeletal remains of prehistoric hunter-gatherers at Kyoto University
Alyssa White and Professor Rick Schulting reviewed the remains of a man riddled with traumatic injuries from the previously excavated site of Tsukumo by the Seto Inland Sea.
In their report, the pair said: "We were initially flummoxed by what could have caused at least 790 deep, serrated injuries to this man.
"There were so many injuries and yet he was buried in the community burial ground…
"The injuries were mainly confined to the arms, legs, and front of the chest and abdomen.
"Through a process of elimination, we ruled out human conflict and more commonly-reported animal predators or scavengers."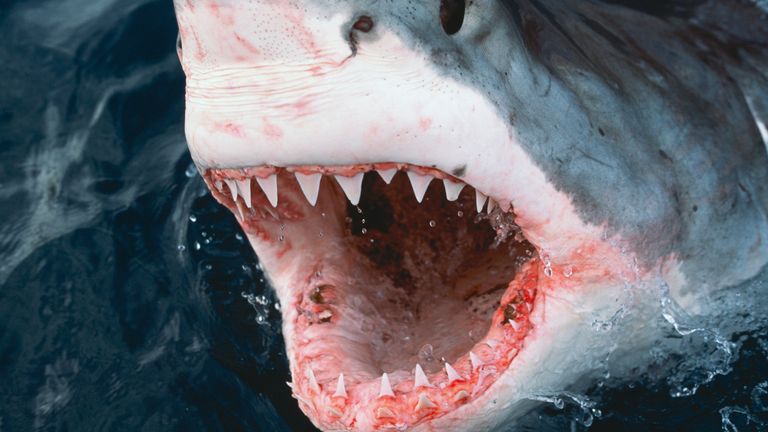 Since archaeological cases of shark reports are extremely rare, they turned to forensic shark attack cases for clues and worked with expert George Burgess of the Florida Program for Shark Research.
The team concluded the man, known as No 24, died between 1370 to 1010 BC.
The distribution of wounds strongly suggest the victim was alive at the time of attack; his left hand was sheared off, possibly a defence wound.
No 24's body had been recovered soon after the attack and buried with his people at the cemetery.
And excavation records showed he was also missing his right leg and his left leg was placed on top of his body in an inverted position.
The report added: "Given the injuries, he was clearly the victim of a shark attack.
"The man may well have been fishing with companions at the time, since he was recovered quickly.
"And, based on the character and distribution of the tooth marks, the most likely species responsible was either a tiger or white shark."
The study has been published in the Journal of Archaeological Science: Reports.
Missing Italian toddler found alive by journalist sent to cover disappearance | World News
A 21-month-old toddler has been found alive at the bottom of a ravine after spending two nights alone in the woods.
Nicola Tanturli was found near his home in Tuscany, Italy, when a TV journalist heard him crying "mamma".
The child emerged with a bump on his head and some scratches but no other injuries.
Nicola had wandered away from his isolated home in the Apennine mountains sometime during the night on Monday, and was the subject of an intense round-the-clock search and Italian media coverage.
Church bells rang out in celebration in the town of Palazzuolo sul Senio, near Florence, when the boy was found a mile from his home.
A journalist for RAI state television covering the story said he was walking up a dirt road towards the family home when he heard whimpers from a ravine heavily covered in trees and brush.
Giuseppe Di Tommaso said: "I started to yell, 'Nicola', to understand if it could be the child. I heard 'mamma'."
"I started to repeat the word 'mamma', because children of that age repeat words. When I intuited that it could be Nicola, I went down into the ravine."
He said he could see the child on the other side, about 10 metres away in a hard-to-reach area thick with thorny brush.
A car drove by at that moment, and Mr Di Tommaso said he hailed two Carabinieri paramilitary officers, who initially disbelieved that the sounds could have come from the boy, "this being an area full of animals that make sounds that can sound like a child".
Carabinieri commander Danilo Ciccarelli said he climbed some 25 metres down the embankment, expecting to find a small deer.
"Instead, Nicola popped out, with his little head among the high grass. He said, 'mamma', and I went towards him. He hugged me right away," the commander said.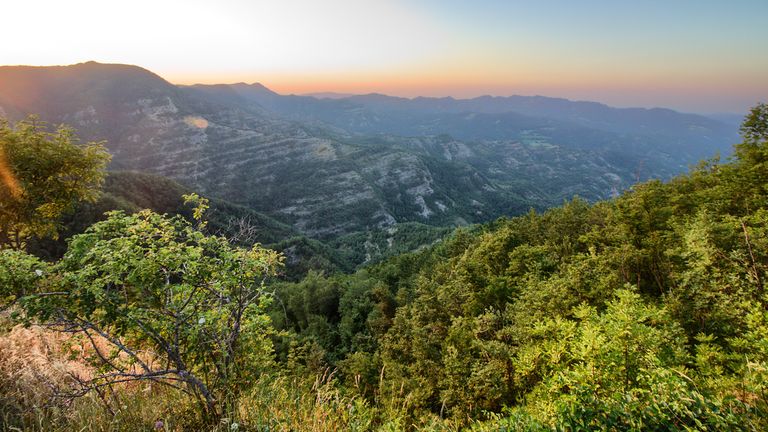 The officer said he checked the boy's condition, finding only some scratches and a small bump on his head, before carrying him up the embankment and reuniting him with his parents.
"It was a tremendous joy to bring him back to his mother's arms," Mr Ciccarelli said.
The commander said he did not believe the boy spent the night where he was found, because the brush and grass was not tamped down, and that it was likely he had arrived through the woods, not from the road.
"He is a very active child, very lively," Mayor Gian Piero Philip Moschetti told a news conference.
"He could walk for a kilometre (half-a-mile) an hour. We have no idea how much distance he could have covered. He was used to going out of the house and living outdoors."
Twin panda cubs born at Tokyo's Ueno Zoo for first time in four years | World News
A giant panda has given birth to twin cubs at Ueno Zoo in Tokyo, the first born there for four years.
They arrived an hour and a half apart at 1.03am and 2.32am local time on Wednesday, according to the zoo's website.
Their gender is still to be confirmed so they have not yet been named.
"All the staff are working together to observe and protect the giant panda mother and children," the zoo said.
Mother Shin Shin was born in 2005 and arrived at the Tokyo zoo a decade ago with male partner Ri Ri.
They also had a daughter Xiang Xiang in June 2017.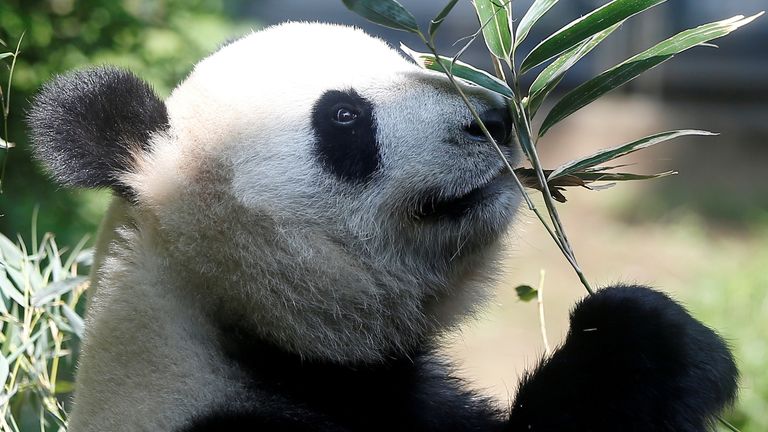 Pandas are very difficult to breed in captivity because they can be picky about partners and females go into heat just once a year.
"The pandas are now a family of five. This is such happy news," said Japan's chief cabinet secretary Katsunobu Kato.
"I believe everyone at the zoo is doing all they can day and night to keep the panda family healthy first, and I hope everyone will watch over them warmly and quietly."
The UK's only giant pandas, Yang Guang and Tian Tian, are at Edinburgh Zoo.
However, it warned in January it might have to let them go as the zoo was having financial troubles caused by the pandemic.