Eurovision Song Contest to allow 3,500 in audience under strict COVID-19 measures | UK News
This year's Eurovision Song Contest will be held with 3,500 fans in Rotterdam, the Dutch government has confirmed.
It said it will allow the event to proceed with a limited audience under strict COVID-19 measures "to ensure the health and safety of fans, crew, press and participants".
Fans will be allowed to attend nine event shows including the 22 May final at Rotterdam Ahoy.
Live COVID updates from across the UK and around the world
Audience members will take up approximately 20% of the arena's capacity and tickets will only be made available to those who purchased tickets for the 2020 event.
All visitors will need to show a valid negative coronavirus test certificate that has been taken within 24 hours, as well as undergo a further test five days after the event.
Martin Osterdahl, executive supervisor of the event, said: "We are happy that the Dutch authorities have enabled us to welcome audiences at the three live shows and six dress rehearsals in Rotterdam in the safest possible way given the current circumstances.
"The world will be watching when we bring back the Eurovision Song Contest next month and, as millions enjoy the competition on TV and online, we are pleased that the hard work of the artists, delegations and crew will also be shared with a live audience in the Ahoy arena."
All audience members are expected to adhere to coronavirus safety measures put in place by the Dutch government through their Fieldlab events programme.
Mr Osterdahl added that organisers will be enforcing tough COVID rules to ensure the show is staged "carefully and responsibly" with around 180 million viewers from more than 45 countries expected to be watching.
Extensive measures are also in place for crew, press and artists, while the numbers have been "scaled down considerably", and people at the Rotterdam Ahoy being tested every 48 hours.
"Delegations are much smaller and most journalists will follow the Eurovision Song Contest from home this year in our online press centre," he added.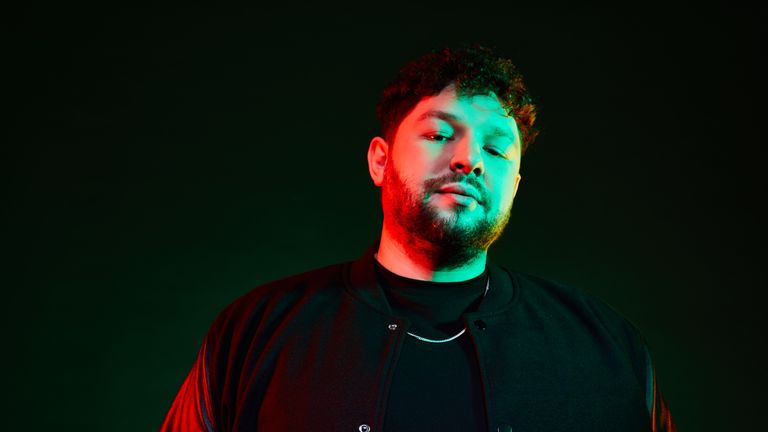 All contestants for the event have now been confirmed, with the UK bringing back its act from last year, James Newman, who will perform the track Embers.
The UK, alongside France, Spain, Italy and Germany, is classed as a Big Five act, and automatically gets to perform on the night of the final.
Early favourites to take the 2021 crown include Malta, Switzerland and France.
Last year's ticket holders will receive information on 5 May, before tickets go on sale to them on 8 May.
Organisers said there will be no general public sale for the contest.
COVID-19: Filipino president Rodrigo Duterte threatens to jail people if they don't get vaccinated | World News
Filipino president Rodrigo Duterte has threatened to jail people if they refuse to get vaccinated against coronavirus.
Mr Duterte, 76, said those who refuse to get a COVID-19 vaccine would be arrested or face deportation during a televised address on Monday.
"You choose, get vaccinated or I will have you jailed," he said.
"I'm telling you those police jails are filthy and foul-smelling and police are slow to clean them. That is where you'll be."
He continued by describing the Philippines' COVID epidemic as a "crisis" and "national emergency".
"If you will not agree to be vaccinated, leave the Philippines. Go to India if you want or somewhere, to America," he added.
The Philippines has vaccinated just 1.99% of its population so far.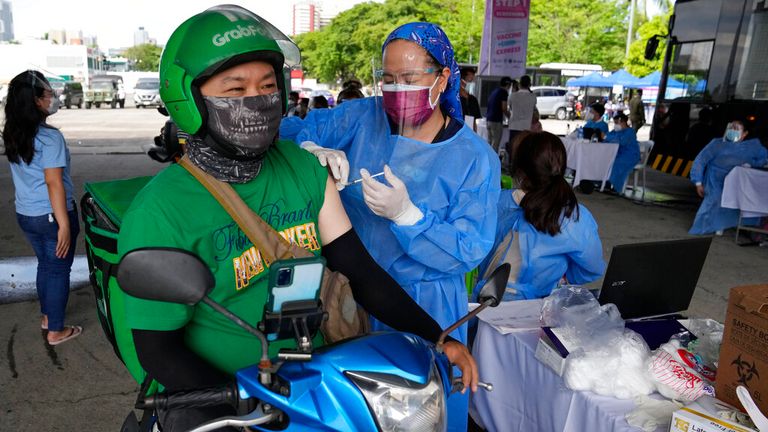 Human rights lawyer Edre Olalia expressed concerns that Duterte could not arrest people who have not committed a crime.
In the UK, the Department of Health is making coronavirus vaccines compulsory for care workers who work with vulnerable and elderly people.
Under plans being drawn up by the government, staff will have 16 weeks to get both doses of a vaccine, according to reports, with similar proposals being considered for NHS workers.
Commentators have largely described the idea of compulsory vaccinations for entry to restaurants, bars or large events as unethical. But the government has said the use of vaccine passports to travel to some foreign countries is inevitable.
The Philippines recorded a further 5,224 cases in the latest 24-hour period, with 1.364 million infections reported in total so far.
Its daily COVID death figures are much higher than the UK's – with 128 logged in the past 24 hours.
Euro 2020: Why no Scotland players have to isolate after Gilmour contracts COVID – but England pair do | UK News
Confusion arose over the decision to force England footballers Mason Mount and Ben Chilwell to isolate after Scotland player Billy Gilmour tested positive for COVID-19.
The England duo must isolate until Monday after being deemed "close contacts" of their Chelsea teammate Gilmour when the Three Lions played Scotland on Friday.
Live COVID updates from the UK and around the world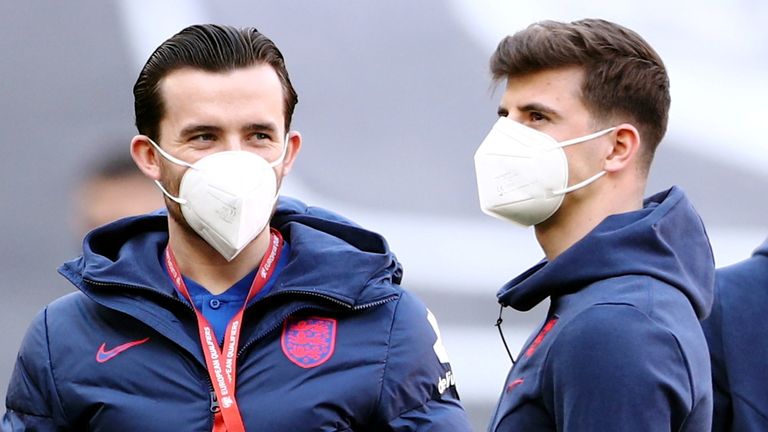 But questions were raised over why Mount and Chilwell were affected after the entire England squad tested negative for COVID-19 on Monday, while no other Scotland player has been ruled out of their final Euro 2020 group game on Tuesday as a result of Gilmour's infection.
As Euro 2020 is played in multiple countries against the backdrop of the pandemic, strict rules are in force to try to ensure the tournament is not disrupted.
So what happens when players test positive for COVID, could matches be abandoned as a result, and what steps are being taken to avoid outbreaks? Sky News explains.
• What were the concerns about Mount and Chilwell's contact with Gilmour?
Mount, Chilwell and Gilmour were seen embracing at the end of England's match with Scotland at Wembley on Friday evening.
However, it is understood the contact that caused most concern was a 25-minute conversation between the three players in the tunnel following the game.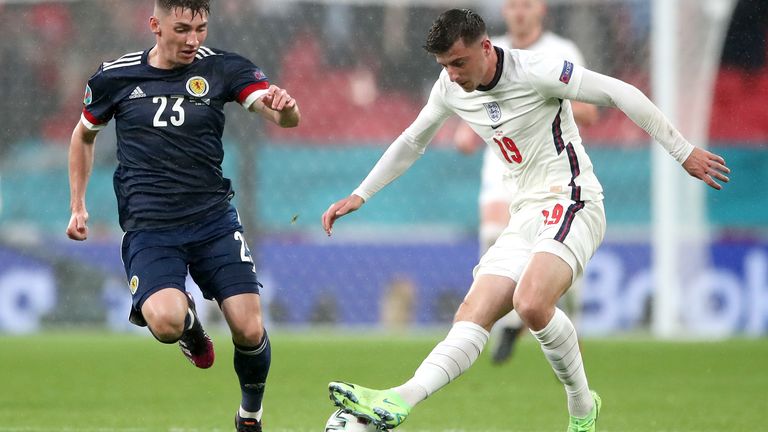 The Chelsea trio had not seen each other since returning to London after they won the Champions League final in Porto on 29 May.
Government guidance states that close contacts of COVID cases include people who had face-to-face conversations within one-metre, and anyone who was within two-metres for more than 15 minutes.
The FA said the decision for Chilwell and Mount to isolate was taken in consultation with Public Health England.
The two players are now isolating and training individually in private areas at England's training base St George's Park.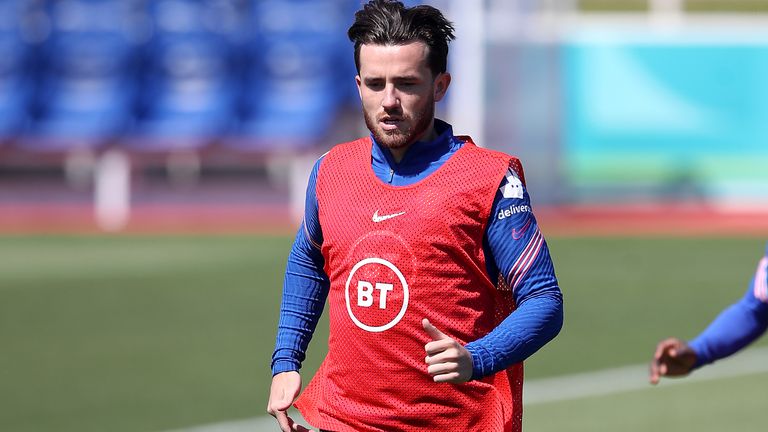 • How long do players with COVID have to isolate?
Players at Euro 2020 are tested regularly, and those who are positive must self-isolate for 10 days.
Any other players or staff deemed to have been in close contact with someone with COVID during the tournament also have to isolate for 10 days.
It means Gilmour will be unavailable for Scotland's final group match against Croatia tonight. If they progress, he will also miss their last-16 tie, Sky Sports News understands.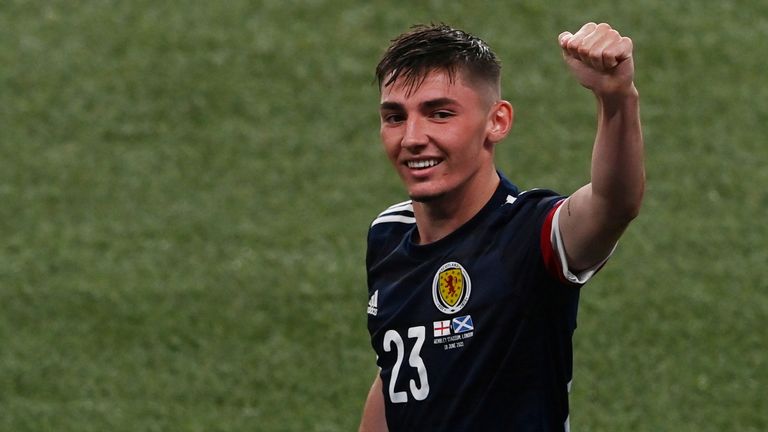 The Scottish FA and Public Health England are said to be satisfied that Gilmour had "no close contact issues" with any other member of the Scotland squad.
The isolation period for close contacts of COVID cases includes the date of their last contact and the next 10 full days, according to government guidance.
Mount and Chilwell, who came into contact with Gilmour on 18 June, must now isolate until Monday 28 June.
With England already through to the knockout stages of the tournament, it means Mount and Chilwell could miss their last-16 tie, with the round being played on 26, 27, 28 and 29 June.
• Could matches be abandoned due to a COVID outbreak in a squad?
Euro 2020 squads were expanded from 23 players to 26 to account for the chance that some teams could be hit by COVID outbreaks.
If multiple players have to isolate, matches will still go ahead providing the team can name 13 players in their squad – a minimum of 12 outfield players plus one goalkeeper.
If a team cannot named 13 players in their squad, the game can be postponed by up to 48 hours.
If the affected team still cannot meet the minimum requirements for a matchday squad, they will forfeit the game and suffer an automatic 3-0 defeat.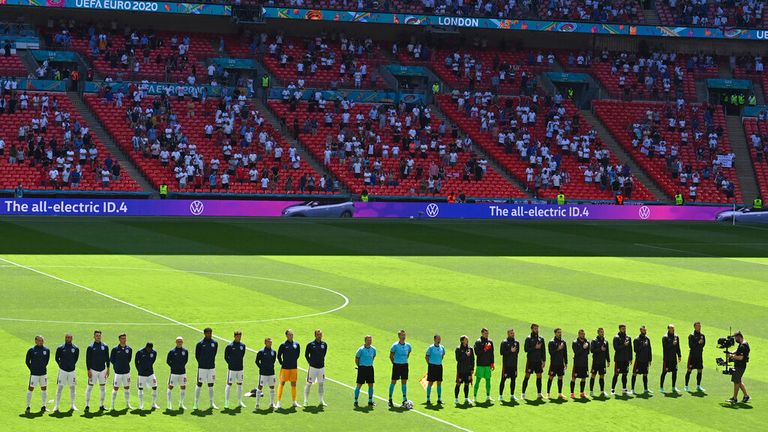 • Can players who contract COVID be replaced?
Outfield players cannot be changed but UEFA states that "goalkeepers can be replaced during the tournament in the event of physical incapacity, even if one or two goalkeepers in the squad are still available".
Players that have been replaced cannot then return to the squad.
• Can players see their families during the tournament?
UEFA has banned families visiting players at their training camps during Euro 2020.
England manager Gareth Southgate had hoped that players would be able to see family members at their St George's Park training base, but UEFA's strict COVID bubble rules forbid it.
"We're not going to be able to let people in," Southgate said before the tournament.
"There's a clear edict from UEFA on what the bubbles need to look like to be as secure as we can make them, it's never going to be 100% failsafe but we've got to comply with as much as we can."
Afghan interpreters who worked with British military land in UK today after fleeing Taliban | World News
The first group of former Afghan interpreters whose lives are in danger because they worked for the British military are due to arrive in the UK from Afghanistan in the coming hours under a new government scheme, Sky News understands.
An aircraft reportedly carrying more than a dozen Afghans who were employed by UK forces, as well as family members, is expected to land at an airport in the Midlands later on Tuesday.
The Ministry of Defence (MoD) declined to comment on the flight – first reported by the Daily Mail – because of security concerns for the men, women and children who have asked to flee Afghanistan after receiving threats from the Taliban.
Afghan nationals given chance to live in UK

Taliban militants are growing in strength across the country, regaining more territory from the UK and US-backed Afghan government. It comes as British, US and other NATO forces prepare to withdraw over the next three months following almost 20 years of conflict.
The Taliban views anyone associated with the US and NATO-led mission in Afghanistan as a traitor who deserves to die.
The increased influence of the militant group means a corresponding risk for such personnel.
Concerns over the safety of former staff, most of them interpreters, prompted the MoD and the Home Office in May to expand the eligibility criteria of a relocation scheme for Afghans seeking to flee.
Previously, the government had resisted pressure to allow large numbers of men and women to relocate, saying such a move would deprive Afghanistan of a talented pool of young individuals, vital for the future prosperity of the country.
More than 3,000 Afghans are expected to take advantage of the offer, on top of some 1,300 who have already made the journey under a previous, more restrictive policy. They are expected to be flown to the UK in groups.
'It's the right thing to do' – Defence secretary

It is understood that the first flight left Kabul earlier on Tuesday. Everyone had to undergo stringent security as well as COVID-related health checks.
Afghanistan is on the red list of countries, which means the group will be put into quarantine upon their arrival in the UK.
The Daily Mail spoke to a 37-year-old former interpreter called Hash, who served in Helmand with the Army between 2007 and 2012 and is reported to be part of the first party along with his wife and two sons.
"We are so happy and so thankful," he was quoted as saying. "The British government has taken its time but it has done the right thing and we are truly grateful."