India's COVID crisis: The government ordered some posts to be removed from social media – what did they say? | World News
The Indian government is fighting a battle in two fronts.
While authorities desperately seek to contain the situation in overwhelmed hospitals, the government is coming under attack on social media over how it is handling the crisis.
Over the weekend, President Narendra Modi's government asked Facebook, Twitter and Instagram to take down the posts, many of which were critical of the government's role in managing COVID-19 in the country.
Government officials say this action was taken to curb misleading content or messaging that could cause panic, but critics say the move is a thinly veiled attempt at censoring criticism of the government.
Twitter and Facebook complied with the request made last week but a subsequent removal of posts on Wednesday by Facebook was later clarified to have been an error.
But what was said in those social media posts that caused the Indian government to make the request?
We analysed the tweets that were removed. Here's what we found.
Of the 52 tweets we analysed, a majority were critical of the government's handling of the crisis, and in some cases they attributed blame directly to Modi. It comes as elections are due to be held in the country shortly.
Hashtags like #ModiMadeDisaster; #ResignModi or #ModiResign and #ModiHataoDeshBachao which means "remove Modi and save the country" were the most prevalent.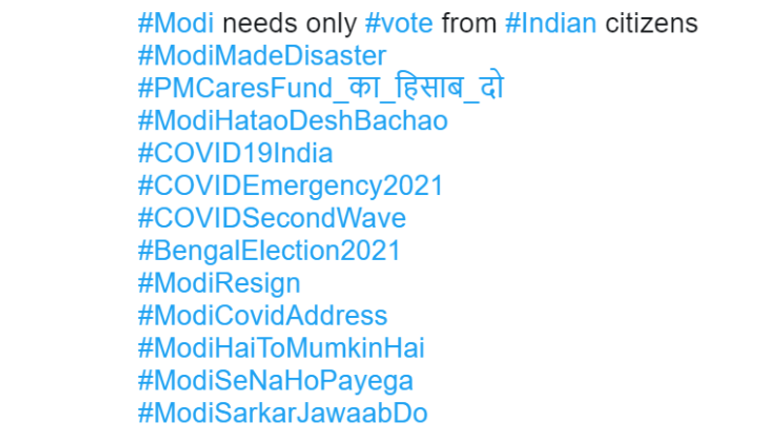 We spotted a similar theme in edited pictures that were attached to many of the tweets.
Images of burning funeral pyres with Modi campaign billboards superimposed onto them convey a sense that the tweeter holds the Indian president directly accountable for the catastrophic COVID-19 situation.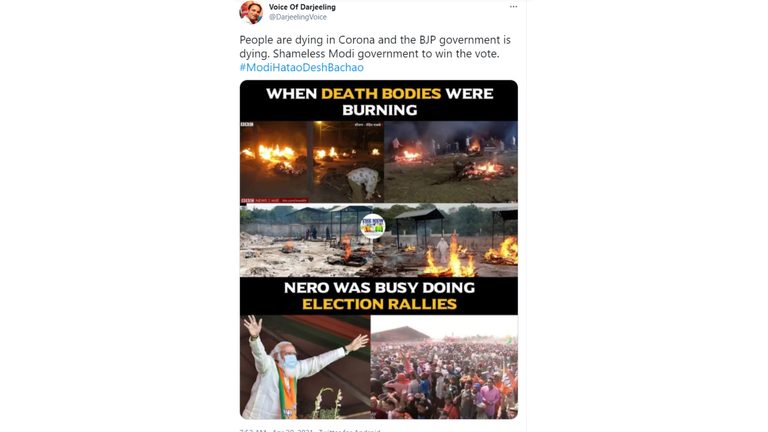 Other edited pictures referred to Modi as "Nero", remembered in popular culture as the Roman Emperor who sat back as Rome burned.
In all but four cases, the tweets had either pictures or videos attached to them.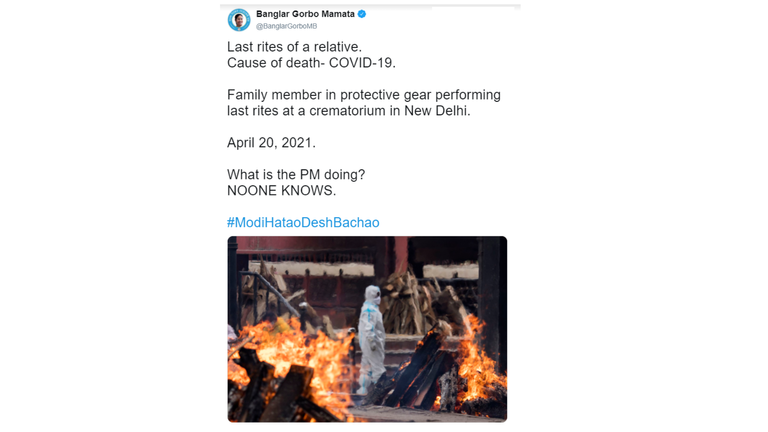 Most of these were images of burning funeral pyres or people receiving medical treatment in undesirable conditions, such as by the road or in a tented area.
Some of these posts shared old pictures or recent pictures with inaccurate context, so could be legitimately described as misinformation.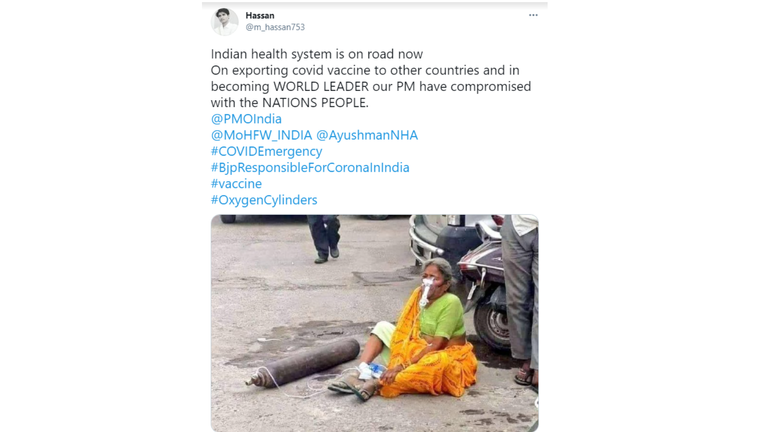 This picture is shared in three of the removed tweets, which had a total of nearly 800 retweets.
A reverse image search shows the picture featuring in a news article from Uttar Pradesh in 2018.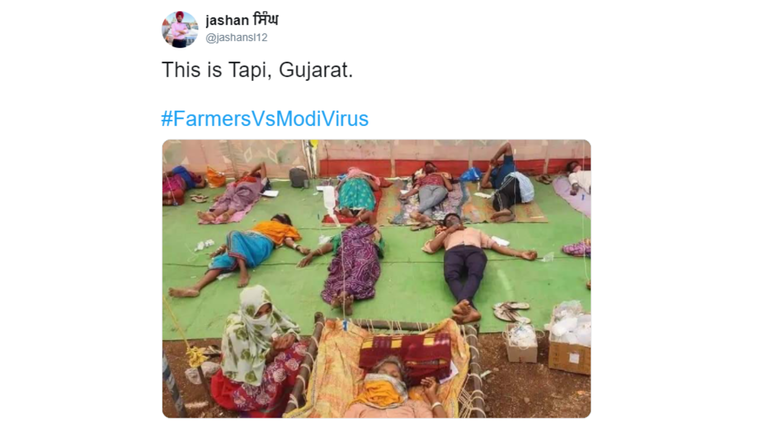 This post shares an image of sick patients receiving treatment on the floor.
It's one of three of the removed posts that shared this image.
It describes the picture as being taken in Tapi, Gujurat – an area that is under Modi's party's control.
But reverse image searching tells us that this is not a picture from Gujarat, but a screenshot of a news report from Navapur, Maharastra.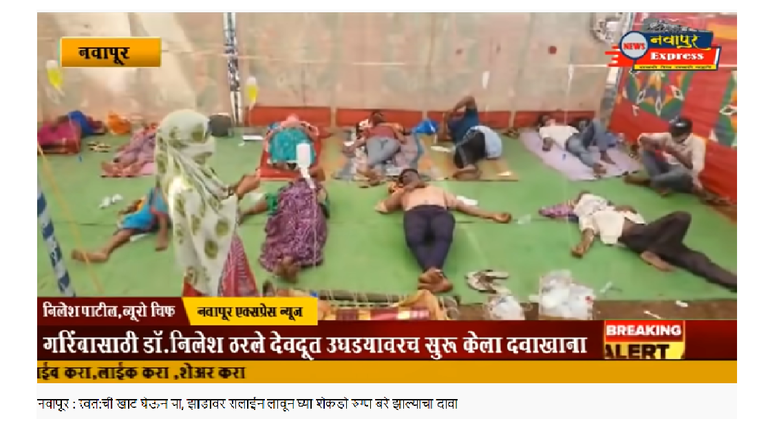 The report is about Typhoid patients – not COVID-19.
This misleading image has been shared widely.
Modi's government has drawn much criticism for holding rallies in West Bengal despite rising coronavirus cases.
Nine of the tweets that were requested to be removed were from active opposition politicians or their supporting organisations including four from West Bengal.
Other banned tweets expressed outrage at the decision to allow Hindu festival Kumbh Mela to go ahead.
The festival, which lasts several weeks, saw over three million people gather on the banks of the Ganges.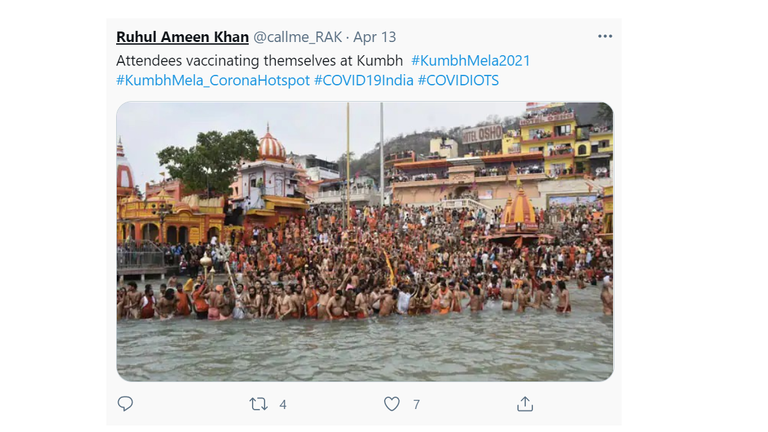 This tweet had just four retweets. Many of the other removed tweets had similar levels of engagement, raising questions as to how the content was selected.
An official from the Indian Ministry of Electronics and Information Technology told The Hindu newspaper that the move had been taken to "prevent obstructions in the fight against the pandemic and escalation of public order due to these posts" and that "it is necessary to take action against those users who are misusing social media during this grave humanitarian crisis for unethical purposes".
Amnesty International condemned the move.
Rasha Abdul Rahim, Director of Amnesty Tech said: "The government is using the vague and ambiguous argument that the content is 'fake news' and 'spreading misinformation', when in reality it is trying to silence any criticism against it."
"It is a tactic that has been used time and time again by governments across the world during the pandemic to avoid scrutiny and accountability."
Analysis: Modi does not like criticism – when it happens, the entire government machinery is used to crush it
By Neville Lazarus, India reporter
The well-crafted global image that Prime Minister Narendra Modi created has been demolished. Under his leadership the country is recording the highest numbers of daily cases and deaths.
Never has the country witnessed such devastation as now. Sky News has reported on people gasping for oxygen and thousands dying from the lack of it.
Under his watch hospitals have had to beg for oxygen on social media as they count the minutes before they run out. ICU beds, ventilators, oxygen cylinders and even life-saving medicines have run dry. The black market is thriving and there is rage against the administration.
We know Modi does not like criticism and when it happens the entire government machinery is used to crush it.
The Ministry of Electronics and Information Technology was put to use in taking down 52 tweets that were critical of the prime minster's handling of the COVID-19 crisis. At a time when the citizens are dying in their thousands the government is busy taking down tweets by politicians, film makers and citizens.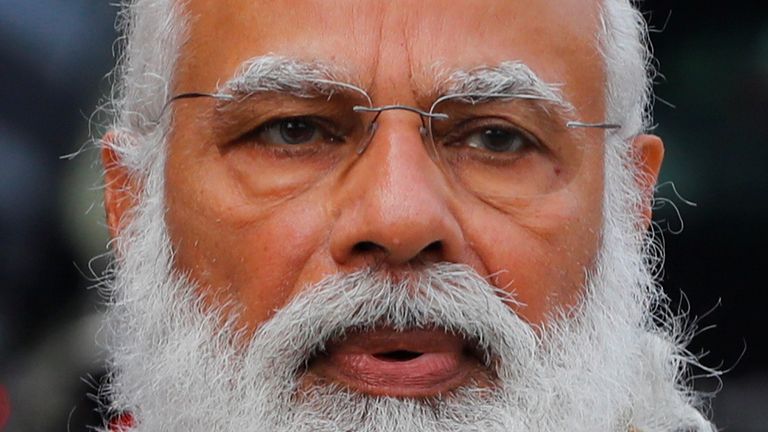 The diplomatic core in Australia wrote to a leading newspaper calling its editorial 'motivated and malicious'.
But this is not the first time the might of the government was used. Earlier this year support for farmers by climate change activists Greta Thunberg and singer Rihanna saw the might of the Indian Foreign ministry take them on.
There is anger over how Modi led from the front, campaigning in state elections and allowing a religious festival – all as the pandemic was raging. But this time the fury is absolute and will haunt the prime minister.
Mafia, mines and marriage: Eight stories you may have missed this week | UK News
In a week dominated by violence in Israel and Gaza, you could be forgiven for missing a lot of other news.
Are you up to speed on the growing concerns over the spread of the Indian variant? Did you miss any of the political action in parliament?
We've pulled together eight of the week's must-see stories covered by Sky News – and here is your rundown…
Crisis in the Middle East
The ongoing conflict in Israel and Gaza has dominated the news for several days – but what triggered this upsurge in violence?
Read our explainer here or watch the video below
How Jerusalem flashpoint escalated

Indian variant
On Monday in England we should see the biggest step in unlocking since the pandemic took hold. Wales will also see some restrictions being lifted. But some experts say the changes should be delayed because of the speed at which the Indian variant is spreading. With cases doubling, we have mapped where infections are rising, and assessed how concerning its growth is.
Learn more about how the variant is spreading
Queen's speech
It was a big week for the Queen – who carried out her first major ceremonial role since the death of her husband Prince Philip. It was also a big moment for the government, with its agenda for the coming parliamentary year laid out. Did you catch all the announcements?
See everything that was announced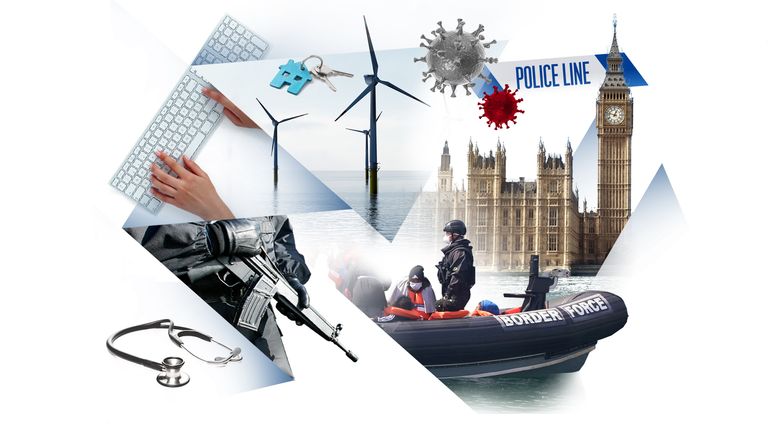 Martyred by the mafia
On 21 September 1990 Rosario Livatino was killed by mafia mobsters on his way to work. He was an investigative magistrate leading an inquest into corruption and the mafia. Since his death, he's been praised by two popes, declared a martyr, and last Sunday, he was beatified by the Catholic church.
Listen to his story
Follow the Daily podcast on Apple Podcasts, Google Podcasts, Spotify, Spreaker
Can arranged marriages be modern?
Arranged marriages have been practiced for centuries, and they are still common in many cultures around the world. But why would a young person, educated in the West, choose this path now? We speak to people in the UK who are letting their parents find them a partner.
Read their stories or watch this film
'Limpet mines' and 'drone attacks'
A covert maritime battle between Israel and Iran has been raging under the radar for years. But now, these clashes are spilling out on to the world stage. Since the start of this year, at least seven ships have been damaged eight times in a tit-for-tat battle between the two countries. Sky News has been tracking the routes, destinations and owners of the vessels, gathering images and videos of the alleged attacks and monitoring Iran and Israel's responses to the incidents.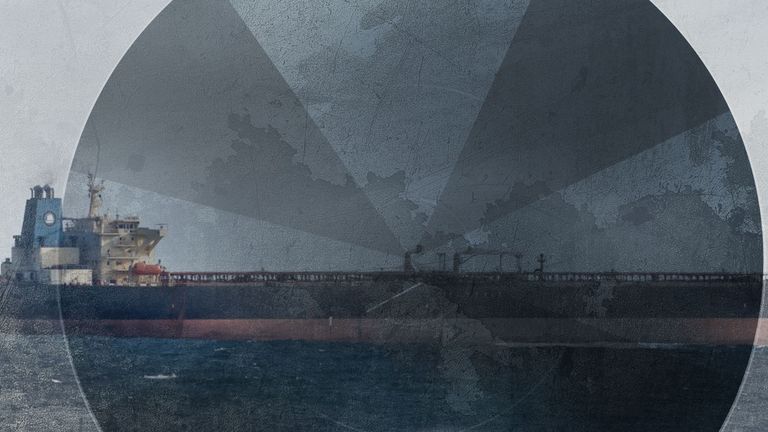 Return of the red carpet
We saw the (momentary) return of singing and dancing this week for the Brit awards – and for the first time in ages, a red carpet event in the UK. A chance for the stars to give us a little glamour and a taste of celebrity. And they didn't disappoint of the fashion, either.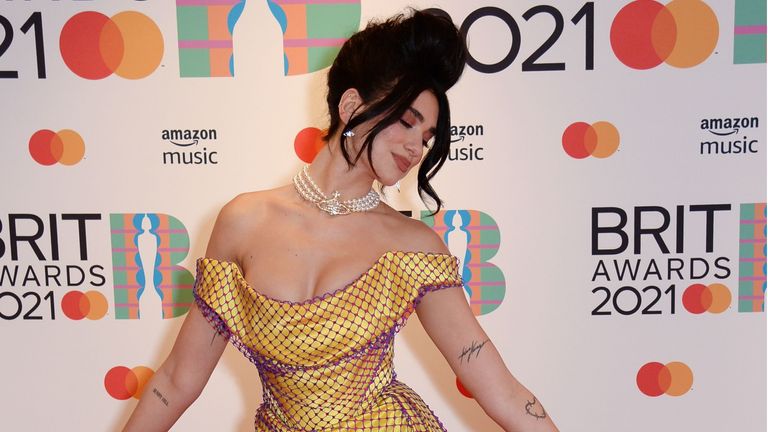 The need for green tea
And finally – a warning this week for tea drinkers. A study has found that climate change is threatening the future of tea. Weird how even the thought of it makes you gasp for a cuppa.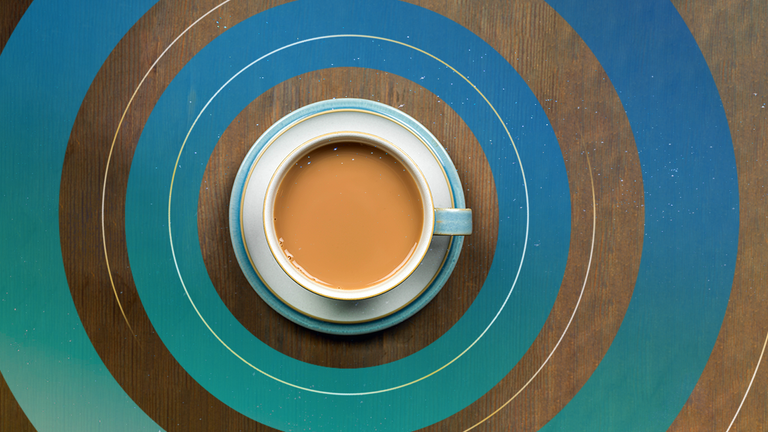 'Nine minutes of terror' as China becomes second country to land on Mars | Science & Tech News
China has landed a spacecraft on Mars for the first time, become the second country to arrive on the Red Planet.
The Tianwen-1 vessel has touched down in an icy area of Mars known as Utopia Planitia.
On social media, the official Xinhua news agency declared: "China has left a footprint on Mars for the first time, an important step for our country's space exploration."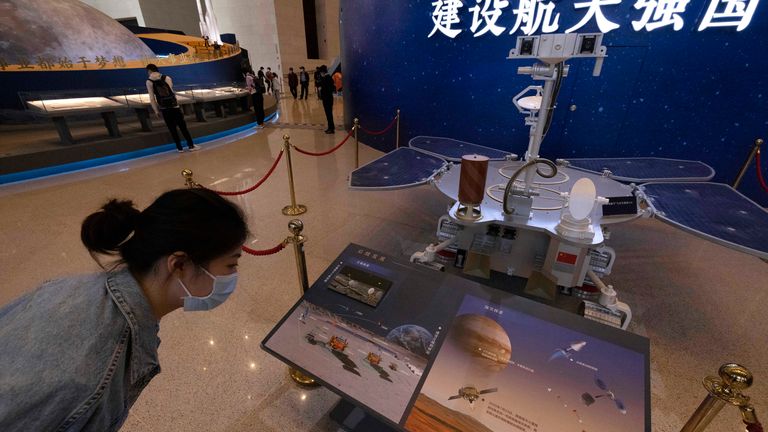 Meanwhile, China Space News said there was "nine minutes of terror" as the landing module entered the martian atmosphere, decelerating and slowly descending to the surface.
A solar-powered rover called Zhurong, which is about the size of a small car, will now survey the landing site before conducting inspections.
It is named after a mythical Chinese god of fire and is equipped with six scientific instruments, including a high-resolution topography camera.
A ground-penetrating radar is set to look for signs of ancient life and sub-surface water and ice.
Tianwen-1 (which means "Questions to Heaven" in English) blasted off from the southern Chinese island of Hainan last July.
It reached the Red Planet in February and had been in orbit since.
Panoramic view of Mars landing site

America's Perseverance rover successfully touched down in February in a huge depression known as Jezero Crater, which is about 1,242 miles (2,000km) away from Utopia Planitia.
Another spacecraft launched by the United Arab Emirates is currently orbiting above Mars and is gathering data on its weather and atmosphere, but is not designed to make a landing.
First person on Mars 'is probably now at school'

According to Xinhua, China is "not looking to compete for leadership in space", but is committed to "unveiling the secrets of the universe and contributing to humanity's peaceful use of space".
Beijing has landed on the moon before, but successfully touching down on Mars is a much more difficult undertaking.
Israeli warplanes bomb new targets in Gaza, and Palestinian militants fire salvo of rockets back | World News
Israeli warplanes bombed new targets in Gaza and Palestinian militants fired back despite attempts to broker a ceasefire – as an annual day of Palestinian grief at Israel begins.
The Nakba, or "catastrophe", is one of the most sombre dates of protest in the Palestinian calendar. It marks the day after the creation of the state of Israel on 14 May 1948, a move that led to hundreds of thousands of Palestinians fleeing or being expelled from the country.
This year, Nakba day is expected to be particularly tense, coming as Israelis and Palestinians engage in their worst clashes in years and with street unrest rising in mixed Jewish-Arab neighbourhoods across Israel stirring fears of a descent into civil war.
Violence spreads across wider Israel

Anti-Israeli protests also erupted in the occupied West Bank on Friday, prompting Israeli forces to open fire, killing 11 people.
In addition, pro-Palestinian demonstrations took place at Israel's borders with neighbouring Jordan and Lebanon, while three rockets were reportedly fired towards Israel from Syria.
The Israel-Palestinian hostilities are now in their sixth day.
According to Palestinian health officials, 132 people have died in Gaza, an enclave controlled by the Palestinian group Hamas, including 31 children and 20 women.
On the Israeli side, the death toll stands at eight, including two children and a soldier.
Israeli airstrike hits Hamas security compound

Diplomatic efforts to stop the bloodshed are intensifying.
A US envoy, Hady Amr, arrived in Israel on Friday. The US embassy in Jerusalem said the aim was "to reinforce the need to work towards a sustainable calm".
Egypt, which has influence over Hamas, is playing a key role – as it has in the past – in trying to negotiate a halt to the fighting.
Qatar, Jordan and the United Nations are also important players.
"The talks have taken a real and serious path on Friday," a Palestinian official was quoted by the Reuters news agency as saying.
"The mediators from Egypt, Qatar and the United Nations are stepping up their contacts with all sides in a bid to restore calm, but a deal hasn't yet been reached."
One city, two neighbours, very different views

An Egyptian intelligence official said Israel had turned down an Egyptian proposal for a one-year ceasefire that Hamas had accepted, according to the AP news agency.
The United Nations Security Council is due to discuss the crisis for the first time publicly on Sunday. Diplomats have already held a number of closed-door sessions since the bombardments by both sides began on Monday.
The violence was sparked by tensions in Jerusalem over efforts by Jewish settlers to evict a number of Palestinian families from their homes in an east Jerusalem neighbourhood, and by clashes between Israeli police and Palestinians at a revered mosque in the Old City.
On Friday night, online video showed young Jewish nationalists firing pistols as they traded volleys of stones with Palestinians in the disputed Sheikh Jarrah neighbourhood.
CCTV captures moment of rocket strike in Israel

Israel's bombardment of the Gaza Strip continued into early Saturday, followed by a salvo of Hamas rockets towards Israel.
The exchanges came after the heaviest barrage of Israeli tank and artillery fire, combined with airstrikes, overnight into Friday that pummelled the Palestinian enclave.
The Israeli military said that they had been going after a network of tunnels used by Hamas. But the onslaught wreaked destruction in some towns, killed a family of six in their house and sent thousands fleeing their homes.
Houda Ouda said she and her extended family ran frantically into their home in the Gaza town of Beit Hanoun, seeking safety as the earth shook in the darkness.
"We even did not dare to look from the window to know what is being hit," she said.
Palestinians throw rocks at Israeli forces

The Israeli Defence Forces has said Hamas and Islamic Jihad, a fellow Palestinian militant group, have fired more than 2,000 rockets from Gaza towards Israel since the start of the hostilities – an unprecedented volume of strikes.
More than 400 rockets are said to have fallen short into Gaza, while many more were blasted out of the sky by Israeli air defence systems. However, some did impact.
Across central and southern Israel, from small towns bordering Gaza to metropolitan Tel Aviv and southern Beersheba, Israelis have adjusted to sirens wailing, radio and TV broadcast interruptions and the beeps on their mobile phones of red alerts that send them rushing for cover.
For its part, the Israeli military said they have hit some 1,000 targets in Gaza, including rocket launch sites, individual commanders and the tunnel network.