UK aid to superpower China hit a record £70 million in 2019 | World News

UK aid to China – the world's second largest economy and a country that is viewed by London as a security concern – hit a record high of nearly £70 million in 2019, a spending watchdog has revealed.
More than two-thirds of the money went to British research institutions or "diplomatic efforts", with the salaries of some diplomatic staff counted as official development assistance (ODA), according to an analysis released by the Independent Commission for Aid Impact (ICAI).
The watchdog was unable to say, from the data, exactly how much UK funding went to support human rights issues such as the plight of Uighur Muslims and other minorities.
It pointed to a portfolio of small projects for China, run by the Foreign, Commonwealth and Development Office (FCDO), with an overall budget of £1million a year that focused on issues such as the rule of law and democracy.
The wider details on UK spending on aid to China prompted Tobias Elwood, chair of the defence select committee and a former foreign office minister, to query government thinking.
"The only conclusion we can draw is that we have a very confusing strategy in relation to China and we are still in denial as to the threat Beijing poses," he said.
"Taxpayers have every right to pose these questions as to why a penny is being spent there given where China is taking Hong Kong, how it treats Uighurs and its growing authoritarian stance beyond its shores."
The foreign office last week announced its aid spending to China was being slashed by 95% to just £900,000 as part of a reprioritising of effort, prompted by a massive cut of more than £4billion in overall international development funding.
The ICAI report, though, noted that not all aid given to China came from the foreign office, with other departments like business, health and environment also contributing funds.
"We are asking further questions of departments about these cuts and will update this note in due course," it said.
Assessing UK aid to China since 2015, the watchdog described it as a "complex mosaic", supporting China's own development; pursuing mutual interests such as climate change; and working together with third countries.
This included massive Chinese infrastructure programmes in developing countries across Africa. The UK has tried to promote transparency with Chinese loans and the hiring of local labour, it said.
UK funds to China hit a record high of £68.4 million in grants in 2019, though ICAI identified additional spend used to engage with Beijing on global issues which took the total to nearly £82 million.
Sir Hugh Bayley, the ICAI commissioner, said there had been a "lack of information in the public domain about the full extent of the UK's aid spend in relation to China".
One example appears to be the way the former Foreign and Commonwealth Office reported costs related to diplomatic staff with aid-related duties as part of its overseas aid spending. ICAI said almost a third of diplomatic costs in China in 2017 were reported as ODA.
Asked about the ICAI report and the proportion of UK aid funding that goes on human rights issues, a spokesperson said: "The FCDO will ensure that aid is spent even more effectively this year to address global challenges while working in the UK's national interest.
French fisherman says the post-Brexit fishing agreement is 'unfair and unsustainable' | World News
On Monday morning in the harbour of Granville in Normandy, the anchors were up before dawn.
While most of the town slept, the fishermen boarded their boats, slacks in hands, cigarettes in mouths.
For many the last time they went out wasn't to fish but to fight.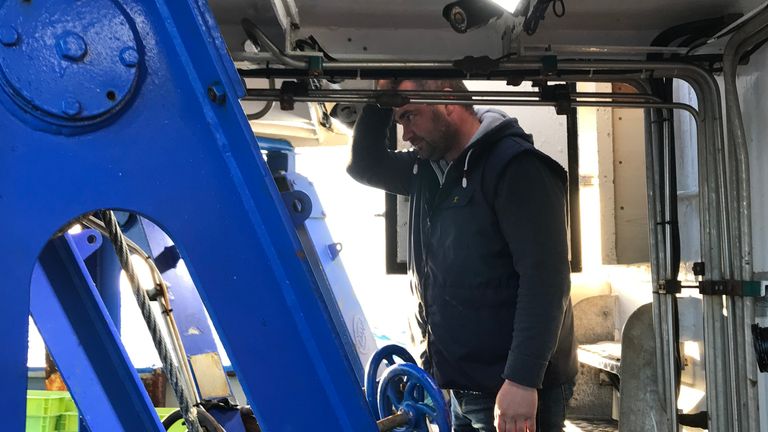 Granville is one of the closest French ports to Jersey.
A week ago 50-or-so boats from here and other towns up the coast sailed to protest outside the port of St Helier.
The Cap Lihou fishing boat, her captain and three crew were among them.
Their target: new post-Brexit licences needed to fish in Jersey's waters.
Today, however, it was scallops they sought, with huge mechanical dredging nets pulling up sand, shellfish and seafood.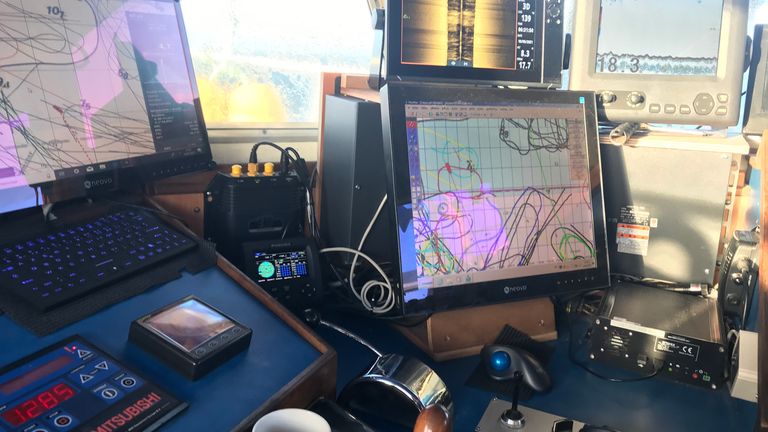 It's hard, gruelling work. For the 12 hours they spent on the boat, the young men barely stopped; managing the machinery and sifting through the catch by hand.
But they'd rather be fishing in the deeper waters off Jersey – an area that is wider and where the produce is often bigger.
The new licences stipulate how many days each boat is allowed to work there as well as placing restrictions on some equipment.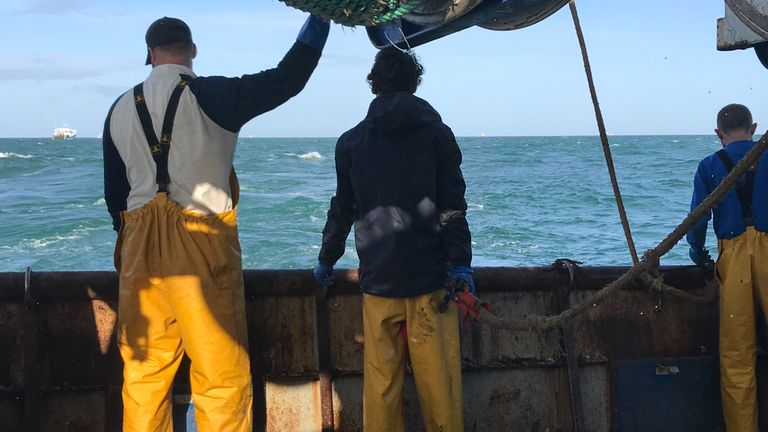 The Cap Lihou is now only allowed to fish in Jersey's waters for 22 days of the year. Previously it would head there at least 100 days in any given year.
Captain Baptiste Guenon estimates the new rules will cut his business by half.
In the cockpit, he points out the navigation system on the boat which tracks where the other vessels are. Almost none of them were in Jersey's waters, most of them concentrated in just a few square miles.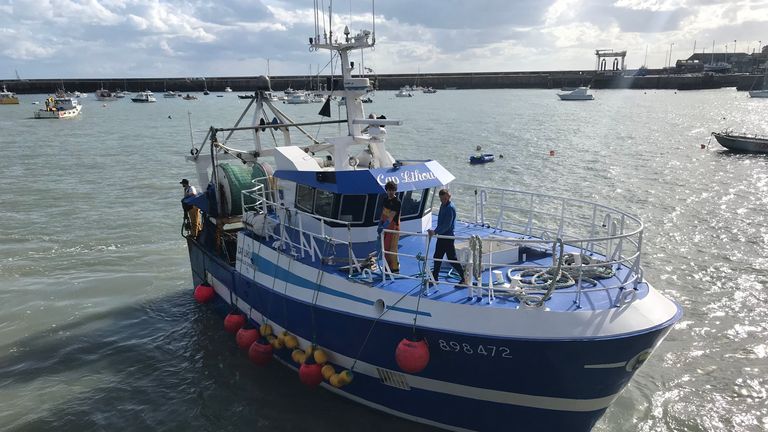 It's a situation he feels is unfair and unsustainable.
"Jersey needs France in order to sell its produce," he says. "And we need them for 50% of the fishing waters we use.
"It's an agreement that's been in place for years and that they've broken."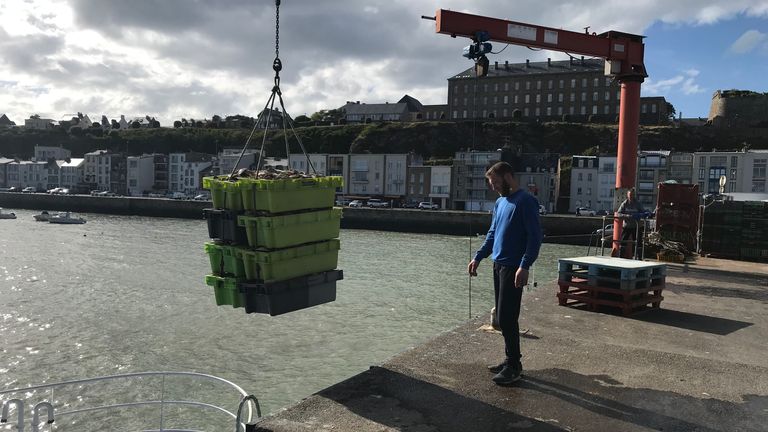 Fishing for him is more than just a livelihood, it's a family history and tradition. Every man in his family all the way up to his great-grandfather have been fishermen.
Because of its geographical proximity, French fishermen have fished in Jersey's waters amicably for centuries.
Baptiste and his colleagues say all they want is a continuation of what they've always had, and they insist new conditions weren't discussed or agreed.
The British authorities say that time allocated in each licence is based on how much each boat has previously fished in Jersey's waters. It can be updated if more records are forthcoming.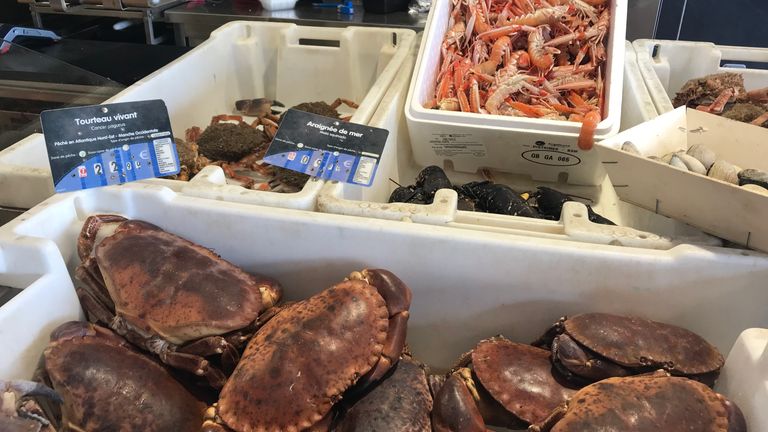 But not all boats have good enough tracking data to prove where they've been and others have fallen through loopholes.
Baptiste says he has a friend who's been a fisherman for years and who invested a million euros in a new boat just two months ago.
But because the new vessel had only been at sea a few weeks and because the licences are for boats not the captains, he's been rejected for a licence to fish Jersey waters.
For now, Jersey isn't backing down and the French are retaliating.
Jersey fishermen are now being banned and blocked from landing their catch and selling it at numerous ports along the Normandy and Brittany coastlines.
It means many now have too much fish and nowhere to sell it.
Louis Jackson owns The Fresh Fish Company based in Jersey and although he supports the new licensing system, he's concerned about escalation.
French fishing boats disbanded their protest in Jersey waters but argue their livelihoods are at risk.

"I'm worried about the future of the fishing industry in Jersey," he says. "Because of Brexit, we have a golden opportunity to change things and be on a more-than-even playing field.
"At the moment everything is geared towards the French."
And there are other serious threats on the table. The French maritime minister Annick Girardin has previously threatened to cut electricity to Jersey. Some 90% of the power to the island comes from France via underwater cables.
This week she said talks were ongoing but there hasn't yet been any agreement.
Meanwhile, the EU backs France.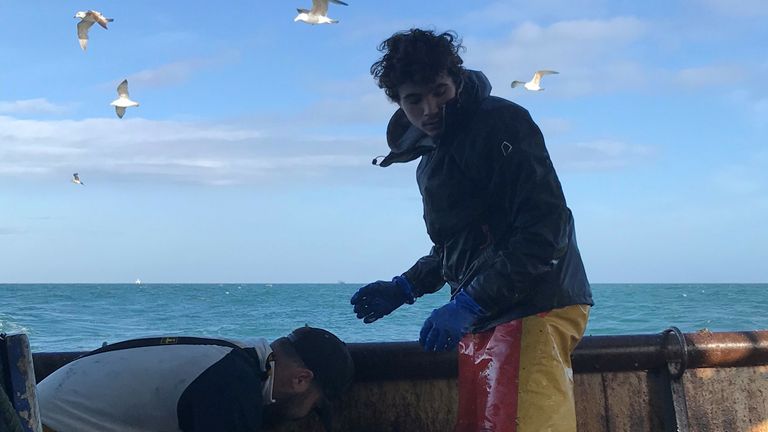 Michel Barnier, the EU's former chief Brexit negotiator, said the British were acting like "pirates".
But any official intervention would be slow and likely take many months to resolve: time fisherman on neither side have.
As his catch was hoisted off the Cap Lihou and onto the harbour, Baptiste looked on.
"I'm angry, astonished but above all confused," he says. "If it doesn't get sorted soon, things could get a lot worse."
Politically there's still a lot to unpack. Fishermen have little choice but to wait.
Israel-Gaza violence: Street battles break out in cities where Jews and Arabs have coexisted | World News
The horror for the communities of Gaza and the terror for communities in southern Israel is rightly the focus in this latest clash in the long struggle between the Israelis and the Palestinians.
From Gaza the rockets continue to fly, and into Gaza the missiles continue to drop.
But amidst this renewed conflict, the bitter history behind it and a toxic politics has spawned something else.
In Israeli cities for the past two nights, lynch mobs have run riot.
Extraordinary, violent and gruesome videos are flooding Israeli social media.
They show Israeli Arabs and Israeli Jews in street battles.
In Bat Yam near Tel Aviv a video shows an Israeli Arab being attacked in his car by mobs of Israeli Jews.
Another video shows a blooded man lying on the ground and being repeatedly kicked in the face.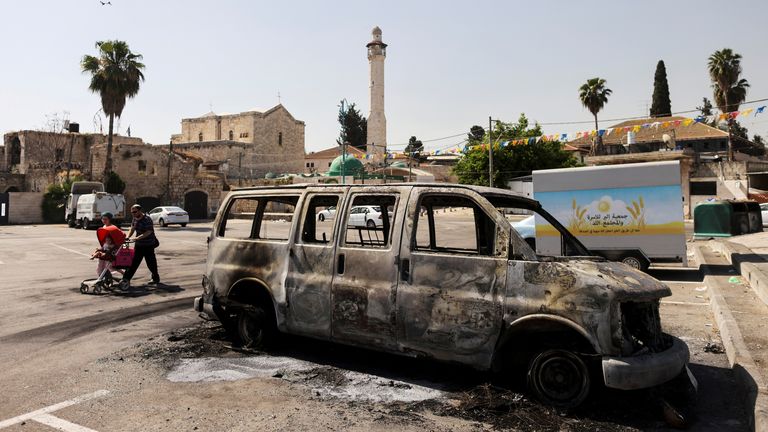 Another shows rocks being hurled at a shop owned by an Arab.
In the northern town of Akko rioters set fire to one of the country's most famous restaurants, Uri Buri (which was ironically a local symbol of coexistence).
In the central city of Lod, Jewish Israelis told me that Arab gangs had run amok in the town smashing cars owned by Jews and throwing rocks at police.
But around the corner next to charred cars owned by Arabs, young men told me it was the Jews who started it.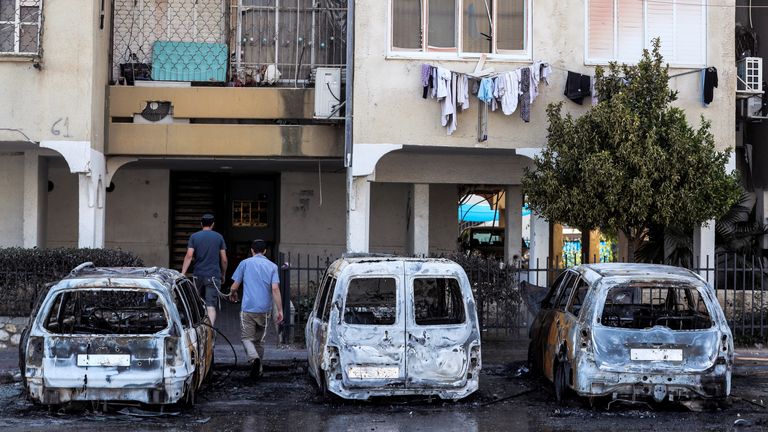 Whoever it began with, the point is that there is significant civil unrest in cities across the country.
Prime minister Benjamin Netanyahu is spooked by it all and he is right to be.
He can end the conflict in Gaza with a single order. It may take days or weeks but it's in his gift.
But such open hatred on Israeli streets – that's feels rather more existential. This country's deep schisms are well known and these past few days they have been dangerously exposed.
Remember – what's happening here isn't clashes between Jews in Israel and Palestinians in the West Bank.
This is unrest in cities within Israel, where people of these different cultures and different religions had managed to live alongside each other.
Arabs with Israeli citizenship (Palestinian Citizens of Israel) are those Palestinians who were not forcibly moved from their homes during the Nakba in 1948.
Around 700,000 Palestinians were forced out of their land during Israel's "War of Independence" but some managed to stay.
A coexistence in these towns has been blown apart in the space of just a few days.
Mr Netanyahu visited some of the towns in the safety of daylight and called the clashes "unbearable".
"It is something we cannot accept, it is anarchy. Nothing justifies it…"
But is he just reaping what he sowed? Far right Israeli nationalism had been emboldened as he tried to build a coalition. And harder line Palestinian / Arab nationalism grows every time perceived injustices are committed against the Palestinians.
Rockets from Gaza again fell on Israeli cities overnight. And the Israelis retaliated once more.
Behind all this, a land so divided for so long feels, right now, extremely tense.
COVID-19 can infect penis tissue and could lead to erectile dysfunction – study | World News
COVID-19 can infect tissue in the penis and potentially contribute to erectile dysfunction, researchers have found.
A scientific research paper published in the World Journal of Men's Health observed the difference in tissue composition between men who had contracted the disease and men who had not.
COVID can cause damage to blood vessels, which in turn can damage parts of the body the vessels supply, including the sponge-like tissue in the penis.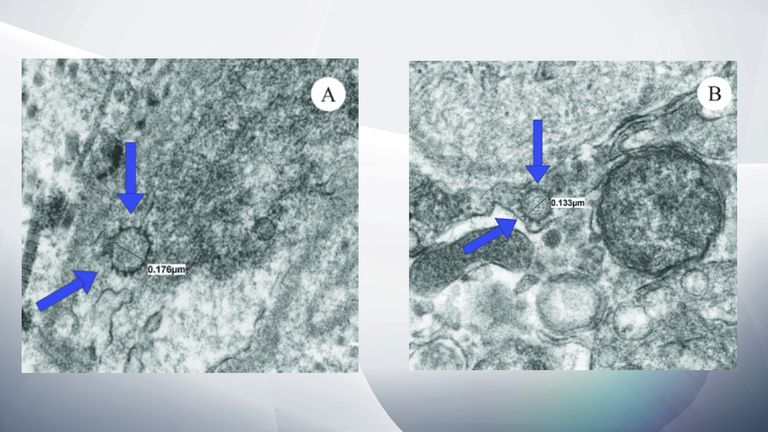 Ranjith Ramasamy, associate professor and director of the University of Miami Miller School of Medicine's reproductive urology program led the study.
He said that erectile dysfunction "could be an adverse effect of the virus".
It focused on four men who were having penile prosthesis surgery for erectile dysfunction.
Two had suffered with COVID-19, and two had not. They were all aged between 65 and 71 and of Hispanic ethnicity.
The pair who had the coronavirus were infected six and eight months before the observations, with one hospitalised for the virus and the other not.
Neither had a history of erectile dysfunction.
Remnants of the virus were observed in the penis tissue of the two COVID-positive men.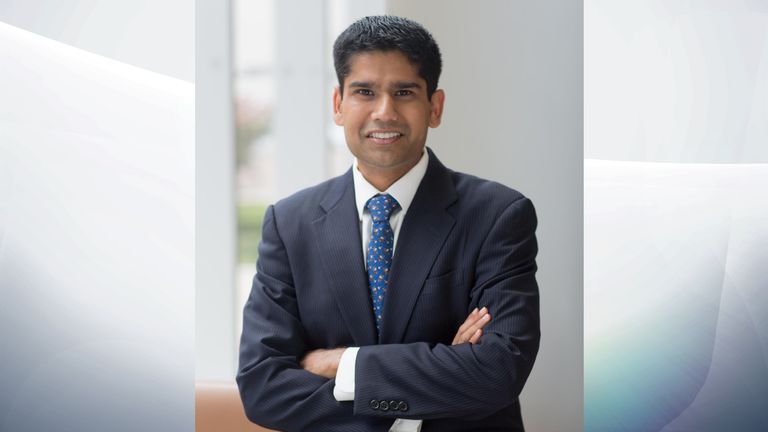 The damage COVID causes to blood vessels is known as endothelial dysfunction.
Dr Ramasamy said: "In our pilot study, we found that men who previously did not complain of ED [erectile dysfunction] developed pretty severe ED after the onset of COVID-19 infection."
He added: "Our research shows that COVID-19 can cause widespread endothelial dysfunction in organ systems beyond the lungs and kidneys.
"The underlying endothelial dysfunction that happens because of COVID-19 can enter the endothelial cells and affect many organs, including the penis."
Subscribe to the Daily podcast on Apple Podcasts, Google Podcasts, Spotify, Spreaker
Eliyahu Kresch, a medical student working with Dr Ramasamy, said: "These latest findings are yet another reason that we should all do our best to avoid COVID-19."
The paper suggested: "For now, history of COVID-19 should be included in the work-up of ED and positive findings should be investigated accordingly.
"Patients should be aware of the potential complication of post-COVID-19 ED.
"Any changes observed in ED after infection should be followed up with the appropriate specialist for treatment and to help further investigation into the condition.
"Future studies are needed to validate the effects of this virus on sexual function."