'Most hated man in Australia': Porsche driver jailed for 10 months after filming dying police officers | World News
A Porsche driver who filmed four police officers as they lay dying after a horrific crash has been jailed for 10 months.
Richard Pusey pleaded guilty to a rare charge of outraging public decency and other offences after filming the crash on the Eastern Freeway in the Australian city of Melbourne on 22 April last year.
But, having spent 296 days in custody, his sentence could be complete within days.
Pusey, a mortgage broker and property developer, had been pulled over for driving at 149kmph (92mph) and the officers had been discussing impounding his vehicle when they were hit by a truck.
Pusey, who had MDMA and cannabis in his system, had been urinating on the side of the road when the truck, driven by Mohinder Singh, drove into the emergency lane – and the officers and their vehicles.
Leading Senior Constable Lynette Taylor, Senior Constable Kevin King and constables Glen Humphris and Josh Prestney were killed.
Pusey recorded two videos at the scene, a total of three minutes and eight seconds.
He zoomed in on the officers' injuries and damaged cars, saying while filming a police car: "That is f***ing justice. Absolutely amazing, that is f***ing amazing."
Filming the truck, he said: "Look at that, man, you f***ing c***s. You c***s, I guess I'll be getting a f***ing Uber home, huh."
Prosecutors accepted he was not taunting the officers but they said he had refused requests to help the injured and to stop filming.
He told police the next day that he was ashamed of the videos and that he said offensive things because "that's how s**t comes out of my head".
In comments reported by Melbourne newspaper The Age, County Court judge Trevor Wraight said Pusey's words and actions had been "not only derogatory and horrible… but also callous and reprehensible".
The judge noted Pusey's personality disorders and shock at what he had seen, but said his actions were a long way from what would be considered normal: calling for emergency services and trying to help the dying officers.
He added: "Your conduct…was heartless, cruel and disgraceful."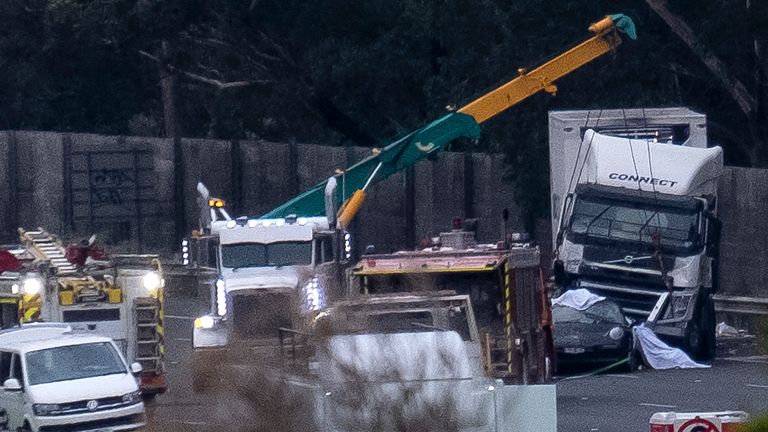 The other charges admitted by Pusey were speeding, possessing a drug of dependence, and reckless conduct endangering serious injury – related to him speeding on the same road a month earlier.
His lawyer Dermot Dann QC had suggested a good behaviour bond as punishment, citing time already served, the guilty plea, mental health problems, and the condemnation he had received from the media and the public.
The judge had said last month that Pusey was "probably the most hated man in Australia".
On Wednesday he imposed a 10-month jail term, a two-year good behaviour bond and a fine of $1,000 (£556) for the four charges.
His driving licence was also suspended for two years.
The truck driver, Singh, who was impaired by fatigue and drugs, was jailed for 22 years after admitting four charges of culpable driving causing death among other offences.
COVID-19: Muslims urged to remain cautious during Eid as global celebrations muted by pandemic | UK News
One of Britain's leading imams has urged Muslims not to "drop the ball" and observe COVID restrictions on mixing indoors and hugging as Eid celebrations begin.
Qari Asim, chairman of the Mosques and Imams National Advisory Board, said it would be "excruciatingly painful" to celebrate Eid without gathering in numbers and embracing loved ones – especially as the major relaxation of COVID-19 restrictions is just a few days away.
But he urged everyone to "take that one extra step" to ensure people's safety before restrictions are fully eased.
He said: "This Eid will be very different in the sense that we will not be able to greet each other in the traditional way of embracing each other, hugging and handshaking with each other.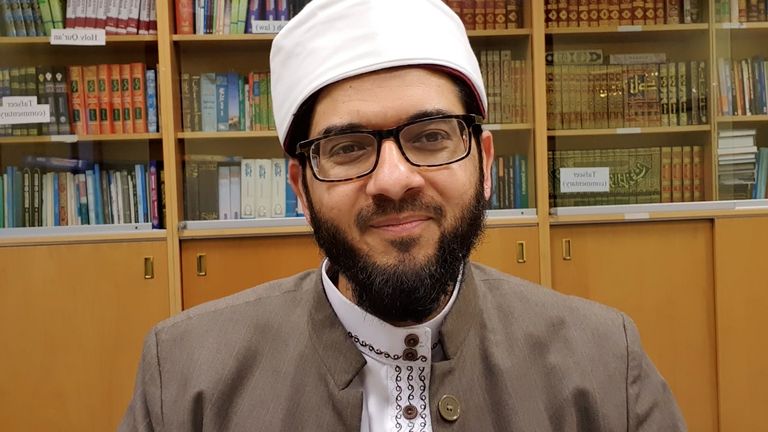 "But I'm really hopeful that next Eid we will be able to be with each other and embrace each other and share a meal with our extended family and friends."
He added: "It's excruciatingly painful because the easing of restrictions is taking place next week when we will be able to hug each other and we would be able the embrace each other…
"We just have to take that one extra step to get us through this pandemic and make sure that we do not drop the ball before the restrictions are completely eased."
Speaking on Wednesday evening as he led prayers at the end of Ramadan at the Makkah Masjid in Leeds, Imam Asim said iftar – breaking the fast each day during Ramadan – would normally see around 200 people enjoying a three-course meal in the building.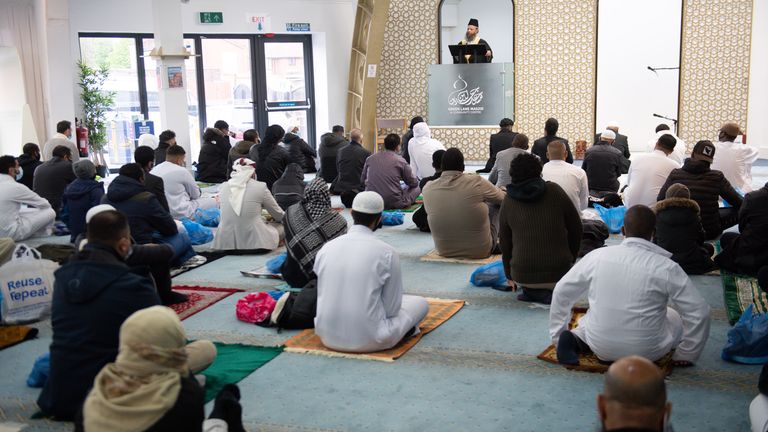 But none of this has taken place this year as mosques have observed strict coronavirus regulations.
He said: "It's been extremely challenging to follow the restrictions that have been in place but people have made incredible sacrifices and the Muslim community has strictly followed the guidelines given by the government."
The imam said that with different families unable to share meals at the end of each day, Ramadan instead saw mosques sharing food with vulnerable people in the community.
He said his mosque had handed out more than 7,000 food parcels in the local area during the month.
Across the world Muslims have celebrated Eid al-Fitr in a subdued mood for a second year as COVID-19 forced mosque closures and family separations on the holiday marking the end of Ramadan.
Worshippers wearing masks joined communal prayers in the streets of Indonesia's capital, Jakarta.
The world's most populous Muslim-majority nation allowed mosque prayers in low-risk areas, but mosques in areas where there was more risk of the virus spreading closed their doors.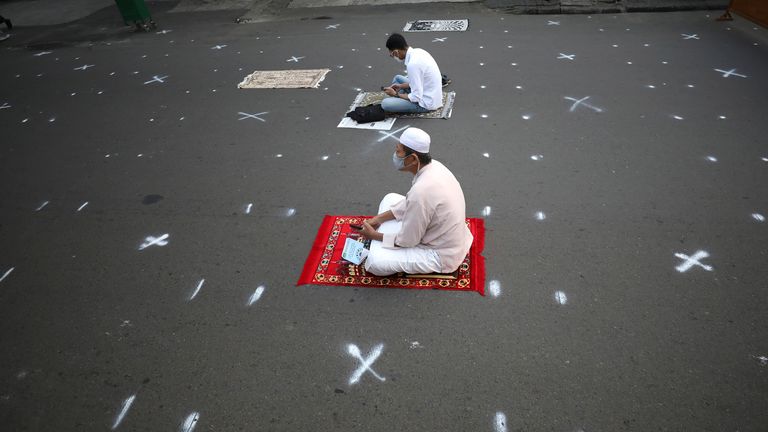 In the Gaza Strip, Hamas urged people to mark communal prayers inside their homes or the nearest mosques and avoid being out in the open due to the risk of airstrikes amid the worst outbreak of violence with Israel since 2014.
In the southern Philippines, coronavirus outbreaks and new fighting between government forces and Muslim insurgents in one province prevented people from holding large public prayers.
Instead, most stayed in their homes, while in Maguindanao province many families displaced by recent fighting marked the holiday in evacuation camps.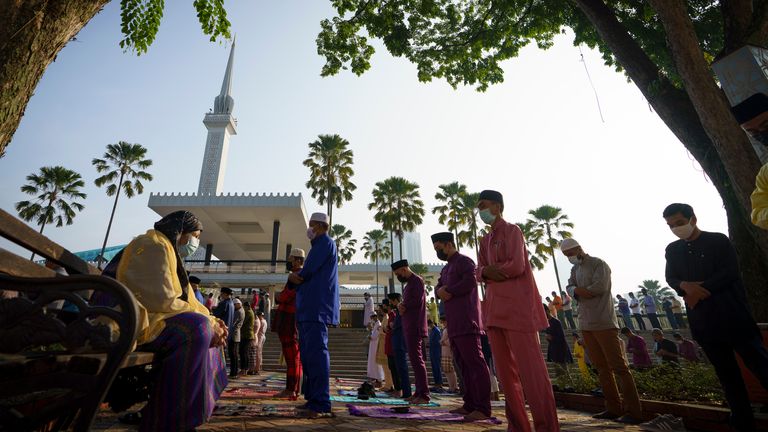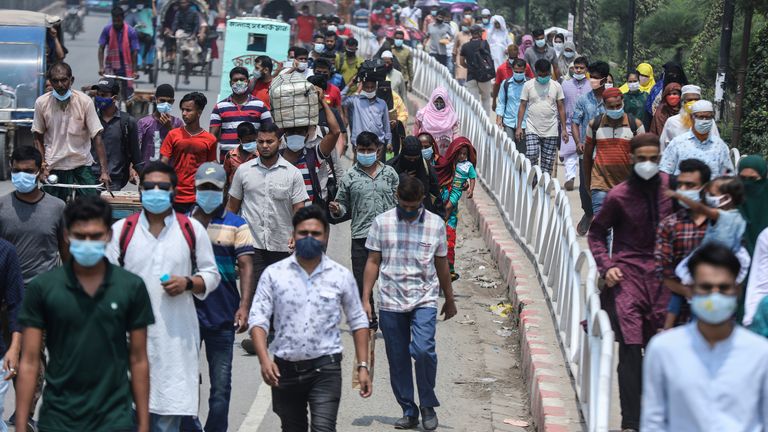 In Malaysia, Prime Minister Muhyiddin Yassin unexpectedly announced another nationwide lockdown from Wednesday until 7 June to curb a spike in cases.
Interstate travel and all social activities are banned, which means that like in Indonesia, Muslims cannot visit each other or family graves.
In Bangladesh, however, tens of thousands of people were leaving the capital, Dhaka, to join their families back in their villages for Eid celebrations despite a nationwide lockdown and road checkpoints.
Seven charged after mummified body of cult leader found festooned with fairy lights and glitter in Colorado home | US News

The mummified body of a cult leader has been found festooned with Christmas lights and glitter in a Colorado home.
Amy Carlson was the head of a spiritual group called Love Has Won and was known as "Mother of God" by her followers.
According to legal documents, her mummified body which was discovered at a property inside the small rural town of Moffat, was set up "in some type of shrine" with "what appears to be glitter type make-up on around the eyes".
Prosecutors have charged seven people with tampering with or abusing a corpse. They also face child abuse charges.
They appeared in court virtually on Wednesday to be advised of the charges.
The coroner has not yet said how or when Ms Carlson, 45, died.
One of Carlson's followers, who has not been charged, told investigators that he took in the group because they needed a place to stay, and he found the body in a back bedroom when he returned home from a trip to Denver.
He called police and said he believed the group had brought Carlson's body to his home from California.
Investigators searched an SUV at the property and said the backseat was laid down in a position "consistent with someone transporting the mummified remains".
The follower who reported the body also told investigators that he was prevented from leaving the home with his son, prompting a false imprisonment charge against one of the defendants.
According to the court papers, the sheriff's office has received "many complaints" from families across the country saying Love Has Won is allegedly brainwashing people and stealing their money.
Carlson's followers believe she communicated with angels and that she was leading them to a great awakening, The Denver Post reported.
The group, which established itself in southern Colorado in 2018, offers "spiritual intuitive ascension sessions" and sells spiritual healing products online.
French fisherman says the post-Brexit fishing agreement is 'unfair and unsustainable' | World News
On Monday morning in the harbour of Granville in Normandy, the anchors were up before dawn.
While most of the town slept, the fishermen boarded their boats, slacks in hands, cigarettes in mouths.
For many the last time they went out wasn't to fish but to fight.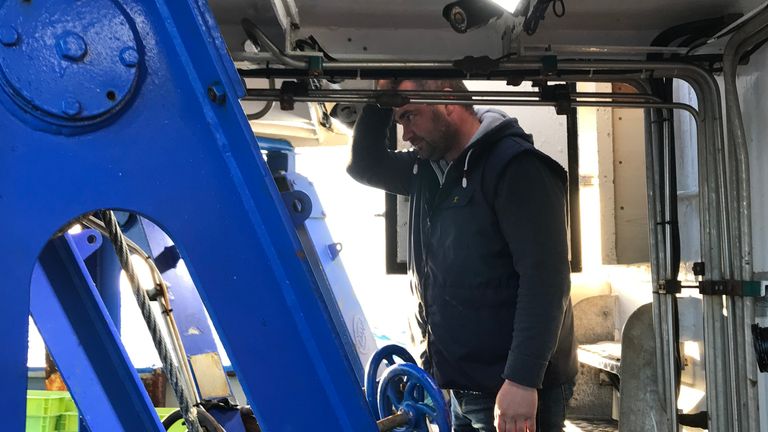 Granville is one of the closest French ports to Jersey.
A week ago 50-or-so boats from here and other towns up the coast sailed to protest outside the port of St Helier.
The Cap Lihou fishing boat, her captain and three crew were among them.
Their target: new post-Brexit licences needed to fish in Jersey's waters.
Today, however, it was scallops they sought, with huge mechanical dredging nets pulling up sand, shellfish and seafood.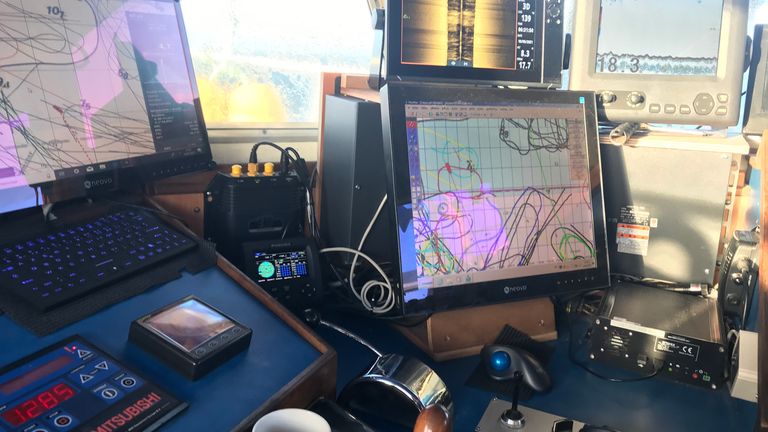 It's hard, gruelling work. For the 12 hours they spent on the boat, the young men barely stopped; managing the machinery and sifting through the catch by hand.
But they'd rather be fishing in the deeper waters off Jersey – an area that is wider and where the produce is often bigger.
The new licences stipulate how many days each boat is allowed to work there as well as placing restrictions on some equipment.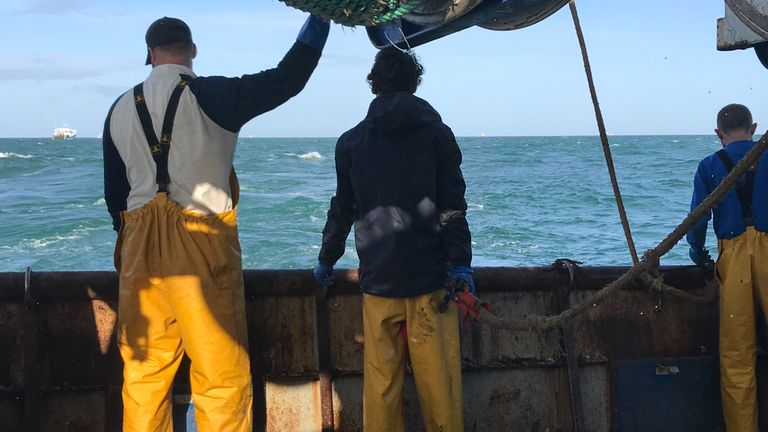 The Cap Lihou is now only allowed to fish in Jersey's waters for 22 days of the year. Previously it would head there at least 100 days in any given year.
Captain Baptiste Guenon estimates the new rules will cut his business by half.
In the cockpit, he points out the navigation system on the boat which tracks where the other vessels are. Almost none of them were in Jersey's waters, most of them concentrated in just a few square miles.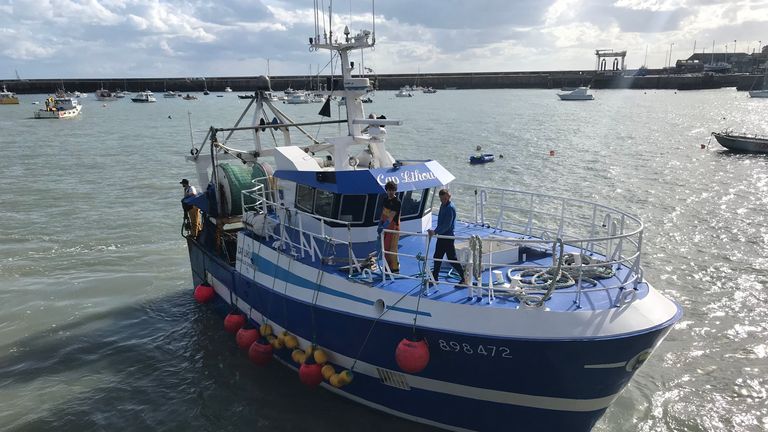 It's a situation he feels is unfair and unsustainable.
"Jersey needs France in order to sell its produce," he says. "And we need them for 50% of the fishing waters we use.
"It's an agreement that's been in place for years and that they've broken."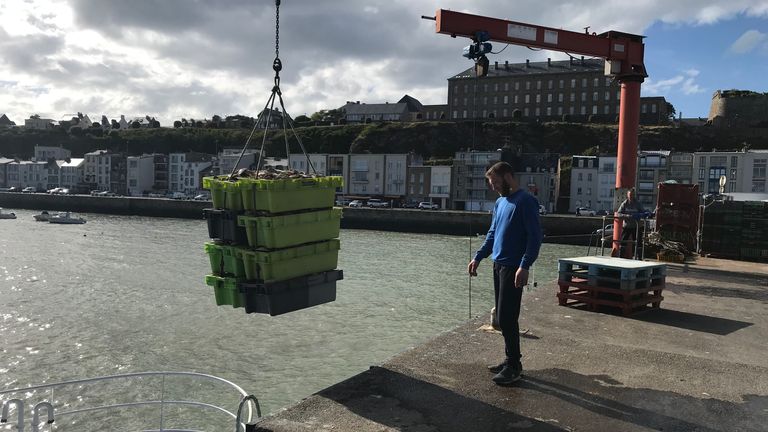 Fishing for him is more than just a livelihood, it's a family history and tradition. Every man in his family all the way up to his great-grandfather have been fishermen.
Because of its geographical proximity, French fishermen have fished in Jersey's waters amicably for centuries.
Baptiste and his colleagues say all they want is a continuation of what they've always had, and they insist new conditions weren't discussed or agreed.
The British authorities say that time allocated in each licence is based on how much each boat has previously fished in Jersey's waters. It can be updated if more records are forthcoming.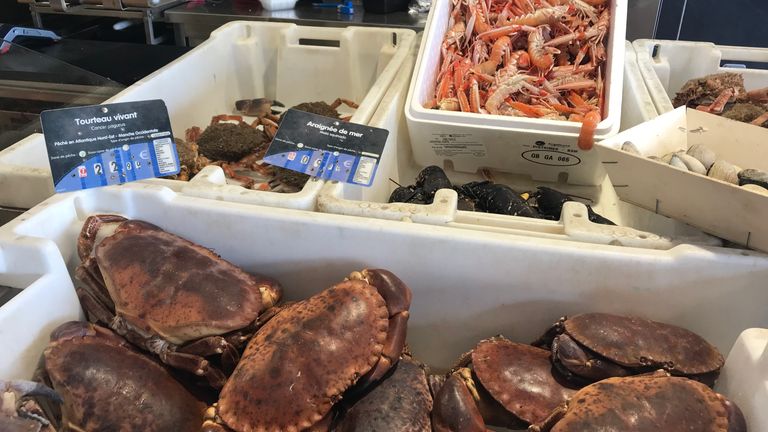 But not all boats have good enough tracking data to prove where they've been and others have fallen through loopholes.
Baptiste says he has a friend who's been a fisherman for years and who invested a million euros in a new boat just two months ago.
But because the new vessel had only been at sea a few weeks and because the licences are for boats not the captains, he's been rejected for a licence to fish Jersey waters.
For now, Jersey isn't backing down and the French are retaliating.
Jersey fishermen are now being banned and blocked from landing their catch and selling it at numerous ports along the Normandy and Brittany coastlines.
It means many now have too much fish and nowhere to sell it.
Louis Jackson owns The Fresh Fish Company based in Jersey and although he supports the new licensing system, he's concerned about escalation.
French fishing boats disbanded their protest in Jersey waters but argue their livelihoods are at risk.

"I'm worried about the future of the fishing industry in Jersey," he says. "Because of Brexit, we have a golden opportunity to change things and be on a more-than-even playing field.
"At the moment everything is geared towards the French."
And there are other serious threats on the table. The French maritime minister Annick Girardin has previously threatened to cut electricity to Jersey. Some 90% of the power to the island comes from France via underwater cables.
This week she said talks were ongoing but there hasn't yet been any agreement.
Meanwhile, the EU backs France.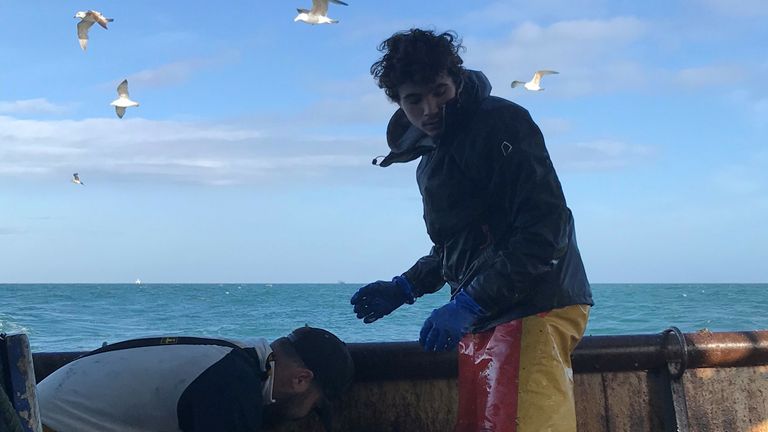 Michel Barnier, the EU's former chief Brexit negotiator, said the British were acting like "pirates".
But any official intervention would be slow and likely take many months to resolve: time fisherman on neither side have.
As his catch was hoisted off the Cap Lihou and onto the harbour, Baptiste looked on.
"I'm angry, astonished but above all confused," he says. "If it doesn't get sorted soon, things could get a lot worse."
Politically there's still a lot to unpack. Fishermen have little choice but to wait.