COVID-19: Prince Charles 'saddened' by India coronavirus crisis and urges public to back oxygen appeal | UK News
The Prince of Wales has said he is "deeply saddened by the tragic images" in India as its coronavirus death toll passes 200,000.
In a message to the Indian people, Charles said they were in his "thoughts and prayers".
He added that the British Asian Trust, which he founded in 2007, has launched an Oxygen For India emergency appeal to raise funds for oxygen concentrators to be sent to hospitals.
Inside India's COVID oxygen crisis

Live COVID news from the UK and around the world
He said: "For well over a year the pandemic has had a devastating impact on so many of us around the world.
"This week, I have been deeply saddened by the tragic images we have all seen as COVID-19 takes its horrific toll in India.
"Like many others, I have a great love for India and have enjoyed many wonderful visits to the country.
"Indian aid and ingenuity has been a support to other countries through this immensely difficult time. As India has helped others, so now must we help India.
"With support from the Indian diaspora, the British Asian Trust has launched an emergency appeal for India to channel this desire to do something about this terrible situation and help save lives.
"I would also want those suffering the effects of this pandemic in India to know that they are in my thoughts and prayers. Together, we will win this battle."
Follow the Daily podcast on Apple Podcasts, Google Podcasts, Spotify, Spreaker
A surge of new infections has left the healthcare system in the world's second-largest country on the brink of collapse.
In the past week, more than 2,000 people have died every day.
There have been 3,293 deaths reported in the most recent 24-hour period and 362,757 new infections – a global record which takes its cases total to more than 17.9 million.
Woman from Mali gives birth to nine babies after expecting seven – and all are doing well | World News

A woman from Mali has given birth to nine babies – two more than had been detected through scans.
Halima Cisse gave birth to the nonuplets at a hospital in Morocco after she was flown there in March for specialist care. All are said to be "doing well".
The 25-year-old has become a mum to five girls and four boys, which were all delivered by caesarean section.
Mali's health minister said it would be several weeks before they are expected home.
"The newborns and the mother are all doing well," she confirmed.
She said she was being updated on the progress of the mother and the babies by the Malian doctor who had accompanied Halima to Morocco.
Halima had been expected to give birth to seven babies following ultrasound scans conducted in Morocco and Mali.
Her pregnancy has fascinated people in Mali, with her case attracting the attention of the West African nation's leaders.
Nonuplets are extremely rare with medical complications in multiple births of this kind often meaning that some of the babies do not reach full term.
The first known set of nonuplets was born in 1971 in Sydney to 29-year-old Geraldine Brodrick, but none of the five boys and four girls survived.
Zurina Mat Saad gave birth to five boys and four girls in Malaysia in 1999, but none survived for more than a few hours.
ABBA star Björn Ulvaeus: Waterloo took us from rat race – I wish that for other songwriters | Ents & Arts News
ABBA star Björn Ulvaeus has said the success of Waterloo took the band from "a rat race" to being able to spend time honing their craft – a luxury many songwriters today simply cannot afford.
Released in 1974, the song was the band's first big hit, reaching the top of the charts in the UK and winning the Eurovision Song Contest for Sweden.
ABBA, of course, went on to become global superstars and now sit among the best-selling music artists of all time, with hits including Dancing Queen, Mamma Mia and Fernando, to name just a few.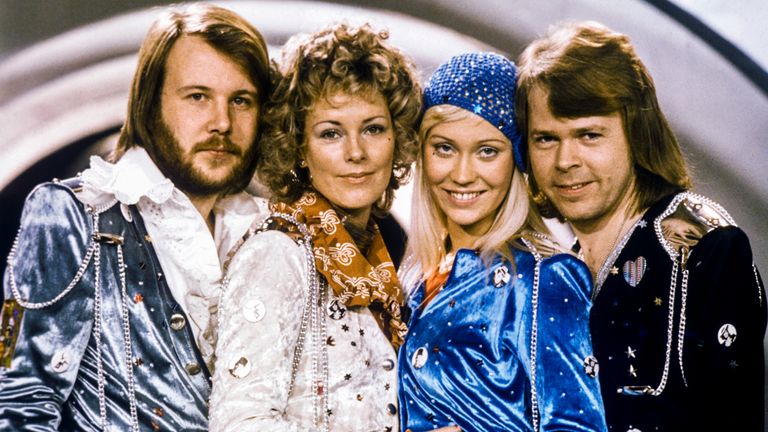 Ulvaeus highlighted Waterloo's success and what it meant for the band in an interview with Sky News, following the publication of a report he has worked on looking into how the song economy can be rebalanced.
The issue of royalties from streaming has been brought to the fore during the COVID-19 pandemic, as artists have been unable to make money from touring, but the report by MIDiA Research and Ulvaeus also addresses fairness for songwriters, too.
"Before we won the Eurovision Song Contest with Waterloo, (fellow ABBA star) Benny Andersson and I had been in a rat race," he said. "We were running around producing other people's records, writing songs for other people, even going on tours in different constellations just to pay the rent.
"But from Waterloo, when the royalties came pouring in, from that time we could afford to say no to everything else and just concentrate on the writing. That's when you get better at it. And that's what I wish for most songwriters today."
Artists including Noel Gallagher, Robert Plant, Lily Allen and Rebecca Ferguson were among a host of stars who signed an open letter to Boris Johnson in April, calling on the prime minister to take action and update the law on streaming rights.
It followed a government inquiry into how revenue from streaming is distributed, and as many musicians are speaking out about how little they get paid through the current system.
Ulvaeus says the industry needs to change and is proposing a "fan-centric" streaming model, which would see users' subscriptions going directly to the artists and people involved in the songs they are listening to.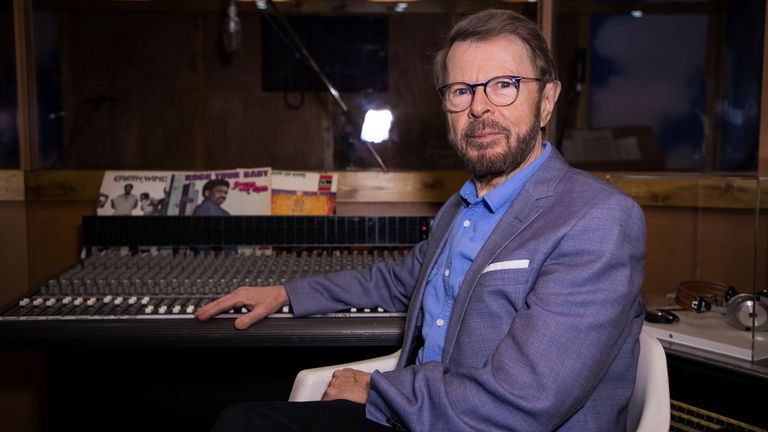 The core of the music industry "for me has always been the song", he said, but "somehow the songwriters have always been regarded as something on the periphery rather than the star of the whole thing".
Ulvaeus continued: "I think that more and more people realise that the ecosystem is dysfunctional. It needs to be so that no party is unhappy. And as it is right now, more and more songwriters have to drive Ubers because of the imbalance.
"There are several factors in this. There is the way that royalties are calculated from streaming services, which is… every month the money goes into a big pot and then that is divided by the total number of clicks that month, which means that each click gets very, very little money.
"Most clicks go to the people who have been the mega players and very little money goes to the people underneath that absolute elite layer. And so what I propose is a kind of user-centric, fan-centric model in streaming, where your subscription goes exactly to the people that you play."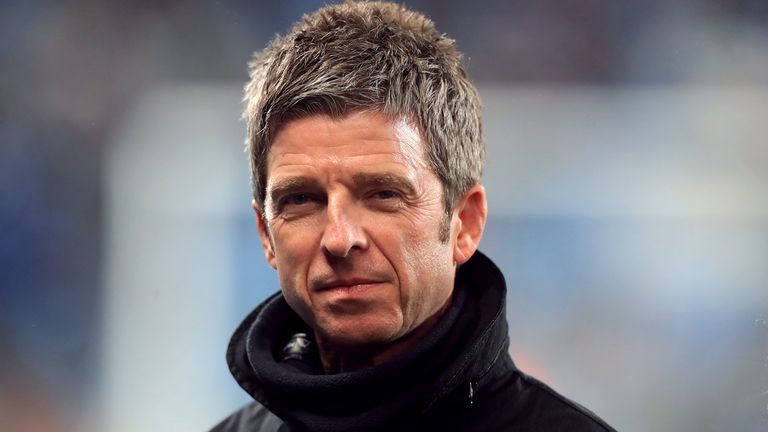 Would streaming platforms be happy to make a change?
"Not happy," says Ulvaeus, but he thinks it is inevitable, and that users should be prepared to pay more for the music they are listening to.
"It will be something [streaming platforms] have to make, I think, because it used to be that the elite songwriters could always make a living out of songwriting, but there was a layer underneath as well.
"And they could make a living during the physical era, and they could manage to push themselves up to the upper level through having the time and being able to afford to spend time on becoming better songwriters. It's a talent, but it's also a craft. And you have to hone your craft."
Being able to hone his craft is what led to ABBA's incredible back catalogue.
Speaking about the songs standing the test of time, Ulvaeus said: "I'm constantly amazed at that and really, I don't know how it happened. We just recorded the songs the best we could and why it has stayed the way it has, I don't know. It's kind of a miracle – and I don't mind it being a miracle."
COVID cases in India accounted for nearly half of worldwide coronavirus infections last week | UK News
India accounted for nearly half of the coronavirus cases reported worldwide last week and one in four of the deaths, the World Health Organisation has said.
The country was also responsible for nine in 10 of the COVID-19 cases and deaths in the WHO's South East Asia region in the past week, according to the Geneva-based agency's weekly report.
The World Health Organisation said on Wednesday: "India accounts for over 90% of both cases and deaths in the region, as well as 46% of global cases and 25% of global deaths reported in the past week."
The figures come as two positive COVID cases among the Indian delegation in the UK for this week's G7 meeting have been found.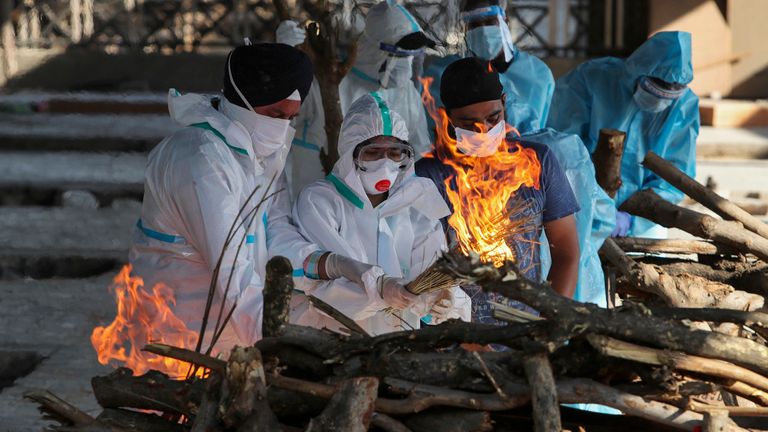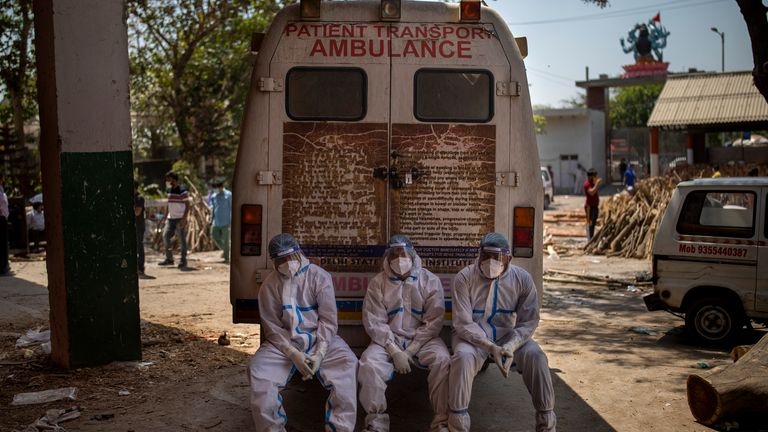 Although it is not a G7 member, India was invited to attend the first in-person meeting of the group's foreign ministers in more than two years in London this week.
India reported nearly 2.6 million new cases last week, a 20% increase on the previous week, and 23,231 deaths, the WHO has said.
There were 5.7 million new infections and more than 93,000 deaths confirmed worldwide, the organisation said in its report.
India, which accounts for almost 18% of the world's population, became the second country to record 20 million infections on Tuesday.
The first was the United States.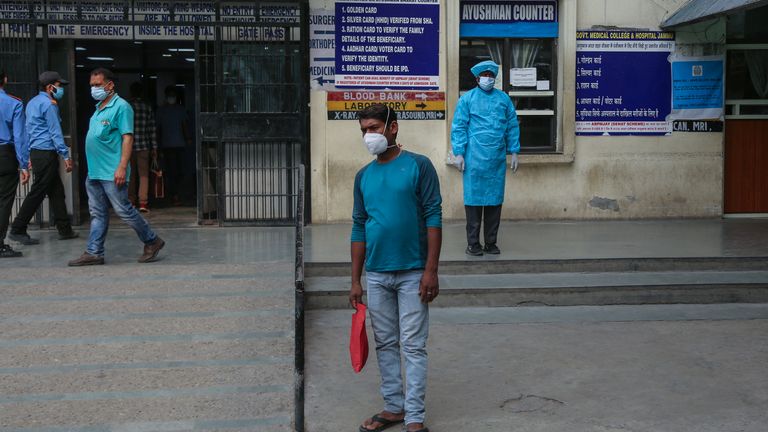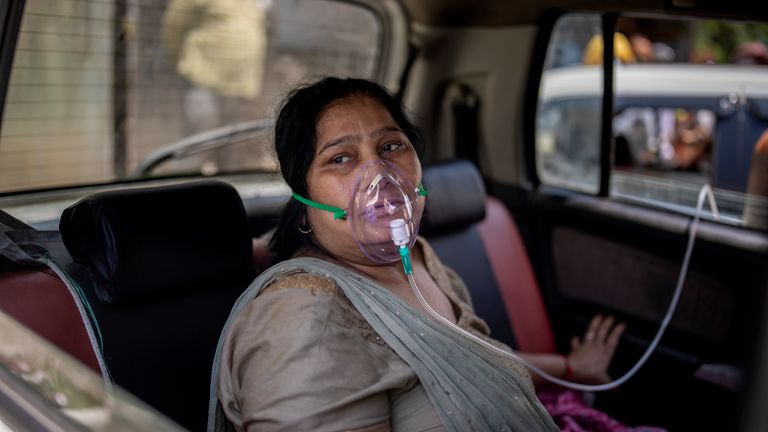 Hospitals have been running out of beds and oxygen in India after a surge of the virus there, including of a highly infectious new variant first identified in the country.
Morgues and crematoriums have been overflowing.
Many people have died in ambulances and car parks waiting for hospital beds.
Follow the Daily podcast on Apple Podcasts, Google Podcasts, Spotify, Spreaker
India's government has faced calls for a strict lockdown to slow a devastating surge in new cases.
A court in New Delhi will also decide whether to punish officials for failing to boost erratic supplies of oxygen for overstretched hospitals.
Rahul Gandhi, a leader of the opposition Congress party, said this week "a lockdown is now the only option because of a complete lack of strategy by the Indian government".
There are also signs that India's outbreak is spreading to its neighbours.
Nepal recorded a 137% increase in cases to 31,088 last week, while Sri Lanka's COVID-19 outbreak was also growing, the WHO said.