Syria's 'miracle baby' has cheated death several times – and brought together people across the world | World News
The Turkish doctors treating her are calling her the "miracle baby".
The survival of just one Syrian child refugee against tremendous odds has astonished medics around the world.
"She has cheated death at least three times," one of her doctors at Mersin Hospital, Dr Cagatay Demirci, told Sky News. "Each one of those times might be called a miracle."
Still only 18 months old, Dalal was rushed across the border from Syria's Idlib province to Turkey at the turn of the year with her life hanging by a thread.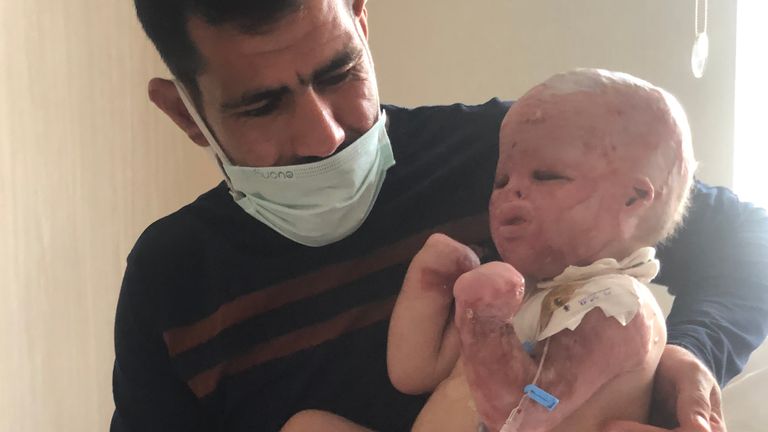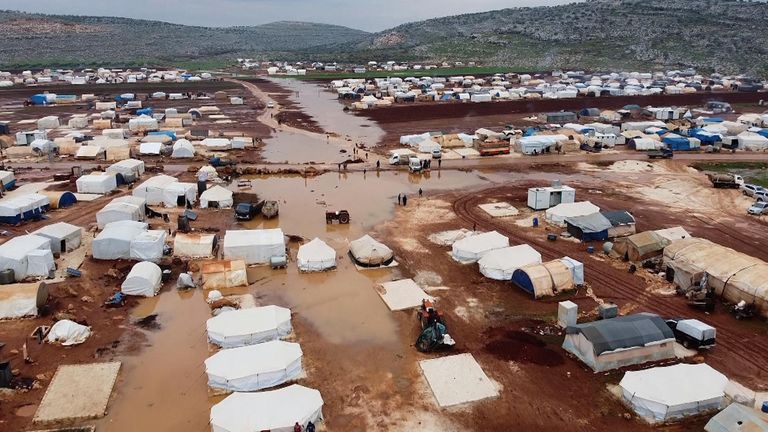 Dalal, along with her five siblings and parents, had been sleeping in their tent in Idlib when the stove they'd been using to keep warm set the shelter alight.
She was so badly burned the medics who first saw her initially concluded there was nothing they could do for her.
"Her skin was black like coal in many places," Dr Cagatay said. "It was dead."
But, not for the first time, Dalal proved the medics wrong.
"Our team went to work on her and did what we could but we left that night thinking she would not make it through the night. But when we came back in the morning, she was still here, still alive. And we thought ok, this baby wants to live!" he continued.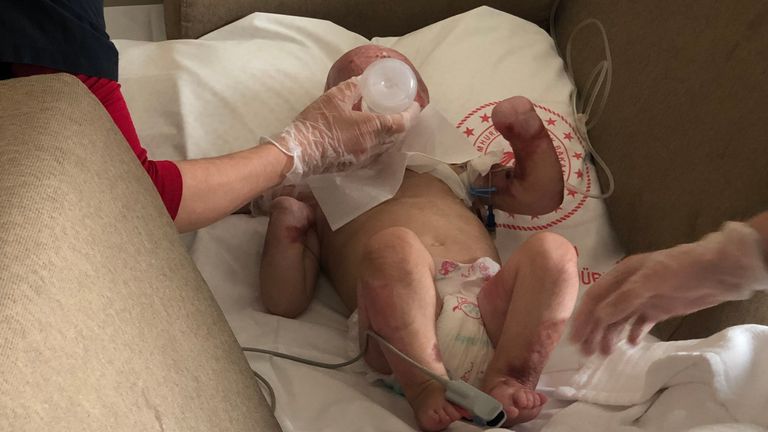 Mobile phone pictures of the incident on 10 January show a tremendous fire as people fought to pull the children to safety.
Dalal's elder sister, 10-year-old Yasmin, was the worst affected and died instantly but Dalal, then only 18 months, still had a pulse although she was badly burned.
An astonishing amount of her body had been burned – an estimated 90% – and she had inhaled a lot of searing hot air causing worrying damage to her lungs and windpipe.
However, because of her age, and because the family was in a camp near the Turkish border, she was considered an emergency case and rushed across.
She arrived alone in Turkey hours after the fire and was in surgery by 6am the morning after with a team of doctors at Mersin Hospital beginning the long fight to save her life.
Now more than three months on, she has proved an enduring symbol of survival and confounded doctors who've taken an interest in her case from around the world.
Sky News first reported on her case a few weeks after she'd been admitted to Turkey.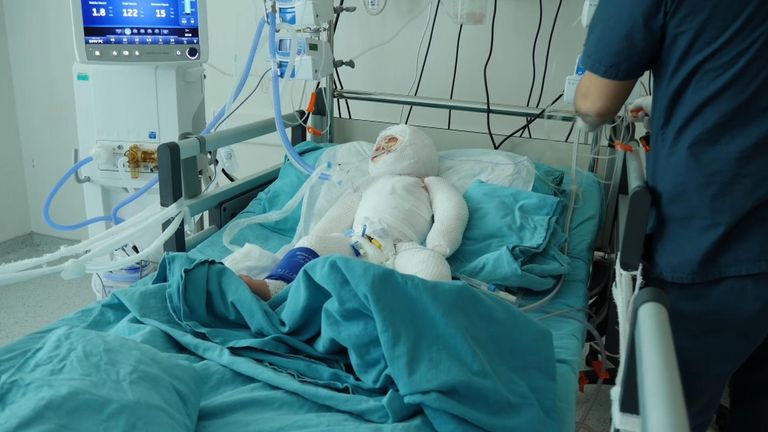 Then, her doctors gave her just a 10% chance of survival.
Virtually her entire body was swathed in bandages. She looked like a miniature mummy and her doctors were counting her life in hours and minutes. At the time, my team was unsure whether she'd still be alive by the time our report aired a few hours after filming.
But she's clung on.
She went on to get septicemia (serious bacterial blood poisoning) three times. Each time the medics thought she was not going to pull through. But each time she did.
She's already had dozens of surgical procedures to graft skin onto her leg and arm and her skull. Her blackened hands had to be amputated.
The Syrian child fighting for her life

"No doctor likes to do this, especially on a baby," said Dr Cagatay. "But our priority was to just keep her alive."
Her eyelids, her ears, her lips, her hair and skin on her skull had all melted away in the fire. The team spent hours and hours grafting skin. And somehow she's survived.
She still has no ears, and her face needs extensive reconstruction. The doctors estimate she will need probably another 10 years of plastic surgery. There is still a mountain of physical and emotional challenges ahead of her but the doctors are now so much more positive.
Talking directly to Dalal, Dr Cagatay said: "We should rename you. You are the miracle baby!"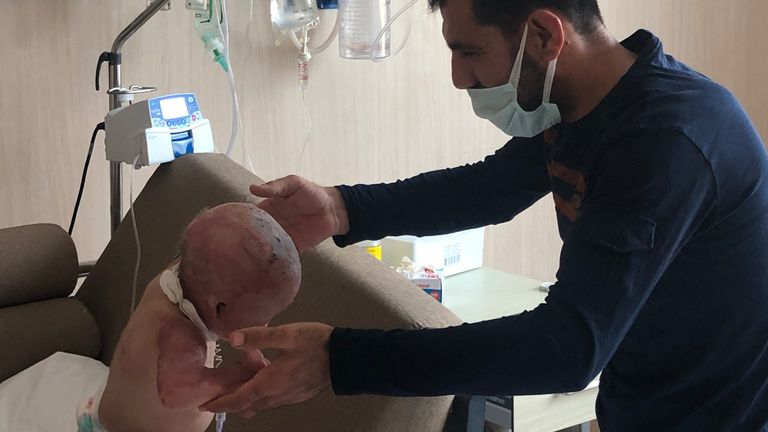 Dalal responded to the doctor's voice as soon as he entered her hospital room.
She listened to him intently and appeared to be reassured hearing the man who, along with his team, has pulled her back from the brink several times over.
During our filming of some of his operations on Dalal and her post-operative care, Dr Cagatay could be seen constantly talking to Dalal.
Despite her poor eyesight, Dalal seemed to recognise him – and there was an obvious bond between the two.
By the beginning of March, Dalal's father had managed to get permission to enter Turkey to see his terribly injured daughter.
He has been by her bedside ever since.
Dalal still has a tracheotomy helping her to breathe which means she cannot talk. Father and daughter now communicate with clicking noises – and we watched as Dalal reacted to her father's calls for "kisses" by clicking back.
She raised what was left of her hands so he could plant kisses on her and followed through by lifting her foot so he could kiss that too.
Her father played a nursery rhyme on his mobile phone and Dalal listened and appeared to try to swipe the device as she has seen her father do.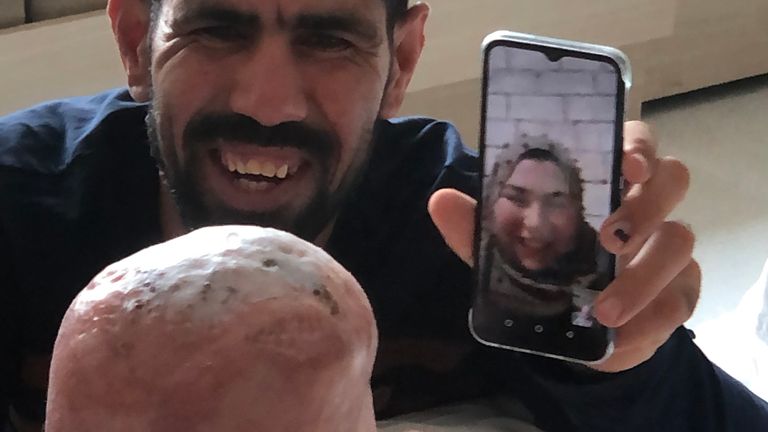 He telephoned Dalal's mother and her siblings, who are still in the refugee camp in Idlib province, and Dalal cocked her head as she saw her mother pop up on the screen.
She leaned forward, her arms outstretched and trying to reach her mother through the phone. It was an incredibly touching moment.
The Turkish authorities have granted Dalal and her father a "temporary protection order" which allows them to only remain in the country during her medical procedures but the rest of the family do not have this permission.
Her mother and the rest of her siblings are still in a tent in Tal al Karamah, north of Idlib city, with the family desperately trying to get permission to join them in Turkey. So far, the Turkish authorities have provided the life-saving medical treatment free but the reconstructive surgical costs will not be covered.
Her doctors believe reuniting with her family would be best for Dalal's recovery, which is by no means anywhere near over.
Thanks to Sky viewers who saw the initial report, some money has been raised through crowdfunding which was organised by a young, single mother in Surrey called Lisa Cavey.
"I cried when I first saw the report. I have a two-year-old myself, almost the same age as Dalal. And being a mother, I thought that could easily have been my daughter in different circumstances," she said.
"I just felt this was so wrong that this had happened and the family were in this situation through no fault of their own. I just had to act. The refugee crisis breaks my heart and I strongly believe people should not be living in tents in 2021."
She is using that money to help pay rent on a flat near the hospital.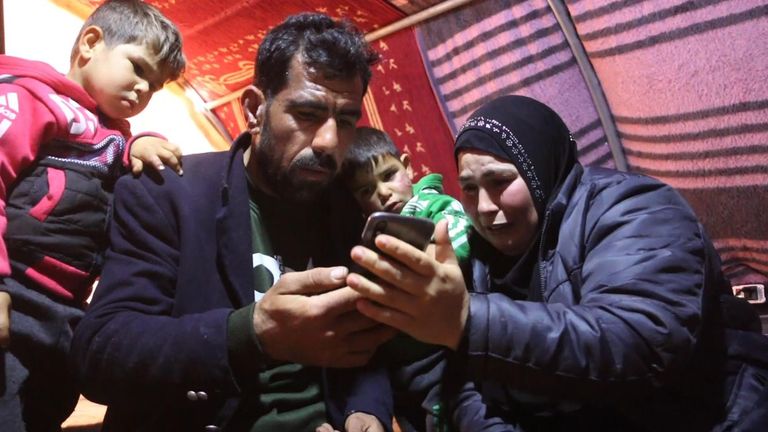 Dalal is likely to be discharged from the hospital within the next couple of weeks and then there will be another challenge for her to overcome – avoiding infection whilst her skin heals enough for the reconstructive surgery she will need for years to come.
Dr Aydin Yucel, who is also part of Dalal's medical team, told us: "It would not be good for Dalal to be returned to a tent in Syria. She needs a hygienic place to ensure she does not get infected."
Our report caught also the attention of medics in America and Britain who offered to help with specialist equipment – and who also frankly wanted to learn from the Turkish burns specialists in Mersin who find their wards now filled with Syrian victims of bombing, shelling and fires.
"We do roughly eight operations a day," Dr Cagatay told us. "And out of those I would say about five every day are Syrians who've been injured because of the war."
It probably makes the Turkish surgical burns team some of the most experienced specialist medics in the world.
Soon after the American and British doctors connected with the Turkish medical team, others joined too.
Now there are more than a hundred medical teams from around the world who are part of the WhatsApp communication group run by Dr Cagatay and Mersin Hospital.
They regularly exchange videos of Dalal, swap messages of advice, guidance and surgical know-how and are astonished at her endurance.
"They all feel they know Dalal," Dr Cagatay said.
They include doctors from Nigeria, Ghana, Ethiopia, Kenya, Tanzania, Morocco, Pakistan, Afghanistan, Palestine, Israel, Bhutan, Nepal, India, Indonesia, Australia, Singapore, China, Bangladesh, Georgia, Mexico, Belgium, Italy, Romania and Mozambique.
It's an astonishing line-up and collaboration – all brought together by one little girl whose plight really struck a chord.
Dominic Ongwen: Ugandan former child soldier turned rebel commander jailed for 25 years for war crimes | World News
A former Ugandan child soldier who became a rebel commander has been sentenced to 25 years in prison.
Judges at the International Criminal Court (ICC) in The Hague, the Netherlands, said Dominic Ongwen's own abduction as a schoolboy and tortured past prevented him from being handed a life sentence.
Ongwen, who was taken into ICC custody in 2015, was convicted in February of 61 crimes including rape, sexual enslavement, child abductions, torture and murder.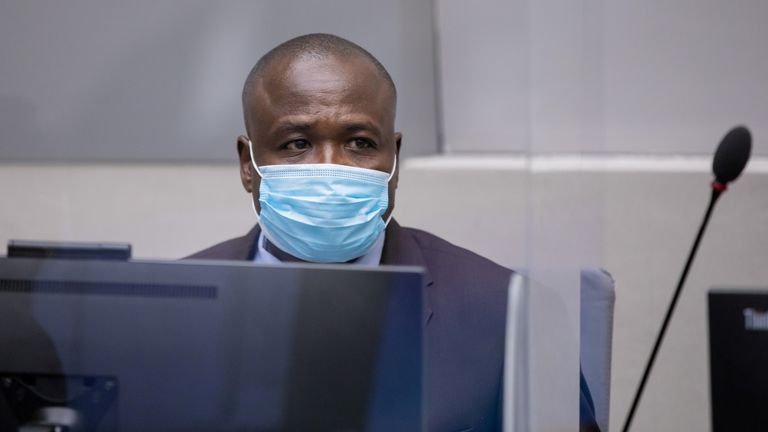 He was abducted by the Lord's Resistance Army (LRA) when he was nine and forced into a life of violence.
Led by fugitive warlord Joseph Kony, the LRA terrorised Ugandans for around 20 years as the group battled the government of President Yoweri Museveni from bases in northern Uganda and neighbouring countries.
It has now largely been wiped out.
Ongwen knowingly committed a range of heinous crimes as an adult, many of them against defenceless children and women who had been forced into slavery.
Judge Bertram Schmitt told the court on Thursday: "The chamber is confronted in the present case with a unique situation."
He said Ongwen was "a perpetrator who wilfully brought tremendous suffering upon his victims, however, also a perpetrator who himself has previously endured extreme suffering at the hands of the group of which he later became a prominent member and leader".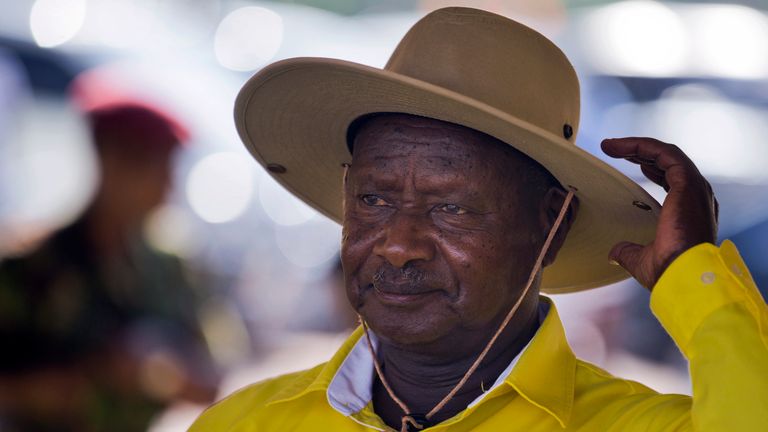 Ongwen, 46, wearing a face mask and headphones, showed no emotion as he was given a jail sentence five years longer than the 20 years prosecutors had requested.
His lawyers argued he should get no more than a 10-year sentence because of his childhood history.
They have said they will appeal the conviction.
Liechtenstein prince accused of killing Romania's largest bear | World News

A prince in Liechtenstein has been blamed for shooting one of Europe's largest bears during a hunting expedition in Romania.
Environmental campaign group Agent Green suspect that Prince Emanuel von und Zu had a permit to shoot a female bear that had caused damage to farms.
But instead, he apparently shot Arthur, a 17-year-old brown bear, who lived in a protected area and is believed to be Romania's largest bear.
"But in reality, the prince did not kill the problem bear, but a male that lived deep in the woods," Agent Green claim.
Documents shared by Agent Green confirmed that Prince Emanuel, who lives in Austria, was granted a four-day hunting permit in March in Covasna County in Romania.
Gabriel Paun, the president of Agent Green, said: "I wonder how the prince could confuse a female with a chicken coming to the village with the largest male that existed in the depths of the forest.
"It is clear that the prince did not come to solve the problem of the locals but to kill the bear and take home the biggest trophy to hang it on the wall.
"We are dealing with a game of poaching since they shot the wrong bear."
Brown bears are protected animals under international law and in 2016 Romania outlawed trophy hunting.
However, exceptions have been granted by Romania's environment minister in extreme cases when a bear has caused damage or threatened people.
The mayor of Ojdula confirmed to Agent Green that locals had reported bear attacks, but all the attacks were executed by a female bear.
"Every farmer I spoke to said that nothing had changed since the male bear was shot and that the female continued to come to the household daily," Mr Paun said.
Ann-Kathrin Freude, the campaign co-ordinator at animal welfare charity, VGT, added: "It is a shame for Austria that Prince Emanuel abused a derogation to kill this beautiful bear."
A senior official from Romania's environmental ministry, Octavian Berceanu, told the Associated Press that an investigation into the case was launched on 29 April and that poaching is one of the suspicions in the case.
A spokesperson for the Princely House in Liechtenstein told Sky News that it is unable to comment on the matter as it's personal to the prince.
"The Princely House would like to point out that respect for nature has been one of the fundamental concerns of the house and is a central element of the family's commitment to ecological and social sustainability," the spokesperson added.
French military ship heads to Jersey to join post-Brexit fishing protest as Royal Navy patrols waters | UK News
A fleet of French fishing boats has descended on Jersey after threatening to blockade the island's main port over a post-Brexit fishing rights row.
The UK has sent two Royal Navy ships to Jersey "as a precaution" – HMS Severn and HMS Tamar are patrolling the waters around Jersey this morning.
And French authorities have confirmed to Sky News that a vessel, the Military Ops ship Athos, will be arriving "imminently" to carry out a "patrol mission" – while local reports suggest another is also en route.
The deployment, France says, is to "guarantee the safety" of people at sea and "accompany" the flotilla of around 50 French fishing vessels currently protesting off St Helier over a lack of access to waters around the Channel island.
An official from the French presidency said they were keen that the situation does not worsen.
France views the situation in Jersey as being calm, they said, but added that the UK's language on the matter had aggravated tensions.
The European Commission, meanwhile, has said it is "engaging in good faith" with the UK as to how to solve the fishing dispute.
The map below, taken from marinetraffic.com just before 7am on Thursday, showed the French boats (in orange) heading towards the harbour then later massing near Elizabeth Castle, while the UK ships (light blue) appeared to be holding back.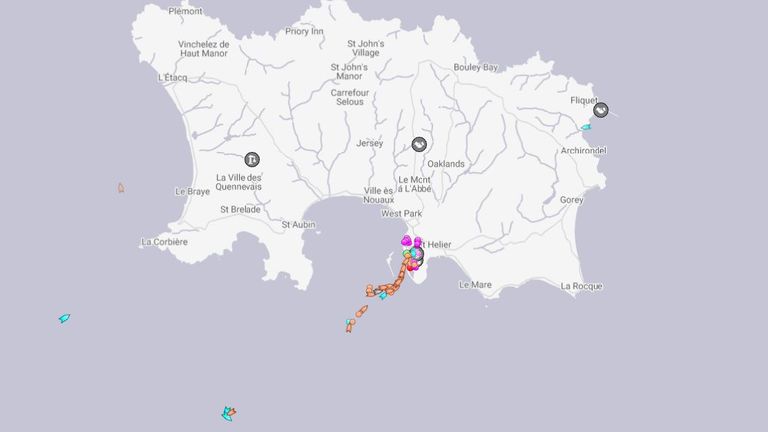 French fishing boats were due to enter the harbour to prevent the Commodore Clipper, carrying cargo, from docking in Jersey, according to local paper the Bailiwick Express.
French officials also said they will be closing their Channel Islands' offices and will stop importing Jersey products into France.
The Commodore Goodwill freight ship was initially "trapped" and unable to leave the harbour this morning, but was later allowed to pass, according to the Jersey Evening Post.
Flares lit as fishing standoff continues

Although crews on the French vessels were seen setting off flares, the protest has so far remained peaceful.
However, footage showed one instance of a UK boat being rammed by a French vessel.
The Jersey Evening Post said several local residents had turned up to watch and police were at the scene.
French boat rams British vessel

Jersey fisherman Josh Dearing described the scene at the port of St Helier as "like an invasion".
The 28-year-old told the PA news agency: "There were probably about 60 boats. There were a few hand-held flares and smoke flares going off and apparently a few maybe bangers and stuff going off from the French."
He said the French fleet – which started gathering from around 4.30am – was mostly made up of "big French dredgers and trawlers" of about 12 metres or more.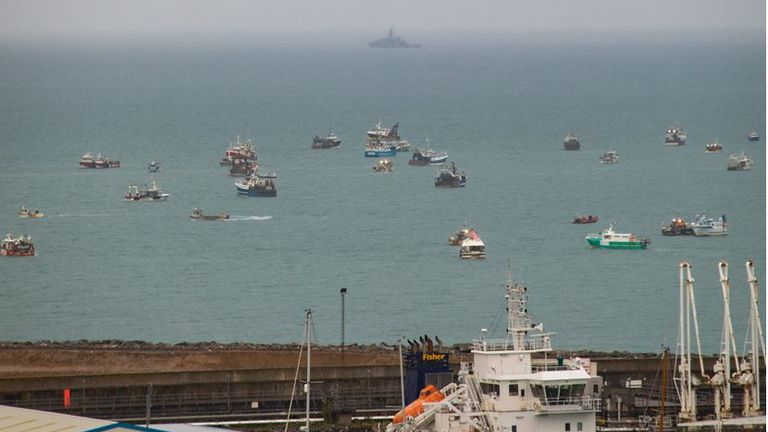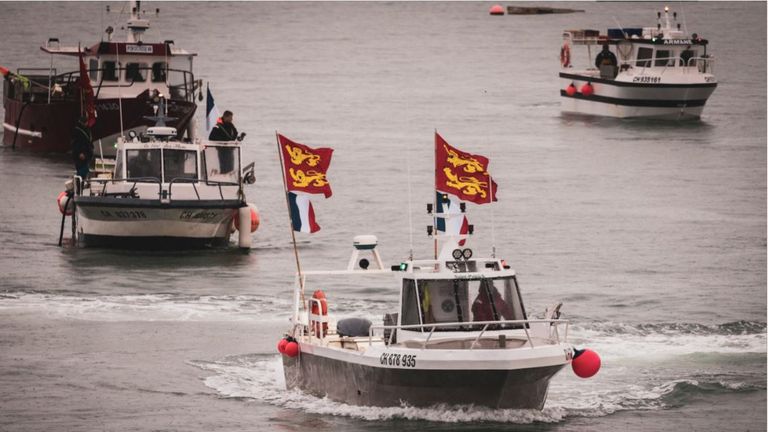 Paris earlier threatened to cut off power to the island – which receives 95% of its electricity from France through three undersea cables – accusing Jersey of dragging its feet over issuing new licences to French boats.
French fishermen said they would blockade the main port of St Helier to prevent supplies from being delivered.
Jersey's external affairs minister, Ian Gorst, said the French had made clear their frustration over the new Brexit trade deal. He said "tensions are running high" and the "precautionary" action by the Royal Navy "has so far worked".
'Disproportionate threats' from Paris

He told Sky News: "We have had disproportionate threats emanating from Paris and a potential blockade of our main harbour – and those threats we take seriously to protect Jersey's interests.
"We want to give French fisherman who can prove they have fished in our waters historically, the rights they had previously – but evidence has to be provided.
"Now there is a little bit of a bureaucratic process because that evidence has to go from Normandy to Paris, to the EU and London and then to Jersey, and it has become apparent since we issued the first licences on Friday that not all of that evidence has been presented, and therefore talking and helping fishermen to be able to provide that evidence means we will be able to adjust their licences, and that is the way through the problems that we are currently experiencing."
He said Jersey fishermen had "found it bureaucratic to land their fish" in French waters.
Mr Gorst added Jersey government representatives were due to meet with French fishing leaders this morning on boats alongside each other in the harbour "to resolve the current dispute and resume previous good relations".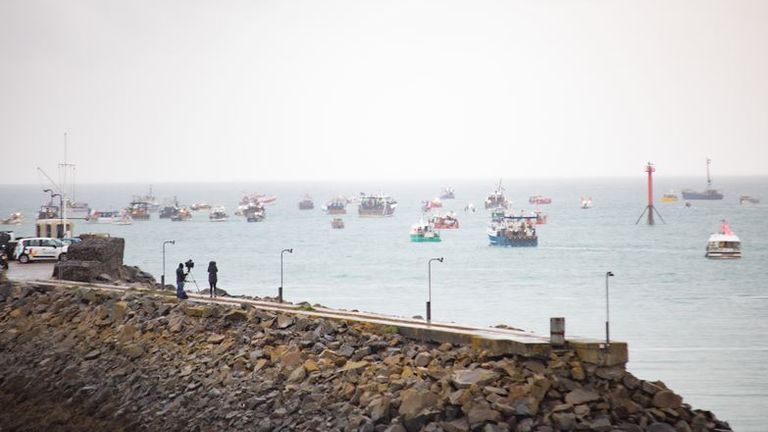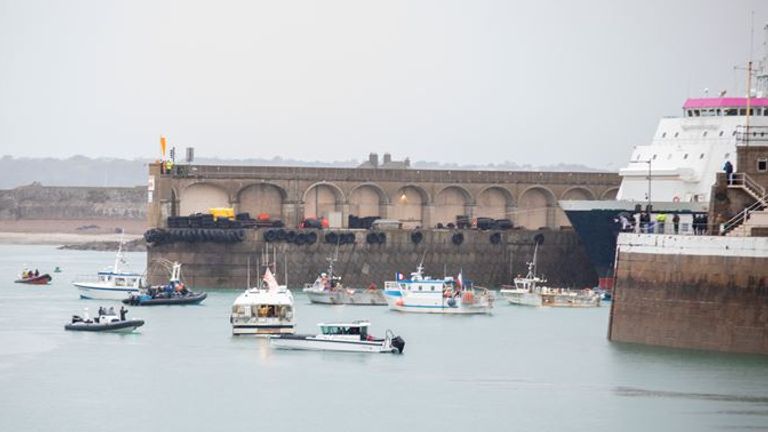 Jimmy Hersent, of the Monaco du Nord 2, told Sky News: "We went to Jersey to tell them that we want to work as we were before.
"A boat like mine is no longer allowed to trawl and I only have the right to come for 34 days in the year.
"[If this continues], what will happen is that the amount of fishing boats in the Bay of Granville will be too large and we will be on top of each other, and the resource there will be impacted."
Downing Street confirmed Boris Johnson spoke to the chief minister of Jersey, Senator John Le Fondre, on Wednesday evening "about the prospect of a blockade of Saint Helier" – the island's main town.
"The prime minister and chief minister stressed the urgent need for a de-escalation in tensions and for dialogue between Jersey and France on fishing access," a spokesman said.
"The prime minister underlined his unwavering support for Jersey. He said that any blockade would be completely unjustified. As a precautionary measure the UK will be sending two offshore patrol vessels to monitor the situation.
"They agreed the UK and Jersey governments would continue to work closely on this issue."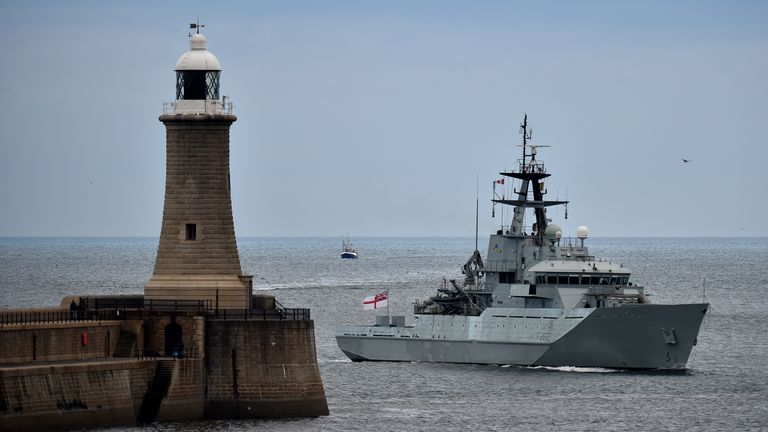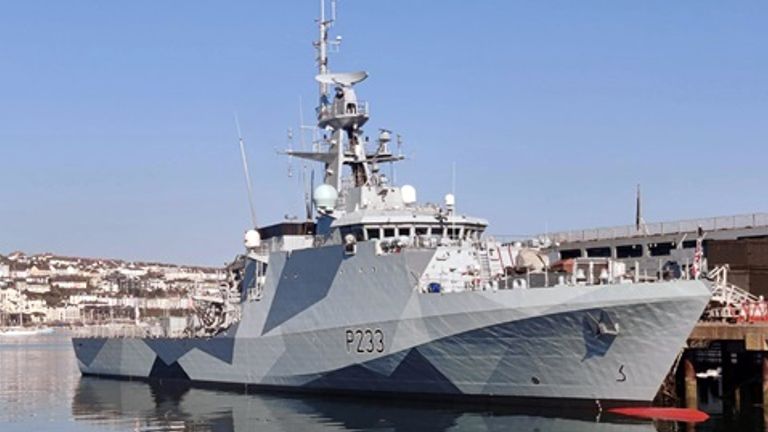 In a statement, Mr Le Fondre and Mr Gorst said they expected a "peaceful demonstration by the French fishermen outside St Helier Harbour".
Speaking on Wednesday night, they said: "The responsible ministers and government officials have met this evening to ensure that the very best plans are in place to ensure Islanders' interests are properly protected at all times. We remain confident in our ability to do this.
"We welcome the ongoing support from the prime minister and UK government to achieve a diplomatic solution to this dispute, and we are aware that the UK are sending two offshore patrol vessels as a precautionary measure to monitor the situation in Jersey waters."
A Ministry of Defence spokesman confirmed HMS Severn, described as being able to mount fishing vessels for inspection, and HMS Tamar, one of the Navy's newest warships, were being deployed to Jersey "to conduct maritime security patrols".
"This is a strictly precautionary measure and has been agreed with the Jersey government," he added.
Grateful to Prime Minister @BorisJohnson for speaking with @Ian_Gorst and me this evening, and offering his wholehearted support in de-escalating the tensions between Jersey and our French neighbours over fishing access.

— John Le Fondre (@John_Le_Fondre) May 5, 2021
France accused the UK of using red tape to limit fishing around Jersey, in breach of the Brexit agreement made with the EU last year, and said it is "ready to use these retaliation measures".
"With regards to Jersey, I would remind you, for example, of electricity transmission by underwater cable. So, we have the means," French maritime minister Annick Girardin said.
The UK's environment and food secretary George Eustice said the row was about 17 French fishing vessels that have failed to provide the data needed for Jersey to grant them a licence to fish in its waters.
Ms Girardin said the authorisation of 41 boats to fish in Jersey waters had been accompanied by new demands "which were not arranged or discussed, and which we were not notified about".
The demands set out where ships could and could not go, how long fishermen can spend at sea, and what machinery they can use, she added.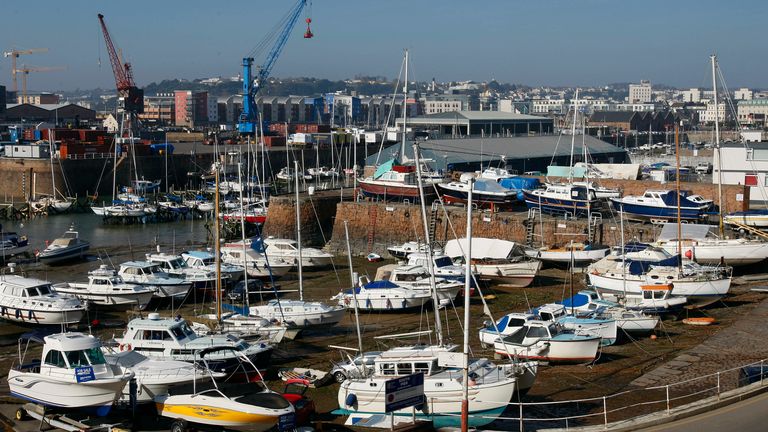 Mr Eustice said the UK has been asking the European Commission for the data needed to complete the licence applications and will issue them "as soon as they have provided that data".
"I think the threat that was made is completely disproportionate and unacceptable," he said.
"We are working through the agreement, Jersey have already licensed over 40 vessels, they've been very pragmatic throughout this.
"They've also been clear that they'll process the remaining 17 or so as soon as they put forward the data, so I think it's unacceptable to make those sorts of comments."
Mr Eustice said "a small number" of French authorities or individual French fishermen have been "difficult to identify" and get the data from – but Jersey has issued temporary licences as vessels gather the data.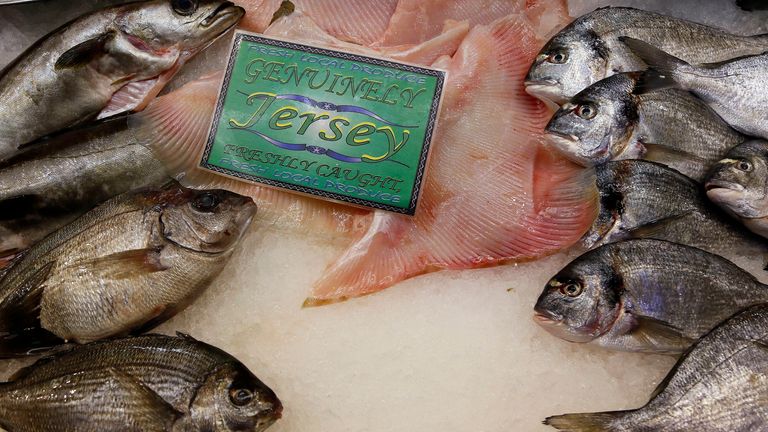 Analysis: Downing Street is sending a strong message to France
By Alistair Bunkall, defence correspondent
Protecting UK fishing waters is one of the Royal Navy's oldest tasks, but Downing Street's decision to send two warships to the Channel Islands is a deliberate posture after France's initial threat to cut off electricity to the islands.
HMS Tamar and HMS Severn are OPVs – Offshore Patrol Vessels. Despite the rather lowkey name, they are sophisticated ships, especially Tamar which only entered service in 2020 and is equipped with the latest radar, sonar and weaponry technology.
The Royal Navy provides its ships to the UK government (Defra) for a set number of days each year to assist in patrols of waters around England, Wales and Northern Ireland. The devolved Scottish government has its own fleet.
The UK's Exclusive Economic Zone is the fifth largest in the world, extending 200 miles from the coast. The Royal Navy's role in UK waters is to prevent overfishing by foreign vessels and to enforce quotas. This has long been controversial but Brexit has made it more so.
Sending OPVs to Channel Island waters is, in itself, not controversial, but people I spoke to in the MoD and Royal Navy were not made aware of the announcement until late on. Fisheries post-Brexit were always going to be controversial, but it seems Downing Street is puffing out its chest and sending a strong message to Paris.