Pakistan: Four killed and 12 wounded after bomb explodes at luxury hotel | World News
Four people have been killed and 12 are injured after a bomb explosion at a luxury hotel in Pakistan, local authorities have confirmed.
The blast happened inside the car park of the Serena hotel in Quetta, southwest Pakistan, on Wednesday, police said.
Video showed the building and nearby cars in flames as emergency services attended the scene.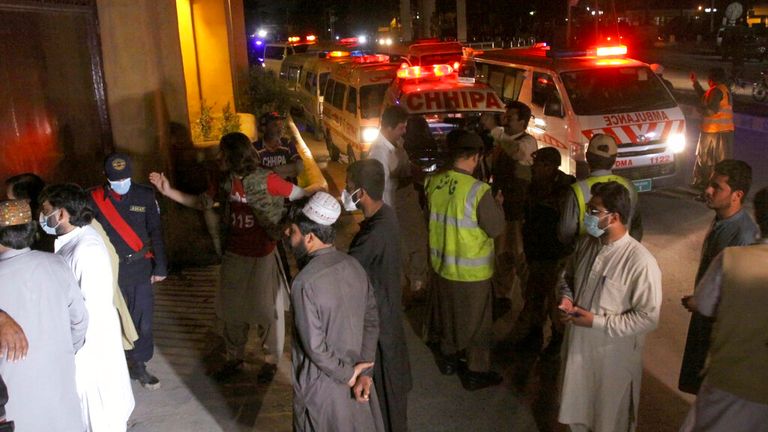 Police said those injured, some of them critically, were being transported to nearby hospitals.
"An explosion has rocked the parking area of Serena hotel," police official Nasir Malik said.
"Our officers are working to determine whether it was a bomb and what type of device it could be."
Wasim Beg, a spokesperson at the provincial health department, confirmed that four people died and 12 were wounded.
No one has claimed responsibility for the attack, but Balochistan province has long been troubled by insurgent attacks by secessionist groups calling for independence.
The Pakistani Taliban also operates in the area.
Why is there a row over fishing in Jersey – and how might it escalate? | Politics News
Two Royal Navy vessels have been sent to Jersey amid concerns of a possible blockade of the island by French boats – but why have they been deployed?
Sky News looks at what's sparked the tensions and how the row might escalate.
What's happening?
The UK has deployed HMS Severn and HMS Tamar to Jersey to conduct "maritime security patrols" as a "strictly precautionary measure" following talks with the Jersey government, the Ministry of Defence has said.
HMS Severn entered back into service in June last year – after being saved from the scrapyard – to boost the UK's ability to patrol its waters after Brexit.
HMS Tamar came into service in December last year as one of five new offshore patrol vessels.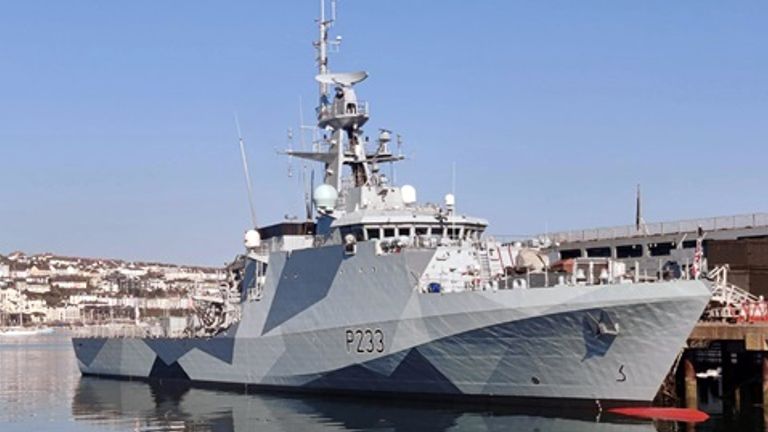 Meanwhile, France has sent its own patrol vessel to Jersey to "guarantee the safety" of people at sea and "accompany" French fishing vessels.
Jersey, the biggest of the Channel Islands, is a British Crown Dependency and is defended and internationally represented by the UK government.
It lies just 14 miles from the French coast and 85 miles south of the English coast.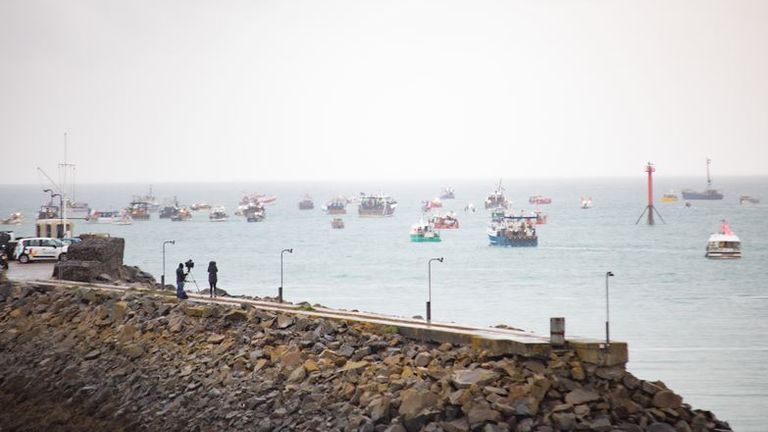 Why has the Royal Navy been sent?
The vessels were deployed amid concerns of a possible blockade of Jersey by French boats.
As of Thursday morning, up to 60 vessels were reported off Jersey's south coast, near the island's capital St Helier, as part of a demonstration by French fishermen.
Some let off flares but the protest has so far remained peaceful, according to the Jersey Evening Post.
There had been worries about more direct action by the demonstrators.
Paul Luxon, the chief executive of Condor Ferries, posted on Twitter that the Commodore Goodwill freight ferry had been "trapped" in St Helier harbour.
However, it was later reported the vessel would be allowed to leave.
Downing Street has said that any blockade would be "completely unjustified".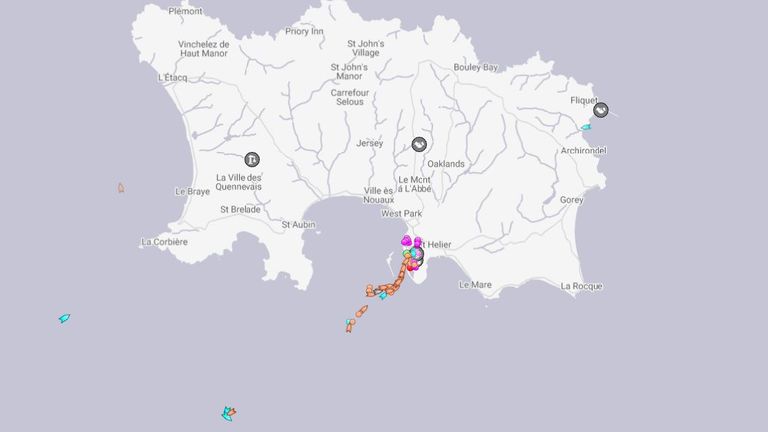 Why are French fishermen protesting?
French fishing crews are demonstrating as part of a row over post-Brexit fishing rights.
Under the Brexit trade deal, which came into force on 1 January, EU fishermen continue to have some rights to fish in UK waters as part of a transition period until 2026.
However, under the new rules, EU boats wanting to fish within 12 miles of the UK coast need to be licensed and prove they have a history of fishing in those waters in order to carry on operating.
This includes submitting evidence of their past fishing activities.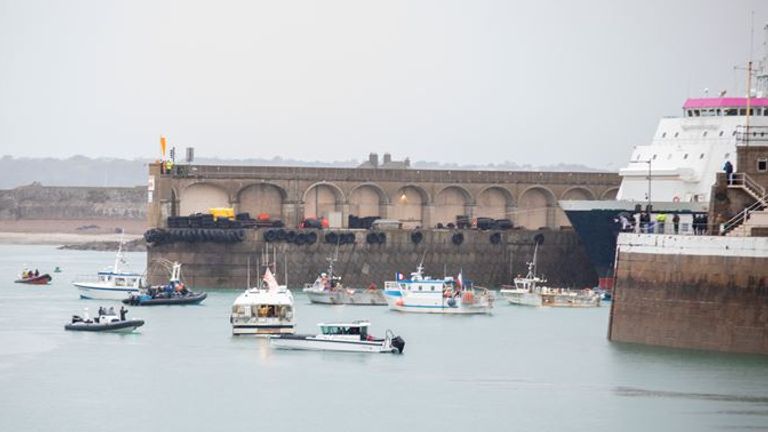 Jersey has not granted licences to some of the boats that have applied to fish in its waters.
Ian Gorst, the island's external relations minister, said of the 41 boats which sought licences under the new rules last Friday, all but 17 had provided the evidence required.
"The trade deal is clear but I think there has been some confusion about how it needs to be implemented, because we absolutely respect the historic rights of French fishermen to fish in Jersey waters as they have been doing for centuries," he said.
"I do think a solution can be found. I am optimistic that we can provide extra time to allow this evidence to be provided."
The French government has also expressed its anger at what it said were unilaterally-imposed conditions on the fishing licences, including the time French fishing vessels could spend in Jersey's waters.
Jersey said it had issued permits in line with the terms of the post-Brexit trade deal.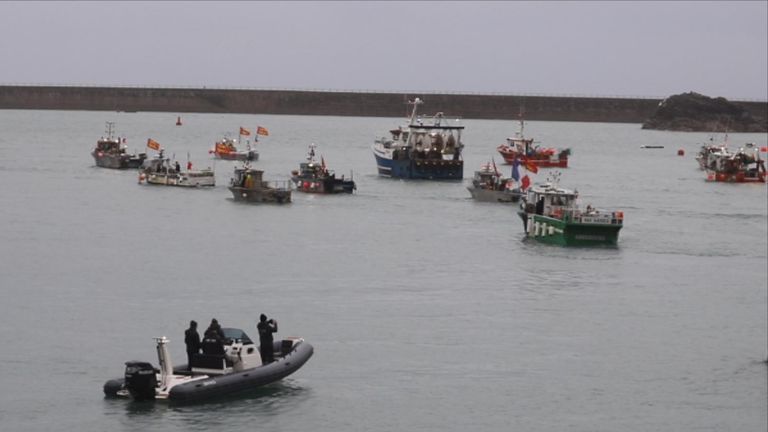 Could the row escalate further? Could the lights go out on Jersey?
France's maritime minister Annick Girardin warned this week her country was ready to take "retaliatory measures" over the fishing dispute.
This included a threat that France could cut off electricity to Jersey, which – with a population of 100,000 people – receives 95% of its electricity from France through three undersea cables.
And Ms Girardin told the French parliament this week: "In the (Brexit) deal there are retaliatory measures. Well, we're ready to use them.
"Regarding Jersey, I remind you of the delivery of electricity along underwater cables. Even if it would be regrettable if we had to do it, we'll do it if we have to."
'Disproportionate threats' from Paris

However, Jersey's government has assured residents the island's "essential infrastructure will not be disrupted as local facilities are able to meet our power requirements in the event of any external interruption".
When the current EU-UK fishing transition period ends in 2026, there is also the possibility for further tensions to arise when both sides move to annual negotiations to decide how fish stocks are shared between them.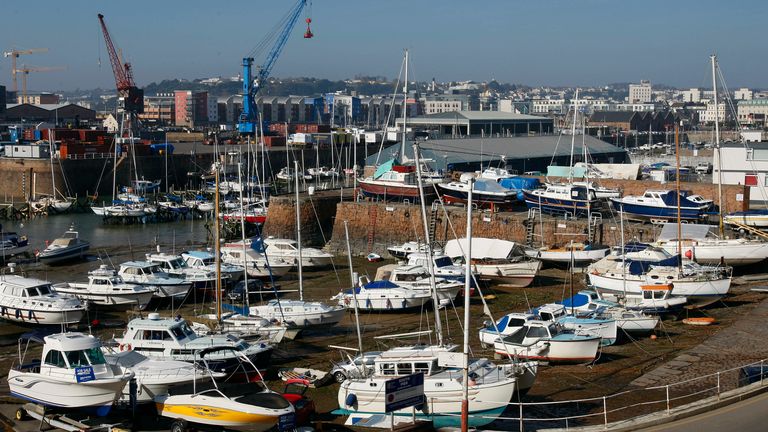 Have there been fishing disputes before?
During the UK's 47-year membership of the EU, fishing rights were decided as part of the bloc's Common Fisheries Policy.
However, prior to that, there had been what were known as the "Cod Wars" between Icelandic and British fishing vessels from 1958 to 1976.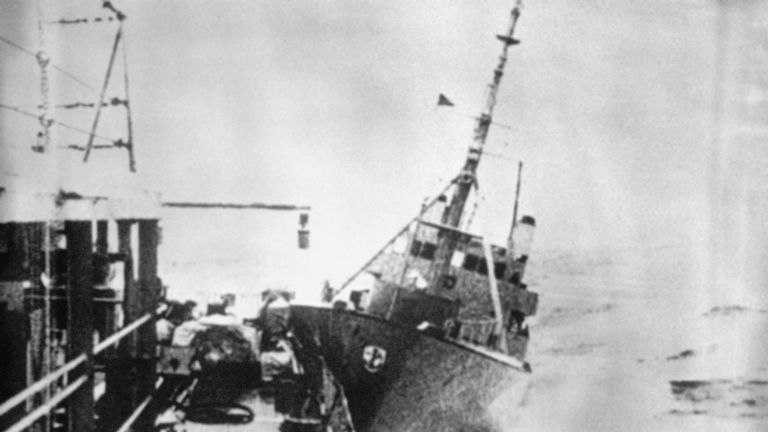 These violent clashes were sparked by Iceland asserting control over the seas surrounding the island.
The Royal Navy became involved by escorting British trawlers.
In what was dubbed the "Scallop Wars" in the summer of 2018, tensions erupted between French and British boats around the Baie de Seine waters.
Two American friends jailed for life after killing of Italian police officer while teenagers | World News
A jury in Italy has sentenced two Americans to life in prison for the killing of a police officer.
The jury of two judges and six civilians deliberated for more than 12 hours before convicting Finnegan Lee Elder, 21, and Gabriel Natale Hjorth, 20.
There was a gasp in the Rome courtroom as the presiding judge read the verdict: guilty on charges of homicide, attempted extortion, assault, resisting a public official and carrying an attack-style knife without just cause.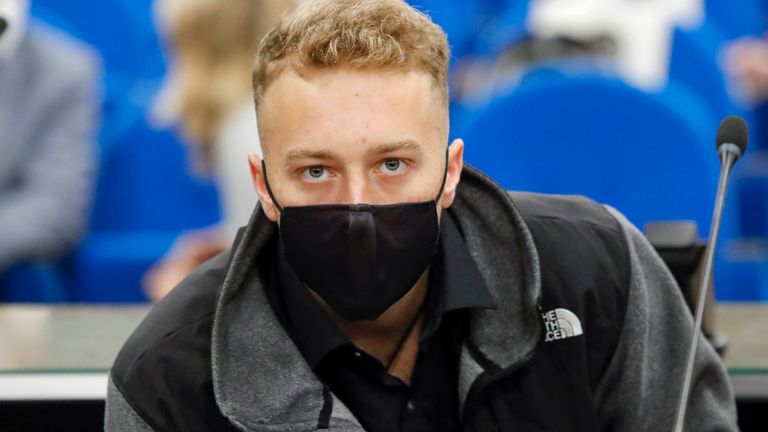 Elder stabbed Vice Brigadier Mario Cerciello Rega 11 times on 26 July, 2019, with a knife he had brought with him from California.
Natale-Hjorth helped him hide the weapon in their hotel room and, under Italian law, an accomplice in a murder can also be charged with murder even if they did not actually kill the victim.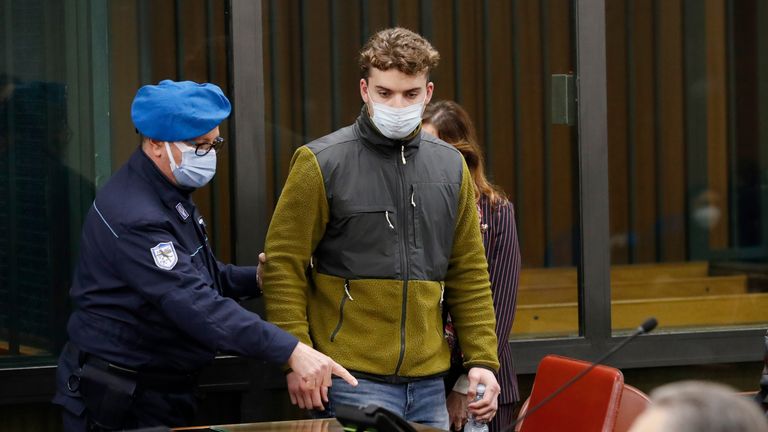 The death of 35-year-old Carabinieri paramilitary police officer Mr Cerciello Rega shocked Italy and he was mourned as a national hero.
His widow Rosa Maria Esilio had held a photo of him throughout the trial and cried when she heard the verdict, saying afterwards: "His integrity was defended.
"He was everyone's son, everyone's Carabinieri.
"He was a marvellous husband, he was a marvellous man, a servant of the state who merited respect and honour."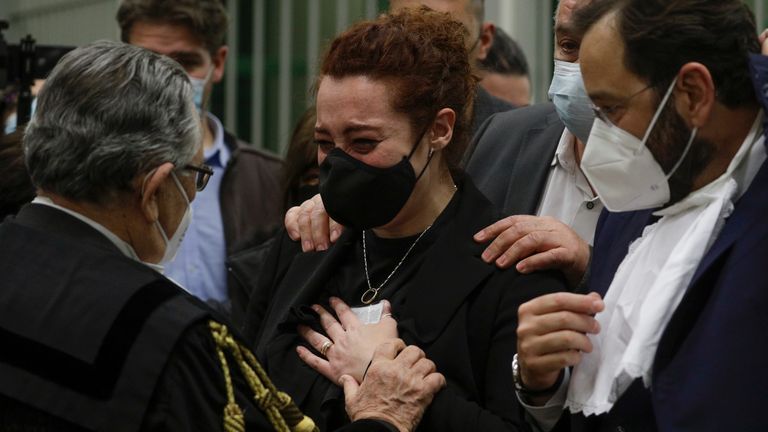 Elder's parents appeared stunned and, as he was being walked out of the court, his father called out: "Finnegan, I love you."
His lawyer Renato Borzone said the verdict was a "disgrace for Italy", having earlier told the court that his client had psychiatric problems, including a constant fear of being attacked.
Something had "short-circuited" when Elder was confronted by the officer, he added.
Natale-Hjorth's lawyer, Fabio Alonzi, said he was speechless by the verdict.
Mr Cerciello Rega was a newlywed when he was sent with colleague Andrea Varriale to investigate a reported extortion attempt.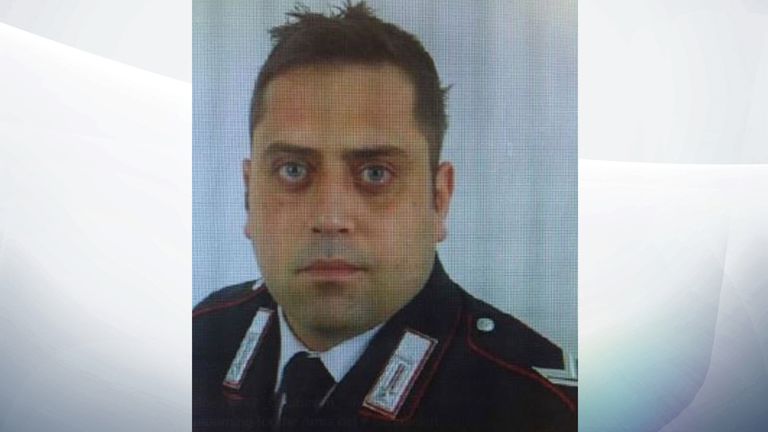 Prosecutors in Rome said Elder and Natale-Hjorth had concocted a plan involving a stolen bag and mobile phone with the aim of exchanging them for money they had lost in a failed bid to buy a small amount of cocaine.
The two young men told the court they thought the officers, both in plainclothes and without service pistols, were thugs or mobsters set on assaulting them on a dark and deserted street.
They said the officers had not showed police badges, although this was disputed by Mr Varriale during the trial.
Mr Varriale suffered a back injury while fighting with Natale-Hjorth, and Elder thrust an 18cm knife into Mr Cerciello Rega, who had bled profusely before dying later in hospital.
Both defendants said they had acted in self defence, with Elder saying Mr Cerciello Rega had been on top of him on the ground and he feared being strangled.
After the stabbing, the offenders had run to their hotel room where Natale-Hjorth said Elder had cleaned the knife and asked him to hide it.
Police found the knife hours later behind a ceiling panel in the room.
COVID-19: First nationwide data from Israel shows 95% protection from infection after two doses of Pfizer jab | World News
Two doses of Pfizer's COVID-19 vaccine can provide more than 95% protection against infection, severe illness, and death, according to the first nationwide data from Israel.
A single dose of the jab, meanwhile, is associated with 58% protection against infection, 76% against hospital admission, and 77% against death, research published in The Lancet suggests.
The study uses Israeli ministry of health data from between 24 January and 3 April this year, a time when the UK variant was responsible for most of the country's infections.
By the end of that time period, 72% of people over 16 years and 90% of those over 65 years had received two doses of the Pfizer-BioNTech jab.
For those over 16 years, the vaccine provided 96.5% protection against infection, 98% protection against hospital admissions and 98.1% protection against death, from 14 days after the second dose.
Protection for the elderly was almost as strong, with those over 85 getting 94.1% protection against infection, 96.9% against hospital admission, and 97% against death, a week after receiving their second dose.
Israel's vaccination programme has been one of the fastest in the world, and the country went from more than 10,000 new virus cases a day in January to just a few hundred in March.
The economy has almost fully reopened and people are going to sporting and cultural events outdoors.
The multi-million pound booster shot

Lead author Dr Sharon Alroy-Preis, of the Israeli ministry of health, said: "As the country with the highest proportion of its population vaccinated against COVID-19, Israel provides a unique real-world opportunity to determine the effectiveness of the vaccine and to observe wider effects of the vaccination programme on public health.
"Until this point, no country in the world had described the national public health impact of a nationwide COVID-19 vaccination campaign.
"These insights are hugely important because, while there are still some considerable challenges to overcome, they offer real hope that COVID-19 vaccination will eventually enable us to control the pandemic."
Jonathan Ball, professor of molecular virology at the University of Nottingham, said: "Importantly, the study shows that two doses of the vaccine significantly increase levels of immunity and protection.
"This is why it is important that people get both doses, and if UK vaccine policy changes, to get a third dose if offered in the autumn."
Are people worried about travelling abroad?

Prof Ball said that as new coronavirus variants emerge, "topping up your immunity with the vaccine boost will be even more important" as the virus acquires genetic changes that may make it more resistant.
He added: "Therefore, it will be important to continue to monitor the potential impact of virus change and vaccine effectiveness."
Dr Luis Jodar, Pfizer's senior vice president and chief medical officer of vaccines, said more data is needed urgently about the effectiveness of the vaccine against severe disease and death, and the levels of protection it provides to elderly people.
"Research examining long-term vaccine effectiveness will ultimately play a vital role in tackling the pandemic."