Man ordered to pay mother £75m after assisting 'schemes' by billionaire father to hide divorce money | UK News
A man has been ordered to pay £75m to his divorced mother after helping his father hide money and assets from her, a court has ruled.
Temur Akhmedov, 27, worked as his fathers "lieutenant" against Tatiana Akhmedova, 48, according to a High Court ruling.
In 2016, Ms Akhmedova was awarded a 41.5% share of 65-year-old Farkhad Akhmedov's £1bn-plus fortune.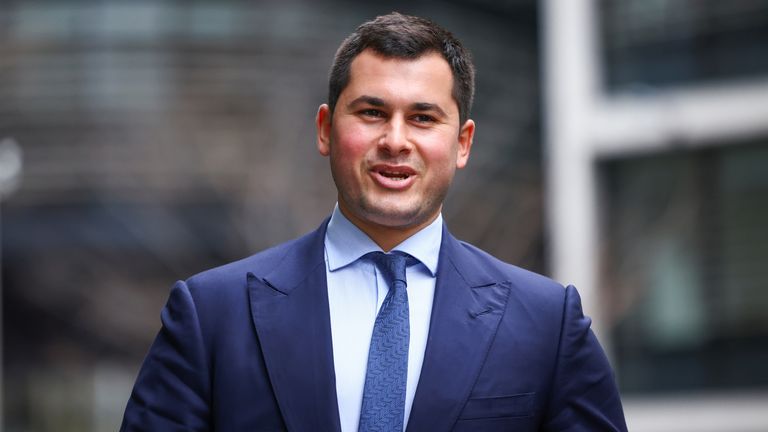 This amounts to about £453m, and is thought to be the biggest award of its type.
However, judges have heard that so far only about £5m has been received by Ms Akhmedova – and her Russian businessman ex-husband has not "voluntarily" paid a penny.
Ms Akhmedova is pursuing her former spouse in courts in multiple countries as she says he is hiding money from her, using their son to help him.
The court heard the billionaire had moved the ownership of his £340m superyacht Luna into a trust in Lichtenstein.
Mrs Justice Gwynneth Knowles made the ruling against the couple's son at the Family Division of the High Court in London, saying vast sums of money had been sent to him.
She said: "The wife has been the victim of a series of schemes designed to put every penny of the husband's wealth beyond her reach.
"Their eldest son, Temur, confirmed in his oral evidence that the husband would rather have seen the money burnt than for the wife to receive a penny of it.
"Regrettably, those schemes were carried out with Temur's knowledge and active assistance.
"I reject his case that he was a mere go-between for his father: the evidence indicated otherwise.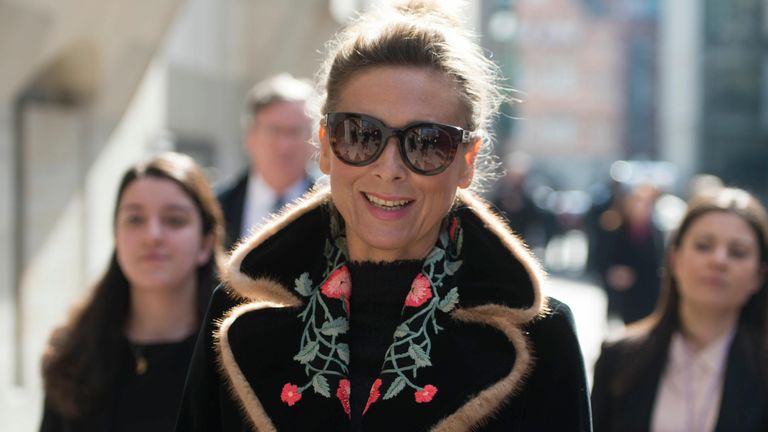 "Temur told me in his evidence that he had helped his father protect his assets from his mother's claims.
"He was, indeed, his father's lieutenant.
"Temur has learned well from his father's past conduct and has done and said all he could to prevent his mother receiving a penny of the matrimonial assets.
"He lied to this court on numerous occasions, breached court orders, and failed to provide full disclosure of his assets.
"I find that he is a dishonest individual who will do anything to assist his father, no doubt because he is utterly dependent on his father for financial support."
The younger Akhmedov's spokesman said: "Like millions of young people, Temur has been caught up in the break-up of his parents' marriage. He never sought to take sides or get involved but inevitably found himself sucked into the vortex of a bitter family dispute.
"His subsequent actions were only ever motivated by his desire to end the war between his parents.
"While he fundamentally disagrees with this judgment, he would consider it a price worth paying for should it lead to a reasonable settlement between the parents he loves."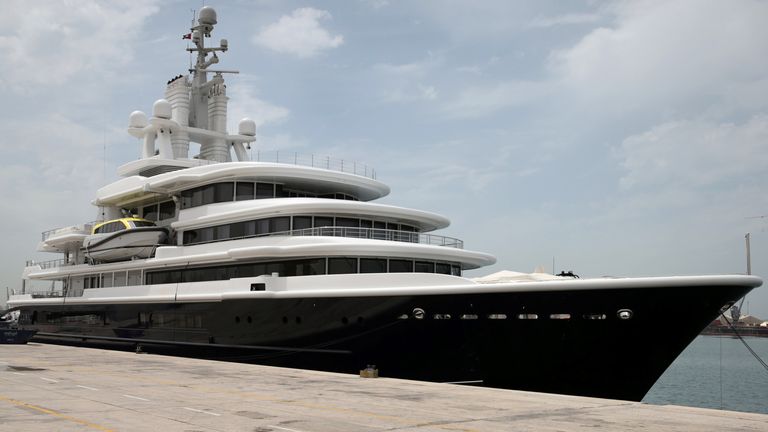 Ms Akhmedova said in a statement: "Today's judgment is the inevitable conclusion given Farkhad's failure to behave honourably in the first instance."
And her ex-husband Farkhad Akhmedov said: "Entirely predictably, given its original wrong and misguided judgment, the London court has ruled in favour of visiting 'the sins' of the father on an innocent and loyal son."
Duke and Duchess of Sussex announce partnership with Procter & Gamble – a company she once called sexist | US News
Decades after criticising Procter & Gamble as a child, the Duchess of Sussex and her husband have announced a partnership with the firm.
Meghan and Harry's Archewell Foundation confirmed a long-term relationship with the American multi-national consumer goods company on Tuesday.
It will focus on gender equality, inclusive online spaces, resilience and impact through sport.
As an 11-year-old, Meghan had written to Procter & Gamble to complain about the sexist language used in a TV advert.
Her letter-writing campaign objected to a dish soap commercial which included the line: "Mothers around America are fighting greasy pots and pans".
She appeared in an interview with Nick News in 1993 to talk about her campaign, saying she was "furious" about the advert.
She added: "When they heard this, the boys in my class started saying: 'Yeah that's where women belong – in the kitchen'."
Meghan successfully lobbied the firm to change the line from "mothers around America" to "people all over America".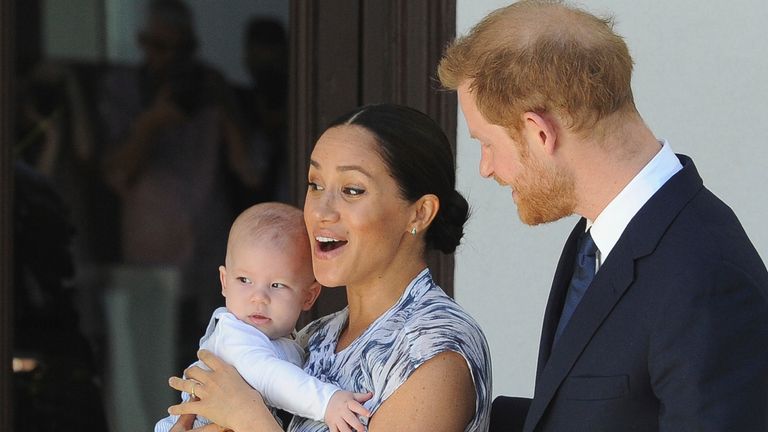 Announcing the partnership, the Archewell website said: "Archewell Foundation believes that with community, and through compassionate service to others, we can unleash systemic cultural change.
"In service of doing this, and building more compassionate communities, Archewell Foundation announced a multi-year global partnership today with Procter & Gamble."
The website said the partnership would "elevate the voices of adolescent girls" to ensure "their point of view and lived experience is heard at the tables where decisions are made".
It also vowed to work with men and boys to encourage gender equality.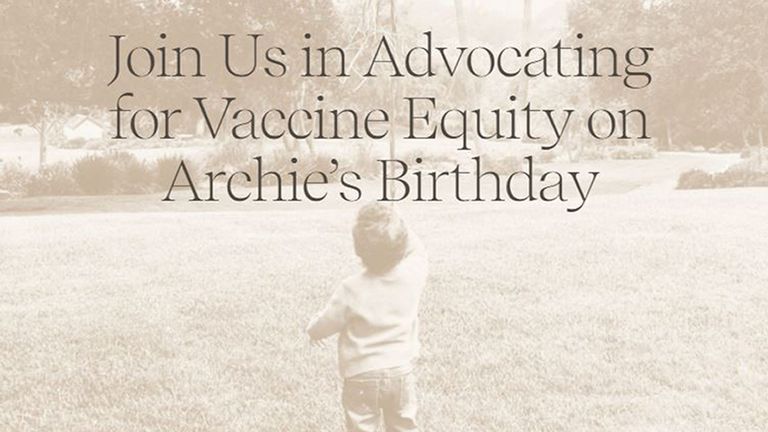 The foundation said it will build on joint aspirations with P&G, which it worked with in support of Global Citizen's Vax live concert, in aid of the international COVID-19 vaccination effort.
Procter & Gamble owns brands such as Oral B, Gillette, Pampers and Tampax, and reported net sales in 2019 of $67.7bn (£47.8bn).
On its website, it said: "We've also been inspired by the mission of the Archewell Foundation and its founders, the Duke and Duchess of Sussex, that with community, and through compassionate service to others, we can drive systemic cultural change, benefiting everyone."
Harry and Meghan quit as senior working royals in March last year.
Greece: £257,000 reward offered to catch killers who strangled British mother, 20, in her Athens home | World News

A €300,000 (£257,000) reward is being offered by the Greek government to track down burglars who strangled a British woman next to her baby in Athens.
The 20-year-old victim was sleeping with her husband and 11-month-old child when three men broke into their home in the Glyka Nera suburb before dawn after killing the family's dog, said reports.
The young mother was tied up and strangled, while her 32-year-old husband, a pilot, was bound and gagged.
He survived Tuesday's "barbaric" attack and managed to loosen his ties before calling police.
The burglars escaped with money and jewellery, while the baby was unharmed.
Greece's minister responsible for public order, Michalis Chrisochoidis, described the woman's killing as "particularly heinous".
"One rarely encounters such barbarity in Greece, in Greek society, even among criminals," he said.
The victim was born in Greece but had a British passport, according to police, who said she was married to a Greek man.
Two teams of detectives are investigating the deadly incident.
Israel: Hamas launches rocket attack on Tel-Aviv | World News

Hamas has launched a rocket attack on Tel-Aviv – with the Israeli ambulance service saying at least one person is in a critical condition after a building was targeted.
All flights have since been halted at the city's Ben Gurion Airport, according to Israel's Kan broadcaster.
Hamas said in a statement it had fired 130 rockets towards Tel-Aviv and its suburbs amid ongoing tensions between the Israelis and Palestinians.
A blast took place in the suburb of Holon on Tuesday evening, according to Israel Channel 12 TV.