Hundreds of pro-Alexei Navalny protesters arrested as opposition leader continues hunger strike in jail | World News
Hundreds of protesters have reportedly been arrested in Russia after demonstrating in support of Alexei Navalny.
The protests came as the critic of Vladimir Putin continues his hunger strike from prison, with his allies saying he is risking kidney failure or cardiac arrest.
His health has been worsening and the supporters are calling for Mr Navalny, 44, to receive medical attention.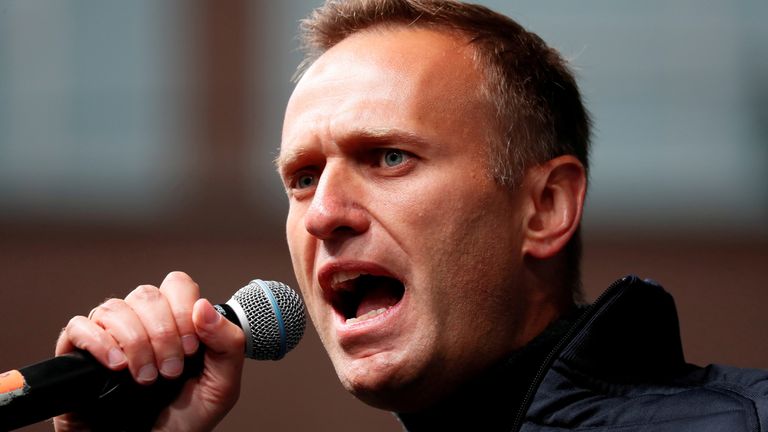 OVD-Info, a group monitoring protests and detentions, said more than 400 people had been arrested in Russia today, while police in Moscow told Russian news agency Interfax that some 6,000 people were protesting in Moscow.
Mr Navalny's camp say the turnout was as much as 10 times higher.
The authorities said the jailed activist has been given the same treatment as any other inmate, and that the demonstrations are illegal.
Mr Navalny was detained in January as he returned to Russia from Germany, where he spent five months recovering from a nerve agent poisoning.
He has blamed the Kremlin for targeting him with novichok – the same poison used on the Skripals in Salisbury – an allegation that Russian authorities reject.
Mr Navalny was jailed in February for two years and eight months for parole violations he says were exaggerated for political purposes.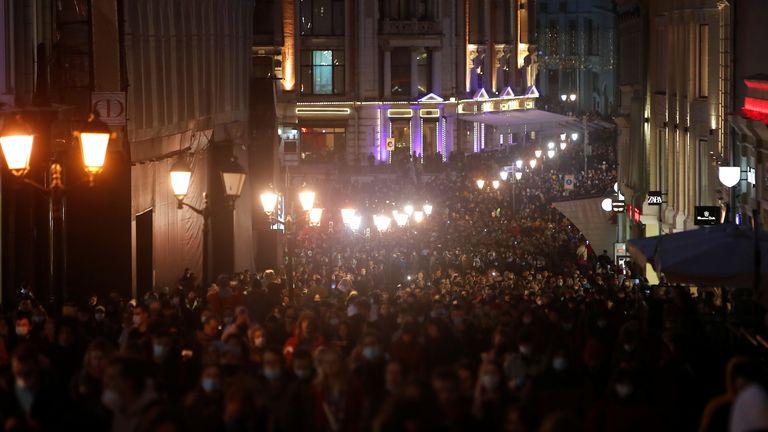 In a state of the nation speech to both houses of parliament on Wednesday, Mr Putin made no mention of Mr Navalny.
However, he did warn Western powers not to cross Russia's "red lines".
The United States has warned Russia it will face "consequences" if Mr Navalny dies.
Mr Navalny's doctors say they have been denied access to him in jail, as his health is thought to be deteriorating severely while he remains on hunger strike.
Putin suggests Navalny is being 'used by West'

His doctors said they spent two hours outside the prison in Pokrov earlier this week but were not allowed to see him.
"Our patient could die at any moment," one of the physicians said on Facebook.
Mr Navalny's spokeswoman Kira Yarmysh, as well as his close ally Lyubov Sobol, were arrested near their homes in the Russian capital hours before rallies were due to start in the city.
A number of locations in the Moscow, including Red Square, have been cordoned off with metal barriers and police.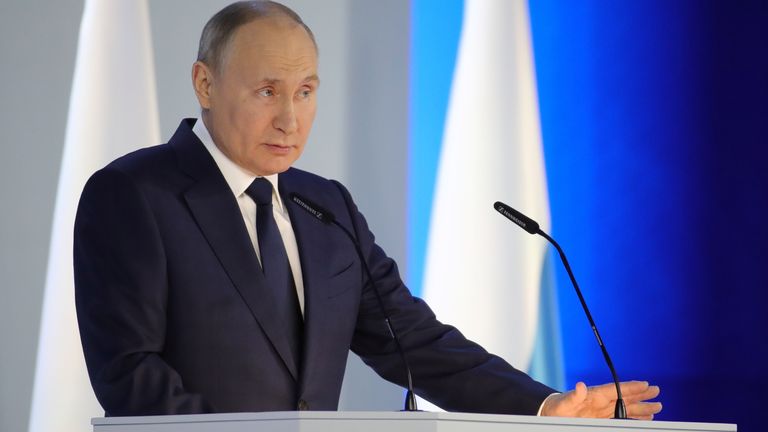 Charles Michel, the president of the European Council, said it was "deplorable" that Mr Navalny's closest allies had been detained ahead of the protests.
Around 200-300 people came out to support Navalny in the eastern city of Vladivostok, with some of them carrying banners saying "freedom for political prisoners" and "no war, repressions and torture!"
Ilya, a 19-year-old student, said: "Everyone realises the current authorities have nothing new to propose for the country. We need a new generation of politicians. I see Navalny as one of them."
Protests were also seen in the city of St Petersburg in the west of the country.
In London, more than 250 people protested outside of the Russian embassy, calling on Mr Putin to release the jailed activist.
Marina Litvinenko, the widow of ex-KGB spy Alexander Litvinenko, said: "We all want Alexei Navalny to be freed and to receive medical help."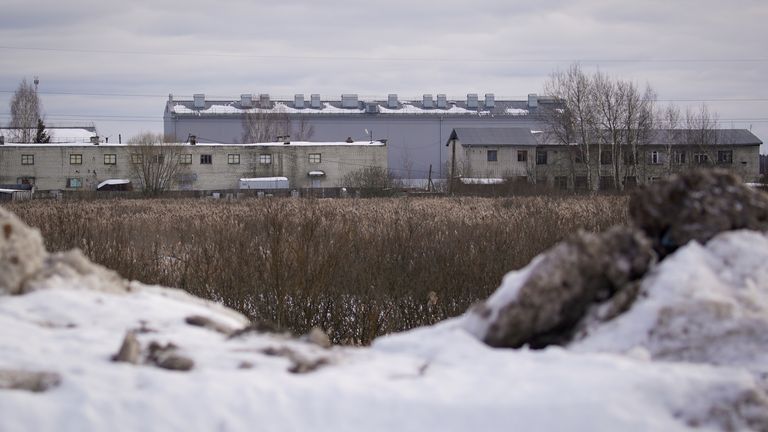 Mr Litvinenko was poisoned with a rare radioactive isotope, polonium-210, in 2006 in the UK.
She added: "Mr Putin – the people don't want you."
Two American friends jailed for life after killing of Italian police officer while teenagers | World News
A jury in Italy has sentenced two Americans to life in prison for the killing of a police officer.
The jury of two judges and six civilians deliberated for more than 12 hours before convicting Finnegan Lee Elder, 21, and Gabriel Natale Hjorth, 20.
There was a gasp in the Rome courtroom as the presiding judge read the verdict: guilty on charges of homicide, attempted extortion, assault, resisting a public official and carrying an attack-style knife without just cause.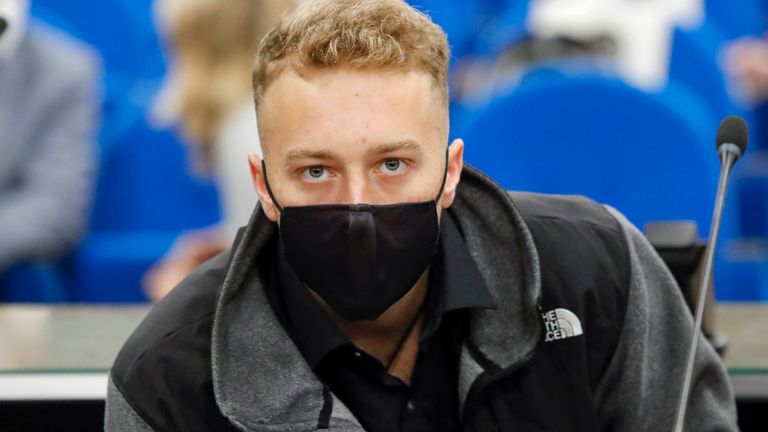 Elder stabbed Vice Brigadier Mario Cerciello Rega 11 times on 26 July, 2019, with a knife he had brought with him from California.
Natale-Hjorth helped him hide the weapon in their hotel room and, under Italian law, an accomplice in a murder can also be charged with murder even if they did not actually kill the victim.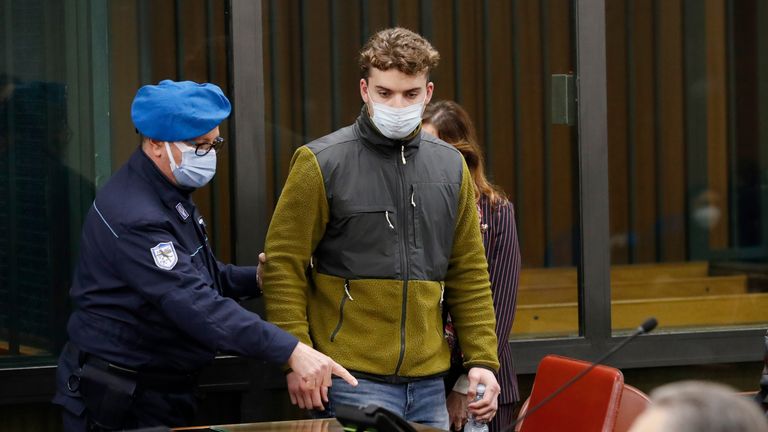 The death of 35-year-old Carabinieri paramilitary police officer Mr Cerciello Rega shocked Italy and he was mourned as a national hero.
His widow Rosa Maria Esilio had held a photo of him throughout the trial and cried when she heard the verdict, saying afterwards: "His integrity was defended.
"He was everyone's son, everyone's Carabinieri.
"He was a marvellous husband, he was a marvellous man, a servant of the state who merited respect and honour."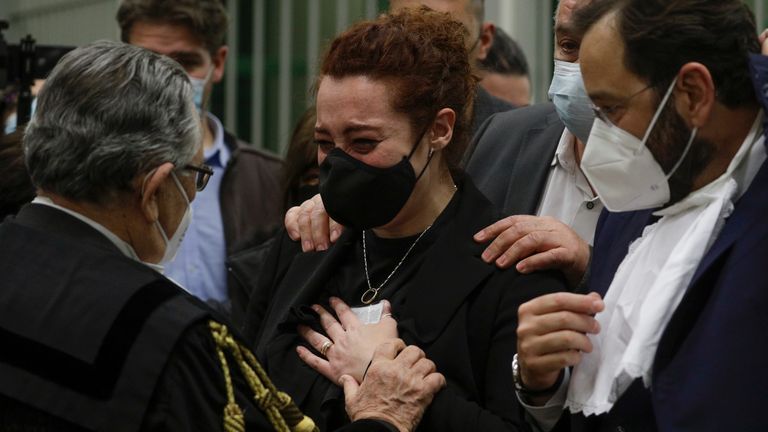 Elder's parents appeared stunned and, as he was being walked out of the court, his father called out: "Finnegan, I love you."
His lawyer Renato Borzone said the verdict was a "disgrace for Italy", having earlier told the court that his client had psychiatric problems, including a constant fear of being attacked.
Something had "short-circuited" when Elder was confronted by the officer, he added.
Natale-Hjorth's lawyer, Fabio Alonzi, said he was speechless by the verdict.
Mr Cerciello Rega was a newlywed when he was sent with colleague Andrea Varriale to investigate a reported extortion attempt.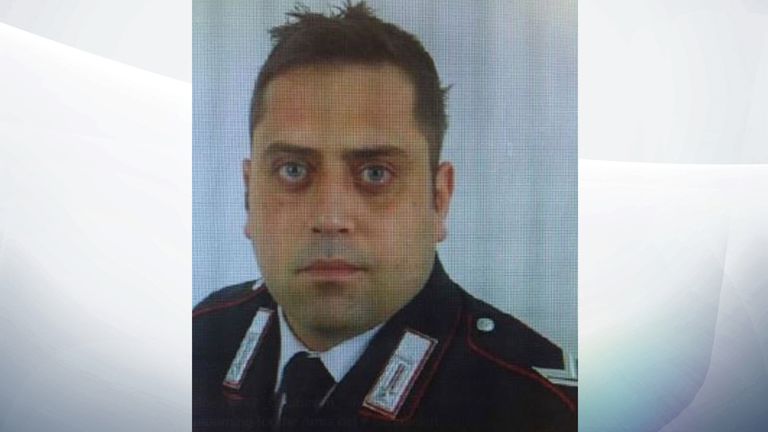 Prosecutors in Rome said Elder and Natale-Hjorth had concocted a plan involving a stolen bag and mobile phone with the aim of exchanging them for money they had lost in a failed bid to buy a small amount of cocaine.
The two young men told the court they thought the officers, both in plainclothes and without service pistols, were thugs or mobsters set on assaulting them on a dark and deserted street.
They said the officers had not showed police badges, although this was disputed by Mr Varriale during the trial.
Mr Varriale suffered a back injury while fighting with Natale-Hjorth, and Elder thrust an 18cm knife into Mr Cerciello Rega, who had bled profusely before dying later in hospital.
Both defendants said they had acted in self defence, with Elder saying Mr Cerciello Rega had been on top of him on the ground and he feared being strangled.
After the stabbing, the offenders had run to their hotel room where Natale-Hjorth said Elder had cleaned the knife and asked him to hide it.
Police found the knife hours later behind a ceiling panel in the room.
COVID-19: First nationwide data from Israel shows 95% protection from infection after two doses of Pfizer jab | World News
Two doses of Pfizer's COVID-19 vaccine can provide more than 95% protection against infection, severe illness, and death, according to the first nationwide data from Israel.
A single dose of the jab, meanwhile, is associated with 58% protection against infection, 76% against hospital admission, and 77% against death, research published in The Lancet suggests.
The study uses Israeli ministry of health data from between 24 January and 3 April this year, a time when the UK variant was responsible for most of the country's infections.
By the end of that time period, 72% of people over 16 years and 90% of those over 65 years had received two doses of the Pfizer-BioNTech jab.
For those over 16 years, the vaccine provided 96.5% protection against infection, 98% protection against hospital admissions and 98.1% protection against death, from 14 days after the second dose.
Protection for the elderly was almost as strong, with those over 85 getting 94.1% protection against infection, 96.9% against hospital admission, and 97% against death, a week after receiving their second dose.
Israel's vaccination programme has been one of the fastest in the world, and the country went from more than 10,000 new virus cases a day in January to just a few hundred in March.
The economy has almost fully reopened and people are going to sporting and cultural events outdoors.
The multi-million pound booster shot

Lead author Dr Sharon Alroy-Preis, of the Israeli ministry of health, said: "As the country with the highest proportion of its population vaccinated against COVID-19, Israel provides a unique real-world opportunity to determine the effectiveness of the vaccine and to observe wider effects of the vaccination programme on public health.
"Until this point, no country in the world had described the national public health impact of a nationwide COVID-19 vaccination campaign.
"These insights are hugely important because, while there are still some considerable challenges to overcome, they offer real hope that COVID-19 vaccination will eventually enable us to control the pandemic."
Jonathan Ball, professor of molecular virology at the University of Nottingham, said: "Importantly, the study shows that two doses of the vaccine significantly increase levels of immunity and protection.
"This is why it is important that people get both doses, and if UK vaccine policy changes, to get a third dose if offered in the autumn."
Are people worried about travelling abroad?

Prof Ball said that as new coronavirus variants emerge, "topping up your immunity with the vaccine boost will be even more important" as the virus acquires genetic changes that may make it more resistant.
He added: "Therefore, it will be important to continue to monitor the potential impact of virus change and vaccine effectiveness."
Dr Luis Jodar, Pfizer's senior vice president and chief medical officer of vaccines, said more data is needed urgently about the effectiveness of the vaccine against severe disease and death, and the levels of protection it provides to elderly people.
"Research examining long-term vaccine effectiveness will ultimately play a vital role in tackling the pandemic."
G7 'finds its voice again' with China, Iran and Russia under fire at London meeting | World News
COVID scares aside, this meeting has delivered diplomatically.
Its British hosts believe the dire times we live in demand the most potent form of diplomacy, and that has to be face to face.
COVID-19 is raging across the developing world, throwing up new worrying variants; climate change poses an ever increasing threat and the whole idea of a world order dominated by likeminded democratic allies is in jeopardy.
While a maverick anti-multilateralist was in the White House, and under cover of the pandemic, the West's rivals have made hay.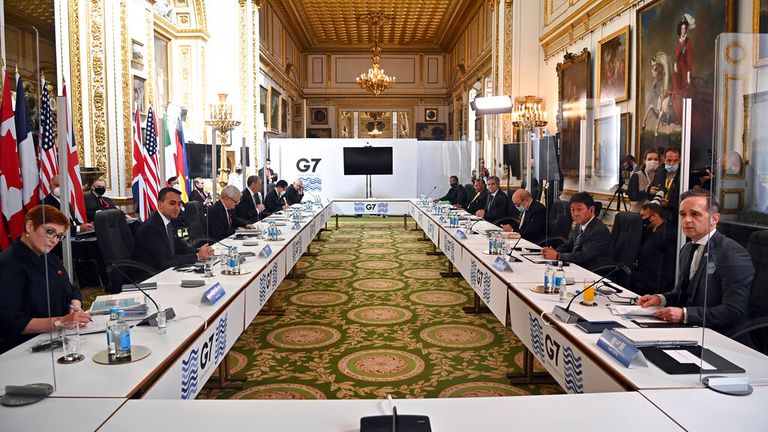 The Russians have grown increasingly menacing and meddlesome. Iran continues to hold innocent people hostage in an egregious form of hostage diplomacy. And China, where the virus was spawned, has only grown stronger in its wake, economically but also ideologically.
China offers a nightmare alternative to the free, open democratic world promoted in the West. One of Orwellian totalitarianism.
And it continues to perpetrate the genocide – or something very close to it – of an entire people and their culture in Xinjiang, just as it has smothered and crushed the same in Tibet.
All that justified the risk, say the British, of convening foreign minsters in person at last for a brisk two days of high-density diplomacy that culminated in a meaty 50-page final communique.
The impression it leaves is of a G7 finding its voice again.
It warns Russia against malign activities and cyber threats and urges Myanmar's military regime to reverse course.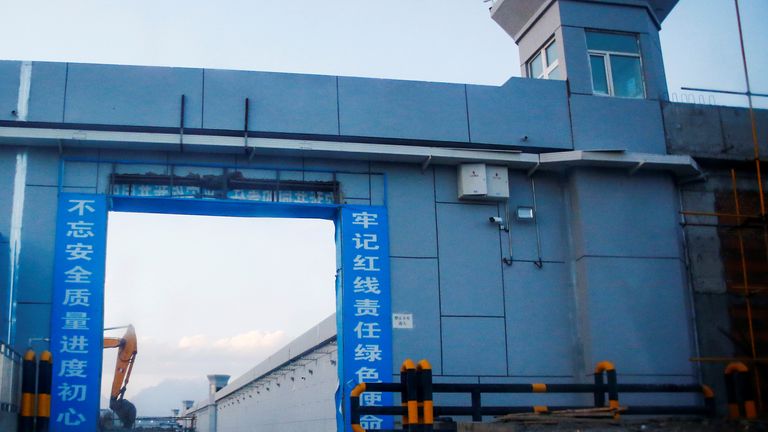 It urges Iran to release dual-national prisoners like Nazanin Zaghari-Ratcliffe and Anoosheh Ashoori, whose family say is increasingly unwell in jail.
And it also pledges to expand COVID-19 vaccine production
But on China it was perhaps most forthright, expressing concern on its human rights abuses in Xinjiang and Tibet, condemning "the targeting of Uighurs, members of other ethnic and religious minority groups, and the existence of a large-scale network of 'political re-education' camps, and reports of forced labour systems and forced sterilisation".
Foreign Secretary defends G7 meeting

G7 nations say they don't want to hold China down, but to encourage it "as a major power and economy with advanced technological capability, to participate constructively in the rules-based international system".
Foreign Secretary Dominic Raab told Sky News: "I think it's more likely to need to – rather than react in anger – it's more likely to going to need to take a look in the mirror and take into account this growing body of opinion that thinks these basic international rules have got be adhered to."
Beijing will hate that kind of rhetoric and the criticism in the communique, but may have to brace itself for more as the G7 prepares for its summit in Cornwall with what appears to be renewed sense of diplomatic vigour.