Human cells grown in monkey embryos triggers 'Pandora's box' ethical concerns | Science & Tech News
Human cells have been grown in monkey embryos by scientists in the US, sparking ethical concerns and warnings that it "opens a Pandora's box".
Those behind the research say their work could help tackle the severe shortage of transplant organs as well as enable better overall understanding of human health, from the development of disease to ageing.
But some experts in the UK have highlighted the significant ethical and legal challenges posed by the creation of such hybrid organisms and called for a public debate.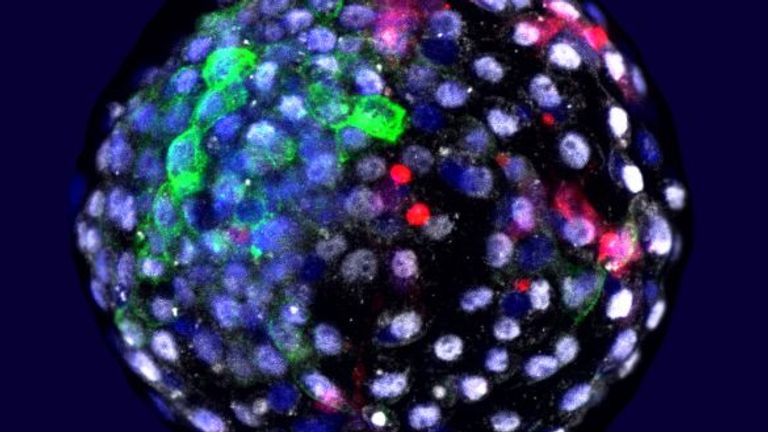 Concerns have been raised after researchers from the Salk Institute in California produced what is known as monkey-human chimeras.
This involved human stem cells – special cells that have the ability to develop into many different cell types – being inserted in macaque embryos in petri dishes in the lab.
The aim is to understand more about how cells develop and communicate with each other.
Chimeras are organisms whose cells come from two or more individuals.
In humans, chimerism can naturally occur following organ transplants, where cells from the organ start growing in other parts of the body.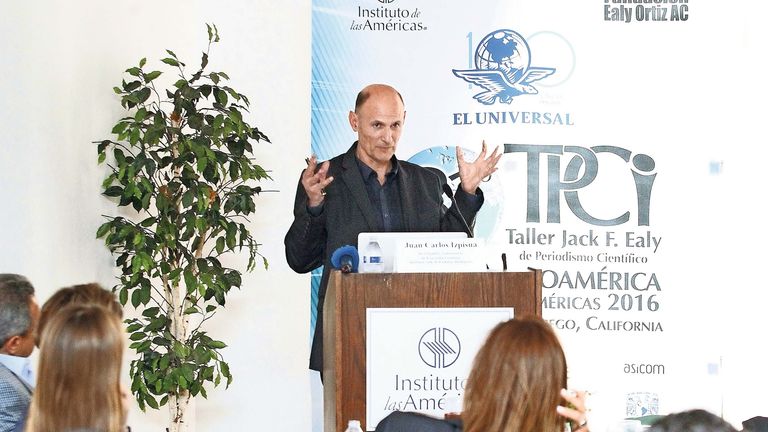 Professor Juan Carlos Izpisua Belmonte, who is leading the research, said: "These chimeric approaches could be really very useful for advancing biomedical research not just at the very earliest stage of life, but also the latest stage of life."
In 2017, he and his team created the first human-pig hybrid, where they introduced human cells into early-stage pig tissue but found the environment provided poor molecular communication.
As a result, the researchers decided to investigate lab-grown chimeras using a more closely related species.
The human-monkey chimeric embryos were monitored in the lab for 19 days before being destroyed.
According to the scientists, the results, published in the journal Cell, showed human stem cells "survived and integrated with better relative efficiency than in the previous experiments in pig tissue".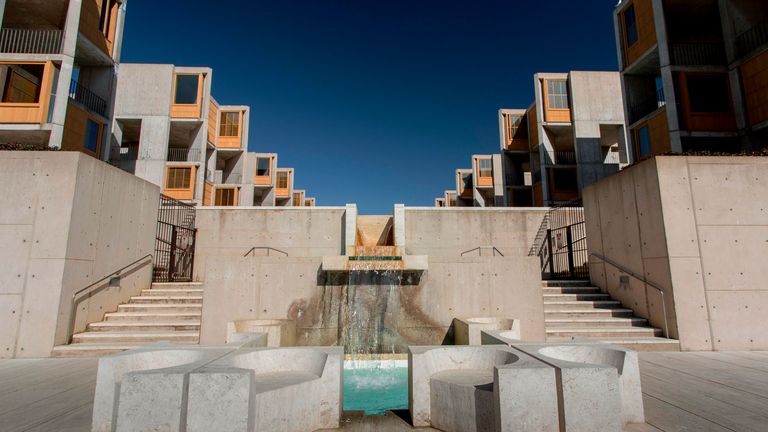 The team said understanding more about how cells of different species communicate with each other could provide an "unprecedented glimpse into the earliest stages of human development" as well as offer scientists a "powerful tool" for research on regenerative medicine.
Insisting that their research has met current ethical and legal guidelines, Prof Izpisua Belmonte said: "As important for health and research as we think these results are, the way we conducted this work, with utmost attention to ethical considerations and by coordinating closely with regulatory agencies, is equally important.
"Ultimately, we conduct these studies to understand and improve human health."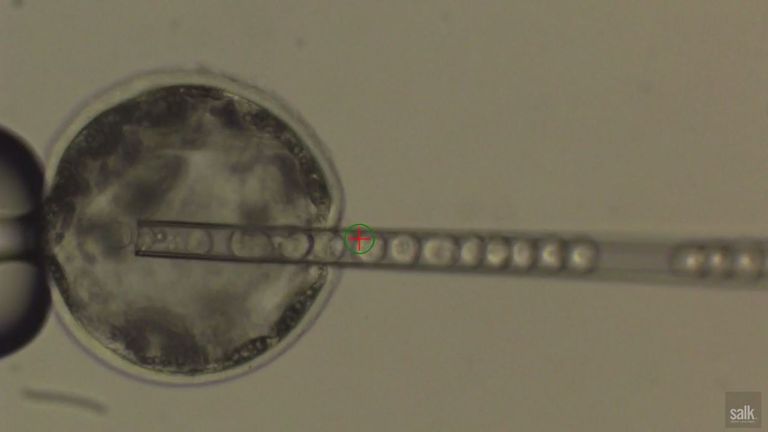 Responding to the research, Dr Anna Smajdor, lecturer and researcher in biomedical ethics at the University of East Anglia's Norwich Medical School, said: "This breakthrough reinforces an increasingly inescapable fact: biological categories are not fixed – they are fluid.
"This poses significant ethical and legal challenges."
She added: "The scientists behind this research state that these chimeric embryos offer new opportunities, because 'we are unable to conduct certain types of experiments in humans'.
"But whether these embryos are human or not is open to question."
Prof Julian Savulescu, director of the Oxford Uehiro Centre for Practical Ethics and co-director of the Wellcome Centre for Ethics and Humanities, University of Oxford, said: "This research opens Pandora's box to human-nonhuman chimeras.
"These embryos were destroyed at 20 days of development but it is only a matter of time before human-nonhuman chimeras are successfully developed, perhaps as a source of organs for humans. That is one of the long-term goals of this research.
"The key ethical question is: what is the moral status of these novel creatures? Before any experiments are performed on live-born chimeras, or their organs extracted, it is essential that their mental capacities and lives are properly assessed."
French military ship heads to Jersey to join post-Brexit fishing protest as Royal Navy patrols waters | UK News
A fleet of French fishing boats has descended on Jersey after threatening to blockade the island's main port over a post-Brexit fishing rights row.
The UK has sent two Royal Navy ships to Jersey "as a precaution" – HMS Severn and HMS Tamar are patrolling the waters around Jersey this morning.
And French authorities have confirmed to Sky News that a vessel, the Military Ops ship Athos, will be arriving "imminently" to carry out a "patrol mission" – while local reports suggest another is also en route.
The deployment, France says, is to "guarantee the safety" of people at sea and "accompany" the flotilla of around 50 French fishing vessels currently protesting off St Helier over a lack of access to waters around the Channel island.
An official from the French presidency said they were keen that the situation does not worsen.
France views the situation in Jersey as being calm, they said, but added that the UK's language on the matter had aggravated tensions.
The European Commission, meanwhile, has said it is "engaging in good faith" with the UK as to how to solve the fishing dispute.
The map below, taken from marinetraffic.com just before 7am on Thursday, showed the French boats (in orange) heading towards the harbour then later massing near Elizabeth Castle, while the UK ships (light blue) appeared to be holding back.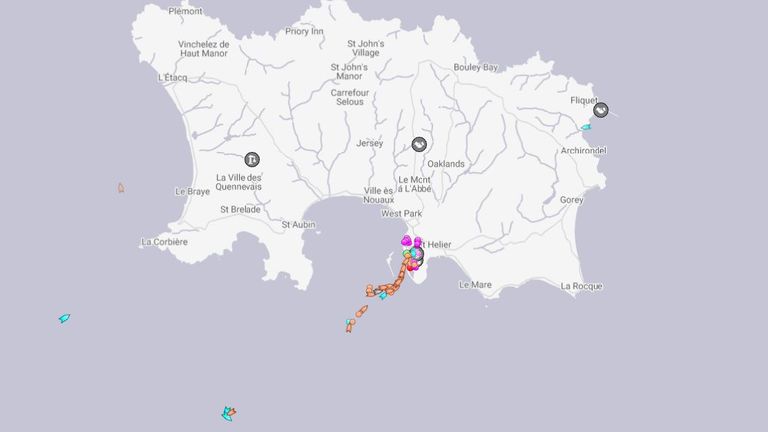 French fishing boats were due to enter the harbour to prevent the Commodore Clipper, carrying cargo, from docking in Jersey, according to local paper the Bailiwick Express.
French officials also said they will be closing their Channel Islands' offices and will stop importing Jersey products into France.
The Commodore Goodwill freight ship was initially "trapped" and unable to leave the harbour this morning, but was later allowed to pass, according to the Jersey Evening Post.
Flares lit as fishing standoff continues

Although crews on the French vessels were seen setting off flares, the protest has so far remained peaceful.
However, footage showed one instance of a UK boat being rammed by a French vessel.
The Jersey Evening Post said several local residents had turned up to watch and police were at the scene.
French boat rams British vessel

Jersey fisherman Josh Dearing described the scene at the port of St Helier as "like an invasion".
The 28-year-old told the PA news agency: "There were probably about 60 boats. There were a few hand-held flares and smoke flares going off and apparently a few maybe bangers and stuff going off from the French."
He said the French fleet – which started gathering from around 4.30am – was mostly made up of "big French dredgers and trawlers" of about 12 metres or more.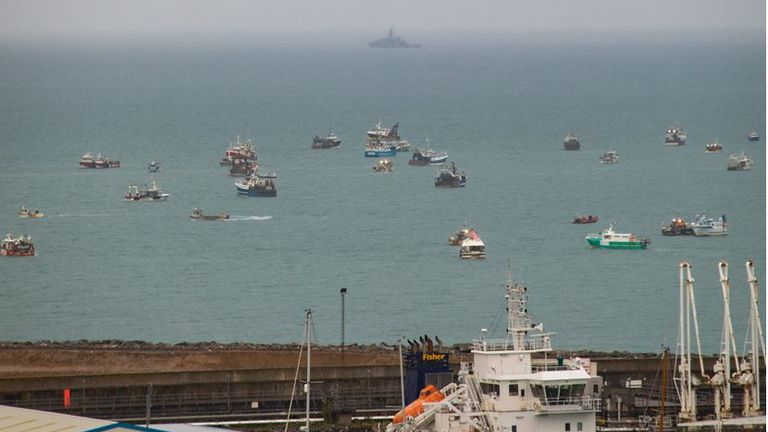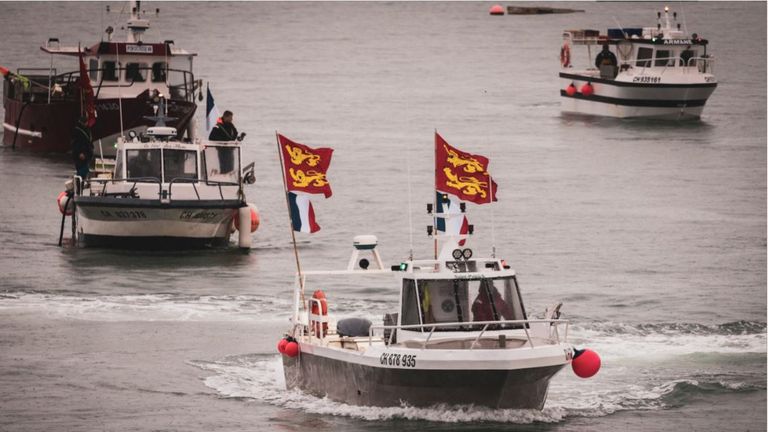 Paris earlier threatened to cut off power to the island – which receives 95% of its electricity from France through three undersea cables – accusing Jersey of dragging its feet over issuing new licences to French boats.
French fishermen said they would blockade the main port of St Helier to prevent supplies from being delivered.
Jersey's external affairs minister, Ian Gorst, said the French had made clear their frustration over the new Brexit trade deal. He said "tensions are running high" and the "precautionary" action by the Royal Navy "has so far worked".
'Disproportionate threats' from Paris

He told Sky News: "We have had disproportionate threats emanating from Paris and a potential blockade of our main harbour – and those threats we take seriously to protect Jersey's interests.
"We want to give French fisherman who can prove they have fished in our waters historically, the rights they had previously – but evidence has to be provided.
"Now there is a little bit of a bureaucratic process because that evidence has to go from Normandy to Paris, to the EU and London and then to Jersey, and it has become apparent since we issued the first licences on Friday that not all of that evidence has been presented, and therefore talking and helping fishermen to be able to provide that evidence means we will be able to adjust their licences, and that is the way through the problems that we are currently experiencing."
He said Jersey fishermen had "found it bureaucratic to land their fish" in French waters.
Mr Gorst added Jersey government representatives were due to meet with French fishing leaders this morning on boats alongside each other in the harbour "to resolve the current dispute and resume previous good relations".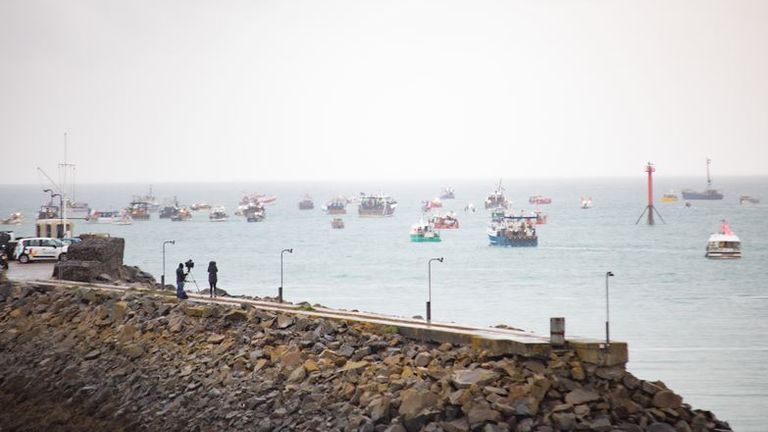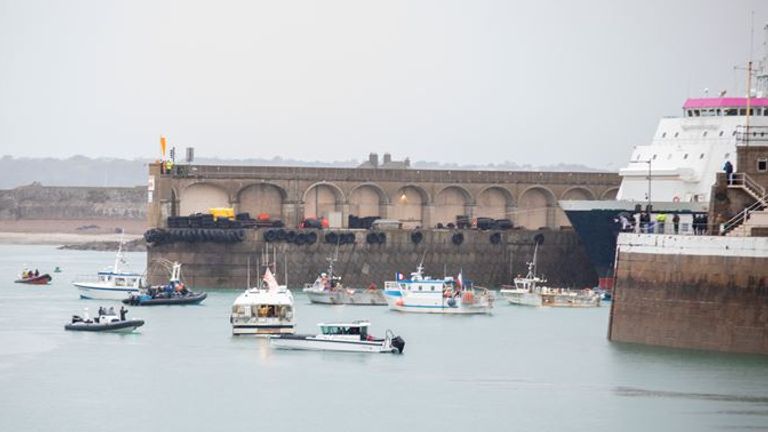 Jimmy Hersent, of the Monaco du Nord 2, told Sky News: "We went to Jersey to tell them that we want to work as we were before.
"A boat like mine is no longer allowed to trawl and I only have the right to come for 34 days in the year.
"[If this continues], what will happen is that the amount of fishing boats in the Bay of Granville will be too large and we will be on top of each other, and the resource there will be impacted."
Downing Street confirmed Boris Johnson spoke to the chief minister of Jersey, Senator John Le Fondre, on Wednesday evening "about the prospect of a blockade of Saint Helier" – the island's main town.
"The prime minister and chief minister stressed the urgent need for a de-escalation in tensions and for dialogue between Jersey and France on fishing access," a spokesman said.
"The prime minister underlined his unwavering support for Jersey. He said that any blockade would be completely unjustified. As a precautionary measure the UK will be sending two offshore patrol vessels to monitor the situation.
"They agreed the UK and Jersey governments would continue to work closely on this issue."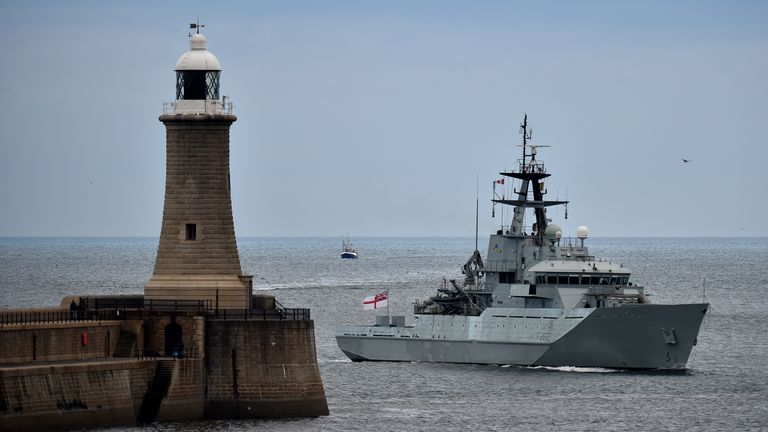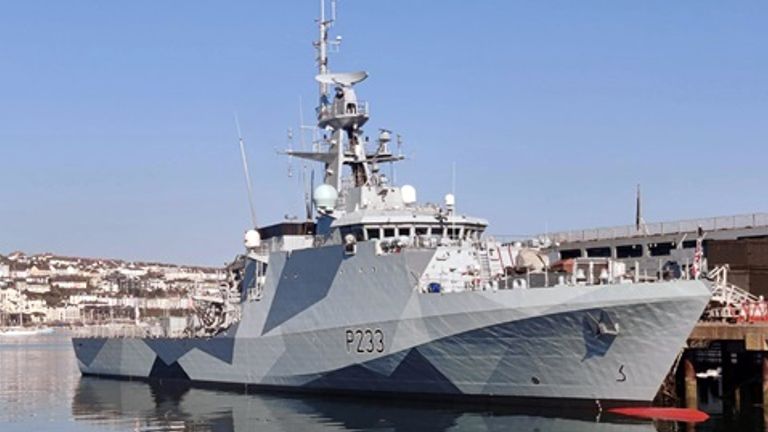 In a statement, Mr Le Fondre and Mr Gorst said they expected a "peaceful demonstration by the French fishermen outside St Helier Harbour".
Speaking on Wednesday night, they said: "The responsible ministers and government officials have met this evening to ensure that the very best plans are in place to ensure Islanders' interests are properly protected at all times. We remain confident in our ability to do this.
"We welcome the ongoing support from the prime minister and UK government to achieve a diplomatic solution to this dispute, and we are aware that the UK are sending two offshore patrol vessels as a precautionary measure to monitor the situation in Jersey waters."
A Ministry of Defence spokesman confirmed HMS Severn, described as being able to mount fishing vessels for inspection, and HMS Tamar, one of the Navy's newest warships, were being deployed to Jersey "to conduct maritime security patrols".
"This is a strictly precautionary measure and has been agreed with the Jersey government," he added.
Grateful to Prime Minister @BorisJohnson for speaking with @Ian_Gorst and me this evening, and offering his wholehearted support in de-escalating the tensions between Jersey and our French neighbours over fishing access.

— John Le Fondre (@John_Le_Fondre) May 5, 2021
France accused the UK of using red tape to limit fishing around Jersey, in breach of the Brexit agreement made with the EU last year, and said it is "ready to use these retaliation measures".
"With regards to Jersey, I would remind you, for example, of electricity transmission by underwater cable. So, we have the means," French maritime minister Annick Girardin said.
The UK's environment and food secretary George Eustice said the row was about 17 French fishing vessels that have failed to provide the data needed for Jersey to grant them a licence to fish in its waters.
Ms Girardin said the authorisation of 41 boats to fish in Jersey waters had been accompanied by new demands "which were not arranged or discussed, and which we were not notified about".
The demands set out where ships could and could not go, how long fishermen can spend at sea, and what machinery they can use, she added.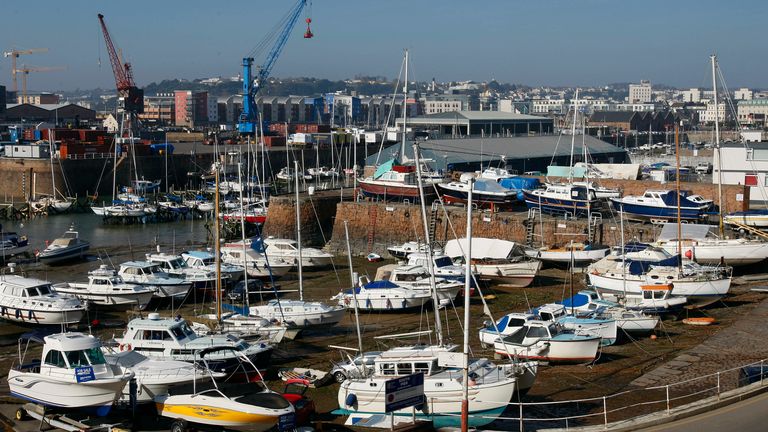 Mr Eustice said the UK has been asking the European Commission for the data needed to complete the licence applications and will issue them "as soon as they have provided that data".
"I think the threat that was made is completely disproportionate and unacceptable," he said.
"We are working through the agreement, Jersey have already licensed over 40 vessels, they've been very pragmatic throughout this.
"They've also been clear that they'll process the remaining 17 or so as soon as they put forward the data, so I think it's unacceptable to make those sorts of comments."
Mr Eustice said "a small number" of French authorities or individual French fishermen have been "difficult to identify" and get the data from – but Jersey has issued temporary licences as vessels gather the data.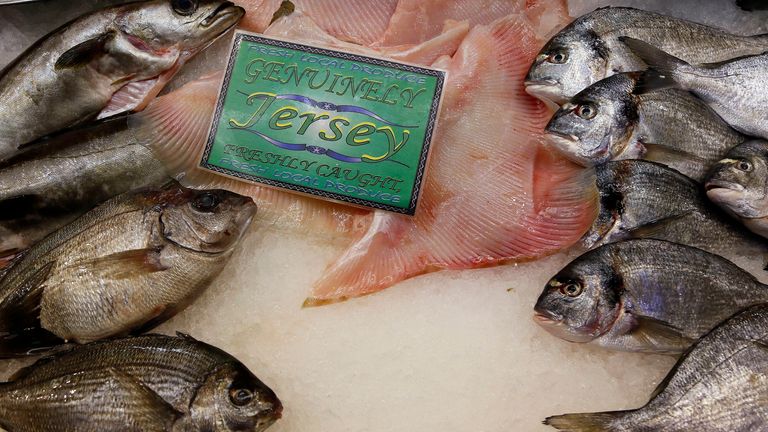 Analysis: Downing Street is sending a strong message to France
By Alistair Bunkall, defence correspondent
Protecting UK fishing waters is one of the Royal Navy's oldest tasks, but Downing Street's decision to send two warships to the Channel Islands is a deliberate posture after France's initial threat to cut off electricity to the islands.
HMS Tamar and HMS Severn are OPVs – Offshore Patrol Vessels. Despite the rather lowkey name, they are sophisticated ships, especially Tamar which only entered service in 2020 and is equipped with the latest radar, sonar and weaponry technology.
The Royal Navy provides its ships to the UK government (Defra) for a set number of days each year to assist in patrols of waters around England, Wales and Northern Ireland. The devolved Scottish government has its own fleet.
The UK's Exclusive Economic Zone is the fifth largest in the world, extending 200 miles from the coast. The Royal Navy's role in UK waters is to prevent overfishing by foreign vessels and to enforce quotas. This has long been controversial but Brexit has made it more so.
Sending OPVs to Channel Island waters is, in itself, not controversial, but people I spoke to in the MoD and Royal Navy were not made aware of the announcement until late on. Fisheries post-Brexit were always going to be controversial, but it seems Downing Street is puffing out its chest and sending a strong message to Paris.
Colombia: UN and EU call for calm following eighth day of violent anti-government protests | World News
There have been calls for calm after deaths mounted on the eighth day of anti-government protests in Colombia.
The protests against president Ivan Duque's administration have been against poverty and excessive police force.
On Wednesday night, riot police fired tear gas at demonstrators in Colombia's capital Bogota after crowds attacked police stations in the capital.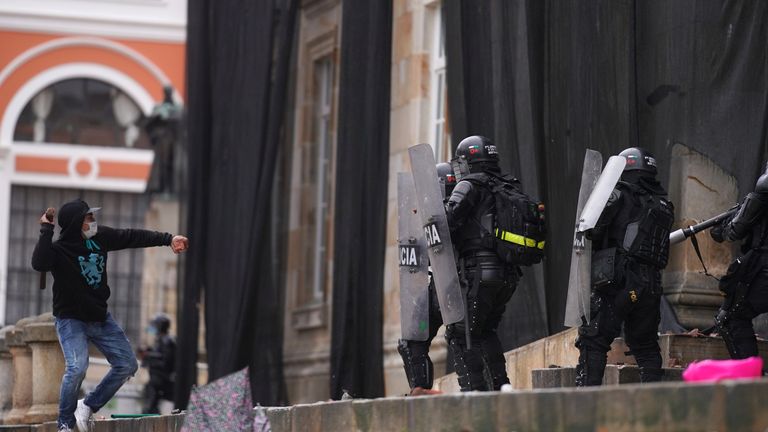 The protests were originally called in opposition to a now-cancelled tax reform plan, but demonstrators have broadened their attention to poverty and police violence.
So far, police violence has been linked to just under half of 24 confirmed deaths during the unrest, mainly of protesters.
The national police has said it will investigate allegations of brutality, while the defence minister has claimed illegal armed groups are infiltrating the protests to cause violence.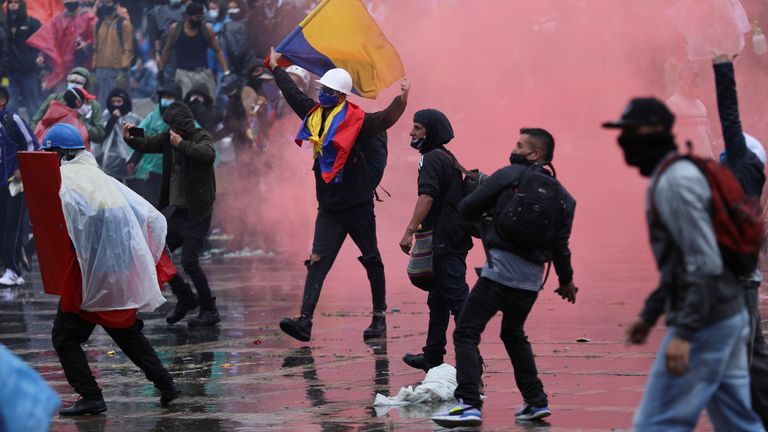 The western city of Cali has become the epicentre of the protests.
"No more blood in Cali," the city's mayor Jorge Ivan Ospina said on Twitter, adding efforts are being made to prevent more loss of life.
The UN Office of the High Commissioner for Human Rights urged calm ahead of further planned protests and warned of police shootings.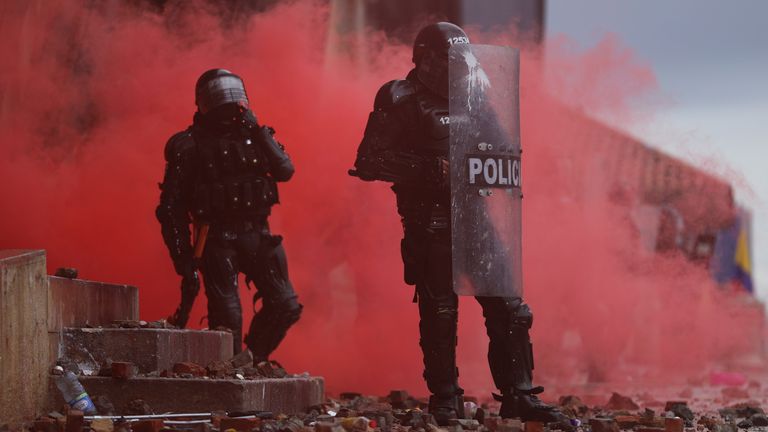 "We are deeply alarmed at developments in the city of Cali in Colombia overnight, where police opened fire on demonstrators protesting against tax reforms," spokesperson Marta Hurtado said in a statement.
The EU also called for security forces to avoid a heavy-handed response, urged calm and condemned violence.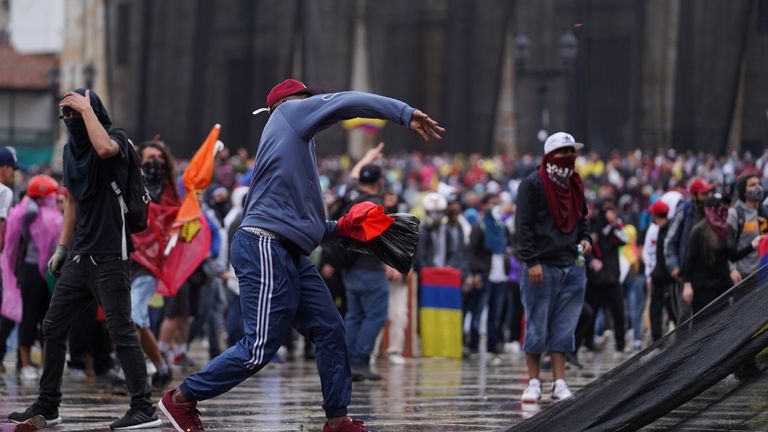 Poverty, which rose to 42.5% of the population last year amid coronavirus lockdowns, has aggravated long-standing inequalities in Colombia.
The number of Colombians living in extreme poverty grew by 2.8 million people in 2020.
It is not the first time that protests in Colombia have turned violent.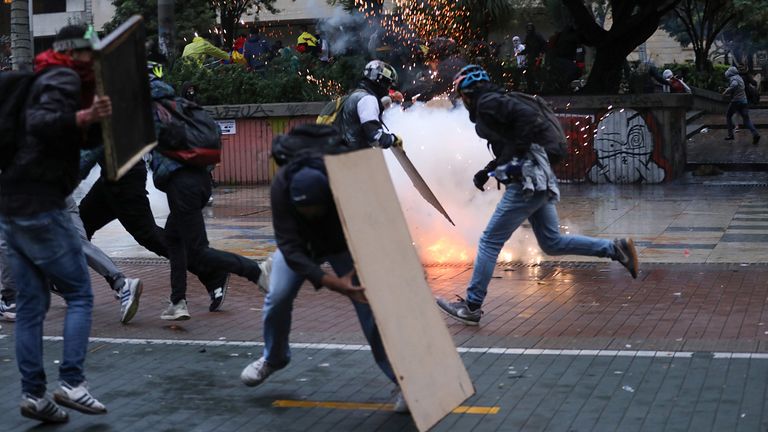 In 2019, there was outrage when teenage protester Dilan Cruz died after being hit in the head by a police projectile.
During the unrest, three police officers died in a bomb blast at a police station in Bogota.
And in September 2020, at least seven people were killed in protests triggered by the deadly tasering of a man by police in the capital.
Kathleen Folbigg: Australian mother convicted of killing her four children petitions for a pardon | World News
An Australian woman who was convicted of killing her four children 18 years ago has petitioned the New South Wales governor for a pardon.
Kathleen Folbigg, 53, was convicted on three charges of murder and one of manslaughter in 2003 and was sentenced to 30 years in prison.
But dozens of scientists have backed her claims that her children died from natural causes and claim she could be the victim of a tragic miscarriage of justice.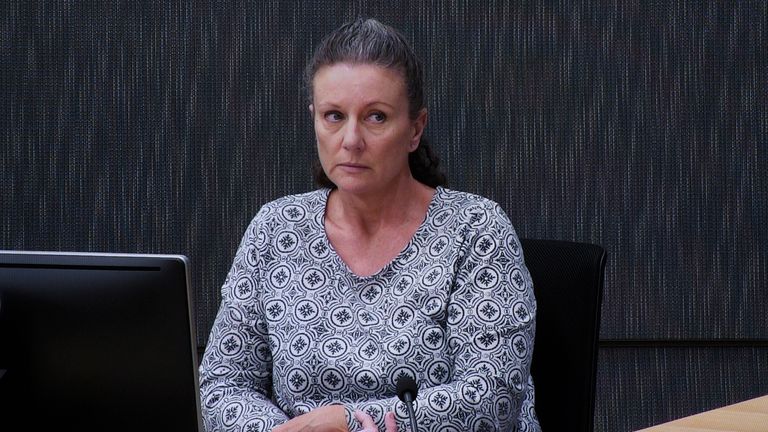 Folbigg has petitioned for a pardon "based on significant positive evidence of natural causes of death" for all four of her children.
The petition, lodged in March, has been signed by 90 scientists, medical professionals and two Nobel laureates.
Shortly after the petition, three judges threw out her challenge to a 2019 decision by Justice Reginald Blanch to uphold her convictions.
Her appeal had been based on new scientific evidence including the children's genome sequencing.
After her latest court defeat, Folbigg said in a statement written from prison through her friend Tracy Chapman that the verdict and the petition raised "valuable questions about how we got here".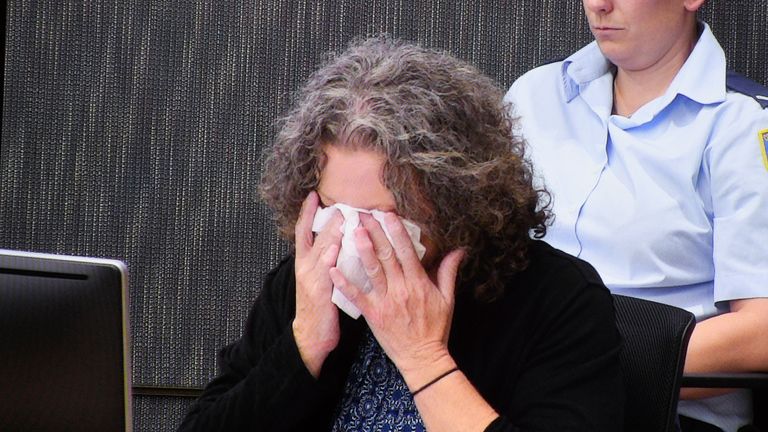 "Many international eyes are now on this case and there're many more Australians rightly asking why Kath's still in prison after 18 years when there's mounting scientific evidence relating to her innocence," Ms Chapman wrote.
The signatories of the petition disagree with the latest court ruling.
Australian Academy of Science president John Shine accused the three appeals court judges of adopting the same "incorrect conclusions about the genetic evidence" as Mr Blanch.
"It is deeply concerning that there is not a mechanism to appropriately weigh up all medical and scientific evidence in a case of this nature," Mr Shine said.
"There is now an alternative explanation for the death of the Folbigg children that does not rely on circumstantial evidence."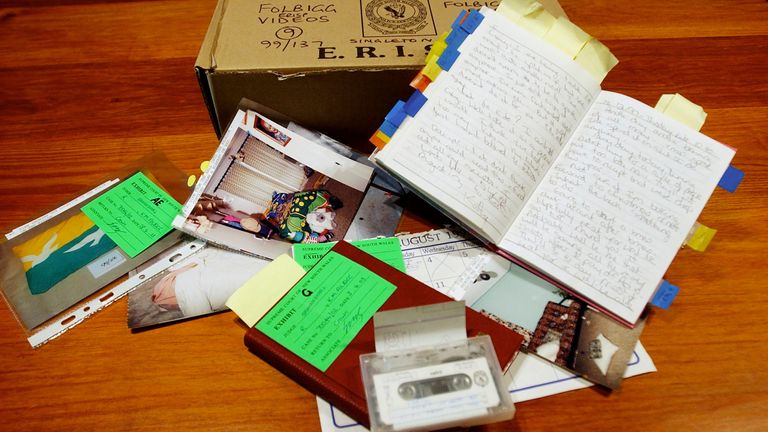 Folbigg's first child Caleb was born in 1989 and died 19 days later in what a court determined to be the lesser crime of manslaughter.
Her second child Patrick was eight months old when he died in 1991.
Two years later, Sarah died aged 10 months.
And in 1999, Folbigg's fourth child Laura died at 19 months.
Folbigg was the first on the scene of each tragedy and an autopsy found Laura had myocarditis – an inflammation of heart muscle that can be fatal.
Patrick suffered from epilepsy and his death had been attributed to an airway obstruction due to a seizure and an infection.
The other two deaths were recorded as sudden infant death syndrome.
Paediatric geneticist Jozef Gecz, who signed the pardon petition, acknowledged the evidence of natural causes was stronger in the girls' deaths than the boys.
But he said investigations were continuing into potential leads to genetic causes of the boys' deaths.
The criminal case against Folbigg relied on interpretations of entries she had made in diaries, one of which her estranged husband Craig Folbigg read and reported to the police.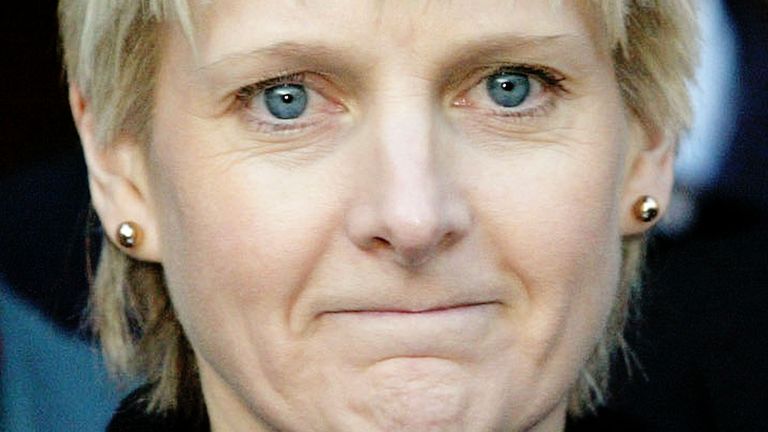 Folbigg's case has parallels to Sally Clarke, the solicitor who was wrongly convicted of murdering her two baby sons in 1999.
Mrs Clarke, who served three years of a life sentence, was found guilty of smothering her 11-week-old child to death in 1996 and shaking her eight-week-old son to death in 1998.
The convictions against Mrs Clark were upheld on appeal in October 2000 but overturned in a second appeal in 2003.
It emerged during the second trial that Alan Williams, the prosecution forensic pathologist who examined both babies, had failed to disclose microbiological reports that suggested the second of her sons had died of natural causes.
The outcome led to Lord Goldsmith ordering a review of hundreds of other cases and two other women had their convictions overturned.
Mrs Clarke died in her home in 2007 from alcohol poisoning.