Taiwan invasion unlikely for now – but there are other ways China can turn the screw | World News
The good news is that there are only five months when weather conditions are good enough to mount an invasion of Taiwan, according to Ian Easton, the author of The Chinese Invasion Threat. 
The bad news is that two of them are April and May.
So when Taiwan reported that 25 Chinese air force aircraft, including nuclear-capable bombers, entered its air defence identification zone (ADIZ) this week, fears of attack are front of mind.
It was the largest incursion by the Chinese military to date.
US Admiral Philip Davidson – Washington's top military officer in the Asia-Pacific region – recently said he was worried China could invade Taiwan in the next six years.
Chiu Kuo-cheng, Taiwan's new defence minister, responded: "His evaluation says six years, but my concerns include six hours."
The foreign minister, Joseph Wu, said this month that in the event of an attack Taiwan would fight "to the very last day".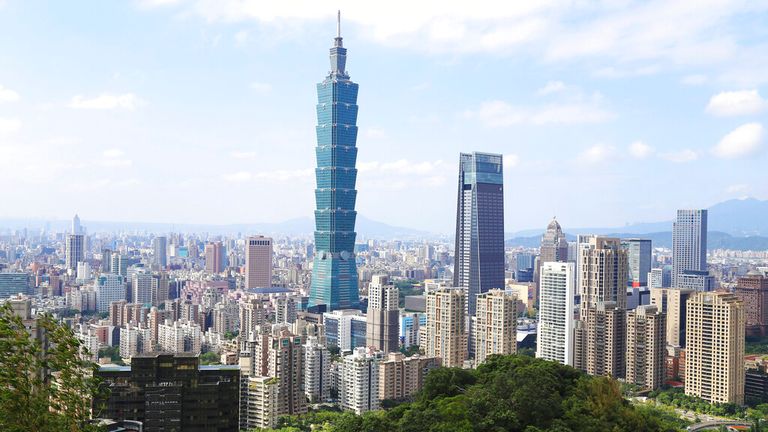 There is belligerence from the Chinese side. A defence ministry spokesperson said that a declaration by Taiwan of independence "means war".
Hu Xijin, the editor of a nationalistic Chinese tabloid, said that the Chinese military could fly directly over the island of Taiwan itself, and if Taiwan fired at those planes, China would attack.
Hu's attention-seeking provocations should always be taken with a pinch of salt but they show how the conversation around Taiwan is evolving.
But although the intensity is increasing, in many ways we are still in the status quo that has existed for decades.
China's constitution, adopted in 1949, says Taiwan is part of its "sacred territory" and details the "inviolable duty" of "reunifying the motherland".
:: Subscribe to Into The Grey Zone on Apple Podcasts, Spotify, Spreaker
On the question of "Taiwan independence", China as far back as 2005 passed a law that formally authorised military force if Taiwan was "separated" from China.
Taiwan has its own constitution and a highly functioning democracy – rated above Japan and South Korea by the Economist Intelligence Unit.
The election of President Tsai Ing-wen in 2016 led to an escalation in pressure from China. What we're seeing now is best viewed as the latest development in that continuous period.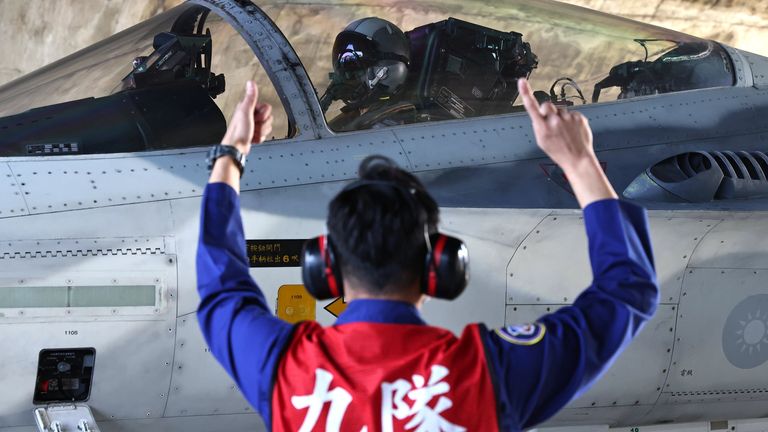 And as China has increased its attrition strategy, the US has increased its ties with the island, which in turn leads to more Chinese pressure.
That pressure is designed to take a psychological and logistical toll on Taiwan.
In 2020, Taiwan spent some $900m scrambling fighters to meet Chinese sorties and said it would no longer dispatch jets to meet every incursion, instead tracking Chinese aircraft with land-based missiles. Expect that pressure to continue.
But a full-scale invasion by China remains unlikely in the short term. That would require a massive build up of forces, easily detectable by US and Taiwanese monitoring.
There are options short of invasion that are still worrying.
China could blockade the island economically, or seize some of its outlying territory. The Kinmen Islands, administered by Taiwan, are barely a mile from China.
Any such move would be a test of the US resolve to defend Taiwan, perhaps analogous to Russia's seizing of the Crimean Peninsula.
Would an aggressive Chinese move, short of full invasion, prompt the US to respond militarily?
Right now, no one knows. That means it would be hugely destabilising.
For all the pressures of the current moment, it at least fits a known, established pattern – and is far preferable to an escalation, the consequences of which would be difficult to predict.
Israel-Gaza conflict: At 1am in Israel, my children are asleep. For those in Gaza, it's a different story | World News
From my home in Jerusalem on Sunday morning, I called our local producer in Gaza.
She and I have spoken every day this week. The crossings into Gaza are closed at the moment. Access is controlled by the Israelis and we can't get in.
But we have the bravest of colleagues already there. They are Gazans. They are our eyes, your eyes, on what is happening inside the locked-off enclave right now.
Destruction in Gaza after Israeli airstrike

My call with her this morning hit me quite hard. Around me, I had my three children, requiring my attention. I haven't seen much of them recently. Their priority was Lego. I wanted mine to be Lego too. But I was on the line to Gaza.
At the other end of the line I could hear our producer's children. It's hard to fathom what their week must have been like. Two family experiences, a little less than two hours' drive from each other but different worlds.
I asked her how the children were doing. "Oh, you know…" she said.
This past week the people of Gaza have experienced the worst nights of bombardment ever. The 2014 war with Israel was bad but 2021 will be remembered.
The Israeli bombardment of Gaza has continued day and night since last Monday night, when Hamas militants fired seven rockets into the hills west of Jerusalem.
Hamas rockets have continued to soar through the sky from Gaza, north into Israel.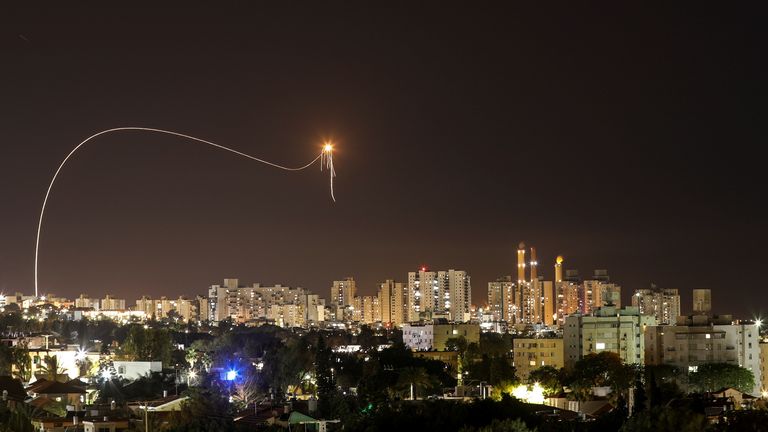 "Retaliation" is a word you hear both sides say frequently.
What came first? Who started it? There are so many layers to it all. It suits people to choose where it began.
The Israelis say it began on Monday with the rockets fired on Jerusalem – a brazen move by Hamas which took everyone by surprise.
Hamas, considered a terror group by most governments globally, represents the extreme end of the Palestinian resistance movement.
It is a movement which, with different manifestations, has been stirred over the past month in ways that it hasn't done for years.
A series of moments has pushed Palestinians to rise up against their occupation by Israel.
How Jerusalem flashpoint escalated

In the West Bank, Palestinian demonstrators have clashed with the Israeli army who, as they always do, crossed over the Green Line which should mark the limit of their control.
In Gaza, locked off, there isn't much people can do to protest. But the organisation that controls things in Gaza, Hamas, thinks the answer to push against occupation is rockets.
Since last Monday, Hamas militants have fired over 2,000 rockets north and east out of Gaza. They are unguided and, if they are not intercepted by Israel's remarkable Iron Dome anti-missile system, they land in Israeli communities.
Their frequency and range this past week has surprised everyone; it's alarmed the Israeli government and it's jolted the Israeli psyche.
A world away from Gaza, but in reality just 40 miles away at a Tel Aviv beach bar this weekend, behind the music, the sound of an air raid siren rang out. People filmed themselves rushing to the shelters.
The rocket hit a few miles away on a street in the suburb of Ramat Gan.
One man in his 50s was killed by shrapnel, cars were destroyed and the buildings around damaged.
Among the eyewitnesses, we met local resident Yafa Sela.
"I am in shock. I am in shock. I can't believe what happened in Israel," she said.
"I want peace, only peace. Arabs and Israel. Only peace. Not war. Never never. Shabbat shalom."
I am not sure her view is wholly representative. On both sides in this deeply polarized land where religion so often defines everything, compromise and an ability to share is hard to find.
At the scene of the Hamas rocket attack, I met Lt Colonel Jonathan Conricus. As spokesman for the Israeli military, his job is to present the official narrative of what's going on 40 miles south of us.
We can't see for ourselves because, at the moment, we can't get in.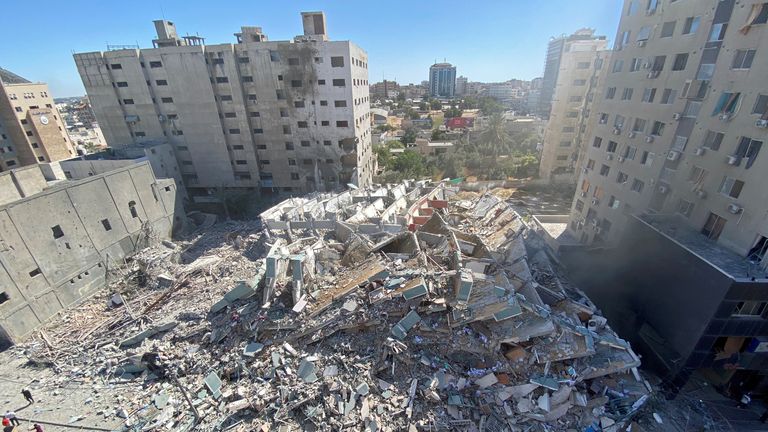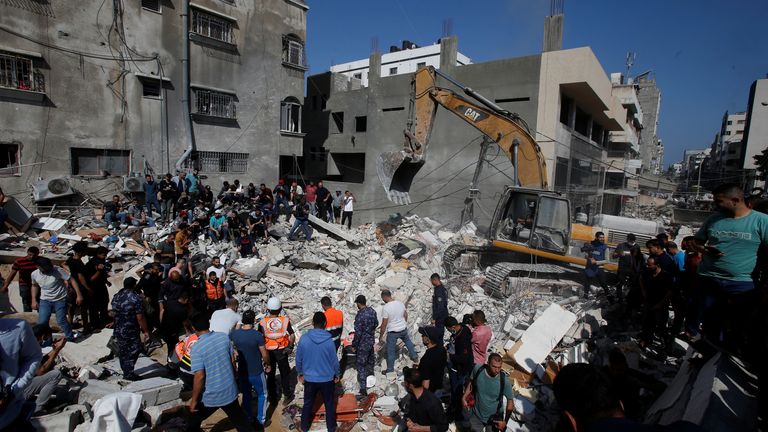 "This is tragic," I said, pointing to the place where the man had been killed by the rocket.
"This is frightening. But what's happening in Gaza is so much more frightening for the civilians there. The women, the children. The hospitals that are next to buildings that are being hit. The schools that are next to buildings that are being hit. The proportionality…" I said to him.
The colonel replied: "I don't know how frightening it is in Gaza.
"I know that it's very frightening to be a civilian in Israel, who know they are the target. Our civilians know that they are the target for Hamas. Civilians in Gaza they may be affected which is regrettable and we try to minimise those casualties."
I had woken up on Saturday morning to the news that it had been a relatively quieter night across the land. Perhaps things will calm, I thought; a truce or ceasefire was possible maybe.
But that was gone with this sight: a strike at the heart of a Tel Aviv suburb.
"Add two days every time they do something like this," a well-connected Israeli contact told me this weekend.
As I write this, a message just came in from our Gaza producer. It's 1am.
"Heavy and crazy bombing now. It is everywhere," the message read.
My children are asleep. Hers are not.
Campaigners find plastic waste from the UK dumped as far away as Turkey | UK News
The UK is continuing to dump waste on other countries with supermarket packaging and plastic bags found as far away as Turkey, according to a report. 
Investigators for Greenpeace found piles of waste dumped illegally by the roadside, in fields or spilling into waterways in 10 sites dotted around the Adana province in southern Turkey.
Plastic from the UK was found at all of these sites, including evidence of packaging and plastic bags from top UK supermarkets and shops, Greenpeace's Trashed report said.
Packaging for a COVID-19 antigen test was among the items found.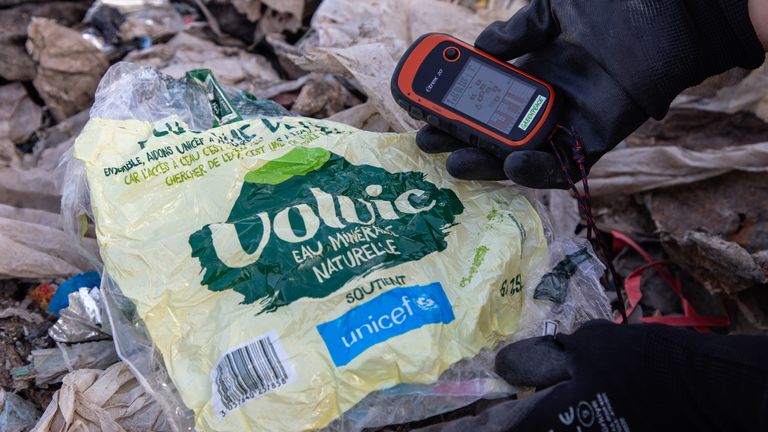 The campaign group says more than half of the UK's plastic waste is going to Turkey and Malaysia, with the equivalent of three-and-a-half Olympic swimming pools of waste sent abroad every day.
Nihan Temiz Atas, biodiversity projects lead from Greenpeace Mediterranean, based in Turkey, said the country is overwhelmed by plastic waste originating from other countries.
"Uncontrolled imports of plastic waste do nothing but increase the problems existing in Turkey's own recycling system," she said, revealing that around 241 truckloads of plastic waste arrive in Turkey each day from across Europe.
"As far as we can see from the data and the field, we continue to be Europe's largest plastic waste dump."
Nina Schrank, senior plastics campaigner at Greenpeace UK, said: "It is appalling to see plastic from UK supermarkets' shelves ending up 3,000 kilometres away in burning piles on the side of Turkish roads.
"We must stop dumping our plastic waste on other countries. The heart of the problem is overproduction – the UK is the second biggest user of plastic waste per person in the world, behind the US."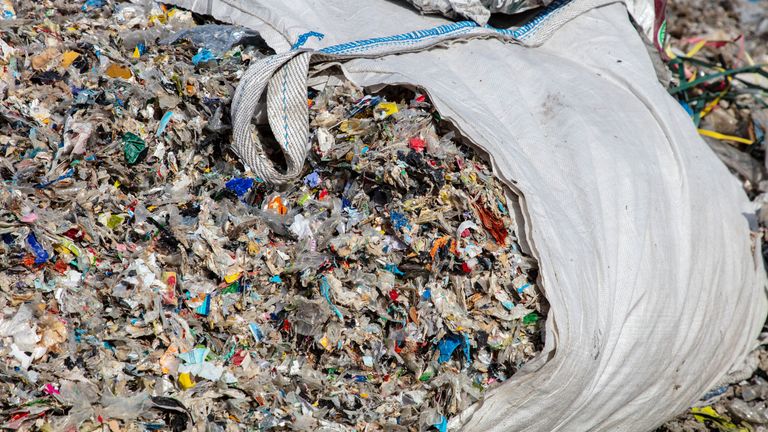 She said the government must "take control" of the problem by banning plastic waste exports and reducing single-use plastic by 50% by 2025.
The UK sent more than 7,000 metric tons of plastic waste to countries including Malaysia, Vietnam and Indonesia in September 2020 alone, according to nonprofit Last Beach Clean Up.
China originally took much of the UK's plastic waste but it cracked down on the practice in 2018.
Listen and follow ClimateCast on Spotify, Apple Podcasts, or Spreaker
A Department for Environment, Food and Rural Affairs spokeswoman said: "We are clear that the UK should handle more of its waste at home, and that's why we are committed to banning the export of plastic waste to non-OECD countries and clamping down on illegal waste exports – including to countries such as Turkey – through tougher controls.
"The UK is a global leader in tackling plastic pollution and our proposals for extended producer responsibility for packaging, a plastic packaging tax and mandatory electronic waste tracking will boost recycling rates, reduce waste and cut crime."
Sky News has launched the first daily prime time news show dedicated to climate change.
The Daily Climate Show is broadcast at 6.30pm and 9.30pm Monday to Friday on Sky News, the Sky News website and app, on YouTube and Twitter.
Hosted by Anna Jones, it follows Sky News correspondents as they investigate how global warming is changing our landscape and how we all live our lives.
The show also highlights solutions to the crisis and shows how small changes can make a big difference.
Child among two killed after seating collapses at Israel synagogue as worshippers celebrate Jewish holiday | World News
A 12-year-old boy is among two people who have died after a seating structure collapsed at a synagogue in Israel.
More than 150 people have been injured as ultra-Orthodox worshippers packed into the West Bank synagogue to celebrate the beginning of a major Jewish holiday on Sunday evening.
A man in his 50s was also killed in the incident in Givat Zeev.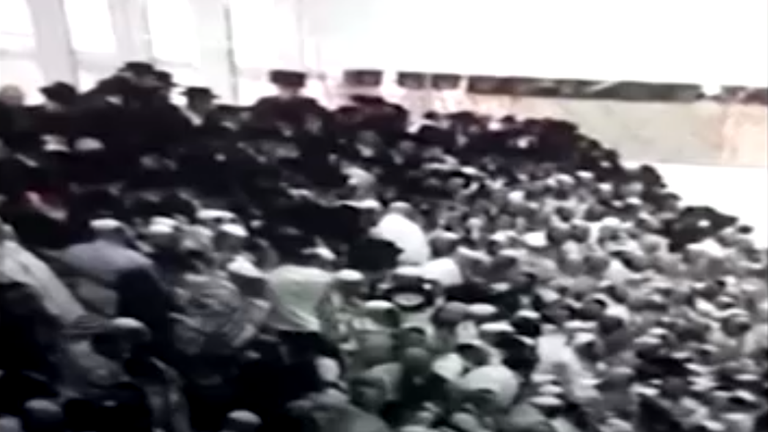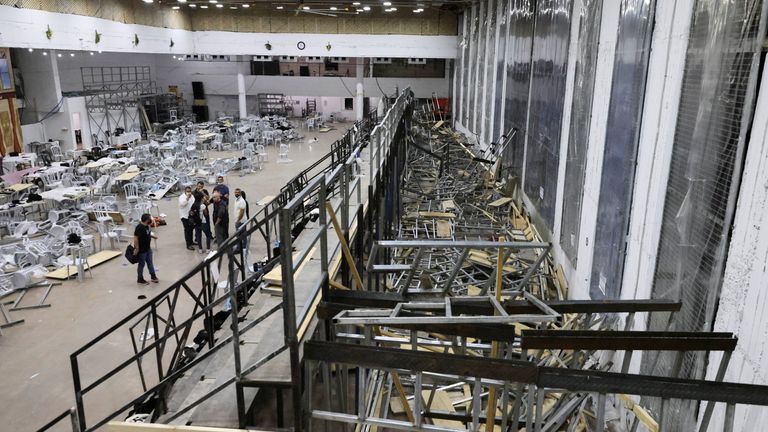 Amateur footage shows the tiered seating structure collapsing during prayers, sending worshippers plunging to the ground.
Medics and search and rescue teams were sent to the incident and some of those injured were airlifted to hospital by army helicopters.
Officials have said the five-storey building was incomplete and dangerous, with videos from the scene showing exposed concrete and plastic sheeting used as windows.
The mayor of Givat Zeev said police had ignored previous calls to take action on the unfinished building.
Jerusalem police chief Doron Turgeman said the disaster was the result of "negligence", adding there would likely be arrests.
Deddi Simhi, head of the Israel Fire and Rescue service, told Israel's Channel 12: "This building is not finished. It doesn't even have a permit for occupancy, and therefore let alone holding events in it."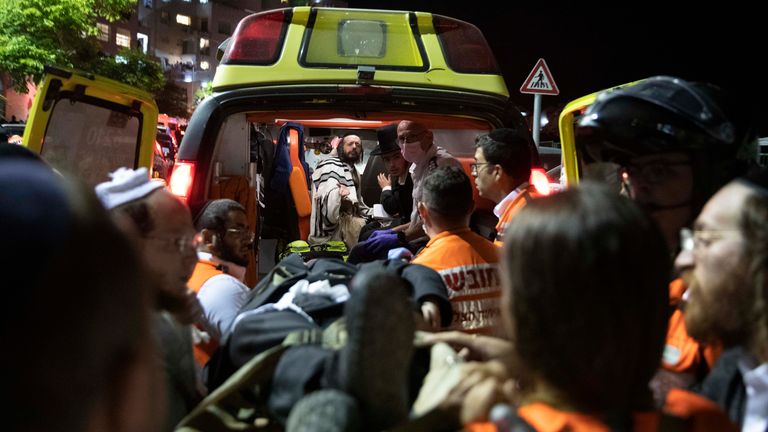 A sign has now been pasted onto the wall of the building warning that "for safety reasons entrance to the site is forbidden".
Worshippers had been celebrating Shavuot, a spring harvest festival that also marks the day in the Jewish calendar that the Torah was given to Moses on Mount Sinai.
The disaster happened just weeks after a stampede at a religious festival in northern Israel killed 45 ultra-Orthodox Jews.
The stampede at Mount Meron was the deadliest civilian disaster in the country's history.