Tropical Cyclone Seroja tears off roofs and cuts power to tens of thousands in Western Australia | World News
A cyclone cut power to tens of thousands of people overnight and destroyed several homes on Australia's west coast.
Tropical cyclone Seroja damaged 70% of buildings in the coastal town of Kalbarri, the worst hit area, about 310 miles north of Perth, officials said.
Emergency services commissioner Darren Klemm said about 30% of the damage was "significant".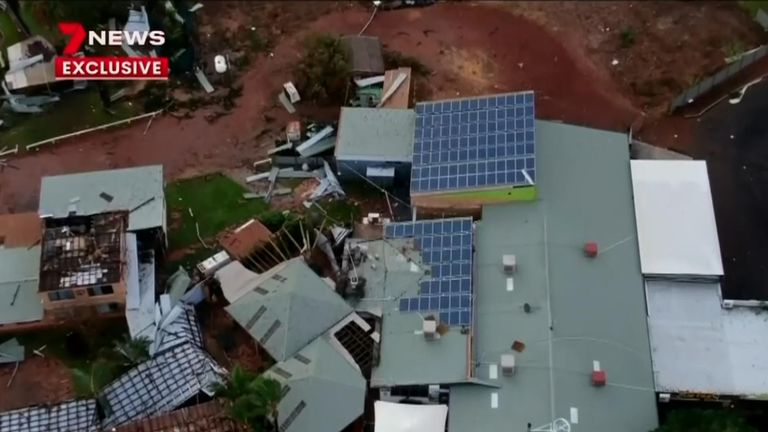 The area was battered by winds of more than 100mph and received more than 10cm of rain in two hours.
Three evacuation centres were opened ahead of the cyclone and drone pictures of the aftermath showed buildings without roofs and broken powerlines.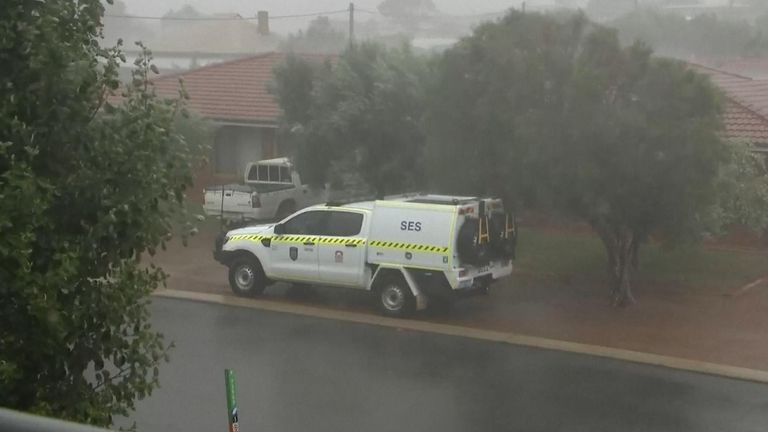 The cyclone was downgraded from category three to two after it made landfall and had weakened by Monday morning.
Prime Minister Scott Morrison said on Facebook that the situation remained "very serious" and that the government's disaster response plan was under way.
The area had been on red alert ahead of the cyclone as buildings there are not built to withstand such storms, which usually don't come as far south.
Kalbarri's red alert ended at about 11am local time (4am UK time) and people were free to leave their homes, but forecasters still warned of some damaging gusts along the cyclone's path.
The only town where residents were still being advised to stay inside was Northampton, according to Western Australia Today.
The cyclone last week killed more than 170 people in Indonesia after it caused landslides and floods in East Nusa Tenggara province.
COVID-19: Doubts over Champions League final venue as Turkey added to red list | UK News

Fans of Chelsea and Manchester City should not travel to Turkey for the Champions League final, the transport secretary has said.
Speaking as it was announced that Turkey has been added to England's COVID-19 red list, Grant Shapps said the Football Association was in talks with UEFA over the match.
The final is currently scheduled to be played in Istanbul on Saturday, 29 May.
Mr Shapps said the UK is open to hosting the game, but stressed it was a decision for European football's governing body.
"I'm afraid we are having to put Turkey on the red list," Mr Shapps told a Downing Street news conference.
"This will have a number of ramifications. First of all, it does mean with the regards to the Champions League, fans should not travel to Turkey.
"The FA are in discussions with UEFA on this. We are very open to hosting the final but it is ultimately a decision for UEFA.
"Of course the UK has already got a successful track record of football matches with spectators, so we are well placed to do it.
"We are very open to it but it is in the end a decision for UEFA to make, but given there are two English clubs in that final, we look forward to what they have to say."
UEFA insisted earlier this week that it had no plans to move the match.
"The UEFA Champions League final will take place in Istanbul on May 29 with a limited number of spectators and we are assured the temporary lockdown which is in force until May 17 should not have any impact on the match," it said in a statement.
"UEFA continues to work closely with the Turkish Football Federation and the local and national authorities to stage the match safely."
Chelsea and Manchester City have yet to comment.
Maldives: Ex-president Mohamed Nasheed critical after 'terror attack' as police try to identify four possible suspects | World News
The speaker of the Maldives parliament, who is also the former president, is in a critical condition in hospital following an explosion which is being treated as a terror attack.
Mohamed Nasheed, 53, is in intensive care after he was badly injured in the blast outside his home in the capital Male on Thursday night as he was about to get into his car.
Two of his bodyguards and two apparent bystanders, including a Briton, were also wounded in the explosion, said police.
Officers say they are trying to identify four possible suspects but no arrests have been made.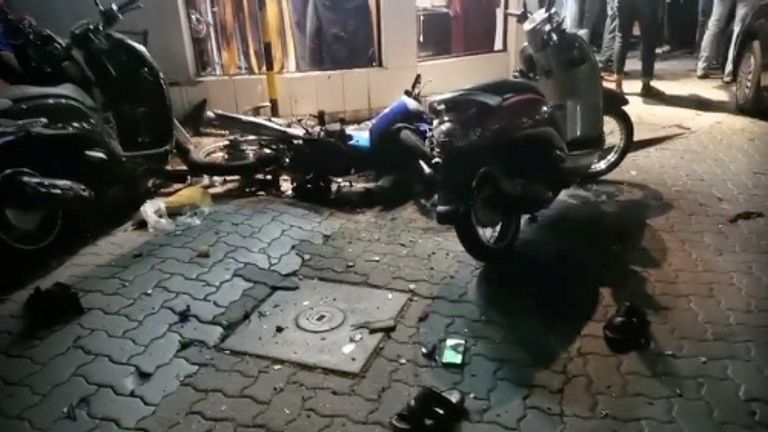 The blast was caused by a device planted on a motorbike parked near Mr Nasheed's vehicle, according to local media.
Police have not detected any military-grade components in the explosives used.
Nobody has claimed responsibility for the blast which has revived security concerns in the Indian Ocean archipelago, that is known for luxury tourist resorts but has experienced occasional violent attacks.
Mr Nasheed, who has undergone surgery on his head, chest, abdomen and limbs, has been an outspoken critic of religious extremism in the predominantly Sunni Muslim nation, where preaching and practising other faiths are banned by law.
The first democratically-elected president of the Maldives has previously warned about militants infiltrating the Islamic country, as violence has been blamed on a rise in religious extremism.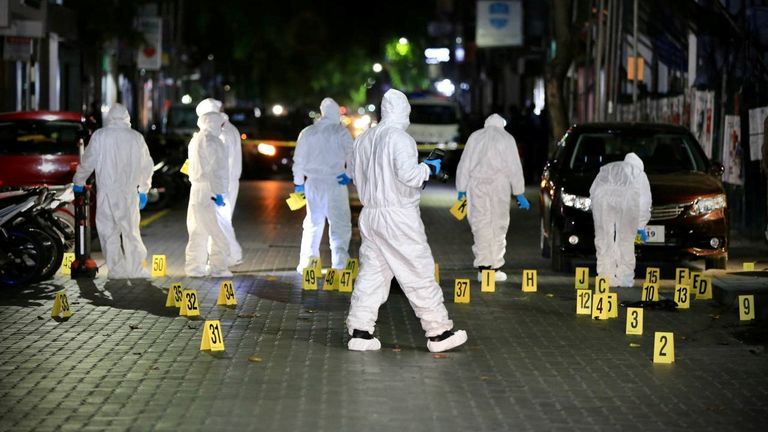 The Maldives has one of the highest per capita numbers of insurgents who fought in Syria and Iraq alongside the so-called Islamic State group.
Police Commissioner Mohamed Hameed said 450 officers were investigating the latest incident.
"We are treating this as a terrorist attack," he told a news conference, adding the national security threat level had been raised to its highest rating of three.
In January this year, Maldives authorities said eight people arrested in November were found to have been planning to attack a school and were in the process of building bombs in a boat at sea.
In 2007, a blast in a park in the capital wounded 12 foreign tourists.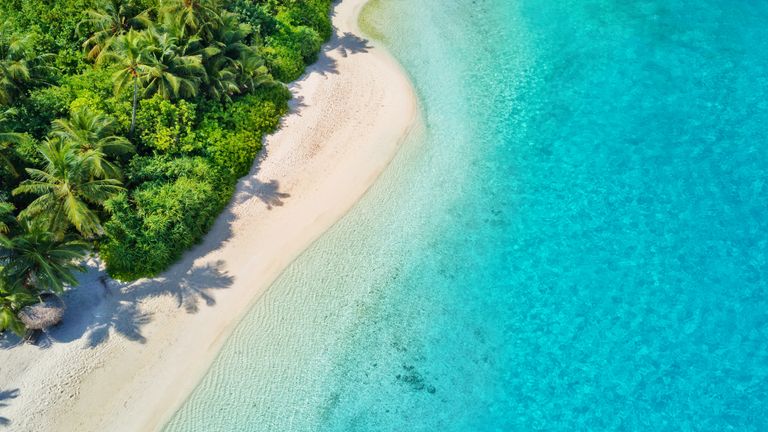 Mr Nasheed was in office from 2008 to 2012 and got a degree in maritime studies from Liverpool John Moores University in 1989.
His presidency ended 30 years of autocratic rule, but his term was cut short when he resigned amid protests.
He was defeated in the subsequent presidential election and was convicted of terrorism for having arrested a senior judge while president, and was sentenced to 13 years in prison.
Mr Nasheed was allowed to go to the UK for medical treatment and received asylum there in 2016.
His party colleague Ibrahim Mohamed Solih won the 2018 presidential election and Mr Nasheed was able to return home.
He has remained an influential figure and was elected parliament speaker in 2019.
He also knows former prime minister David Cameron.
Jersey fishing dispute: France's 'sinister' threat to cut power to island means Channel cable project should be scrapped, MP says | UK News
France's "sinister" threat to cut power to Jersey means plans to build an energy cable linking Britain to the continent should be scrapped, an MP has said.
Penny Mordaunt, a former defence secretary, said going ahead with the Aquind project would be a "strategic error", is "not in our national interest", and risks further politicising the delivery of energy.
The importance of power supplies has been highlighted by the threatened blockade of Jersey's main port of St Helier over French fishing rights.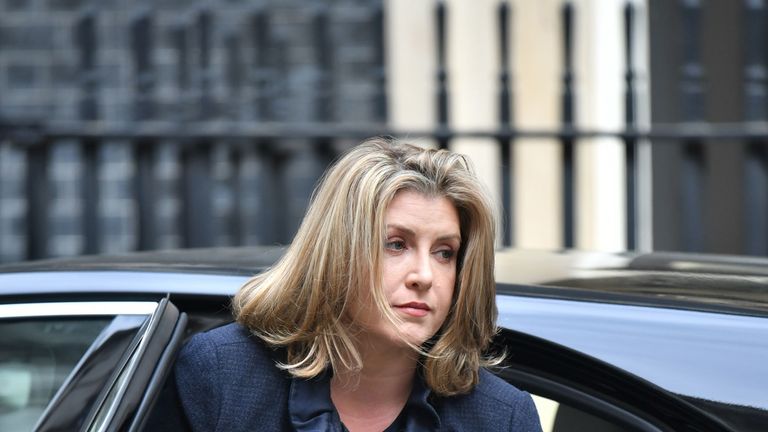 Jersey imports 95% of its electricity from France. As French fishermen argue over post-Brexit permits to fish in Jersey's waters, France's seas minister, Annick Girardin, has threatened to cut power to the island.
The £1.2bn Aquind project – described on its website as a "high voltage direct current power transmission link" – would bring electricity from Normandy to the Eastney district of Portsmouth.
It is claimed the connector could supply as much as 5% of Britain's energy needs and power millions of homes.
But in a letter to Business Secretary Kwasi Kwarteng, Ms Mordaunt said that increasing our dependence on French energy "increases the likelihood it will become politicised and involved in any future discussions, in particular on fishing".
The Conservative MP for Portsmouth North added: "To do so seems a bad idea and one I am sure UK fishermen would not support."
She is urging Mr Kwarteng – who will decide on the plan – to stop it.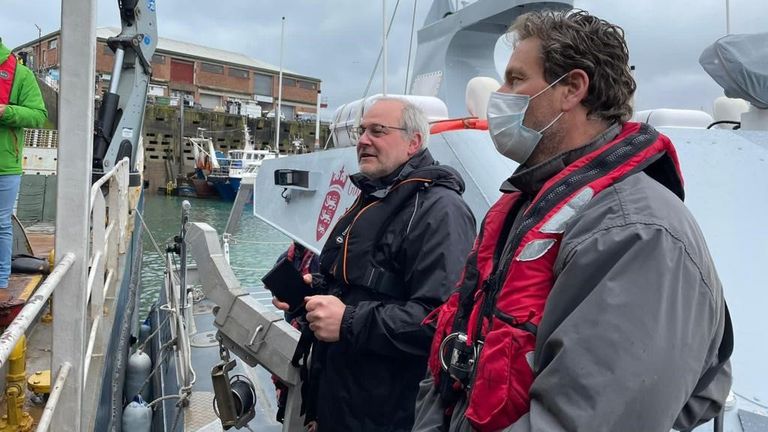 Ms Mordaunt told Portsmouth newspaper The News, which printed excerpts from her letter to Mr Kwarteng: "Recent events are further evidence that the interconnector is not in our national interest.
"It will make us less resilient, it's a strategic error and it potentially will undermine further negotiations that we may wish to have with the EU and certainly member states."
The French threat to cut power to Jersey was "sinister", she added.
Jersey's government said on Thursday it had held a "constructive meeting" with protesting French fishermen in an attempt to resolve the dispute over fishing rights.
The government said it had agreed to set up a forum with the fishermen after a fleet of an estimated 56 French vessels arrived there.
The UK government said it was "pleased that French fishing boats have now left the vicinity of Jersey" and Navy ships were preparing to return home.