Off-duty Italian police officers find stolen Roman statue in Belgium – a decade after it vanished | World News
A first-century Roman statue has been recovered by two off-duty Italian police officers almost a decade after it was stolen.
The statue was stolen from the Villa Marini Dettina, an archaeological site on the outskirts of Rome, in November 2011 and has now been found in an antique shop in Belgium.
It was discovered by the off-duty officers from the Italian police's archaeological unit.
The Togatus statue, featuring a headless Roman wearing a draped toga, is valued at €100,000 (£86,000).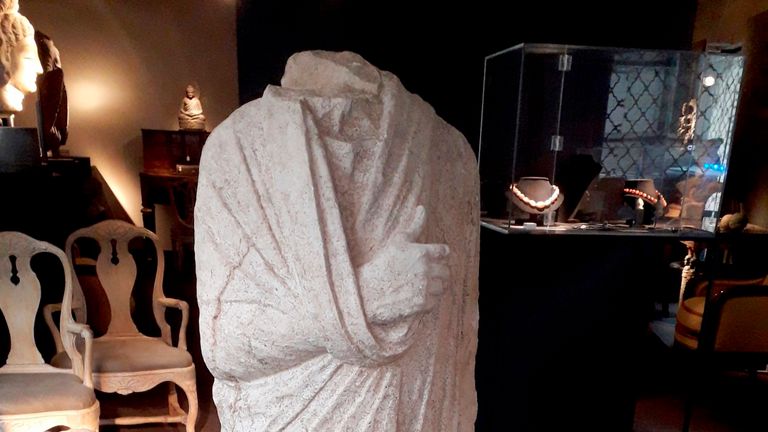 The two officers were on assignment in Brussels when they took a walk after work in the Sablon neighbourhood, known for its antique shops.
They spotted a statue that they suspected was from Italy and confirmed their suspicions when they cross-referenced it with their stolen antique database.
An Italian businessman, who used a Spanish alias, has been referred to prosecutors for further investigation. He is alleged to have received and exported the statue abroad, police said.
Italian authorities have been attempting to recover stolen antiques for years.
In 2019, a dozen pieces of artwork were returned to Italy by private auction house Christie's. The items featured a marble fragment from the sarcophagus in Rome's catacombs of St Callixtus, a piece worth £50,000.
In June 2020, officials found a stolen Banksy mural in Italy that was taken from the Bataclan concert hall in Paris.
The image was created in memory of the victims of the 2015 terrorist attack in the French capital. It was cut out and removed from the concert hall in 2019.
COVID cases in India accounted for nearly half of worldwide coronavirus infections last week | UK News
India accounted for nearly half of the coronavirus cases reported worldwide last week and one in four of the deaths, the World Health Organisation has said.
The country was also responsible for nine in 10 of the COVID-19 cases and deaths in the WHO's South East Asia region in the past week, according to the Geneva-based agency's weekly report.
The World Health Organisation said on Wednesday: "India accounts for over 90% of both cases and deaths in the region, as well as 46% of global cases and 25% of global deaths reported in the past week."
The figures come as two positive COVID cases among the Indian delegation in the UK for this week's G7 meeting have been found.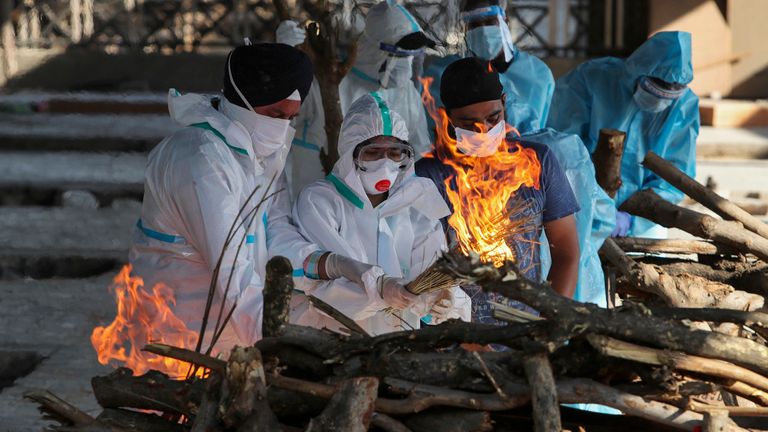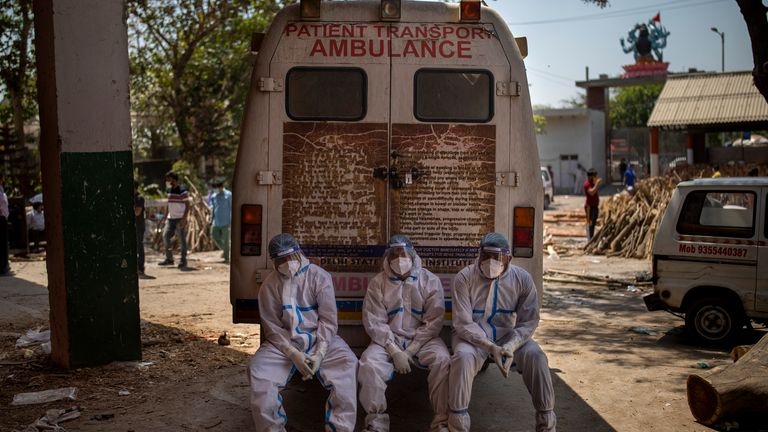 Although it is not a G7 member, India was invited to attend the first in-person meeting of the group's foreign ministers in more than two years in London this week.
India reported nearly 2.6 million new cases last week, a 20% increase on the previous week, and 23,231 deaths, the WHO has said.
There were 5.7 million new infections and more than 93,000 deaths confirmed worldwide, the organisation said in its report.
India, which accounts for almost 18% of the world's population, became the second country to record 20 million infections on Tuesday.
The first was the United States.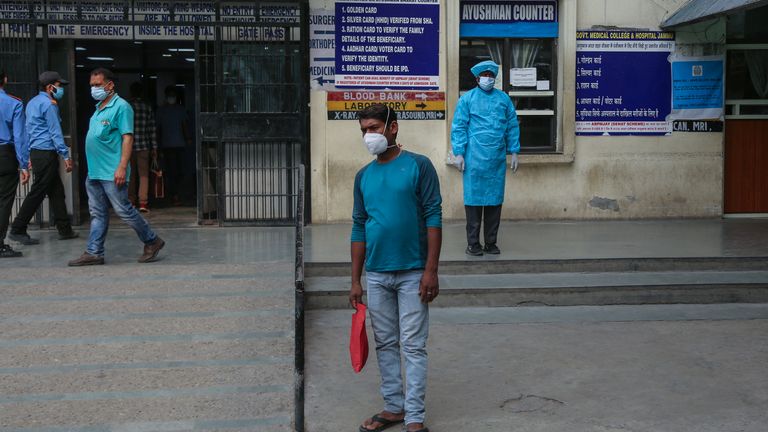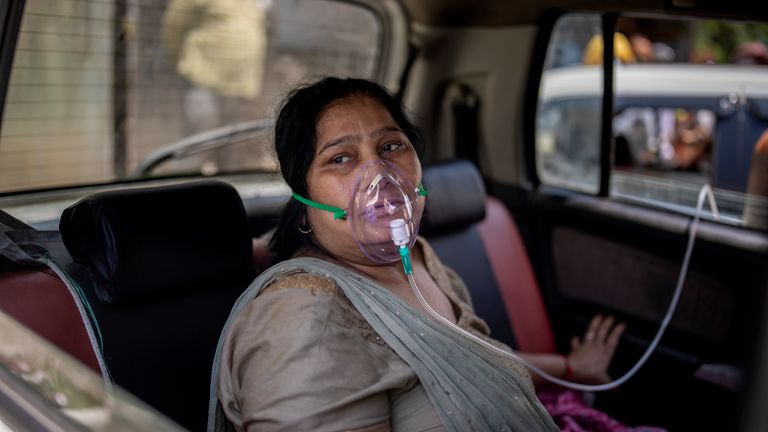 Hospitals have been running out of beds and oxygen in India after a surge of the virus there, including of a highly infectious new variant first identified in the country.
Morgues and crematoriums have been overflowing.
Many people have died in ambulances and car parks waiting for hospital beds.
Follow the Daily podcast on Apple Podcasts, Google Podcasts, Spotify, Spreaker
India's government has faced calls for a strict lockdown to slow a devastating surge in new cases.
A court in New Delhi will also decide whether to punish officials for failing to boost erratic supplies of oxygen for overstretched hospitals.
Rahul Gandhi, a leader of the opposition Congress party, said this week "a lockdown is now the only option because of a complete lack of strategy by the Indian government".
There are also signs that India's outbreak is spreading to its neighbours.
Nepal recorded a 137% increase in cases to 31,088 last week, while Sri Lanka's COVID-19 outbreak was also growing, the WHO said.
COVID-19: World's oldest person pulls out of Tokyo 2020 Olympics torch relay over fears of spreading virus | World News
The world's oldest person has pulled out of the torch relay for the Tokyo 2020 Olympics because she does not want to spread COVID-19 in her care home.
Kane Tanaka, 118, was due to take part in the prestigious event in Fukuoka in southern Japan, on 11 May.
An Olympic official said: "We received an email from her family which said she wanted to withdraw from the relay as she and her family were concerned about spreading the virus at the nursing home."
Live COVID updates from UK and around world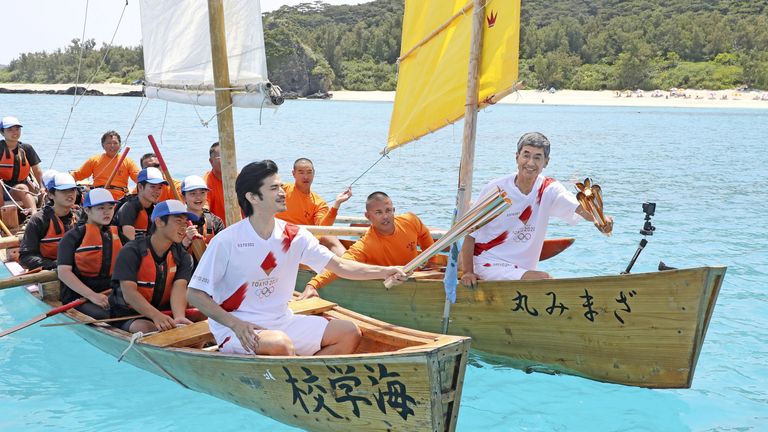 The Olympic torch relay, which kicked off in March, has been hit by a coronavirus outbreak.
Six people who helped with the torch relay were diagnosed with COVID-19, the Tokyo 2020 organisers said on Sunday, bringing the total number of cases involved in the event to eight.
Some celebrities who were due to take part have also withdrawn.
Last month Japan declared a third state of emergency for major towns and cities, including Tokyo and Osaka, to curb a rise in infections.
Japanese prime minister Yoshihide Suga is set to meet senior cabinet members later to discuss further restrictions.
70% of people in Japan do not want the Olympics to go ahead

The news comes with fewer than three months until the start of the Tokyo Olympics, with concern growing over whether they can be held as planned.
The event is scheduled to start on 23 July after it was delayed last year due to the pandemic.
Japan has so far had 614,000 cases and just over 10,000 deaths.
The capital Tokyo is by far the worst affected, with 23% (142,000 cases) of cases and 18% (1,883) of deaths.
Stuart MacGill: Former Australian test cricketer kidnapped and held at gunpoint | World News
Former Australian cricketer Stuart MacGill was abducted and held at gunpoint in Sydney last month, according to police.
New South Wales Police have charged four men, aged between 27 and 46, in connection with the incident, which took place on 14 April.
One of the men involved in the plot was known to the former leg spinner, according to police.
Police said MacGill, 50, suffered minor injuries but did not require medical care following the attack – which they believe was financially motivated.
The arrests took place after raids were conducted in Sydney on 5 May, which were the result of a two-week-long investigation.
According to police, MacGill was approached in Cremorne on 14 April by a 46-year-old man he knew.
Two other men appeared, and the group forced him into a car and he was driven to a remote site in Bringelly, on the city's outskirts.
He was allegedly assaulted and threatened at gunpoint, police said.
MacGill was released after about an hour, with no money having changed hands.
Detective acting superintendent Anthony Holton said: "No ransom demands were made. Our belief is the motive was purely financial.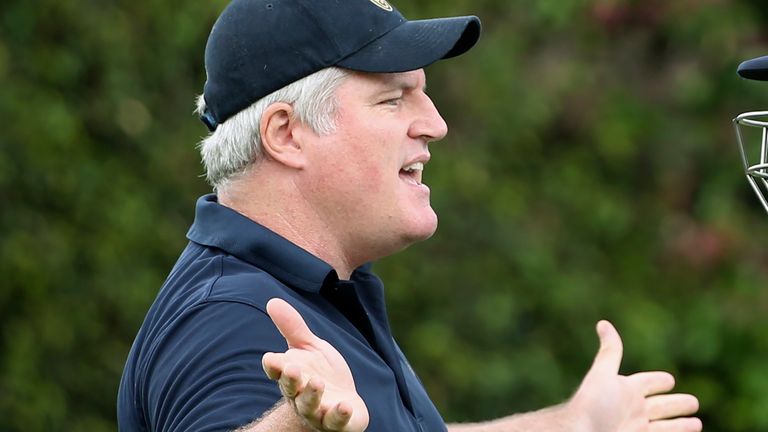 "He was seen as someone that they could get money from, although no money was paid prior to him being released."
All four men – who have been charged with offences related to detaining a person with the intention to get advantage – were refused bail.
MacGill retired from cricket in 2008, after playing 44 test matches and three one day internationals for Australia.
He also played domestic cricket for Nottinghamshire, Devon and Somerset.