NASA: Technical issue delays historic flight for Mars helicopter Ingenuity | Science & Tech News
The first ever flight on another planet has been delayed until at least 14 April, NASA has said, following the discovery of a technical issue with the Ingenuity mini-helicopter stationed on Mars.
The issue emerged while the device was testing its rotors ahead of what was to be the first ever powered, controlled flight on another planet.
A video released on Twitter ahead of the cancellation showed Ingenuity wiggling while its rotors span at 50rpm, shortly before NASA discovered the technical glitch.
A high-speed test of the 1.8kg machine's rotors ended early this weekend when alarms went off at Ingenuity HQ about a potential issue.
In a statement, NASA confirmed: "The helicopter team is reviewing telemetry to diagnose and understand the issue. Following that, they will reschedule the full-speed test."
The space agency confirmed that Ingenuity was "safe and healthy" and had successfully sent information to the Perseverance rover and thence back to Earth.
The initial plan was to have Ingenuity hover for approximately 30 seconds and take a picture of the Perseverance, which touched down on Mars in February.
"The laws of physics may say it's near impossible to fly on Mars, but actually flying a heavier-than-air vehicle on the red planet is much harder than that," NASA has quipped.
It carries as a memento in tribute to flight pioneers from Earth, a piece of cloth that covered one of the Wright brothers' aircraft wings. The Wrights have been generally credited with inventing, building, and flying the world's first successful motor-operated plane, in the early 20th century.
Ingenuity's launch was also intended to coincide with the 60th anniversary of the flight of the first human in space, Yuri Gagarin, on 12 April 1961.
Mars rover landing – as it happened: Joy at NASA after 'seven minutes of terror'
Panoramic view of Mars landing site

Just hours after the flight, Perseverance will downlink Ingenuity's first set of engineering data, and "possibly" images and video from its zoomable cameras, says NASA.
Using this data, the Ingenuity team will be able to determine whether the first attempt to fly on Mars was a success, and the results will be discussed in a media conference on the same day.
The flight is a challenge because the Martian atmosphere is just 1% of the density of the atmosphere on Earth, meaning the craft may struggle to achieve lift, although it will be assisted by gravity that is just a third as strong as our own.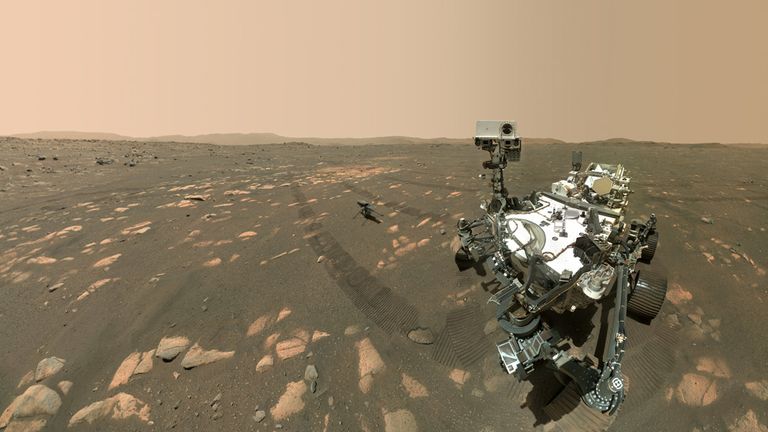 The little chopper underwent a series of drills simulating the mission in a testing facility in California, including a high-vibration environment to mimic how it will hold up under the launch and landing conditions, and extreme temperature swings such as those experienced on Mars.
The aim is for the helicopter to hover at 3m (10ft) above the surface for around 30 seconds before descending and touching back down.
The autonomous device also has an on-board camera, but does not contain any scientific instruments. NASA aims to develop the drone as a prototype to see if it could be worth attaching scientific sensors to similar devices in future.
Schoolgirl vows to return to her Kabul classroom after bomb blasts kill friends | World News
Lying in her hospital bed, a survivor of a triple bombing in Kabul that left dozens of fellow schoolgirls dead has vowed to return to the classroom, despite the danger.
Arifa, 17, said she did not know exactly why anyone would attack her school, but speculated: "Maybe because they don't want us to study and get educated and move forward".
Girls' education was forbidden when the Taliban ruled Afghanistan before the 2001 US-led invasion.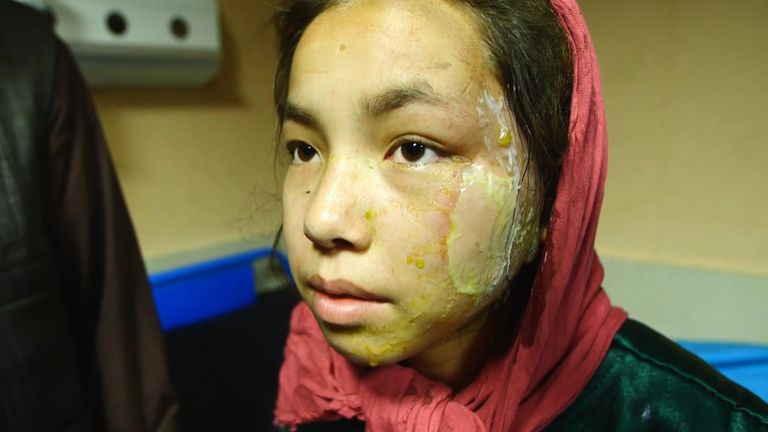 Since then, Britain in particular has championed a push for girls to go to school, using statistics on the increase in girls' education as a way to demonstrate progress, despite multiple setbacks elsewhere, such as the loss of swathes of territory back to Taliban control.
With all remaining US, British and other NATO forces due to withdraw from Afghanistan by this September, many people in the country fear a return to the same kind of hard-line rule.
But Arifa said she would not give up on learning despite the possibility of new threats.
"The fear will be there, but I will continue my studies," she told NBC's Richard Engel.
Violence across Afghanistan is on the rise after a deadline of 1 May set by the Taliban for all US-led forces to leave passed – even though US President Joe Biden has said he will pull his remaining troops out by September.
The attack on the Sayed Al-Shuhada school was particularly horrific.
At least 68 people were killed in the attack

A car bomb exploded in front of the premises on Saturday afternoon. Then, as students rushed outside in panic, two more explosions tore through them.
At least 68 people, the majority of them girls, were killed and a further 165 injured.
Arifa recalled hearing "very, wild sounds of explosion" when the first blast erupted.
"I fell on the ground. My friend pulled my hand."
On a separate hospital bed, a second survivor, Miriam, suffered burns to her face, while her feet and legs were bandaged.
"I got out of school. I was going home, then I heard a big boom then saw red flames and smoke.
"I moved forward and noticed blood on my feet I checked and saw shrapnel hit my feet," Miriam said.
"I was close to the explosion site I felt burns in my hand and face."
No-one has yet claimed responsibility.
The blasts struck in the Dasht-e-Barchi neighbourhood in western Kabul, home to many Shia Muslim families from Afghanistan's minority Hazara community.
Militants linked to the Sunni Islamist group Islamic State have targeted them before, though Afghan officials have blamed the Taliban for the school bombings.
The Taliban has denied involvement.
Families of the victims say the fault lies with the Afghan government and their western allies for failing to stop the violence that is still consuming their country.
On a hillside overlooking Kabul, relatives wailed in grief as the bodies of the some of the dead were buried.
Michael Moogan: One of UK's most wanted fugitives arrested in Dubai | UK News

One of the UK's most wanted fugitives has been arrested in Dubai.
Michael Moogan had been sought by the National Crime Agency (NCA) for eight years for his alleged role in a large-scale international drug trafficking plot.
The 35-year-old from Liverpool had been on the run following a raid on a Dutch cafe, which was suspected of being used as a front for meetings between drug traffickers and cartels.
The Cafe de Ketel in Rotterdam was "central to a plot to bring hundreds of kilos of cocaine into the UK every week", the NCA said.
Moogan and two other British men were linked to the cafe, which not open to the public and could only be entered via a security system, according to the crime fighting agency.
The NCA said detectives suspected that Moogan and his associates were involved in plans to import drugs from Latin America to the European Union..
Dubai Police believe Moogan entered the UAE using a different identity and tried to avoid CCTV in an attempt to elude officers.
He was eventually tracked down and apprehended on 21 April.
Nikki Holland, the NCA's director of investigations, said: "This arrest is the result of years of investigation involving a range of law enforcement partners in the UK, Europe and Middle East.
"We are extremely grateful to those partners for their assistance in ensuring Moogan now faces justice and particularly thank the Dubai Police for their efforts to track him down."
Following the cafe raid, 71-year-old Robert Hamilton from Manchester was jailed for eight years in 2014 after pleading guilty to drug charges.
Another man, Robert Gerard, handed himself in to the NCA after three years on the run, claiming the pressure was too much.
The 57-year-old from Liverpool pleaded guilty to drug trafficking charges and was jailed in 2017 for 14 years.
The NCA said Moogan will now be returned to the UK to face trial.
COVID-19: Police raid Indian hospital and accuse doctors of 'false scare-mongering' over low oxygen supplies | World News
A small private hospital in India's most populous state is being charged under the National Security Act for sounding the alarm over a lack of oxygen.
The director of the Sun Hospital in Lucknow in Uttar Pradesh told Sky News he faced being arrested at any time and his business seized after the police laid charges against him.
Akilesh Pandey, who owns and runs the hospital in the state's capital, said four of his patients died on a single day when oxygen ran out.
He says he made repeated appeals to the state authorities warning them his supplies were running low but they failed to re-supply him with oxygen for 13 hours.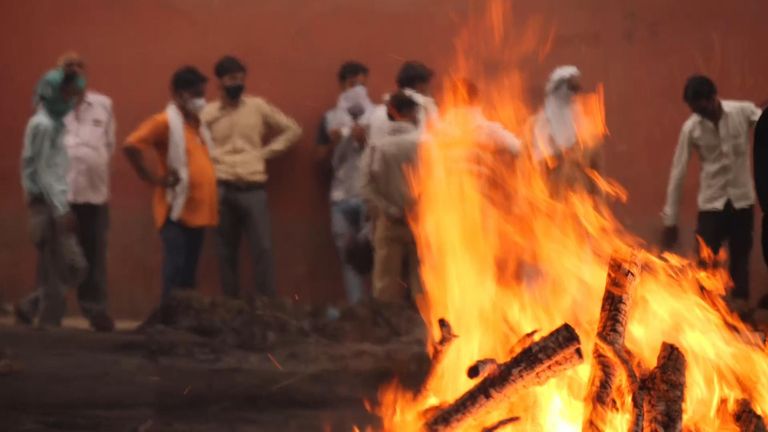 The notice he posted at the hospital on 3 May is still stuck up in places around the building.
It says: "After repeated request to the UPCM/Central Government we are not able to get enough oxygen supply, hence we requesting family members those patients who are on oxygen support please take their patients higher centre for further management."
Days later, Mr Pandey says the police laid charges against him for "false scare-mongering", raided his hospital and seized the CCTV from that day.
We arrived at the hospital as it was receiving a consignment of oxygen cylinders. The hospital's oxygen-flow gauge showed once again it was running perilously low.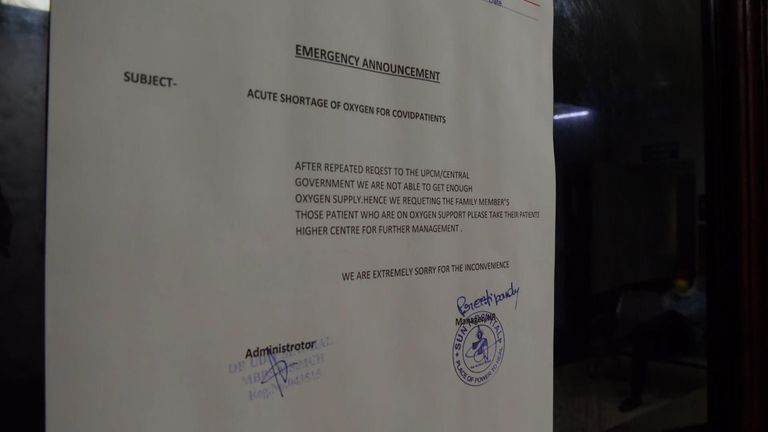 "I care about my patients enormously," Mr Pandey told us. "They are my family but that day we could not give them oxygen."
He showed us the oxygen supply just near the entrance of the hospital.
"These are the five oxygen cylinders that we had that afternoon…that would give one-and-a-half, to two hours of oxygen to patients.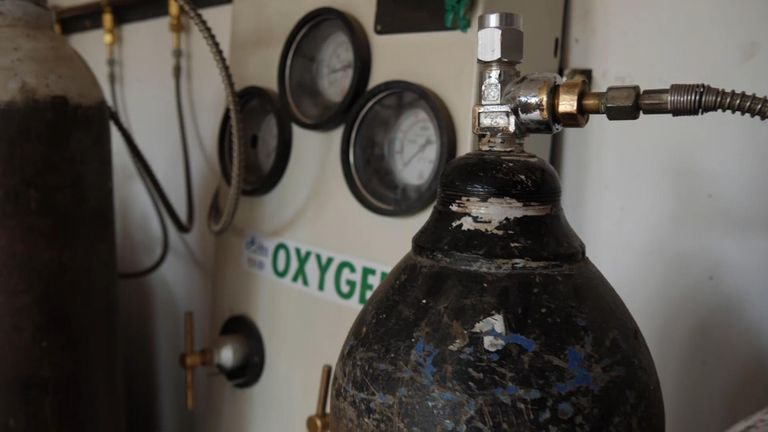 "We decreased the pressure flow slightly so that we could extend the flow to about three to three-and-a-half hours hours…." he told us.
But the oxygen supply ran out by 9am the following morning – the relatives of those who died say that is what killed them.
One young man who lost both his 45-year-old aunt and 22-year-old cousin recounted how it was like "a never-ending nightmare".
Eyewitness: India's vaccine rollout stumbles before it starts
He said he hadn't had time to process what's going on: his uncle is still ill with coronavirus in the same hospital and he hasn't had the courage to tell his aunt's husband who is at home suffering with coronavirus too.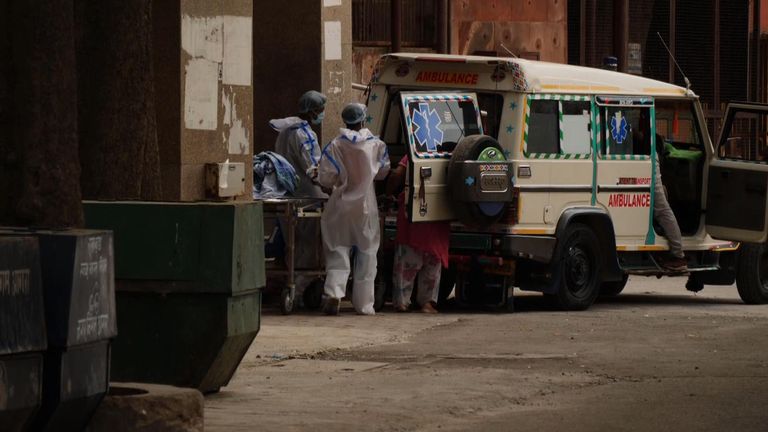 "My aunt needed high oxygen but when oxygen finished here, she was put on a concentrator but she could not manage by that.
"If there was oxygen she would not have died – my cousin would not have died."
"This is the government's responsibility to provide oxygen," he said. "This has been made a COVID centre and the government must provide.
"The hospital is trying its best."
The state's High Court judges seem to agree, pronouncing last week: "The death of COVID patients just for non-supplying oxygen to the hospitals is a criminal act and not less than a genocide by those who have been entrusted the task to ensure continuous procurement and supply chain of the liquid medical oxygen."
We have contacted the Uttar Pradesh authorities for a response but have yet to receive one.
The police charge against the hospital's administrators is the latest in a line of draconian measures in Uttar Pradesh which has seen individuals arrested for putting out SOS appeals for oxygen.
The state's authorities have suggested the alarms are inducing panic and the situation is under control – even as the area posted a new record daily high number of deaths on Friday.
The authorities have been heavily criticised for allowing mass gatherings during local elections even as the country was recording global highs in the COVID-19 infection rate.
Our team travelled from New Delhi more than 200 kilometres to Agra and then several hundred more kilometres onto Lucknow – and all along the route, we found thousands of people flouting the lockdown and the night-time curfew only being patchily enforced.
It's almost certainly contributed to the upsurge in infections and deaths over the past few weeks.
Although medics believe the situation is stabilising, there's still an unknown number of infections and deaths throughout this large state which dwarfs whole countries in terms of population.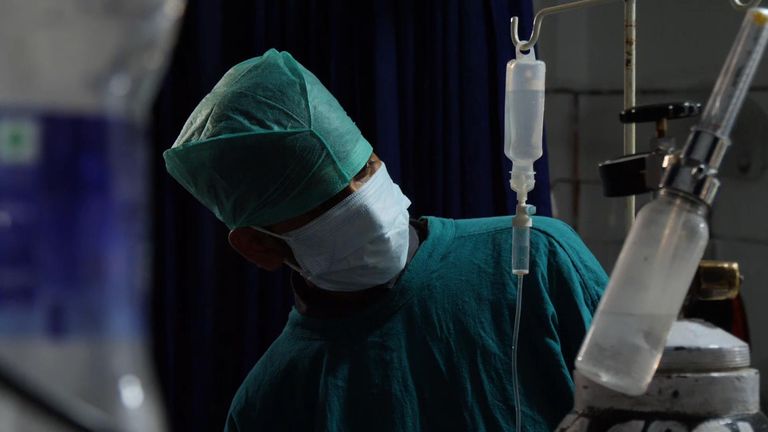 The sheer size of the state makes it difficult, if not impossible, to compile accurate figures.
A substantial number of the estimated 225 million residents in Uttar Pradesh live in remote, rural areas where there is little or no treatment for coronavirus.
A resistance to testing due to fear of isolating; the lack of access to hospitals or even clinics and an absence of co-ordinated monitoring of the COVID deaths has meant widespread scepticism about the official statistics.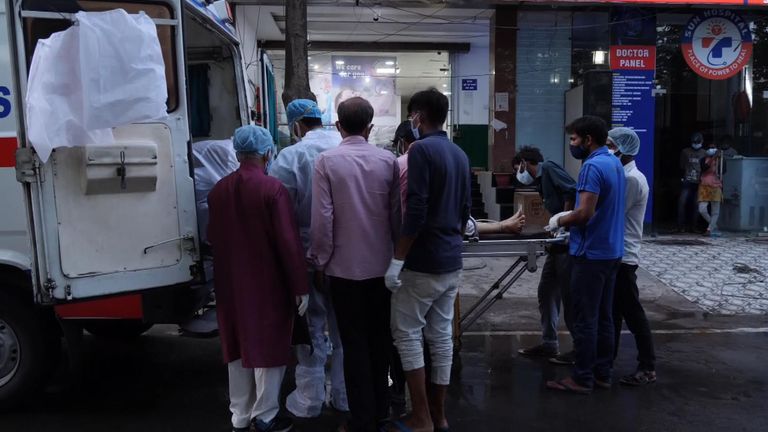 Several doctors we spoke to from a variety of hospitals – in Delhi, Agra and Lucknow – are telling us the same information all the time about the virus and the variants.
This second wave is different; the variants are reacting differently and patients are developing some different symptoms.
Of course, there are important caveats. All of this information is anecdotal but with a fast-changing and developing disease, those on the frontline – especially in India – are anxious to share whatever they can glean about the disease and its changing make-up so others may be quicker to react or respond.
According to the range of doctors, nurses and health workers we've spoken to, there's a marked increase in the number of patients who are suffering from body aches.
Often they don't even have a cough but a fever.
What is different about the India variant?

The disease appears to be attacking a much younger age group but it's not clear yet whether this is because the elder age group was the first vaccinated.
More patients are suffering from diarrhoea and eye infections and a very small number also suffer renal problems.
The variants appear to be more aggressive, seem to be more infectious and debilitate the sufferer far more quickly.
Dr Akhil Pratapsingh told us: "It seems the virus is more lethal this time…it seems so.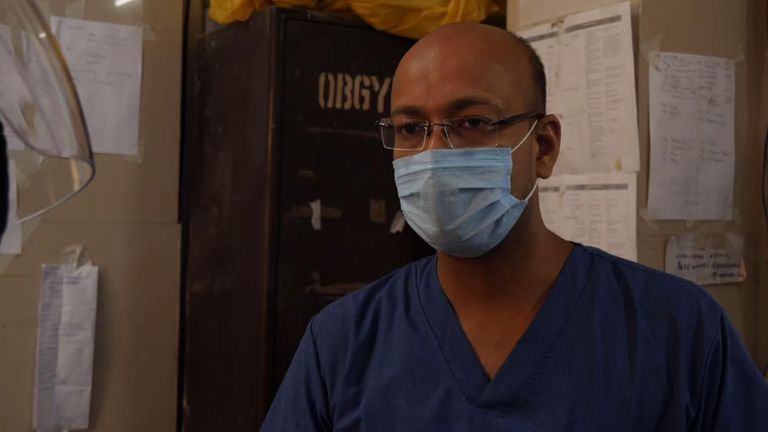 "Because the number of deaths are a little higher than last time…also what we are observing is last year it took some time for the patient to deteriorate but this virus, the infectivity or aggressiveness of the virus is so high it hardly takes a day for the patient, otherwise fine, to de-saturate and get compromised."
COVID Crisis: Indian hospitals overwhelmed

In the crematoriums around Uttar Pradesh that we visited, all the workers spoke of a sharp increase in the number of deaths over the past few weeks although it now shows signs of plateauing.
But they also mentioned how the dramatic rise in funerals didn't seem to match the official figures.
We watched as a sadhu (a Hindu holy man) performed a ritual around the many burning pyres at one crematorium.
He appeared to be the only person recognising the many dead people here.
We may never get an accurate toll of the pandemic dead throughout India.