Western Australian towns evacuated after tropical cyclone barrels down with 100mph winds | World News
A tropical cyclone has hit the western coast of Australia with winds of more than 100mph (170km) and much of the area put on "red alert".
A spokesman for the Bureau of Meteorology, Todd Smith, said cyclone Seroja was now at category two but had reached "category three cyclone intensity" with damaging winds which would continue into the night.
Emergency services opened shelters in preparation for the high winds and coastal flooding.
Category 2 #TCSeroja rapidly moving southeast. Impacts to the west coast of WA begin this afternoon and inland parts this evening and overnight. Dangerous conditions including destructive wind gusts, intense rainfall and a dangerous storm tide. Latest info https://t.co/bku7VbhoZa pic.twitter.com/UD1DrGfve9

— Bureau of Meteorology, Western Australia (@BOM_WA) April 11, 2021
The Department of Fire and Emergency Services (DFES) said in a bulletin: "There is a possible threat to lives and homes.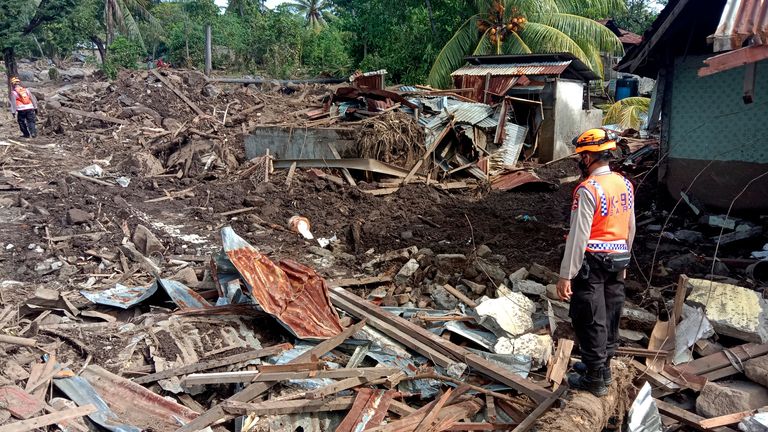 "You need to take action and get ready to shelter."
The DFES has so far put five coastal towns on "red alert".
Some towns north of Perth were evacuated while sandbags were being made available to residents further down the coast.
A category three classification can see wind speeds of up to 170mph (224km).
After touching down on the north western town of Geraldton (124 miles/200km north of Perth) and dumping more than 10cm of rain in just two hours, tropical cyclone Seroja headed inland, lessening slightly in intensity.
However, officials were still braced for a "high degree of damage" to buildings in the area.
A spokesman for the Western Australia emergency services department explained that buildings were not constructed to withstand such strong winds in a region as it typically too far south to fall into the path of cyclones.
Colombia: UN and EU call for calm following eighth day of violent anti-government protests | World News
There have been calls for calm after deaths mounted on the eighth day of anti-government protests in Colombia.
The protests against president Ivan Duque's administration have been against poverty and excessive police force.
On Wednesday night, riot police fired tear gas at demonstrators in Colombia's capital Bogota after crowds attacked police stations in the capital.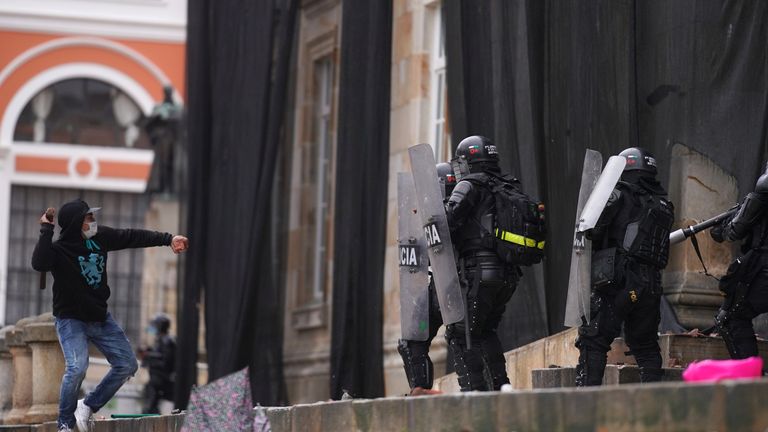 The protests were originally called in opposition to a now-cancelled tax reform plan, but demonstrators have broadened their attention to poverty and police violence.
So far, police violence has been linked to just under half of 24 confirmed deaths during the unrest, mainly of protesters.
The national police has said it will investigate allegations of brutality, while the defence minister has claimed illegal armed groups are infiltrating the protests to cause violence.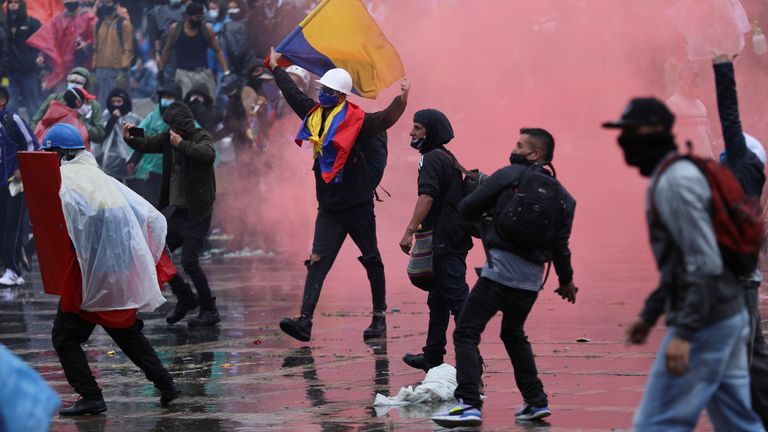 The western city of Cali has become the epicentre of the protests.
"No more blood in Cali," the city's mayor Jorge Ivan Ospina said on Twitter, adding efforts are being made to prevent more loss of life.
The UN Office of the High Commissioner for Human Rights urged calm ahead of further planned protests and warned of police shootings.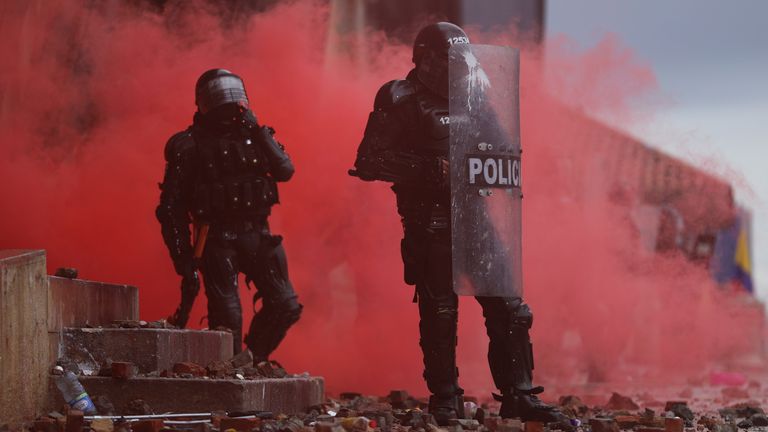 "We are deeply alarmed at developments in the city of Cali in Colombia overnight, where police opened fire on demonstrators protesting against tax reforms," spokesperson Marta Hurtado said in a statement.
The EU also called for security forces to avoid a heavy-handed response, urged calm and condemned violence.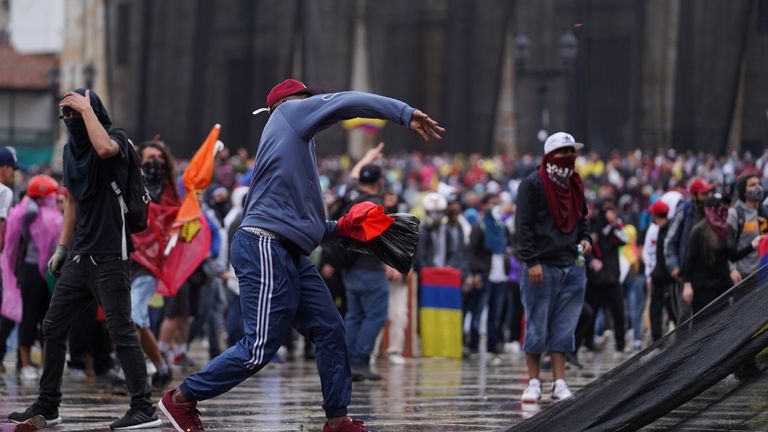 Poverty, which rose to 42.5% of the population last year amid coronavirus lockdowns, has aggravated long-standing inequalities in Colombia.
The number of Colombians living in extreme poverty grew by 2.8 million people in 2020.
It is not the first time that protests in Colombia have turned violent.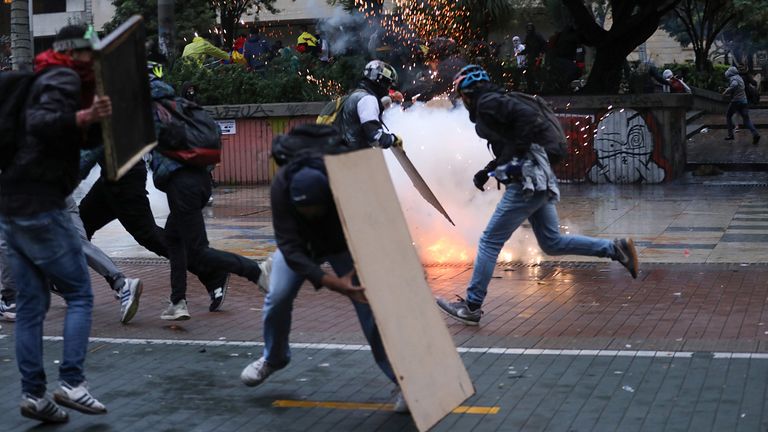 In 2019, there was outrage when teenage protester Dilan Cruz died after being hit in the head by a police projectile.
During the unrest, three police officers died in a bomb blast at a police station in Bogota.
And in September 2020, at least seven people were killed in protests triggered by the deadly tasering of a man by police in the capital.
Kathleen Folbigg: Australian mother convicted of killing her four children petitions for a pardon | World News
An Australian woman who was convicted of killing her four children 18 years ago has petitioned the New South Wales governor for a pardon.
Kathleen Folbigg, 53, was convicted on three charges of murder and one of manslaughter in 2003 and was sentenced to 30 years in prison.
But dozens of scientists have backed her claims that her children died from natural causes and claim she could be the victim of a tragic miscarriage of justice.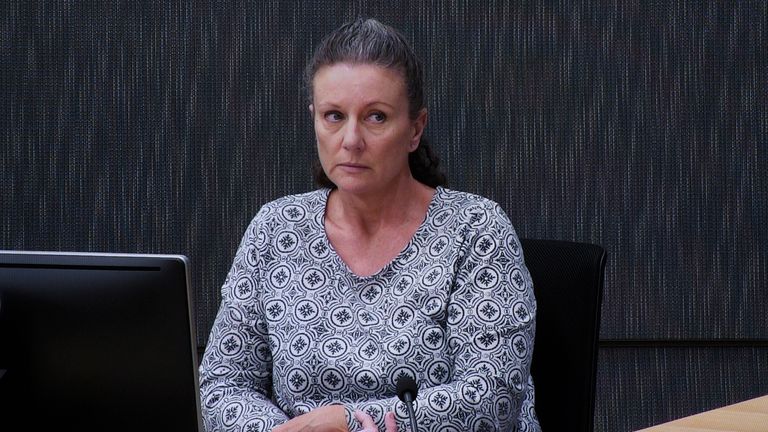 Folbigg has petitioned for a pardon "based on significant positive evidence of natural causes of death" for all four of her children.
The petition, lodged in March, has been signed by 90 scientists, medical professionals and two Nobel laureates.
Shortly after the petition, three judges threw out her challenge to a 2019 decision by Justice Reginald Blanch to uphold her convictions.
Her appeal had been based on new scientific evidence including the children's genome sequencing.
After her latest court defeat, Folbigg said in a statement written from prison through her friend Tracy Chapman that the verdict and the petition raised "valuable questions about how we got here".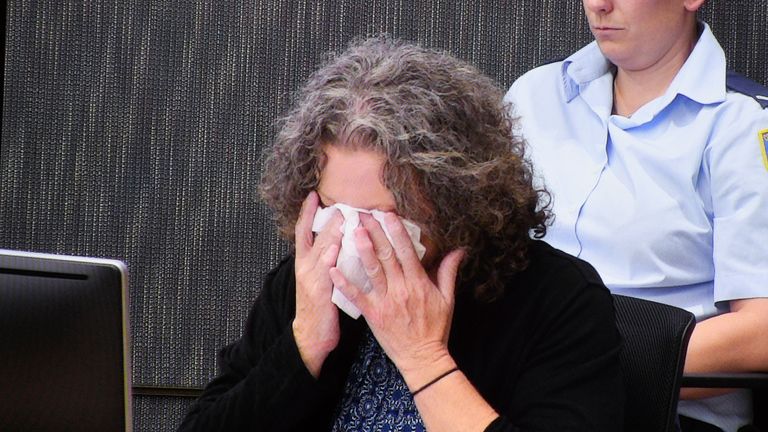 "Many international eyes are now on this case and there're many more Australians rightly asking why Kath's still in prison after 18 years when there's mounting scientific evidence relating to her innocence," Ms Chapman wrote.
The signatories of the petition disagree with the latest court ruling.
Australian Academy of Science president John Shine accused the three appeals court judges of adopting the same "incorrect conclusions about the genetic evidence" as Mr Blanch.
"It is deeply concerning that there is not a mechanism to appropriately weigh up all medical and scientific evidence in a case of this nature," Mr Shine said.
"There is now an alternative explanation for the death of the Folbigg children that does not rely on circumstantial evidence."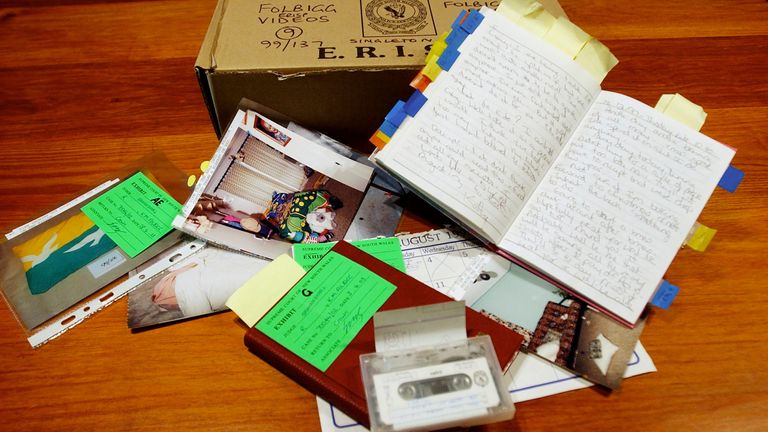 Folbigg's first child Caleb was born in 1989 and died 19 days later in what a court determined to be the lesser crime of manslaughter.
Her second child Patrick was eight months old when he died in 1991.
Two years later, Sarah died aged 10 months.
And in 1999, Folbigg's fourth child Laura died at 19 months.
Folbigg was the first on the scene of each tragedy and an autopsy found Laura had myocarditis – an inflammation of heart muscle that can be fatal.
Patrick suffered from epilepsy and his death had been attributed to an airway obstruction due to a seizure and an infection.
The other two deaths were recorded as sudden infant death syndrome.
Paediatric geneticist Jozef Gecz, who signed the pardon petition, acknowledged the evidence of natural causes was stronger in the girls' deaths than the boys.
But he said investigations were continuing into potential leads to genetic causes of the boys' deaths.
The criminal case against Folbigg relied on interpretations of entries she had made in diaries, one of which her estranged husband Craig Folbigg read and reported to the police.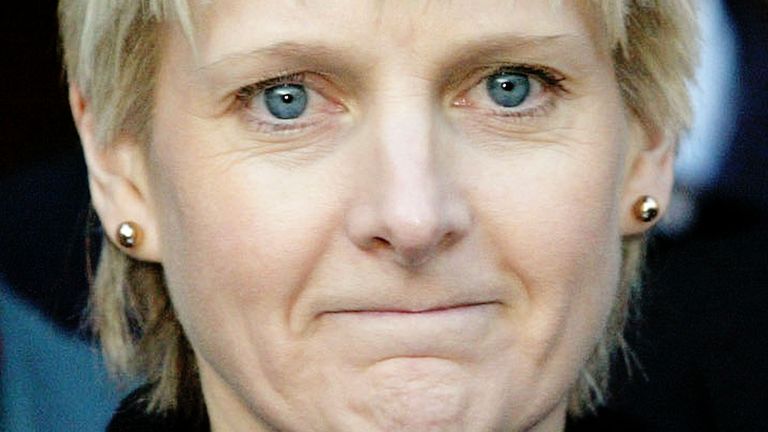 Folbigg's case has parallels to Sally Clarke, the solicitor who was wrongly convicted of murdering her two baby sons in 1999.
Mrs Clarke, who served three years of a life sentence, was found guilty of smothering her 11-week-old child to death in 1996 and shaking her eight-week-old son to death in 1998.
The convictions against Mrs Clark were upheld on appeal in October 2000 but overturned in a second appeal in 2003.
It emerged during the second trial that Alan Williams, the prosecution forensic pathologist who examined both babies, had failed to disclose microbiological reports that suggested the second of her sons had died of natural causes.
The outcome led to Lord Goldsmith ordering a review of hundreds of other cases and two other women had their convictions overturned.
Mrs Clarke died in her home in 2007 from alcohol poisoning.
Why is there a row over fishing in Jersey – and how might it escalate? | Politics News
Two Royal Navy vessels have been sent to Jersey amid concerns of a possible blockade of the island by French boats – but why have they been deployed?
Sky News looks at what's sparked the tensions and how the row might escalate.
What's happening?
The UK has deployed HMS Severn and HMS Tamar to Jersey to conduct "maritime security patrols" as a "strictly precautionary measure" following talks with the Jersey government, the Ministry of Defence has said.
HMS Severn entered back into service in June last year – after being saved from the scrapyard – to boost the UK's ability to patrol its waters after Brexit.
HMS Tamar came into service in December last year as one of five new offshore patrol vessels.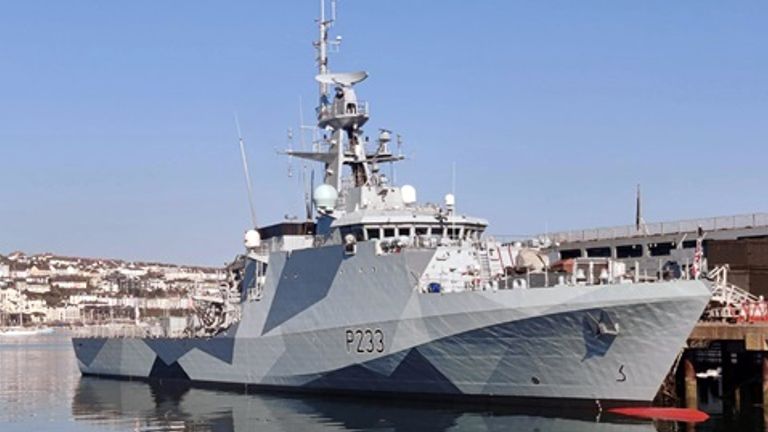 Meanwhile, France has sent its own patrol vessel to Jersey to "guarantee the safety" of people at sea and "accompany" French fishing vessels.
Jersey, the biggest of the Channel Islands, is a British Crown Dependency and is defended and internationally represented by the UK government.
It lies just 14 miles from the French coast and 85 miles south of the English coast.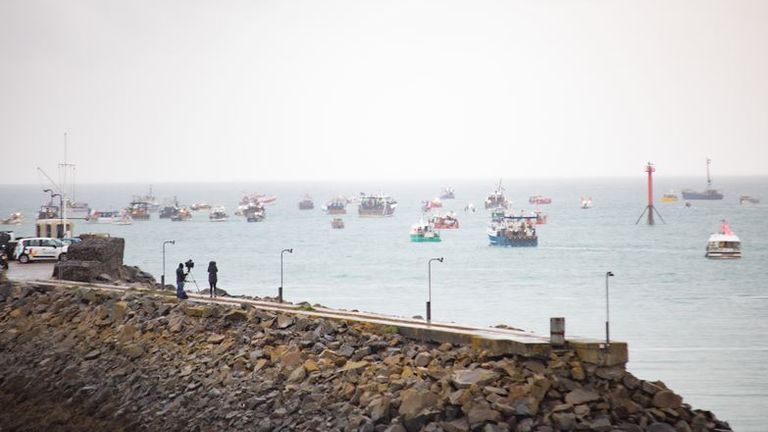 Why has the Royal Navy been sent?
The vessels were deployed amid concerns of a possible blockade of Jersey by French boats.
As of Thursday morning, up to 60 vessels were reported off Jersey's south coast, near the island's capital St Helier, as part of a demonstration by French fishermen.
Some let off flares but the protest has so far remained peaceful, according to the Jersey Evening Post.
There had been worries about more direct action by the demonstrators.
Paul Luxon, the chief executive of Condor Ferries, posted on Twitter that the Commodore Goodwill freight ferry had been "trapped" in St Helier harbour.
However, it was later reported the vessel would be allowed to leave.
Downing Street has said that any blockade would be "completely unjustified".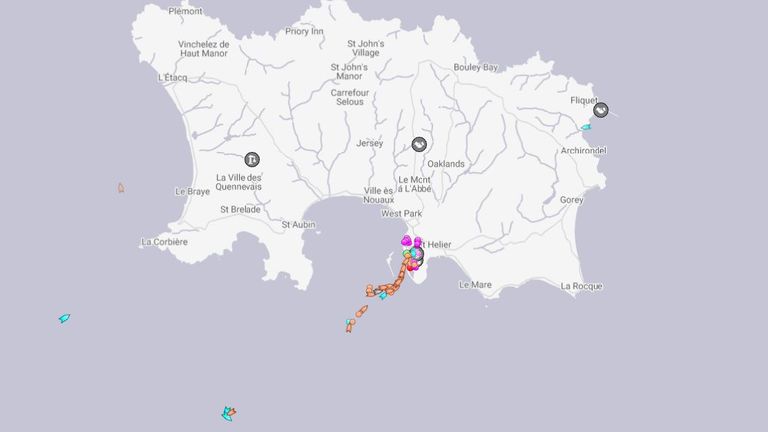 Why are French fishermen protesting?
French fishing crews are demonstrating as part of a row over post-Brexit fishing rights.
Under the Brexit trade deal, which came into force on 1 January, EU fishermen continue to have some rights to fish in UK waters as part of a transition period until 2026.
However, under the new rules, EU boats wanting to fish within 12 miles of the UK coast need to be licensed and prove they have a history of fishing in those waters in order to carry on operating.
This includes submitting evidence of their past fishing activities.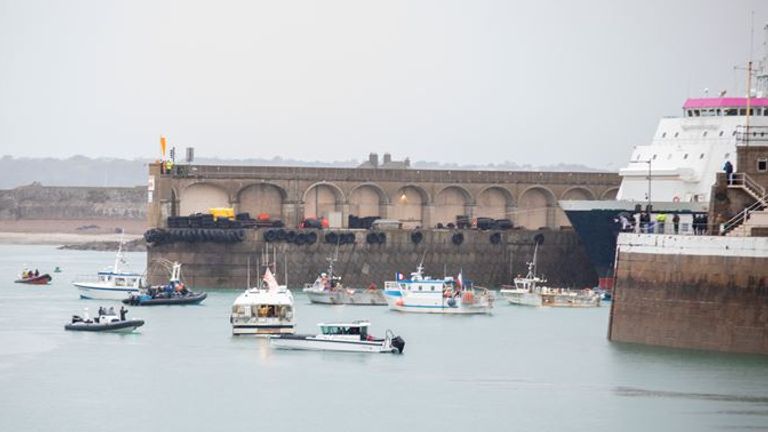 Jersey has not granted licences to some of the boats that have applied to fish in its waters.
Ian Gorst, the island's external relations minister, said of the 41 boats which sought licences under the new rules last Friday, all but 17 had provided the evidence required.
"The trade deal is clear but I think there has been some confusion about how it needs to be implemented, because we absolutely respect the historic rights of French fishermen to fish in Jersey waters as they have been doing for centuries," he said.
"I do think a solution can be found. I am optimistic that we can provide extra time to allow this evidence to be provided."
The French government has also expressed its anger at what it said were unilaterally-imposed conditions on the fishing licences, including the time French fishing vessels could spend in Jersey's waters.
Jersey said it had issued permits in line with the terms of the post-Brexit trade deal.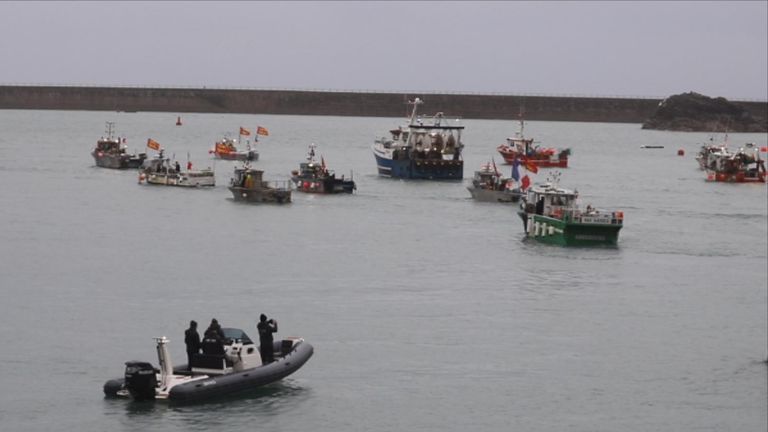 Could the row escalate further? Could the lights go out on Jersey?
France's maritime minister Annick Girardin warned this week her country was ready to take "retaliatory measures" over the fishing dispute.
This included a threat that France could cut off electricity to Jersey, which – with a population of 100,000 people – receives 95% of its electricity from France through three undersea cables.
And Ms Girardin told the French parliament this week: "In the (Brexit) deal there are retaliatory measures. Well, we're ready to use them.
"Regarding Jersey, I remind you of the delivery of electricity along underwater cables. Even if it would be regrettable if we had to do it, we'll do it if we have to."
'Disproportionate threats' from Paris

However, Jersey's government has assured residents the island's "essential infrastructure will not be disrupted as local facilities are able to meet our power requirements in the event of any external interruption".
When the current EU-UK fishing transition period ends in 2026, there is also the possibility for further tensions to arise when both sides move to annual negotiations to decide how fish stocks are shared between them.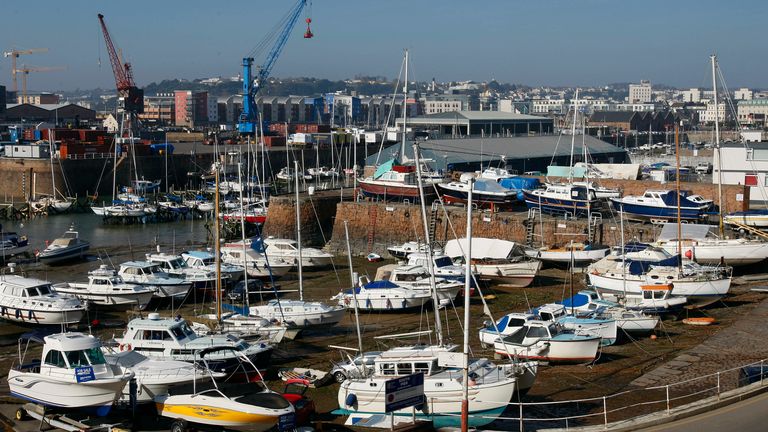 Have there been fishing disputes before?
During the UK's 47-year membership of the EU, fishing rights were decided as part of the bloc's Common Fisheries Policy.
However, prior to that, there had been what were known as the "Cod Wars" between Icelandic and British fishing vessels from 1958 to 1976.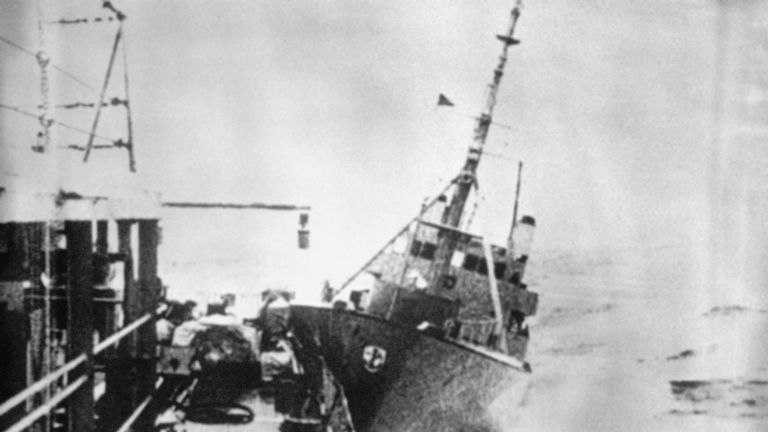 These violent clashes were sparked by Iceland asserting control over the seas surrounding the island.
The Royal Navy became involved by escorting British trawlers.
In what was dubbed the "Scallop Wars" in the summer of 2018, tensions erupted between French and British boats around the Baie de Seine waters.