Israel: Oil spill hits 100 miles of coastline as beaches shut after 'one of country's worst ecological disasters' | World News
Israel has been forced to close all of its Mediterranean beaches after an offshore oil spill resulted in tar hitting 100 miles of coastline.
Officials are calling the incident one of the country's worst ecological disasters.
Large globs of black tar began appearing on Israel's coast last week after a heavy storm washed the petroleum by-products ashore, wreaking havoc on wildlife.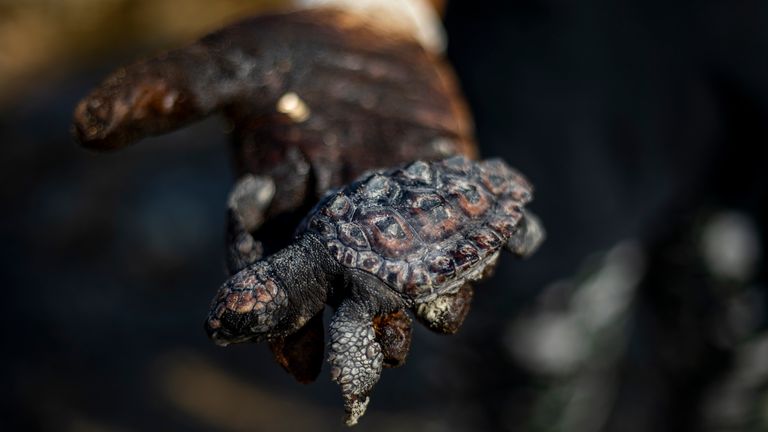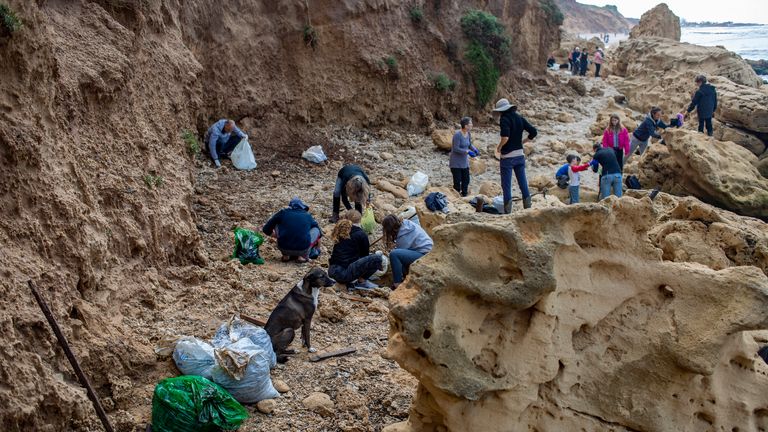 Researchers from the country's agriculture ministry confirmed on Sunday that a dead young fin whale that washed up on a beach in southern Israel had died from ingesting the viscous black liquid.
The exact cause of the spill has yet to be determined and is currently under investigation by Israeli environmental officials.
Volunteers took to the beaches to help clean up the tar, but several were taken to hospital after they inhaled toxic fumes.
The environmental protection, health and interior ministries issued a joint statement on Sunday warning the public not to visit the entire length of the country's 120-mile Mediterranean coastline, cautioning that "exposure to tar can be harmful to public health".
Environmental protection minister Gila Gamliel said her department estimates the clean-up project will cost tens of millions of shekels.
Israeli prime minister Benjamin Netanyahu toured one of the country's tar-strewn beaches on Sunday and praised the ministry's work.
Israel's nature and parks authority has called the spill "one of the most serious ecological disasters" in the country's history.
In 2014, a crude oil spill in the Arava Desert caused extensive damage to one of the nation's delicate ecosystems.
Truck driver jailed for 22 years for killing four police officers in Melbourne crash | World News
A truck driver who was under the influence of drugs and sleep deprived when he drove into four police officers has been sentenced to 22 years in prison.
The traffic officers – three policemen and a policewoman – had pulled over a speeding car when Mohinder Singh ploughed into them.
His truck veered into an emergency stopping lane of Melbourne's Eastern Freeway, where the four were standing after stopping a Porsche on 22 April last year.
Officers Lynette Taylor, Kevin King, Glen Humphris and Joshua Prestney all died at the scene.
It was the largest loss of police lives in a single event in Victoria.
Singh had pleaded guilty to four counts of culpable driving causing death, three charges of drug trafficking and one of possessing illicit drugs last year at Victoria state Supreme Court.
Sentencing the 48-year-old, Justice Paul Coghlan told the court on Wednesday that Singh must serve at least 18-and-a-half years before he can apply for parole.
He described footage of the crash scene as "chilling".
"The grief of those close to the victims is profound and life-changing," he said.
"Such grief is heightened by the sudden and unnecessary nature of the deaths."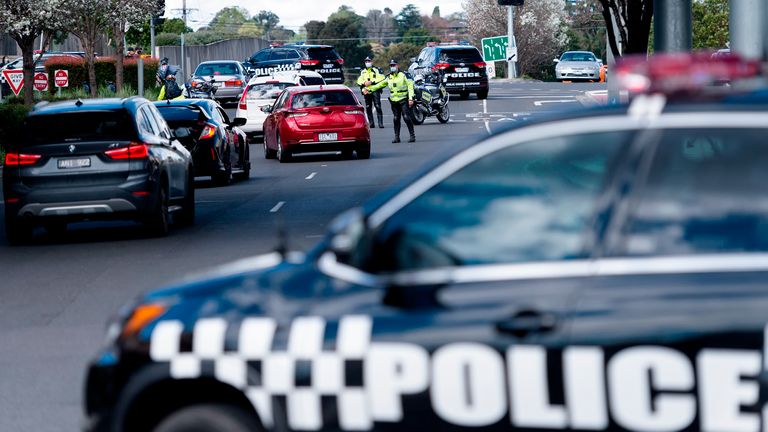 Singh had taken methamphetamine and other drugs before the crash and witnesses said he had not slept in days.
Andrew Prestney, father of Joshua Prestney, one of the officers, said that even though justice had been served "no amount of punishment can replace the loss of our loved ones and the missing place at our tables that will be felt by us for the rest of our lives".
"We are consoled by the fact that our four will not be forgotten as we continue to carry them in our hearts," he told reporters.
The driver of the speeding Porsche the officers had stopped, Richard Pusey, will be sentenced at Victoria County Court on 28 April after pleading guilty to several charges.
Pusey used his phone to video the officers as they died and was described by his sentencing judge, Trevor Wraight, last month as "probably the most hated man in Australia".
The truck missed hitting Pusey because at the time he was urinating at the side of the road. But the truck destroyed his car and a police car.
Witnesses at the scene urged Pusey to help, but he shrugged them off, saying: "They're dead."
He pleaded guilty to outraging public decency, speeding and reckless conduct.
Pusey also admitted possessing ecstasy, after returning positive tests for the drug and marijuana at the time he was pulled over.
He faces a potential maximum prison sentence of five years.
Egypt: At least 20 killed after bus crashes and catches fire while overtaking truck | World News

At least 20 people have been killed after a bus overturned in Egypt while trying to pass a truck.
It was travelling from Cairo when the accident happened in the province of Assiut, 199 miles (320km) south of the capital, said Assiut governor Essam Saad.
Both vehicles caught fire and photos show rescuers searching the burned-out bus for survivors.
Three others were injured and taken to hospital and 25 ambulances were sent to the scene on the Red Sea road, said a statement on the Assiut governate Facebook page.
Thousands are killed on the roads each year in Egypt, which has a poor transportation safety record. Speeding, bad roads and poor enforcement of traffic laws cause most of the fatalities.
In 2019, more than 3,400 people died in around 10,000 accidents, according to the country's statistics agency.
The year before, there were over 3,080 deaths and 8,480 car accidents.
Parliament's email system less secure than Gmail, says MP 'hit by Chinese psy-op emails' | World News
A senior MP says parliament's email system is less secure than Google's Gmail as he claimed to have been the victim of Chinese "psy-ops".
Tom Tugendhat, chairman of the foreign affairs committee, called on the government to do more to defend democracy and freedom of speech.
The MP is one of seven British parliamentarians sanctioned by China in retaliation for British measures imposed over human rights abuses in Xinjiang province. They have all spoken out about the treatment of Uighurs and Hongkongers.
#IPAC 🇬🇧 member @timloughton MP secures debate on Chinese government sanctions on UK citizens, says sanctions are a "badge of honour" for speaking out on Uyghur abuses.

"We sanctioned parliamentarians have been fortified to call out the abuses of this totalitarian government." pic.twitter.com/WUE9F8dGsz

— Inter-Parliamentary Alliance on China (@ipacglobal) April 13, 2021
Mr Tugendhat claims to have been targeted by Chinese "psy-ops" – psychological operations – including fake emails tendering his resignation to fellow MPs.
He said: "I was told by friends at GCHQ – not formally, I admit – that I was better off sticking to Gmail rather than using the parliamentary system because it was more secure.
"Frankly, that tells you the level of security and the priority we are giving to democracy in the United Kingdom."
Parliamentary officials said Westminster's email system offered significantly greater protection than external providers.
The National Cyber Security Centre (NCSC), whose experts work with the Parliamentary Digital Service, said MPs should continue to rely on it.
An urgent question on China was granted in the Commons on Tuesday after Mr Tugendhat, plus four other MPs, two peers, a barrister and an academic, were sanctioned in March, including being banned from China and Hong Kong.
Conservative former minister Tim Loughton is one of the MPs and said the sanctions by China are "laughable".
"To be sanctioned by a totalitarian regime is not only deeply ironic and laughable, but it is an abuse of parliamentary privilege of this House by a foreign regime," he said.
'Genocide' taking place in China

Foreign Office Minister Nigel Adams, who wasn't sanctioned, said the government "stands in complete solidarity with those sanctioned by China".
He added that the government will not allow the sanctions to "distract attention from the gross human rights violations" taking place in China.
However, shadow Foreign Office minister Stephen Kinnock accused the government of "rank hypocrisy" and asked why Foreign Secretary Dominic Raab "says one thing in public and something else together in private".
"It is clear that the government has no strategy on China at home and no strategy on China abroad," he added as he called for an audit of "every aspect of the UK-China relationships".
Chinese ambassador 'summoned' over sanctions

Mr Adams said the "reality" is the UK has always wanted a "mature, positive relationship with China" based on "mutual respect and trust".
"There's still considerable scope for constructive engagement and co-operation but we will not sacrifice our values or our security," he added.
Conservative MPs Iain Duncan Smith, Mr Tugendhat, Tim Loughton and Nusrat Ghani were all sanctioned, as well as Labour's Baroness Helena Kennedy, barrister Geoffrey Nice and academic Jo Smith Finley.