Julie Payette: Queen's representative in Canada quits amid claims she bullied staff to tears | World News
Canada's governor general – the Queen's representative – has resigned amid allegations she presided over a toxic work environment in which staff were bullied to tears.
Julie Payette quit just hours after senior officials received the findings of an independent inquiry into reports of verbal abuse and bullying by the 57-year-old.
It followed a report by the Canadian Broadcasting Corporation (CBC) in which dozens of anonymous staff claimed Ms Payette threw "tantrums in the office and on foreign trips, berated staff to the point of tears and called one employee's work 's***'".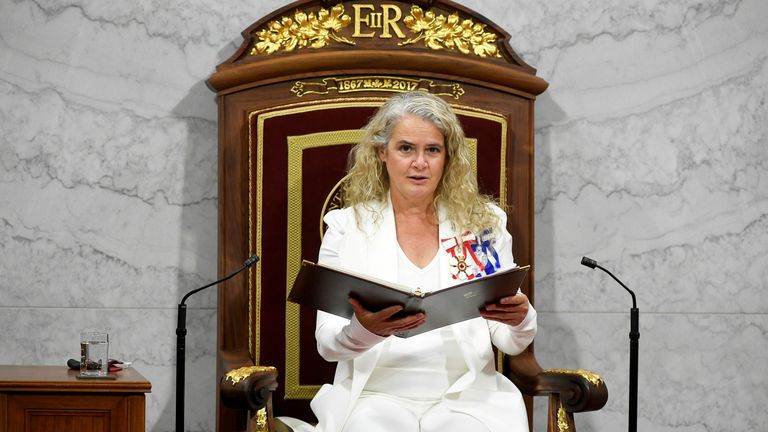 One told CBC that Rideau Hall – the residence and workplace of the governor general – had become a "house of horrors" under Ms Payette's leadership, causing long-time staff to leave in droves.
"I have come to the conclusion that a new governor general should be appointed. Canadians deserve stability in these uncertain times," Ms Payette said in a statement announcing her departure, adding she was sorry for tensions that had arisen with staff.
Prime Minister Justin Trudeau – who picked her for the role in October 2017 for a five-year term – said the workplace concerns raised by staff during the review would be addressed.
He notably did not thank her – having described her last year when the probe was launched as "an excellent governor general".
Ms Payette was formerly the country's chief astronaut and the first Canadian to serve on the International Space Station.
Potential candidates for governor general are supposed to be vetted by a special committee, a step Mr Trudeau chose to ignore when he recommended Ms Payette for the job.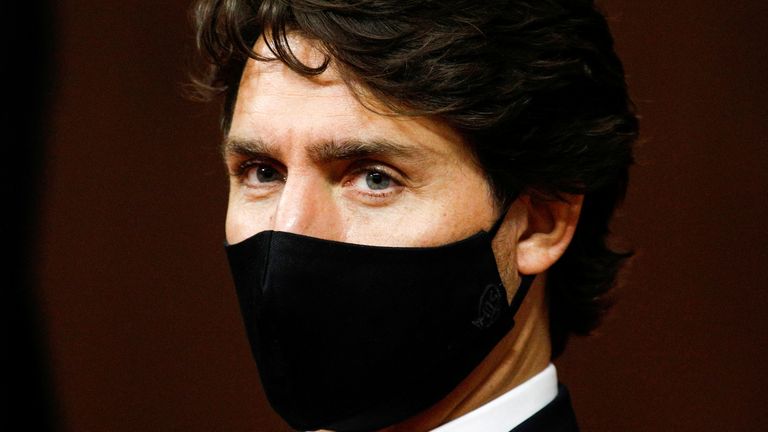 "The colossal failure of Ms Payette's term falls squarely on his shoulders," said Don Davies, a member of parliament for the opposition New Democratic Party.
Richard Wagner, chief justice of the Supreme Court, will temporarily take over Ms Payette's duties until she is replaced.
The governor general – the representative of the country's head of state, Queen Elizabeth II – has a largely ceremonial job such as swearing in governments and formally signing legislation, but can on rare occasions be asked to settle constitutional questions.
COVID-19: 'Frustration' as Ireland's vaccine programme lags behind UK | World News
"It is very frustrating", admits Dr Laura Malone. "At the moment we don't have any vaccine."
Standing in her bright, modern clinic in the centre of the lakeside tourist town of Killarney, Ireland, the GP is palpably keen to start vaccinating her elderly patients against COVID-19 but is still awaiting delivery of the doses.
"We have around 250 patients in the age cohort that we need to vaccinate [over-85s]," she says.
"It's frustrating, but we also look at that with some degree of hope, because we're happy that we'll be able to provide this to our patients. Hopefully the end is in sight."
She's not alone. Sky News spoke to all seven GP practices in the picturesque Co Kerry town. Only one, Deenagh Medical Practice, had taken delivery of vaccines and was administering doses. Two more are hoping for their first delivery today, while several others thought they may get vaccines next week, but weren't sure.
It's a disjointed picture. One practice staff member, who didn't want to be named, said she couldn't understand why there was such little information given to them about vaccine delivery.
Another GP, Dr Gary Stack of Park Medical, also uses the word "frustration", and says communications with the various practices could have been better. He expects his first delivery next Tuesday, more than two weeks after the Irish government announced the start of GP-led vaccinations.
The Health Service Executive (HSE) told Sky News: "We are delivering vaccines to GP practices according to the level of supply being delivered to the country. We understand that GPs and their patients are eager to receive the vaccine. We are working to control and stagger the delivery of vaccines in line with this level of supply."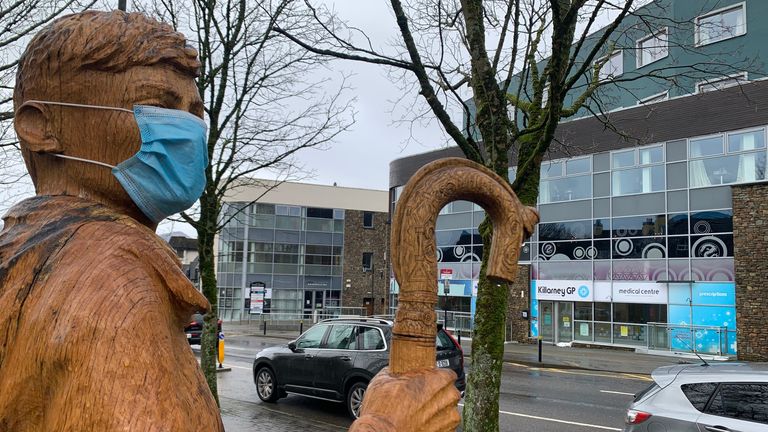 But it's the supply that's the problem for Ireland, like many EU member states. Around 4.5% of the population have received at least a first dose, a rate lagging far behind its nearest neighbour the UK.
That means the Dublin government had little choice this week but to extend the strict Level 5 lockdown until 5 April at the earliest, with no dates given for the reopening of retail or hospitality.
In Killarney, one restaurateur has grabbed headlines by boldly announcing he will reopen on 1 July "no matter what government restrictions might exist".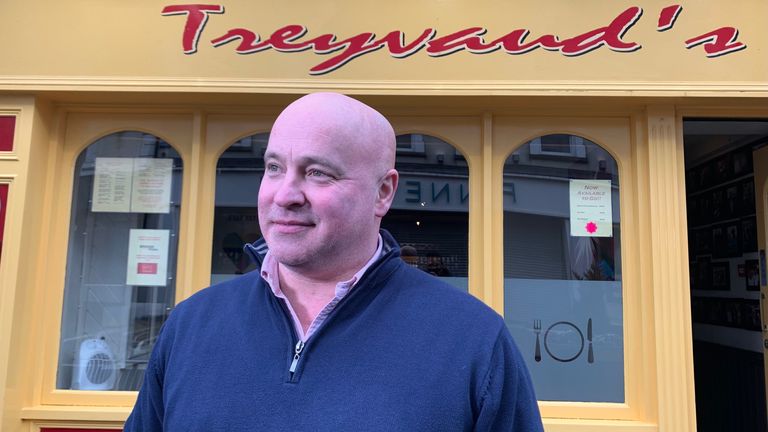 "I'm prepared to be arrested," says Paul Treyvaud, standing outside his eponymous restaurant on High Street. "It's a wake-up call for the government to turn around and say, listen we've got to take into account that there's more going on here than ICU numbers and cases.
"If restaurants and businesses here in Killarney and right around rural Ireland aren't open by this summer, we're going to have a major problem coming down the line."
"We're putting out a fire by looking at COVID," he says, "but we're not realising there's a volcano behind us burning everything down."
The frustration at the lengthy and uncertain lockdown is acute among Killarney's young people. Damien Switzer, 18, is a typical example. Studying a third-level course from home and denied the normal college experience, he can't see friends that live more than 5km away due to travel restrictions. A keen Gaelic footballer, his team are on hiatus and he must train alone.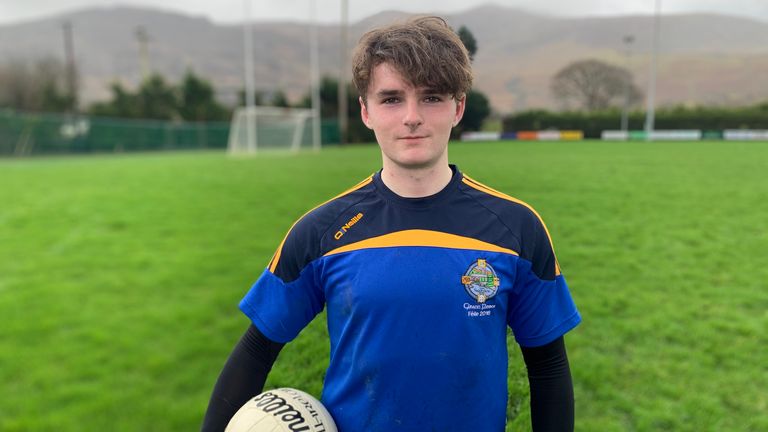 On Tuesday he noticed the training pitch at this club, Glenflesk GAA, was completely flooded. He kitted out and jumped into the icy waist-deep water anyway, and the resultant TikTok video went viral.
"Sure, what else would I be doing with the lockdown," he laughs. "I had to do something to lift the spirits. Not playing sport with my friends can be frustrating alright, but I suppose it's for the better good though. Once the lockdown's over we'll have the summer to play together and train together. But yeah, it can be frustrating."
That will continue for another six weeks at least, and most likely longer. The Irish government points out that its vaccination rollout is among the most successful within the EU and that it is placing more of an emphasis on both doses being delivered, unlike the UK's approach.
But Ireland started slowly and is only now picking up pace. In towns like Killarney – fearing a second summer without tourists – there are still too many vaccinators waiting for too few doses. The wait goes on…and so does the lockdown.
Whisky collection sells for almost £6.7m at auction | UK News

One bottle of whisky fetched a whopping £1m at auction as part of an impressive 3,900-strong collection that became the highest-value of its kind.
Containing liquid distilled nearly a century ago, the Macallan 1926 Fine and Rare 60-year-old is one of 14 in the world adorned with the "Fine and Rare" label.
It fetched a six-figure sum by itself in the private collection of 3,900 single malts, which went under the hammer for around £6.7m in total.
Other notable whiskies included the Balvenie 1961 Vintage cask and the Dallas Dhu 1921 Private Cask 64-year-old, which is a historic malt from one of Scotland's "lost" distilleries.
The incredible array of bottles attracted the attention of 1,557 different bidders from 54 countries on the final day of the online auction.
It became the highest-value private collection ever to sell on the secondary market at an auction dedicated to one single collector's whisky.
Iain McClune, founder of Whisky Auctioneer, said: "This auction was solely dedicated to one collector's magnificent library of whisky- a man who was dedicated to building the perfect collection."
He added that the sale was "one for the record books", not just for Whisky Auctioneer but also for the whisky industry as a whole.
COVID-19: Germany's top-selling newspaper admits envy for UK's vaccine rollout | UK News
Germany's top-selling newspaper has hailed the UK's COVID vaccine rollout success and its plans to lift lockdown, announcing on its front page: "Dear British, we envy you."
The article in the tabloid paper Bild says Brits "are reacting with overwhelming euphoria" after Boris Johnson revealed plans to gradually lift all restrictions by 21 June.
Live COVID updates from the UK and around the world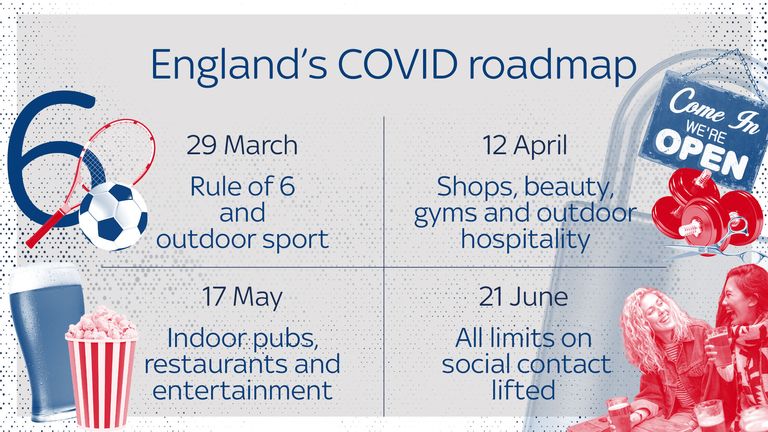 It used figures from 21 February showing the UK had given 17.7 million people at least one vaccination, with Germany lagging behind on 3.4 million.
"While the British are already planning their summer vacation, Germany is stuck in lockdown," the article added.
It comes as Angela Merkel warned of a third wave of coronavirus.
The chancellor said new variants of COVID-19 meant Germany – which was widely praised for its response to the pandemic during 2020 – must proceed carefully to avoid another nationwide lockdown.
Ms Merkel told the Frankfurter Allgemeine Zeitung: "Because of (variants), we are entering a new phase of the pandemic, from which a third wave may emerge.
"So we must proceed wisely and carefully so that a third wave does not necessitate a new complete shutdown throughout Germany."
Earlier this week, the German leader called for a staggered plan to lift coronavirus restrictions – to be linked with increased testing.
According to reports, she wants to reopen parts of society in three stages, starting with expanding the number of personal contacts, followed by schools and vocational schools, and thirdly sports groups, restaurants and culture.
Germany has extended restrictions to curb the spread of the coronavirus until 7 March, though elementary schools and nurseries started reopening in 10 German states on Monday and hairdressers are also due to open their doors again next week.
Coffins stacked high in German crematorium

On Monday, Germany reported 4,369 new infections and 62 further deaths – well below the figures still being reported across the UK each day.
According to Johns Hopkins University, which is tracking the pandemic, Germany has reported 2,415,443 cases and 68,931 deaths overall.