Baghdad: At least 28 killed and dozens injured in twin suicide attack on Iraq's capital | World News
At least 28 people have died and dozens more are wounded after a double suicide attack in Iraq's capital.
According to police in Baghdad, the explosions hit a commercial area in the centre of the city.
Many of the wounded – of which there are at least 73 – are reported to be in a serious condition and there was widespread damage to buildings.
The bombings are the first in years to target Baghdad's bustling commercial area and all of the city's hospitals were mobilised to treat the injured, the health ministry said.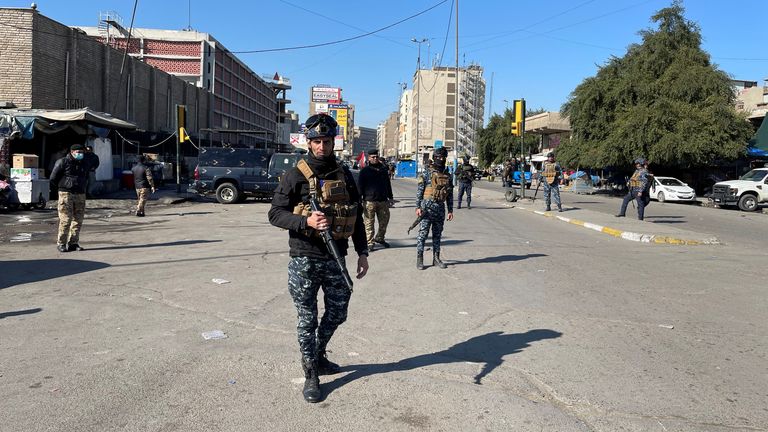 They come amid heightened political tensions as Iraq looks to have early elections in October, while also battling a severe economic crisis brought about by low oil prices.
It is not clear who is responsible for the blasts, which left blood smeared across the floors of the busy Bab al-Sharqi market and piles of clothes and shoes.
The attack occurred as security forces pursued two suicide bombers who detonated their explosives in the market near Tayaran Square, according to military spokesman Yahya Rasool.
Iraq has seen attacks by both the Islamic State group and militia groups in recent months.
Militias have routinely targeted the American presence with rocket and mortar attacks, especially the US Embassy in the heavily fortified Green Zone.
Attacks has decreased since an informal truce was declared by Iran-backed armed groups in October.
The Islamic State group has carried out similar attacks in the past but has rarely been able to target the capital since being dislodged by Iraqi forces and the US-led coalition in 2017.
The last deadly suicide blast in the Iraqi capital took place in January 2018, killing at least 27 people.
An attack like this is rare these days making it all the more concerning
Analysis: Mark Stone, Middle East correspondent
Violence and Iraq may seem to be tragically synonymous, but in fact an attack like this is rare these days making it all the more concerning.
While the country is still deeply divided and troubled, bloodshed of this magnitude has not been seen since January 2018 when 27 people were killed in an attack.
The images, most of which are too horrific to broadcast, show bodies lying all around Tayaran Square.
Victims, some alive, but others clearly not, are seen being lifted into vehicles. One video clip shows the decapitated head of man.
It was mid-morning when the bombs detonated. It was a cruelly intentional "double-tap" attack – the second bomb detonated amid the crowd as casualties were carried away.
No one has yet claimed responsibility. The Islamic State terror group is still a threat in parts of the country despite a continued effort by Iraq's security forces, with western coalition support, to defeat the group.
'I'm on the move!': NASA's Perseverance rover takes its first test drive on Mars | Science & Tech News

NASA's Perseverance rover has taken its first drive on Mars, just weeks after landing on the Red Planet.
The one-tonne robot travelled 21.3ft (6.5m) in a mobility test that the space agency said will allow the checking and calibrating of the rover's systems and instruments.
Once Perseverance really gets going, it is expected to undertake regular commutes of 656ft (200m) or more.
Anais Zarifian, Mars 2020 Perseverance rover mobility test bed engineer at NASA's Jet Propulsion Laboratory in Southern California, said: "When it comes to wheeled vehicles on other planets, there are few first-time events that measure up in significance to that of the first drive.
"This was our first chance to 'kick the tyres' and take Perseverance out for a spin."
And the news was good: Ms Zarifian said the rover's six-wheel drive "responded superbly", adding: "We are now confident our drive system is good to go, capable of taking us wherever the science leads us over the next two years."
Perseverance was moving for about 33 minutes, first driving 13ft before turning in place 150 degrees and reversing 8ft to find its new parking space.
The rover landed on Mars on 18 February to much celebration in the US and across the world, becoming the ninth spacecraft since the 1970s to achieve such a feat.
I'm on the move! Just took my first test drive on Mars, covering about 16 feet (5 meters). You're looking at the very beginning of my wheel tracks. Many more to make. pic.twitter.com/7tFIwWFfJ4

— NASA's Perseverance Mars Rover (@NASAPersevere) March 5, 2021
The landing came after a 300 million-mile journey over nearly seven months, as part of a mission to find out whether there was once life on the mysterious planet.
Scientists believe that if there ever was life on Mars, it would have been 3 billion to 4 billion years ago, when water still flowed there.
Two spacecraft from the UAE and China have also swung into orbit around Mars in recent weeks, a sign of the growing global interest.
Perseverance carries 19 cameras – more than any other interplanetary mission – and has sent 7,000 photos back to earth already.
Subscribe to the Daily podcast on Apple Podcasts, Google Podcasts, Spotify, Spreaker
The rover is also kitted out with a navigation system to help it avoid dangerous boulders and ravines, a range of scientific instruments for performing experiments, and a miniature helicopter that will become the first rotorcraft to fly on another planet.
The samples of rock and soil it collects will be sealed in tubes and left in a well-identified place on the surface for a future mission to collect.
Next up on Perseverance's diary are more tests, and the calibration of its scientific instruments and longer test drives, as well as the experimental flight test programme for the Ingenuity Mars Helicopter it is carrying.
Outrage in India over latest 'honour killing' as father beheads daughter after finding her with man | World News

Outrage over so-called honour killings in India has been reignited after a father who found his daughter in a "compromising position" with a man severed her head with an axe – and then took it to his local police station.
The man walked through the streets of Hardoi district in northern Uttar Pradesh state carrying his daughter's head, confessed to what he had done upon his arrival at the station, and was arrested, police said.
Superintendent Anurag Vats told the Thomson Reuters Foundation: "The man said he saw his daughter in a compromising position with a man and he beheaded her in a fit of rage."
Shocking images of him carrying the 17-year-old girl's head through the streets of Uttar Pradesh were shared online, reigniting urgent calls for the introduction of laws specifically dealing with so-called honour killings.
Madhu Garg, vice president of the All India Democratic Women Association's Uttar Pradesh branch, said: "The issue of the right to choice needs immediate attention and a separate law should be made for dealing with honour killing."
Human rights groups say thousands of women and girls are killed across South Asia and the Middle East each year by family members angered at perceived damage to their "honour".
Perceived offences can include eloping, fraternising with men, or any transgression of staunchly conservative values regarding women.
Last month, a woman was burnt alive by her family members over an inter-faith relationship in Uttar Pradesh, local media reported, quoting police officials.
India officially recorded 24 honour killings in 2019, but campaigners say government statistics on honour killing mask
the true scale of the crime, with women at greater risk than men.
Almost 70% of honour killings in India are women, according to Arockiya Samy Kathir, the founder of non-profit campaigning group Evidence, which has for years worked on honour killings in south India.
In 2018, the Indian government asked all states to set up special cells comprising of police and welfare officers, as well as a 24-hour helpline, to help couples facing harassment or those seeking protection.
But campaigners say compliance has been poor.
High-profile cases of violence against women in India have sparked mass protests in recent years, although many of them are not related to honour killings.
'Today is the day I will die' – Nun who opposed Myanmar military says she begged them for mercy | World News
A nun who knelt in front of armed security forces in Myanmar to stop them firing on civilians has said she was prepared to die to save protestors' lives.
In extraordinary scenes in Myitkyina, Kachin State, Sister Ann Roza Nu Tawng can be seen pleading with police and soldiers not to shoot.
The intervention has been called Myanmar's "Tiananmen moment".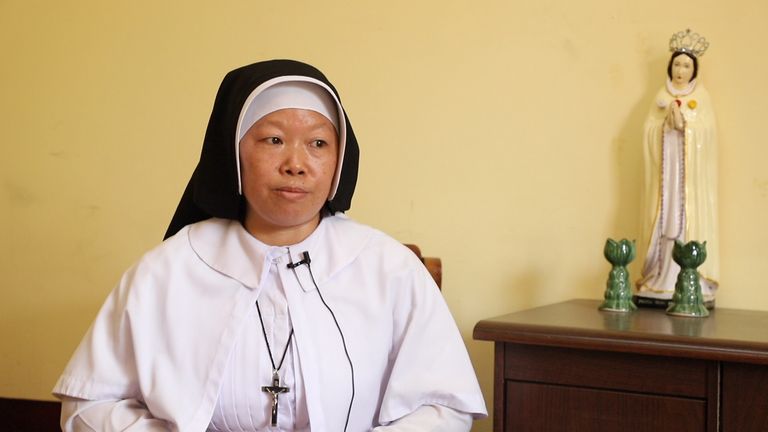 In footage from 28 February, a shot can be heard after a nun is seen walking towards the heavily kitted-out officers.
Sister Ann Roza, 45, told Sky News she thought she would die but was prepared to sacrifice her own life to save others.
This is her story in her own words:
On Sunday, I was at the clinic. I was giving treatment on that day as the other clinics were closed. I saw groups of people marching by. They were protesting.
Suddenly I saw police, military and water cannon following the protesters.
Then they opened fire and started beating the protesters. I was shocked and I thought today is the day I will die. I decided to die.
I was asking and begging them not to do it and I told them the protesters didn't commit any (crime).
I was crying like a mad person. I was like a mother hen protecting the chicks.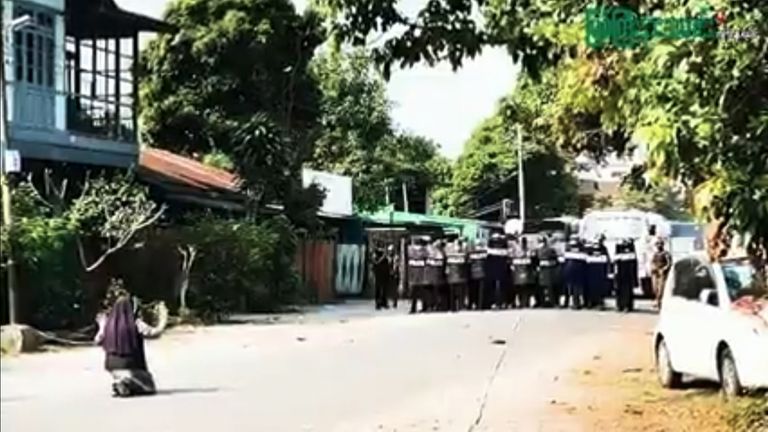 I was running towards where they were beating the protesters. It was happening in front of this clinic. It was like a war.
I thought it would be better that I die instead of lots of people.
I was crying out loud. My throat was in pain, too. My intention was to help people escape and be free to protest and to stop the security forces.
I asked them not to continue arresting the people. I was begging them. At that time I was not afraid.
If I had been scared and run away, everyone would be in trouble. I was not afraid at all. I was thinking of the girl from Naypyitaw and the one from Mandalay.
I was thinking of all the fallen souls from the country. I was worried what was going to happen to the people of Myitkyina.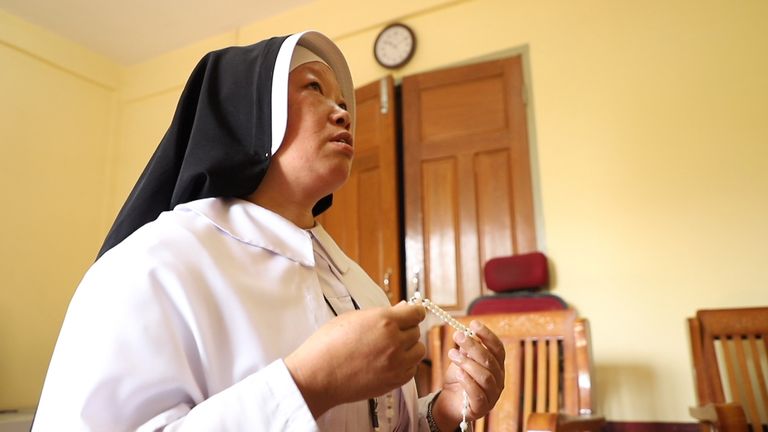 When they reached the Banyan tree, I was calling them (the authorities) and telling them: 'Please kill me. I don't want to see people being killed.'
I was crying out loud and they stopped for a while.
One came to me and said: 'Sister, don't worry so much, we are not going to shoot them.'
But I told him: 'They can also be killed with other weapons. Don't shoot them. They are just protesters.'
In my mind I didn't believe that they were not going to shoot them, as in many places I've seen they have shot people dead.
I brought (a protestor) to the clinic and gave him treatment. The police almost captured another one as he had fallen down. I stopped the police and asked them not to continue. That's why the police didn't. Otherwise, they would have arrested him and dragged him from there.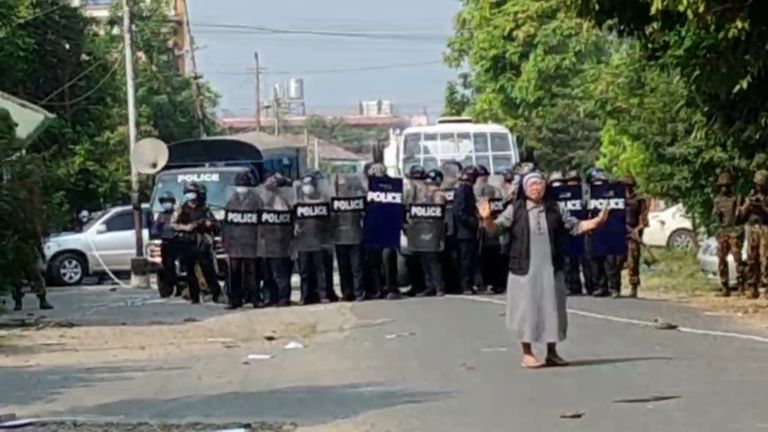 I feel like they (the military) are not the guardians of the people as you have seen what's happening to the people.
People are not safe and there are brutal night arrests.
I felt really sad when I saw the video of a mother of a young one crying next to a dead body.
I also saw an ambulance was destroyed and medics were beaten with a gun.
They are supposed to protect us but our people have to defend themselves. It's not safe. They (the security forces) arrest and beat those who they don't like. They kill them.
There's no one to protect Myanmar people.
People have to defend themselves and help each other.