New electric car battery can charge in five minutes | Science & Tech News
A new electric car battery that can be fully charged in five minutes has been manufactured for the first time on a normal production line in China, based on designs by Israeli company StoreDot.
The breakthrough could address a significant concern for electric car drivers – the fear of running out of power during a journey, marooning the vehicle for a couple of hours while it charges.
"A five-minute charging lithium-ion battery was considered to be impossible," said StoreDot's chief executive, Dr Doron Myersdorf.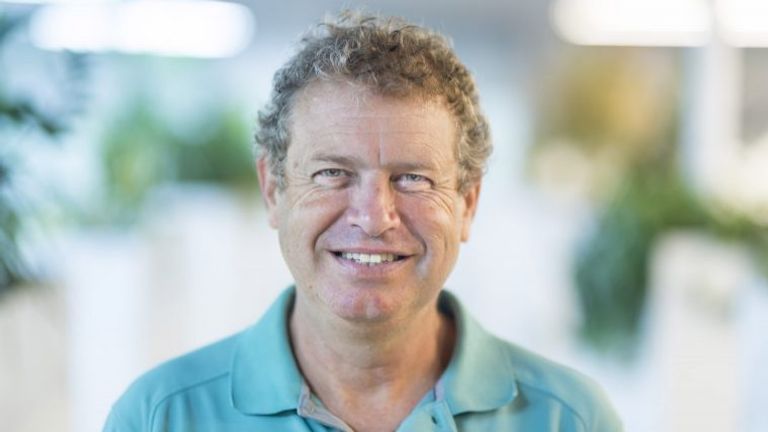 "But we are not releasing a lab prototype, we are releasing engineering samples from a mass production line. This demonstrates that it is feasible and commercially ready," Dr Myersdorf added.
The company produced 1,000 sample batteries with its manufacturing partner Eve Energy in China.
These samples, which are compliant with Li-ion battery certifications, were manufactured on a normal construction line and will be used to showcase the company's technology to other companies.
So-called "range anxiety" is the "number one barrier to the adoption of electric vehicles", said Dr Myersdorf.
Fast charging lithium-ion (Li-ion) batteries is a significant problem for electronics manufacturers and developers, and companies from Samsung to Daimler have invested in StoreDot.
The company's new batteries are designed differently to standard Li-ion ones, replacing the graphite with semiconductor nanoparticles based on germanium – though they hope to move to silicon in the future.
Because the speed of the charge is based on the battery rather than the charging point, StoreDot's invention could have a significant impact on the adoption of electric vehicles, which are facing a bottleneck in countries such as the UK that have limited charging stations.
There are more than 30,000 points currently in the UK in over 11,000 locations, and around 10,000 charge points were added in 2019 alone.
But research by Deloitte suggests the UK will need to spend £1.6bn on 28,000 more public points for the estimated seven million EVs that will be on the road by 2030.
In 2019, there were 37,850 BEVs (Battery Electric Vehicles) registered in the UK – up 144% on the previous year, however they still only account for 1.6% of the market.
Hybrid electric vehicles – combing an electric motor with a petrol or diesel engine – are currently more popular, making up 4.2% of the market share, but they are set to be phased out along with petrol and diesel cars by 2035.
COVID-19: Pfizer vaccine is highly effective at preventing serious illness or death, landmark real-world data confirms | World News
The first big peer-reviewed real-world study of the Pfizer vaccine has confirmed it is very effective at preventing serious illness or death – even after one dose. 
In a potential landmark moment, results from a mass vaccination campaign in Israel showed the jab is roughly as effective in the real world as it was in smaller-scale clinical trials.
After one shot, the vaccine was 62% effective at preventing severe disease – rising to 92% after two doses – according to data published in the New England Journal of Medicine.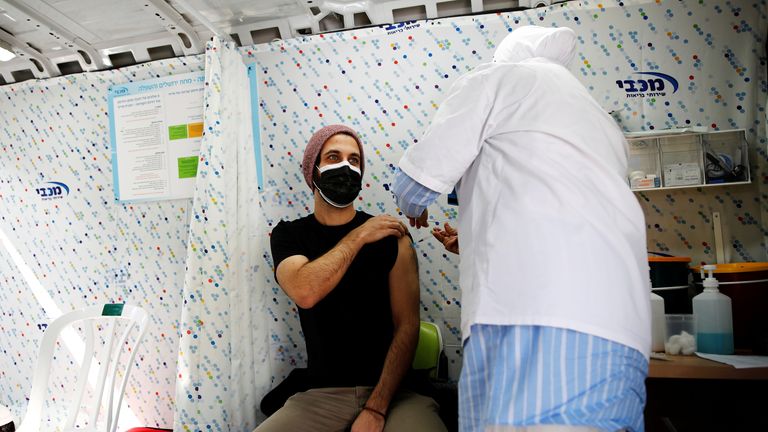 Its estimated effectiveness for preventing death was 72% two to three weeks after the first shot, which could rise as immunity builds over time.
The Pfizer/BioNTech vaccine appeared just as effective in those over 70 as in younger people.
"This is immensely reassuring… better than I would have guessed," said the Mayo Clinic's Dr Gregory Poland, who was not involved in the study.
More than half a million people were involved in the peer-reviewed study as Israel has stormed ahead with one of the world's fastest vaccine rollouts, providing a rich source of data on how well they work outside of trials.
Participants who were given shots in December or January were compared with an equal number of people with similar demographic profiles who did not receive the vaccine.
The results will be reassuring for UK officials, who had taken a gamble on delaying the second dose of the vaccine by 12 weeks to allow for more people to be given their first shot.
Evidence jabs cut transmission 'looks good'

And yet more good news was unveiled in the study, as two doses of the Pfizer vaccine were shown to cut symptomatic COVID-19 cases by 94% across all age groups.
A single shot was 57% effective in protecting against symptomatic infections after two weeks.
Clinical trials last year found two doses were 95% effective at preventing symptomatic cases, only slightly higher than the real-world data.
:: Subscribe to the Daily podcast on Apple Podcasts, Google Podcasts, Spotify, Spreaker
"We were surprised because we expected that in the real-world setting, where the cold chain is not maintained perfectly and the population is older and sicker, that you will not get as good results as you got in the controlled clinical trials," said senior study author Ran Balicer.
"But we did and the vaccine worked as well in the real world. We have shown the vaccine to be as effective in very different sub-groups, in the young and in the old in those with no co-morbidities and in those with few co-morbidities," he added.
The study also suggests the vaccine is effective against the variant first discovered in Kent.
Researchers could not give a specific level of efficacy but the fact the variant was the dominant version of the virus in Israel at the time of the study is encouraging in this sense.
It was not clear from the study how the Pfizer shot will fare against the variant first discovered in South Africa.
COVID-19: 'Frustration' as Ireland's vaccine programme lags behind UK | World News
"It is very frustrating", admits Dr Laura Malone. "At the moment we don't have any vaccine."
Standing in her bright, modern clinic in the centre of the lakeside tourist town of Killarney, Ireland, the GP is palpably keen to start vaccinating her elderly patients against COVID-19 but is still awaiting delivery of the doses.
"We have around 250 patients in the age cohort that we need to vaccinate [over-85s]," she says.
"It's frustrating, but we also look at that with some degree of hope, because we're happy that we'll be able to provide this to our patients. Hopefully the end is in sight."
She's not alone. Sky News spoke to all seven GP practices in the picturesque Co Kerry town. Only one, Deenagh Medical Practice, had taken delivery of vaccines and was administering doses. Two more are hoping for their first delivery today, while several others thought they may get vaccines next week, but weren't sure.
It's a disjointed picture. One practice staff member, who didn't want to be named, said she couldn't understand why there was such little information given to them about vaccine delivery.
Another GP, Dr Gary Stack of Park Medical, also uses the word "frustration", and says communications with the various practices could have been better. He expects his first delivery next Tuesday, more than two weeks after the Irish government announced the start of GP-led vaccinations.
The Health Service Executive (HSE) told Sky News: "We are delivering vaccines to GP practices according to the level of supply being delivered to the country. We understand that GPs and their patients are eager to receive the vaccine. We are working to control and stagger the delivery of vaccines in line with this level of supply."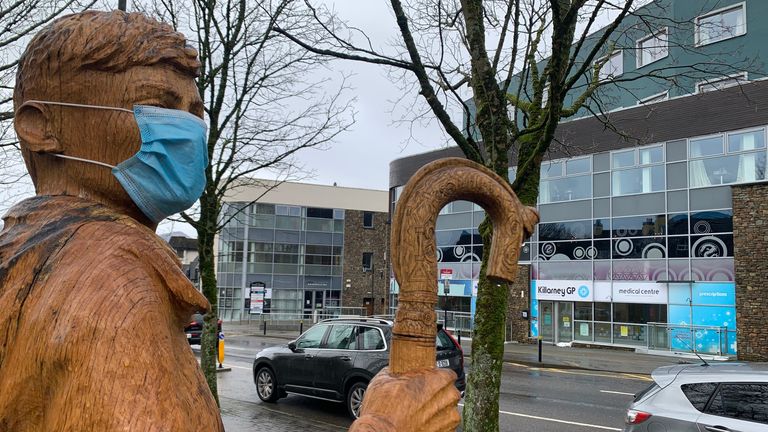 But it's the supply that's the problem for Ireland, like many EU member states. Around 4.5% of the population have received at least a first dose, a rate lagging far behind its nearest neighbour the UK.
That means the Dublin government had little choice this week but to extend the strict Level 5 lockdown until 5 April at the earliest, with no dates given for the reopening of retail or hospitality.
In Killarney, one restaurateur has grabbed headlines by boldly announcing he will reopen on 1 July "no matter what government restrictions might exist".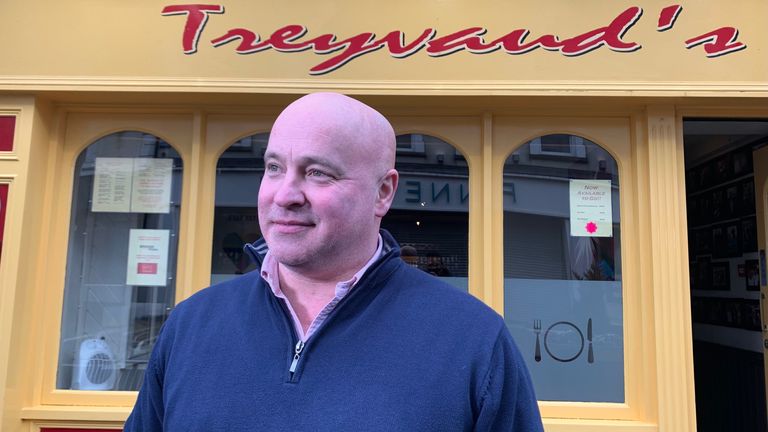 "I'm prepared to be arrested," says Paul Treyvaud, standing outside his eponymous restaurant on High Street. "It's a wake-up call for the government to turn around and say, listen we've got to take into account that there's more going on here than ICU numbers and cases.
"If restaurants and businesses here in Killarney and right around rural Ireland aren't open by this summer, we're going to have a major problem coming down the line."
"We're putting out a fire by looking at COVID," he says, "but we're not realising there's a volcano behind us burning everything down."
The frustration at the lengthy and uncertain lockdown is acute among Killarney's young people. Damien Switzer, 18, is a typical example. Studying a third-level course from home and denied the normal college experience, he can't see friends that live more than 5km away due to travel restrictions. A keen Gaelic footballer, his team are on hiatus and he must train alone.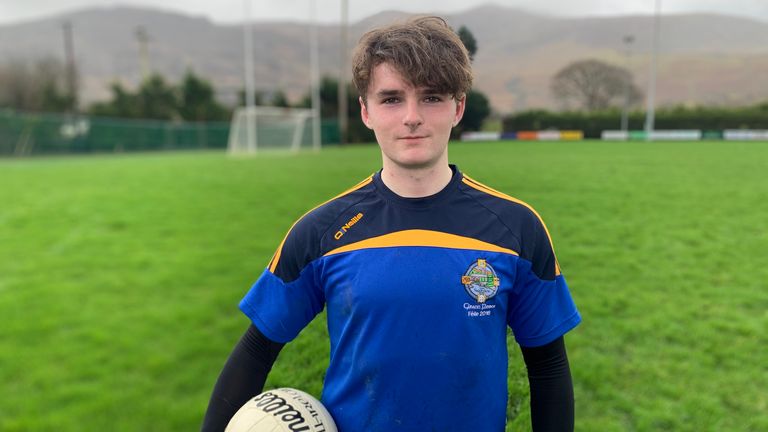 On Tuesday he noticed the training pitch at this club, Glenflesk GAA, was completely flooded. He kitted out and jumped into the icy waist-deep water anyway, and the resultant TikTok video went viral.
"Sure, what else would I be doing with the lockdown," he laughs. "I had to do something to lift the spirits. Not playing sport with my friends can be frustrating alright, but I suppose it's for the better good though. Once the lockdown's over we'll have the summer to play together and train together. But yeah, it can be frustrating."
That will continue for another six weeks at least, and most likely longer. The Irish government points out that its vaccination rollout is among the most successful within the EU and that it is placing more of an emphasis on both doses being delivered, unlike the UK's approach.
But Ireland started slowly and is only now picking up pace. In towns like Killarney – fearing a second summer without tourists – there are still too many vaccinators waiting for too few doses. The wait goes on…and so does the lockdown.
Whisky collection sells for almost £6.7m at auction | UK News

One bottle of whisky fetched a whopping £1m at auction as part of an impressive 3,900-strong collection that became the highest-value of its kind.
Containing liquid distilled nearly a century ago, the Macallan 1926 Fine and Rare 60-year-old is one of 14 in the world adorned with the "Fine and Rare" label.
It fetched a six-figure sum by itself in the private collection of 3,900 single malts, which went under the hammer for around £6.7m in total.
Other notable whiskies included the Balvenie 1961 Vintage cask and the Dallas Dhu 1921 Private Cask 64-year-old, which is a historic malt from one of Scotland's "lost" distilleries.
The incredible array of bottles attracted the attention of 1,557 different bidders from 54 countries on the final day of the online auction.
It became the highest-value private collection ever to sell on the secondary market at an auction dedicated to one single collector's whisky.
Iain McClune, founder of Whisky Auctioneer, said: "This auction was solely dedicated to one collector's magnificent library of whisky- a man who was dedicated to building the perfect collection."
He added that the sale was "one for the record books", not just for Whisky Auctioneer but also for the whisky industry as a whole.