Coronavirus: Italy tightens socialising rules to combat COVID spike – including a rule of six | World News
Tougher socialising rules are to be introduced in Italy to combat a rise in coronavirus cases – including its own rule of six.
Prime Minister Giuseppe Conte announced on Sunday that a maximum of six people will be allowed to sit together at restaurants and bars, and table service will be mandatory after 6pm.
Other new coronavirus measures include:
Mayors will be able to order the closure of public spaces such as streets and squares after 9pm
Amateur team sport competitions will be stopped
Parties, festivals and other such public events – including conferences and conventions – are suspended
Takeaways will only be allowed up until midnight
Further COVID-19 restrictions could also be on the way, with a decision on whether to close gyms and swimming pools set to be made later this week.
High schools and universities are also going to be encouraged to carry out more distance learning, he added.
The new restrictions will come into effect at midnight local time on Sunday and last until 13 November.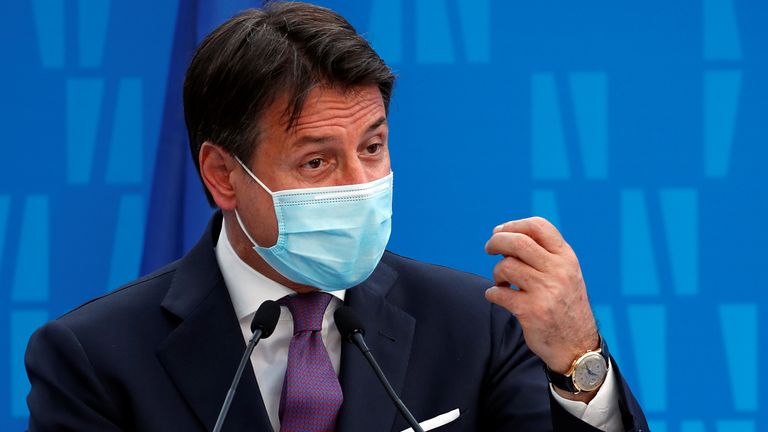 Italy was added to the UK quarantine list this week after record numbers of daily cases. This means travellers returning to the UK from Italy will have to self-isolate for 14 days from 4am on 18 October.
New infections were the highest they have ever been again on Sunday, with 11,705 confirmed in the past 24 hours.
Mr Conte said in his statement: "We are aware of the economic damage generated by the measures we are taking. But the government is committed to restoring them.
"We will not fight the second wave with limited resources as in the first, we are now equipped. We produce 20 million surgical masks that we distribute daily in schools and not just free of charge. We doubled the number of ICU jobs and hired medical staff. Billions invested in healthcare."
He described the situation as "critical" and said he could "make no predictions" about the Christmas holidays, adding: "It all depends on us and on our sense of responsibility."
End SARS: Why Nigeria's anti-police brutality protests have gone global | World News
Protests in Nigeria against a police unit accused of human rights abuses were expected to spread to London this weekend, in a further sign of the international solidarity that has formed around the movement.
As social media posts and local TV coverage showed people take to the streets again in several towns and cities in the West African country, there were also reports on Sunday that a march was on its way from Marble Arch in the English capital to the Nigerian High Commission.
It's part of a now global campaign against a branch of Nigeria's police called the Special Anti Robbery Squad (SARS), which has even drawn the backing of the likes of Twitter founder Jack Dorsey, Star Wars actor John Boyega, US rapper Kanye West, and footballers Mesut Ozil and Marcus Rashford.
So, what is SARS?
SARS was set up in 1984 to tackle a growing problem of people stealing from each other using force in Nigeria.
Supporters say it initially succeeded, but critics say it has been linked to the deaths of people it has investigated.
Since the 1990s, rights groups like Amnesty International have documented a series of allegations involving the unit, which campaigners say have worsened in recent years.
In June, Amnesty released a report that documented at least 82 cases of torture, ill treatment and extra-judicial execution by SARS between January 2017 and May 2020.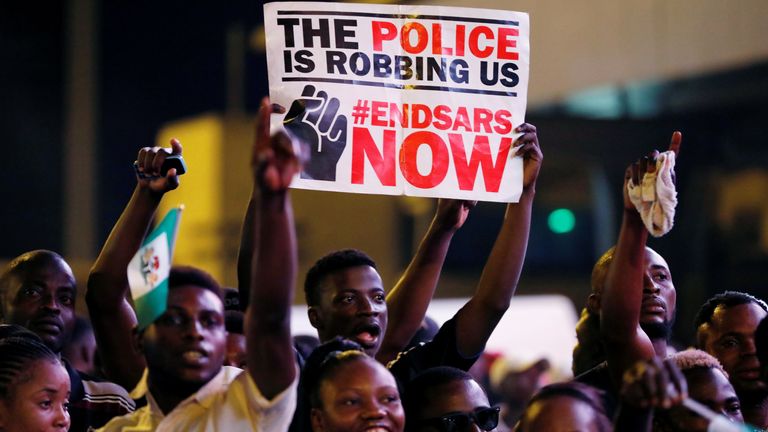 What are the allegations?
One of SARS' alleged victims told Amnesty he was arrested in 2017 after being accused of stealing a laptop, but was then held for 40 days and tortured before he was brought before a court.
The 23-year-old, Miracle, said: "They started using all manner of items to beat me, including machetes, sticks, inflicting me with all kinds of injuries. One of the officers used an exhaust pipe to hit me on my teeth, breaking my teeth. I was left on that hanger for more than three hours."
Another, 24-year-old Sunday Bang, was allegedly held in detention in 2018 for five weeks, where he suffered bone fractures and other injuries due to torture and other ill treatment after being accused of robbery.
Many other Nigerians have been killed, according to human rights groups.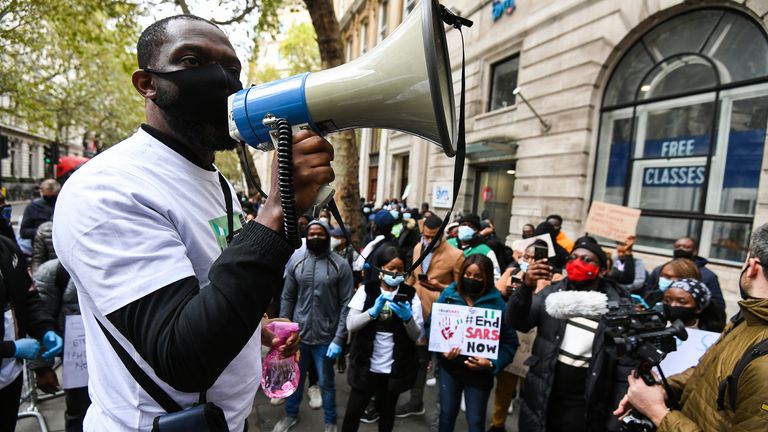 What's been happening?
Ongoing concern about SARS' activities led in 2017 to a Twitter campaign with the hashtag #EndSARS, which was successful in getting Nigeria's police chief to order an immediate re-organisation of the anti-robbery unit.
But when a video circulated online more than a week ago showing a man being beaten, apparently by police from the SARS unit, protests began in earnest.
On Friday, in Lagos, protesters blocked the road to the international airport and the main highway into the city, and protesters in the capital, Abuja, dedicated the day to Nigerians they say had been killed by SARS.
But the protests have been met with further violence, with 10 people killed and hundreds injured, according to Amnesty.
The largely peaceful protesters have been attacked by gangs armed with guns, knives, clubs, and machetes.
I have a feeling that this is more than just SARS. Nigerians want true change! They are done managing faith without practical action and we support you. 💪🏾 https://t.co/FpNqb1wufa

— John Boyega (@JohnBoyega) October 14, 2020
What else is happening?
The ongoing allegations of brutality have inspired thousands of people around the world to support those trying to improve policing in Nigeria.
The #EndSARS campaign has attracted support from Black Lives Matter activists in the US and Twitter's Dorsey, who created an emoji of a clenched fist in the colours of the Nigerian flag to allow people to support the campaign.
Since the start of the latest phase of the #EndSARS campaign, the hashtag has been tweeted thousands of times, it has been reported.
Protests have spread to other countries already with several dozen demonstrating outside the Nigerian High Commission in London earlier in the week.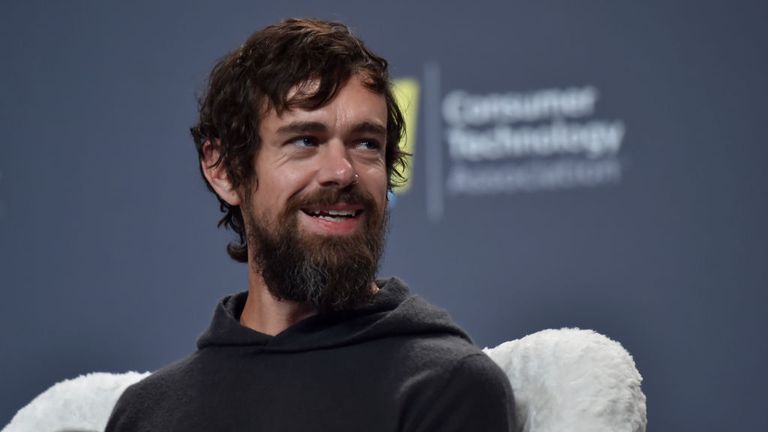 What has the Nigerian government said and done?
In response to the widespread demonstrations by young Nigerians, the government said it would disband SARS, but the protesters are continuing, saying they want an end to all police brutality.
Protesters say the people who have attacked them are backed by the police, according to reports in the local press, and have vowed to continue because of this.
Nigeria's military has issued a warning against what it called "subversive elements and troublemakers," saying the army would "maintain law and order, and deal with any situation decisively".
Authorities in Abuja have called for an end to all protests in the city, saying the gatherings risk spreading COVID-19.
On Sunday, as more protests got under way, Senate president Ahmed Lawan called for an end to the protests rocking the country, local media reported.
What's going to happen now?
One protester in Abuja told AP those involved in the demonstrations are ignoring any order to disperse.
"If they are sincere, they would have banned the crowded rallies politicians have been holding," protester John Uche said.
More than 60 missing or killed after landslides in Vietnam and Pakistan | World News
A landslide in Vietnam has killed at least 22 people days after another killed 13.
In the latest incident, rocks and earth slid down a mountain onto an army base after a week of continuous rain in Quang Tri province.
State-run Vietnam News Agency said eight people were able to get away, but the others were thought to be trapped underneath mud.
Three bodies were recovered as about 100 rescuers dug through the debris looking for the missing.
On Thursday, another landslide in Thua Thien-Hue, the province next to Quang Tri, killed 13, 11 of whom were army officers.
The group were on their way to a third landslide that was reported to have buried 16 workers at a site where a hydroelectric plant is being built.
That scene remains inaccessible and is yet to be reached.
Driving rain has caused major flooding in central Vietnam in the last week and forecasters say more downpours are on the way.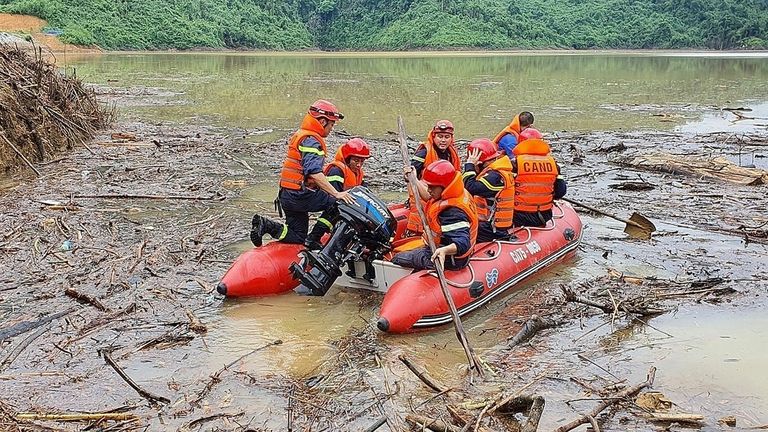 Meanwhile, another 15 are unaccounted for after a landslide in northern Pakistan buried a minibus.
Rescue workers have been digging through the wreckage in the hope of finding survivors, police said.
The bus was travelling from the city of Rawalpindi in Punjab province to the scenic city of Skardu at the time.
Police officer Wakil Khan said the chances of finding anyone alive were bleak.
Woman convicted of killing mother-to-be and cutting baby from her womb to be executed in US | US News
The first woman to be executed by the US government in decades will be Lisa Montgomery, who strangled a pregnant woman, cut her open, and kidnapped her baby, the Justice Department has said.
Montgomery is scheduled to be killed by lethal injection on 8 December at the Federal Correctional Complex in Terre Haute, Indiana.
Sixteen women have been executed by state authorities since a landmark case in 1976, according to the Death Penalty Information Centre, but the federal government hasn't used capital punishment against a female since 1953, when Bonnie Heady was put in a gas chamber in Missouri.
Montgomery was convicted of killing 23-year-old Bobbie Jo Stinnett in the town of Skidmore, Missouri, in December 2004.
Montgomery travelled from Kansas home to Ms Stinnett's house saying she wanted to adopt a puppy, according to the Justice Department.
When she arrived, Montgomery throttled her victim, who was eight months pregnant at the time, but did not succeed in killing her, leaving her conscious enough to try to defend herself.
Montgomery then used a kitchen knife to cut the baby girl from the womb and took the child away with her, later attempting to say the girl was her own.
She pleaded insanity when the case came to court and her lawyers claimed she had been suffering from delusions at the time of the murder.
A statement from the Justice Department said: "In October 2007, a jury in the US District Court for the Western District of Missouri found Montgomery guilty of federal kidnapping resulting in death, and unanimously recommended a death sentence, which the court imposed.
"Her conviction and sentence were affirmed on appeal, and her request for collateral relief was rejected by every court that considered it."
Montgomery's lawyers had also argued she was suffering from pseudocyesis, a condition that results in a woman falsely believing she is pregnant and exhibiting outward signs of pregnancy.
The defence argued she was abused as a child and said that because of her severe mental illness, her delusion of being pregnant was being threatened, causing her to enter a dreamlike state at the time of the murder.
Donald Trump reinstated the death penalty for federal crimes in 2019

But during closing arguments, federal prosecutor Roseann Ketchmark said the pseudocyesis claim was "voodoo science."
She said Montgomery was afraid because she believed her ex-husband would expose she was lying about her pregnancy and use it against her as he tried to win custody of two of the couple's four children, NBC wrote at the time.
She would be the ninth federal convicted criminal to be put to death since the Justice Department resumed executions in July after a break of nearly 20 years.